Seychelles is one of the most exotic island destinations in Eastern Africa. And while a lot of people assume that it only consists of white sandy beaches and clear blue ocean, this is actually untrue. Apart from a beautiful coastline, Seychelles also has mountains and national parks which make for a good hiking trail.
So, if you love hiking and adventurous activities then make sure that you try the Morne Blanc Hike for the most amazing view of the western coastline of Mahe island. And the best part is that you can do it without the help of a guide and can complete it in just half a day. You can check out most amazing places to visit in Seychelles on my blog - MeanderWander.com
Here is everything that you need to know about this amazing hike on Mahe island.
Morne Blanc Hiking Details
Morne Blanc hike is an easy one and doesn't require the help of a guide. You can do it on your own and can even go for a solo hiking experience if you are solo travelling here.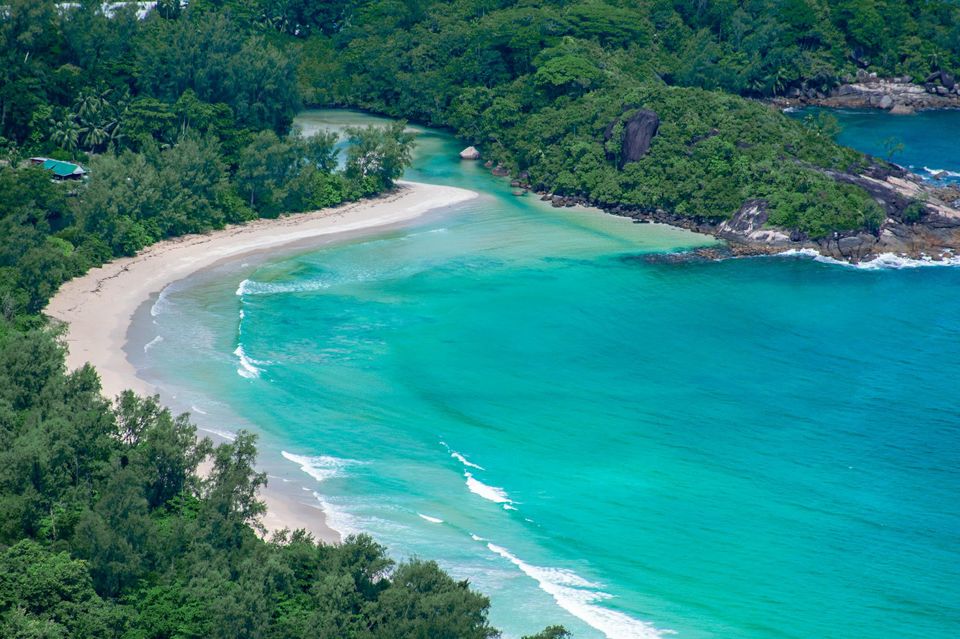 Situated near the Sans Souis road, Morne Blanc is one of the most magnificent mountain on Mahe Island. This cliff offers a gorgeous view of Mahe's west coast and can be completed by beginners as well.
An uphill climb in the Morne Seychellois National Park will lead you to this viewpoint. It is one of the most popular hiking trails and is a must if you want to enjoy the coastline and forest views on Mahe.
Honestly, it is quite easy to reach the starting point of this trail and you have a couple of transportation options to choose from.
Self-Drive Rentals
If you have rented a car here then you can drive your car to the Sans Souis Road and reach the tea plantation here. The distance between Victoria City and Tea Factory is just 11 km so it will take you barely 30 minutes to reach.
Buses
In case you don't have a rental or don't know how to drive, you can also take a bus to reach the starting point of Morne Blanc trail. You will need to reach Victoria Bus Station and then take a bus to Port Launay via Sans Souis Road.
Stop at the Tea Factory stop and you will have reached the starting point of the trail.
Cabs/Taxis
Finally, you can also book a cab/taxi to take you to the starting point of the trail. However, remember that cabs and taxis are expensive here so it will easily cost you about 200-400 Seychellois Rupees to reach the starting point of Morne Blanc trail.
Make sure that you start early, around 6.30 am for the hike and reach the starting point of the trail by 7-7.30 am at most. Once you have reached the starting point of the trail, you will have to hike up for 45 minutes to reach the Morne Blanc Viewpoint.
In the beginning, you will see a board at the Sans Souis Road stating that it is the starting point of Morne Blanc hike. Then, the trail will pass through a few old plantations making way to a misty forest.
Here, you will find mosses, ferns, etc. covering most of the surfaces so you have to be careful while climbing. There are also a few holes and caves on the way so make sure you stick to the trail which is clearly marked through the forest.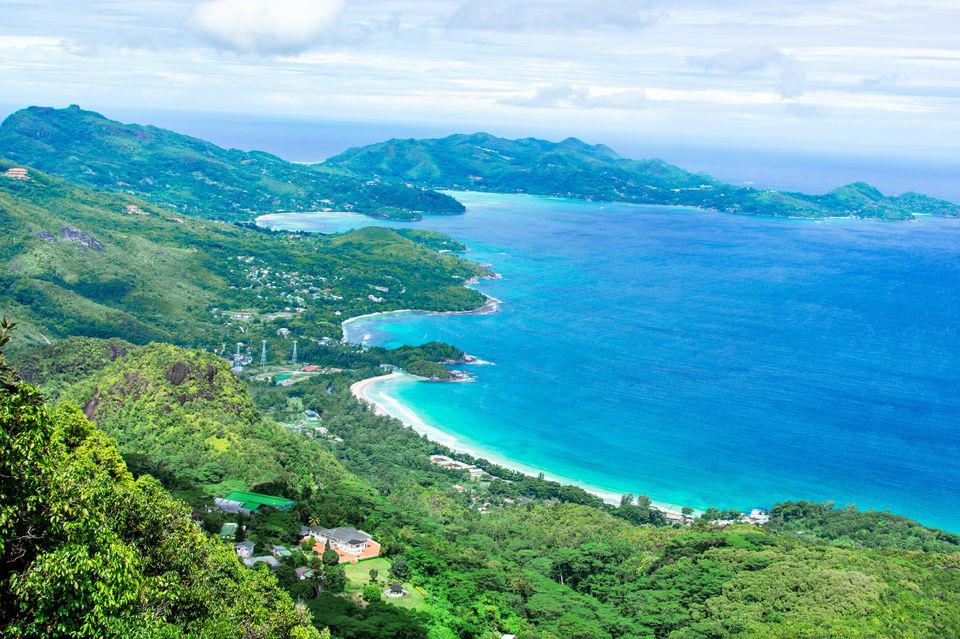 After 45 minutes of hiking, you will come across a platform which is perched upon a cliff. You can sit here for a while and enjoy the coast views. It is quite windy up here so you might feel a little cold if you don't cover your body properly.
After an hour, you can start your descent through the forest which will barely take 20-30 minutes if you don't make any stop on the way.
Once you have reached the starting point of the Morne Blanc Trail, you can wait for a bus going to Victoria and get on it to explore other places on Mahe.
Things to carry with you on the hike
Although Morne Blanc Hike is an easy one, there are a few things that you should definitely carry with you here.
1. Trekking shoes
Although this isn't a difficult hike, the path can be slightly slippery as it goes through the misty forest. So, it is advisable that you wear good trekking shoes to avoid slipping on the trail.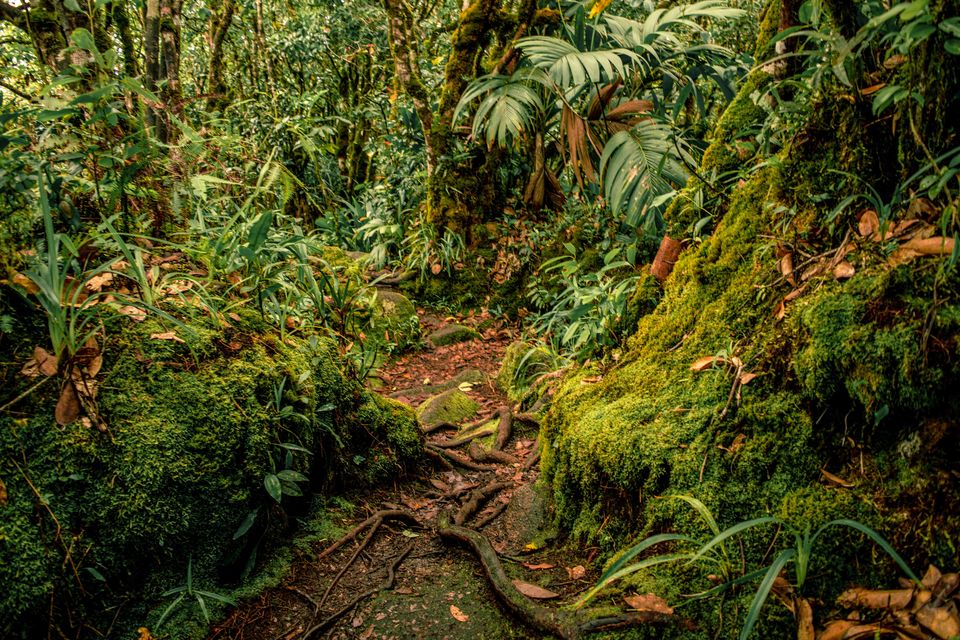 2. Daypack
Take a small daypack with you in which you can keep store your essentials like jacket, food, First Aid, etc.
3. Binoculars
Don't forget to take a pair of binoculars with you on the hike. Trust me, you don't want to miss out seeing on the tropical and endemic Seychelles birds that you will find on the trail and the from the view point.
4. Camera
Of course, this goes without saying but do take your camera with you so that you can click amazing pictures on the way and the at the Morne Blanc viewpoint.
5. Water bottle
Also, don't forget to carry a water bottle with you because there isn't any water stream here. So, unless you want to die of thirst, it would be advisable to carry two litres of water with you.
6. Snacks
Same goes for food as well. There aren't any shops near the trail so carry your own lunch and snacks to keep yourself full and energised.
7. Sunglasses and sunscreen
It can be really sunny and hot at the Morne Blanc Viewpoint so carry a pair of sunglasses and good sunscreen to use.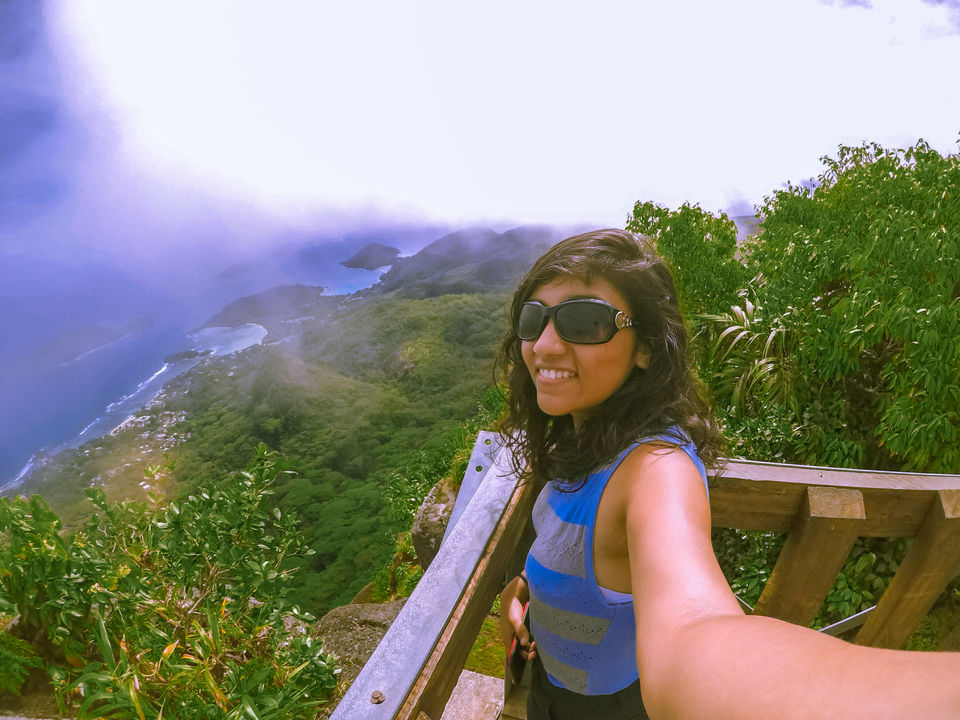 8. Hat/Cap
You would also need a hat or a cap to protect yourself from the sun's rays at the top of the Morne Blanc mountain.
9. Raincoat
It often rains in this part of the year so make sure you carry a raincoat with you to keep yourself dry.
10. First aid kit
Finally, don't forget to carry a First aid with you on the hike as you never know what might happen on the way.
Conclusion
Morne Blanc is a beautiful hike which is quite rewarding in terms of the views. But that is not all, you also get to see some endemic birds of Seychelles like the sunbird, bulbul, etc.
Trust me, the view from the top of Morne Blanc mountain is worth the entire hike and makes it difficult to leave this place. Personally, I stayed on this viewing deck for at least an hour and met so many other hikers on the way too.
But it isn't commercialised so it isn't crowded and is a great way to spend some alone time in nature.
Have you been on this gorgeous trail? Tell us all about it here, on Tripoto!