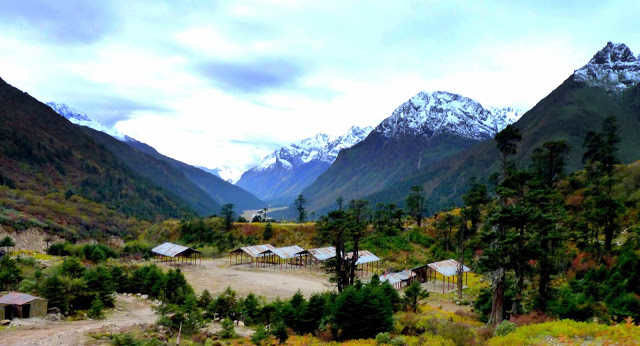 "Sikkim" I believe, a place closer to Shangri La and a place always will be close to my heart. I been to 'Sikkim' several times already and whenever I started feeling restless or laid back from the hustle bustle of city-life,Sikkim has become my savior due to several reasons.One major reason, there is Himalaya with abundance of natural beauty, majestic view of Kanchenjunga, unique calmness in the weather, warm hearted, friendly 'Sikkimese' people and mouthwatering momos. I am dying fan of steam-hot, soft ,thinly 'maida' coated, mutton, pork even simple veg dumplings with eye-watering red chilli chutney.
Being a resident of Kolkata,a college student of Siliguri (a city nestled in the foothill of Himalaya, gateway of Sikkim) I never per-planned my journey to Sikkim, a place known to me for several years.In a fine morning of October I packed my bags and boarded Darjeeling mail from Sealdah to New Jalpaiguri and then NJP to Gangtok. I will not describe much about Gangtok in this post, as this time my destination was Aritar, in eastern region of Sikkim, isolated from the rest of the state. It is a tiny hamlet encircled by Mt Kangchendzonga. On a clear day, panoramic view of Kangchendzonga will greet you from every corner of Aritar.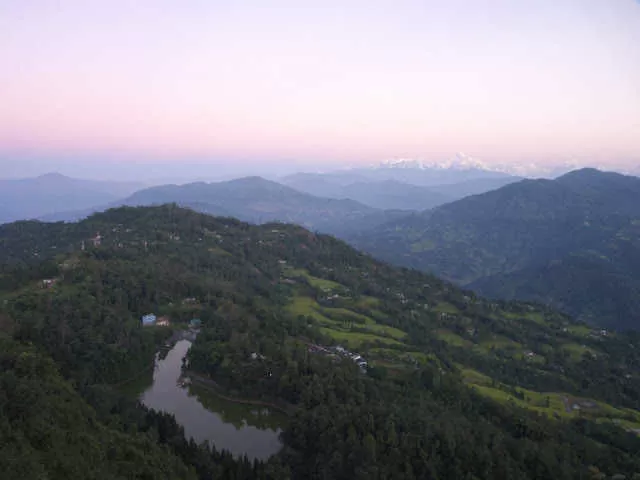 Dusk was falling when we arrived and after a searching a little, we found a beautifully appointed farm house emblazoned with flowers at the edge of hill. I was always overwhelmed by the warmth of 'Sikkimese' people and this time was also no exception. The resident cook had prepared a welcome bouquet meal for us with lots of momos, noodles and thukpa which perked up our mood instantly.
The next morning I woke up early while it was still. A sarong of mist was draped over the green valley. I took a stroll through a shadowy winding path which lead us to the cliff top. The sight that greeted us is still the best sunrise I have seen. I witnessed the dawn as the first ray of sun started caressing the snow capped peaks of Mt Kangchendzonga with flecks of orange, red and yellow. As sun rose further, above the snow capped peaks, the Kangchendzonga dazzled like a golden crown. The splendour of seeing sunrise over magnificent mountains cant not be described, it has to be experienced.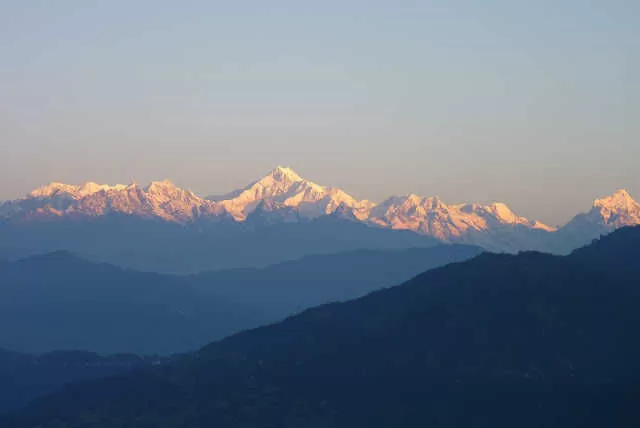 A layer below, deep in the valley, the quite Lamapokhri lake was looking like a sleeping beauty bedecked in fantasy. It was quiet and the air cool and moist. I still cannot help but marvel over the tranquil beauty of the place that is not threatened by tourism as yet.
Later in the morning we visited Aritar Gompa monastery of the Kagyuapa order, considered as one of the holiest and oldest in Sikkim. The monastery was beautifully built with traditional Buddhist architecture with moral and paintings and treasure for old manuscript. The sun bleached prayer flags on bamboo poles bid adieu to us from the place,closer to Shangri-La.
Must-do things in Aritar
Watch the sun rise over the Kangchendzonga. Do a trek short or long in and around. Try some momo and traditional local dishes.
Important travel tips
If you love hiking, then a trek to Phushery Lake, Pangolakha and Rachela, the historic tri-junction border of Sikkim, West Bengal and Bhutan, is quite thrilling experience.You may have chance to see red panda, peasant, rare species of butterflies, wild orchids and other exotic flora and fauna.
How to reach Aritar
Bagdogra is the nearest airport and New Jalpaiguri is the nearest railway station. From Siliguri it is almost 5-6 hours drive by hired cab or can be reached by four hours drive from Gangtok via Rangpo.
Where to stay in Aritar
If you need star category hotel, then this place is not for you. Couple of budget hotel is there. But I have seen some good home stay \farm house near the view point.
Best season to visit Aritar
Avoid rainy season from June to August as these area is prone to landslide. Autumn and winter is best for Kangchendzonga View.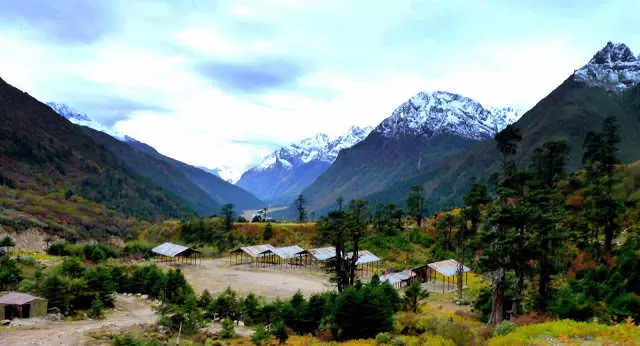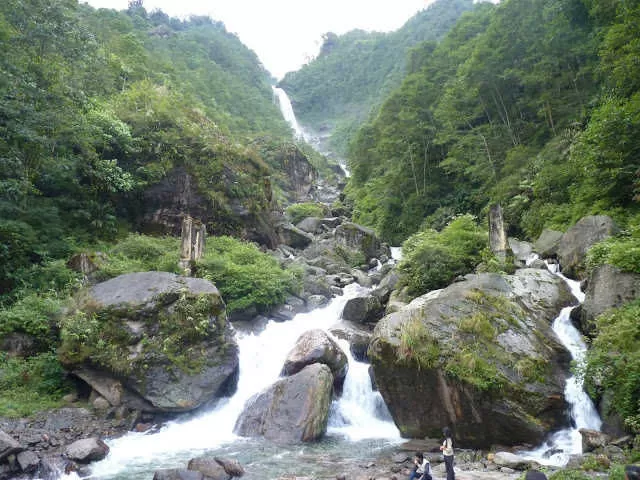 We started our journey from Gangtok to Lachung (the nearest village to Yumthang Valley where accommodation is available) by booking a private vehicle. As one drives up the hill of north Sikkim, cool greenery, picturesque hamlets, overflowing waterfalls immediately soothes one's senses. We came across extremely captivating seven sister's waterfall cascading through seven steps and ultimately crashing on the rocks with huge roar. Next we halted for lunch at a road side small village, glittering in the backdrop of golden yellow terraced rice farms, like a picture postcard. They served us hot delicious lunch with rice, potatoes, cabbages and super testy chicken curry.
We reached to Lachung after six hours of long hectic jeep journey through the rumbled hilly lane and climate was chilling cold.But worth it all. Lachung,(at an elevation of 9600 ft), close to Tibet border, at an confluence of Lachen and Lachung river is a sleepy hamlet with simple fun loving villagers, may be the most idyllic riverside hilly village I ever visited, with no four five star marking resorts, posh restaurants, psychedelic cafes or bustling summer flea market. And that is the plus factor of its charm. Whatever expectation I had with Lachung, unhindered panoramic view of the rugged Himalayan hills exceeded everything. The feeling of oneness with the nature started brewing in my mind. It was an awesome beginning.
I don't know how many of you believe in "love at first sight?" theory. But I feel it happens and happens for good reason. The tiny state of Sikkim throws many lures to travellers and one of them is 'Yumthang Valley' – basically a recent addition to the tourist map of Sikkim. Away from the maddening crowd, hidden in the slope of north Sikkim's highland, a summer grazing pasture at an elevation of 11,800 feet provides little heavens of respite for harassed travellers. Hence it suits well for my fond ambition of spending vacation in verdant solitude.
The valley is 29KM away from Lachung village. On the morning of the fourth day, we headed to the valley after having piping hot "Puri sabji" breakfast through a zigzag road. Wind started taking pace and temperature was low enough, but I don't have even time to feel that,I was paralysed by the road side scenery. Mountains, clouds ,blooming flowers, colourful forests, and sparkling streams guiding us to the small piece of paradise.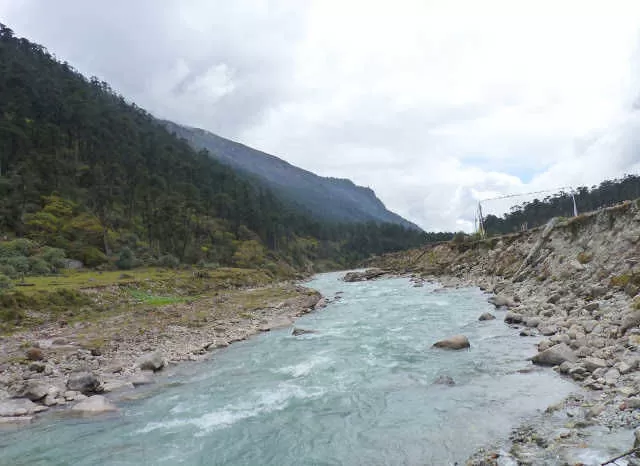 A huge golden meadow- Sikkim's mountain and glaciers come flowing down to valley's slope, crisscrossed by the shimmering water of mountain streams, studded with wild flowers, surrounded by the forest of fir. Yak's were grazing sluggishly on the slopes of high mountain. There was a certain lure in the murmuring sound of the mountain streams, I sat upon the valley's flower bed for a long time, lost in the world, absorbed by the brilliance of nature. Soon the clouds from the hills came calling us and almost covered half the valley, the forests became hazy. We walked along the river, crossed a bridge surrounded by the holy flag prayers and played with the freezing clod water, took some more snaps, so unwilling to leave this solitary summer highland. As we retraced back to Lachung, I realised the place is for the true lover of the nature who admire nature and carry a everlasting piece of memory within themselves, not for those who leave a piece of themselves in the form of plastic, cans, bottles.
In the shadow of hulking high peaks lies a wonderland of snow, giant glaciers and a trickling stream, where time seems to be frozen in a pristine white frame.
It is exhilarating experience to drive through the high mountain passes of Sikkim. Landscape changes in every hair-pin bend. Jeep cuts through the chilled morning winds, climbing high, high and higher through the ribbon like path, grey swirls of clouds, fog obscured our vision, flecks of snow scattered here and there. We started rubbing our hands, pulling our shawls to escape shivering skin-deep cold. The patches of snow started spreading and soon covered the mountain walls, carpeted the surroundings. We entered into the country of clouds, snow and fog. The milestone read: Yumesamdong - Zero Point, 15500 feet altitude in the North East state Sikkim (India). We saw a few elated tourists playing with snow. But our Bolero MAX started chasing the winds on the highland pass with more speed, almost gliding through the icy treacherous road and our excitement infused to nervousness.
The road took a turn and then all of a sudden, dramatic change of the panorama - pristine, white snow land shining underneath indigo blue sky, surrounded by the sky high mountain peaks. An Aquamarine stream trickles down the mountains with its own rhythm. The sharp bright autumn sun set everything sparkling. If there is a heaven on earth, then this is it. The place is cocooned by a soothing calmness. Completely absorbed by the aura of this heavenly beauty, we walked, slipped and hurled snow at each other and took some snaps with tight hug, a frame forever.
We also entered no man's land, which basically shares border with China and is heavily patrolled by the Indian Army. We also saw a few bunkers here and there. I don't know how they keep themselves so alert at sub-zero temperatures, where survival is near to impossible. Thanks to our guide/driver who guided us in this terrain. At an altitude of over 15,000 feet, it is hard to speculate change in weather, and we witnessed this when suddenly the clouds started coming in and covered the blue sky. The driver immediately asked us to sit back in the jeep and drove us back to safety.
No, we are far away from the 'Zero point' and back home. "Alice" is back from the Wonderland.
Important travel tips
Easiest way to go is to book a tour. Most packages offer a Lachung – Yumthang Valley – Yumesamdong tour. This also includes a bird's eye view of the Teesta Valley at Singhik, an evening on banks of river at Lachung, and a visit to the Ymesamdong-Zero point. For more details of Yumesamdong check my post on my blog: http://travelingisbliss.blogspot.in/2013/06/zero-pointyumthung-valley.html
For visiting Yumthung Valley, you have to book either 1N-2Day or 2N-3D package from Gangtok. I personally feel 2N-3D package is best for covering Gangtok–Lachung–Yumthang Valley. Do your research before finalising. If you book a Gangtok–Yumthang Valley package, you will have to pay the driver extra to take you to Zero point.
Best time to visit Yumthang
In the winter Yumthung Valley gets carpeted by thick layer of snow. Skiing, which has recently been introduced at Phuni (close to the Sangri pass in the valley) at 11,500ft, is the highest and most extreme skiing you'll find in the country. During the spring months, the area blooms with rhododendrons, primulas, poppies, iris and many more and hence it is known as Valley of Flowers.
Where to stay in Yumthang
Hotel Le Coxy is good place for comfortable stay. Situated at an altitude of 9,600 ft. and at a distance of about 117 Kms from Gangtok. This entire distance is generally covered in about 06 - 07 hours and road condition is very bad at some points. Better not to travel with kids below 10 years.
Frequent Searches Leading To This Page:-
Offbeat Places In Sikkim, offbeat places near pelling, offbeat places near kalimpong, offbeat sikkim itinerary, offbeat places in sikkim