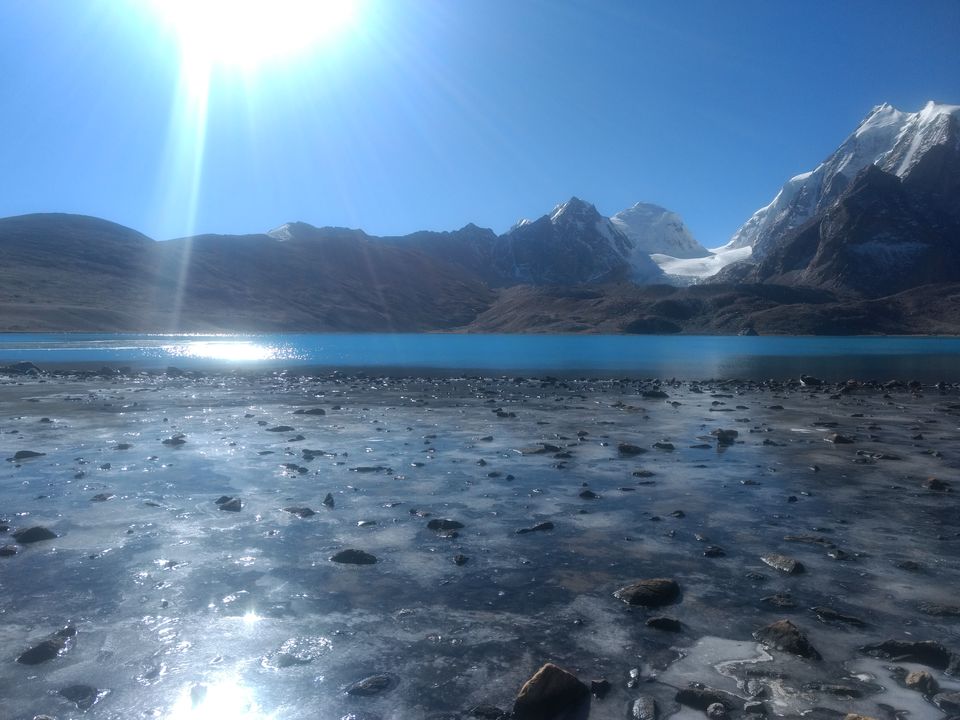 When I first stepped into Bagdogra it was a cloudy day sometime during the end of June. Out of the airport, trying to find a cab, it was peak Gorkhaland issue season ( what Gorkhaland issue you would say now, but 6 months ago they burnt buses for this very same reason) and I managed to catch a shared taxi and make it to Gangtok. The beautiful city of stars. (my first glimpse of Gangtok as I made it here only by 9 in the night was of the mountain being lit up by all the lights)
Let's start with the Taxi drivers:
The First lesson learnt that day about the cab drivers of Sikkim was you be nice to them, they will take an extra effort to help you, you shout at them, they will not hesitate to leave you. The cab driver went out of his way to make sure I got a taxi home safely while he just left the other uncle in the cab there as he were shouting at him for not taking them till their hotel. Since that day I have always shared an excellent rapport with all the taxi drivers I have driven around with. In-fact half of my contact list on my phone end with xyz+driver now! I still get good morning WhatsApp messages from a few. The taxi drivers here are always happy to talk about anything and everything and none of my journeys have been boring out here.
Travelling alone? Grab the seat next to the driver and the journey will end before you know it. Time flies.
Then I was exposed to the Rain:
I come from a small coastal town called Udupi where it rains for 4 months of the year too, but here it is something else. We live inside the cloud from which the rain falls. Every morning I would get out to my balcony and be like oh yeah, still living amongst the cloud, can't see who my neighbor is. Maybe that is why most of the houses are so close to each other. You cant see through their window half the year with the rain clouds making their rounds. Took me a month to find my neighbor and say hi! Also it drizzle's almost constantly as the clouds are ever-present. Can get a little annoying and I was constantly in my waterproof jacket.
So, June to September - unlimited water supply outside! Inside not so much as our landlord kept saying landslide here or there, no water supply today.
But during this season, landslides aside a drive to the west/ south of Sikkim is beautiful. There are numerous waterfalls present which gush on to the roads, the green mountains which we can see now and then when the clouds clear up are all mystical. Ramro cha!!
Evenings at Gangtok:
Now that me and my roommate had settled in, we had time after office to explore Gangtok. We would get out and walk around looking for places to be in. We wanted to be hip and happening too. So one such Friday night was when I discovered Gangtok charges an entry fee for girls too!! Come on Cafe Live and Loud ( first place we went to). So ever since most of our Friday, Saturday, in-fact whatever night we decided to go out was made up of this -
Sitting on MG and checking out people. We were two dedicated girls. We sat with an umbrella open through light rain, stood by the side of the walkway under the shade of a shop during heavy rain but we never stopped and gave up on looking at all those beautifully dressed people and their unlimited supply of white shoes. Meanwhile, my grey and blue shoes were dark brown by this time. So this is how we found our cheap, free entertainment for the after office scenes!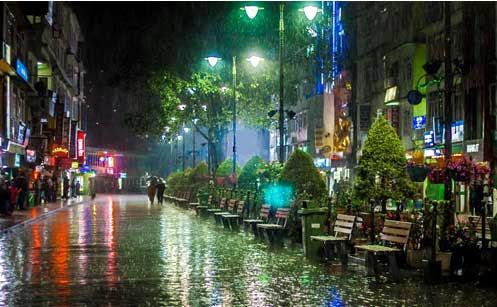 MG marg was beautiful during monsoon, especially without many tourists. I remember many calm walks after 11 in the night on those roads where its just us and a few dogs barking now and then. I liked it more then, and not now with so many tourists bursting in from everywhere.
The Attire:
So this brings me to talk about those beautifully dressed people. I tell you, I have not seen even I local girl walk on the streets of MG Marg without being dressed up. While I am always walking in my sweatpants and hoodie as shabby as I can be, the girls here can walk in those high heels, wearing those dresses through any season.
I have to give it to them. Perfectly lined eyes, mascara, lipstick. Nothing is ever off. I don't know how they do it, but they do. As the rainy season got over and winter started setting in, I though ha, now even you have to be in hoodies and sweaters but I couldn't have been more wrong. The winter clothes here are amazing. Everyone looks prettier than before. While I still continued parading in my waterproof jacket and hoodie the people here stomp in knee-length boots and jackets which are so stylish I can't believe they are from China!
Though by December I myself got one new sweater and whenever I wear it and walk down the street I feel like I am no less than a style icon! All because I just had a sweater on the same sweat pants and same old brown/grey trekking shoes of mine. Just imagine if I had actually put on their boots and stylish pants. I would tread like I am Miss Universe I suppose!
Me -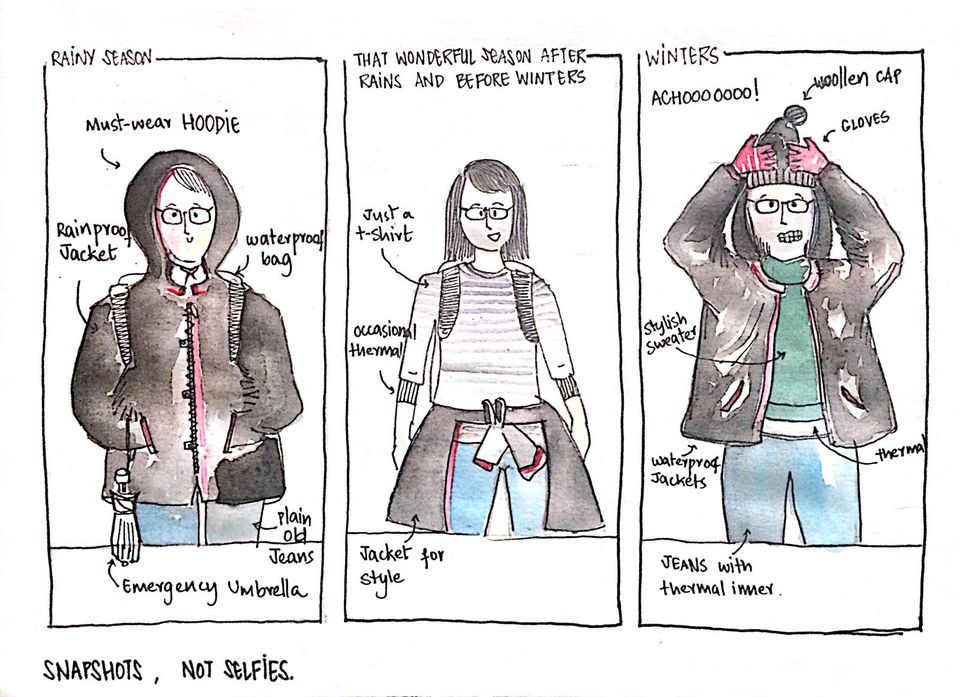 The pink gloves on is only because I had what they call a chill burn ( mild frost bite) where your finger becomes bloated, then blue/red and itchy. It hurts . But I definitely am the first in my family to get this so laaaa ..
And yes, I was attached to my waterproof jacket. All 6 months. And yes I did wash it in that middle season. Once.
Well now on how we live aka grocery shopping:
Get up in the morning, decide we want milk, get out and buy milk. Drink milk. Decide we want to make pancakes. Get out and buy eggs and banana. Make pancakes and leave for work.
Come back from work. Now decide we want to make Rajma chawal. Get out and buy Rajma. Make Rajma Chawal.
Continues the same way with whatever we decide is on the menu
So as you can imagine, the shop keeper next to our house was a very close friend. We have even gotten the sabji she cooked one evening when we went to shop for dinner and ended up buying only gulab jamun as we were lazy to cook (and we are'nt good cooks). We have even fallen sick after eating what we cooked during our first month here and started eating out to get better!
The vegetables we would buy would also go like 4 potatoes, 3 onions, 2 carrots and 1 cauliflower or cucumber. Also ,I would end up getting 2 small chillies in case we felt like eating spicy food while the next door aunt would be buying 20 Dallis! Just in case you are wondering why - we lived on a tight budget and didn't have enough containers to store our food items in! Not even the money to buy those containers. NO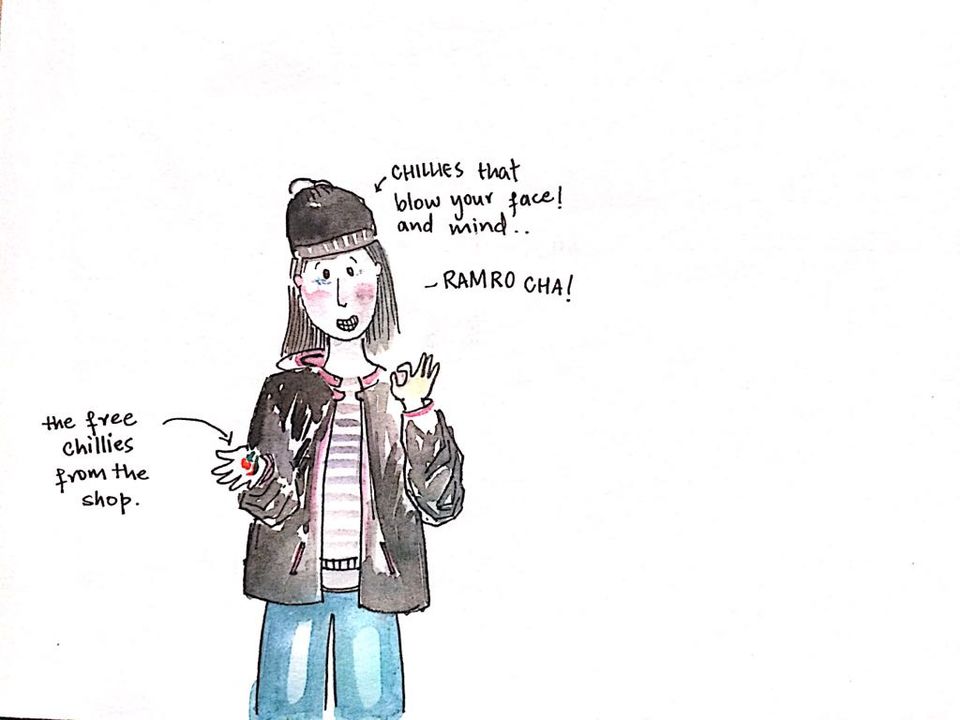 There was also this incident where we went to this shop recommended by a friend to buy some notebooks and when we went there (by now anything above MRP 100 would make us run as far away from the shop as possible) we saw the MRP was 180 and my friend went "shit why is everything so expensive" pretty loudly and we walked out empty handed, as usual. I later met the owner at a party and guess what, he remembered us! That got me thinking on how many shop owners remembered us as that's what we did in almost all the shops. Once my friend started laughing at the speed I put a packet of bun back on the counter after reading the price saying I could give Flash a competition for his speed!
The grocery shop next to our house would in-fact tease my roommate because -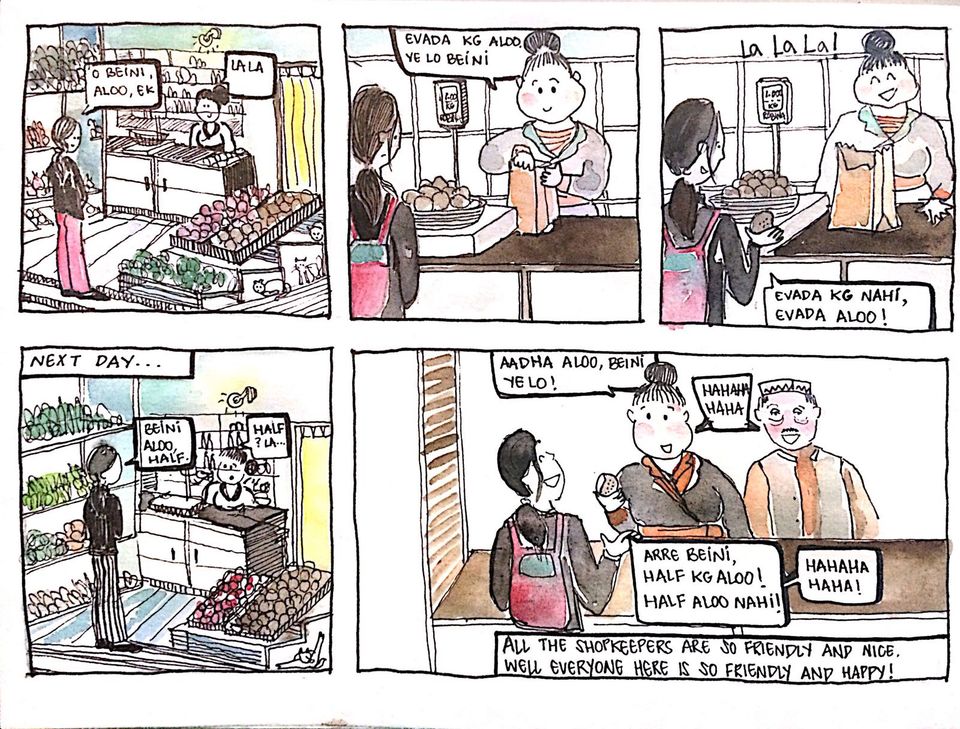 As the seasons change , the Kanchenjunga: June, July, August, September, October. All of them passed without us knowing that we could see the mighty snow-cap from our room. So one fine morning I wake up at around 6.30 ( sunrises by 5 here and my room doesn't have any curtains so light shines in and doesn't like me sleep late) and lo behold, what do I see from my balcony!! Laaaa the Kanchenjunga. Amboohhhh!
I can't stop jumping in my room, telling everyone I can see the peak. So October,this is also the right time to go trek at Tinjure and see an amazing sunrise as the weather is still not too cold to camp outside. October, November, December. You can catch the glimpse of the mighty Himalayas every now and then. From near MG, Ranka stand,Development taxi stand, the monastery up the hill. We can also see some amazing sunsets with amazing colors of the sky this season. Red, orange, blue, indigo, they all seem to mix seamlessly and make a beautiful painting of the sky.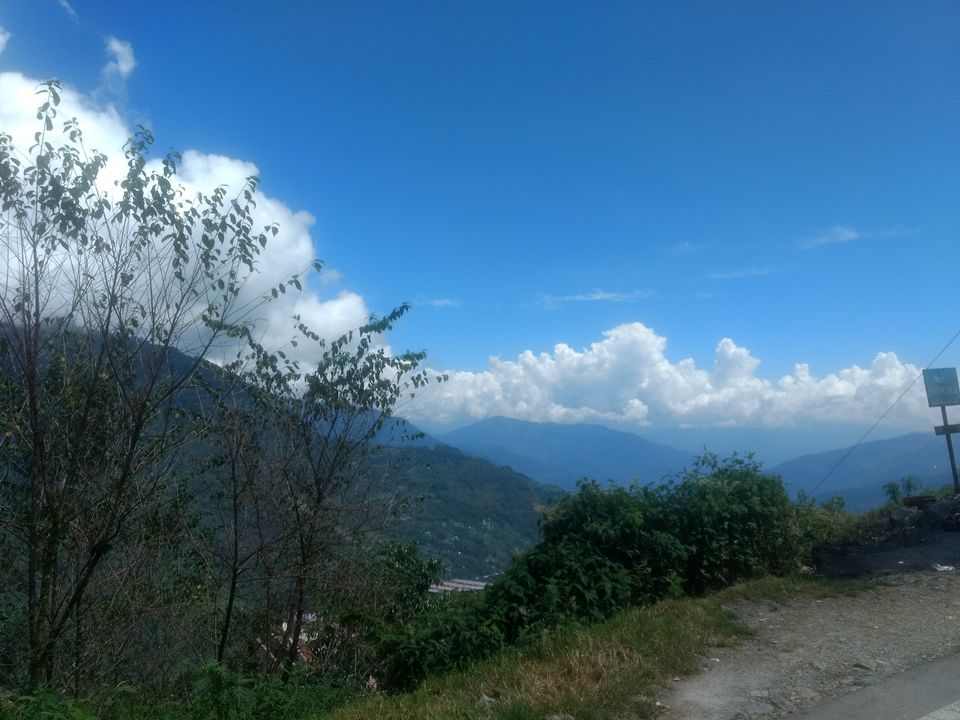 Every evening at 5 since November all my Snap chat friends regularly get a snap of these sunsets. It is beautiful! Period.
North Sikkim:
Well by November all the tourists start coming back and the roads clear up and we can go to North Sikkim now. I went there as my mom and sister came to visit me and so we decided to go to Lachen, Lachung, Gurudogmar and Yumthang valley. If you want snow I would tell you to wait till the end of December before you go, or else to see icicles formed on the mud guards of your car and on the lake as well you can go in November. It is a different beauty when compared to March which is filled with snow and Yumthang stands true to its valley of flowers name.
Nepali lessons:
So all those Laaa I have been using is an expression so commonly used here. Everyone uses it for everything! I remember my office friend telling la, la and only la on the phone once while talking to his wife and when I asked him what it meant he said you say that to make her stop talking!! The other time this cop friend of mine had left all the taps open in my house and there was a flood when I came back home. I called her and asked her about it and she went LAAAAAAAaaaaaaaaaaa! So just nod you head and say la, or shout it loud and say la. Laa laa laa.
Also ,I had a whole conversation in the little Nepali I knew in this shop I went to. I asked him katti ho ( how much ) to which he started talking full-fledged Nepali while I went la la la! And if you want to get your way round getting more tasty food in small little eateries go with mitto cha ( its tasty) . They tend to give you a little more if you are lucky! And of course ,ramro cha which is it is good.
I don't know how as I have a loooong nose and big eyes ( my friend once told me if I opened my eyes a little more the eyeballs would fall out and I could play TT with it) people mistake me for a local. I have had some sisters from the church come talk to me in Nepali, I think asking me to convert. I have had shopkeepers talk to me in Nepali without me having to showcase my grasp of their language. While none of my friends have ever been confused for being a local. I guess it shall remain a mystery.
Well after 6 months of bliss happy life despite the super tight budget there is nothing to regret as not only was Sikkim beautiful I also went to Bhutan, Meghalaya, um Hornbill? and met some amazing people, made some really good memories.
But now its time to go back home as this budget living has taken a toll on me. I crave for cheese, I crave for dark fantasy cookie, I crave for butter masala dosa, for a good hot cup of coffee. .
But I will come back for sure, someday, somehow. I need my dosage of HIT beer once a while after all.
So until then. . .