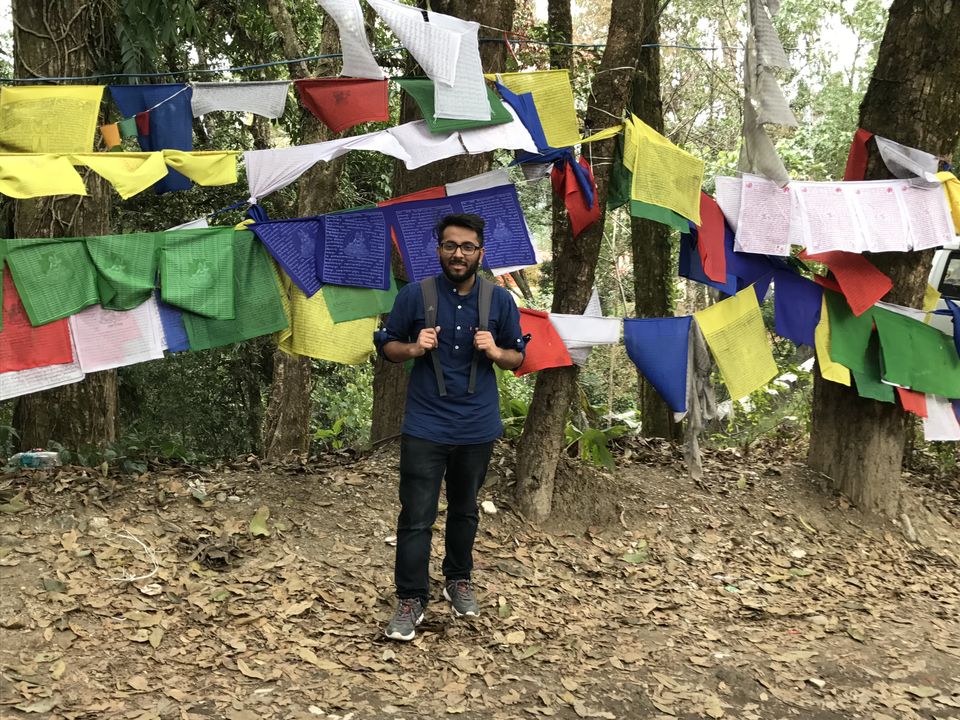 They say traveling leaves you speechless at first, then turns you into a storyteller.
Greetings Everyone!
A little about me. I am an engineer by Profession. Travel blogger by Passion.
To inspire millions of people to travel alone. I started my solo travel blog. Read travel stories. Get Inspired to travel alone.
And the story begins...
A lot was rushing through my head when I reached Terminal-1, the domestic airport of New Delhi. Just two weeks back a crazy idea hit me. Go Sikkim. Go Solo. I had made my mind. The same day I convinced my parents that going solo was indeed a great idea. Flight Tickets were booked the next day. And here I was at the airport eagerly waiting for the journey to begin. My flight was scheduled to leave at 12:30 noon. I reached Bagdogra airport around 2:30 noon.
The person siting next to me was returning to his home from his in-laws. We talked a lot and he was kind enough to drop me to Siliguri Junction. I thanked him and I proceeded towards the shared taxi stand. Normally you could find a shared taxi to Gangtok for nominal fares. Not this time. The person at the counter told me that there would be no cars available for today. I walked outside to find out that two people were going till Rangpo and they were waiting for another person to dutch. I thought for a while and decided to go with them. At least I would cross the West Bengal - Sikkim border. From Rangpo, I took another cab which took me to Gangtok. So finally after taking 3 different cabs from Bagdogra, I reached my hotel at around 8 pm. I freshened up and had a talk with the manager.He informed that a couple had booked a cab for local sight seeing for tomorrow. I met the lovely couple and promptly joined them for the tomorrow's tour.
We began our tour around 9 am and covered some 7-8 cliched points in about 3 hours. These included Ganesh Tok, Sikkim state circuit house, flower valley, Tashi view point, ropeway and some other small points. The couple was on their honeymoon!! They shared all their personal stories with me and we bonded quite well.
We weren't satisfied with the tour so we asked him to head to Banjhakri Falls and Park. This is a place I would recommend everyone to visit. The sheer beauty and serenity of the falls would leave you spellbound.
We captured a lot of moments here and we stayed here for about two hours. Here are some more clicks.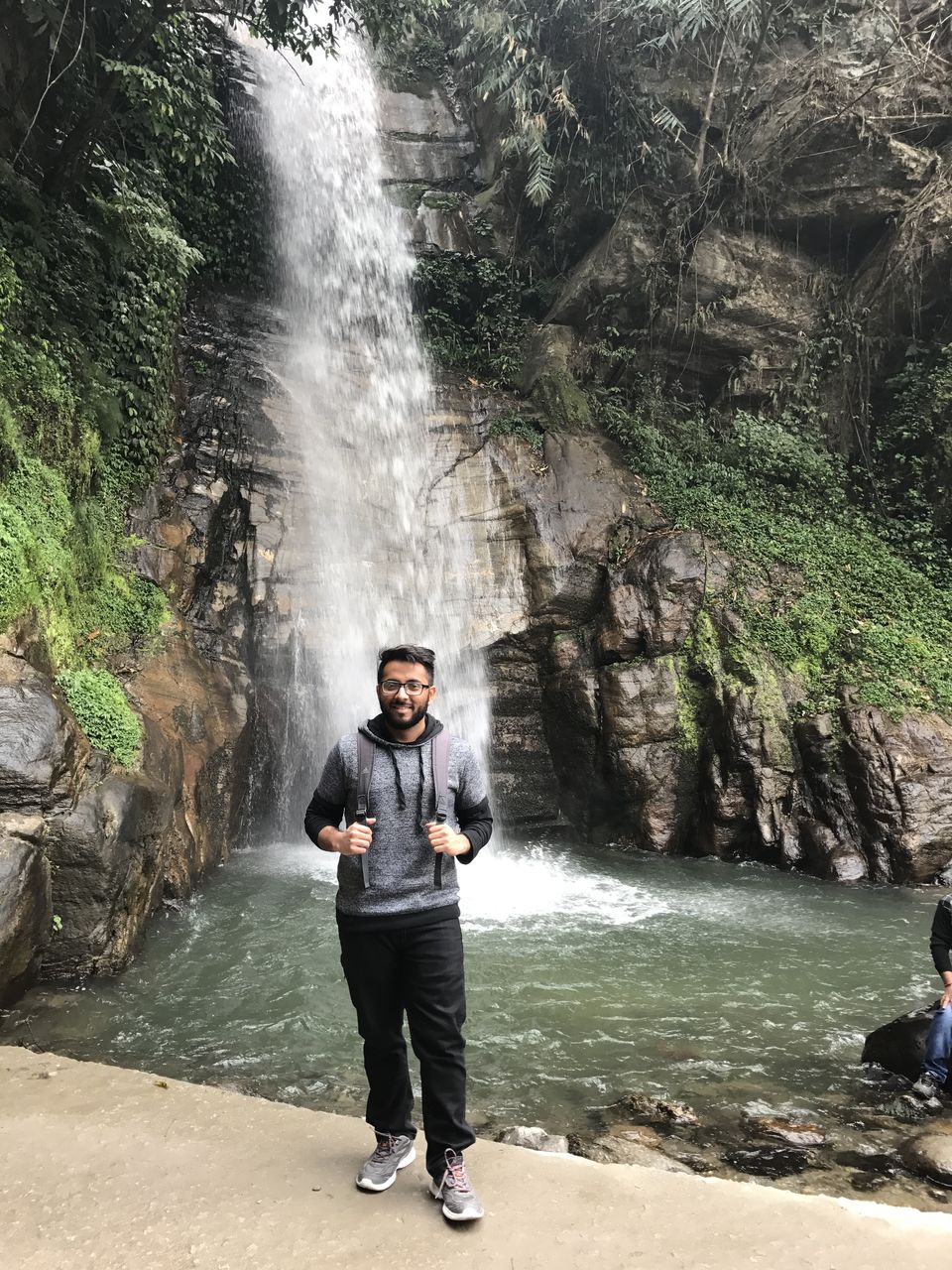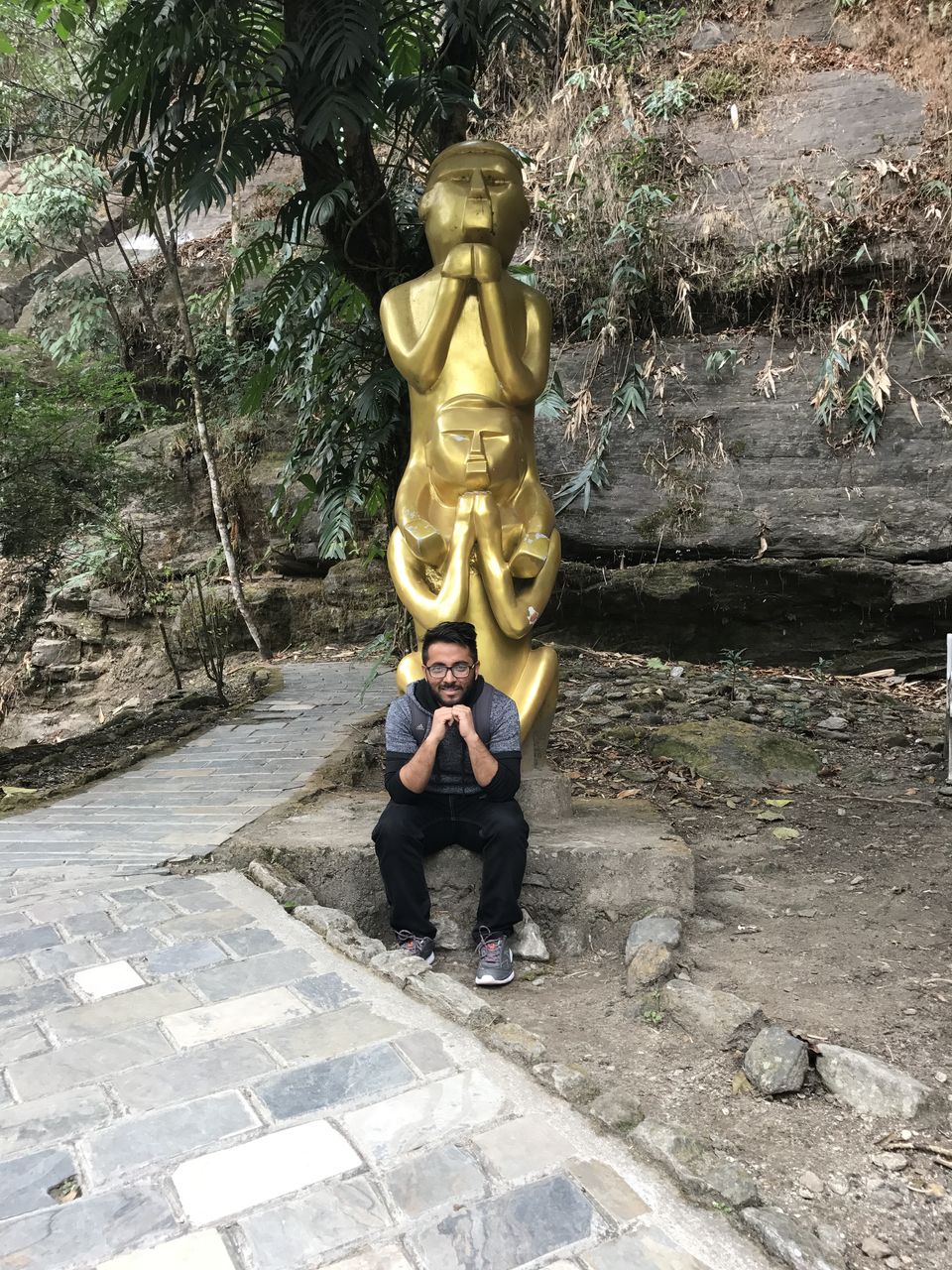 The couple was really sweet and I had a great time with them. We then parted ways and I headed towards MG Marg to treat myself to a delicious meal. You could find a great number of eating joints here. After lunch, I decided to visit Enchey Monastery. Peaceful yet powerful, this place would make you feel amazing. Afterwards I headed back to my hotel on foot. I had an amazing day and now was the time for some rest.
The next day I decided to visit Sikkim Himalayan Zoological Park. I started out on foot and asked for a lift from a local jeep. They were really nice people and dropped me a few metres away from the zoo. This is one thing that I just love about Sikkim. Hitchhiking. Now coming back to the zoo, it is quite unique in the sense that most animals are kept in a semi-natural habitats. I remember seeing Red Panda, Bear, Common Leopard and Snow Leopard amongst various other species. Overall it was a really nice experience. It rained a bit and made everything look even more beautiful.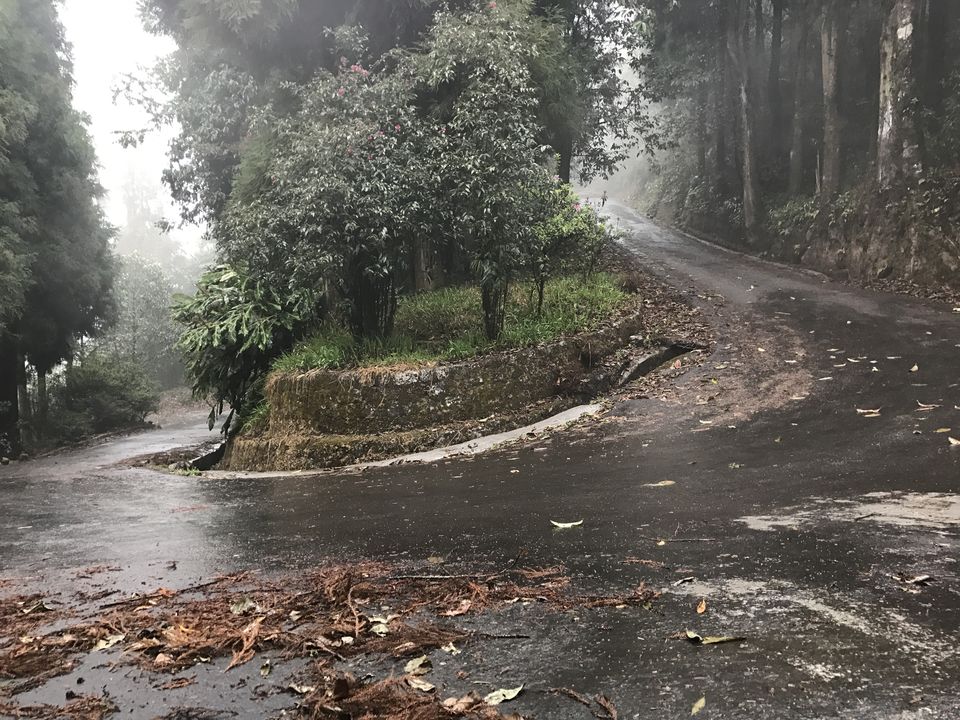 One thing about travelling solo is you can make friends all along and this actually helped me a lot throughout my journey. I met a group of 4 people, inside the zoo. We clicked instantly and within minutes we were friends. We had an awesome time together.Afterwards they dropped me to MG Marg.
While traveling alone we must carry books which inspire us to travel more.
The rain had stopped for a while. I kept strolling down the streets of this beautiful place. Suddenly it started raining cats and dogs. The locals here always carried an umbrella. I asked a gorgeous lady to share the umbrella. We walked for about 2 kms and talked on various subjects like the beauty of sikkim and the people here, my solo journey, various culture differences. It was fun.
Locals were extremely helpful and always made me feel as if I was at home. Everyone was happy, calm, honest and lovely. They radiated peaceful and humble vibes. Honestly, I was extremely jealous of all this, given the fact that I hailed from New Delhi.
The next day I planned to visit Rumtek Monastery. It is one of the most beautiful monasteries that I have ever been to. The sheer peace and tranquility will leave you amazed. Preparations were being made for their festival and everything felt outstanding. I played with cute little monks. My heart knew no joy which was more than what I was experiencing here.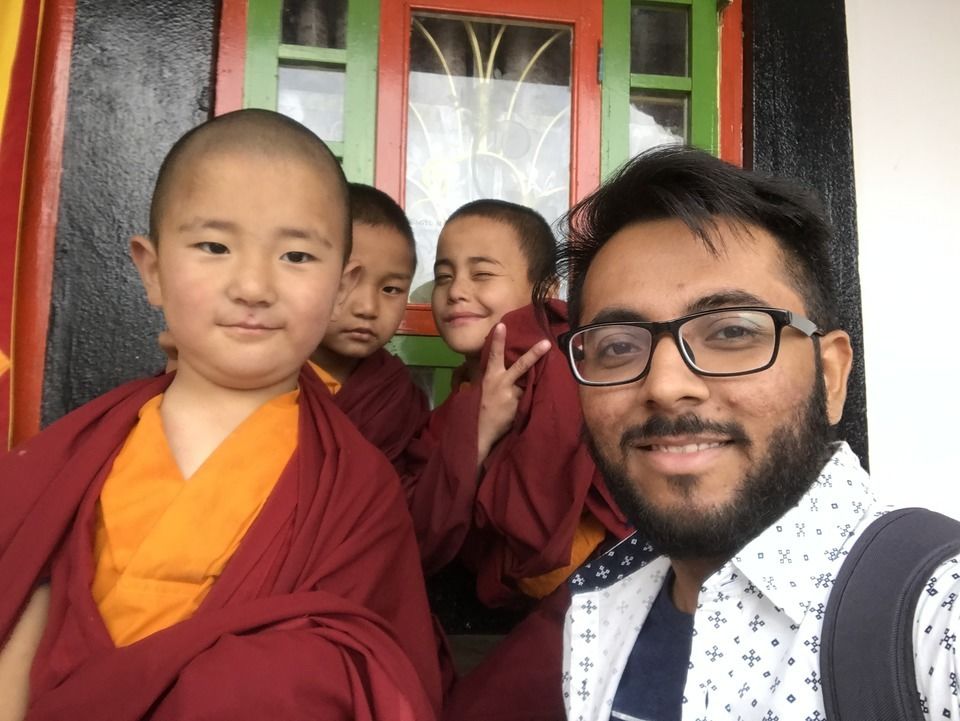 I talked to another monk about the same age as me. He told me a lot about his growing up, his education, the culture around here. We talked for about an hour.He told me that he came here when he was 5 years old. He had almost completed his education. He even told me that he would be staying in a cave, completely cut-off from the outside world for about 8 months. This would be another step to becoming a monk. I bid my friend and this lovely place a hard goodbye. These people and the sheer atmosphere made my day.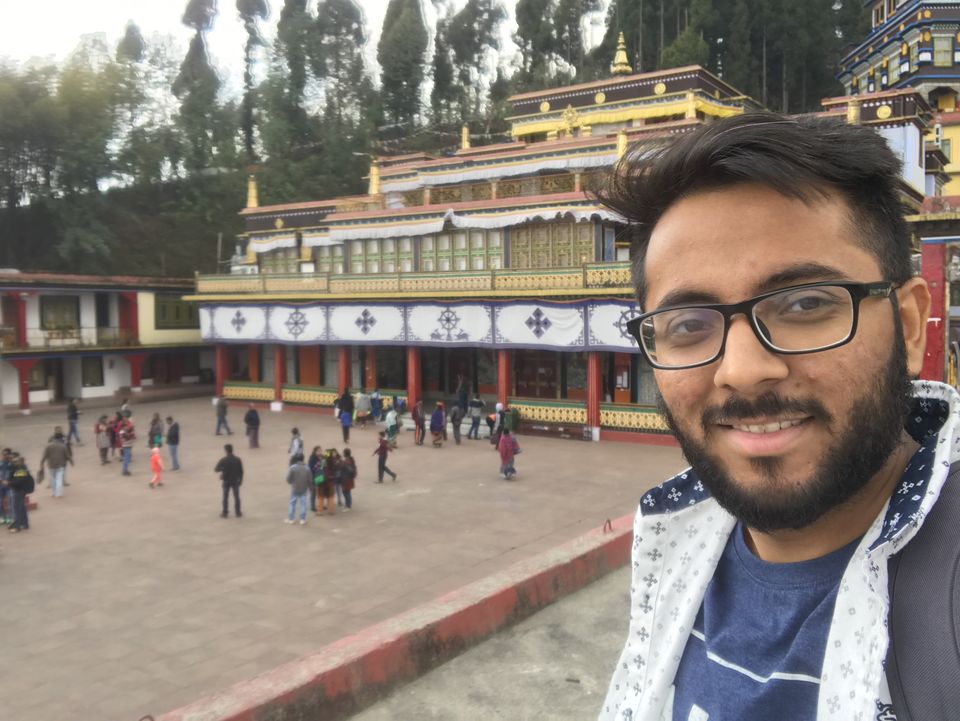 The next day I left for Lachung. Now Lachung is in North Sikkim. It is a 6 hour drive from gangtok. We reached Lachung at about 5 pm. There was not much to see around our accommodation, so I roamed around for some time and then went inside the hotel to rest. We were to leave for Yumthang Valley the next morning. So I slept early that day. When I woke up next day, I experienced something magical. It had snowed all night.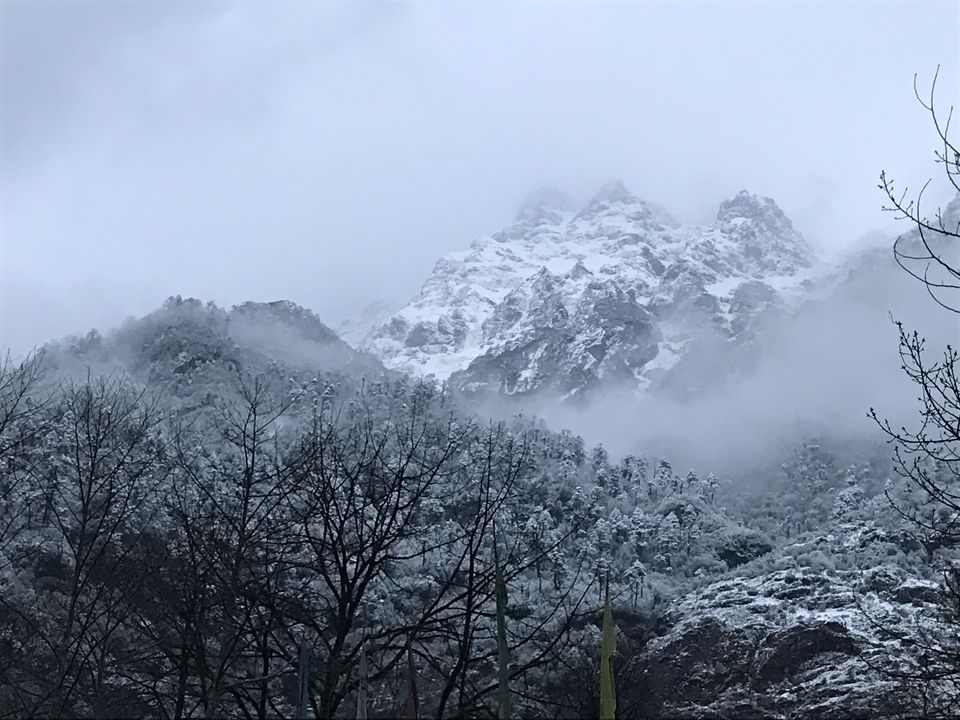 The view from my hotel was jaw dropping. I couldn't believe my eyes. Snow everywhere. I was so happy that day. I had just witnessed something so heavenly, so pure.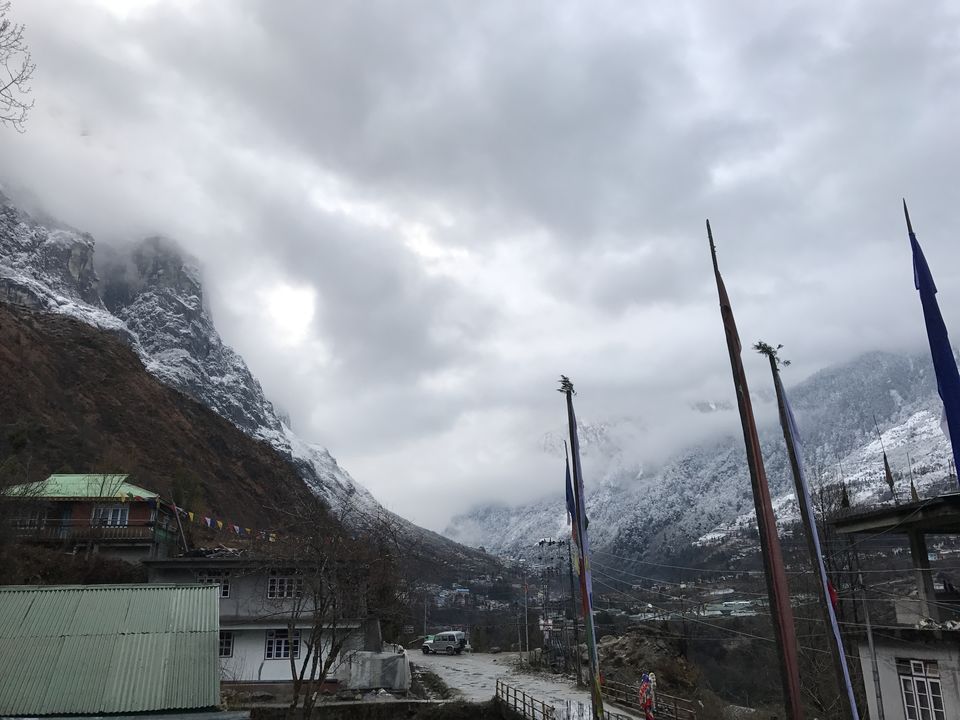 We started our journey towards Yumthang Valley. I was already in love with this place. Luckily, there was more waiting for me. The drive in itself left me spellbound. Untouched and pure is what makes this place so beautiful.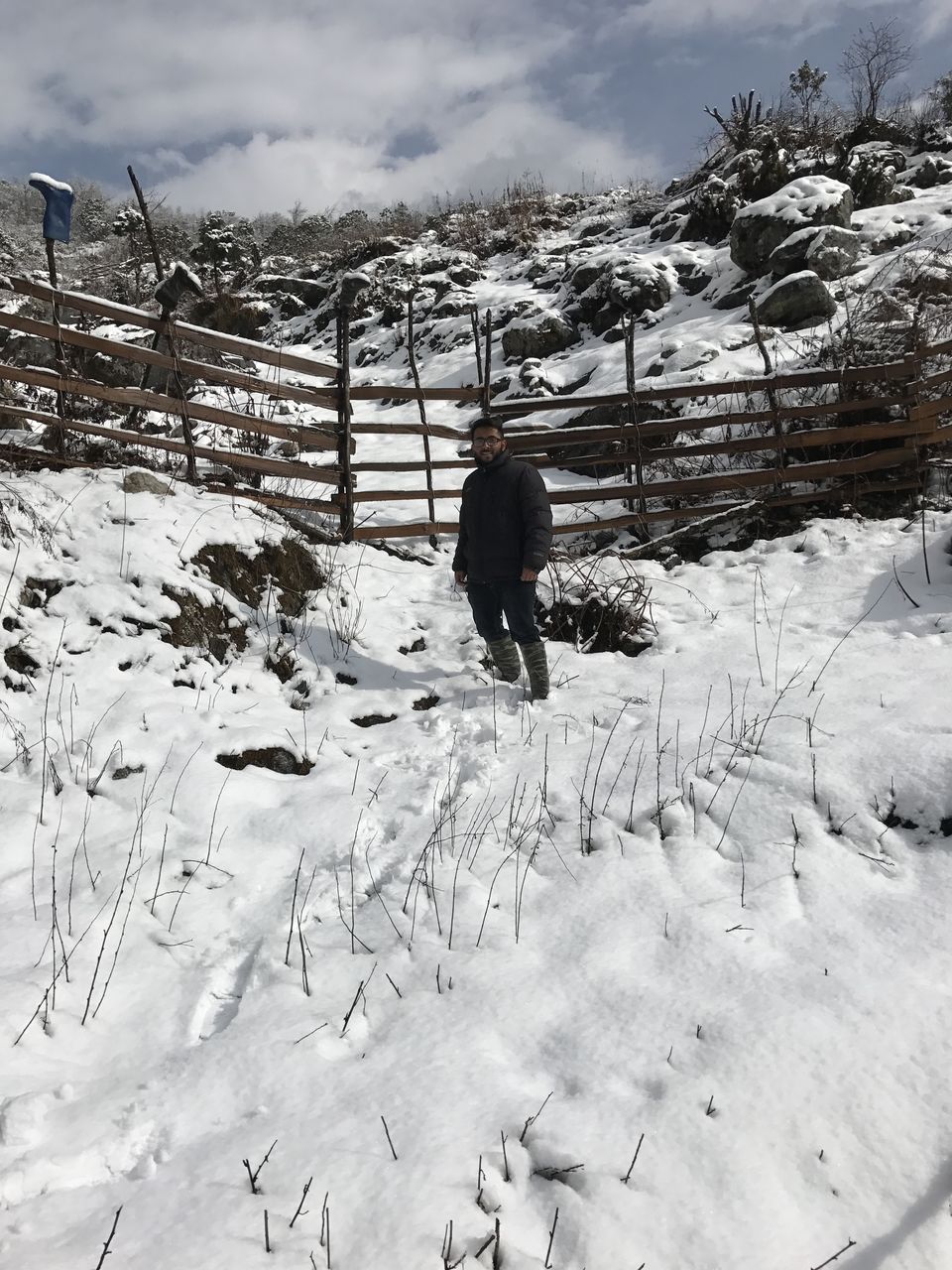 It had snowed all night. We couldn't reach Yumthang Valley as the roads were closed down. We were about 10 kms away. We decided to make this our destination. I got down from the car and went alone as far as I could go. I was experiencing something mystic, something powerful.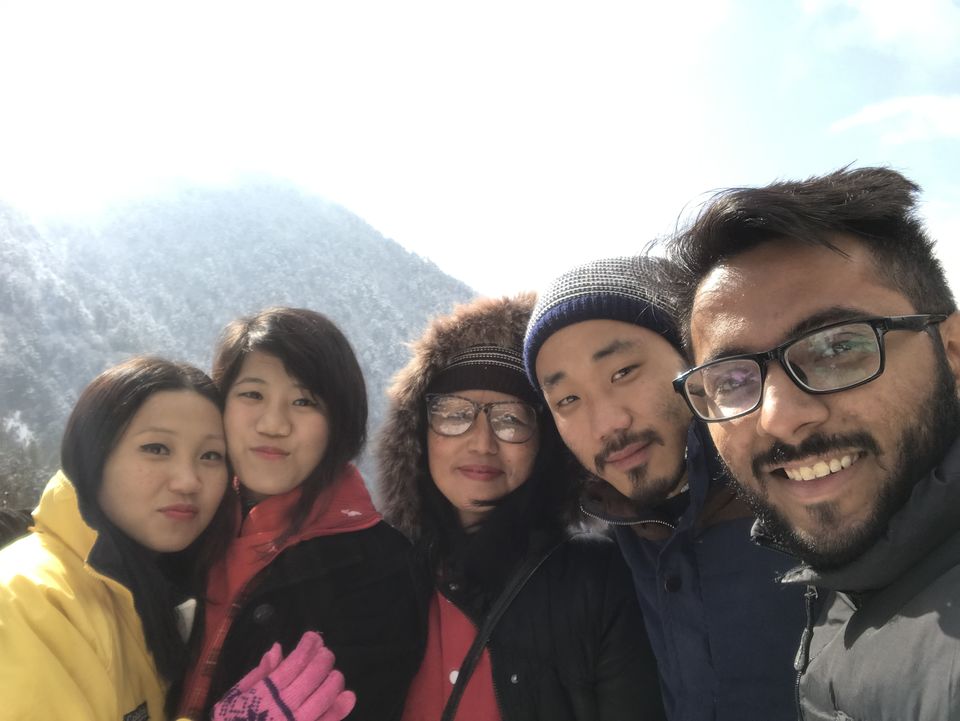 I met a lot of people on the way and played with them in the snow. I even met some local people who were enjoying their holidays. I knew I was going to cherish these moments years from now.
I kept going further ahead. Alone. Completely lost in the moment. Living the present. Capturing everything I could.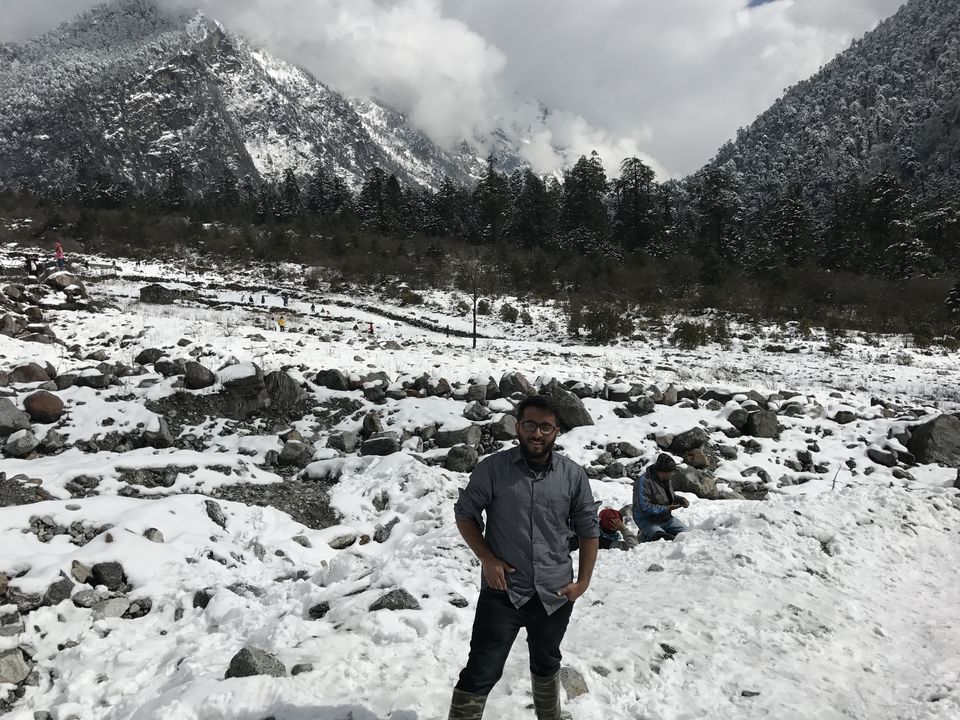 After walking for about 2 kms, my eyes fell upon something magical. I had reached a beautiful valley. The extremely vast valley was entirely covered in snow. I had to pause for a while, To take it all in, To embrace the sheer beauty and elegance of this heaven.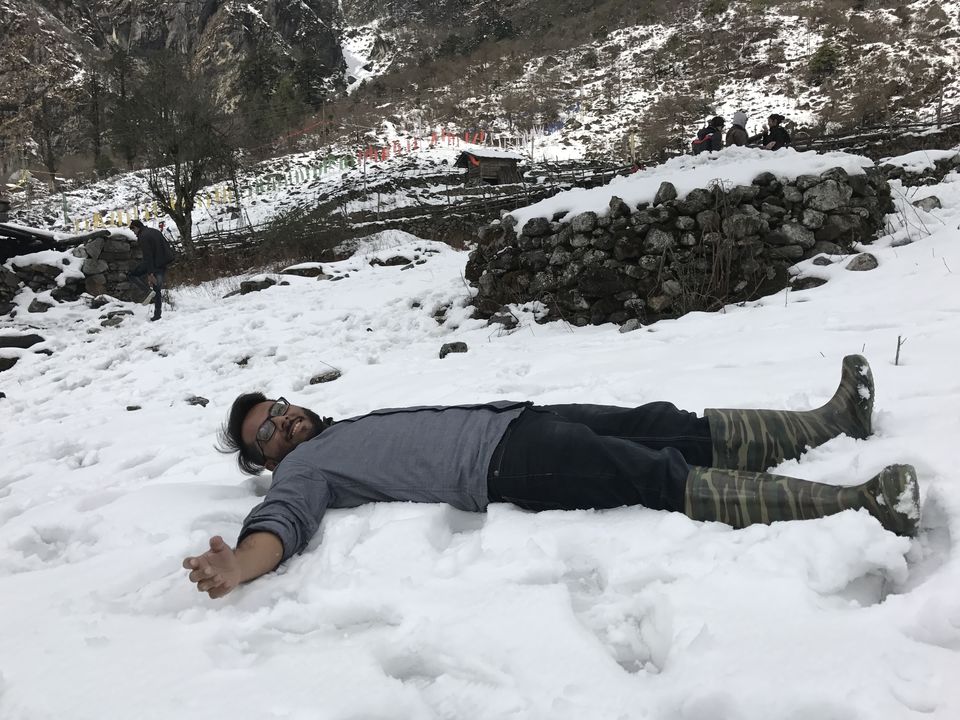 Something in me had changed. I felt at peace. I felt sensations I had never felt before. I was free. Nothing could stop me now.
I was so immersed in this place that I had lost track of everything. Suddenly my phone rang. The cab driver informed me to return to the cab in 5 minutes. I didn't wanted to leave this place. Although I spent 2 hours there. It felt like eternity. The cab driver called me again and told me that they had left without me and I was to meet them about 5 kms downhill. I kept walking at my own pace and absorbed every ounce of it. Finally I reached my car. Everyone started complaining. I was still immersed. I smiled at them sheepishly and we started our journey back towards Gangtok.
The next day I went to Namgyal Institute of Tibetology. I learnt about religion, history and the rich Tibetan culture. I was amazed at the simple, yet powerful ways of these people.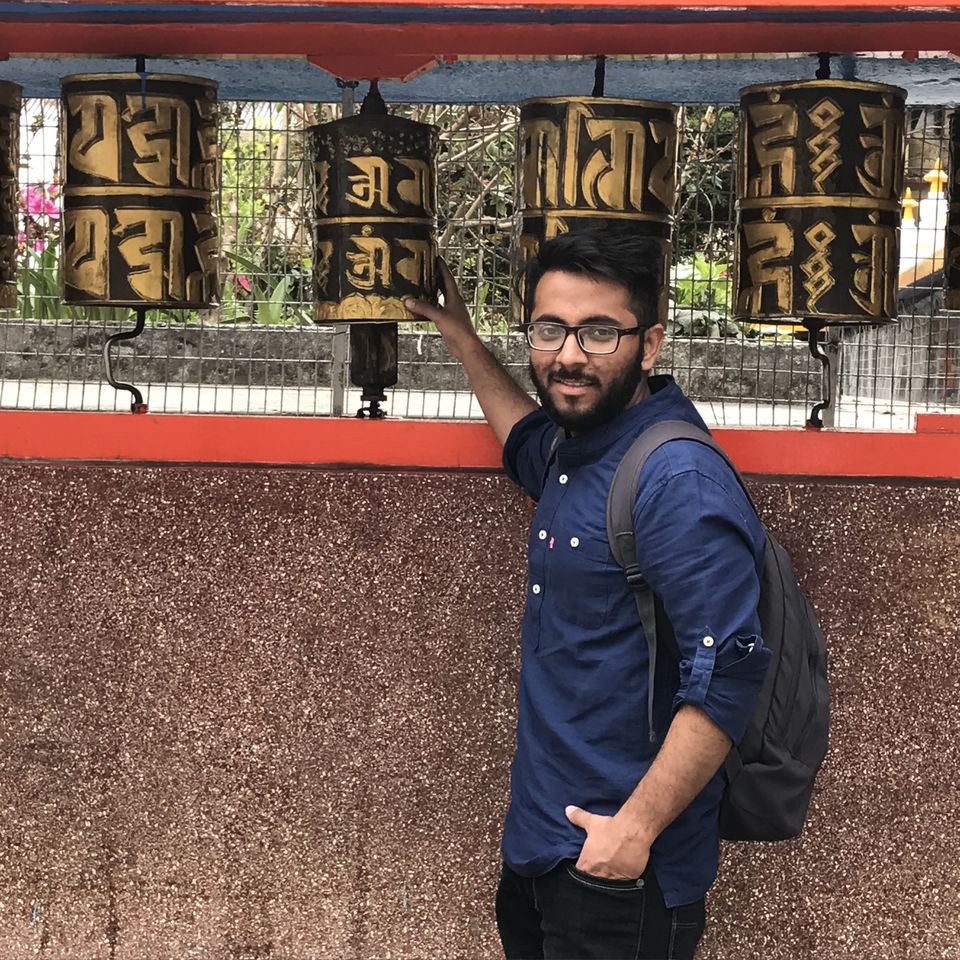 I roamed about the streets of Gangtok capturing all the beauty and essence I could.
This was my first solo trip. If you had asked me before the journey, "Was I nervous??" . Hell Yes!! But Sikkim made me feel at home. Sikkim took me in with open arms. Now I wish to stay more.
I was mesmerised by her beauty. I had found heaven. I was spellbound. I felt complete. I felt alive. Something in me had changed forever.
Traveling alone is the single best gift you can give yourself.
Frequent searches leading to this page:-
sikkim gangtok darjeeling package, gangtok sightseeing tour, gangtok tour plan for 3 days, veena world darjeeling gangtok, darjeeling gangtok pelling tour, gangtok darjeeling tourism, Gangtok sikkim tour plan, local tour operators in gangtok, darjeeling to pelling to gangtok, gangtok package tour from kolkata price, gangtok tour itinerary