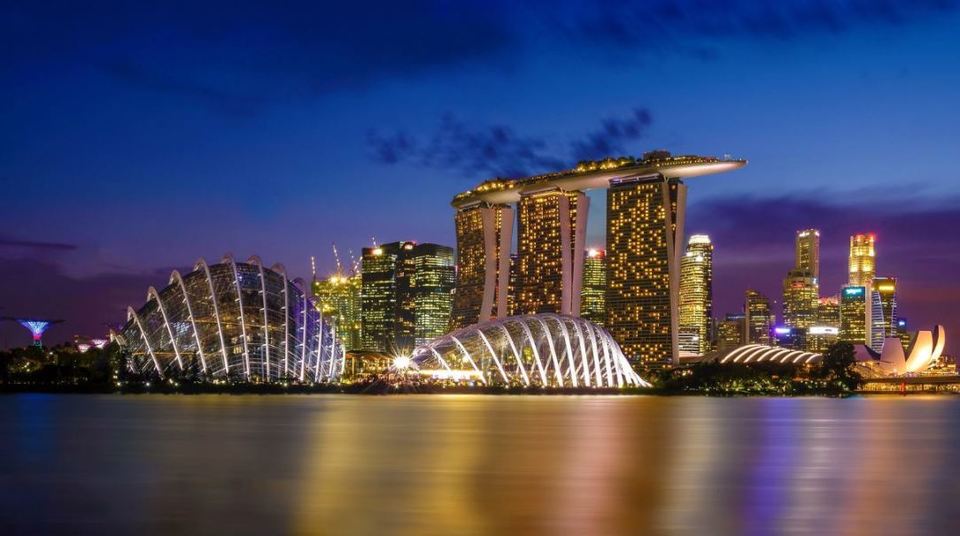 There are lot of places in our bucket list to tick off and Singapore was one of them. With its glamorous skyline to man made wonders , Singapore is a modern and a sparkling city in Southeast Asia. Singapore is undoubtedly a paradise full of greenery and iconic wonders on the earth.
We visited this city with certain hopes and expectations and came back with so much more than we had asked for. It is a place complete with sharp contrasts and continues to be marvelous. You will fall in love with Singapore, no matter how hard you try not to.
With 5 days to spend in Singapore, you can certainly explore a whole lot like we did! Experience the city's top attractions and discover its best kept secrets. Our 5-day itinerary will ensure you to leave the island with unforgettable memories.
Pro Tip: It is important to book your tickets online for the attractions you plan to visit based on the below itinerary beforehand that will save your hell lot of time of standing in queue. We booked all our tickets through Klook.com. they are very reliable and cheap.
** Getting Around in Singapore **
Singapore has a very efficient system of public transport and with its MRT trains and local buses, you can get anywhere you want.
EZ Link Card : . The best idea is to buy an EZ Link Card (Singapore tourist pass) a travel card that you can keep topping up in order to travel around the city. We bought EZ link card at the airport arrivals of Terminal 3 at Changi airport. you get Ez-link Card with a $5 value in the card and.
All you must do is to purchase the Singapore Tourist Pass, choose the number of days passes you require, use for your unlimited rides on buses and trains, and refund the card before you leave Singapore!
1-DAY PASS: $20
2-DAY PASS: $26
3-DAY PASS: $30
During our whole trip, we only traveled in MRT and it was so time saving and most of the attractions are at walk distance of the MRT stations. We suggest buying Singapore tourist pass plus which allows unlimited travel in MRT, LRT buses for 3 days in the city . We opted for this and saved hell of money in commuting with in the city. The Pass will also enable you to enjoy great savings while maximizing your travel experience in this beautiful and irresistible city.
Cost of Singapore Tourist Pass plus: $38 SGD ( INR 1935.08)
Tip: Prices apply to adult and child above 0.9m in height.
Taxis: Additionally, you could easily flag taxis, all of which are thankfully metered. We suggest using which is dirt cheap than the metered Taxis in Singapore.
However, if you are in group of 3-4; yes, we might suggest you to just use Grab cab or even taxi if you are travelling to some places. It can be more cost and time efficient. However, again, it depends on the distance as well. If you are really on budget, some places like Singapore Zoo will cost your around $20-25 bucks from city area for 3-4 pax. If you take train, follow by bus; it might cost you less than $3 per person. However, time wise, using Grab will be faster.
Day 1 in Singapore
Morning
Jewel - Changi Airport
Duration: 30 mins - 1 hour
We landed around 8.30am Local time SG. After the immigration , we straight went to the JEWEL - The newest attraction at the Changi airport. Seamlessly linked to Terminal 1's Arrival Hall and via pedestrian walkway from Terminals 2 and 3, this ten-storey nexus is a sparkling mix of dining establishments, top-notch retail and breath-taking spaces.
Experience wonderment the moment you touch down in the Lion City and discover a sample of Jewel Changi Airport's sparkling array of lifestyle gems.
We were amazed by the 40-meter-high Rain Vortex-the world's largest indoor waterfall-and explore verdant nature amidst the 2,000 trees, of the Forest Valley.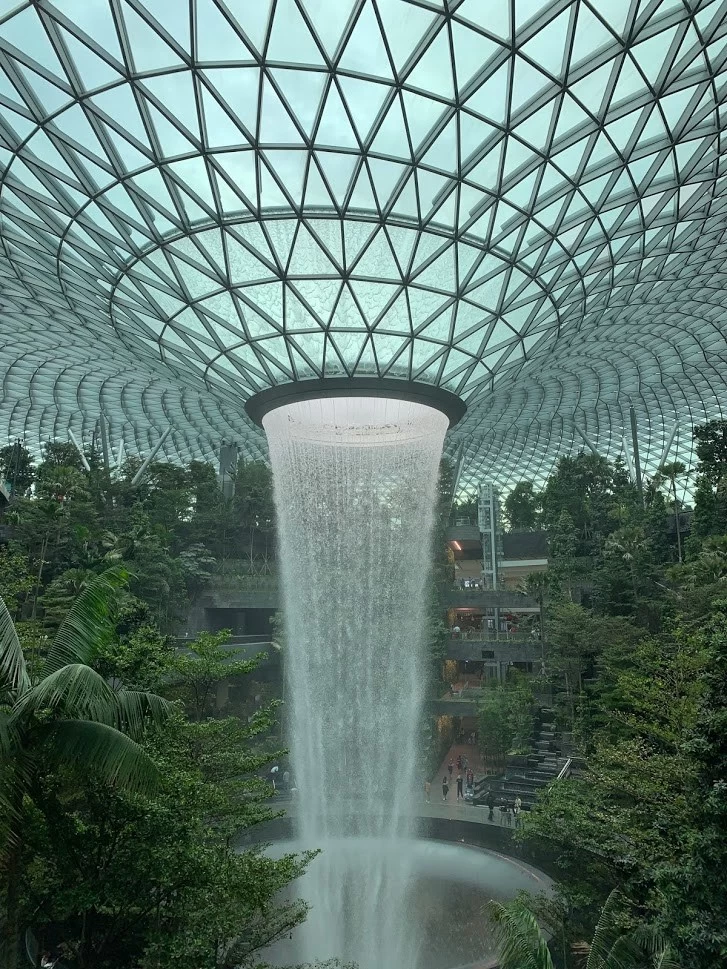 After Exploring Jewel, we went straight to our hotel and got freshen up and we were all set to explore our Day 1 in this merlion city.
Afternoon: Singapore Flyer and Art science Museum.
Duration: 3 - 4 hours
Singapore Flyer
If you are first time in Singapore, we suggest you do a ride on this world's largest wheel - Flyer. Located in the heart of downtown Marina Bay, the Singapore Flyer is Asia's largest giant observation wheel.
Step into one of the 28 fully air-conditioned glass capsules and be ecstatic on a 30-minute journey of some stunning day and night scenes of Singapore sky scrappers.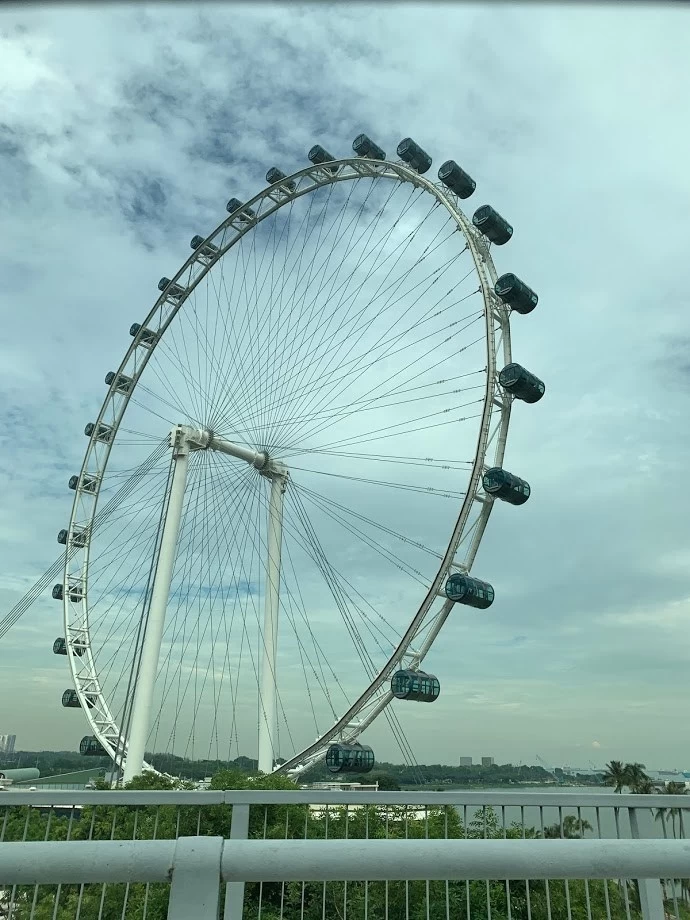 The prettiest time for a spin on the Singapore Flyer is at sunset, when the skyscrapers are covered in a golden glow.
Singapore Flyer Opening Hours: 8:30 AM to 10:30 PM, Monday to Sunday
Singapore Flyer Duration : 30 mins
Singapore Flyer Tickets:
Adult Ticket : SGD 33 Senior Ticket : SGD 24 (Above 60 years old), Child Ticket : SGD 21 (3 to 12 years old).
How to reach by MRT: The Promenade Station (Downtown Line DT15 / Circle Line, CC4) provides you with a fuss-free, mere five-minute walk to Singapore Flyer! Take Exit A and look out for blue pedestrian signs to Singapore Flyer.From Singapore Flyer take a 10 min walk through Helix bridge to reach Art science museum.
Art Science Museum
We saw some stunning images from this place on Instagram and had decided to visit this museum for sure.The Art Science Museum at the Marina Sands Bay has emerged as a stunning landmark both with its exclusive architecture and with the high-class exhibitions within.
There are some wonderful evolving exhibitions in Art science museums which changes time to time keeping up with trend in the art and science world, however, their permanent exhibit - Future of world is something you should visit.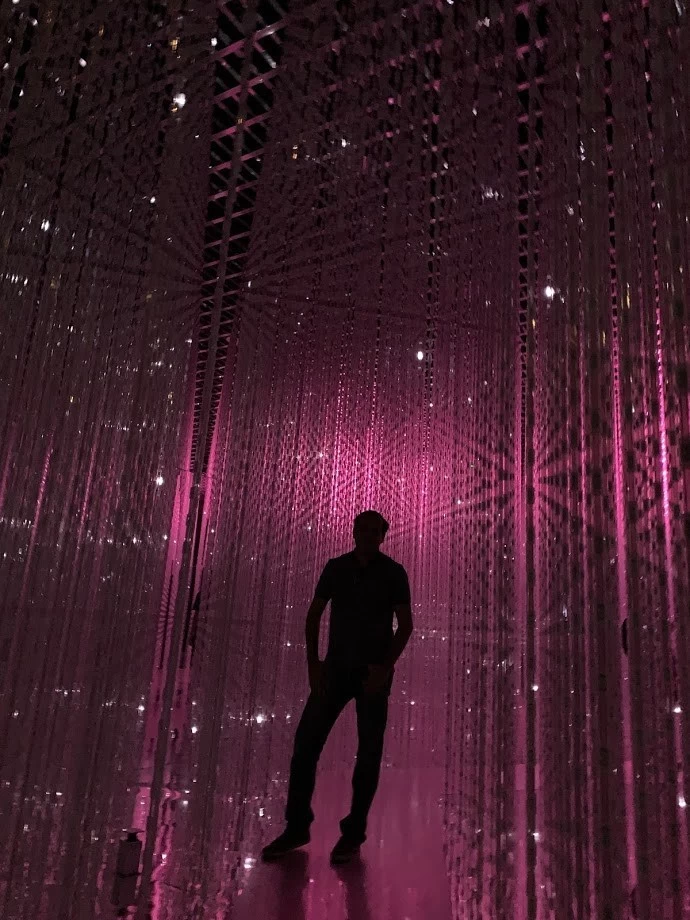 Sight, Touch and Sound, these senses come alive in an extraordinary high-tech interactive experience at the Art Science Museum Singapore Future World exhibition and every corner of this exhibition is so "insta-worthy" that you cannot really miss it.
Pro Tip: The Future World Exhibition is open for visitors only at six times during the day - 10:00 AM, 11:30 AM, 1:00 PM, 2:30 PM, 4:00 PM and 5:30 PM. It is advised to be there at least half hour prior to these timings to gain entry. Usually, you will encounter long lines at the entrance.
Art Science Museum Opening Hours:
Monday - Sunday - 10:00 AM to 7:00 PM, with last entry at 6:00 PM.
Art Science Museum Ticket Price: SGD 15 . We bought online tickets for Flyer and Museum from here.
How to reach by MRT: The Bayfront Station (Circle Line) is the right Art Science Museum Singapore MRT Station, as it is linked directly to Marina Sands Bay. Take the exit C or D and the museum is a ten-minute walk away.
Evening: Gardens by the Bay and Spectra Light Show at Marina Bay Sands.
Duration: 3-4 hours.
Gardens by the Bay
We took a nice river side walk from Art science museum to Gardens by bay . It is about 10-12 mins walk and we reached Gardens by the bay around 4pm IST.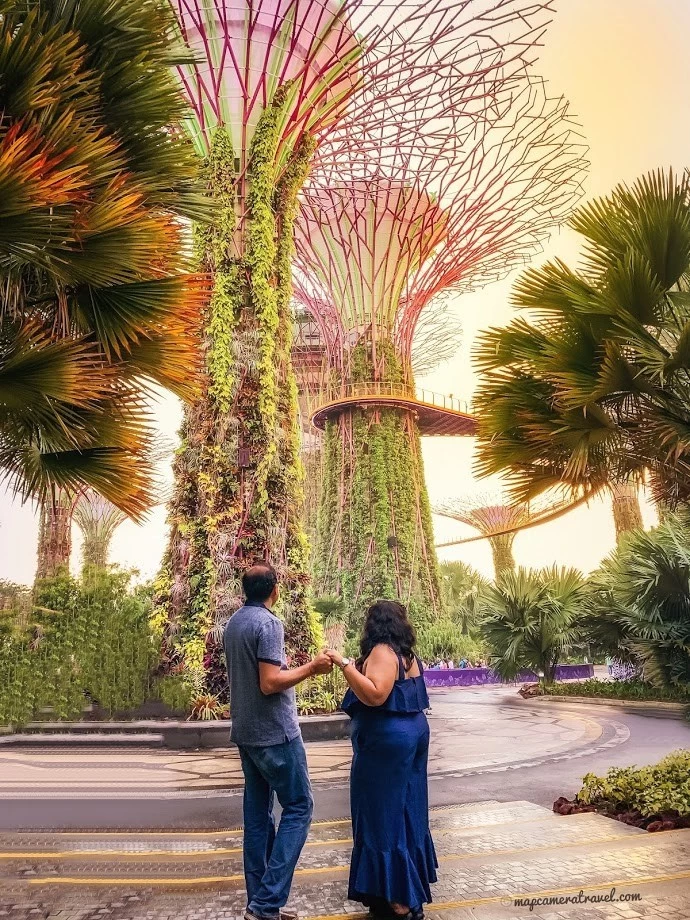 One of the Singapore's most iconic attraction - Gardens by the bay is a truly stunning location that must not be missed while in Singapore. The entrance to the garden is free however, there are three conservatories inside the Garden : Flower Dome , Cloud forest and newly opened Floral Fantasy.
Flower Dome: Flower Dome is a breathtaking part of Gardens by the Bay, at flower dome you can enjoy a lovely walk in the temperature-controlled dome, as you marvel at the changing display of plants and flowers from Mediterranean regions. They had Tulip festival in the flower dome when we visited.
Flower Dome is open daily from 9am to 9pm:
Cloud Forest: Cloud forest conservatory is located next door to Forest Dome. It is yet again one of Singapore's most impressive attractions at Gardens by the day. You will be greeted by one of the world's tallest indoor waterfalls that rains down from over 30 meters above.
Gardens by the Bay is spectacular overall, but this conservatory just blew us away. It's one of the most breathtaking attractions we've ever been to. Cloud forest also features an amazing Cloud Walk platform that gives you stunning aerial views of the entire conservatory.
Tickets : Double Conservatories ( Flower Dome and Cloud Forest) Adult: SGD 28.00 Child (3-12yrs): SGD 15.00
Floral Fantasy: This is latest attraction at the gardens by the bay which is winning hearts of all the travelers. Floral Fantasy is a new thematic attraction at Bayfront Plaza, a new area right beside the Bayfront MRT station.
Unlike the earlier 2 conservatories, Floral Fantasy showcases four artistic concepts that are expressed through Garden landscapes and the journey concludes with an exciting 4D ride attraction.
Tickets:
Adult - SGD 20
Child ( 3-12years) - SGD 12
Super Tree Groves & OCBC Skywalk: Trust us on this one- Gardens by the Bay is the only one of its kind. It is one place where you can see nature and technology interacting in the best way possible.The Super tree Grove has 12 of these technologically advanced trees, with heights ranging between 25 meters to 50 meters.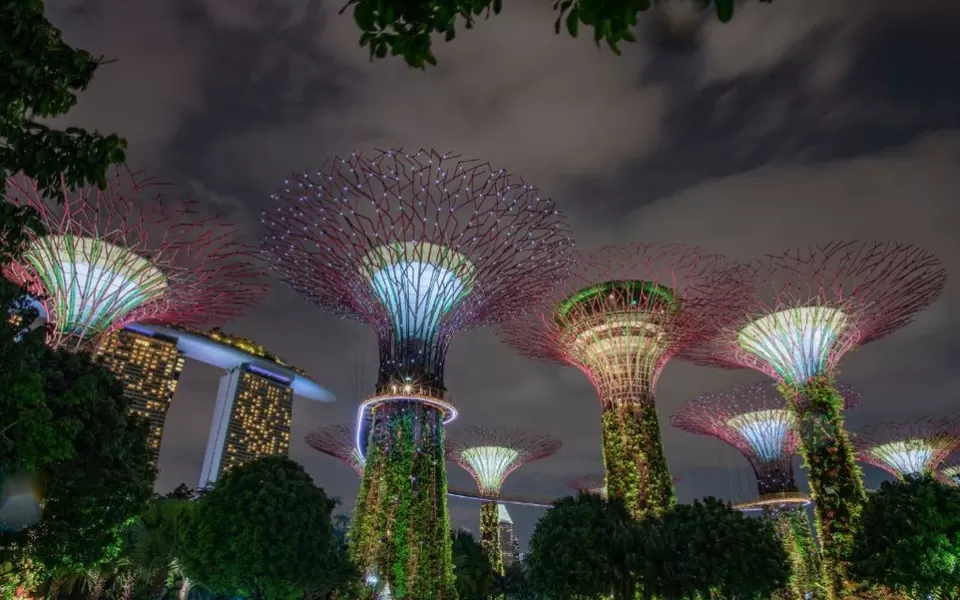 And What if we told you that there is a way for you to see the marvelous Super tree Grove from up close? The OCBC Sky way is 128 meters of jaw-dropping aerial awesomeness- walking on it comes very close to feeling as if you are floating in mid-air. This one-of-its-kind sky way loops around the Super trees and is 22 meters above the ground.
OCBC Sky way Timings: any day of the week between 9:00 AM to 9:00 PM. The ticket sales for the Sky way close at 8:00 PM, and the last admission is at 8:30 PM
Don't miss Garden Rhapsody, a thoroughly entertaining light and sound show at the Super tree Grove, show takes place twice every night at 7:45pm and 8:45pm.
How to reach Gardens by the bay by MRT: If you are travelling to Gardens by the Bay via the Circle Line or Downtown line, you can get off at the Bayfront MRT Station (CE1/DT16) and follow the underground linkway to take Exit B. Then you can enter Gardens by the Bay by crossing the Dragonfly Bridge or the Meadow Bridge.
Spectra Light Show at Marina Bay Sands: After watching Rhapsody show at 7.45pm , we walked back toward Marine Bay sands to watch the spectra light show.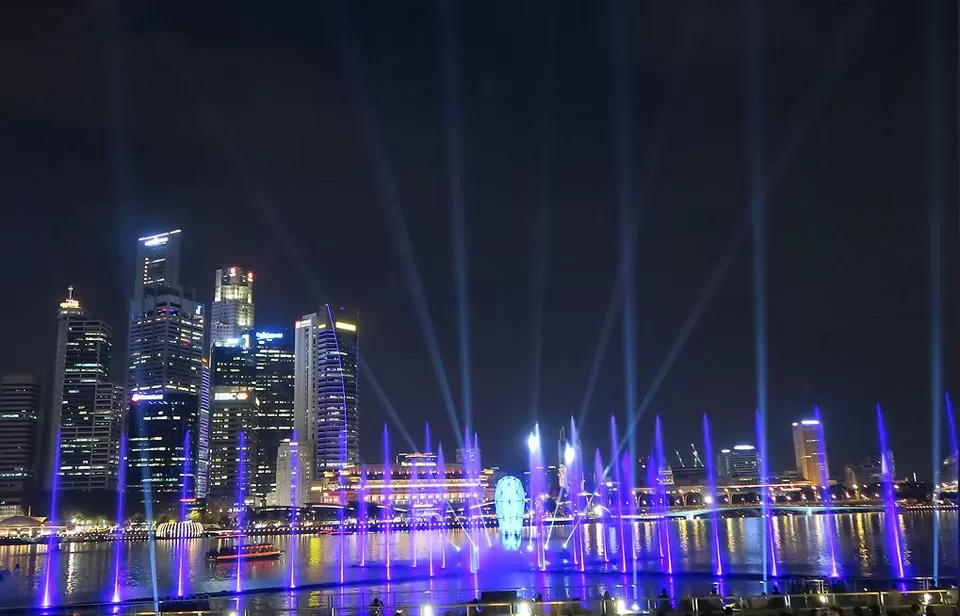 When the sun sets, Singapore's skyline transforms into a light-and-sound extravaganza. These futuristic laser shows were part of a nightly light-and-sound show presented by Marina Bay Sands in 2012, to the delight of tourists, locals, and photographers.
This show is free of cost and be ready to get wowed with this spectacular night show.
Day 2 in Singapore
Universal Studios Singapore at Sentosa Island
On Day,2 We were all set to explore the world of fun and excitement at Universal Studios Singapore. We began our journey via MRT and reached Harbor front station to catch the Sentosa Express. As we booked our tickets online, we redeemed our tickets at Vivo City Mall station from where we were to catch the Sentosa express to reach universal Studios. Vivo City mall is well connected to Harbor Front station.
This enormous theme park located on the Sentosa Island in Singapore is the ultimate stop for fun and leisure. It is Southeast Asia's only park that features 24 exhilarating rides and several shows and attractions in not one but seven theme zones.
There's something in it for everyone in your family, from energetic kids and tech-savvy teens to sophisticated adults! Let the kiddos play with banana-loving Minions and the Sesame Street gang. Feel the adrenaline rush on thrilling rides like Transformers: The Ride or the new Battlestar Galactica: Human vs. Cyclon. Meanwhile, film buffs can greet their classic Hollywood idols like Charlie Chaplin and Marilyn Monroe.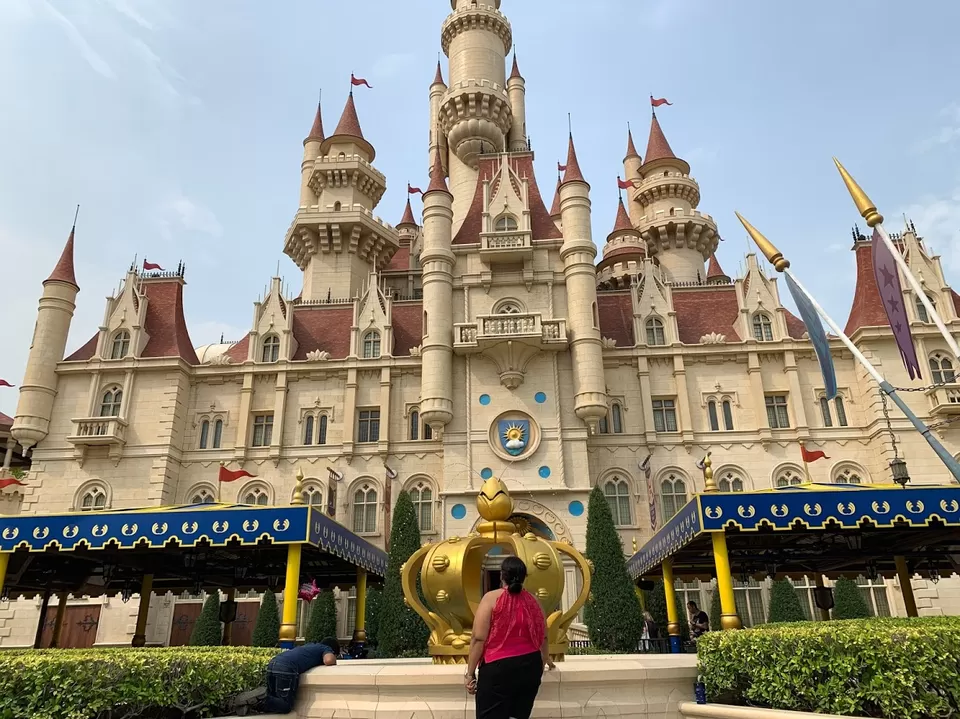 Universal Studios Singapore is divided into seven themed areas, namely: Hollywood, New York City, Sci-Fi City, Ancient Egypt, The Lost World, Far Far Away, and Madagascar. These are all based on popular Hollywood blockbusters.
Must Do Experiences in USS:
-Transformers: The Ride: The Ultimate 3D Battle
-Battlestar Galactica: Human vs. Cylon
-Lights, Camera, Action with Steven Spielberg:
-Waterworld - see death-defying stunts, amazing explosions, oh and expect to get drenched!
-Street Parade
-Revenge of the Mummy
Operating hours: 10am - 7pm
Tickets for USS: As one of the most visited attractions in Singapore, we made sure that we book our park tickets online so that we could skip the long lines in the ticket booth. So, before flying we booked our tickets through Klook.com. Upon booking on Klook's website , we got instant confirmation and the e-tickets were sent to us. This gave us the convenience to redeem the tickets directly at the entrance.
Ticket Price:
Adult (Age 13-59) - SGD79
Child (Age 4-12) - SGD59
Senior (Age 60 and above) - SGD41
You can upgrade to Universal express unlimited ticket to enter to any rides unlimited times and it also you enter in the special queue at the listed attractions.
Cost for Universal Express unlimited ticket : SGD 70
How to reach Universal Studios:
Take North-East line MRT or Circle line to HarbourFront station. Take Exit E to Vivo City and proceed to level 3 to board the Sentosa Express. Alight 1 stop later at Resorts World Station. Follow the directions to Universal Studios Singapore
Day 3 in Singapore
Explore Sentosa Island
Next day, we explored rest of the Sentosa island which includes thrill, luxury and all other nice things. Sentosa is a frivolous getaway situated off Singapore's southern coast.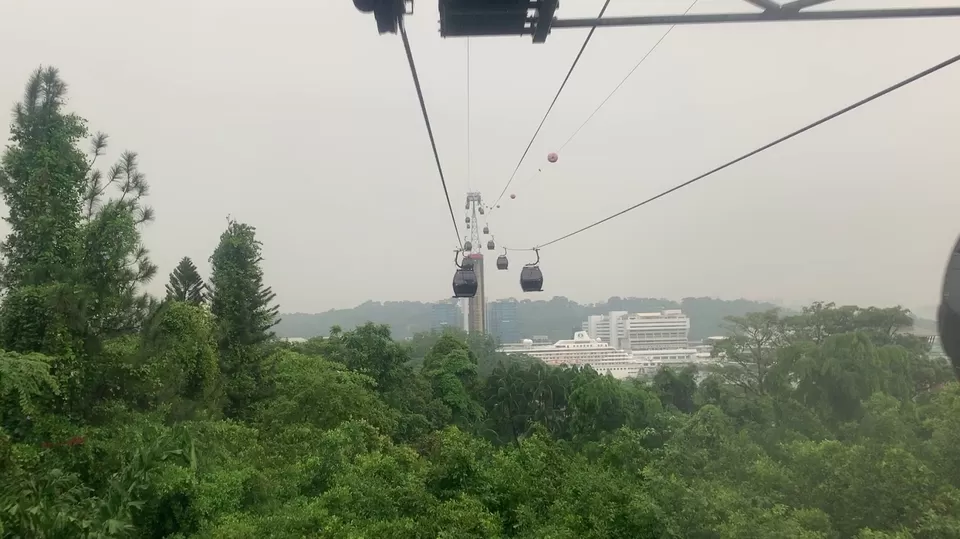 Visit to Sentosa Island was one of the most interesting and exciting parts of our trip to Singapore. This fulfilled island offers a stunning panoramic view of the city with a slew of fun activities including some serene beaches to thrilling rides to some adventure activities of Mega Zip and Mega Jump. There's something for everyone in Sentosa, whether you're an animal lover, an adrenaline junkie, a history buff or a beach bum!
As we already took a ride in Sentosa express on Day 2. We were excited to take a Mount Faber line cable car ride to reach Sentosa on Day 3. We highly recommend taking cable car ride for some stunning views .
Prebook your cable car ride tickets on Klook.
Here 's our suggestions of Must to do activities in Sentosa.
-S.E.A Aquarium
-Wings of Time (Evening show)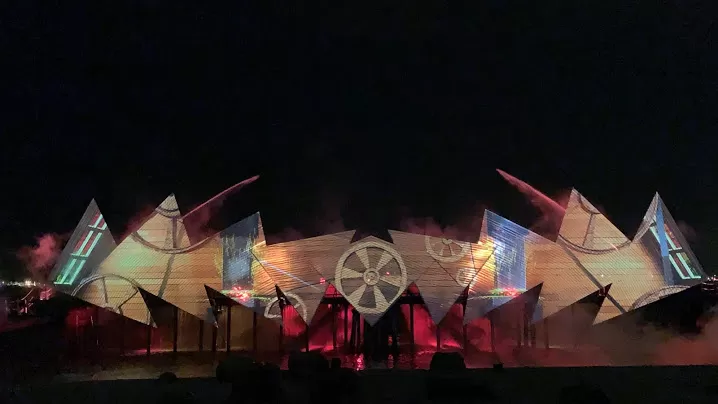 -Singapore Cable Car
- Skyline Luge Ride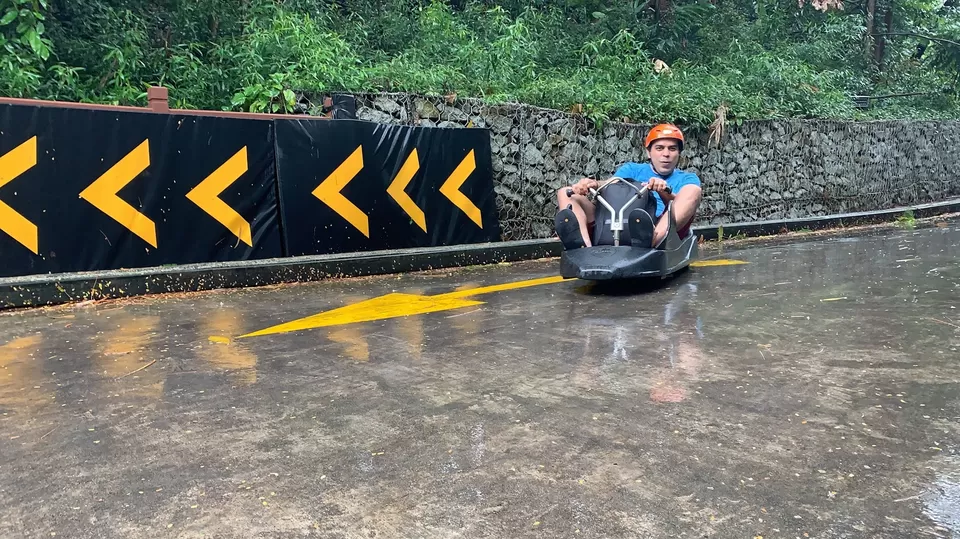 -Ifly Singapore
-Mega Zip and Mega Jump
-Sentosa Merlion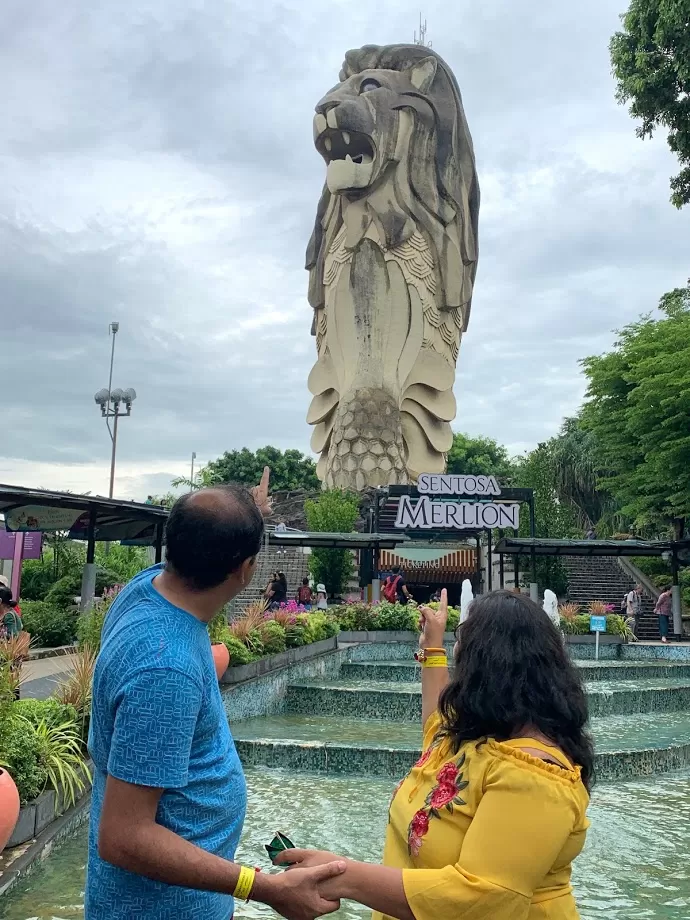 Tickets: You can buy Sentosa Fun pass online. With the Sentosa Fun Pass, you will make the most out of your trip. Sentosa Fun Pass offers convenience and flexibility to suit your travel plans. You can either choose to buy 55 Tokens, 80 Tokens and 120 Tokens.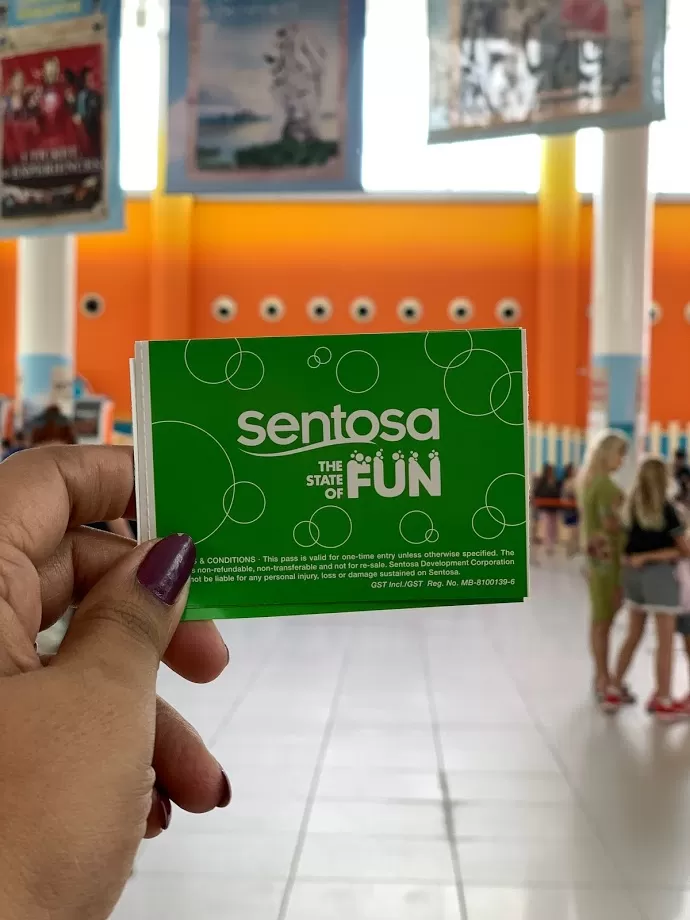 We recommend buying 120 tokens which gives you access to all the thrills and attractions at Sentosa. This will grant you admission to up to 11 different attractions, you won't need to buy individual admission tickets each time you visit a new attraction.
Pro tip: Do not miss the Wings of Time show at Sentosa island. Wings of Time is an award-winning outdoor night show that is a multi-sensory extravaganza, projected onto a larger-than-life water screen.
Day 4 in Singapore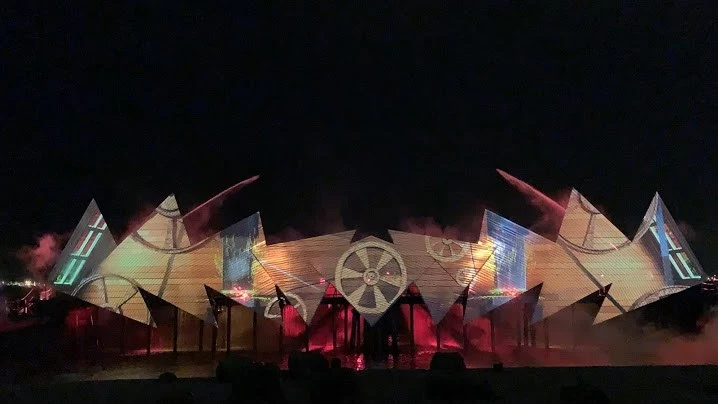 Morning: Jurong Bird Park
Duration: 2-3 hours
On Day 4 , we began our day visiting the Jurong bird park. We reached there early as soon as it opened at 8.30am . Singapore's Jurong Bird Park is home to over 5000 birds from 400 species and it is asia's largest bird park.
You will spot many hornbills to toucans to rare finds like blue macaws which you might have not seen before. And the park offers the opportunity to spot the birds in the most unique manner. It has walk-in aviaries and bird shows that give a true glimpse of the pure life of these lovely creatures.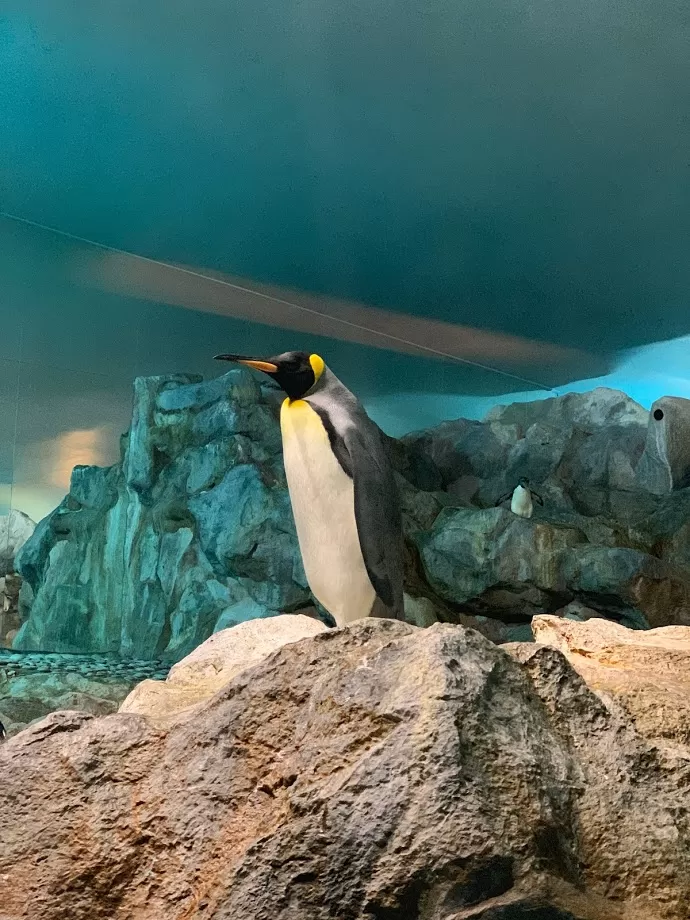 The live shows High Flyers Show, and Kings of the Skies were arguably the most exciting parts of the show! You'll spend the whole time oooh-ing and ahhh-ing, I promise.
Opening hours: 8.30am - 6pm Ticket: SGD 30
Buy the tickets beforehand for enjoying the wildlife without any hurdles. You can buy them easily online or go to the specific centers for buying them offline. Buy the ticket which includes unlimited access to the hop-on hop-off tram inside the park. This will save a lot your time and you can reach to aviaries quite faster
How to reach Jurong Bird Park: Take the East-West MRT line bound for Tuas Link, and alight at Boon Lay (EW27). From the Boon Lay bus interchange, take Bus No. 194, which will take you straight to Jurong Bird Park.
Afternoon: Singapore Zoo & River Safari
Duration 4-5 hours
After Jurong bird park, we booked the grab cab and reached Singapore zoo. The Singapore Zoo is divided into three parts; the main Singapore Zoo, the River Safari, and the Night Safari. They are located right next to each other, with just a 2-minute walk on a solid pathway.
Singapore Zoo: We recommend that reaching zoo in the morning by 11am would be best . This will give you enough time to get through all the exhibits at a leisurely pace.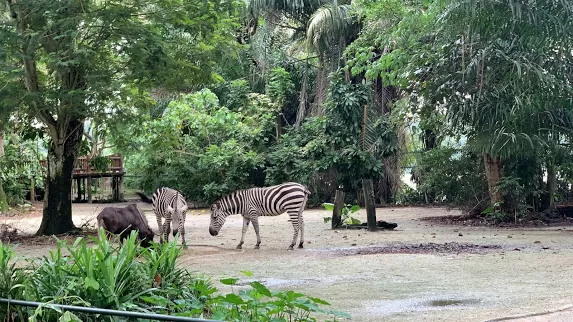 Spread across an area of twenty-eight hectares, Singapore Zoo is home to a total of 300 species of mammals, reptiles, and birds. It is segregated into 11 zones leading to different exhibits. You can encounter Giraffe, Zebras, African lions, orangutan White Rhino ,African penguins etc.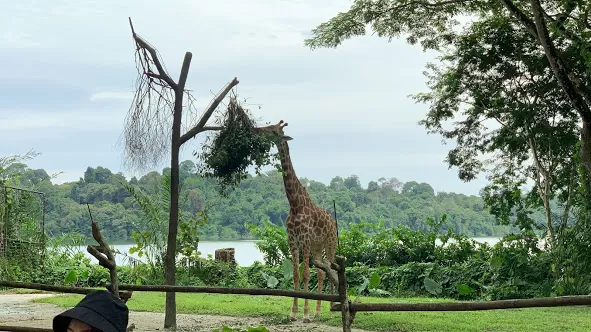 Though taking a stroll is the best way to experience the zoo, the long stretch of 28 hectares is not a very short span to be entirely covered by feet. There are plenty of rides available such as trams, boats, pony and even horse carriages exuding diverse experience to the visitors. Strollers are also available on rent for children.
Ticket: SGD 35
River Safari: River Safari is a river-themed wildlife park where you can experience the splendor and thrill of some of the most iconic rivers in the world while meeting some special animals. This 12-hectares wildlife reserve is crammed with different river zones of the freshwater locale of historic rivers like the Amazon, Mississippi, Mae Klong, Nile, and more, among other exciting things!
Highlight of this River safari is the boat ride at Amazon River Quest and the panda forest where You will also get an opportunity to meet the resident giant pandas Kai Kai and Jia Jia .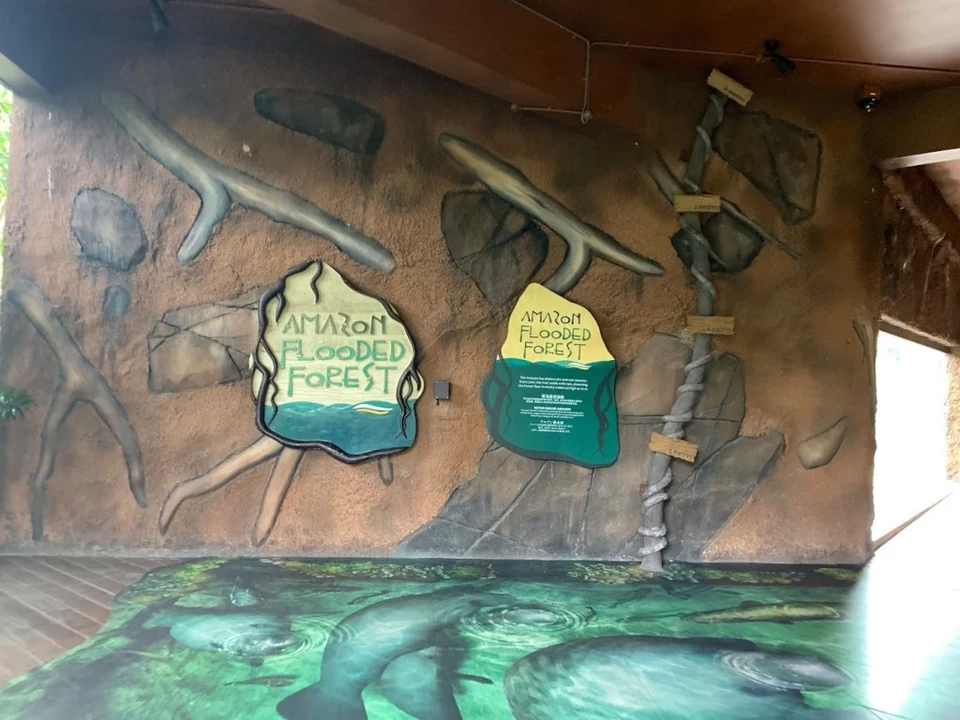 River Safari Pro tip: If possible, try and visit the park during weekdays since it'll be less crowded as compared to the weekends, giving you time to explore everything at your own pace.
Ticket: SGD 32
Late Evening: Night Safari
Duration 1-2 hours
Very well-known attraction in Singapore which is unique is world's 1 st night safari. Singapore's Night Safari allows you to explore the animal kingdom under the light of the stars! This safari is quite enjoyable and enthralling. The animals in the Safari are not caged but roam free in scientifically designed enclosures. Watching them is an entirely different experience to watching caged animals in the zoo.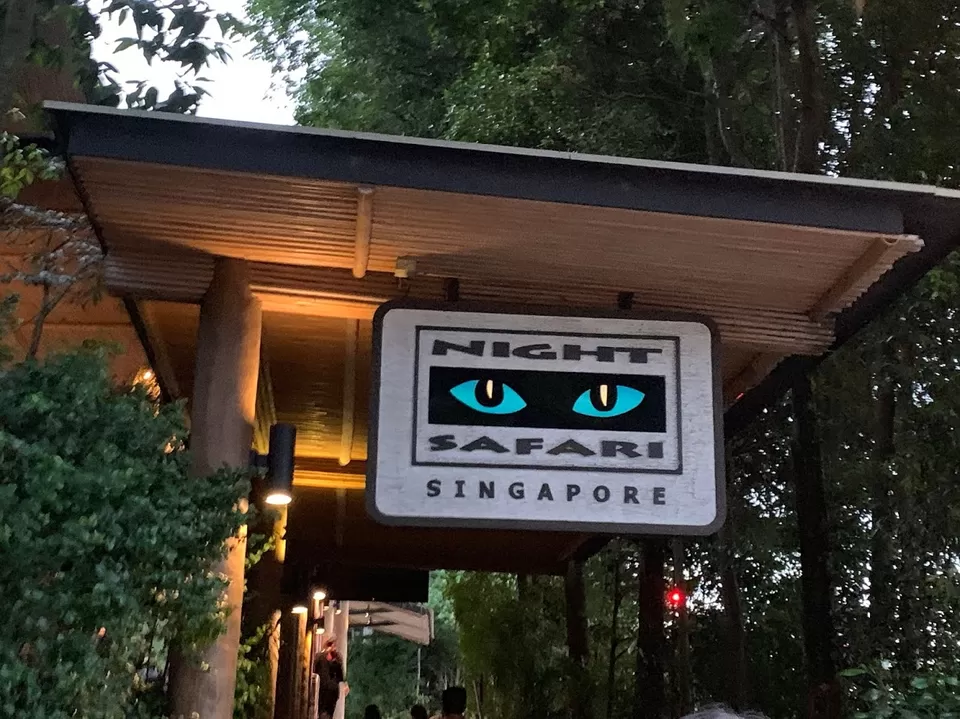 The safari is a guided tour with running commentary in English, Japanese, Mandarin, and three other languages. It takes you through seven geographical zones, namely - Himalayan Foothills, Indian Subcontinent, Equatorial Africa, Indo-Malayan Region, Asian Riverine Forest, Nepalese River Valley and Burmese Hillside.
Opening time: 7:30 PM - 12:00 AM daily. Each ride is about mins.
The Night Safari is one of Singapore's most popular attractions. It is heavily frequented by tourists and can get crowded. To avoid the crowd, Buy Singapore Night Safari tickets online and avoid visiting Night Safari on weekends
Pro tip: Buy Park Hopper Pass to visit all these 4 attractions on the same day which costs about SGD 95 .
Day 5 in Singapore
Morning : Visit Joo Chiat Road
Duration: 1 hour
While exploring Singapore, we accidentally discovered the Katong/Joo Chiat area on the East Side of the city. The major reason for us to visit Joo chiat road were these colourful Peranakan shop houses along Koon Seng Road.
Built in the 1920s, these two to three storey residential houses are distinct due to their pastel hues and nicely designed exterior.
This place adds an appeal to the typical Singapore skyscraper skyline. Prep your OOTDs and get your partner ready for some "Gram" worthy opportunities that cannot be missed!
How to reach: The nearest MRT stations are Paya Lebar and Eunos.
Afternoon : Little India ,Bugis Street , Kampong Glam, Haji Lane and Arab Street
Duration : 3-4 hours hours
Took a grab cab to reach to Kampong glam. A 15-minute walk from Little India is Kampong Glam, referred as the Arab Quarter. It was once the seat of the old Malay royalty. In the center of this historical district is the major landmark, the Sultan Mosque, where you can learn about Malay's cultural heritage.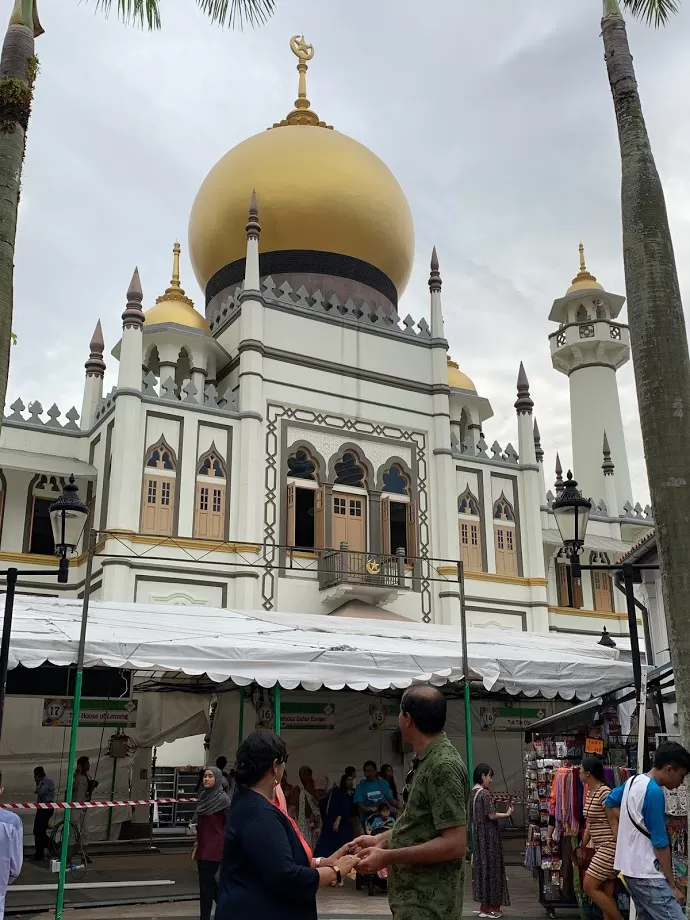 Kampong Glam's major landmark is Sultan Mosque, which sits in the heart of this enclave and is open to all the visitors. You must take a stroll down to Bussorah Lane to explore and experience the rich delights from different parts of the world which adds charm to this lane with its cafes, eateries and street stalls.
Haji Lane: Next Lane to Bussorah Lane is the Haji Lane, where you can witness some stunning street art graffities . This charming little walking street in the heart of Kampong Glam is one of the narrowest - as well as prettiest - roads in Singapore.
The colorful graffiti-tagged lane boasts numerous shops, markets stalls, and the odd hip cafe and restaurant, making this compact little street a must-see attraction in Kampong Glam Arab Street: At the heart of Singapore's Islamic community is Arab Street, a picturesque and colorful street packed full of boutique shops, tiny restaurants and vendors. Bugis Street: one of the bustling shopping area in Singapore, Bugis street is "must to go" for shopaholics. Bugis Street Market is one of the biggest, cheapest, and probably hottest places to come shopping in the whole of Singapore.
This street market is well-known for being one of the cheapest places in Singapore for sourcing your souvenirs, accessories, clothes, electronics, houseware, and cosmetics. Many of the little trinkets here such as keychains, postcards, and stationary are available from as little as S$1.
Little India: Serangoon Road is also known as Little India - think colorfully sculpted temple gopurams, the pungent aroma of freshly cooked street food, film music belting out from grocery stores and you get the picture.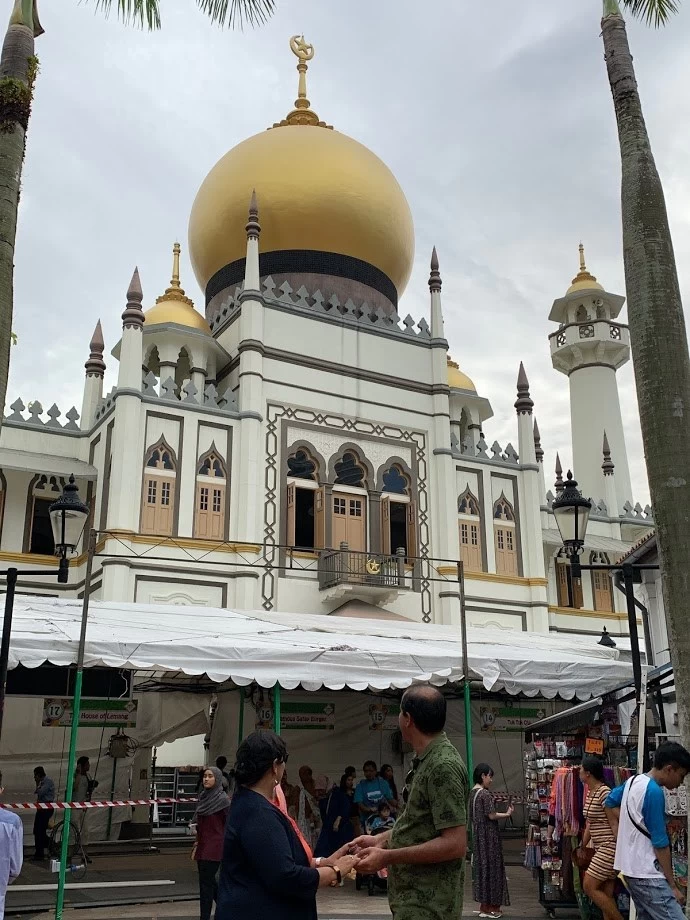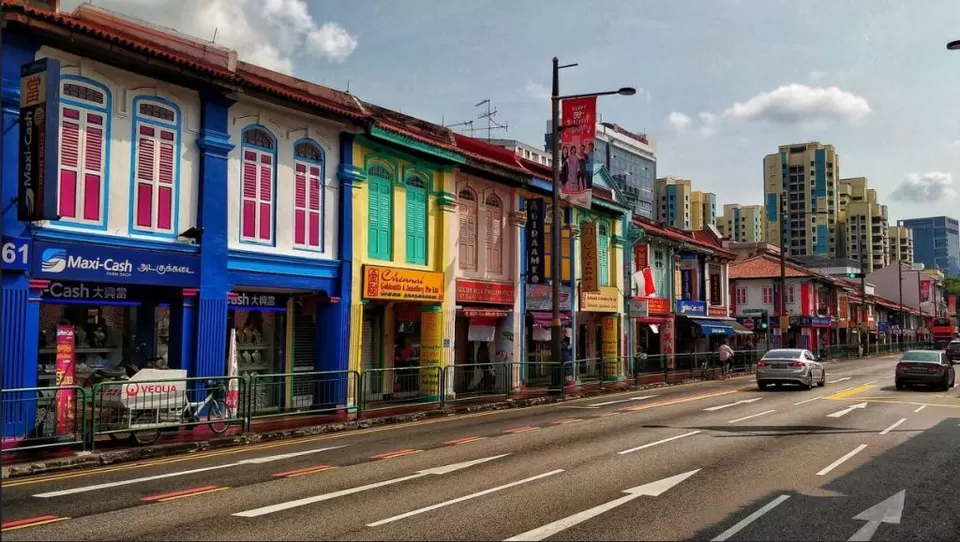 Little India
This is the place where you can go for an authentic Indian experience in the middle of Singapore.
Evening: Marina Bay Sands sky park Observation Deck:
Duration : 1 hour
Marina Bay Sands is one of the most impressive things to do in Singapore. You can visit the Sands Sky Park Observation Deck, located at the 57th floor of the hotel, the Marina Bay Sands Sky Park Observation Deck is the place to see a 360-degree view of Singapore's cityscape.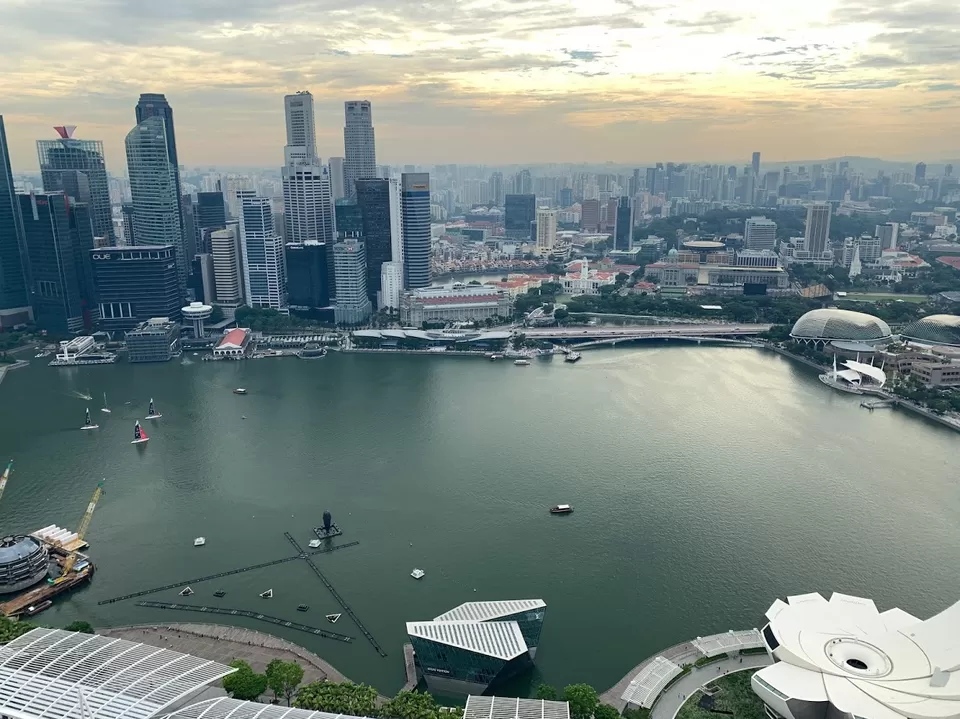 Here you can catch some amazing panoramic views of the Gardens by the Bay and of course, you'll spot the city skyline with the Merlion in the Bay, a symbol that stands for Singapore's humble beginnings. Catch some special sunset moments witnessing the sun down by the singapore's Skyline here.
Open Hours: 9:30 AM - 10 PM
Tickets: SGD 21 . We suggest booking your tickets online in advance.
Late Evening : Clarke Quay River cruise.
Clarke Quay is famous for its stunning waterside restaurants and exciting collection of bars and clubs, but the area has so much more to offer.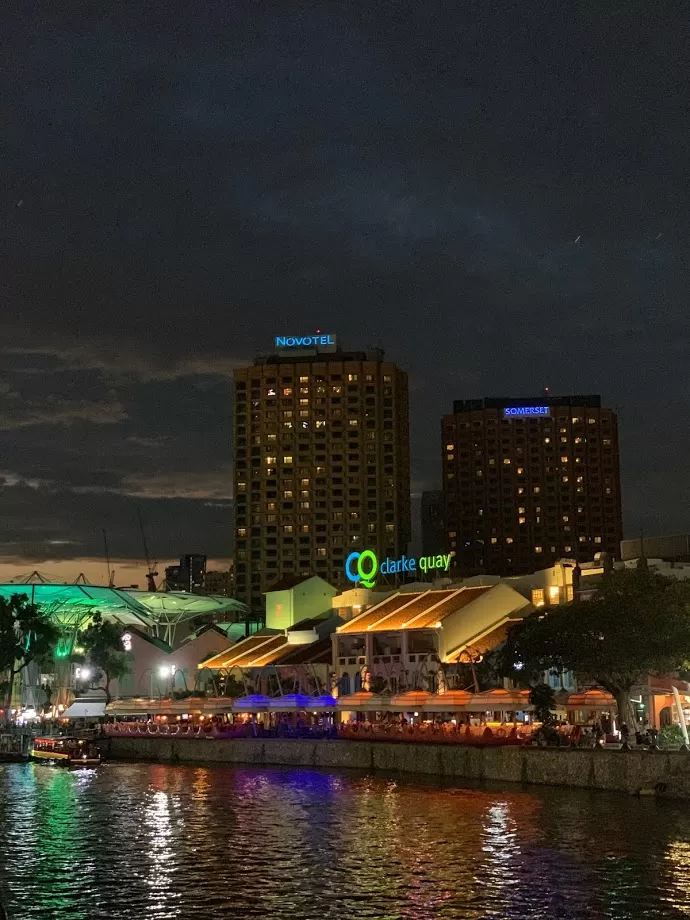 The Singapore River lies at the heart of Clarke Quay, providing the central artery for this area's thriving nightlife scene. However, the river offers visitors much more than just a picturesque spot to come for food and drinks. You can take river cruise at the Boat quay or just stroll along the river side for a relaxed evening.
How to reach : There really is only one way to access the city's center of nightlife via the Singapore MRT, and that's by taking the underground train to the popular Clarke Quay MRT Station.
Other places to visit in Singapore :
-Singapore Botanical Gardens
-Chinese gardens
- China Town
- Orchard Road
- Merlion Park: This was under renovation when we visited.
Singapore is a year-round destination, you'll never run out of things to do here. One of the cleanest cities, Singapore has something on offer for everyone. Wildlife admirers to high-end shoppers, architectural maniacs to cultural explorers, cleanliness junkies to party enthusiasts, all you need to do is go there and have a firsthand experience.
Like it? Pin it here: