The Antarctic continent happens to be the most remote, inhospitable environment on Earth. Harsh and inaccessible, covered by over 5 million square miles of solid ice, it is the world's driest & coldest continent. No place on earth provides a more demanding environment for survival. It is perhaps this that drew me towards the idea of making my way down to Antarctica from India.
I was chosen to be a part of the International Antarctic Expedition (IAE) 2016. The IAE was an exhilarating, unpredictable and a life-changing experience; the purpose of which was to engage and inspire the next generation of leaders to take responsibility to build resilient communities and in doing so, preserve Antarctica. Here is everything you need to know to embark on an India to Antarctica tour!
How to get to Antarctica from India
The first step towards reaching Antarctica from India is to fly in to Ushuaia, Argentina. Once you get there, you would need to get on a ship to Antarctica. Ushuaia is the southern-most city in the world and also goes by the name 'The End of The World'. The two day journey from Ushuaia takes you through the Beagle Channel and the legendary Drake Passage. Crossing the legendary Drake Passage is an unforgettable experience as well as a formidable challenge. Its rough nature has given it the name 'Sailor's Everest'. You may even question your sanity for having decided to make your way from India to Antarctica!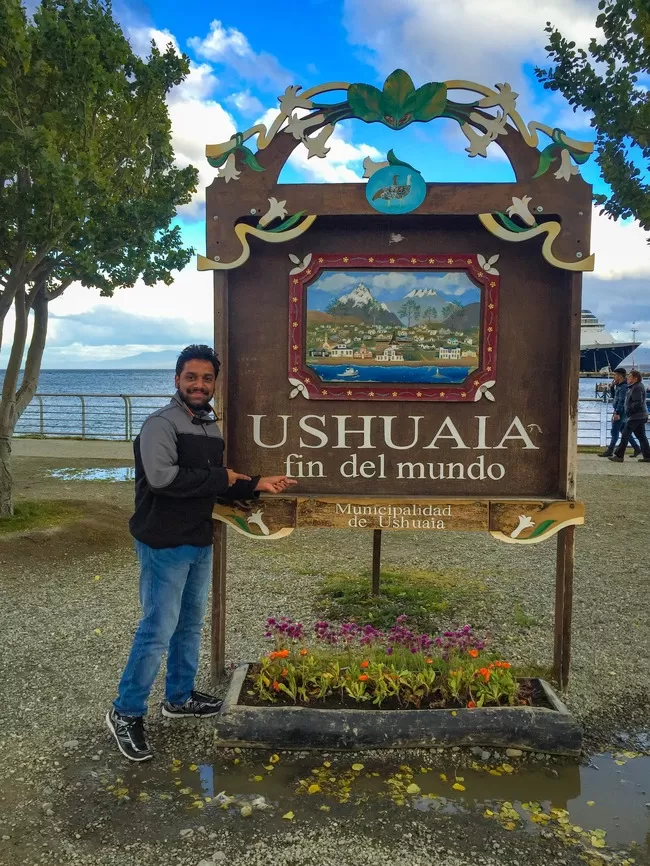 Visa
Antarctica's beauty lies in the fact that it is shared equally by all nations and peoples. No one 'owns' Antarctica and yet it is everyone's. While a India to Antarctica tour requires no visa, one definitely needs a visa to enter Argentina to board the ship for Antarctica. Depending on where you live in India, you will need to apply to the Argentinian Embassy in New Delhi or the consulate in Mumbai. Good news - Argentinian tourist visa is free for Indians!
Best time to visit Antarctica
The best time to embark on you India to Antarctica tour is between November and March - the months when sunshine is abundant and the sea ice melts enough to allow access to ships. Temperature returns to expected sub-zero levels, with seemingly endless nights marking the 'no go' months between April and September.
Gear
My India to Antarctica tour was scheduled for mid-March when the temperature at the Antarctic Peninsula does not usually go far below freezing. The average temperature varied between-10°C and 5°C.
It is critical to pack quick-drying and breathable lightweight clothing. Fleece (and other synthetic materials) dries quickly and has good insulating properties, even when wet. On the other hand, when cotton gets wet, it gets cold and can take a long time to dry.
Layers of clothing are the best (and the only!) solution to maintaining comfortable and safe body temperatures in Antarctica. Thermal underwear, fleece layers, wool sweaters and waterproof jackets are an absolute must. While you can get all of this gear in India, you can also purchase them at Ushuaia, albeit at higher prices.
Travel Insurance to travel from India to Antarctica
Any trip to Antarctica comes with risks that are unique to the continent. It is important that you get an appropriate insurance policy to cover your travel since most standard travel insurance policies do not cover the nature of risks you would be exposed to while down under. Make sure to read the fine print!
Things to see and do in Antarctica
Antarctica is by far the most pristine land on the planet. Dotted with picturesque icebergs, towering mountains and penguin colonies, Antarctica has a lot on offer for every kind of traveler. Here are a few of my favorite experiences from the Antarctic Peninsula that you must consider for your trip:
1) Checking out the defunct whaling station at Deception Island
Deception Island is one of the most incredible islands in the world. Named by early sailors who were deceived by the promise of a safe haven but found an extremely hazardous entrance to the harbor, the ring-shaped island is in fact the top of a volcano. This remarkable island is located in the South Shetland Islands, north of the Antarctic Peninsula.
Deception Island used to be a whaling station in the past. 'Whale shredders' and massive metallic barrels used to treat whale fat dot the beach and make for a gloomy sight. You will also find decaying whale bones.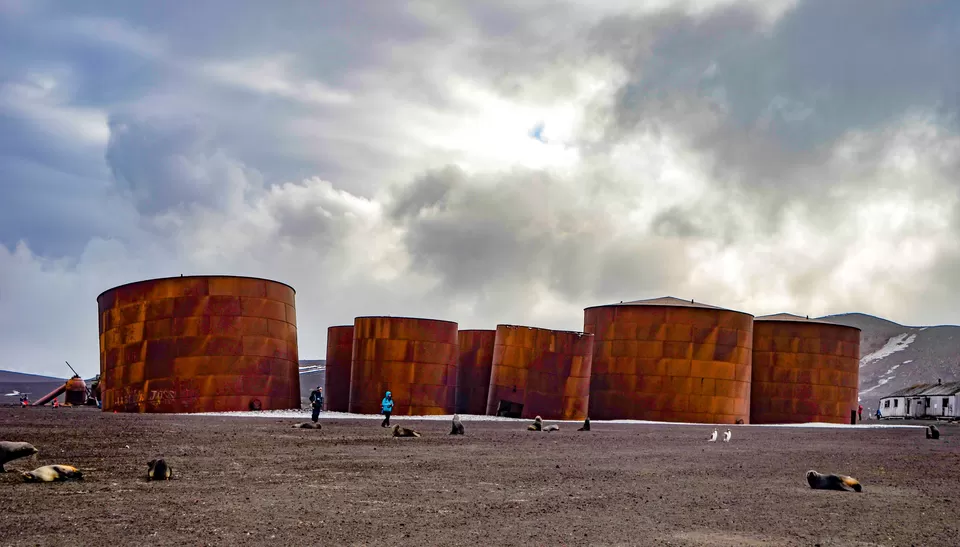 2) Sailing past Tabular icebergs at Antarctic Sound
While making our way towards Antarctica, we sailed through the Antarctic Sound. This body of water is famous for gargantuan tabular icebergs that have broken into their present form from vast ice sheets. This fragmentation is primarily due to the ill-effects of climate change. Looking at these vast icebergs was an incredible experience and reminded us of how minuscule we are in comparison.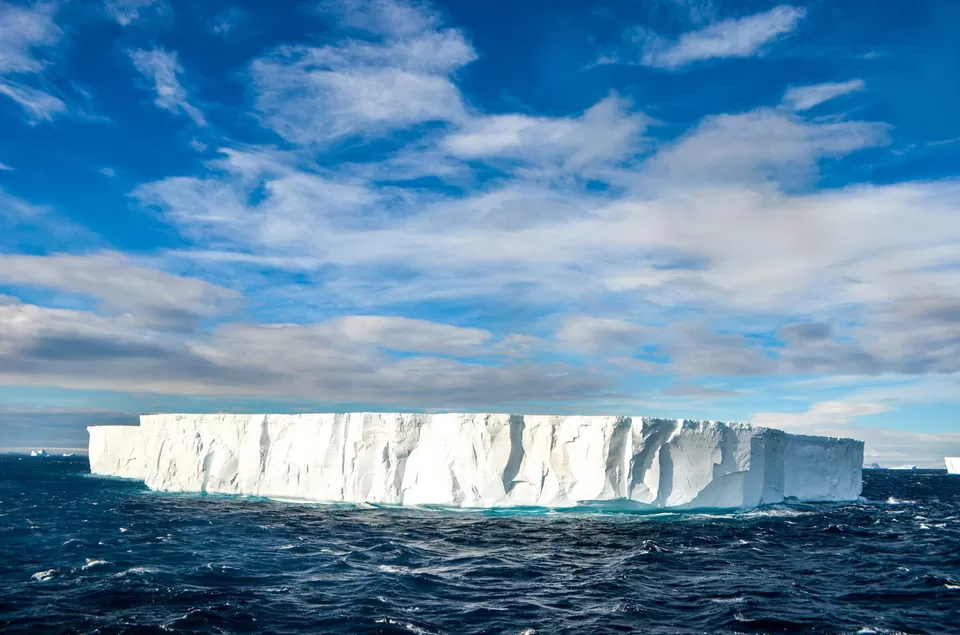 3) Hiking up a glacier at Brown Bluff
Brown Bluff is located on the Tabarin Peninsula of northern Antarctica and is famous for its towering rust-colored cliff of volcanic rock. Brown Bluff is home to nearly 20,000 pairs of Adelie penguins and over 500 pairs of Gentoo penguins. Hiking up the glacier at Brown Bluff can be challenging since it is covered with loose rubble that can often cause the occasional slip. However, the view from the top is well worth all the effort and risk.
At Brown Bluff we also got a taste of harsh Antarctic conditions as we were hit by unexpected high speed wind at 75 kmph. Antarctica had firmly reminded us of who was in charge.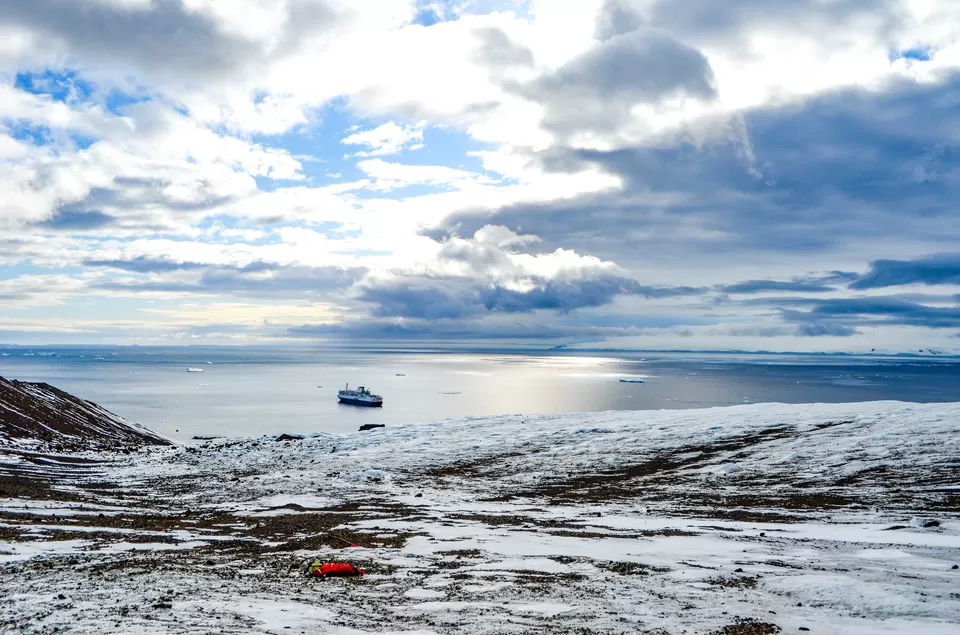 4) Hanging out with penguins at Petermann Island
Petermann Island is the southernmost breeding colony of Gentoo penguins and also happens to be one of the best place to observe the adorable birds. After spending a few hours at the shore, we came to realize that penguins are extremely intelligent and social animals. We also got a chance to observe their rookeries and feeding habits. Getting a chance to admire these creatures itself was well worth all the effort I had put in to make my way from India to Antarctica!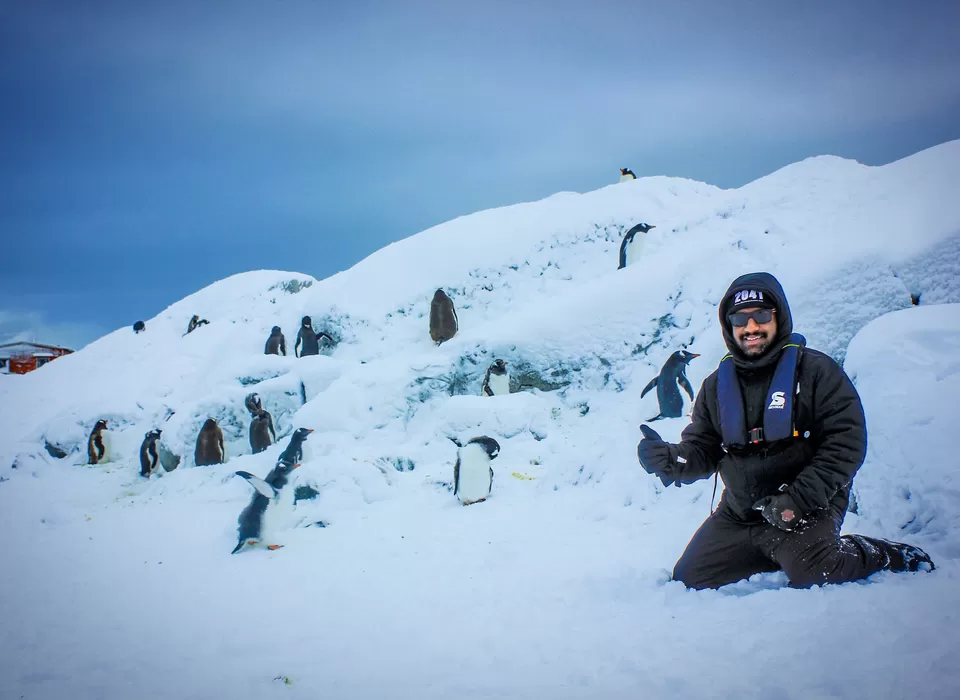 5) Whale and seal watching at the Lemaire Channel
Surrounded by near-vertical peaks on either side, this extremely steep-sided channel is only visible once you are almost inside, providing one of the most dramatic landscapes to sail through. This strait is also an excellent area to spot Humpback Whales and seals.
The most uninhabitable place on earth is home to some of the most exquisite animals on the planet, including Leopard Seals, Orcas, Albatross and Whales. During the Antarctic summer, marine wildlife turn up on a grand scale, the likes of which are not seen anywhere else on the planet. I found seals to be curious and very 'dog-like'. They would often pose for photos! On the other hand, whales turned out to be rather shy.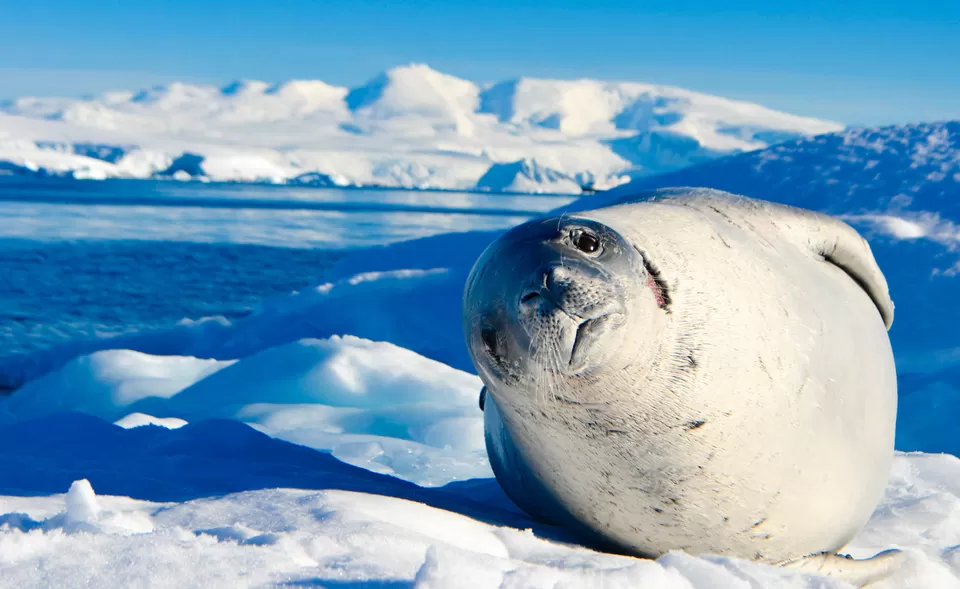 6) Witnessing glacial calving at Neko Harbour
Named after the Norwegian whaling ship working in these waters in the beginning of the 20th century, Neko Harbor gives you a once in a life time opportunity to witness glacial calving. Glacial calving, also known as iceberg calving, is the breaking of ice chunks from the edge of a glacier. The thunderous roar of calving glaciers and ensuing waves make for one of the rarest sights on our planet. I was fortunate to have caught this phenomenon on camera - it was a once in a lifetime experience!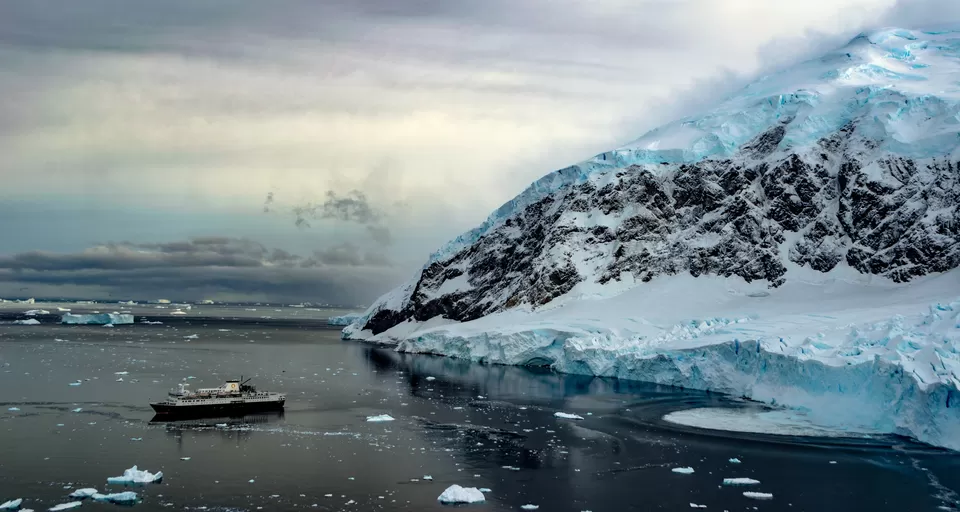 7) Plunging into Antarctic waters at Andvord Bay
Yes you read that right! On the last day of my trip, I also got a chance to plunge in to freezing Antarctic waters. This was by far the craziest thing I had done in my life and was the perfect way to end my journey from India to Antarctica.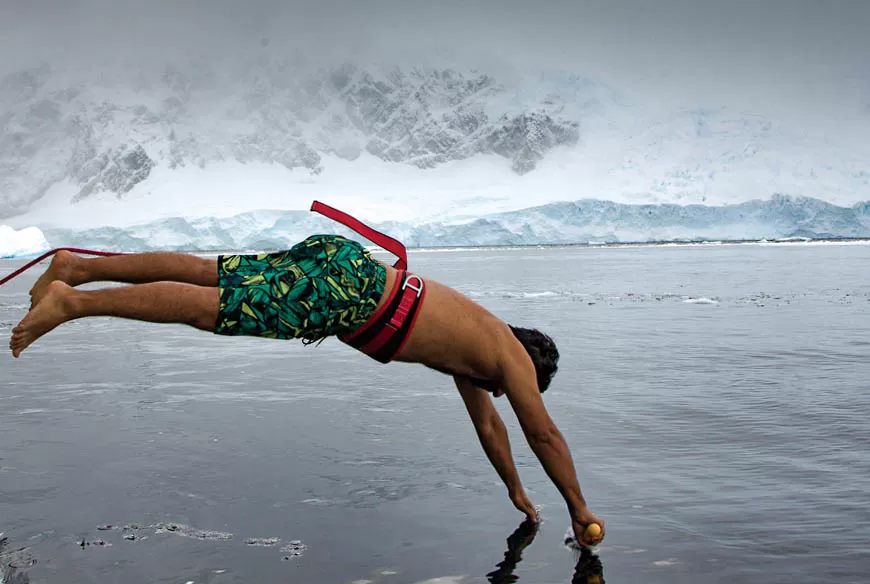 We stand at the risk of losing the White Continent due to the threat posed to it by climate change. The rate at which our planet's resources are being used is truly unbelievable. We overshot our annual resource consumption for 2016 on 8th August itself. Overshoot means that we are drawing down the planet's principal rather than living off its annual interest. We need to come together and take positive action towards raising awareness about the effects of climate change.
Have any questions about going to Antarctica from India? Drop me a line!
A traveller at heart, I have been to 20 countries on 6 continents. My favorite experiences are plunging in to sub-zero Antarctic waters, renovating a Buddhist monastery in Sri Lanka and hiking Borneon jungles. I am also an engineer, a public speaker, a sustainability believer and a polar explorer. Follow my misadventures on www.passportuncontrol.com and Instagram @geeknextdoor.
Frequent searches leading to this page:-
india to antarctica tour itinerary, antarctica honeymoon package, antarctica holiday packages, best antarctica cruise, luxury antarctica cruise