Hola travelers!
You won't believe, but such is my passion for parties that for the first time in my life I chose a flight which was not the cheapest but it had an overnight lay over at Bracelona. ;) Okay I confess it was just 500 bucks (INR) more, but ever since my fiancé told me about the nightlife there, I wanted to get hands on experience of this party-crazy district of Barcelona which is famous worldwide for having it all and when I got a chance, I guess I was able to do justice to my Barcelona Party checklist!
In this blog you will walk with me on this world renowned party street which surely has the power to take away your weariness and make you feel all pumped up and ready to partahayyy!
Getting There
Flight – Air was my way to go in Europe as not only it was cheap, but I saved a lot of time and could visit more places in a relatively short span! I took an Iberia flight from Ibiza which had a 15 hour halt in Barcelona before heading to Rome (Voila!)
Hotel - We decided to stay at a 4 star property called "Eurohotel" that was not exactly close to Las Ramblas but had good connectivity to the airport (just a bus ride away, the bus stop right in front of the hotel and we got it real cheap through our makemytrip points). So, we did not mind the 20 Euro Uber ride from hotel to the street (remember we were there for just a night and on top of that it was our honeymoon ;)). However, I recommend you take a hotel/hostel close to Ras Lamblas/Catalunya if party is your prime motive like us! We checked in at around 8 PM. As the time was ticking really fast, we quickly took a shower and off we were to explore this much hyped street.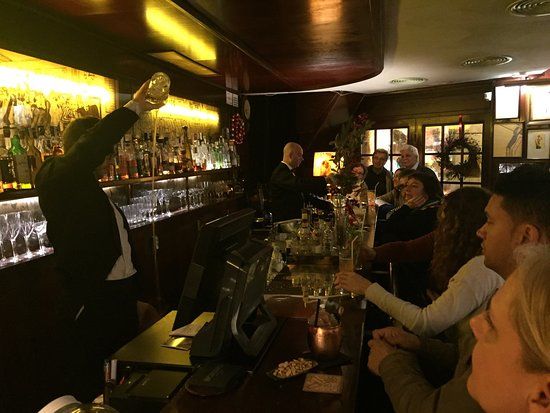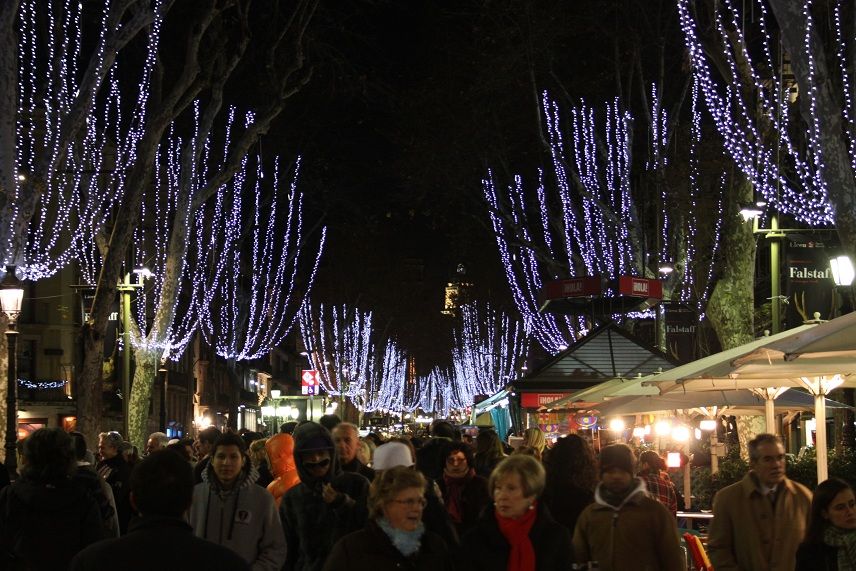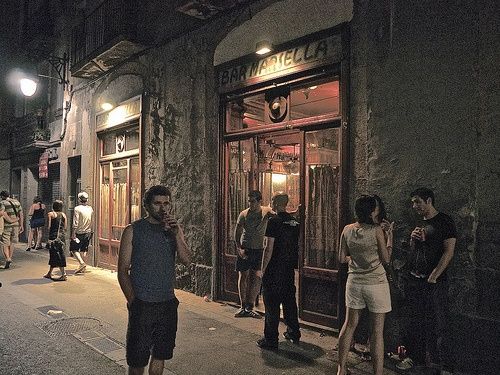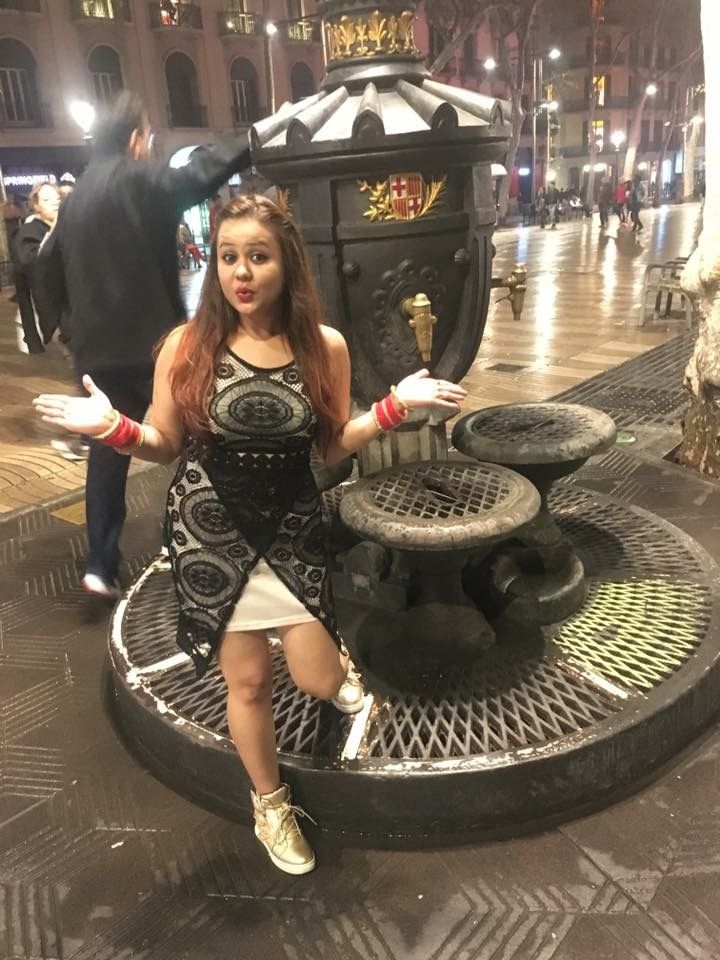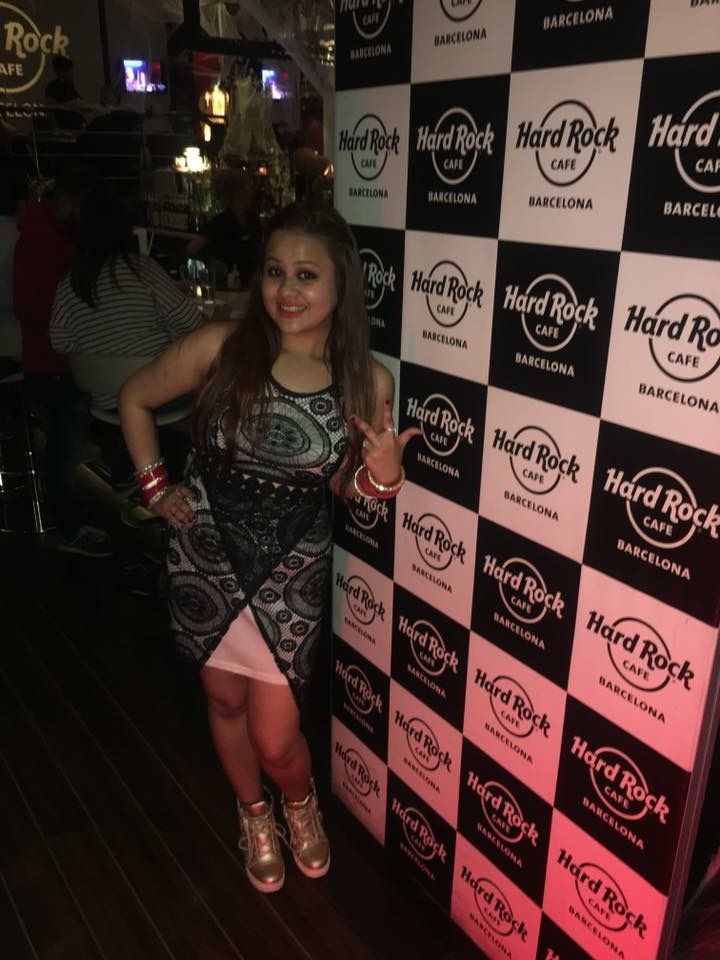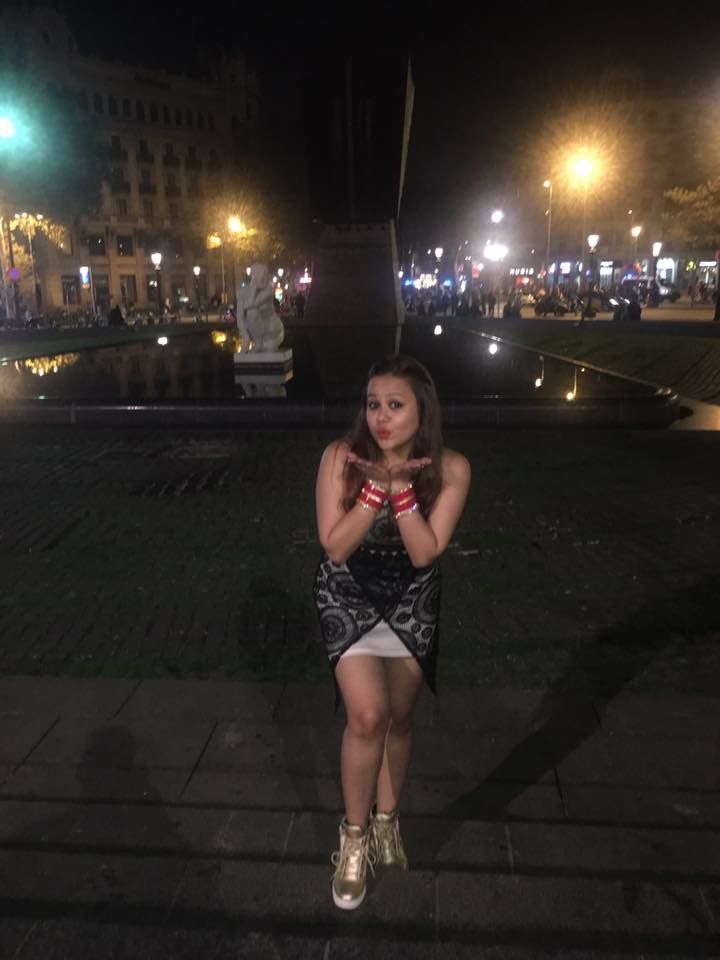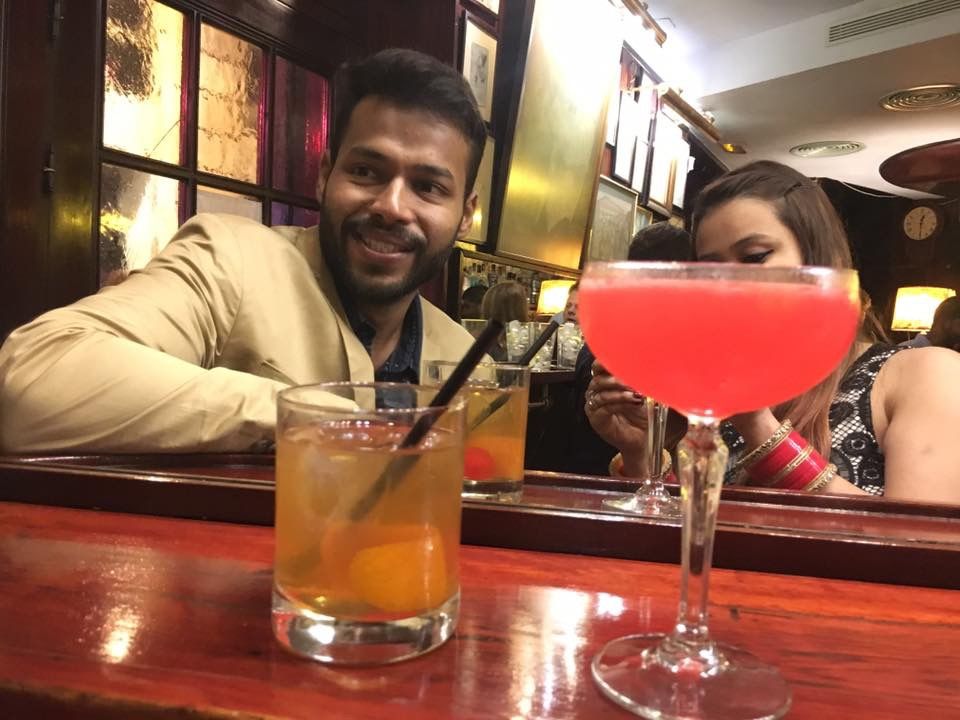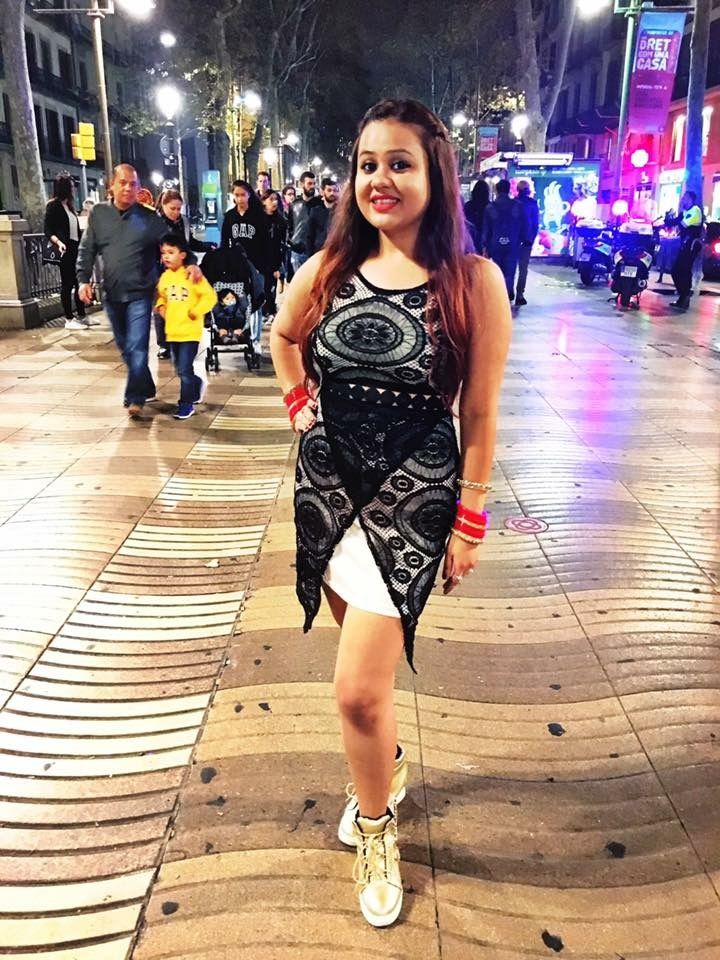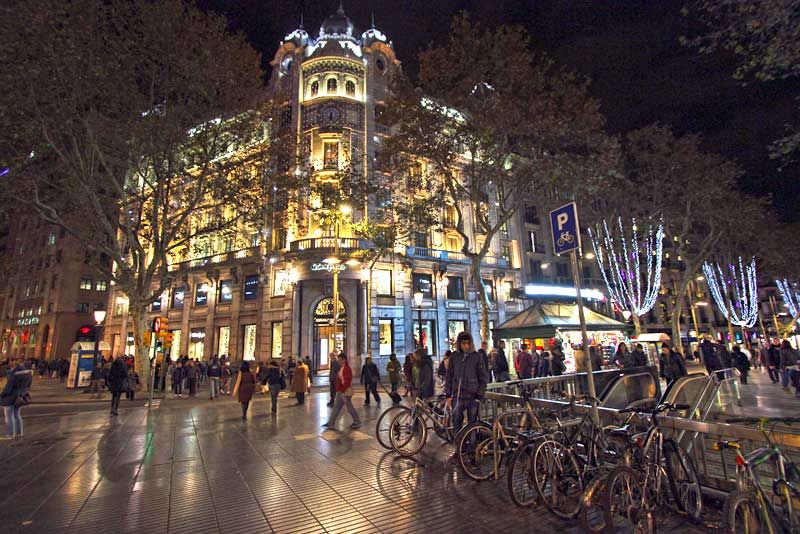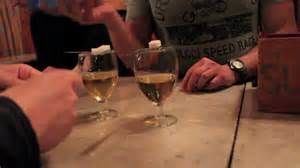 Las Ramblas - A "Salud" with Picasso and Dali!
Along with crowded clubs and shady discotheques, bars and bakeries, street shopping outlets selling everything from charm bracelets to fake branded clothes and shoes, hawkers and hookers and what not, get ready to witness an architectural marvel on every nook and corner of this enchanting street; even the path you will be walking on has art and history in-store that dates back hundreds of years!
HRC for a jump start: Our first pick was the legendary Hard Rock Café (HRC) Barcelona! The Uber dropped us right in front of HRC gate and let me tell you, the place was flooded with party seekers. There was no vacant table and we were directed to the bar. This was the most atmospheric HRC I have been to so far, the place was oozing out electric vibes good enough to get you grooving and set that party mood!
Boadas: A couple of cocktails later we decided to move ahead to our next pick, "Boadas" which has been operating since 1933 and boasts to be the oldest cocktail bar in Barcelona! But before heading to Boadas, I noticed this amazing fountain in a park with an amphitheater seating right opposite to HRC and thought of getting a few selfies clicked before moving ahead (a girl thing you see ;)). We got our GPS set to Boadas and walked along the street that was buzzing and shining in the glory of Halloween celebrations and theme parties and never did I ever see so many Asians (chiefly Indians and Pakistanis) anywhere else in Europe that I saw in that one night stroll on Las Ramblas. With every step that we took I heard a voice in Hindi, urging us to come and join some Halloween Party in some club! Very close to this fountain called "canaletes fountain" we took a left and there in that narrow street tucked away in a corner was Boadas. It was jam packed, and was a little bit smaller than I thought it would be  Somehow, we were able to secure ourselves a few cocktails from the bartenders all dressed up in tuxedos and we sat in a bar stool right opposite the mirrored wall next to the entrance door (lucky to have got one) and enjoyed the drinks while looking around at the various wall hangings depicting the lineage of this legend in Barcelona!
Marsellas: A couple of cocktails later we found ourselves back again in action on the street off to our next GPS location which as per what I had read would take me 100 years back in time - "Marsellas" boasts to be the oldest bar in Barcelona operating since 1820. With the help of GPS and a few locals we landed at a place which looked scruffy and rustic but I guess the look went well with the lineage of this historic bar and the reason behind the fame! We could see it was packed and pretty high in demand. Not to mention, after a good hustle bustle with the crowd hovering over the bar counter, we got what we wanted, the recommended "absinthe" and almost every other person was drinking the same (I cannot comment much on the taste as it was my first time but yes it did give me a good high). That feeling of having a drink where once Picasso, Dali, Hemingway use to party (and trust me it has been kept in pretty much the same state) were good enough to give me goosebumps. Music was loud and I noticed the plaster coming off the ceiling along with those cobwebbed alcohol bottles (presumably lying there since the beginning of the bar) and yes the historic curtains!
Indian Food: By the time we left Marsellas, we were pretty much boozified and hungry as we were yet to have our dinner. We just started strolling around the street looking to fill our tummies when just like that we spotted this Indian restaurant called "Bollywood" which had nothing special to boast about but since we were hungry, Indian cuisine sounded a good idea and we stopped for dinner. The food was certainly not great, we finished quickly and left to continue our stroll!
Avoid the party advice by numerous promoters lining up the street: We then started hovering around, with a shawarma roll in our hand that we picked from one of the Lebanese joint, just engulfing the last few sights of our night in this dream district when we decided to try out on one of the parties suggested by some promoter on the street (we were lured by one). The man asked another guy to take us to the party venue and we followed him to find ourselves taken to a quaint street which looked like a lesser crowded and a tad bit elegant version of the Pattaya's Walking Street. We were taken to a basement that was dark and shabby with only a few girls and some bouncers and very loud music. We started feeling a bit uncomfortable (had read out about the mugging scene in many Barcelona blogs) and decided we will leave the place and asked the guy to take us back. Thank God, he agreed without further questioning (maybe he too sensed our uneasiness). We silently followed that guy while we booked our Uber back to the hotel :)
"District that never sleeps"- Even at 2.30 in the morning though the crowd has lessened, some of the shops/bars/restaurants were open and the place was live! But with a sad heart (my 15 hours were on the verge of getting over), I sat in the cab and wished to see this place again in daylight someday soon :)
Till then Salud Barcelona!
Stay Updated on my Travelogues: http://earnedleaves.com/blog/