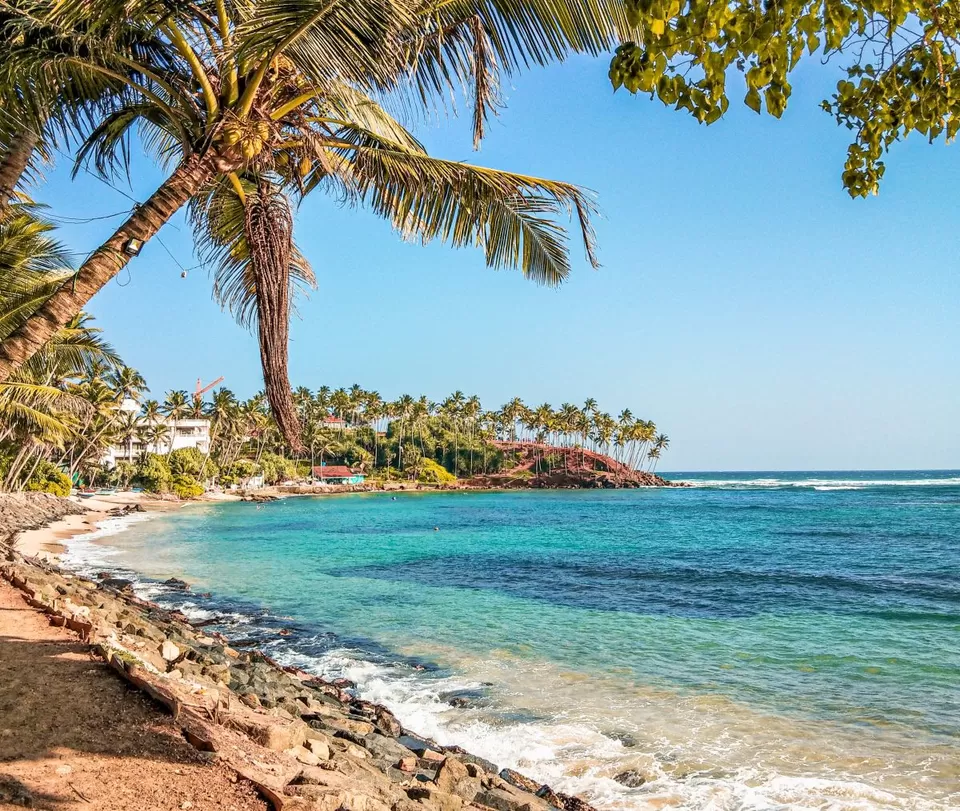 The last time I travelled was before the start of the pandemic in January 2020, to the island nation of Sri Lanka, our fellow neighbour in the Indian Ocean. I was travelling with my parents, and we spent two weeks exploring the country's beautiful cities, temples, markets, tea gardens, beaches, and historical sites.
Sri Lanka is very diverse in what it has to offer for travellers and I can confidently say that it is the most beautiful place I've travelled to so far (mind you, I'm only 19 so I haven't been to too many places!).
In this post, I will be tracing our journey across the country, taking you through the places we travelled to during our two week trip.
Day 1-2 | Colombo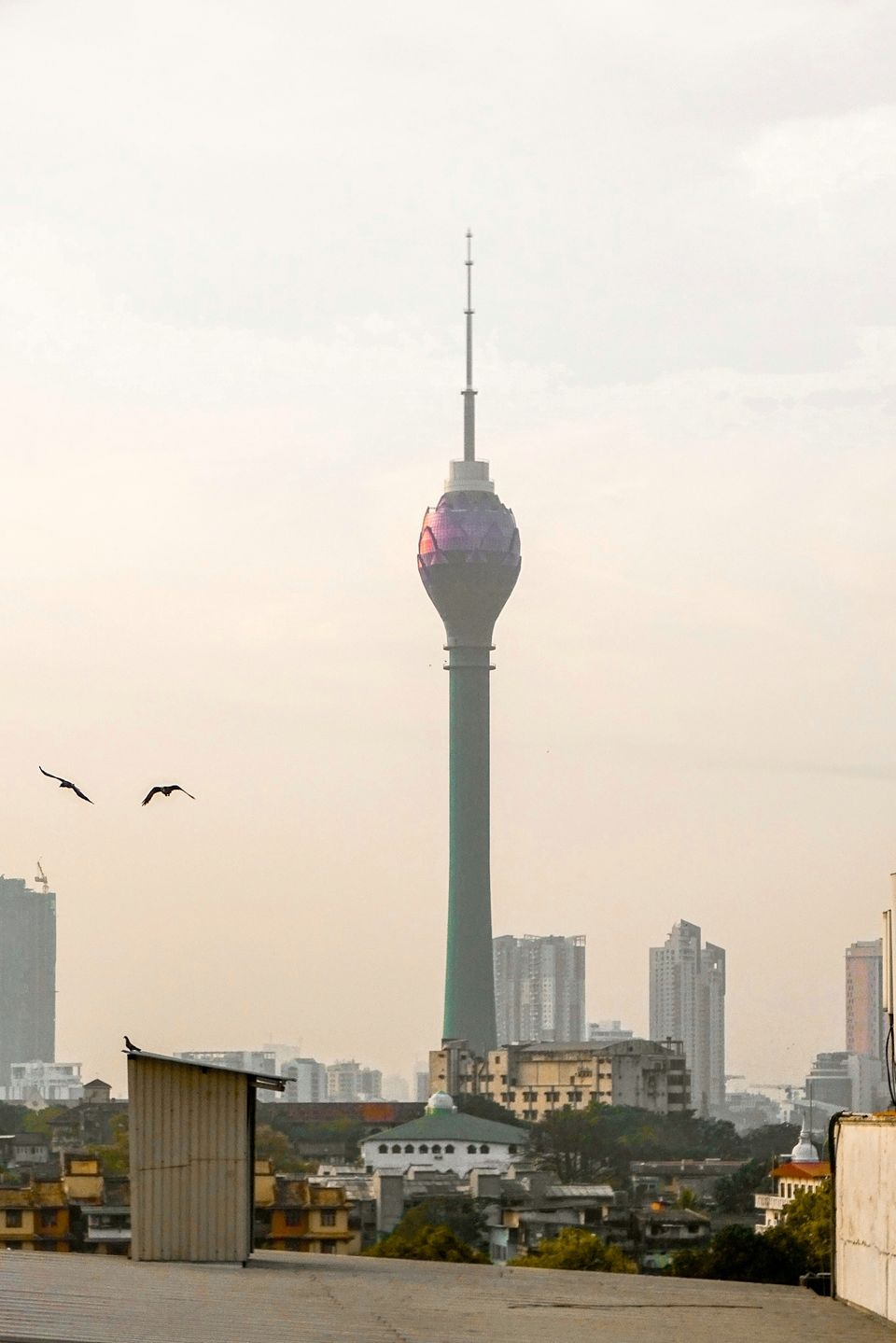 On our first day, we flew into Colombo's Bandaranaike International Airport from Kolkata onboard Sri Lankan Airlines, with whom we had a very pleasant flying experience. Due to a slight delay in our flight, we arrived late in the evening, so after checking-in to our hotel, we had a traditional Sri Lankan meal of rice and prawn curry at the famous Mayura Hotel and called it a night.
Our first proper day in Sri Lanka was spent exploring the commercial capital of Colombo, starting with a walk around the Pettah Floating Market which is right opposite to the main Bastian Mawatha Bus Station. After this we visited the Gangaramaya Temple and Beira Lake, bought postcards and Sri Lankan tea at Barefoot—an artisanal boutique store, watched the tide swell up at Marine Drive, wrote myself a postcard from the World Trade Centre, bought souvenirs at Gem Bureau and Laksare and finally watched the sunset at Galle Face Green.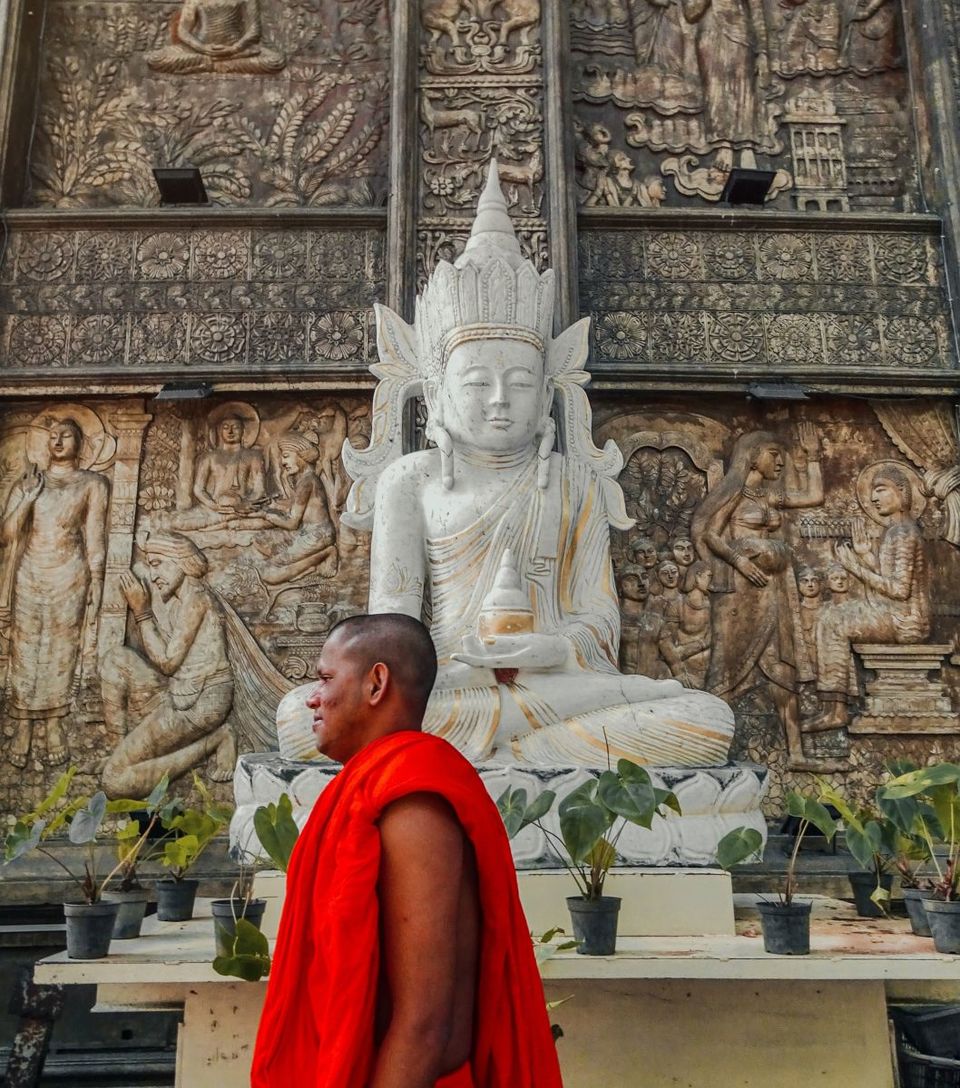 Day 3 | Colombo to Kandy
Before we boarded our bus from Colombo to Kandy, we strolled through the streets of Pettah Market, where you can find wholesale clothing retailers, electronics, groceries, vegetables and fruits etc. We would have preferred taking the train, however, tickets were unavailable and needed to be booked a few days in advance.
A 3.5-hour bus ride brought us to Kandy, Sri Lanka's second-largest city. Tired from the journey, we decided to keep things light for the day. After checking-in to our hotel, we went out for lunch and took a 15 minutes walk down to Kandy Lake for sunset.
Even though the main city centre of Kandy is buzzing with vehicles and tourists, the area around Kandy Lake is very peaceful.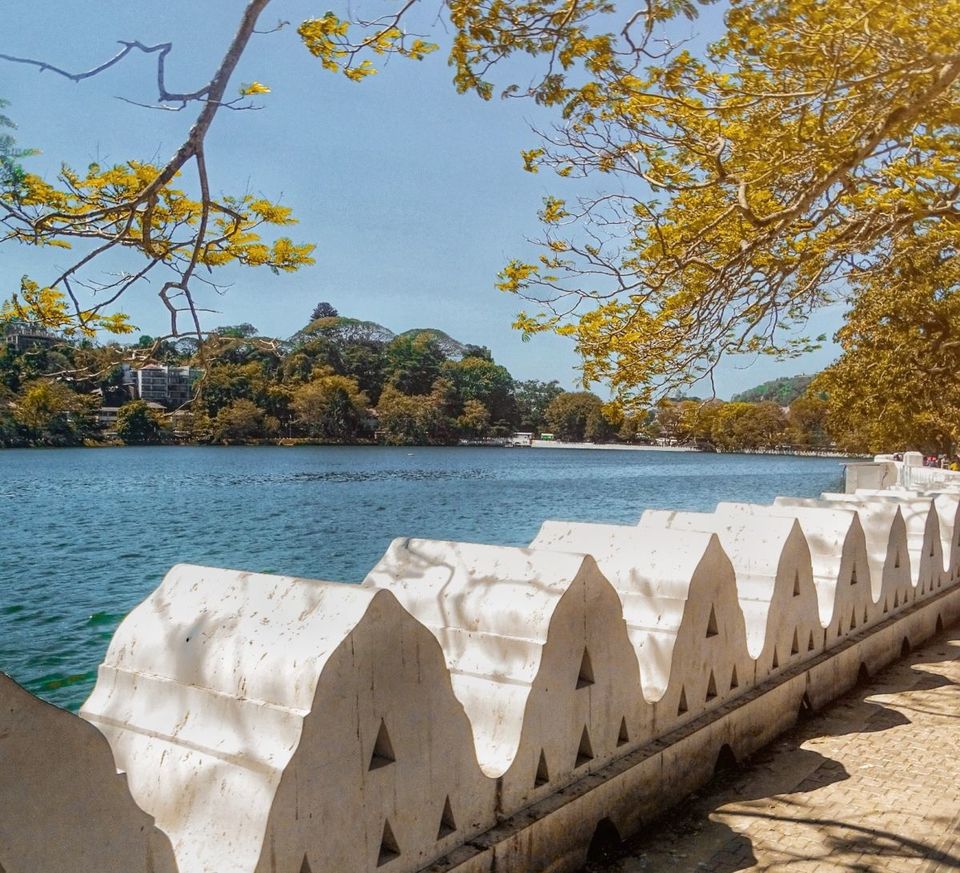 Day 4 | Day trip to Sigiriya
We had a total of three nights in Kandy, so we planned a day trip to Sigiriya. There are two ways to get to Sigiriya, either hire a taxi or take the bus. We opted for the latter and took the 2-hour bus journey to Dambulla and then hopped on a 25 minute tuk-tuk ride to Sigiriya.
Sigiriya's Lion Rock is the most expensive to visit in all of Sri Lanka ($15/per person for SAARC Nationals provided that you have your passport with you; $30/ for all other nationals). We hired a guide and set out to climb Lion Rock, a massive monolith, on top which stood a two-story palace built by King Kashyapa to protect himself from his enemies. The palace no longer exists and all that's left behind are the ruins of the foundation. The climb up takes around 1.5-2 hours and once you make it to the top, you are offered sweeping views of the surrounding region.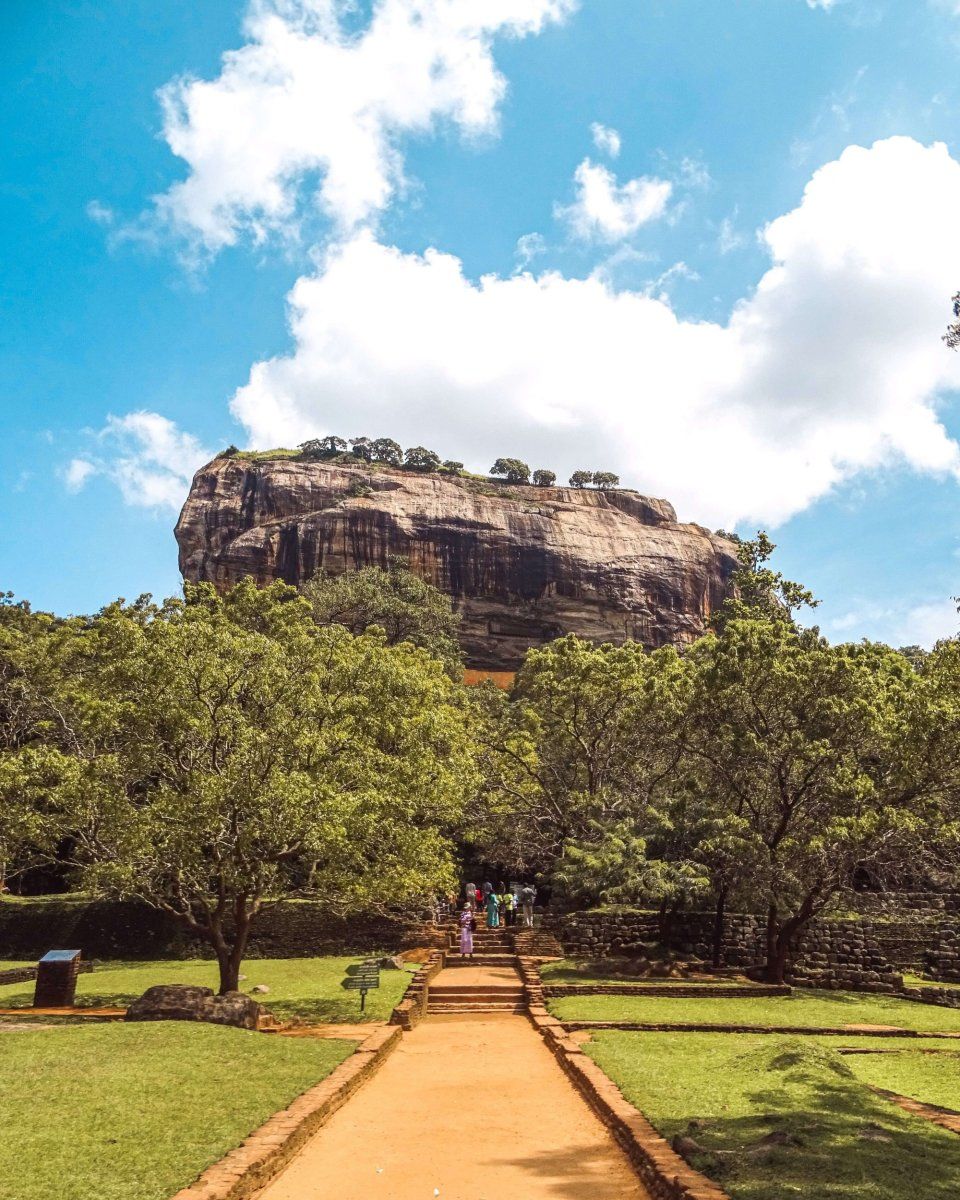 Day 5 | Kandy
We devoted our last day in Kandy to visiting sights around the city, starting with The Temple Of The Sacred Tooth Relic, which was a short walk from our accommodation. The temple houses the left tooth of Lord Buddha (which you can't actually see) and is one of the holiest sites in the country for Buddhists. We then walked along the shores of Kandy Lake, which is right outside the temple and made our way to Kandy's main market to shop for some Sri Lankan spices.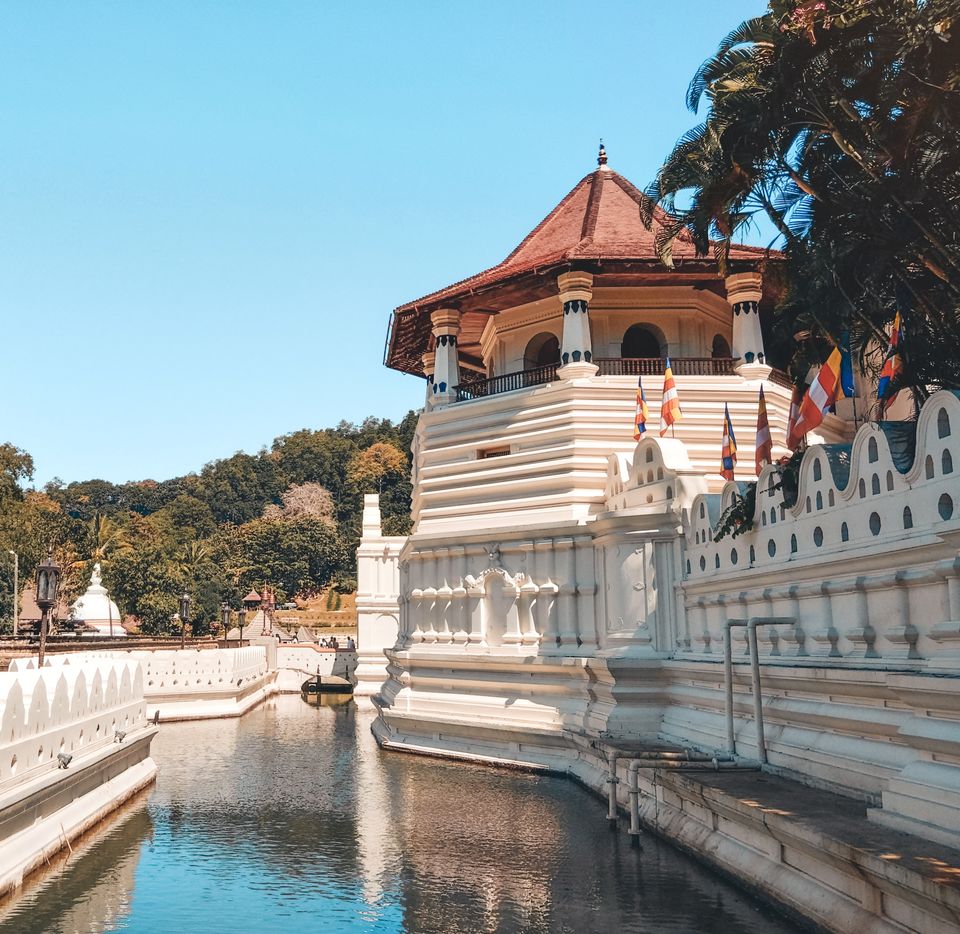 After having lunch at the famed Kandyan Muslim Hotel, we used the PickMe app and booked a tuk-tuk to the Royal Botanical Gardens at Peradeniya, 30 minutes away from Kandy. The Botanical Garden is spread over a very large area and took us around 2.5 hours to explore.
To watch the sunset, we went up to the Bahirawakanda Vihara Buddha Statue which offers a bird's eye view over Kandy and the neighbouring mountains.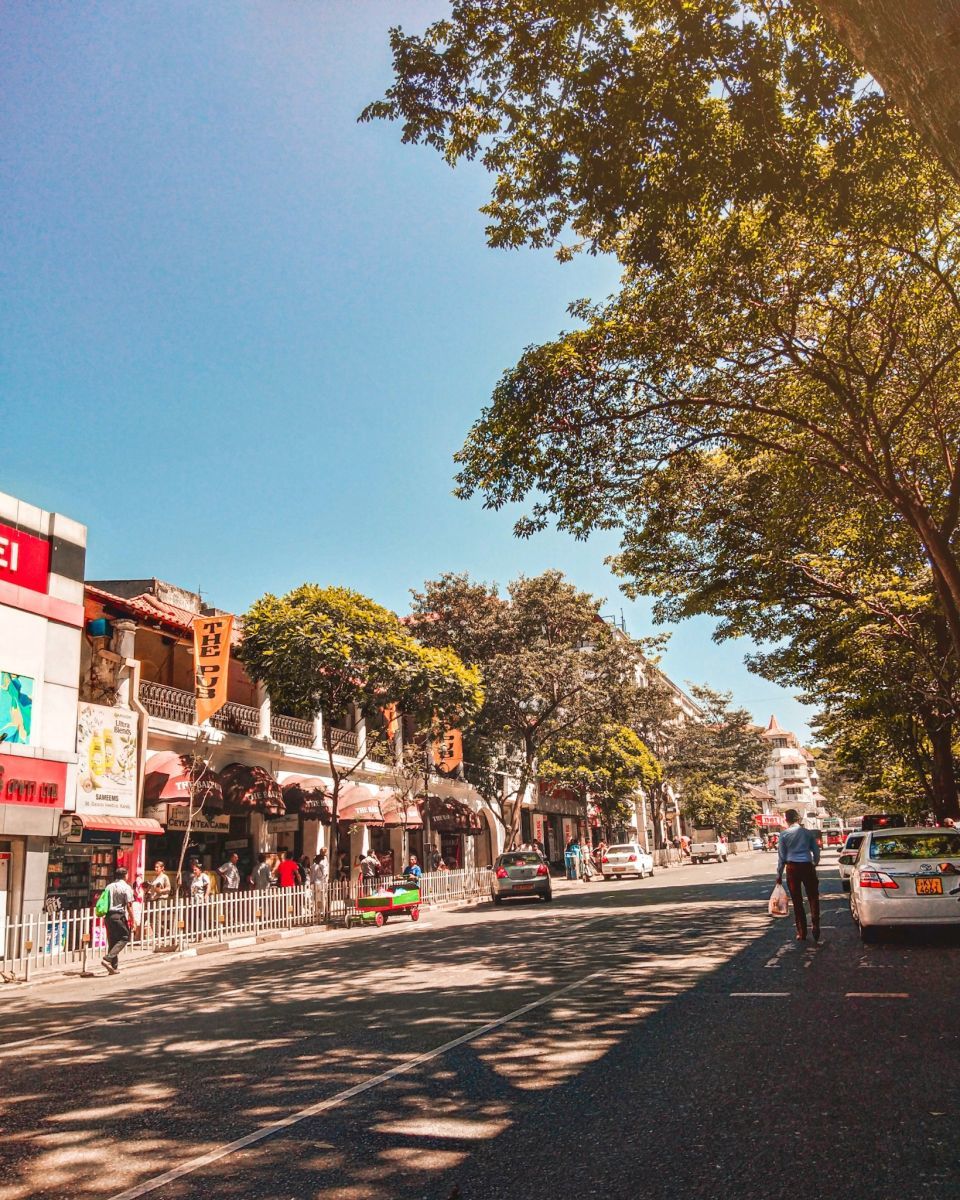 Day 6 | Kandy to Ella - On Board One of the Most Scenic Train Journeys in the World
This was by far the most exciting part of the trip. The train ride from Kandy to Ella is claimed to be the 'most scenic train ride in Sri Lanka,' with the train chugging past lush green tea plantations, pine forests, tiny hamlets and a waterfall every now and then!
Tickets for this particular train ride book out weeks in advance, and there is no option for making advanced reservations at the original price, so you're bound to use a third-party agency for making your booking. I used 12Go Asia for booking our tickets and reserved our second class seats for double the price, but it was definitely worth it!
After battling through the crazy rush-hour traffic around Kandy Lake, we boarded our 7-hour train ride from Kandy to Ella and thoroughly enjoyed the views, until it started to rain mid-way, which did make the journey even more mystical and dramatic!
We arrived in rainy Ella and headed straight to our homestay. We spent the rest of the evening at our homestay and enjoyed a pure Sri Lankan feast prepared by our host.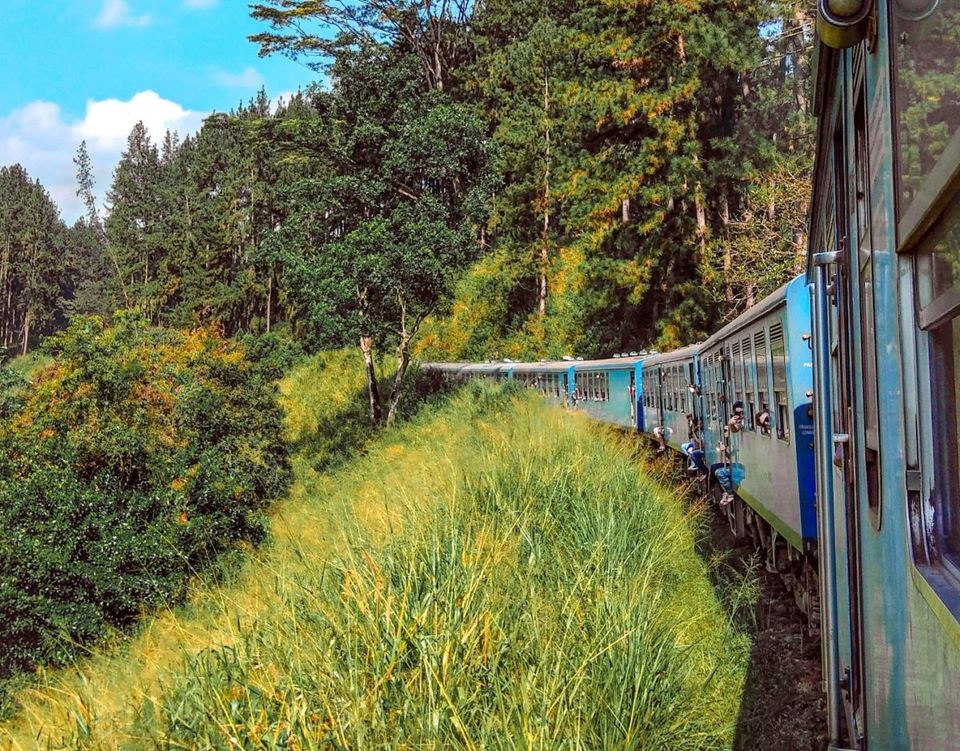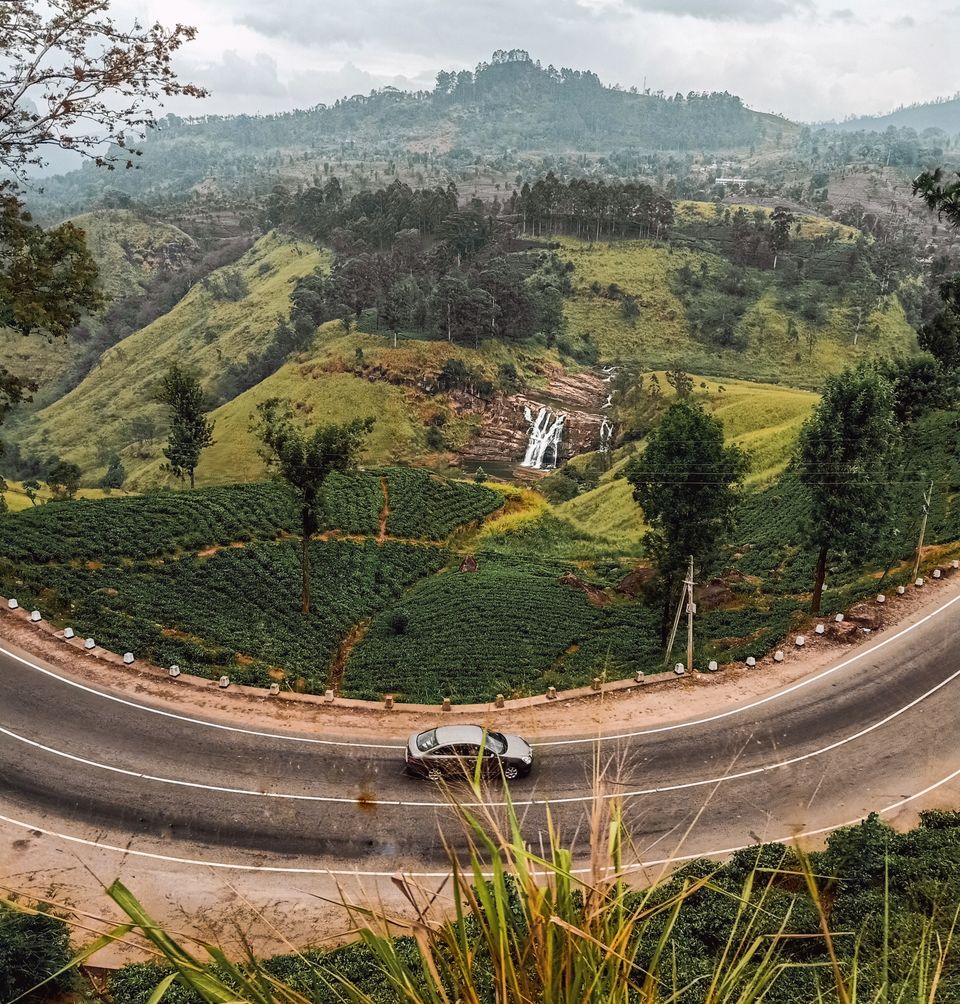 Day 7 | Ella
Ella was my favourite stop in all of Sri Lanka. It is a very small town where it barely takes 20-25 minutes to walk from one end of the town to the other. However, it is a very lively place and has a really hip vibe!
We started our morning in Ella with a 15-minute bus ride down to Ravana Falls, following which a tuk-tuk ride brought us to Ravana Cave, which was a 20-minute hike from the entry gate to the actual cave. It is believed that this is the same cave where Ravana brought Sita after they first arrived in Lanka.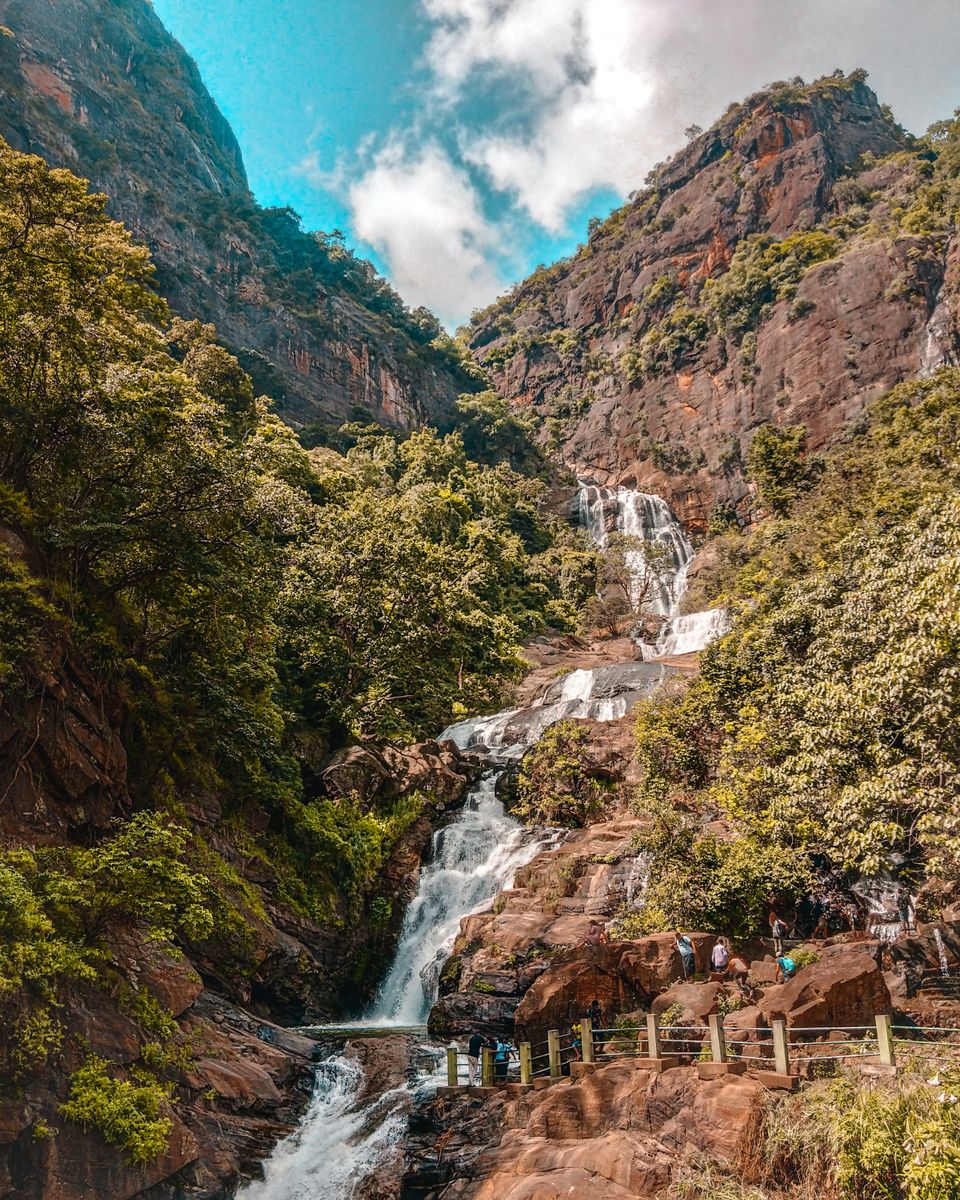 We then hiked up Little Adam's Peak, which took us around an hour and a half on the way up. The views from the top are just breathtaking! En route to the top of Little Adam's Peak, you can also opt for Sri Lanka's first and longest zipline at Flying Ravana. Later, we hiked down another b15-20 minutes to the Instagram-famous Nine Arch Bridge.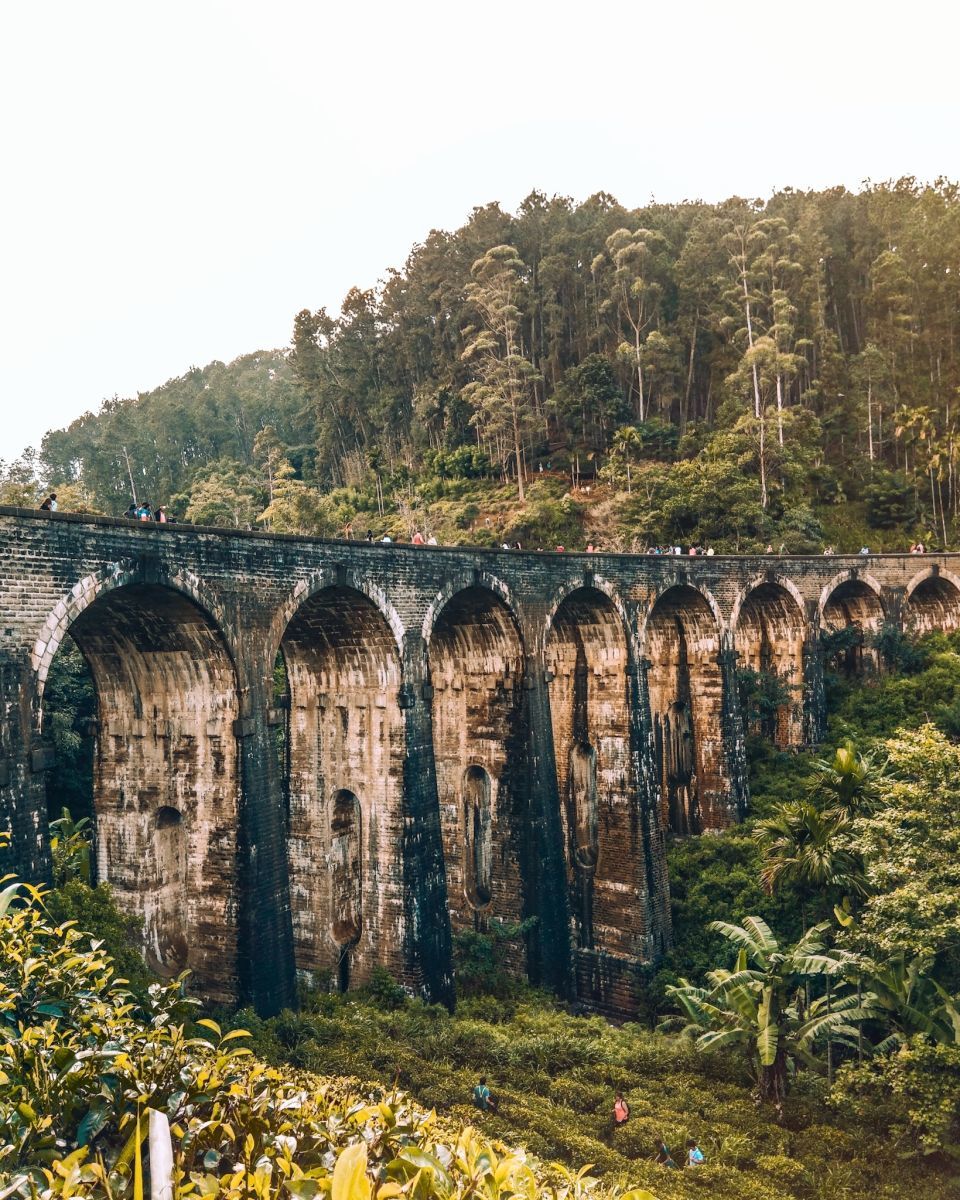 In spite of its small size, Ella has such a cool atmosphere; live music plays late into the night at restaurants and cafes, cool boutique styled stores sell hand-made souvenirs, jewellery and bags, and there is an overall sense of liveliness in the air.
Day 8 | Ella to Mirissa
It was finally time to hit the south coast of Sri Lanka, to have some sun and sand and spend the days lazing around on palm fringed beaches. Sri Lanka has loads of beaches, all around the coast, but we chose the south coast since it has some of the best beaches in the country.
From Ella, we hired a taxi to bring us 4 hours south to Mirissa. We prefer using the public transport whenever we can, but for this particular stretch of the journey, we chose a taxi because 4 hours on a local bus sounded excruciating, and taking the train would mean going back all the way back to Colombo and heading south once again.
We drove past rice fields, national parks, tiny lakes, and one town after the other for 4 hours, to be welcomed by the sunny coast in Mirissa. In the evening, my parents decided to get massages and I headed to the beach to watch the sunset. As it got dark, the beach livened up even more, fairy lights strung around palm trees lit up the beach and music played at the water-front restaurants.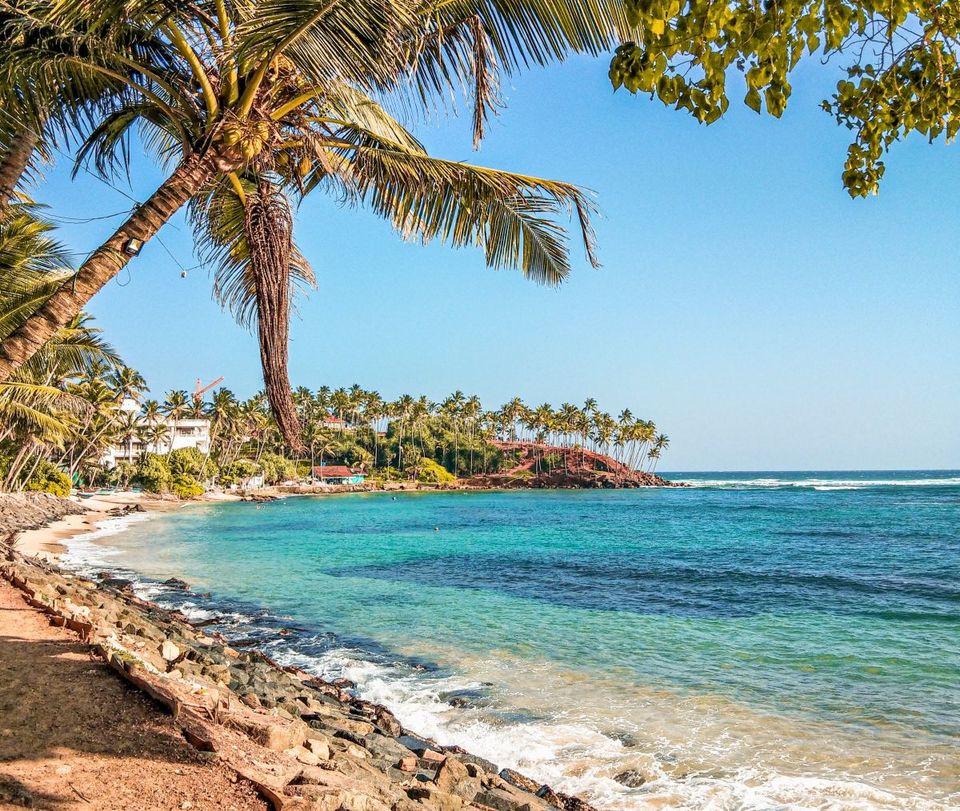 Day 9 | Mirissa
Mirissa shares its position with Ella on the top of the list of my favourite stops in Sri Lanka. We had planned to watch the sunrise from Coconut Tree Hill, which was just 5 minutes away from our homestay, but it was a little gloomy so we bailed on that. After breakfast, we walked down to Mirissa Beach once again and found ourselves a spot under a palm tree. The rest of the day was spent swimming in the sea, sunbathing on the warm golden sand, reading a book, and drinking fresh king coconut water!
My parents were pretty exhausted by the late afternoon, but I was willing to make the most of my time at the coast, so I went back to the beach by myself for a second round of sunset by the Indian ocean, and oh, it was such a wholesome experience - the setting sun painted the sky in pastel hues, as families built sandcastles with their toddlers and fishing boats bobbed on the sea as wave after wave lapped on the shore.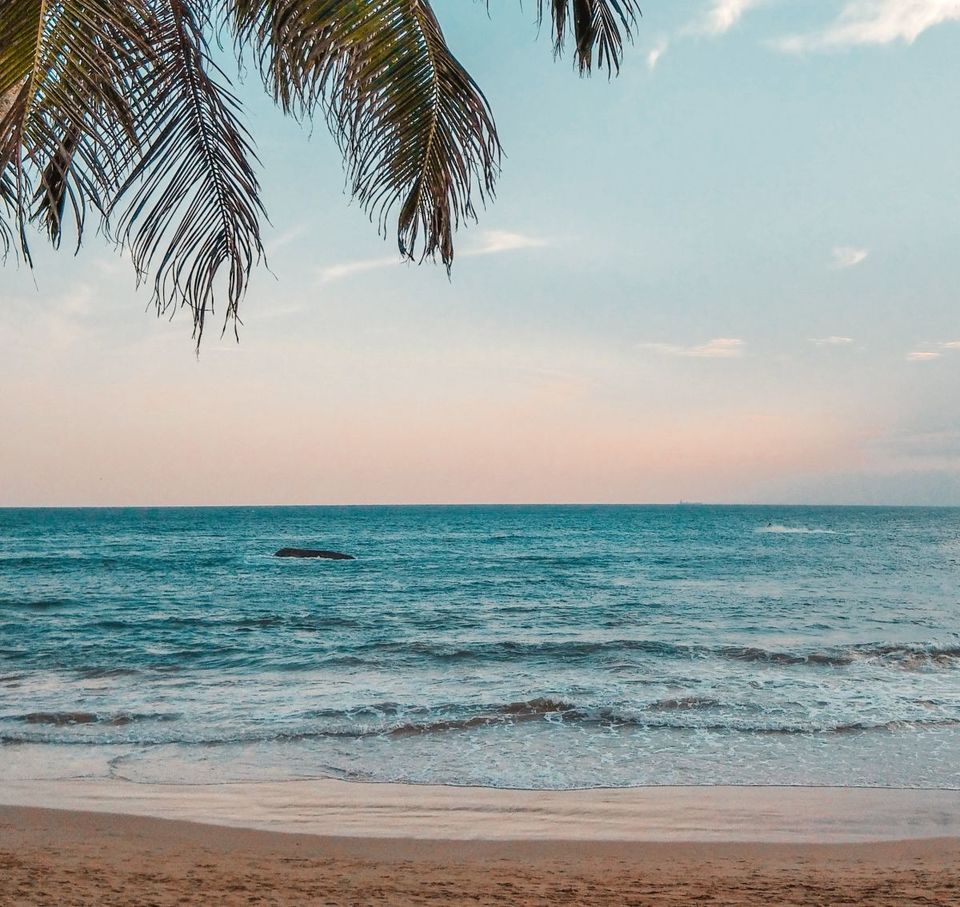 Day 10 | Mirissa to Mihiripenna and Day-trip to Galle
The south coast of Sri Lanka is lined with multiple beach towns, all the way from Tangalle to Hikkaduwa. From Mirissa, we took a 40 minute local bus ride to Mihirpenna, which is a beach town near Unawatuna. I was really excited for our stay in Mihiripenna, as our hotel was right on the beach, a mere 10 metres from our room to the sand!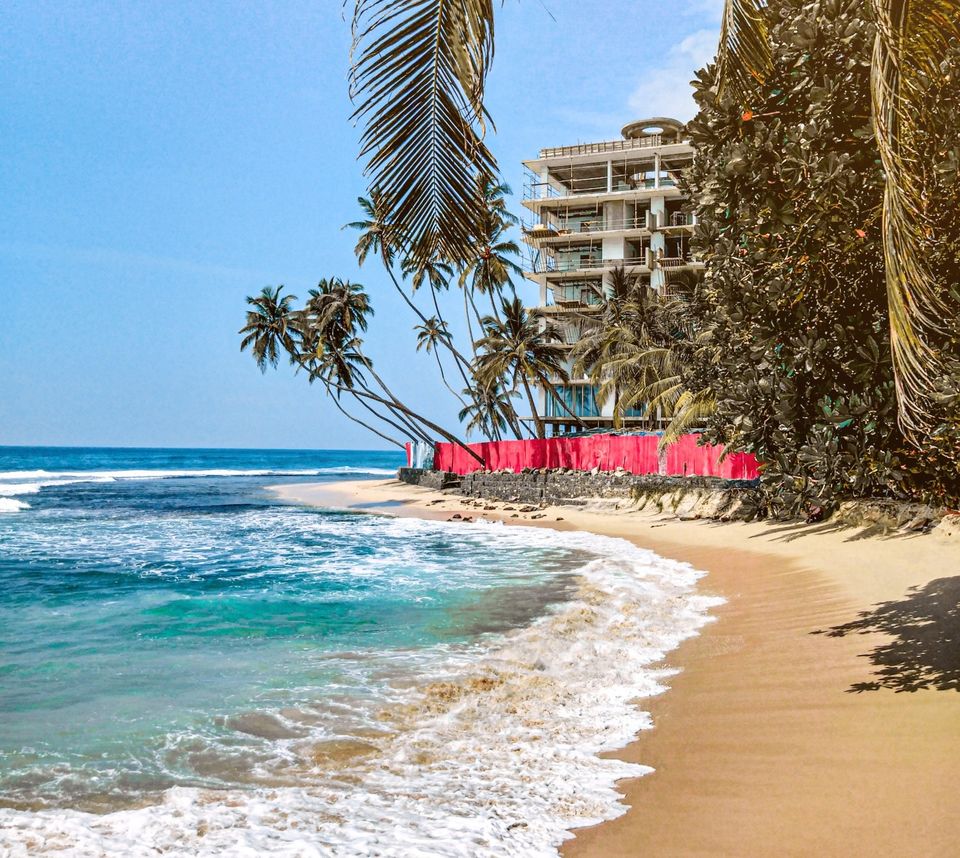 We checked-in to our villa and took another bus further west to Galle, Sri Lanka's third largest city. Before visiting the Galle Fort, a tuk-tuk driver offered to take us to Yatagala Temple, 20 minutes away from the city. As one of the oldest temples in Sri Lanka, the Yatagala Temple features a 9m long statue of the reclining Buddha, with murals painted inside the temple walls.
We came back to Galle Fort, a fortified settlement built by the Portuguese colonists, which was later on expanded by the Dutch. As soon as you enter the walls of Galle Fort, you are instantly transported to a different era — think single-storied European style buildings with orange terracotta tile roofs, that have now been converted to boutiques, restaurants and cafes. Galle resembles Europe more than it does Sri Lanka, and you will notice this as you walk around the cobbled-stone streets.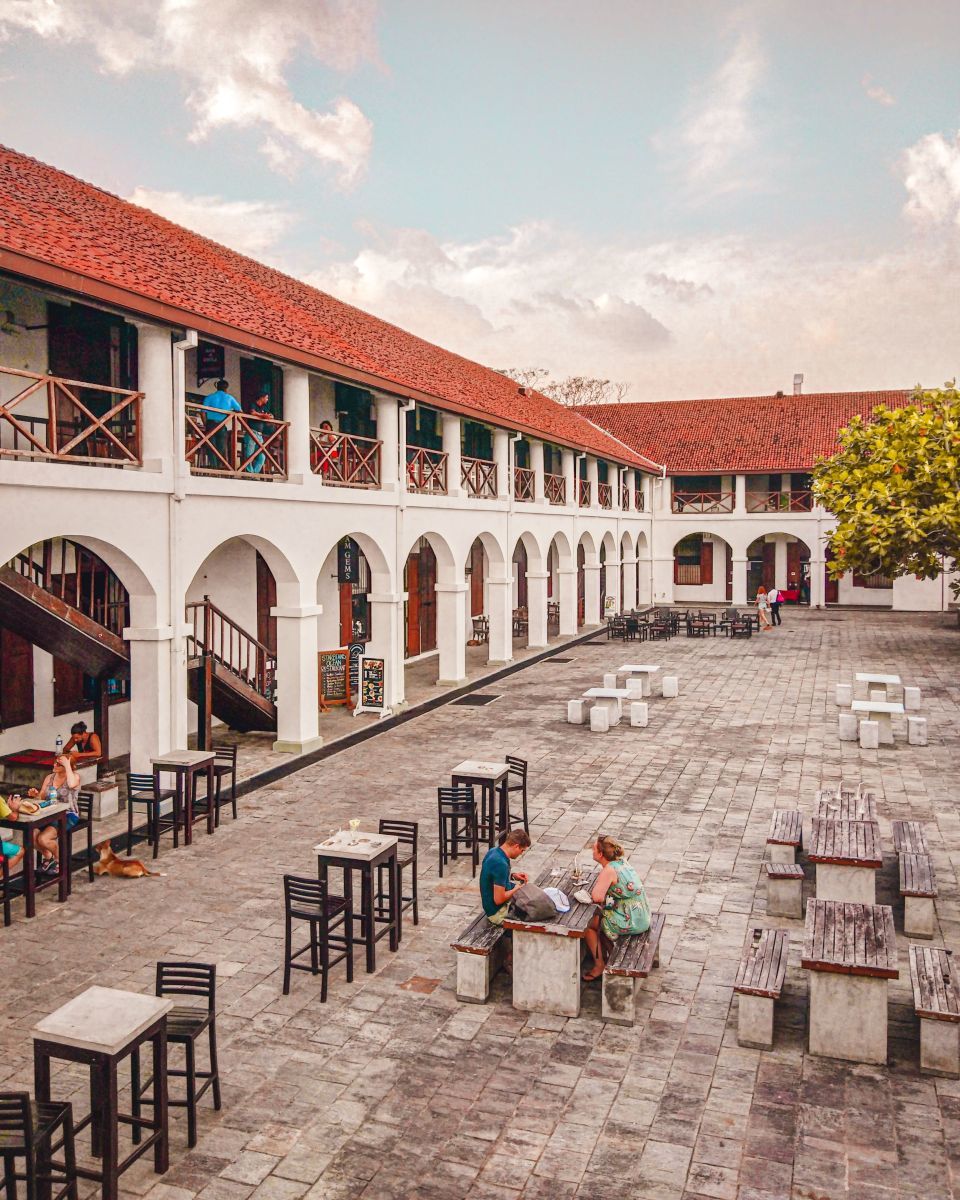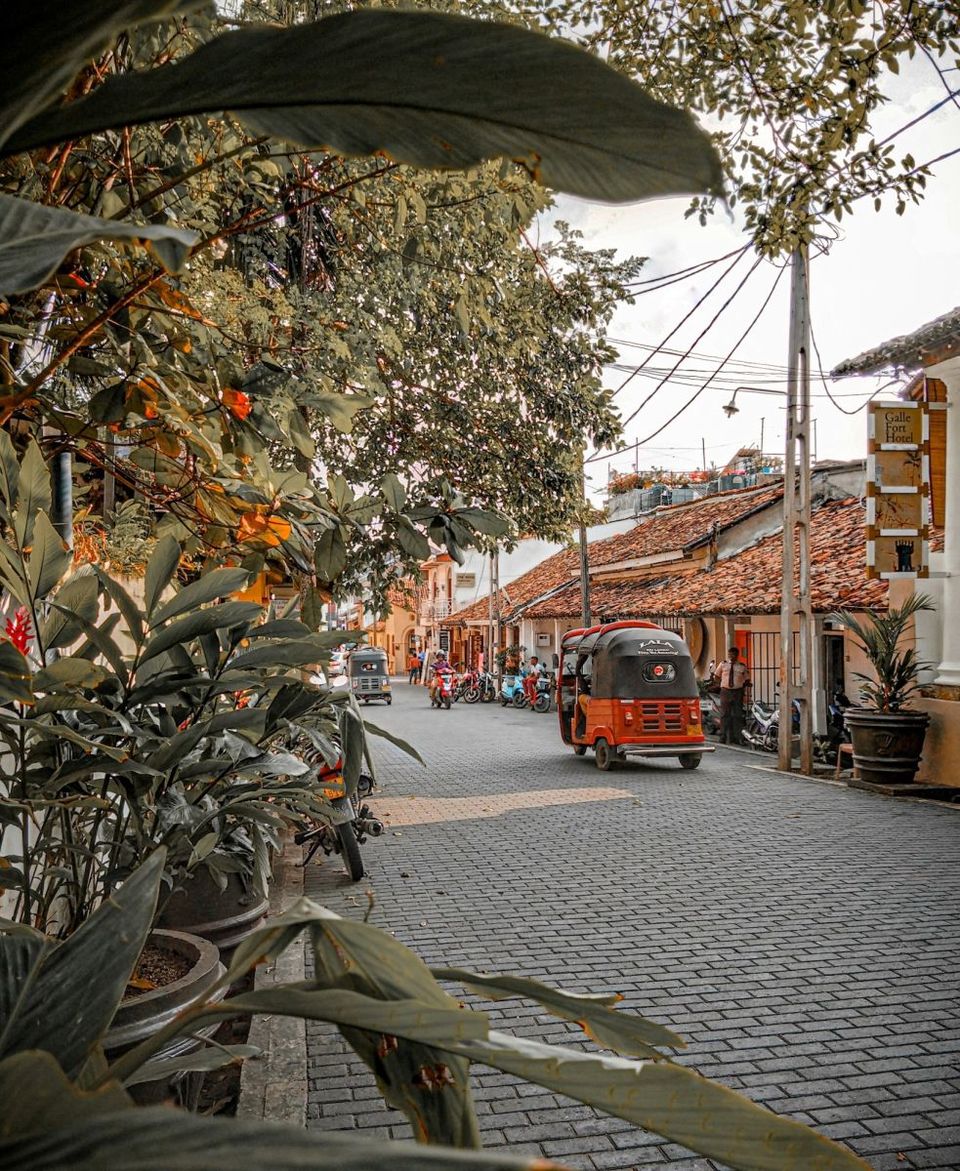 There was a short shower while we were at the Galle Lighthouse, which forced us to seek shelter. After walking around the Old Dutch Hospital, we boarded a bus from the Galle Bus Station back to Mihirpenna.
Day 11 | Mihiripenna & Unawatuna
The day was a little gloomy and the sun never showed up, but I was determined to maximize my time at the beach. Since we were staying right next to Mihiripenna Beach, we walked along the shore from one end of the beach to the other, looking over at the stilt fisherman pull up their stunt to attract tourists.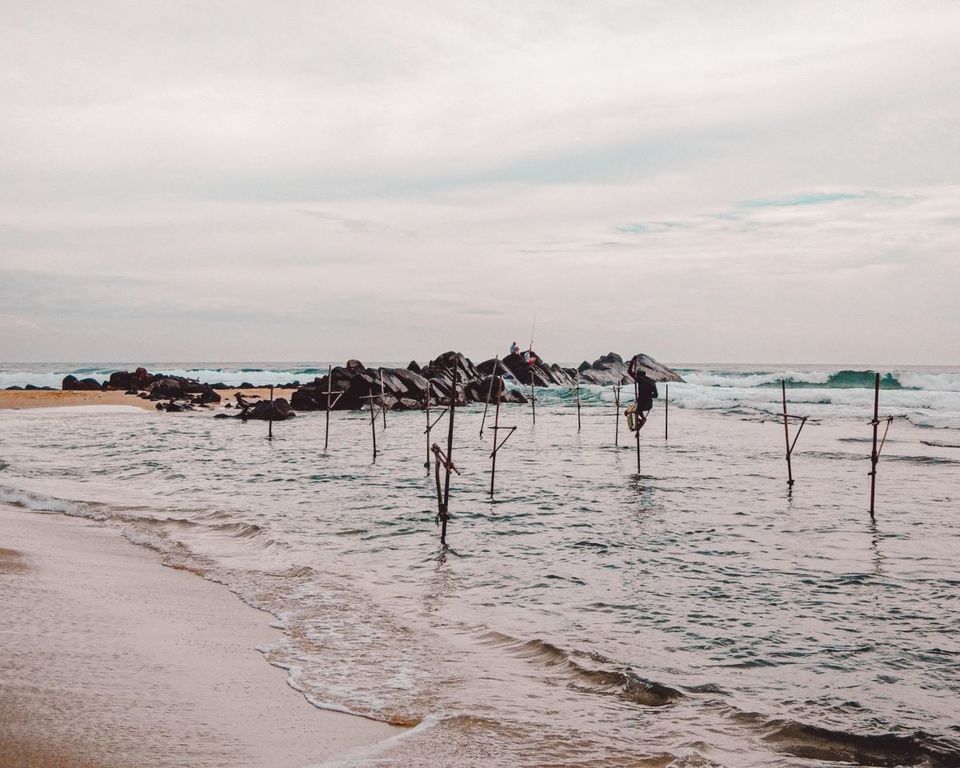 From Mihiripenna Beach, we walked all the way to Wijiya Beach via Dalawella Beach. The three beaches are connected to one another and can be accessed via the long stretch of sand. There were rope swings attached to the trees and I even attempted to climb a coconut tree (somewhat succeeding!).
In the afternoon, we took the local bus to Unawatuna, which is a larger beach town just 10 minutes away from Mihirpenna. After a bit of wandering about on the main road, we found this other road leading up to the main Unawatuna Beach, filled with guesthouses, fruit stalls, restaurants and shops selling beach-wear and souvenirs. Though we didn't make it to the main beach, walking around Unawatuna was a really fun experience!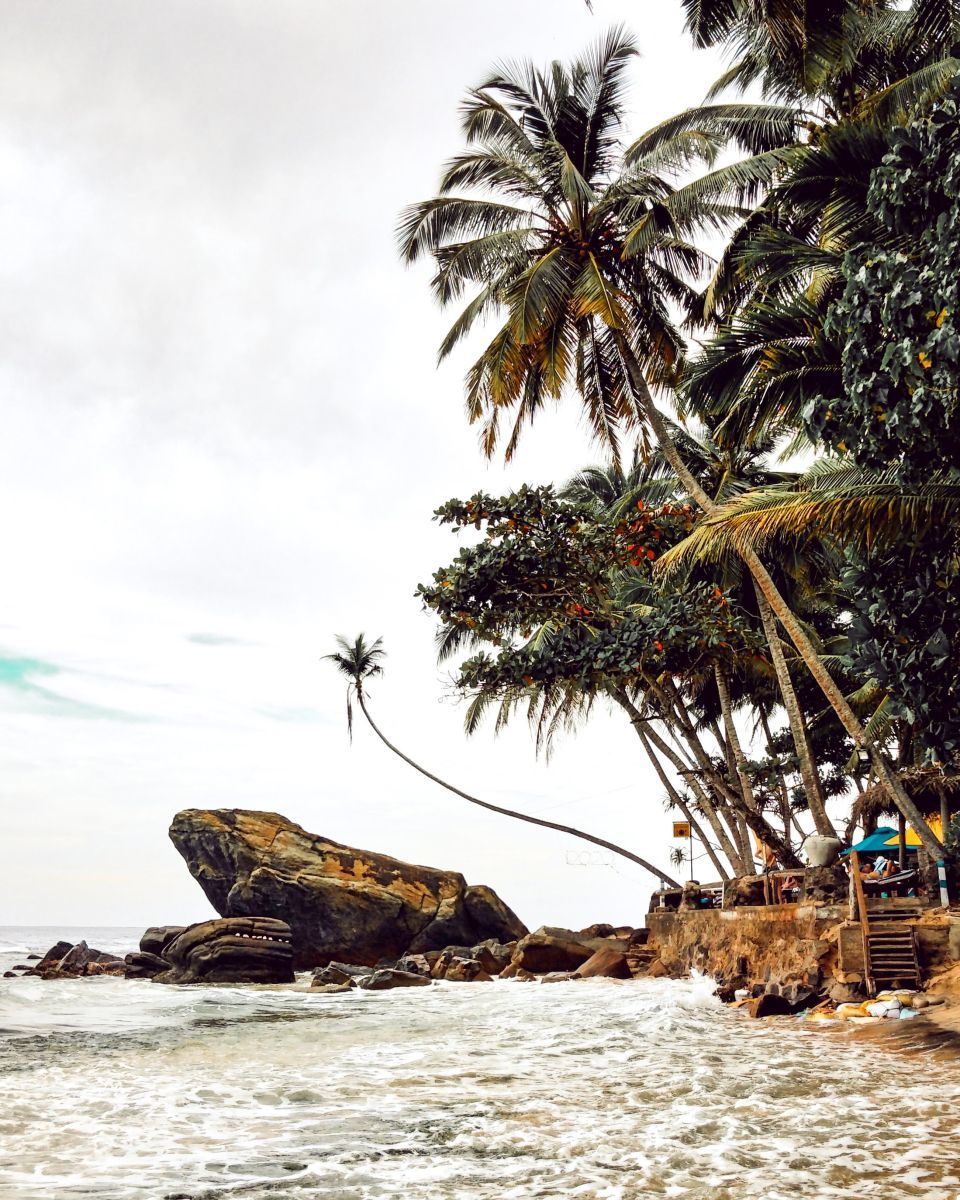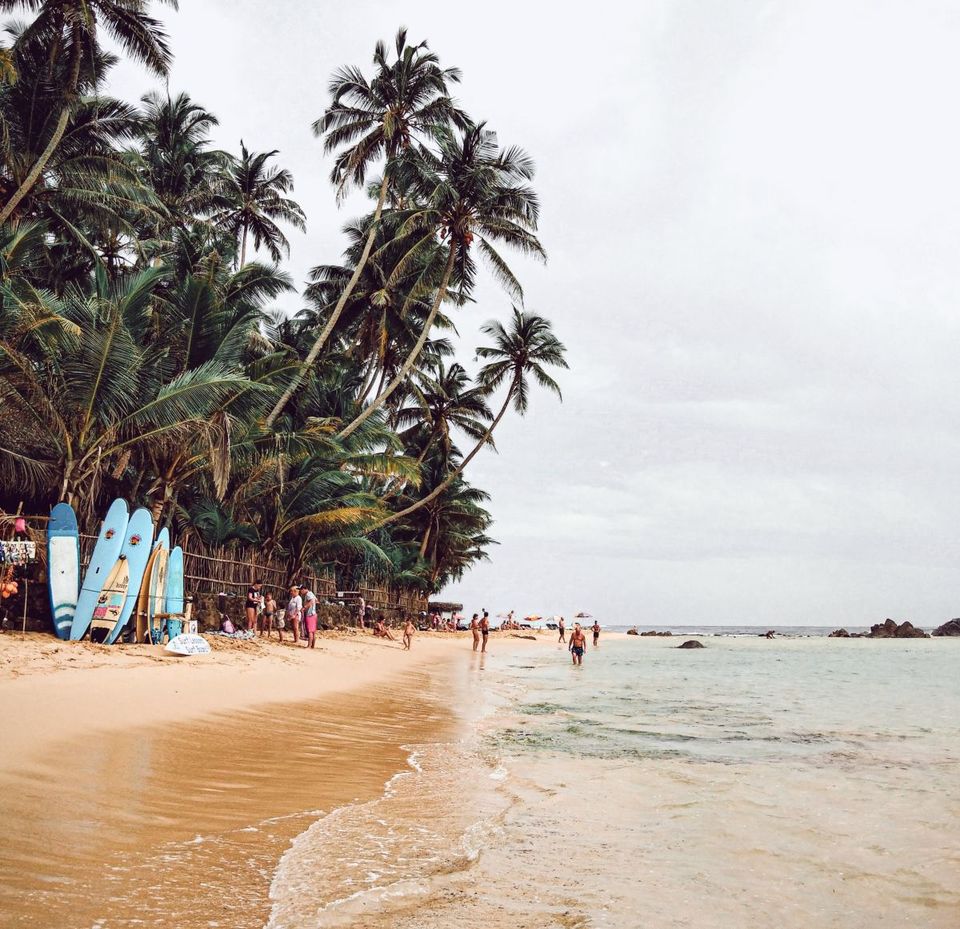 Day 12 | Mihiripenna to Negombo
On our second-last morning we woke up early to watch the sunrise, and it was a glorious sight! We had a long travel day ahead of us, as we were flying out the next morning and had to make our way from the south coast all the way up to Negombo.
We arrived at the Galle Railway Station 45 minutes before departure and purchased our tickets. Seat availability is determined on a first come, first serve basis, so the earlier you get on the train the more likely you are to find a seat for yourself, though passengers get off at intermediate stations, leaving seats vacant.
The 2.5 hour train ride from Galle to Colombo offers stunning views of the Indian Ocean as much of the journey is right along the coast. We got off the train at Colombo Fort Station, and after lunch, we rode a tuk-tuk 1.5 hours north to Negombo. We totally underestimated the time it would take us to get from Colombo to Negombo, and I would highly recommend getting a taxi.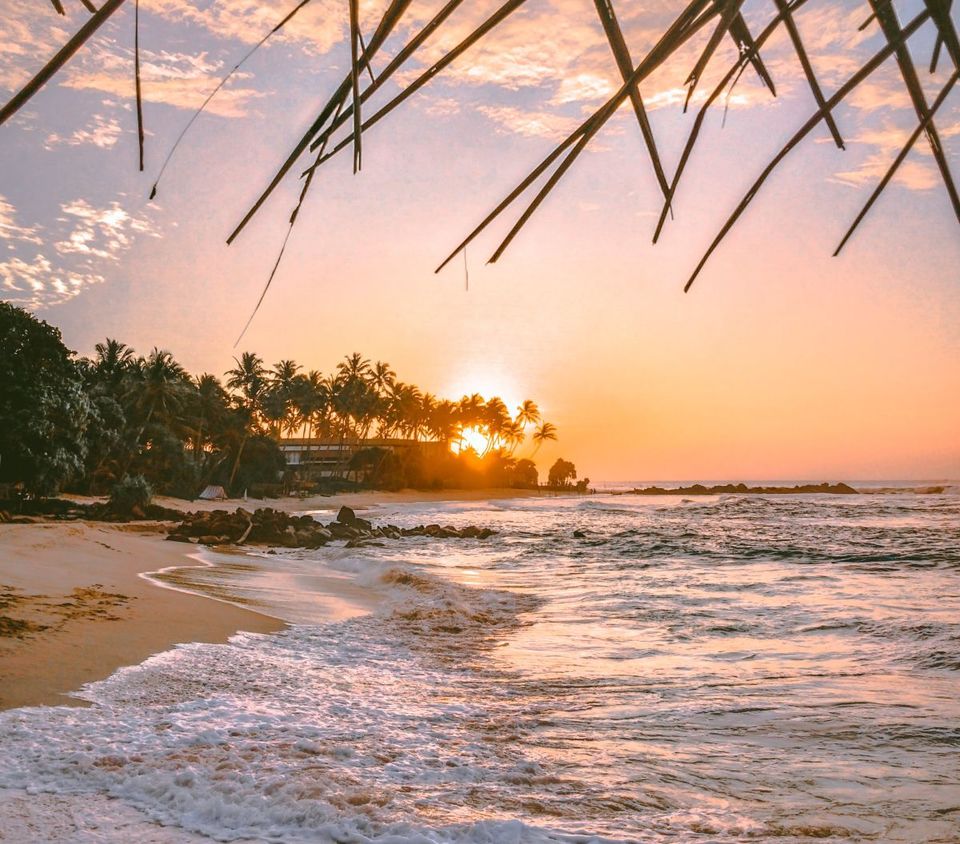 The reason we were travelling to Negombo was because our flight the next morning was departing at 8:25 am, and travelling to the airport from Colombo would take very long, so instead we stayed at Negombo, from where the airport was a mere 15 minute drive.
Our homestay in Negombo was in the rural interior, and it was just what we needed after 12 days of travelling through the country.
Day 13
The next day, we had an early morning flight back to Kolkata, which brought us to the end our trip in Sri Lanka, which was nothing short of amazing! I would go back in a heartbeat and would love to explore other parts of the country.
Have you been to Sri Lanka yet? Think we missed out on something? Tell us about it in the comments below. Or write about it here on Tripoto and earn Tripoto Credits!