When we think of Switzerland, it is easy to imagine a postcard with snow-capped mountain peaks, lush green rolling hills, blue lakes and dotted houses. Spiez, a beautiful little town resting on the shores of Lake Thun (or Thunersee), fits this picture perfectly.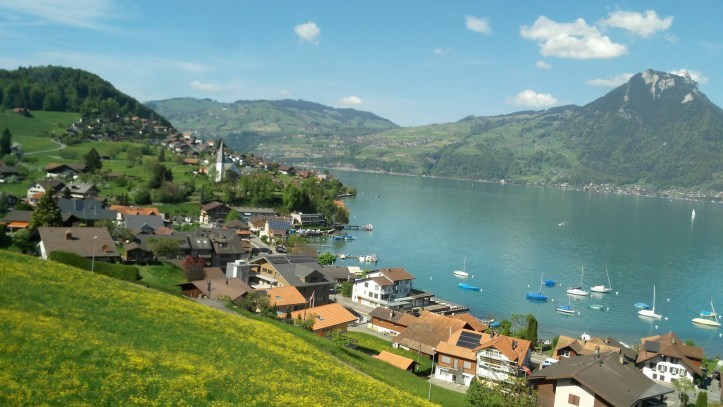 We arrived at Spiez from Thun and were immediately mesmerized by the views of the town and the lake. The hills surrounding Spiez are dotted with vineyards and orchards, and the Alps in the background only magnify the beauty of this town. As we walked toward our homestay (booked via Airbnb), we couldn't help but stop every two minutes to take pictures of the beautiful surrounding. We took a shortcut to our destination and found a tiny path that went through colorful meadows, which made climb down the valley more delightful.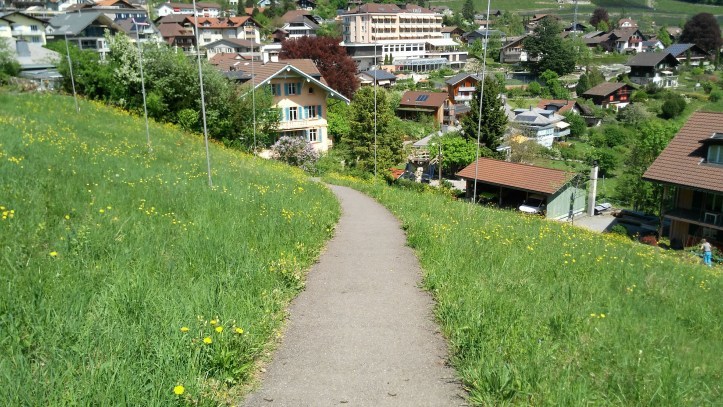 After meeting our hosts and settling in, we decided to go out and explore Spiez. For a small town, Spiez had a lot to offer. My favorite was our walk along the Spiez harbor. The sparkling blue lake, dotted with sailboats is one of the most beautiful sights I've ever seen. The restaurants on the harbor offer a perfect view of the lake and Niesen (a mountain peak of the Bernese Alps), making it an ideal place to have a meal.
The main attraction, however, is the Spiez Castle that is picturesquely situated overlooking Lake Thun. Built in 933 AD by Rudolph II, King of Burgundy, this castle is a Swiss heritage site of national significance. The castle houses a museum that exhibits artifacts of the families who owned the castle from around 1175 AD to 1878 AD. The kitchen in the castle is set up in a way that helps visitors visualize the cooking methods of olden times. The castle grounds are covered by perfectly manicured gardens and entrance to the grounds are free for all visitors.
Adjacent to the castle is a small church the origins of which dates back as far as 500 AD, making it one of the oldest churches in the Berner Oberland region of Switzerland.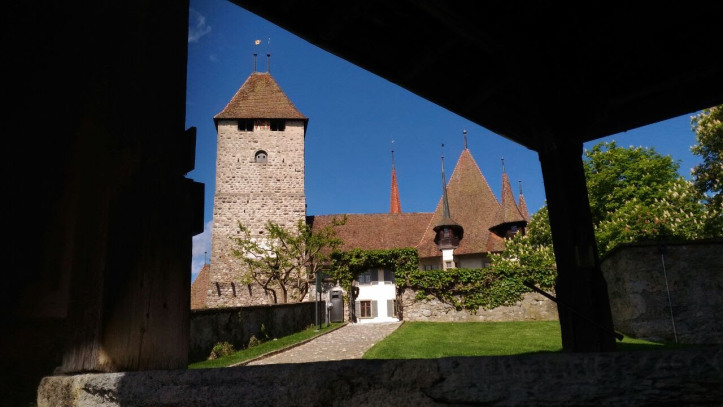 Spiez also has a special wine-making and heritage museum called Rebbaumuseum. The museum is a Simmental Haus, a building constructed in the traditional Simmental Valley style with a granary, pressing shed, and gardens. The museum has a permanent exhibition of interesting objects and fittings related to the craft of wine-making.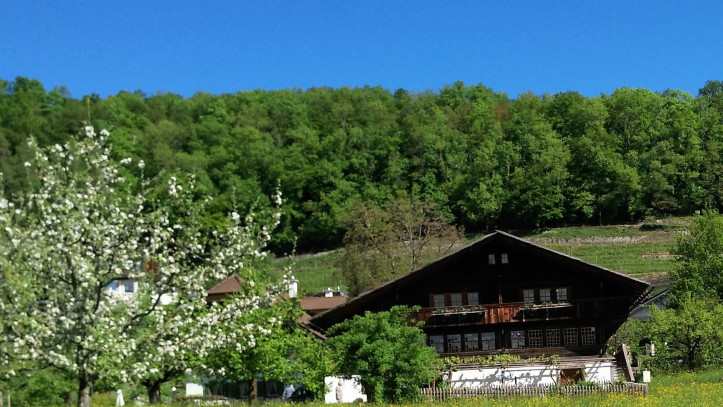 Other popular destinations like Bern, Thun, Interlaken, Jungfraujoch, Stockhorn, Grindelwald, etc. are quite nearby and are easily accessible from Spiez via train and bus. You can take day trips to all these places as they are about 30 minutes to 60 minutes from Spiez. Public transportation in Switzerland is well-integrated and you can get buses and trains to almost all the major cities from Spiez Station.
We had a great time in Spiez and would recommend anyone who is planning a trip to Switzerland to visit this little town. It's definitely worth it.