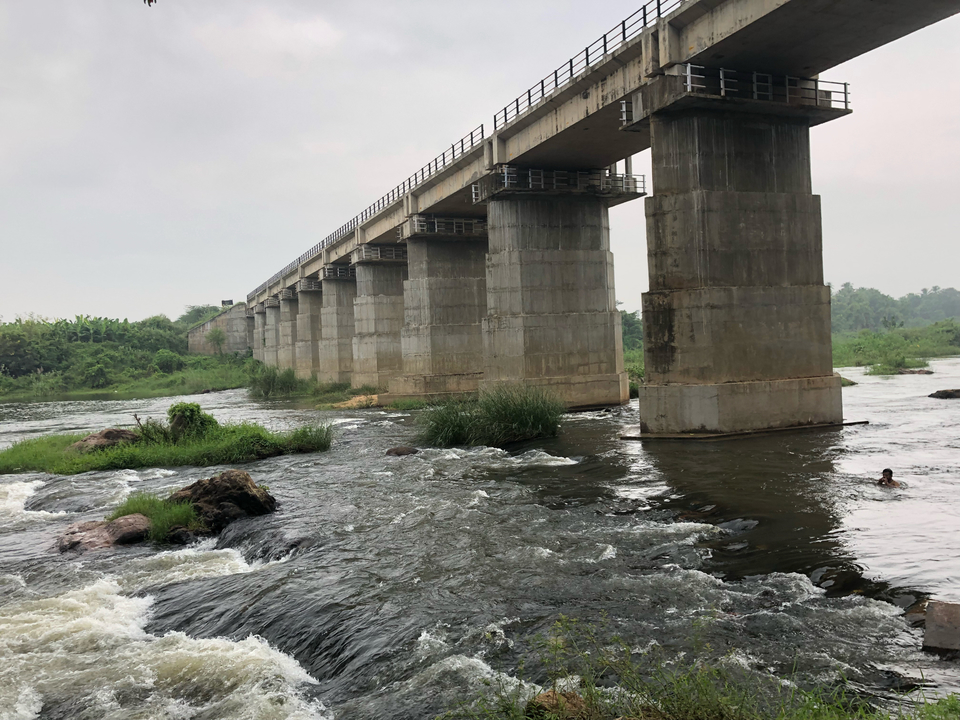 A day in Ambasamudram for the Maha Pushkaram..
It was such a divine experience being at the much talked about Thamirabarani Maha Pushkaram , which is happening after 144 years along the course of Thamirabarani River in Tirunelveli and Tuticorin districts ..I've been reading so much about it in the newspapers that I thought we must go as it's happening at a time that we are actually living . Well that means something right ?
So I made a few calls not knowing where to go and take the dip . I'm terrified of crowds and I stay away .. Suddenly I remembered my dear friend Durga Ramji from Rajapalayam who i has just reconnected with last week , after many many years , when I bumped into her and her husband on the plane back from Chennai ..
All I had to do was call her and she had everything sorted out fabulously ..
she said just show up on Monday at her place and we ll head out to Ambasamudram on Tuesday ..
3 am today we left Rajapalayam and reached Ambasamudram by 5 ..
Durga's relatives are in charge of a Padithurai in Ambasamudram ..
149 bathing ghats (padithurais) have been cleaned and made ready so that lakhs of devotees from all over India can take their holy dips in ease ..
6 am and we are by the bathing ghat with not a single soul other than us .. Wading in the refreshing water , the sun comes up and thats when lots of people come out to bathe ..
they also performed a Go Pooja and a Pooja to the river as well ..
Breakfast by the river and I even got a free fish spa .. the fish in the river have a go at yiur feet when you sit with your feet dangling in the water ..
Changed and Meena Raja s husband takes us to 2 rather ancient temples ..
Rajagopala Swamy Temple, Mannarkoil..
Mannarkoil is an island bounded by the Thamirabarani river on the south side, and the Ghatana river on the north side.
The temple, built in the 11th century A.D., during the rule of the Chola monarch Rajendra Chola I (முதலாம் இராசேந்திர சோழன்) (1012-44 A.D.), has a very unique architectural design. Unlike the majority of the temples which have only one main sanctum enshrining the presiding deity, Mannarkoil has three vertically aligned sanctums, all facing east, one above the other, each housing one image of Lord Vishnu. The canonical texts call this style as ashtanga vimana.
You can see Lord Vishnu in the standing ,sitting and lying down position , very much like the Koodalazhagar Perumal temple in Madurai..These Moorthis are not made of granite like most temple deities.. Made of sand and calcium they do not perform Abhishekam to the main deities..
Another special temple is the Kailasanathar temple at Brahmadesham
It is a small village located at a distance of around 4 kms from Ambasamudram.
The presiding Goddess of the temple is Periya Nayaki aka Brahannayaki. Her sculpture is big in size and extremely beautiful.
A huge temple in a very dilapidated state ..the magnificent wooden front door has 80 panels and different stories to tell ..
Pls find below a utube link about the door :
https://youtu.be/Uf8hacUQWLk
The temple was built by Cholas, Cheras, Pandyas and Nayakkar kings.
There are even few mural paintings which are almost destroyed in the walls of outer prakara...
This is definitely one of the best temples and architectural marvels in South India, which remains unknown...
Lunch and we were taken to the agraharam to buy local specialties..
Appaalam overload ..
I had a chance to talk to some people who hand roll these appalams ..
pickles, sweet meats , savouries,podi 's
The agraharam has these tiny house entrances with their small thinnais.. they looked like miniature homes ..
On the way into and out of town we saw a lot of people dressed as Gods , beggars , strange disguise s. Etc .. Meena said they dress up in different costumes for nine days and beg on the street s and in the final day of Dussehra they go to small village called Kulasekarapattinam where they all congregate to pay their respects . I was told it s photographer s heaven .. the event qualifies as one of the most unique manifestations of Dussehra in India.
I hope to get to this festival next year ..
It's been such a fulfilling day .. so many good vibes and such kind people ..
Ambasamudram is such a beautiful small city with generous caring people .
Hope to come back again soon at leisure to explore the sights around ..
Thank you Durga , Meena ka and family for such a perfect day !! Ever so grateful..
Unable to add more pics to this post
Will do a part 2 ..
#goldfishtrails
#puravida
#october2018