Trichy-Erode-Dhimbam-Gundulpete- Bandipur-Ooty-Coimbatore-Pollachi-Valparai-Athirappally-Thirussur-Palakkad-Coimbatore-Trichy
Day 1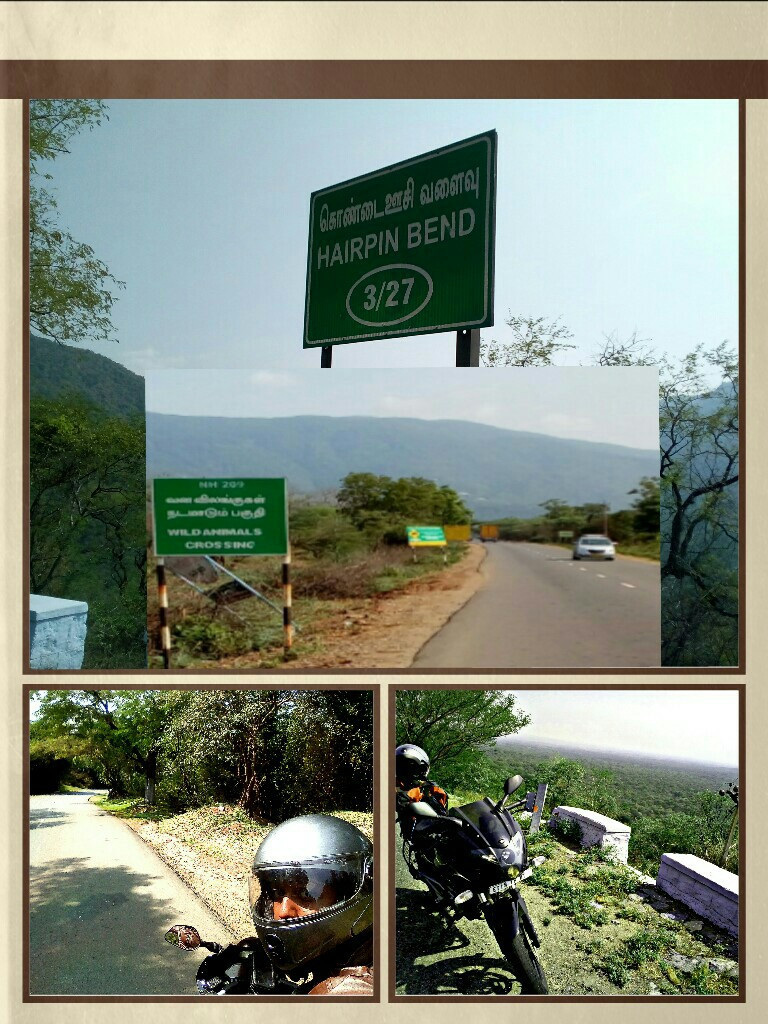 It was four in the morning when I started my solo trip from my home in Trichy. The first obstacle is, my digital meter display suddenly went off when I checked it to reset my trip to 0.0 km. Somehow I managed to make it work by plugging the wiring system again, which was a great inspiration for me to move forward. After 120 km of steady riding I stopped for some coffee at vellakoil. Then I asked for the route to Kangayem. From there I stopped many times for checking out my GPS. From Kangeyam to Dhimbam I couldn't cruise at enough speed though the roads are highways due to little traffic and construction works in the middle. I made it to the Dhimbam hills via Bannari. I stopped once for fuel since I can't search for pump stations in the middle of Dhimbam or Hassanur. I didn't stop more than twice a day for fuel since my bike gave a decent mileage of 38kmpl. I was glad I took the unexplored Dhimbam. The NH 209 road was heavenly. I can't capture much photos, since the localities advised me not to stop in the middle of my journey due to the frequent crossing and attack of wild animals.
It was my dream since I bought my bike to ride through the woods lonely and that was the reason I took this route to Ooty. I stopped in the mid way of Dhimbam-Hassanur to enjoy the view as in the 3rd image of the collage. I stopped to capture two photos with fear. Then I stopped for breakfast in Hassanur. After that I stopped for not less than 100km since I wanted to reach Coimbatore within the same day. Then I reached Bandipur after a lot of struggle in Chamrajnagar traffic and Gundulpete off road.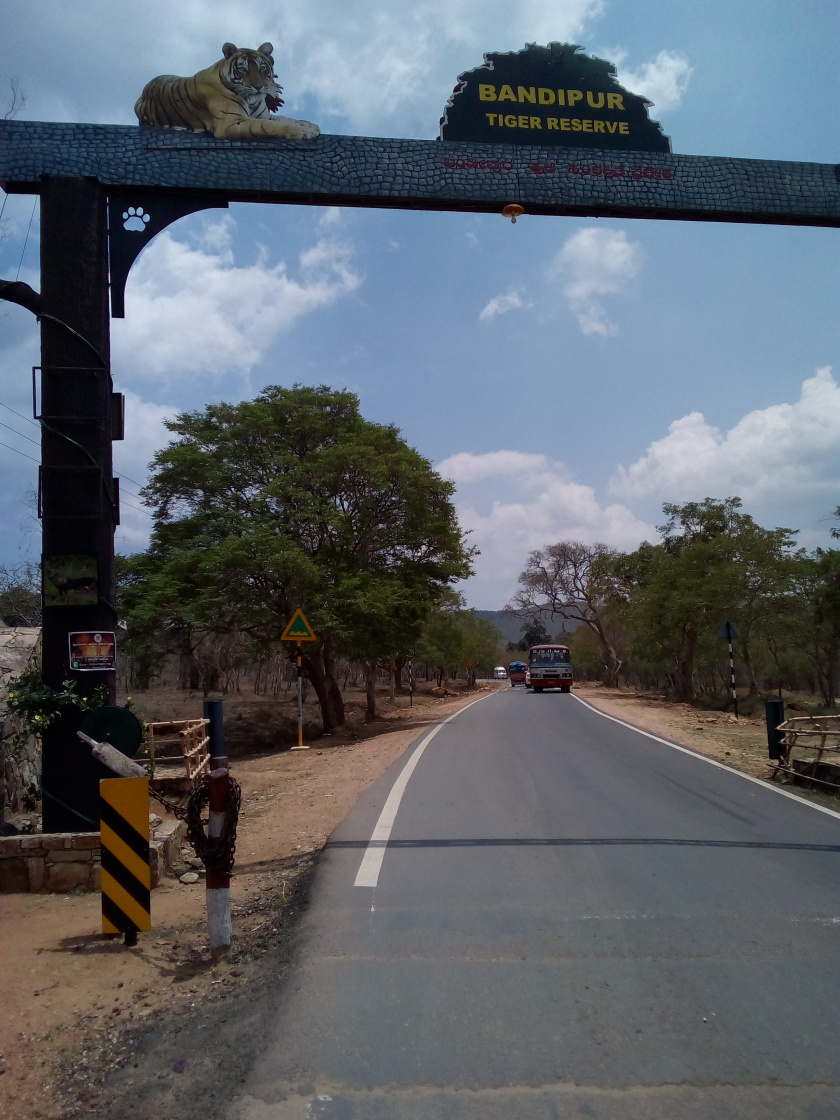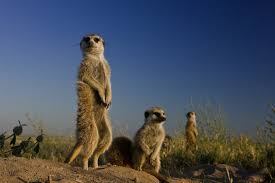 This route I loved the most. If you want to travel through these roads, you are advised better not to stop in the middle since you could be fined for voilation. Fortunately I am not a selfie addict. I wasn't fortunate enough to spot elephants or tigers, but I spotted our beloved Timon( I mean, a Meerkat).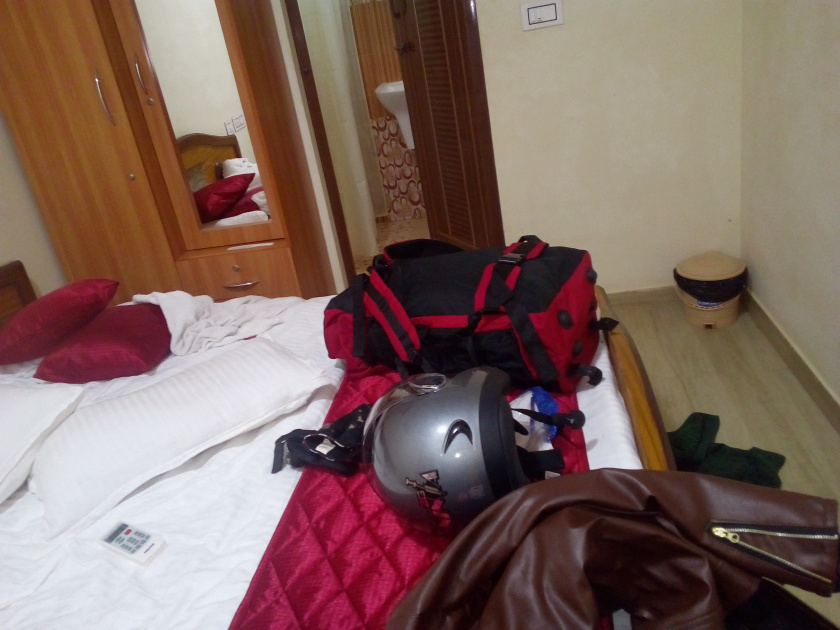 The road was really worth the long struggle. I love the road the most since it is covered by woods, fresh air and finally cute animals. At Mudumalai, I stopped for some refreshments. Finally I made it to Ooty where I waited for more than 20 minutes for lunch in the hotel. I also bought a selfie stick in Ooty for 120 after a little bargain. Then started the most challenging part of the day's ride where I realised the importance of a rain suit. My riding gloves became wet which made me shiver more in the cold climate. When I thought that the challenging part came to an end , started the exhausting part of the day's ride from Mettupalayam to Coimbatore. The road was too busy due to arrival of more people on vacation. I won't say that I am not used to ride in the city traffic. But riding in the city traffic after a day long ride was really exhausting. Then finally at km499.6 at the hotel, Ragu residency which I booked via oyo rooms
Day 2
I started at 7 in the morning since I was too tired to wake up at 5 as I planned, due to the exhausting ride in the Coimbatore traffic. After lubricating the chain I started to Pollachi. It was completely off road for 40kms, which I thought was the exhausting
part of the day's trip. I had my break fast at Pollachi and started my ride towards Valparai. The ride was completely worth the struggle of the off road.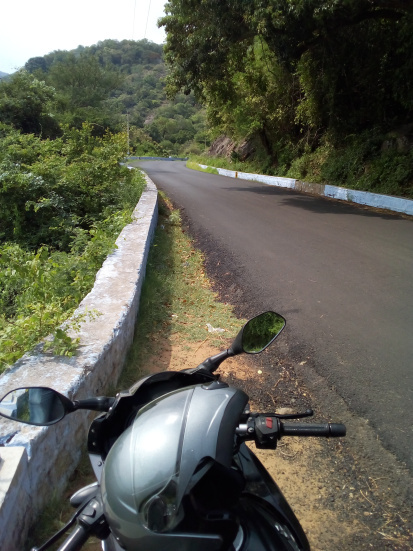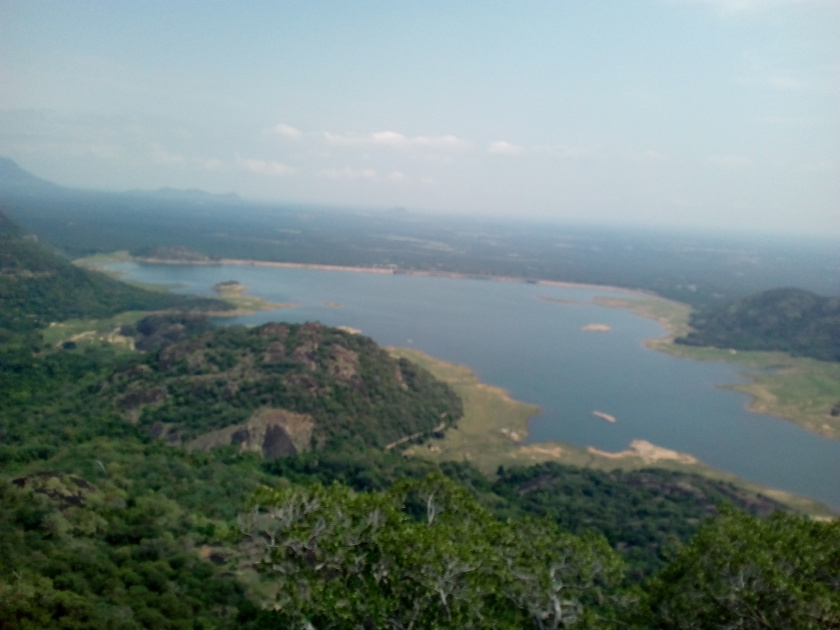 I totally fell in love with the curves of the road and the scenic beauty of the place. Manage time if you are taking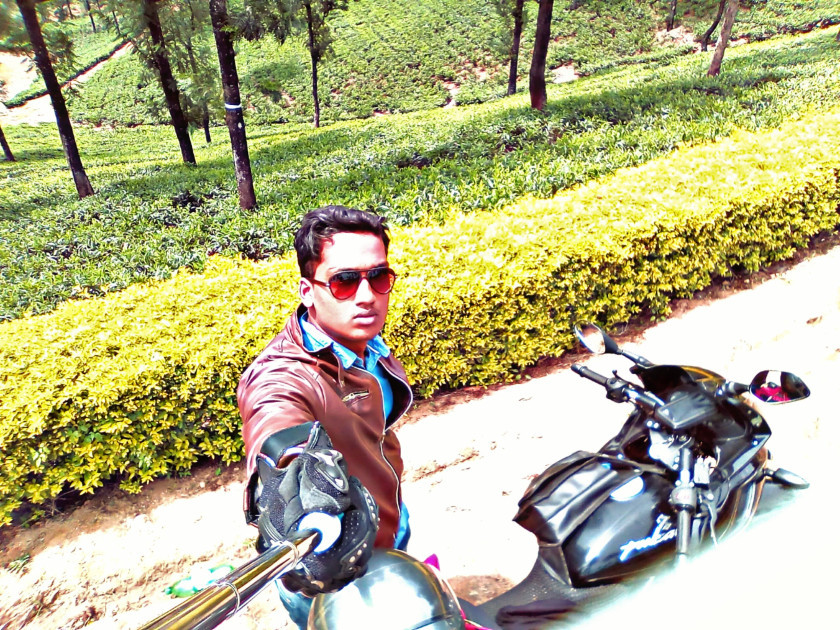 a trip to this place to see a sunrise or a sunset view. The above image is a place for the sunrise view. There are even view points for sunset views. On my journey, a old man whom I met on the way advised me a lot not to come to the place alone and he also compelled me not to go to Athirappally since a man was killed by an elephant just the previous day. Then I reached Valparai finally. I thought it would be the best road I have rode until I started my journey towards Athirappally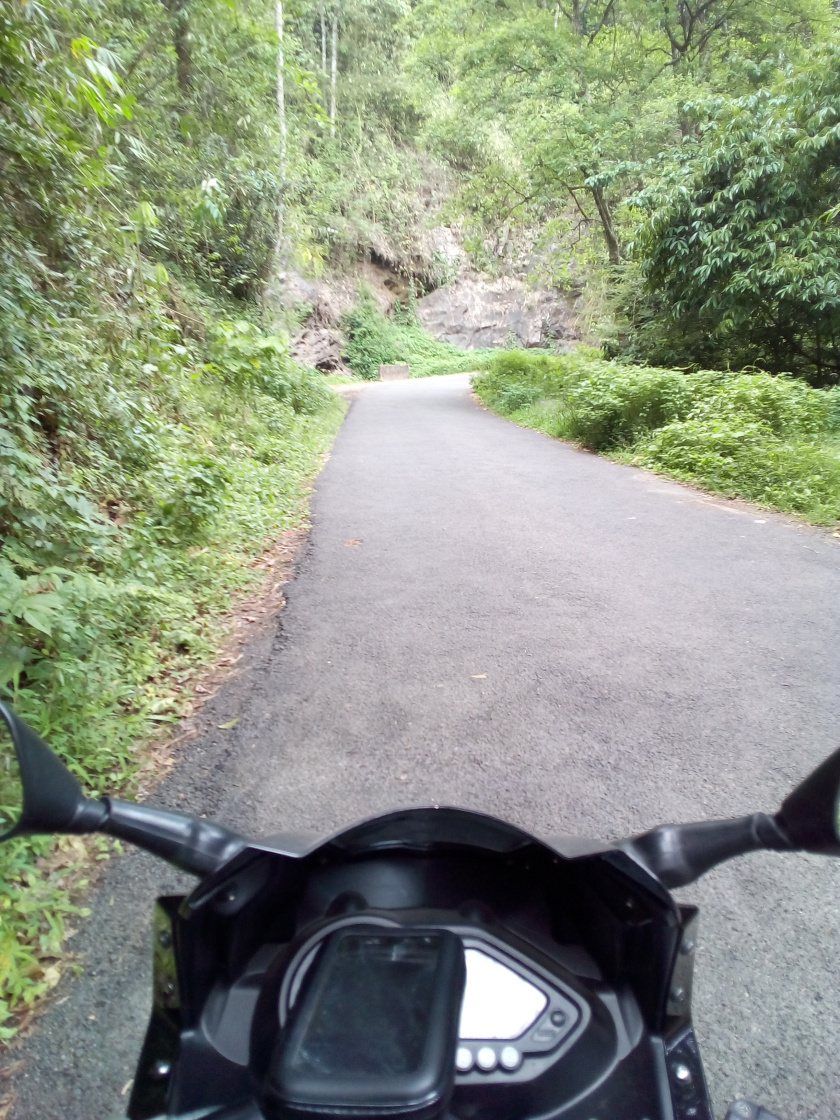 Then I started my ride towards Athirappally via Vazhachal. There is checkpost in vazhachal where you need to get a permit slip from the forest rangers to pass Athirappally checkpost. Though I feared, I never wanted to give up on my ride. Then started the spine chilling moments of the day's ride. The forest was very dense. I was advised not to stop anywhere in the middle due to elephant and panther attacks though I stopped here just for a picture.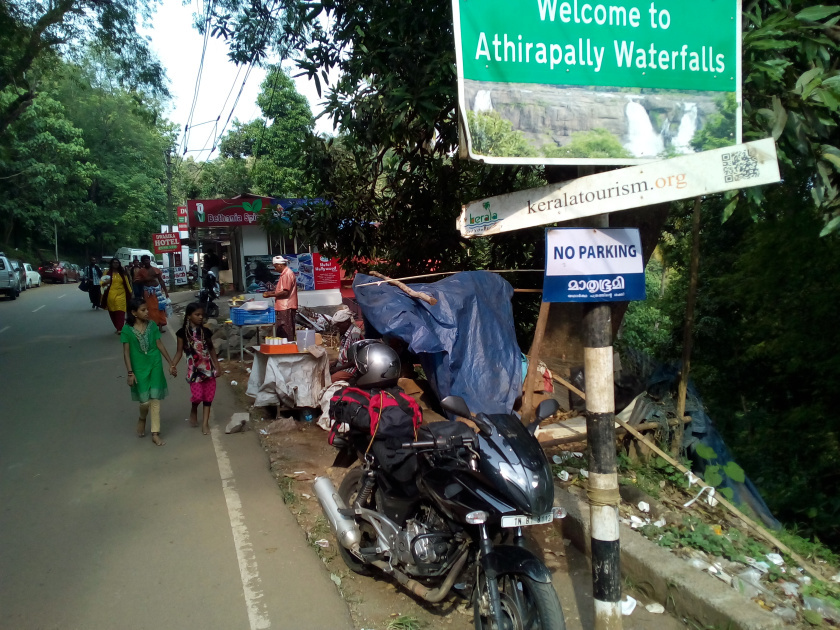 Though the ride made me freak out completely, I felt like I was connected with nature literally and I understood why Kerela is called the God's own country. I loved the ride totally. Though I had an option of following any car or van, I opted for riding alone. I totally wanted to say, " I love you Kerela". Then I faced another problem in Athirappally since I had my cards and I was completely out of cash. My plan of riding through the same roads on the early morning ruined. Then I fueled up to go to Coimbatore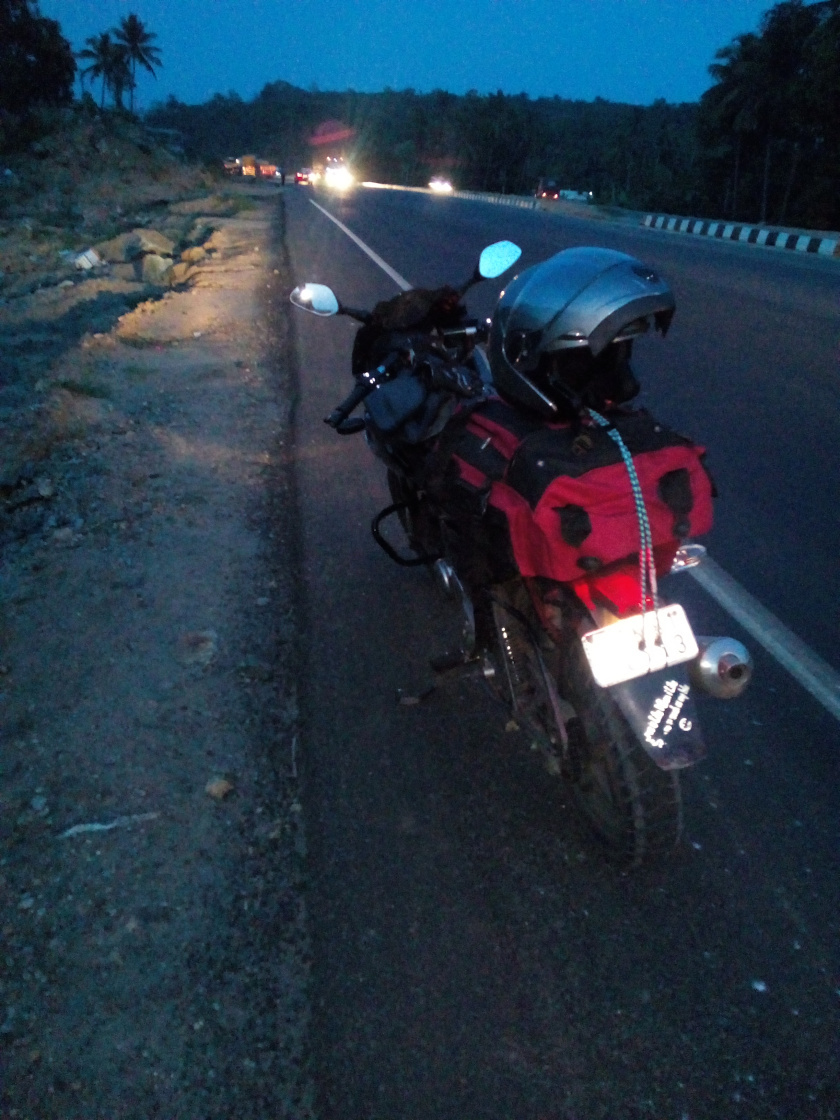 Another problem I faced is, my phone's battery was empty after I took the pic. Then I started towards Coimbatore via Chalakkudy and Salem Kochi Highway. This road will be in the bucket list of atleast more than 60% of riders due to the road's condition. This is the point where I felt like I am the unluckiest person in the earth after checking that more parts of the road were under construction. I usually like off road riding but I felt it little exhausting after a day long ride.
Then I started my ride towards my home at 10:30 in the night after having my dinner at Coimbatore. During the ride towards Trichy, something interesting happened which I would like to share with you guys.
Day 3 12:30AM
A place called Vairamadai is more or less 40km from Karur, which I reached at about 12:30 in the night. I was totally exhausted since I was riding for more than 16 hours. I was riding little slow and cautious due to the high beam lights of the cars and trucks approaching in the opposite direction. I decided to take a power nap at a small bridge. I put my bike in main stand with the left Indicator on and rested my left elbow on the wind shield, where I slept for nearly half an hour until a cop torched at me. He enquired about me and I told him that I was totally exhausted since I was riding since morning and I can't find any rooms as I had only cards and I was totally out of cash. The cops are so nice that they asked me to take a power nap in the check post office, though I denied as I wanted to reach Trichy atleast before 4 in the morning to avoid attention of my neighbours. Then finally at 1114km I reached home. People always say that travelling can help you find your calling. This trip made me realize that at least once in while I should spend time with myself so that I can discover who really am I. I won't say that the trip completely changed me to an another person. But, definitely I am not the old me