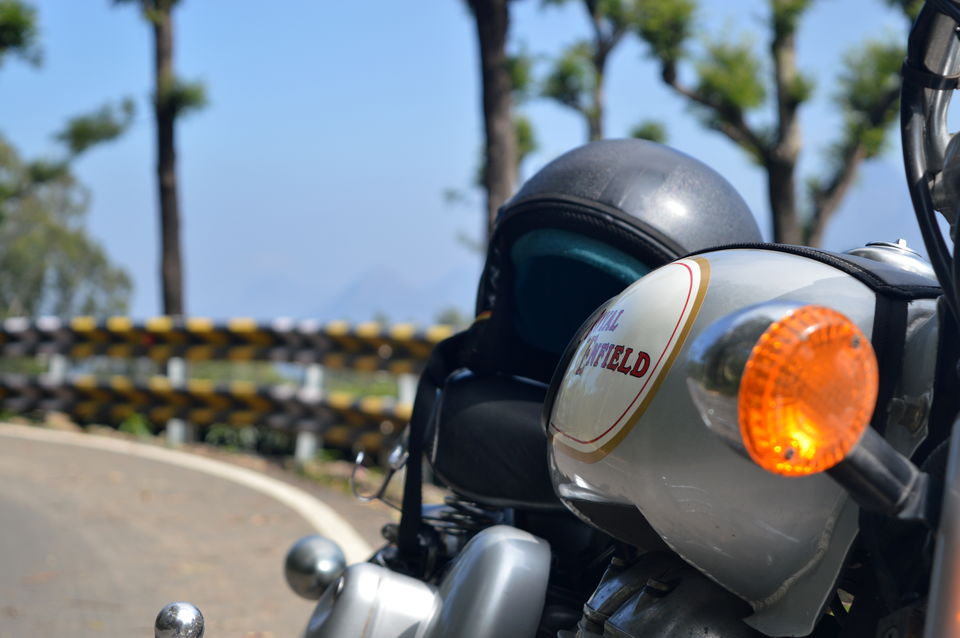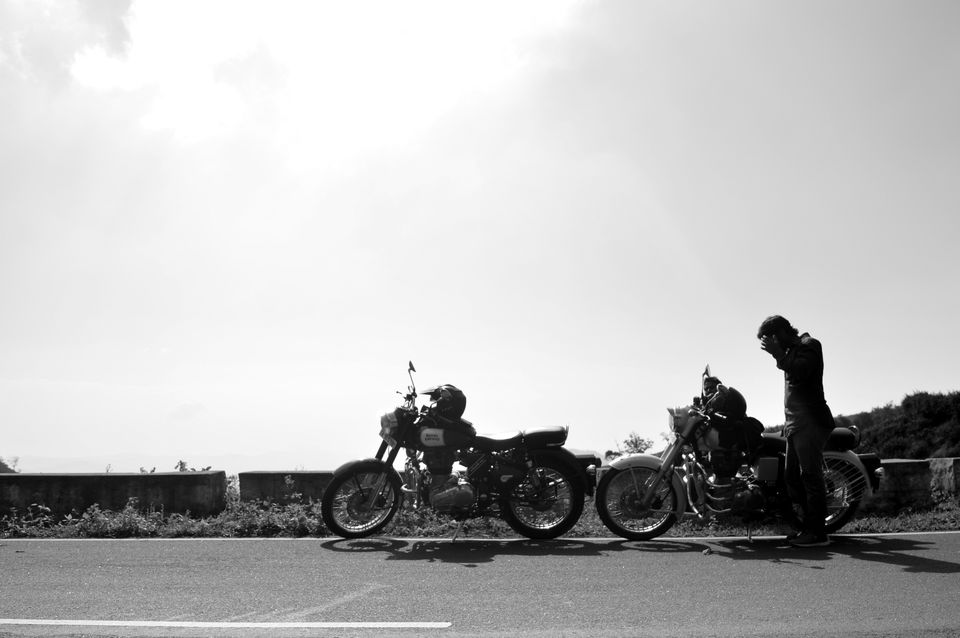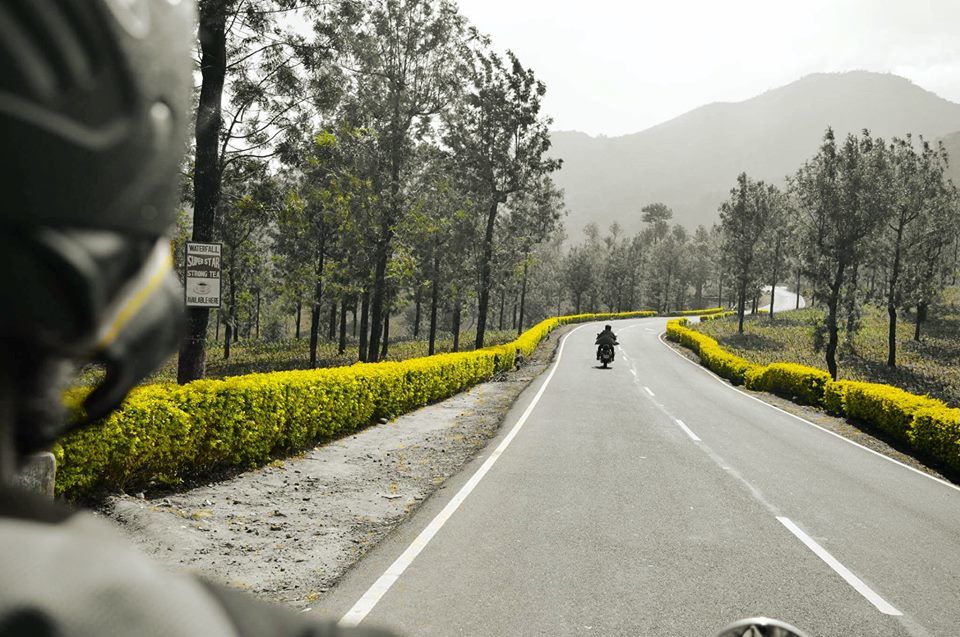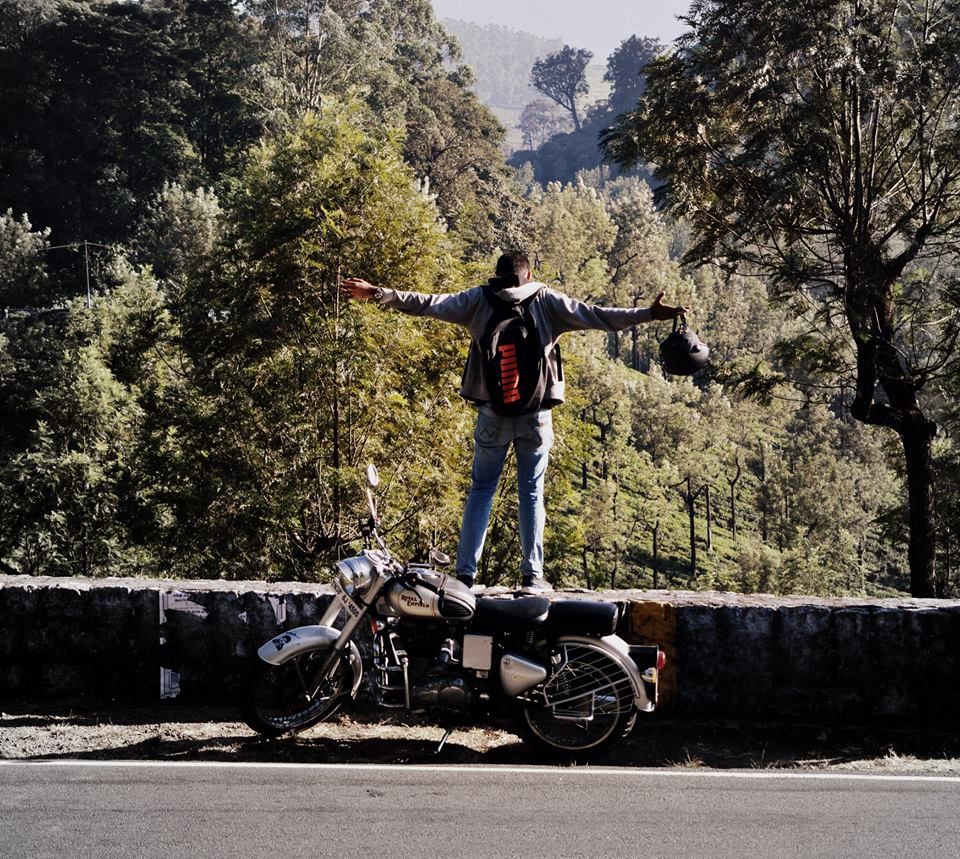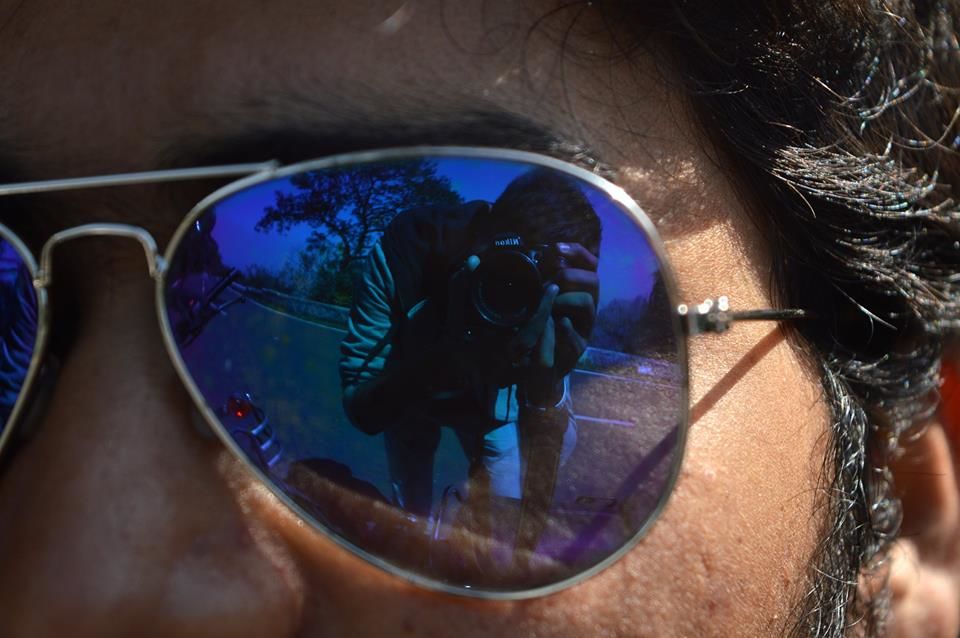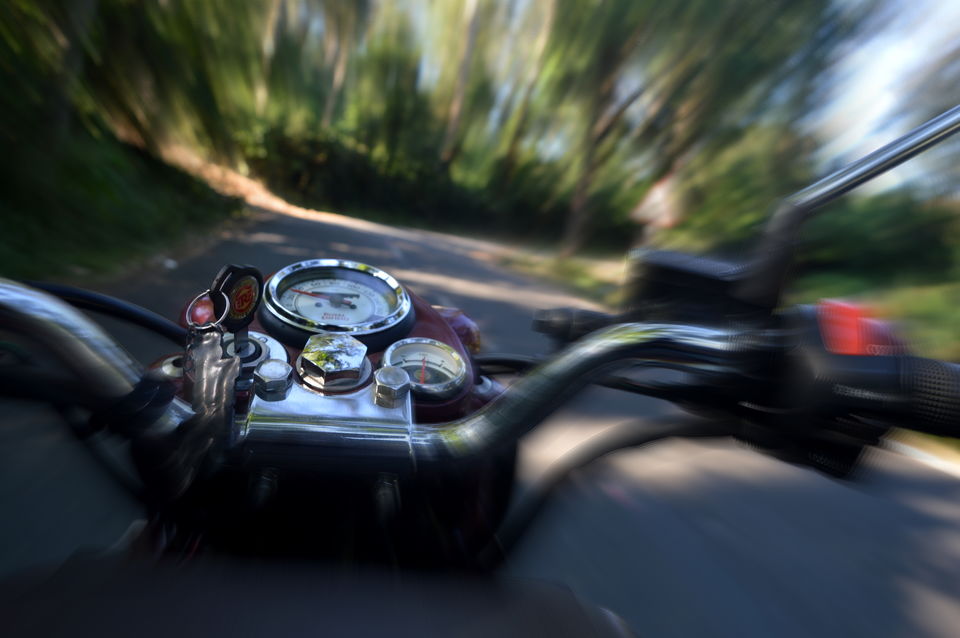 2 Bikes, 3 Friends and some 40 hair pin bends! VALPARAI.

29th December,2015.


You are someone from Coimbatore who wants to go on a road trip and in the same time want to connect with Nature, and the thing is you only have 500 bucks with just one day of time. Don't worry mate! Looks like god knew you would come into this situation and has made Valparai in advance just for you. Yes, That's how much it will cost, You can do +200(for a person who eats a lot) for your Food, but Rs.500 is what it costs for the journey because your bike drinks! So Why wait? Put on your helmets, take a jacket, climb on to your bike and let's ride!

I am a guy from Coimbatore and road-trips like this are what we guys do when we bunk college or when we are out of money, not many people are as blessed as people from Coimbatore are because they can go on road trips when they are bored, They have Ooty and Valparai within their reach to find some peace and fresh air.Yes, You can tell me it's nothing compared to some Bad-ass road-trips like Chennai-Kanyakumari, Leh- Ladahk, or the golden quadrilateral and all, but this one is small, within the budget and fun.


How to Reach? ( From Coimbatore )
Valparai is a hill station about 130 kms away from Coimbatore. Take the Pollachi road(NH 209) and stay on course till you reach Pollachi. Once you reach Pollachi, You will have to take the Valparai Road (SH 78). It is almost 60 kms from Pollachi. The road is good with 40 hair pin bends,The bends start after you reach Aliyar Check post.


Our journey started of from my place by 9 in the morning, We took the route through the Ukkadam bus stand and the Pollachi Road from there. Pollachi road is always busy with Private buses plying in high speeds, it always looks like there is some race between the drivers of the buses, There are instances where you see a bus overtaking another bus in a two lane road and the worst thing is that you are heading towards the bus in the opposite direction. You actually are cramped without any place in the road at instances like these, At least till Othkalmandapam, it is like this. So, my advise for people going on a road trip is to drive slowly till here. Once, we reached Othakalmandapam, it was like the outskirts of the city. You find trees along the both sides of the road and the feel of the road trip starts from there!
POLLACHI

When questioned about the gear system of most of the bikes, they say "It'se one down and the rest all is up!", this road trip is similar to it. Till Pollachi, You don't find anything exciting except for you riding the bikes with your lads. Pollachi is just the starting part with a lot of fun yet to come.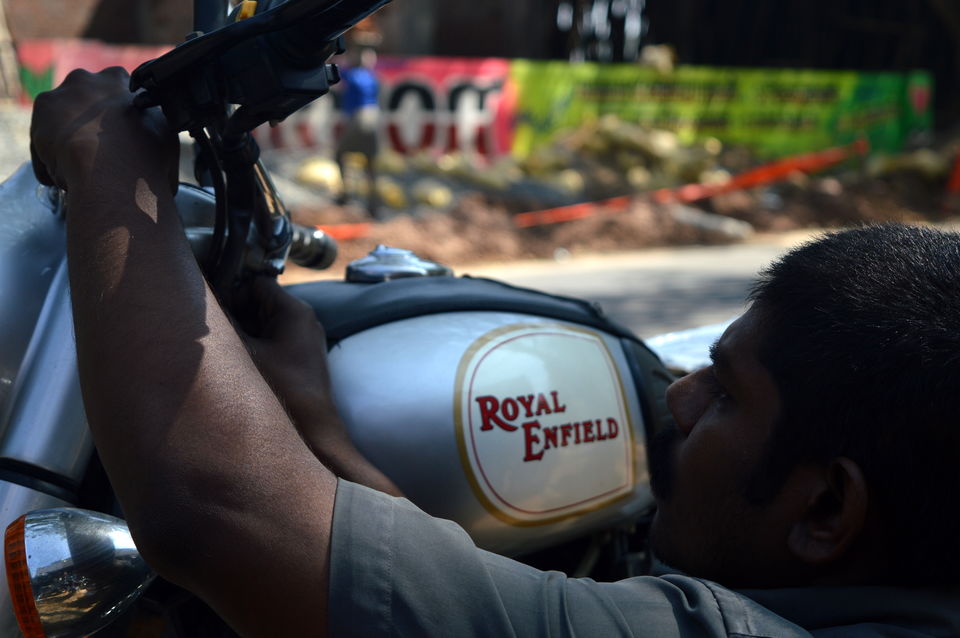 We were on the road, and all of a sudden I couldn't see my friends in the rear view mirror, I stopped, Still couldn't see, I waited, still couldn't see. So, I decided to take a U-turn and go in search of them. I saw them standing in the side of the road trying to reach my phone which was not reachable. It seems that the clutch wire had broke and we had to replace it, We managed to take it to a mechanic shed near by. But, as it was a Royal Enfield, we had to get the clutch wire from the RE showroom in Pollachi, So I sat in the mechanic shed having a brief chat with the mechanic about his life and how challenging his work was and all, where as both my friends went back to Pollachi to get the clutch wire. We got it fixed in an hour's time and were back on track. What is life without challenges? It is similar in the case of Road trips as well. Always be prepared for anything! You will have to trust a few people even though they are Strangers. If you are good with people, they will help you no matter what. Thanks anna, for the timely fix!

ALIYAR

Aliyar is a place next to Pollachi, It actually has a dam called Aliyar Dam. There are a lot of fish stalls here and trust me they are too damn tasty. But, I would recommend you to take some fishes when you are returning back from Valparai. Because, 40 hair pins bends and Fishes deep fried in Oil are never a good combination. You are going out there to have fun, Not to puke! So, Let's stay on course. You have to pay at the Aliyar checkpost to use the Valparai route because they are preserving that area where you can see a lot of animals on the way. To say the truth, they are doing a pretty decent job!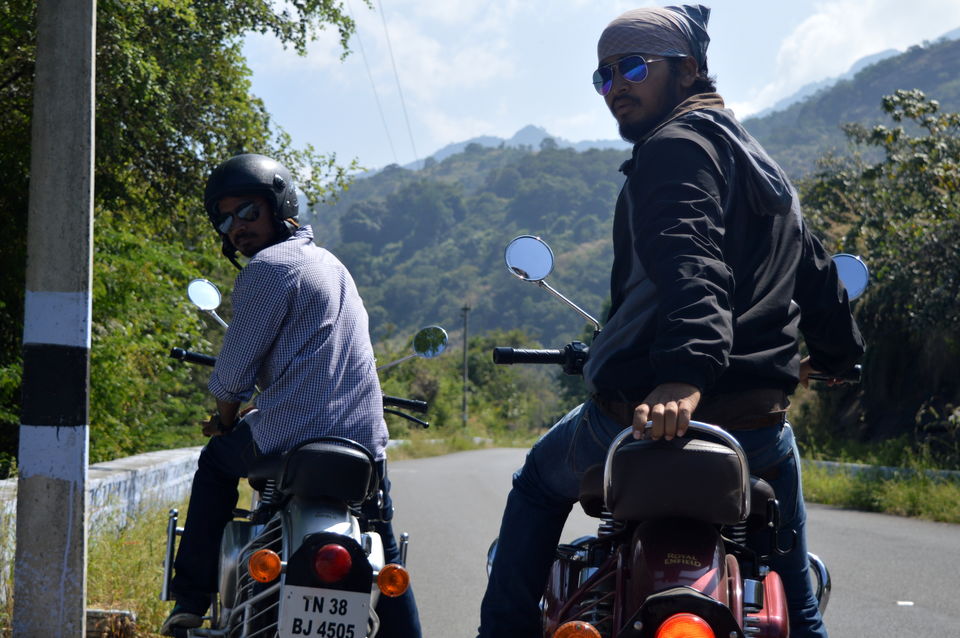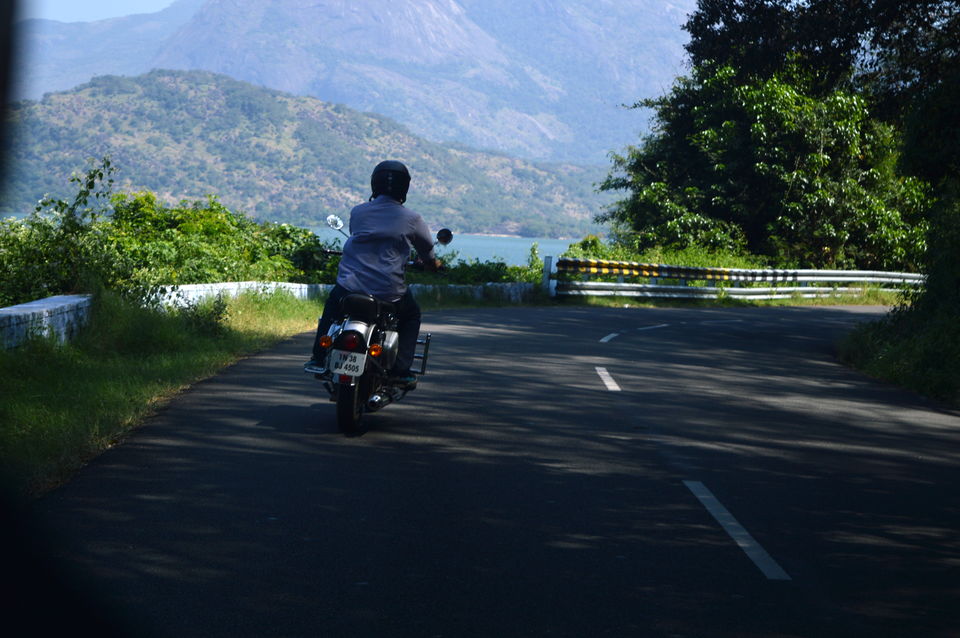 And the Hair pin bends start. At the ninth hair pin bend, There is an Aliyar view point (Loam's view point) from where you can have a great view of the whole Aliyar dam. I suggest you to see it by night, because the whole Dam lit up with lights in patterns gives you an awesome feeling.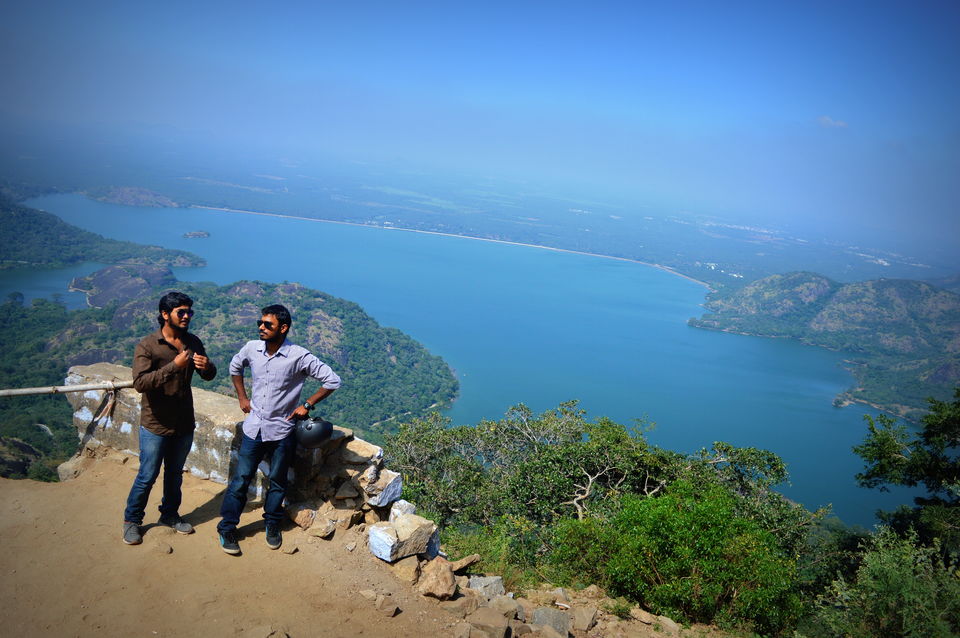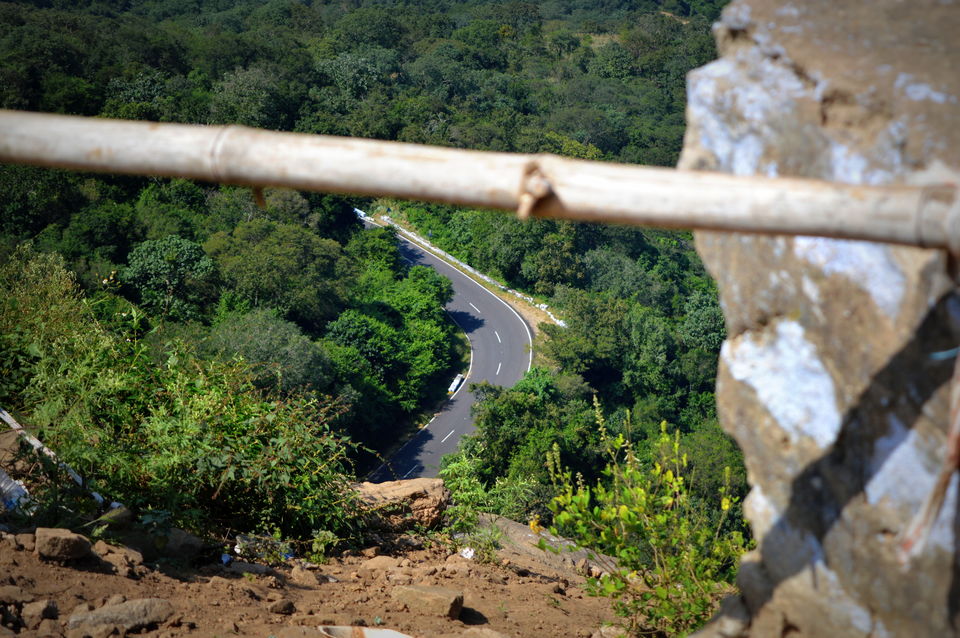 VALPARAI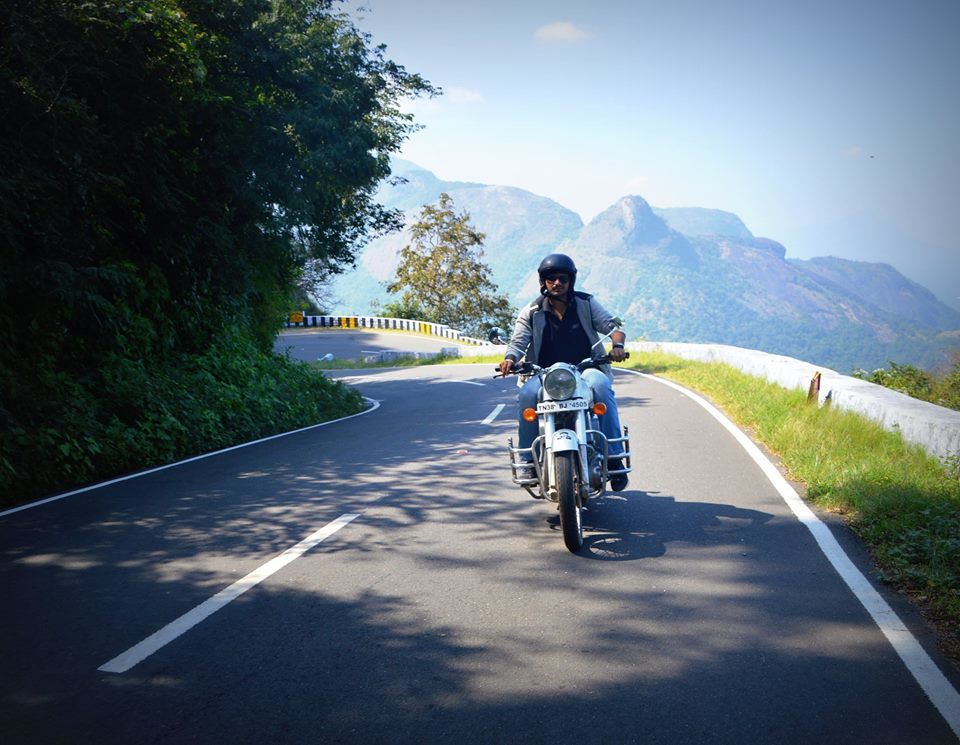 As soon as you cross the view point, you feel as if you have reached Valparai. But, No. It's a long way to go! All of a sudden, you can feel the temperatures drop, you can start seeing tea estates, You can see a road going through a dense forest with trees on both the sides, you can see bikers waving at you, giving a thumbs up, you can hear monkeys and if you are lucky enough, you can ever see Elephant's dung or an Elephant itself! But, that doesn't mean that you are in Valparai. It means that you have reached the 15th Hair pin bend. Still plenty to go and already so much excitement. That exactly is the beauty of this Valparai road-trip, you just get to connect with nature so much. and the sudden drop of the temperature makes you feel all chill. The only thing you literally here is the sound of your motorcycle and your heart if you are really into it!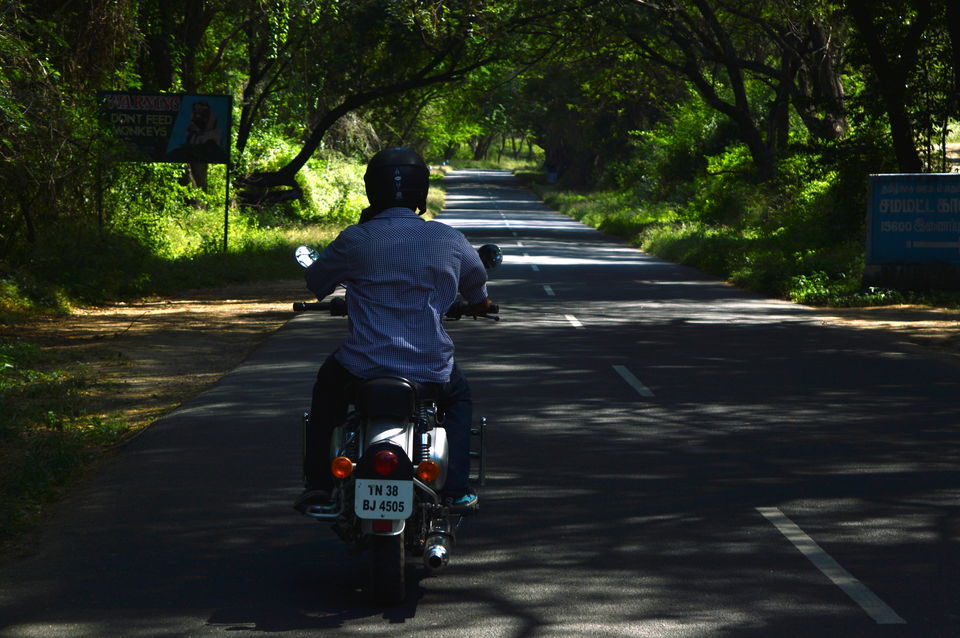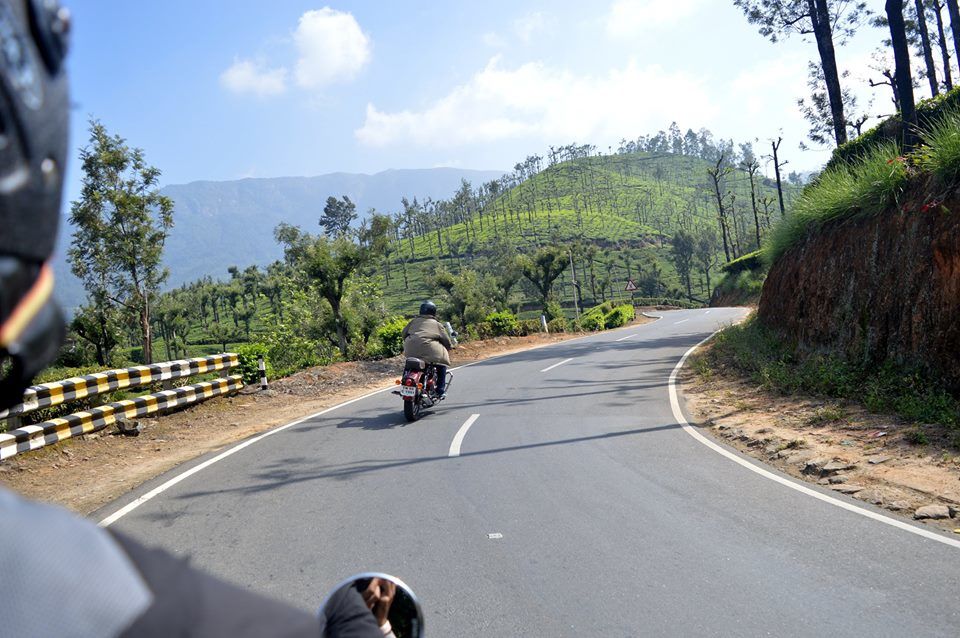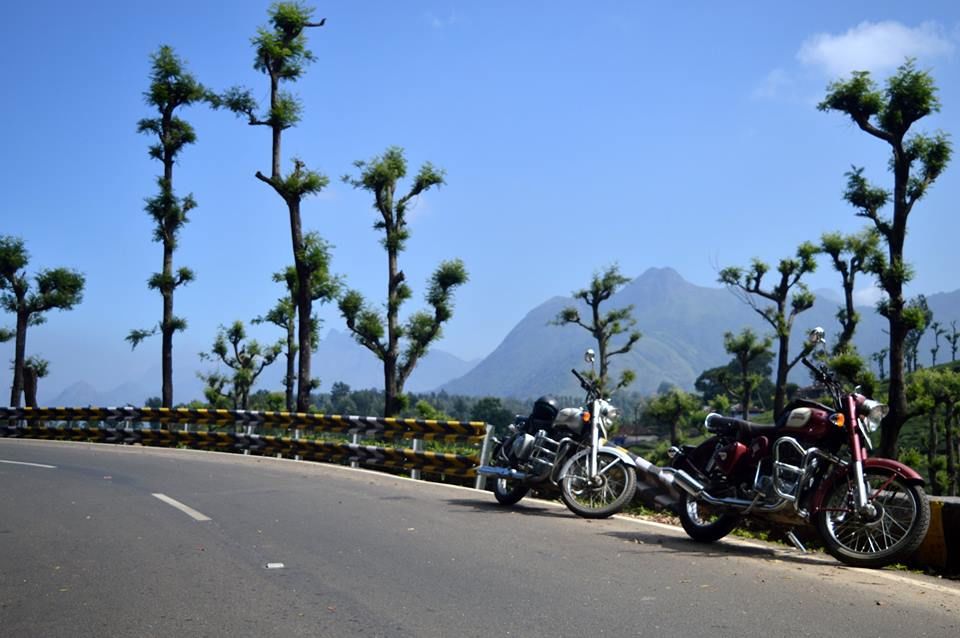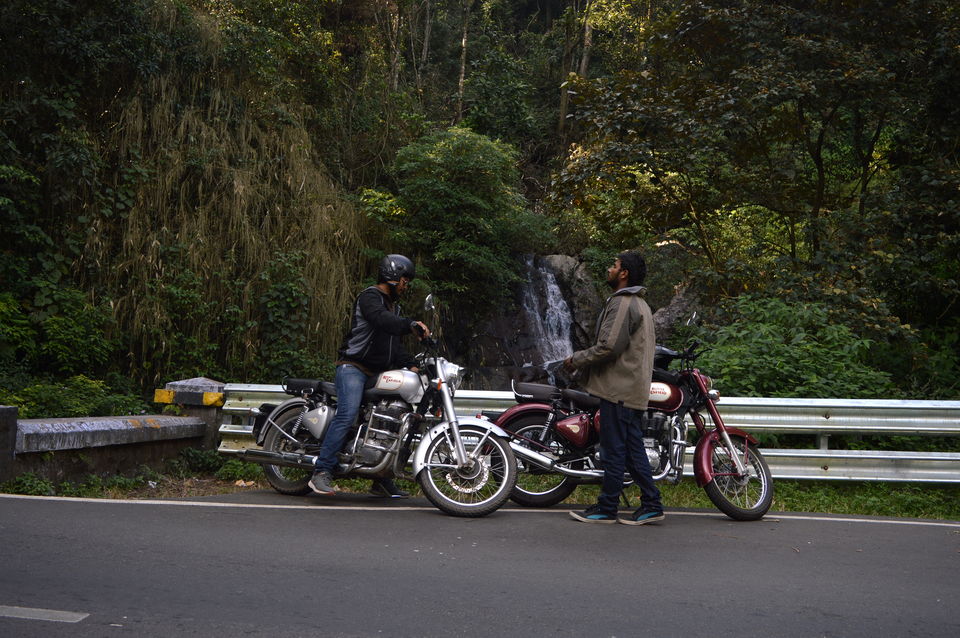 Once you finish the 40 hair pin bends, once you reach Valparai, you are like a dog chasing a Car. You are all excited about the chasing but have no idea what to do after you reach the car. Similarly, We did not have an idea about what to do after we reached Valparai. So, we had a cup of tea and some snacks and were talking about our college memories of a trip to the same place and the places which we visited. There is a dam some 30 kms away from Valparai called Sholayar dam, which is an awesome place. As this was a budget trip, we did not want to proceed further. During our college days, we did a giant road trip of Coimbatore-Valparai-Athiraplli. As we have already seen Sholayar dam,we did not regret not going there, but we started our return and did the 40 hair pins again!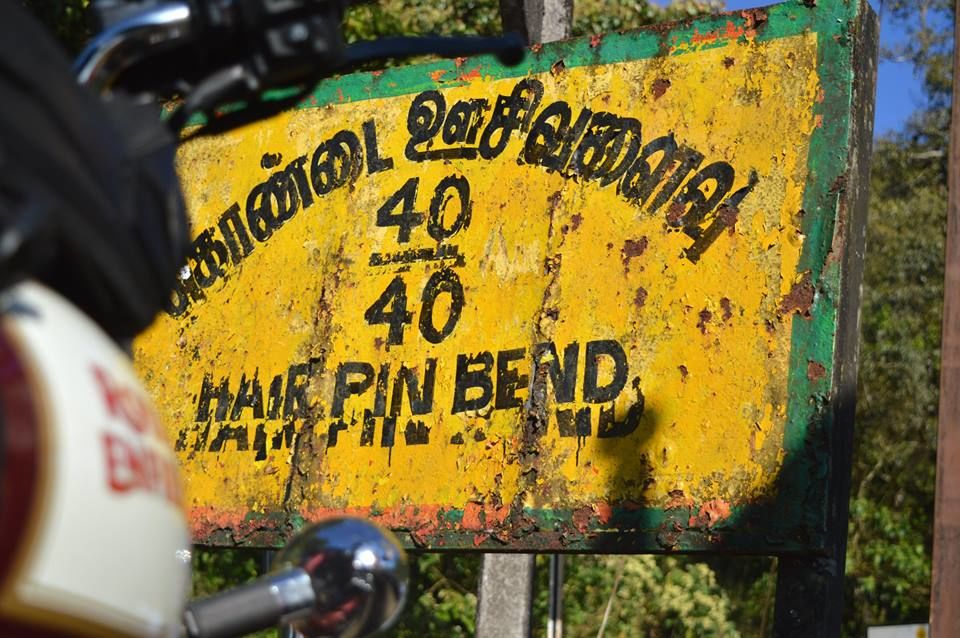 When you return you will be able to see a lot of bikers giving you a thumbs up, a warm sign in a cold place. It will feel like you have done justice to the day and you have spent your time well! The dusk is the best part of any road trip, you can see the sun lowering its lashes but you keep moving. You will start feeling that even the sun is tired but you still are on the go! In this particular road trip , you cant see the actual sun set because of the hills but you can see the rays of light on one side of the hill and the shadow in the other side. Road trips are tiring, but they are absolutely worth it!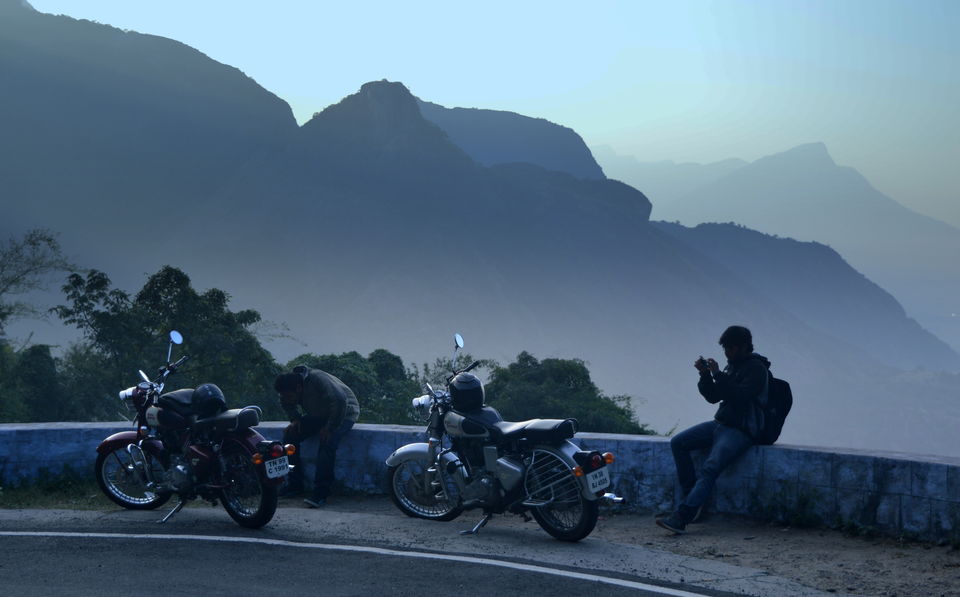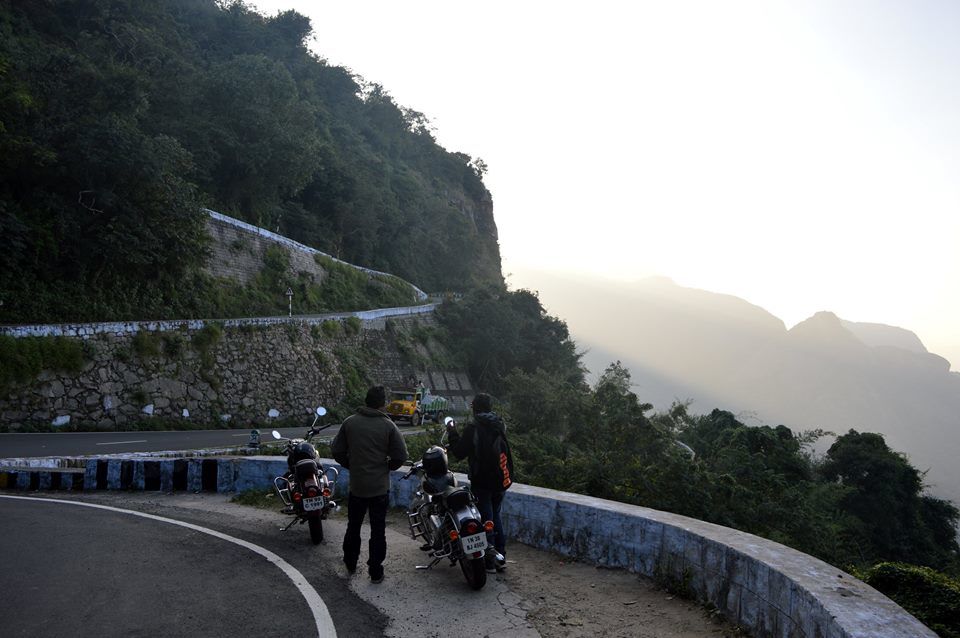 So, from now, If someone sees you in a party and asks, "Dude, do you drink?". Show your bike and say "She drinks!" and take them on a road trip. Because, the silence in a road trip is anytime more exciting that loud DJ's music in a pub!



- The motorcyclist's archive,
Paras Mohamed.