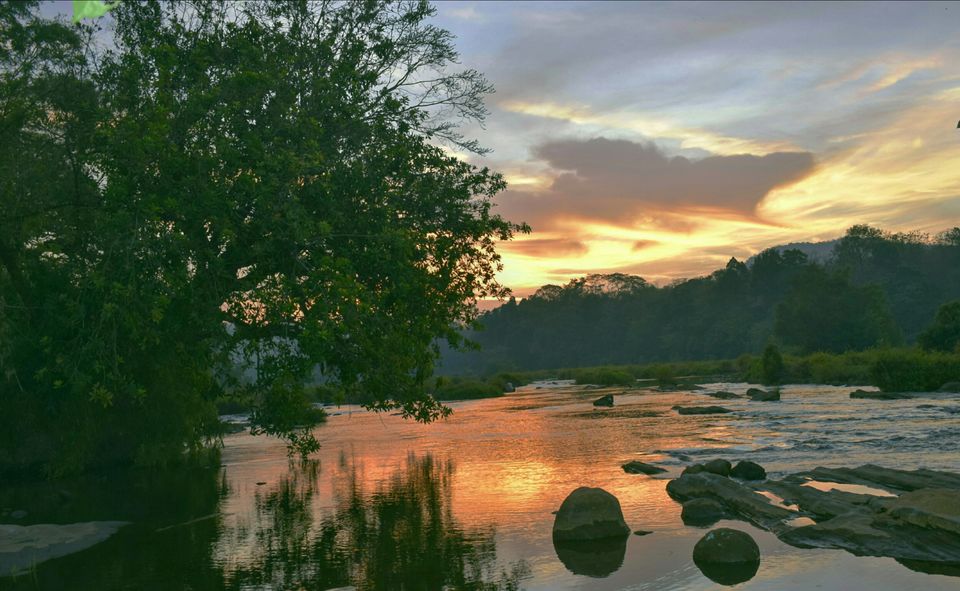 We as a five started in 3 bikes from Coimbatore... it was a 2 day trip. On a Saturday we have started around 5.45 AM and had breakfast near thrissur. we reached athirappally around 11AM. Hotels are actually very cheap 1000 per room for 5 members. let me know if you want to contact details. had awesome lunch( kappa with fish curry and fish fry) well I can still feel the taste of it... then we went to see the waterfalls there was lot of suitings going on. So we went down to see the waterfalls. though the water is less it was one hell of a view.... once we looked around we returned to our rooms. then we asked locals about a place for taking baths. fortunately it was just in front of our room! Yes it is the chalakkudi river!! 5 to 6.30 we were like hippos on the water????. there we happened to see one of the beautiful sunset... then we returned to our rooms and started to have dinner. speaking of dinner we went an hotel called hotel thirumuttam. guys don't miss this hotel. the food was really good and the price is also reasonable. after having dinner we returned to our rooms and had a little chat and slept..
The next day we woke up by 6 AM to see the sunrise....! Yes the sunset tempted us to view the sunrise so went ... guess what after seeing the water, I simply jumped into it! ???????????? where as others were shivering without even touching the water! then the sun was rising, sky started to become orange and that was reflected on the water. I was swimming and enjoying all this! just imagine yourself in that scene....Wooooowwww. then we started to Valparai.... It's one of the greenest and dangerous route. Guess what we successfully reached after 3hrs of journey! while on that Trip we couldn't see an elephant instead we saw only fresh dunks ???? well that was disappointing! after we reached Valparai we had our lunch and a small photoshoot then returned to Coimbatore!
on the way to Coimbatore, we saw one shocking thing! around 300 trees were cut on the way from pollachi to Coimbatore... You might have heard that it was one of the nice route. but now it's gone ! they are extending the roads!!!???????????????? that really hurts! other than that the over all trip was awesome...The trip costed 1400 per head including food, fuel, stay... I'll Upload more pictures soon
So bikers why are you waiting? .....
========The End============
kindly share your opinion about this trip and the story! Stay tuned for more stories and travel plans... Thank You!