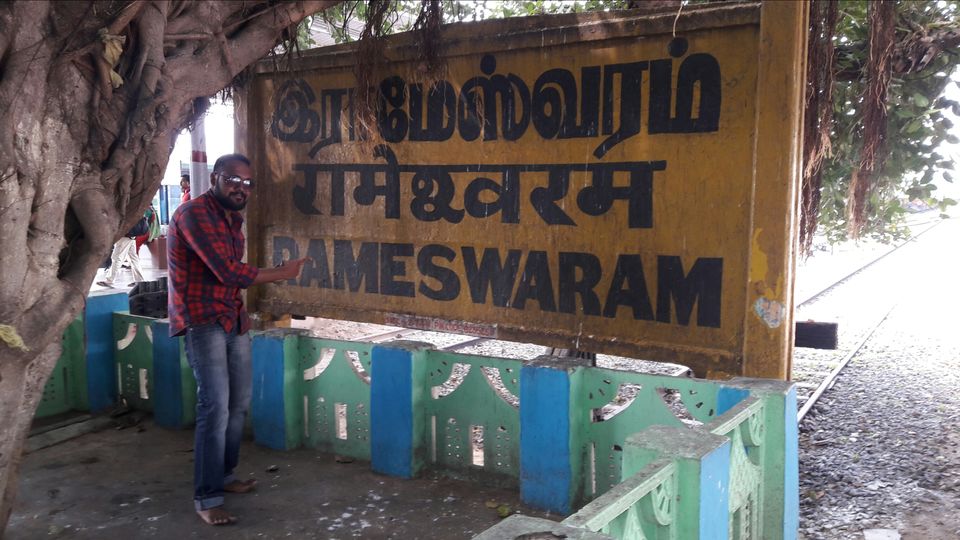 Cont... My mobile alarm woke me up in my madurai lodge around 06:00am in the morning... i make myself ready and checked out from the lodge and proceed towards madurai railway station which is 1km away only. I bought my Rameshwaram passenger train ticket at Rs-45, and able to found myself a window seat for my next mesmerizing 5hrs journey.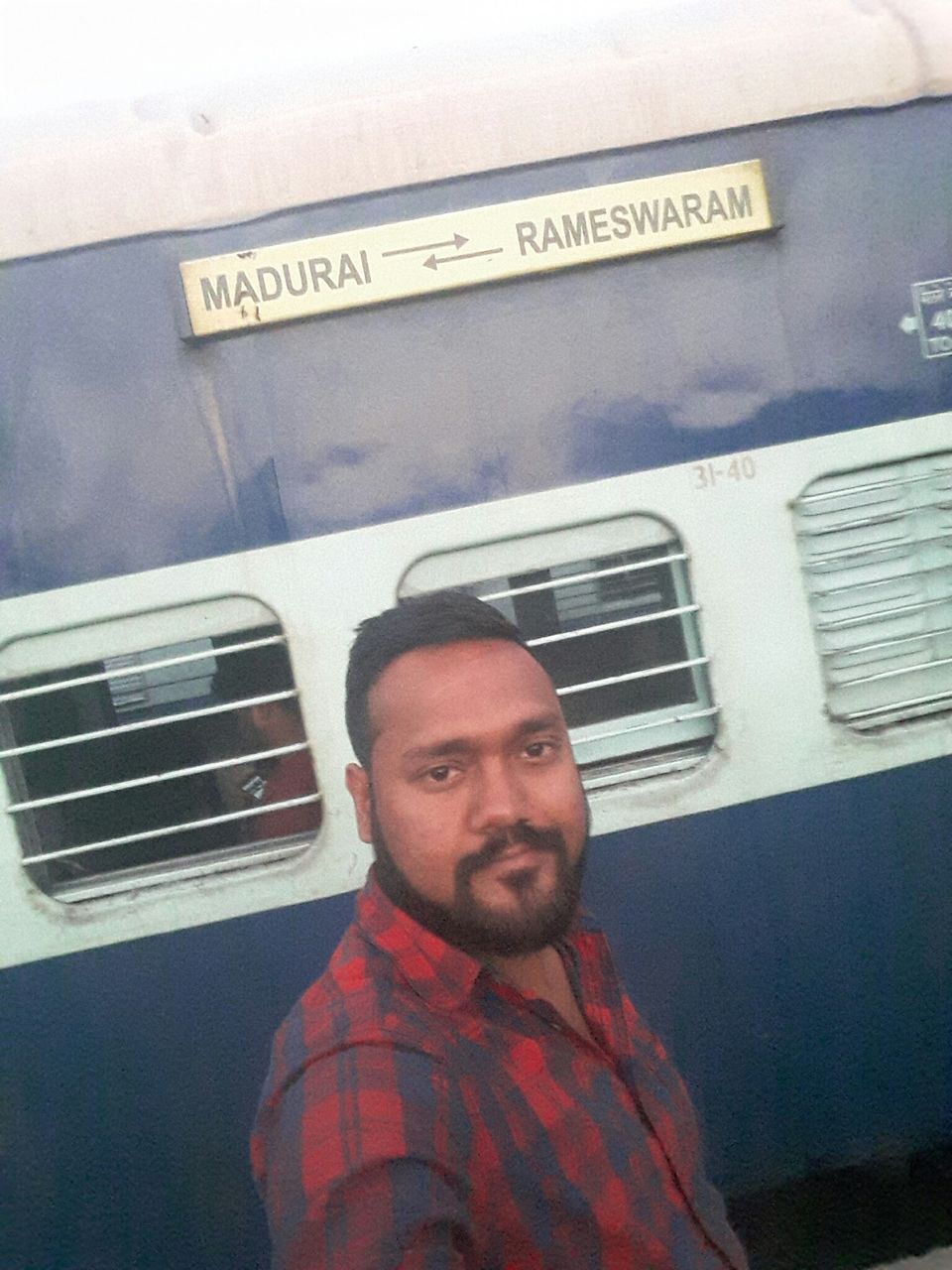 Its a passenger train between madurai to Rameshwaram, locals are either going to their native places or coming back from their relative places. Few womens are selling peanuts by saying "Time Pass Pathrubha" means Peanuts at Rs-10 only. The outside scenary was awesome just like a typical tamil village should be with lots of coconuts farm, south indian structures temples either in white or gold in colour mostly.
After almost 3hrs sudden adrenaline rushed through out my body as soon i'll be on the Pamban Rail Bridge which is more than 100yrs old with 1.3kms in length situated over the Indian Ocean. So i started asking the local co-passengers how much more time it'll take to reach pamban and all...
I was no more at my window seat now but standing in one of the main gate near the washroom of the train and i saw i crossed the station named Mandapam and i know its time for Green Ocean and Pamban Bridge so i make myself all ready to shoot and make video of crossing the mighty Pamban Bridge.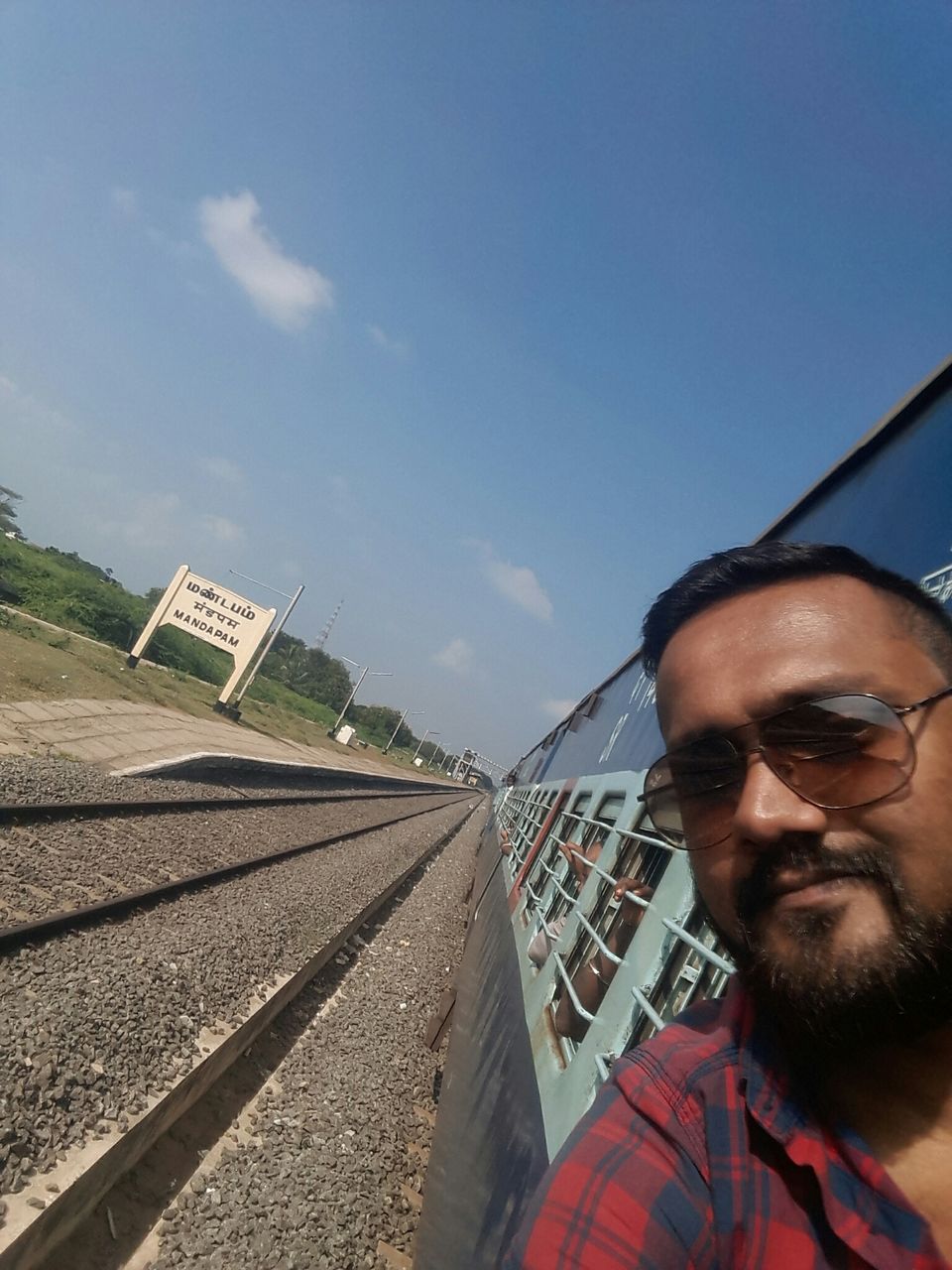 And i can easily see the colour of the sky is getting drastically changing as my train is running towards Pamban, with sands all over the village and roads along with fisheries boats & nets with a fishy smell all over.
And at last i saw the Indian Ocean along with a pamban bridge little bit far away and for some time i thought it should me better if my heart stops for a second here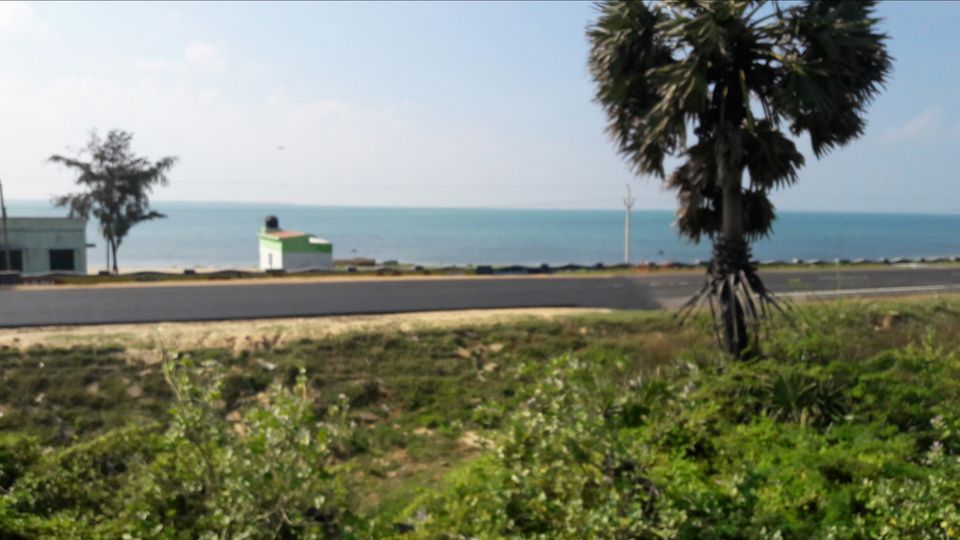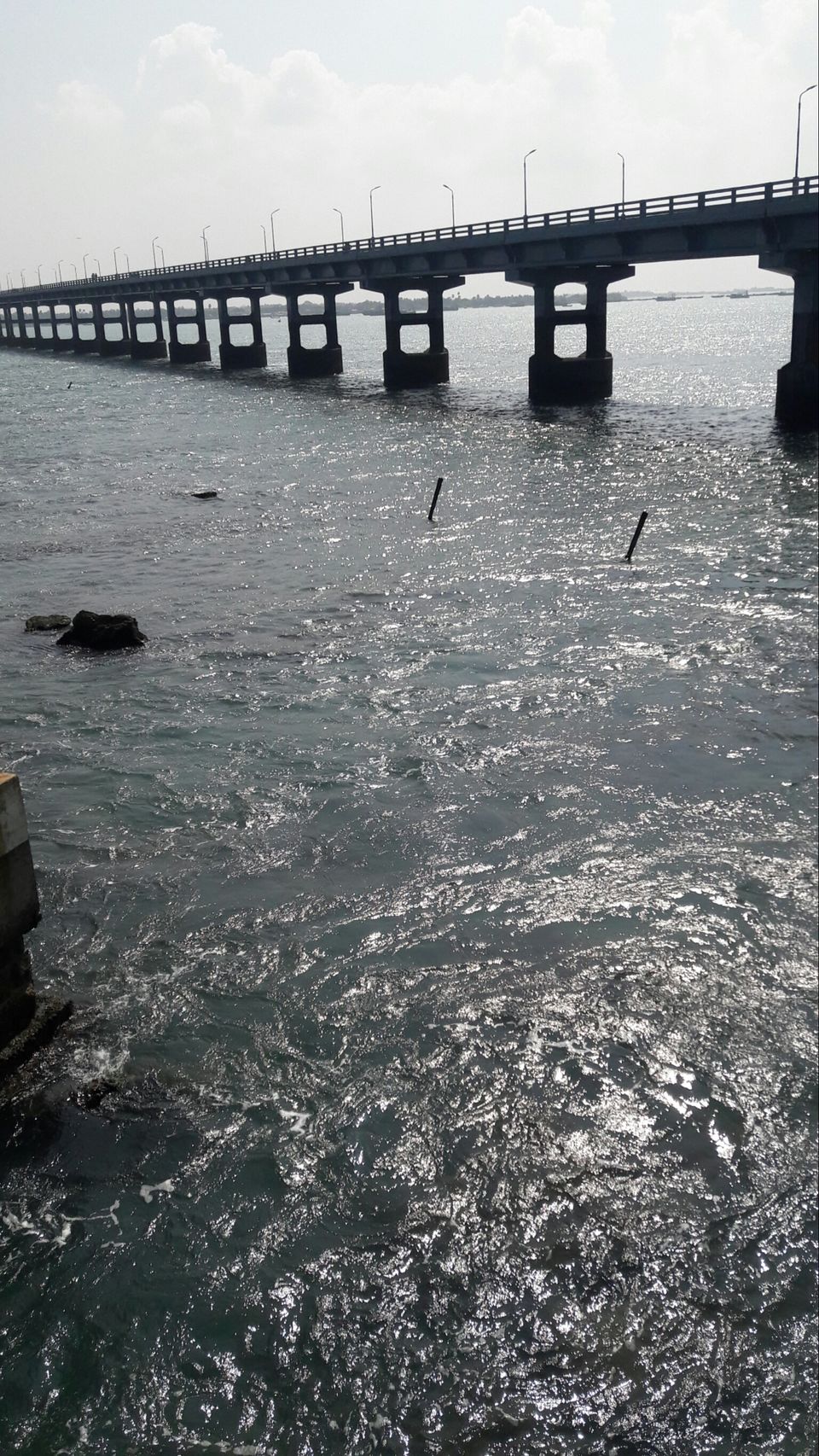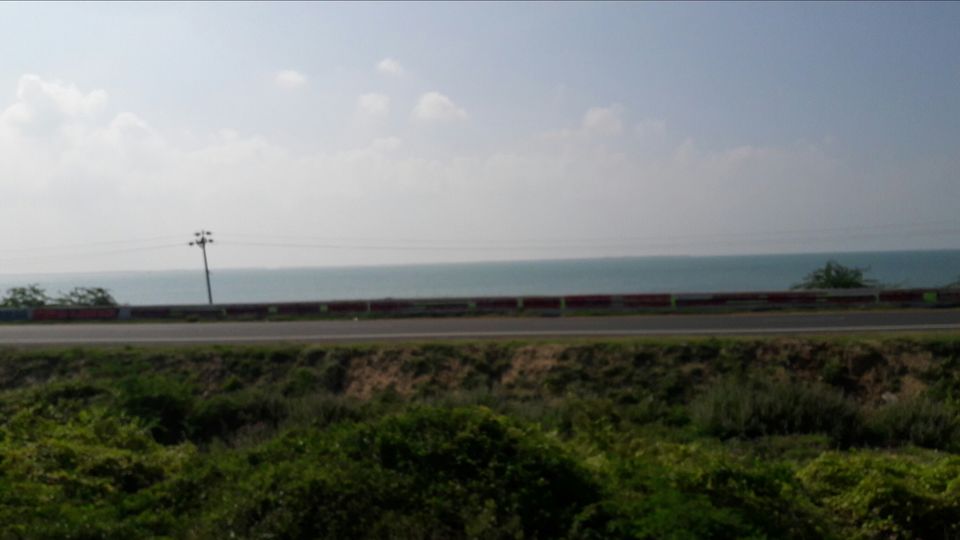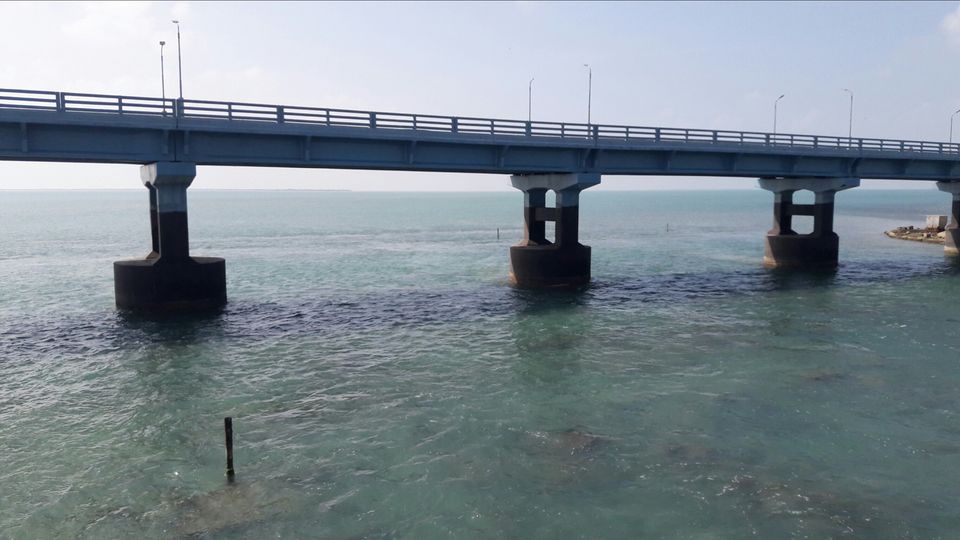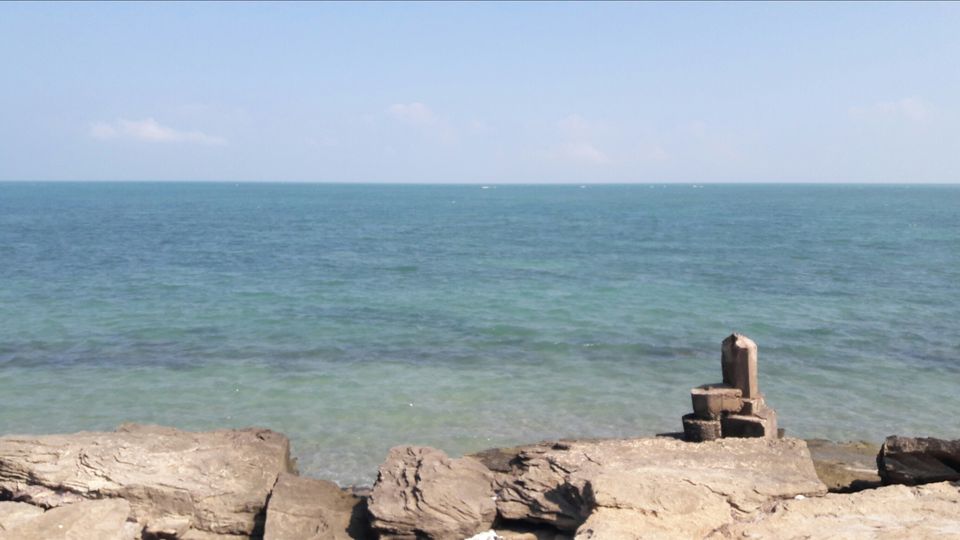 Within a few moment i felt my train decreases its speed to the lowest may be at 10-15kms/hr. Now the ocean is not that much far away from my sights as the train proceeds towards the Pamban Bridge i can feel the cool sea breeze in my face and all of a sudden i saw a board says Pamban Rail Bridge Crossing 100mtrs away...
I was really on cloud9 as i was on the Pamban Bridge a genious master piece of history which is totally destroyed in 1964 due to an Oceanic cyclone but again it was renovated and its the father of all rail bridges which is standing on a salted ocean water with strong winds every moments.
I started doing videos on my video gadget along with also i started capturing this beauty on my mobile,as i love mobile photography instead of Dslr or Camera.
The train is moving slowly & slowly and the wind here is so strong with Indian Ocean in its below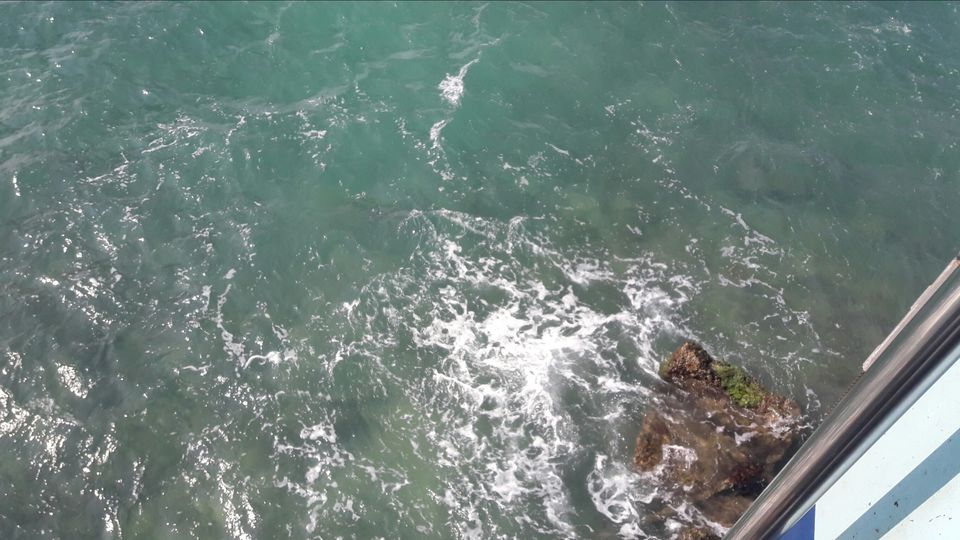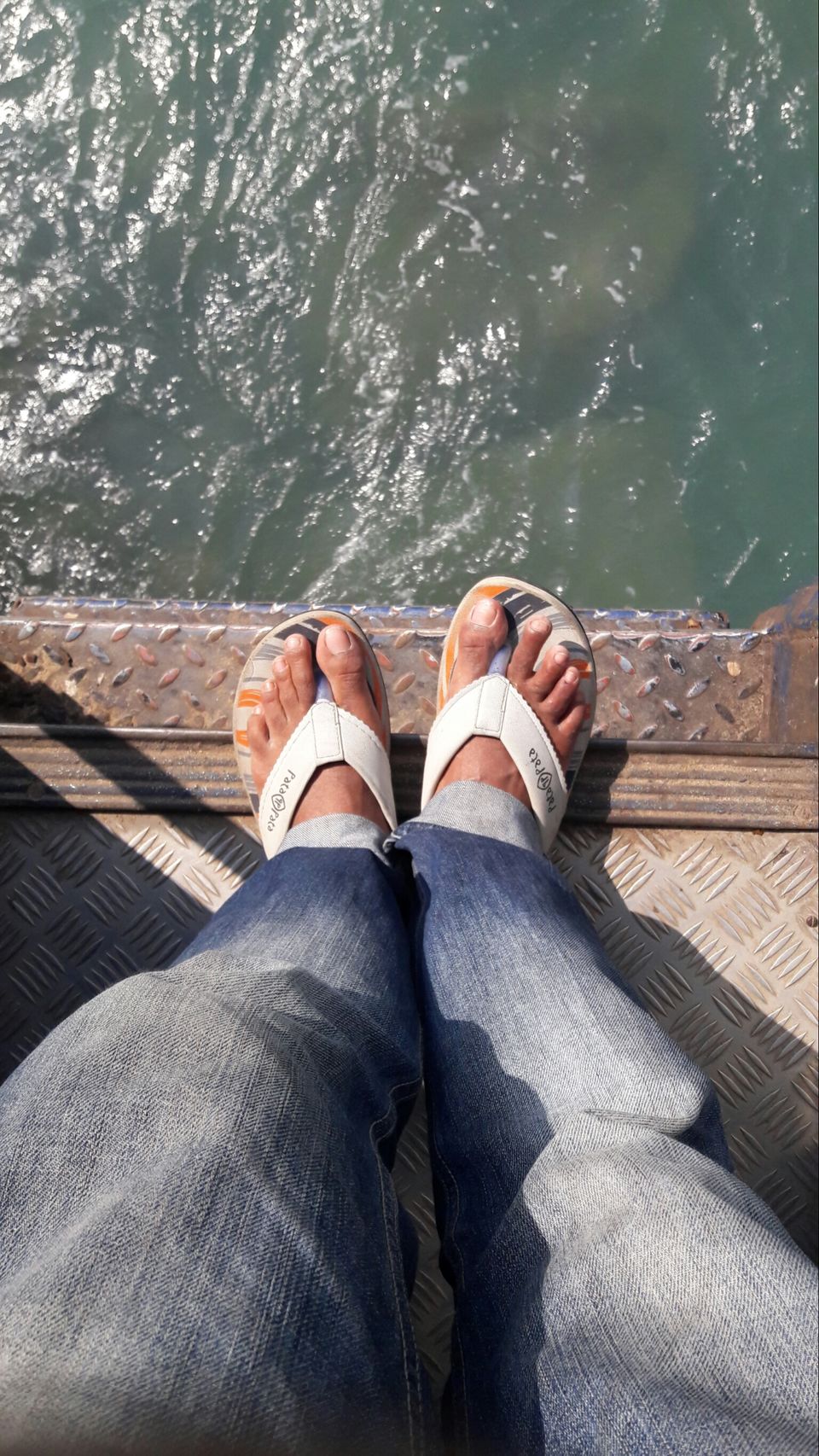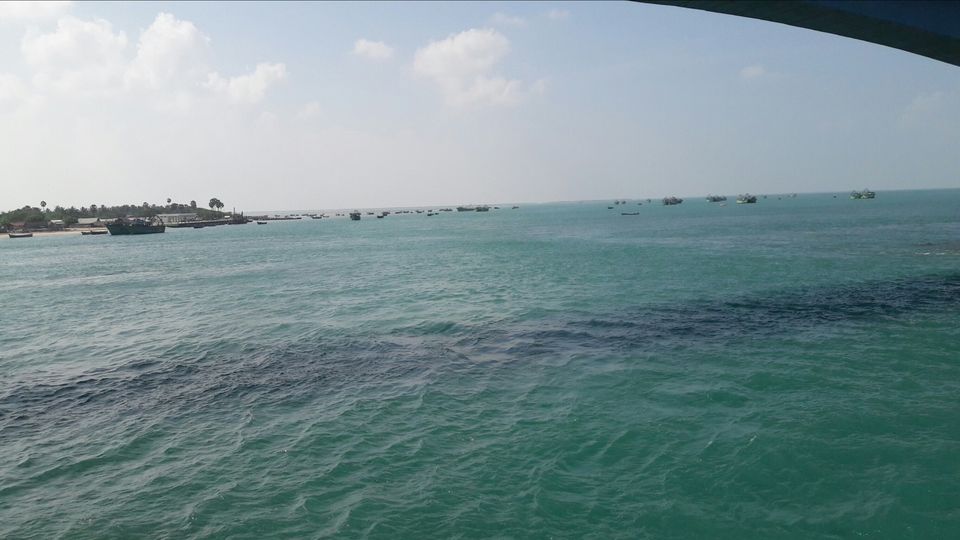 On the left side it was only the view while on the right side there is another master piece which connects the same land with this Island Rameshwaram through Pamban Road Bridge.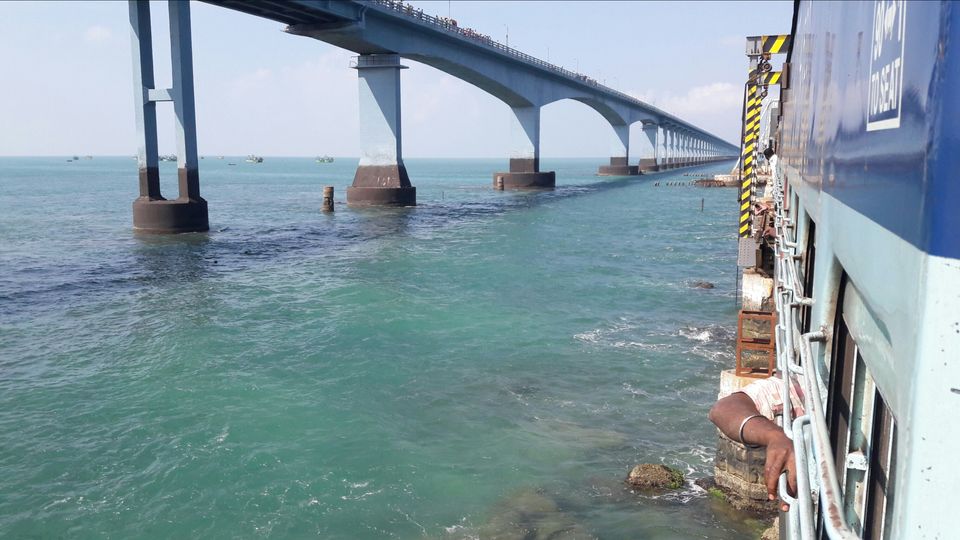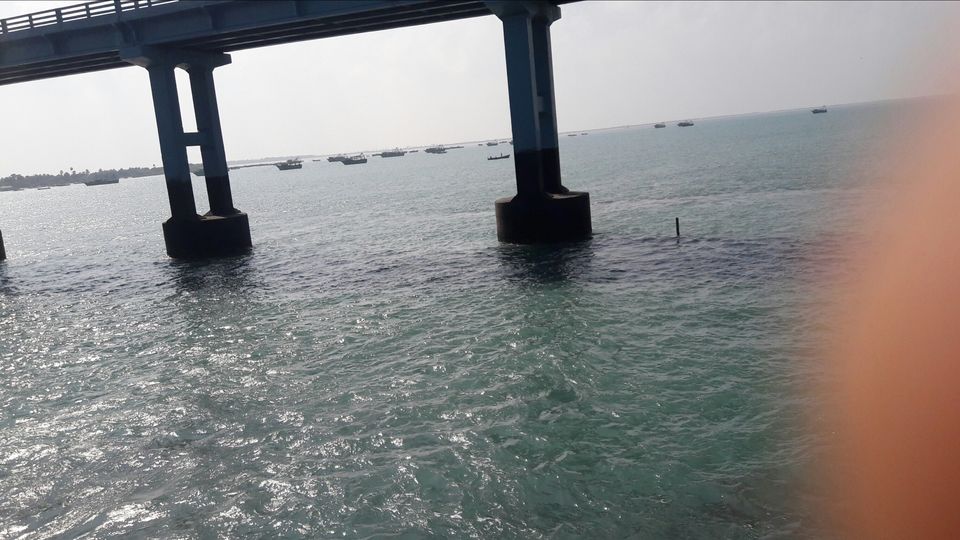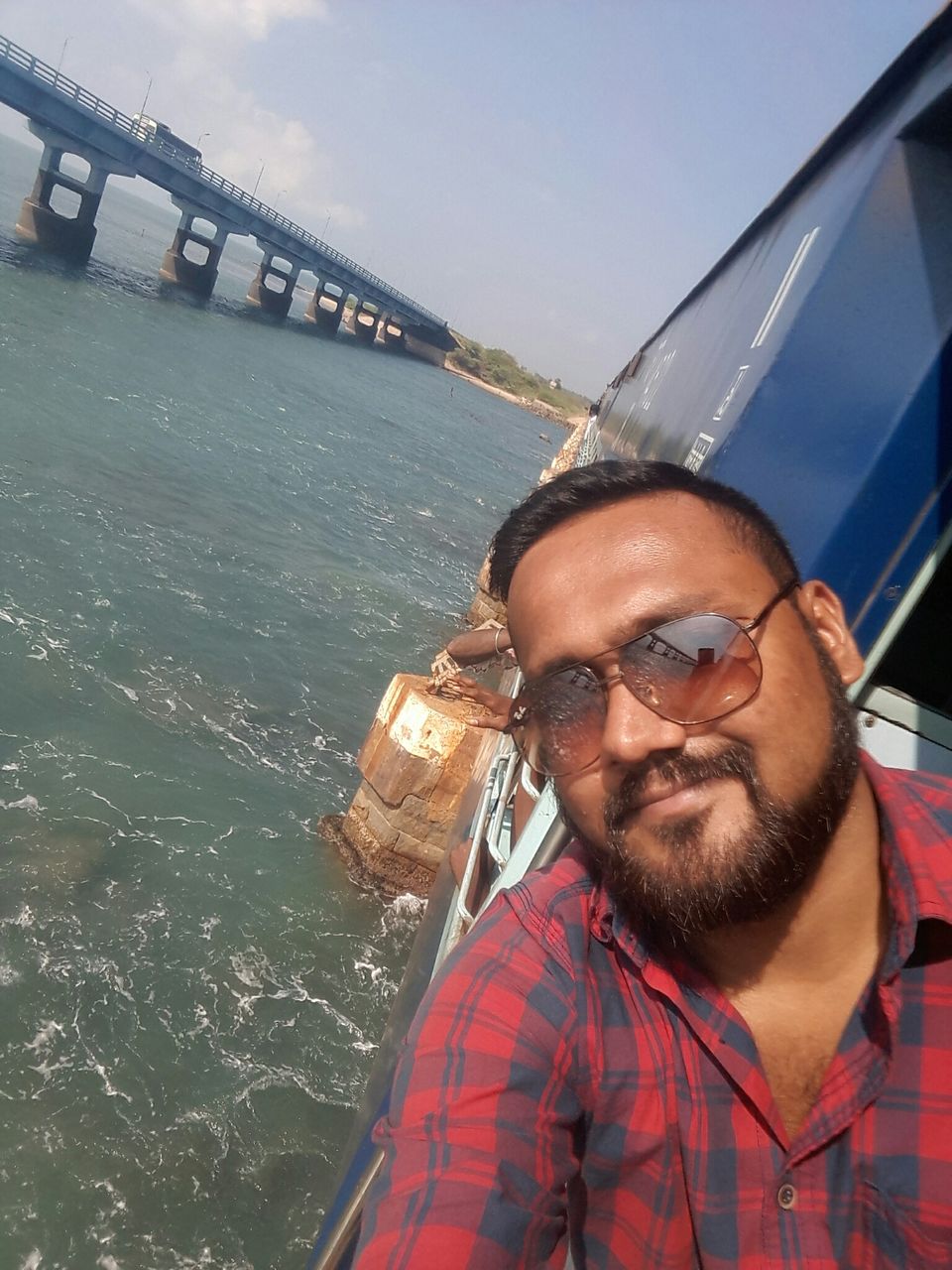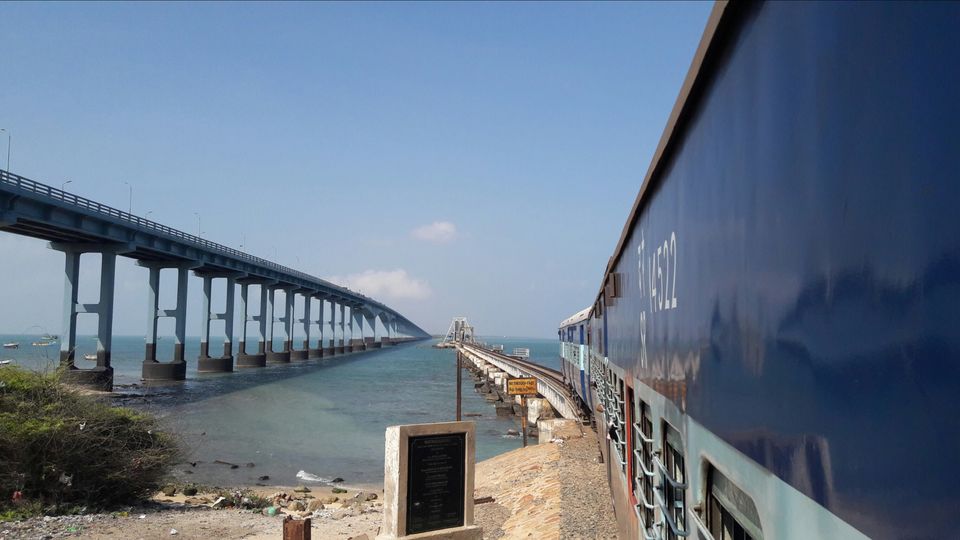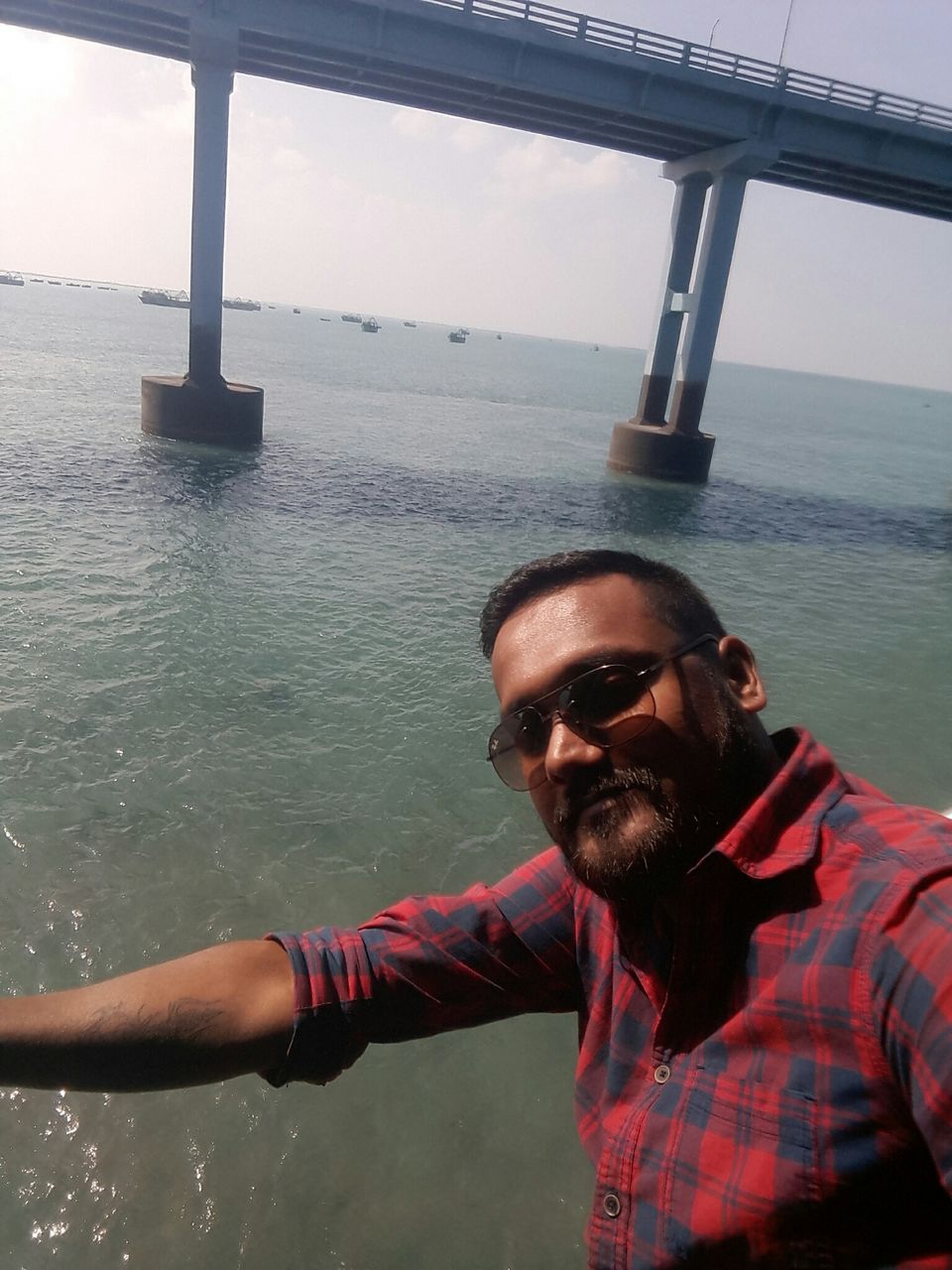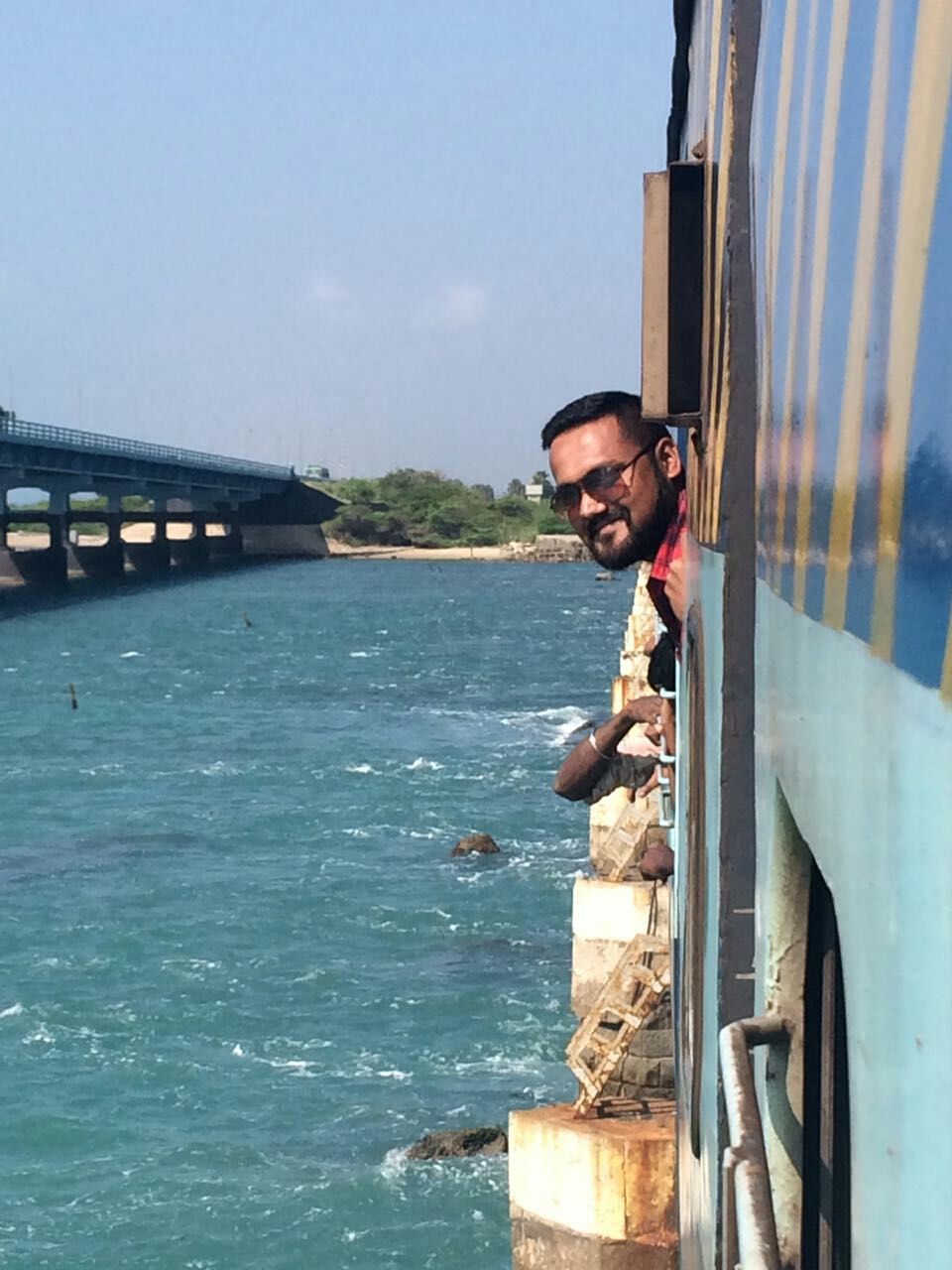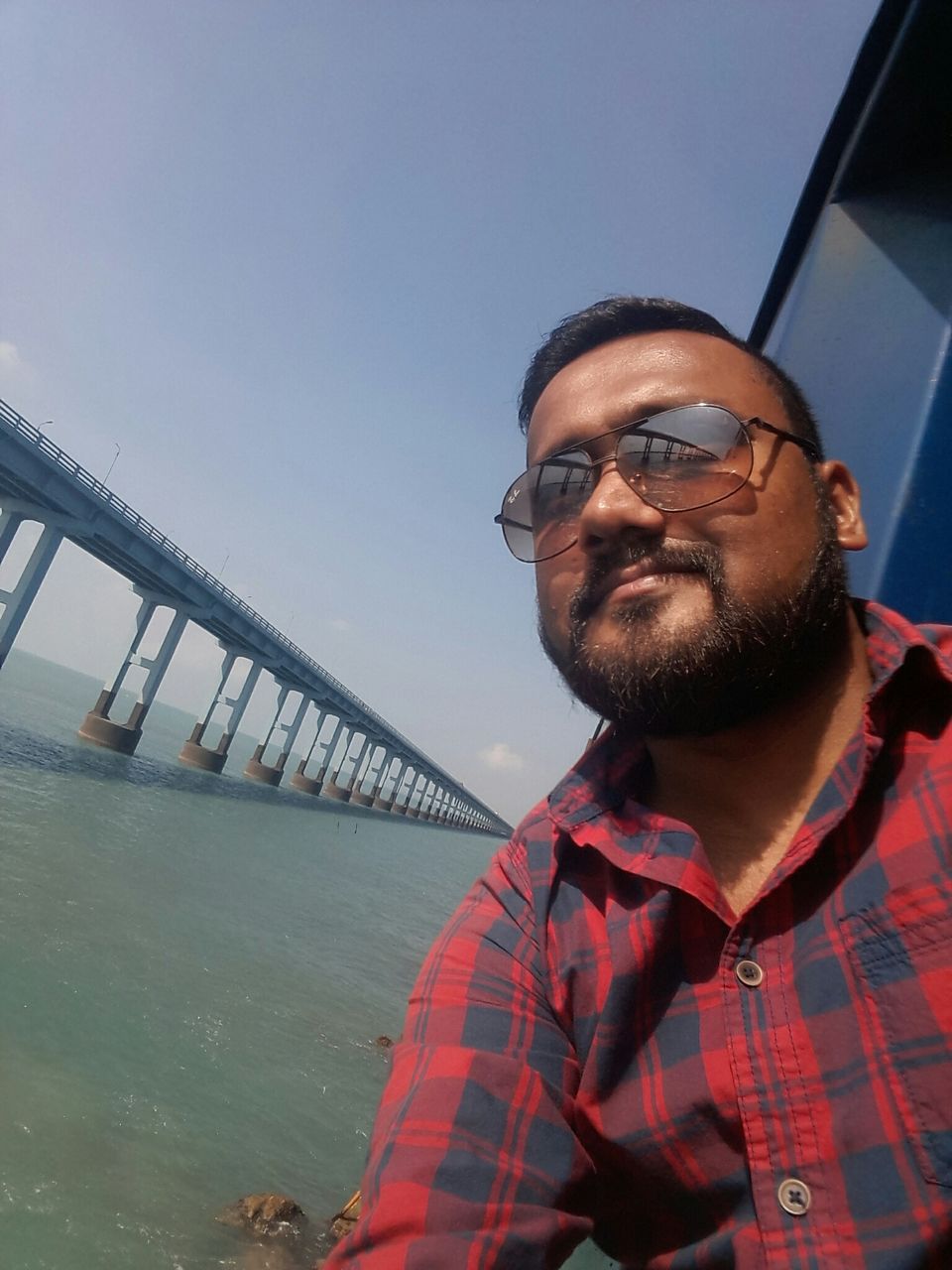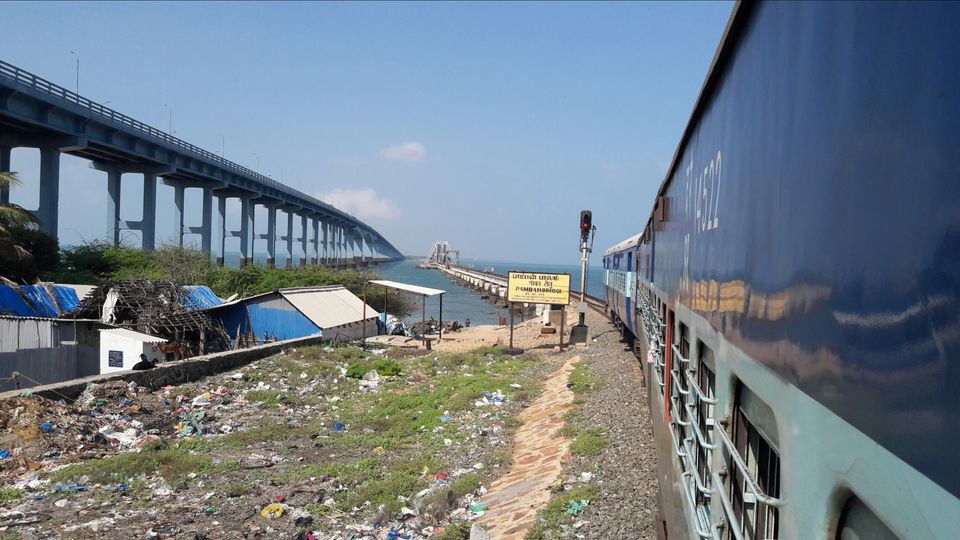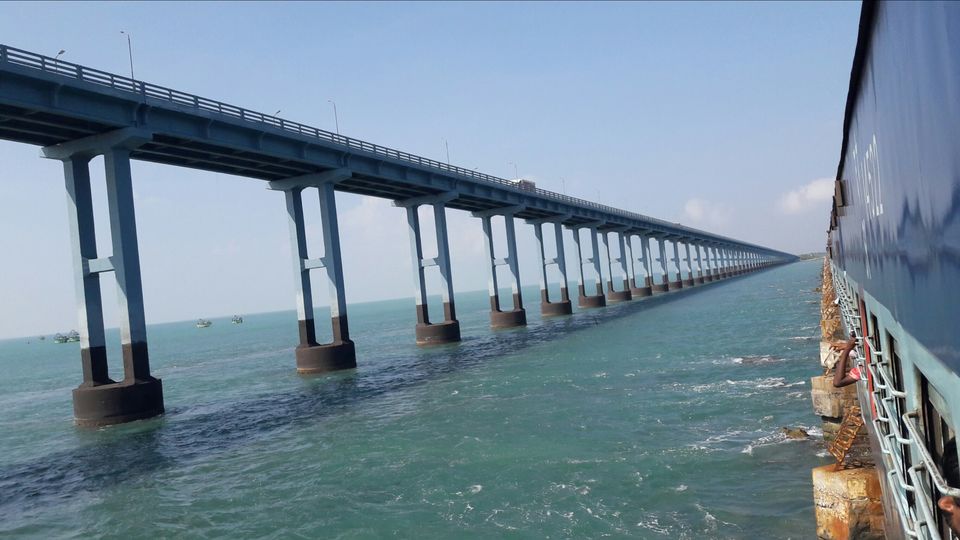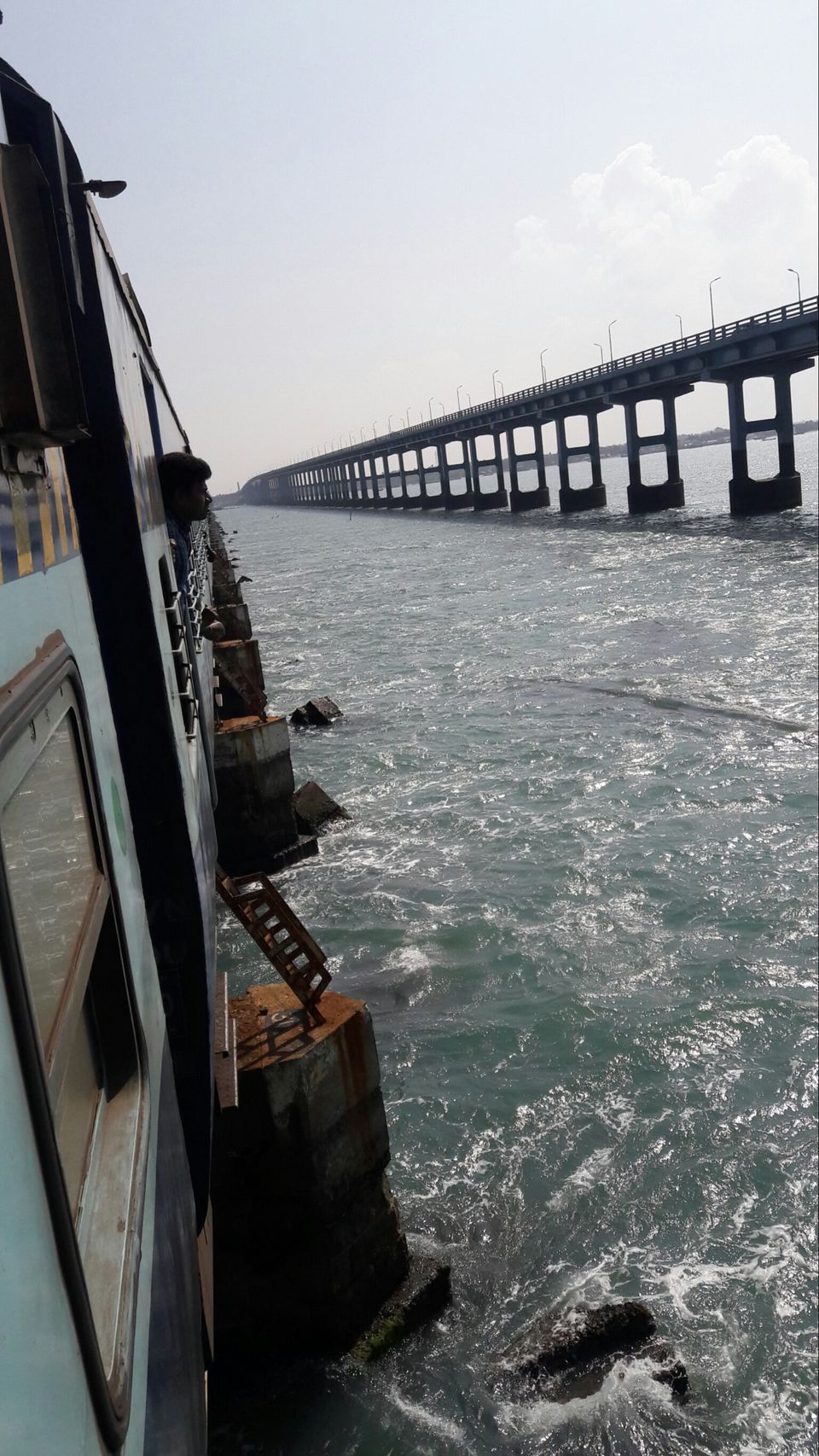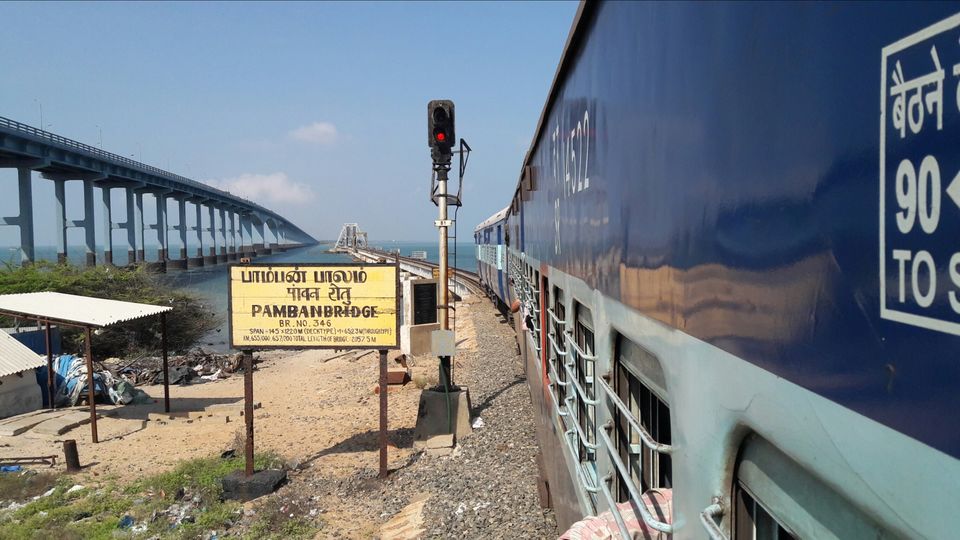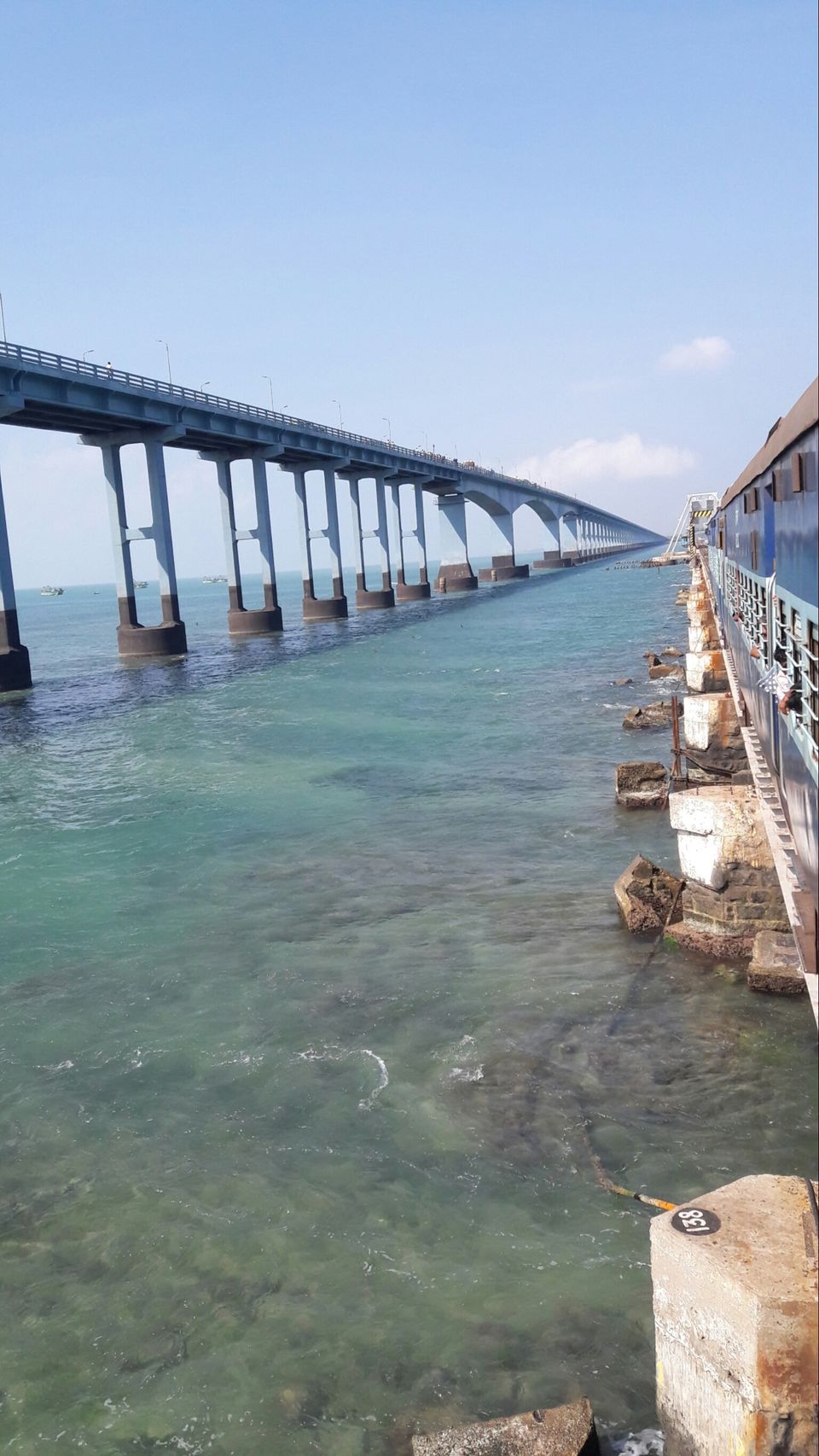 I just thanked myself for this solo trip to here by seeing this amazing views till my eyes reach the last along with the sound of crossing this Pamban Bridge hits my ears...and slowly slowly i crossed the bridge and reached the next railway station named Pamban.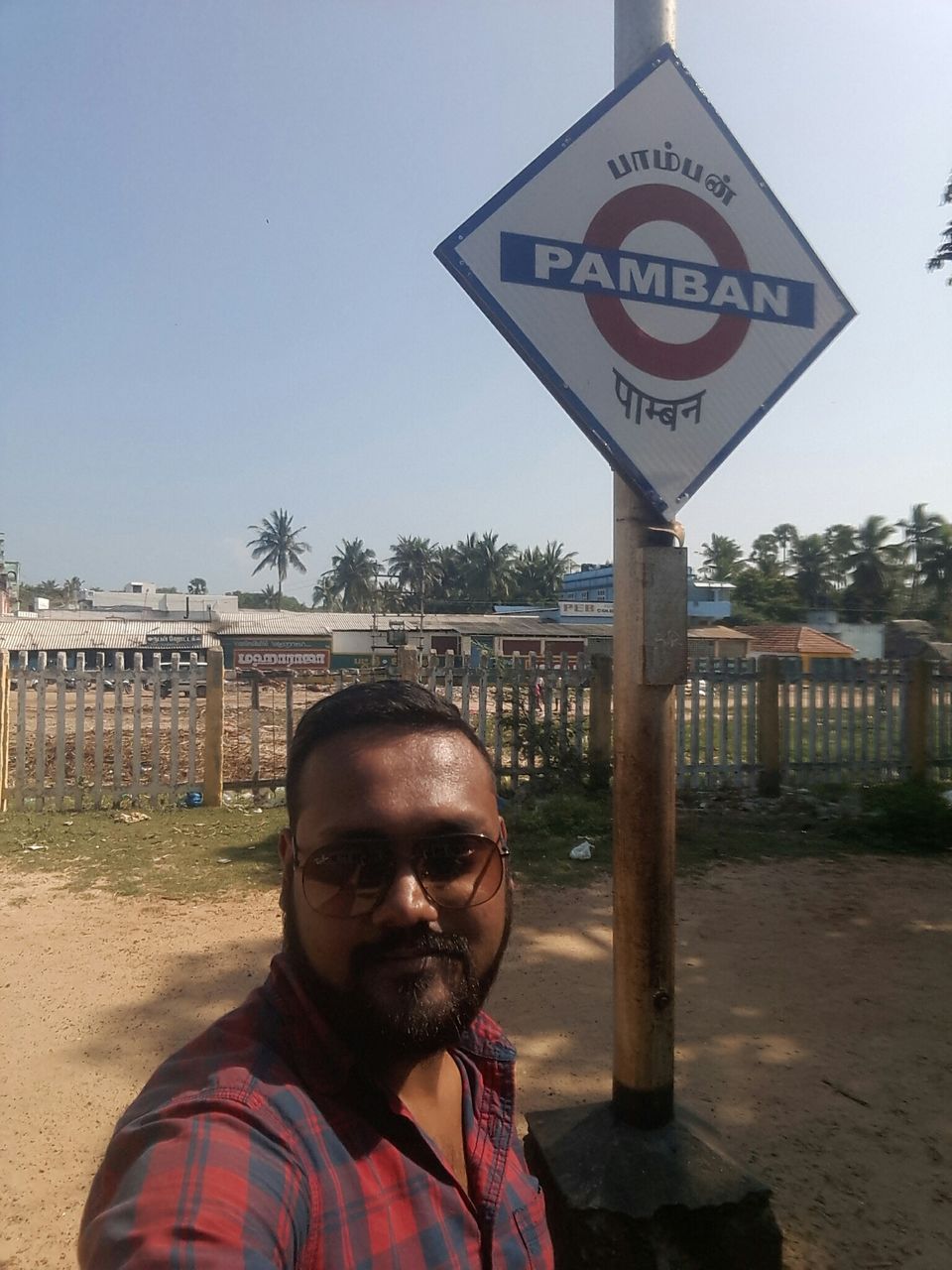 Within 10mins, around 11:30am i reached the island station and the holy place Rameshwaram where Ram used to worship Lord Shiva. And my first moto is to visit Rameshwaram Jyotirlingam the actual purpose i am here basically. It is 2kms from the railway station and i instead of taking any vehicles i started walking down towards the temple by asking the locals over here.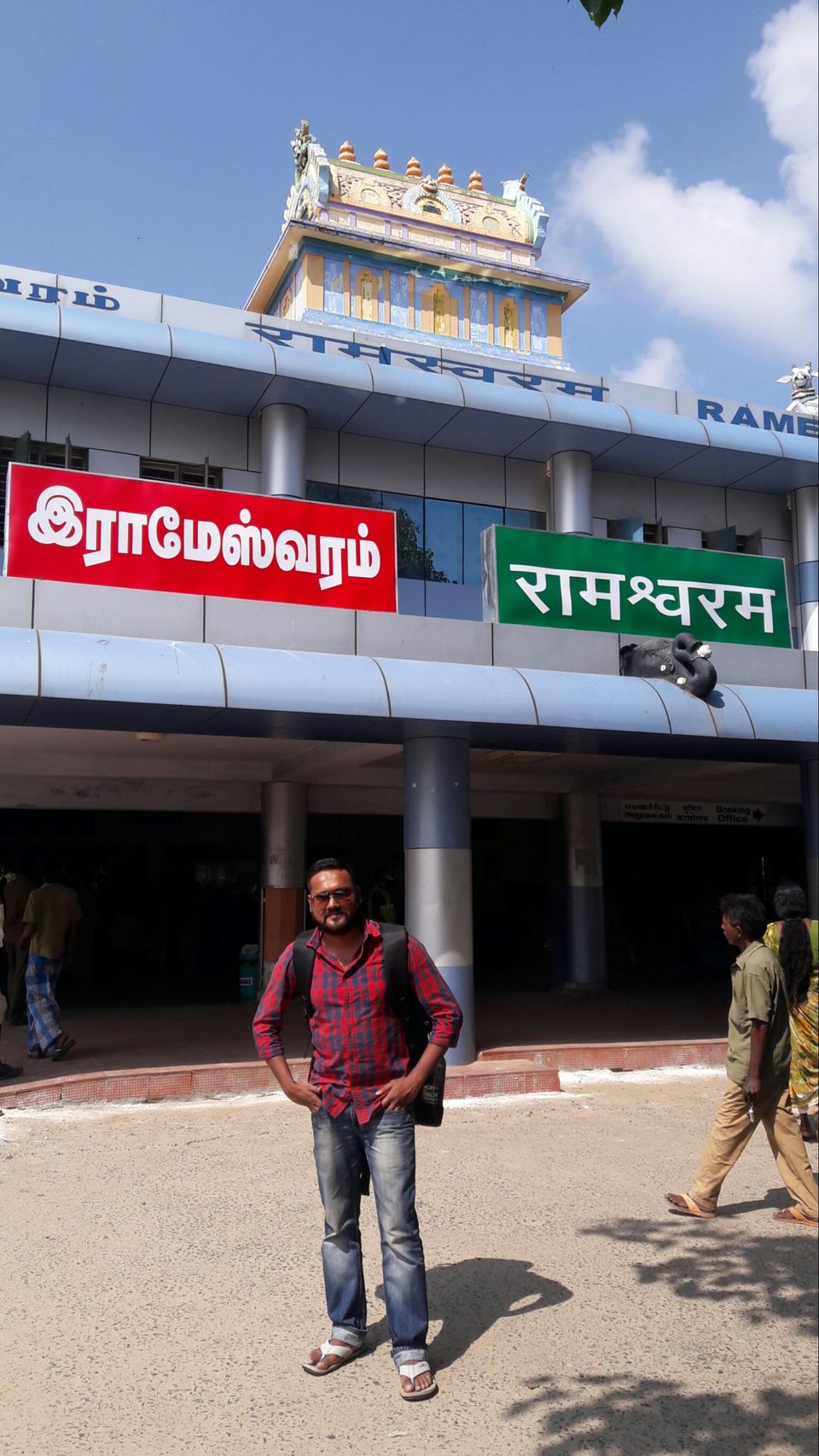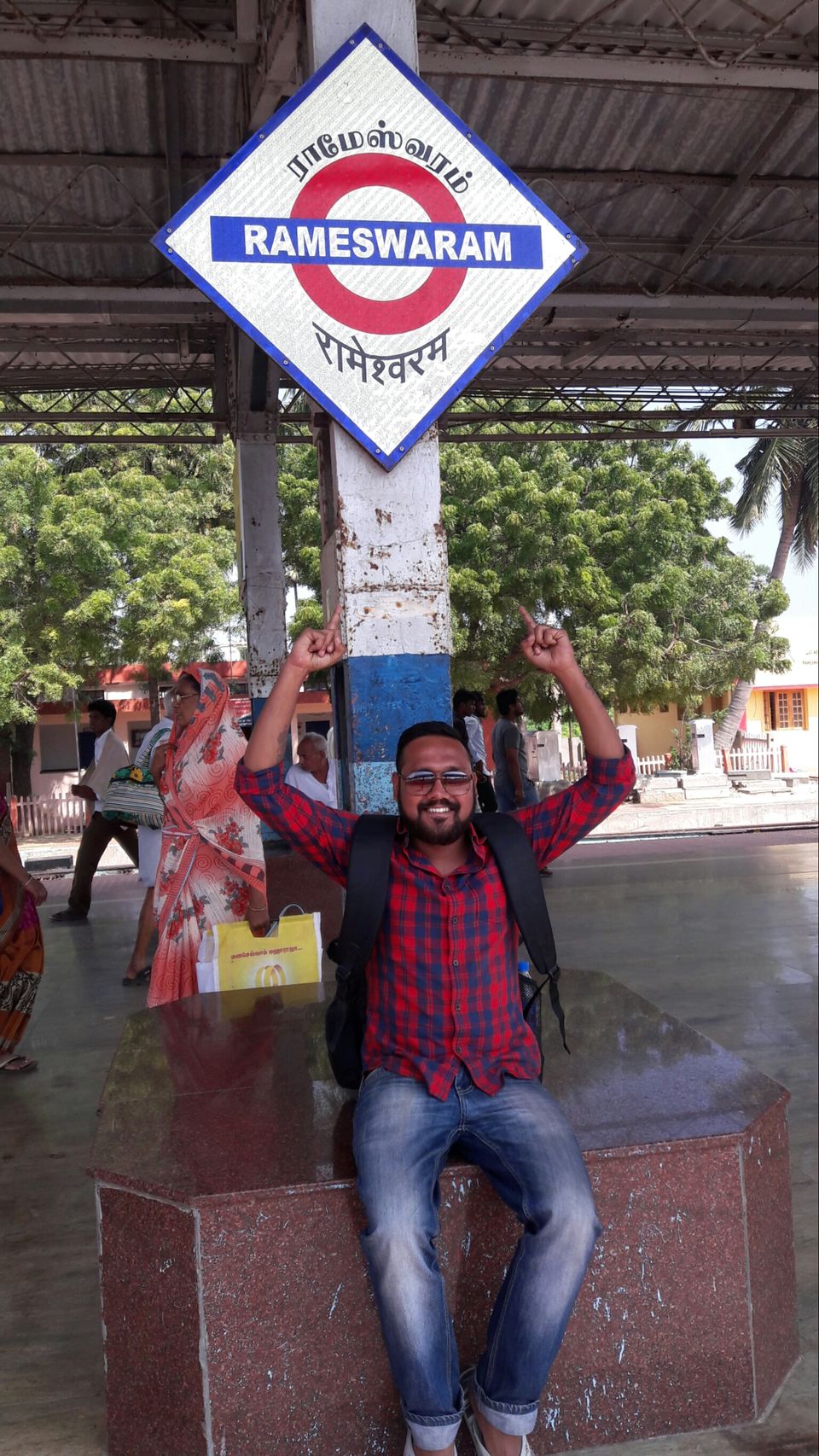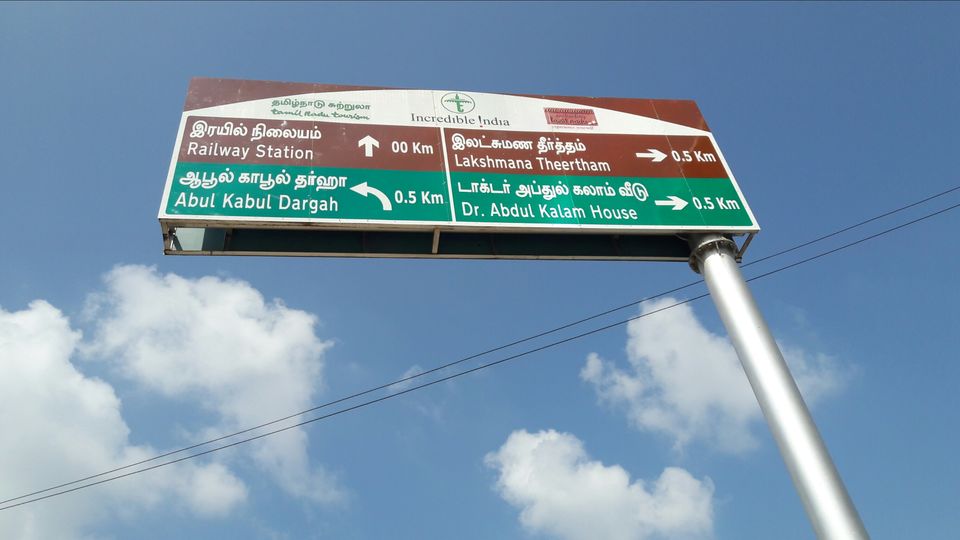 Rameshwaram temple area is giant and there are many lodges, dharamshalas, veg restaurants and etc... I reached near by the temple, the structure of the main gate is similar to the other south indian temples with neat arts & sculptures on it written Shiva Shiva in tamil on the top of the mandir.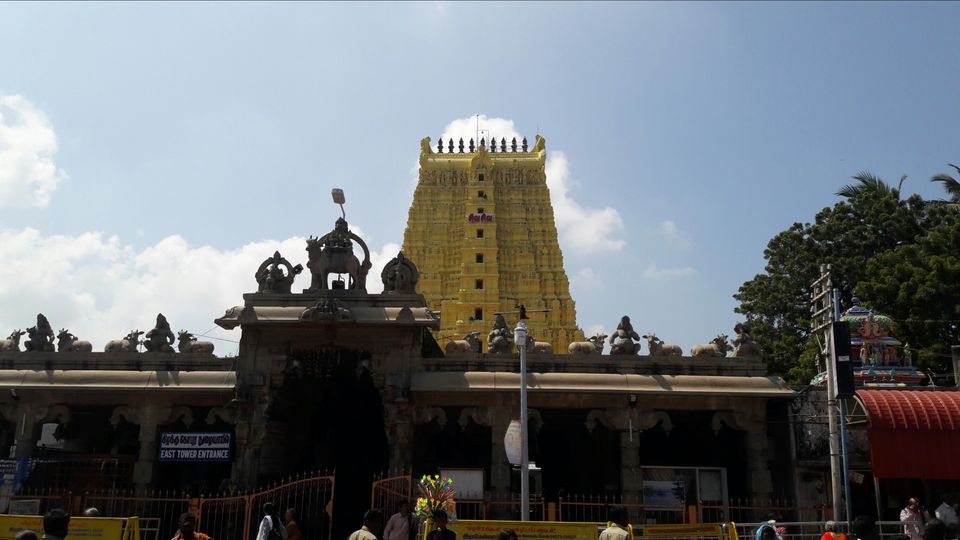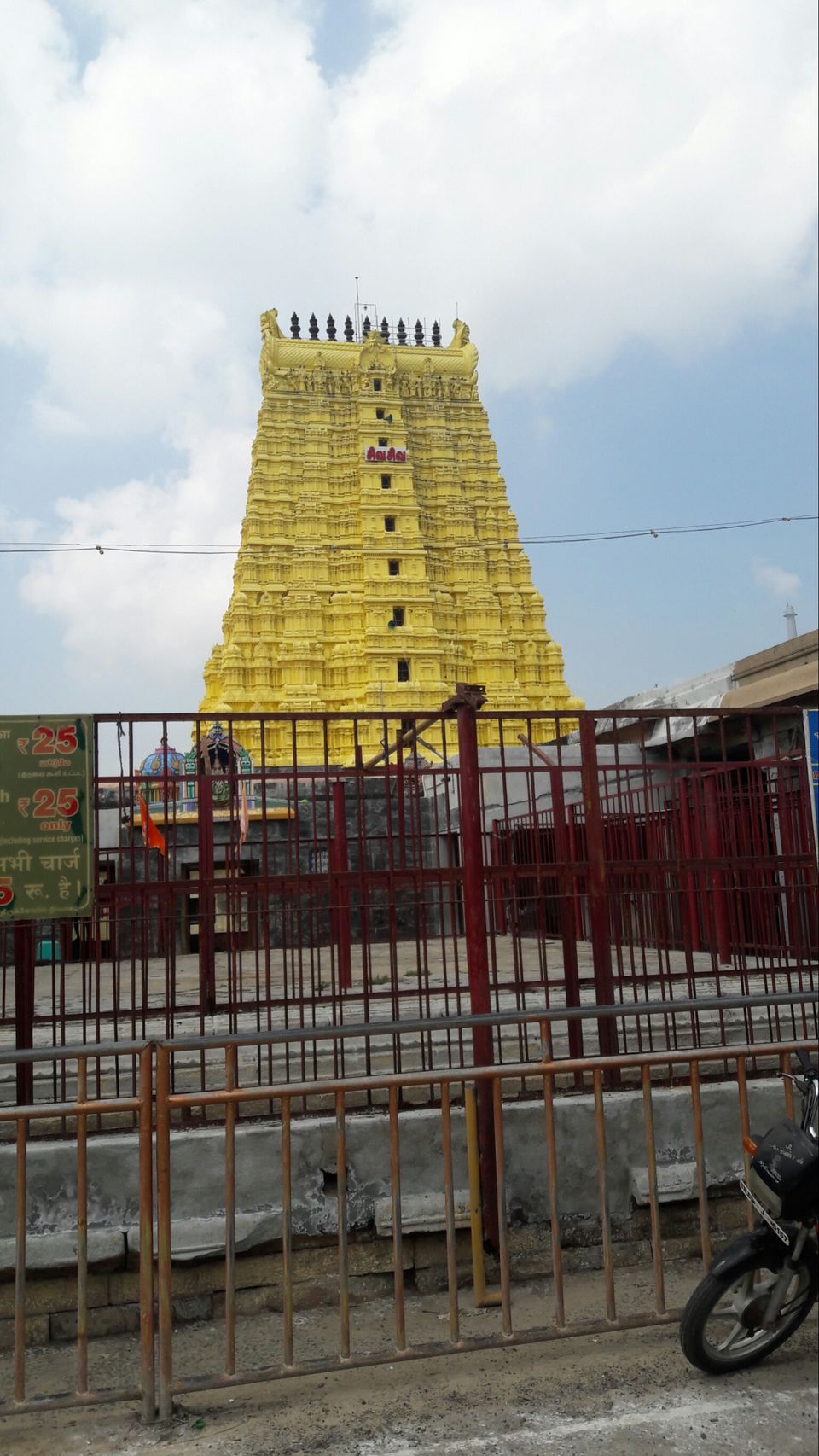 I kept my rucksack in one of the locker provided by the temple cloak room office by charging Rs-10, and given a receipt of against my belongings. I move towards the temple main gate darshan.
There are total of 22 holy wells, it is said that the water of all this wells are as sacred as Ganga with all mythological meaning with it and to take this holy bathing one need to take ticket which cost Rs-25 from the temple office by following a long queue and the person will stick the ticket on one's arm like an armband.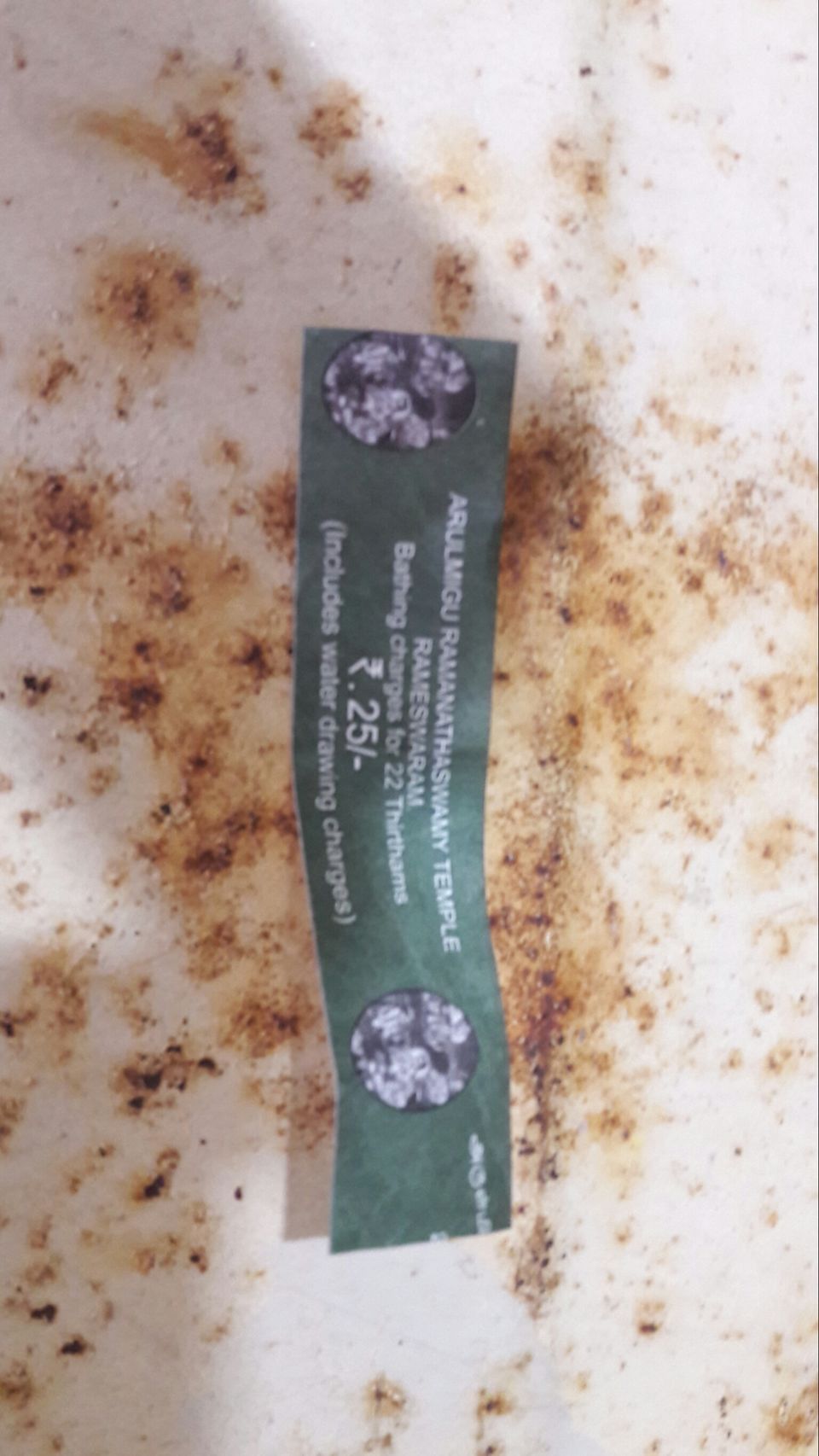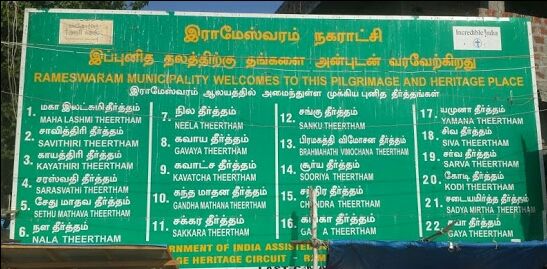 Mobile, Cameras are not allowed inside the temple. Now i started the parikrama of taking holy bath from all the 22 wells of sacred water. The persons are standing with a bucket near the well area, once i came near the well they poured the water on my head one by one. It is fun and amazing experience too which last long for 15-20 mins. It is said one cannot do darshan with wet clothes so there is a changing place after the 22nd well but my bag is in cloak room and i dn't have extra clothes that time for changing so i somehow roam here & there and the weather is so hot out there that it tooks 4-5mins and i my shirt almost dried up and now i move towards the Jyotirlingam. The art work on the body of the temple pillars are amazing. After my darshan i came out of the temple premises and many autowallas started asking me for local sightseeing which consists many small temples around the small town with APJ Abdul Kalam's house & museum. It is 14:00hrs so after negotiation i started the local sightseeing trip at Rs-250. Within next 1hrs this local trip came to an end after finishing all places, the sight seeing places names are below in the picture.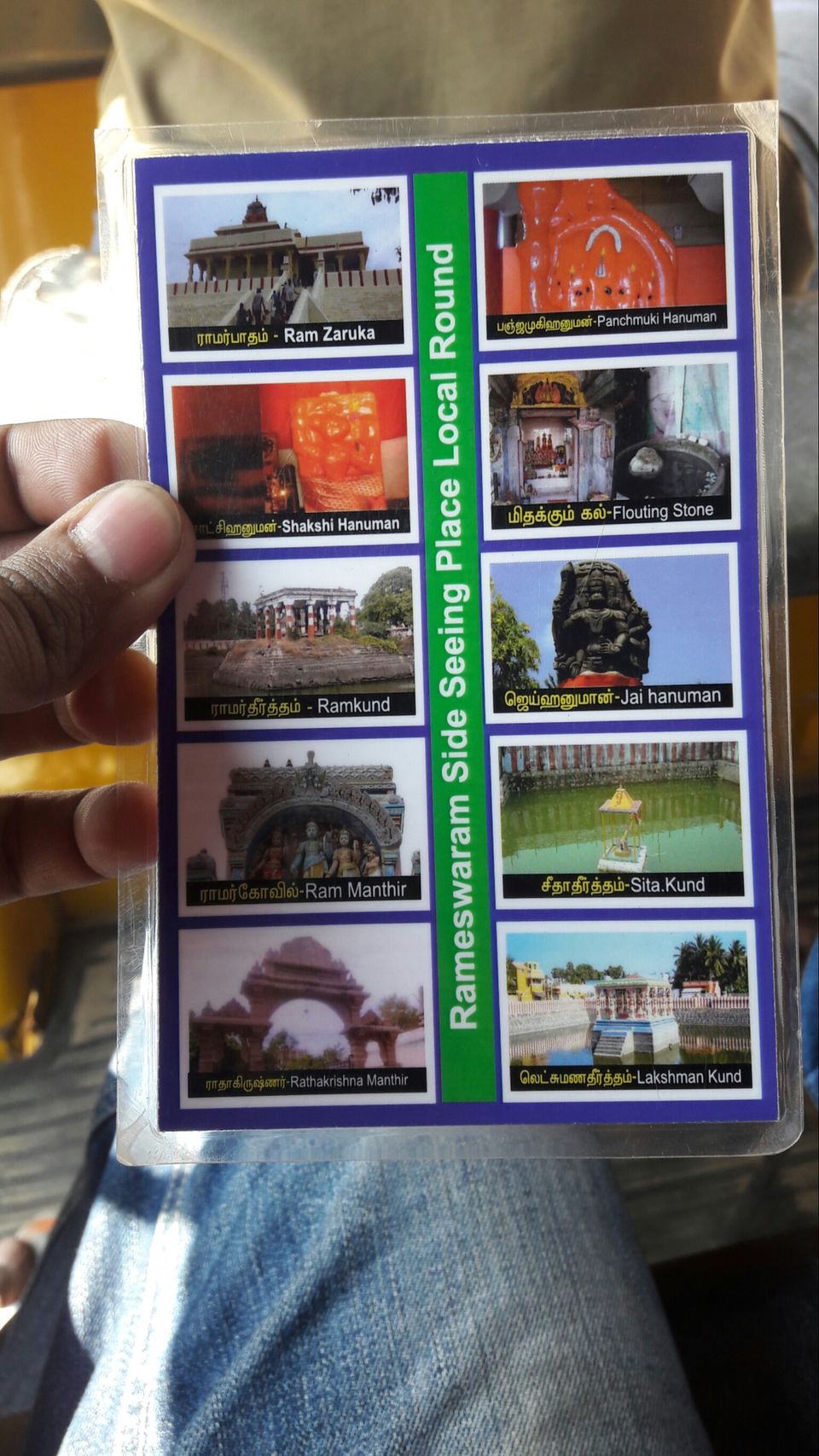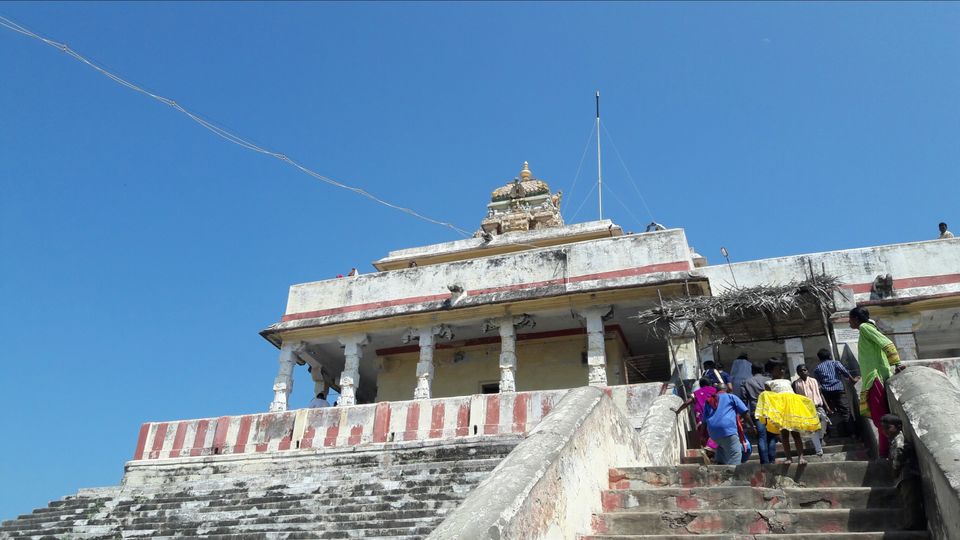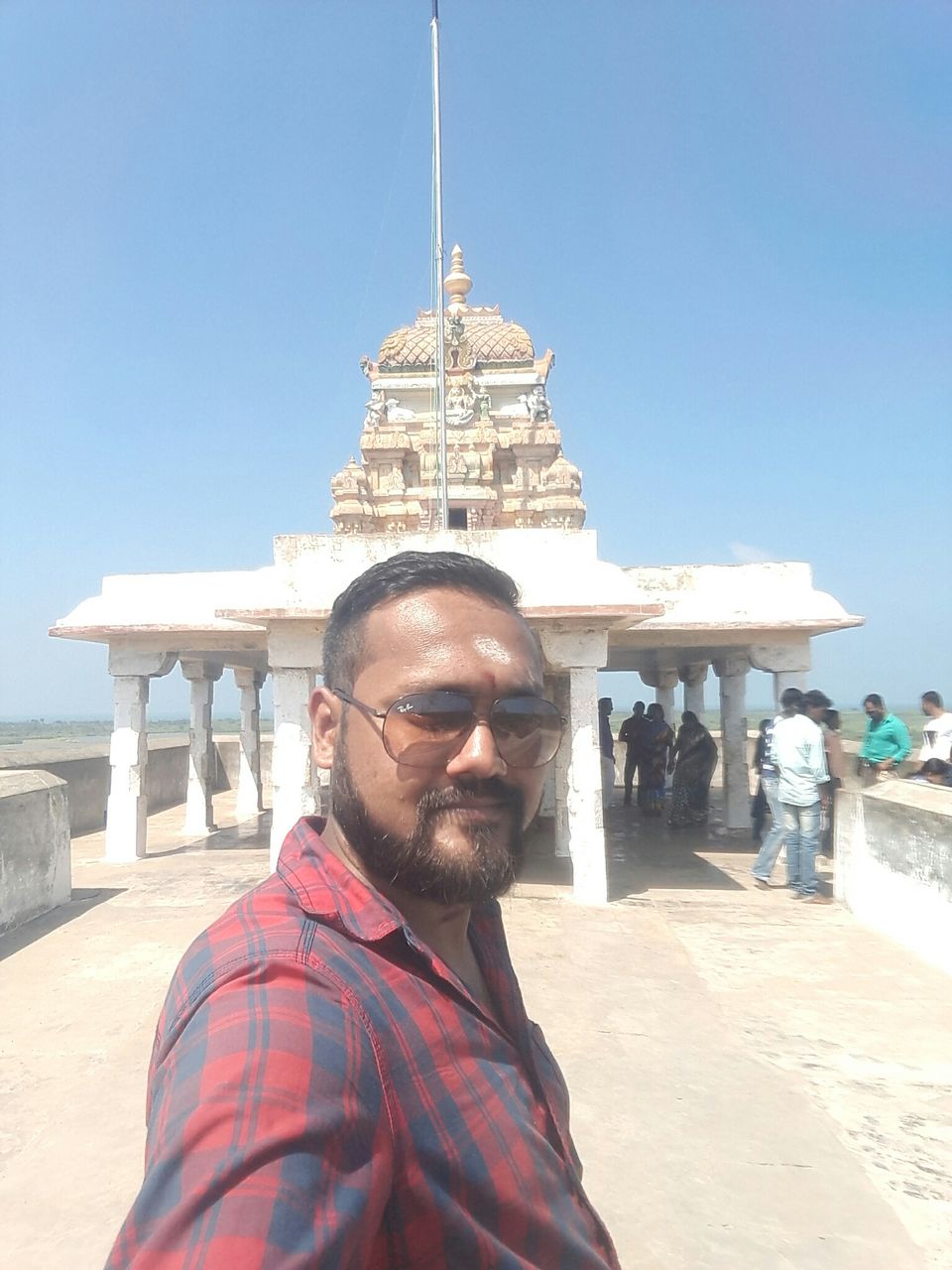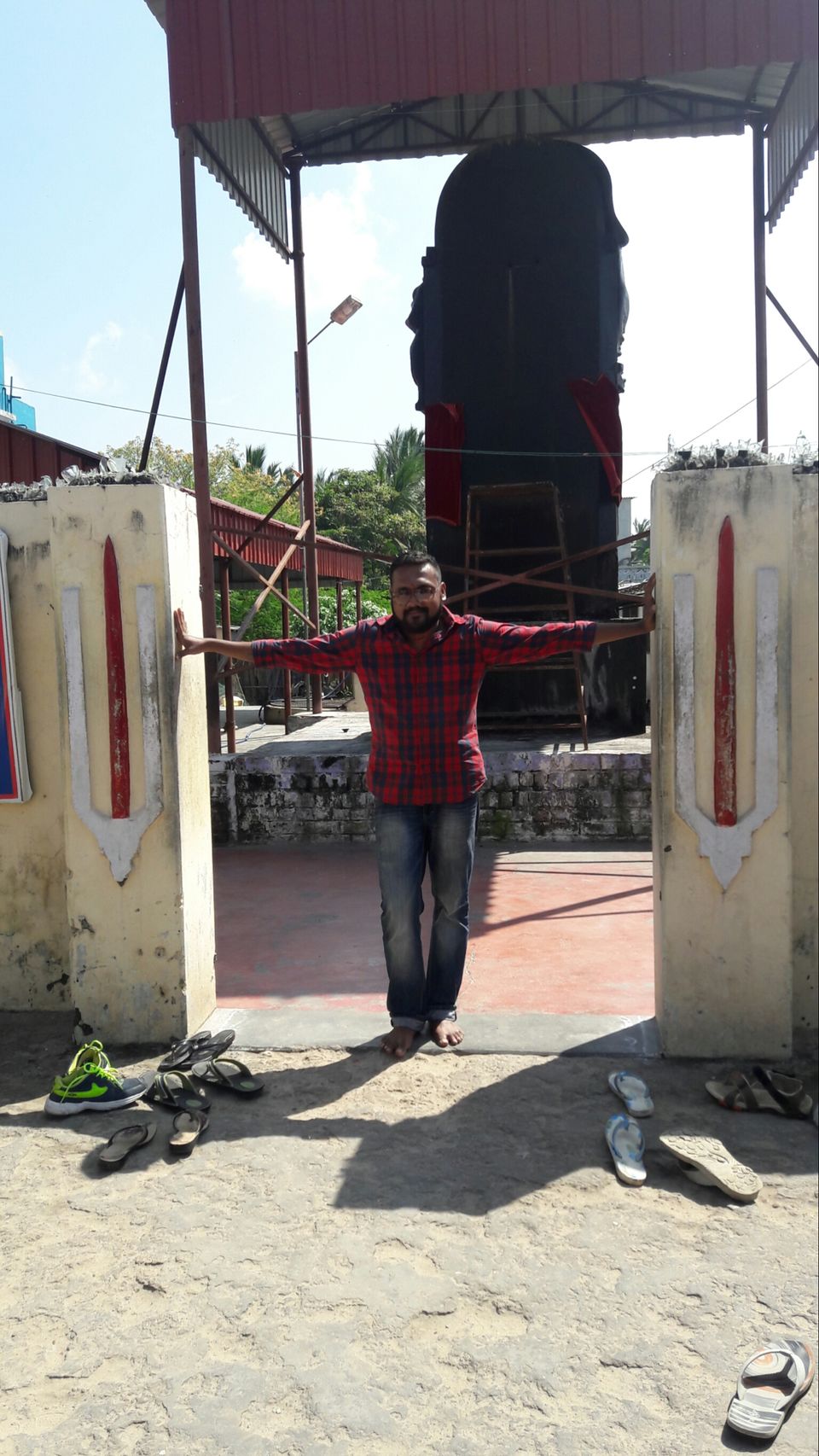 It was 15:00hrs and i took myself for a lavishing tamil meal near the bus stand area which cost me Rs-80 for unlimited meals.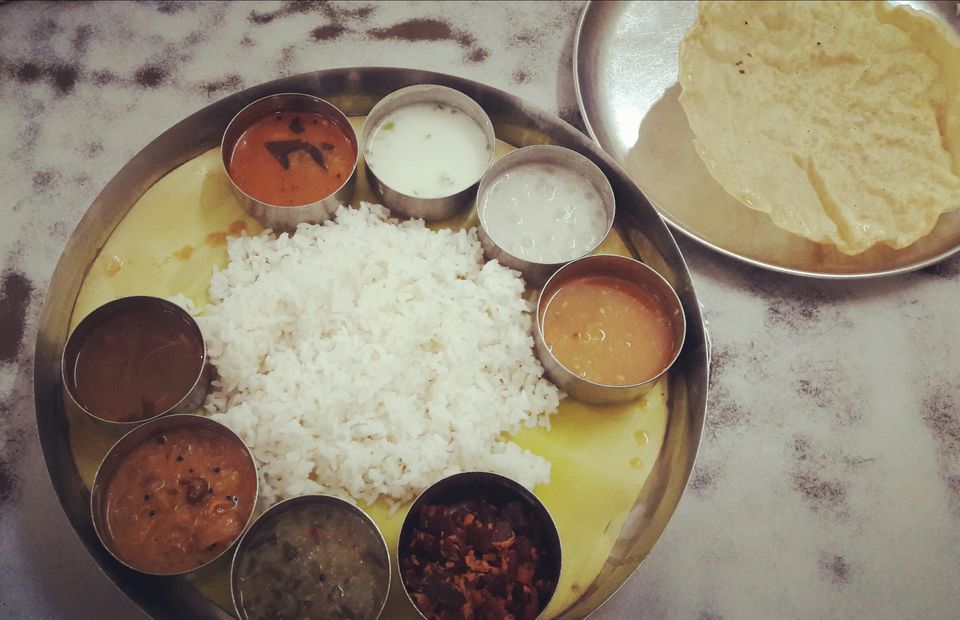 Now its time for my adventure journey to Dhanushkodi - The Ghost Town Of India / The Last Village Of India.
So i asked the local for the bus number which goes to Dhanushkodi which is 25kms away from Rameshwaram almost 1hr journey. I took the window seat with conductor charging Rs-20 for the journey. As the bus moving forward the outside scenery changes and houses,shops becoming less in numbers. The bus drops me at Dhanushkodi and left for Rameshwaram instantly.
You can imagine this place with any of the ghost movie location. The black coaltar-pitch road is no more here its a road automatically made up of mud & sand from near the dhanushkodi sea beach.
Let me intoduce Dhanushkodi to you all first, 1.It is the last village of India on the southern tip peninsula
2.Srilanka is just 18kms away from here.
3.Lord Hanuman's Banar sena made road from Dhanushkodi to Srilanka's (Mannar Island) by the stone name as Floating stone, its white in colour with normal weights but the amazing story is its float on water so that Lord Ram can save Sita from Raavana.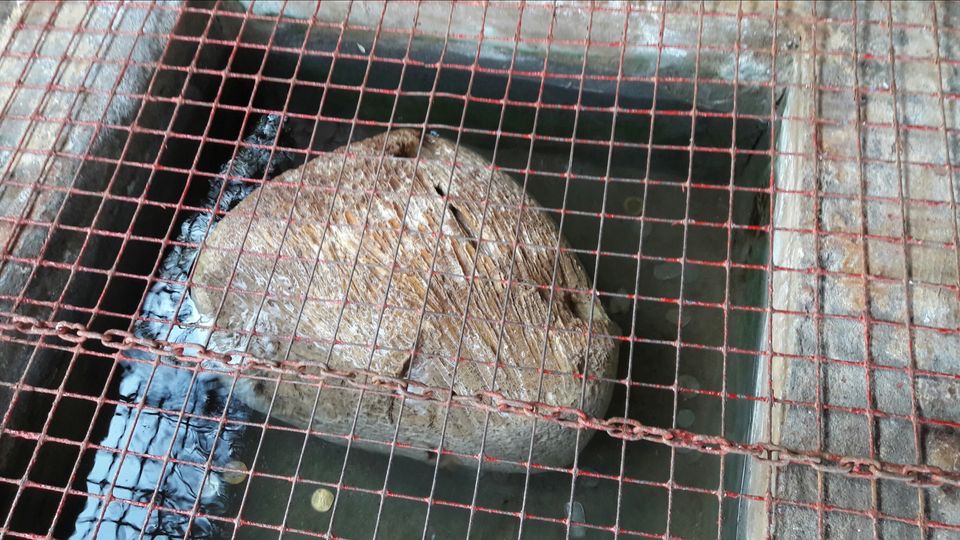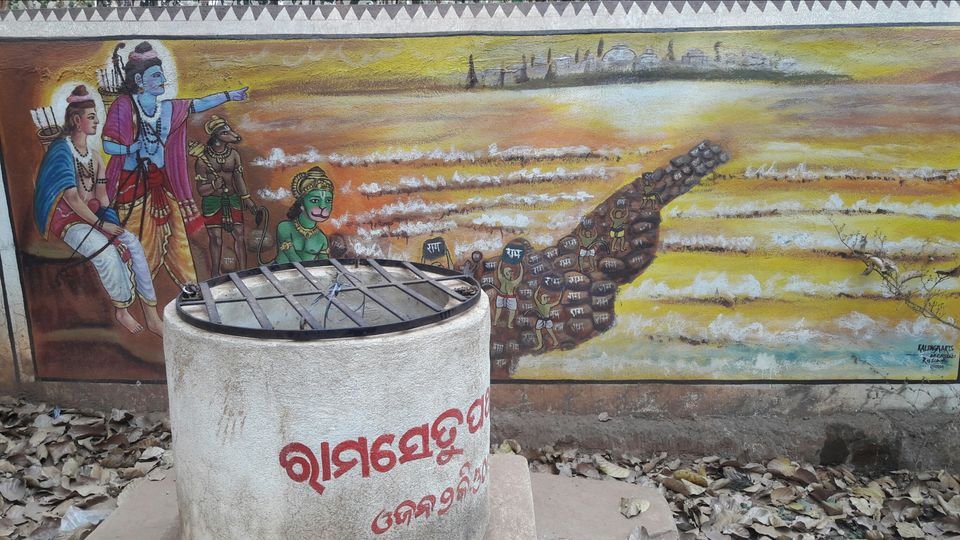 4.On right hand side there is Bay of Bengal while on the left hand side the mighty Indian Ocean, somewhere it two meets but doesn't mixes.
5.In 1964, Dhanushkodi was destroyed due to an oceanic cyclone and left this town as a ghost town with broken post offices, churches, railway station, school, hospitals etc.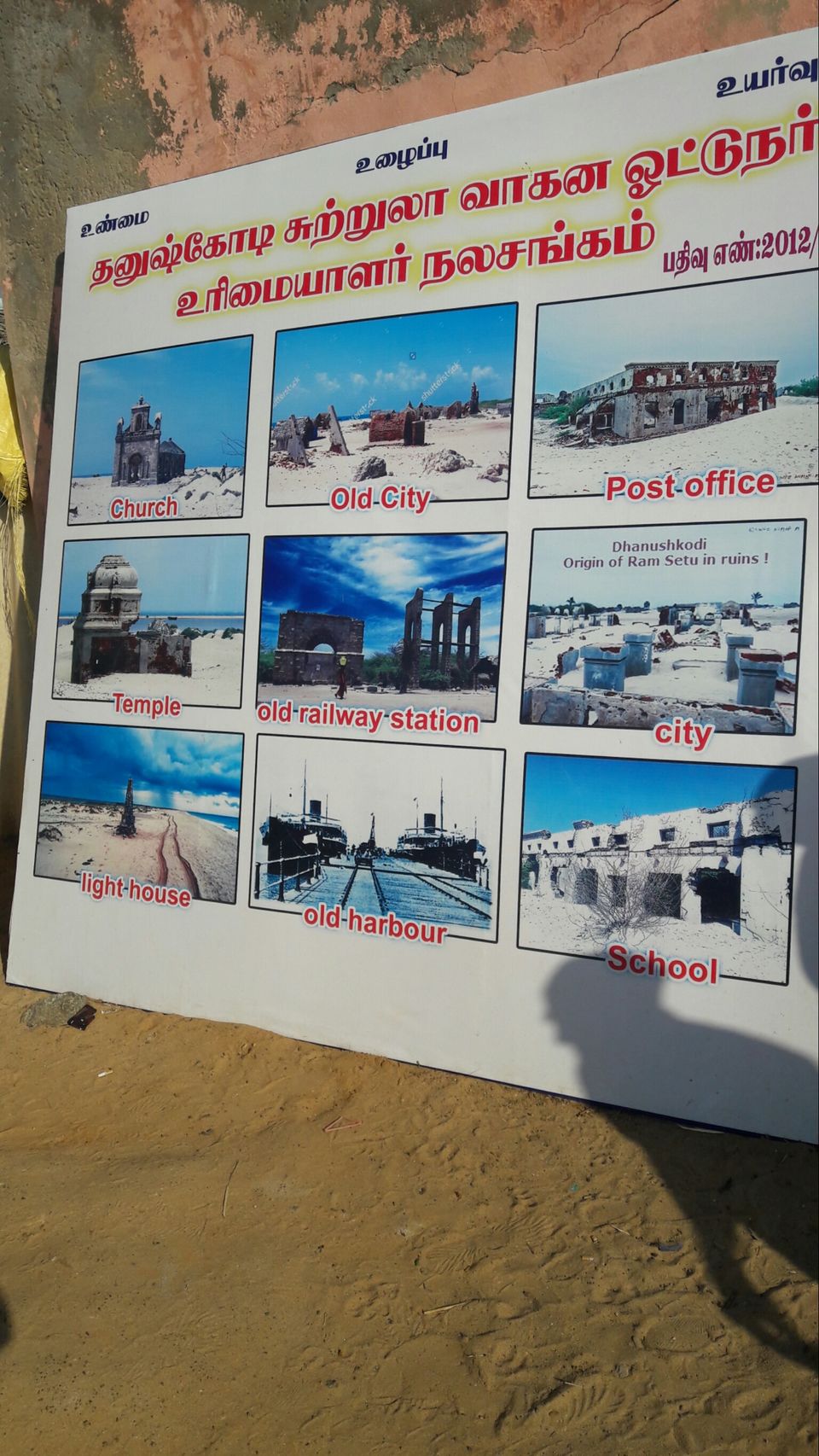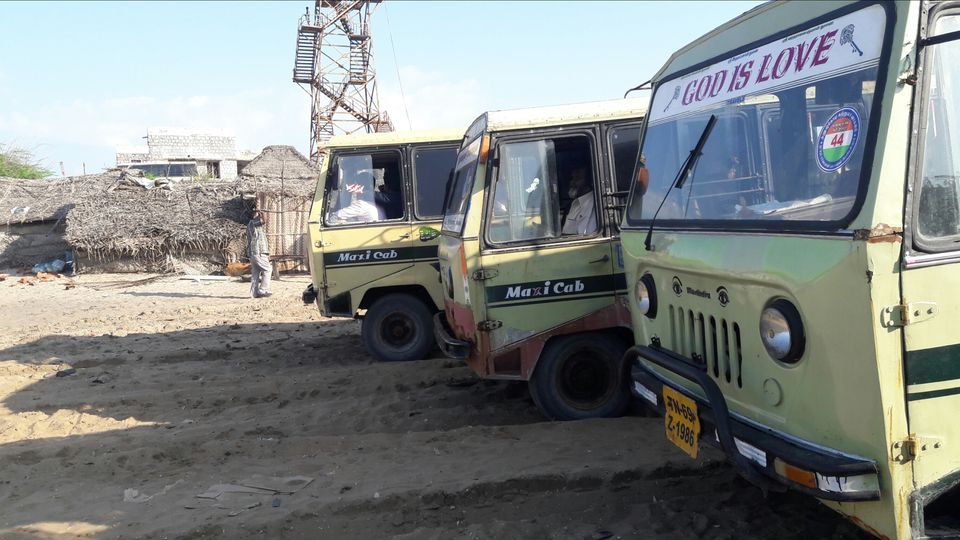 There are 18 seater 4WD mahindra cab which cost Rs-160 for both way journey which took me to the destroyed village and almost last pinpoint place after this point there is only sea & sea with 18kms Srilanka. The journey on this cab towards the isolated place is superb as the cab used to move through sandy road and after this on sea water. They gave 30 -40mins to roam around the place.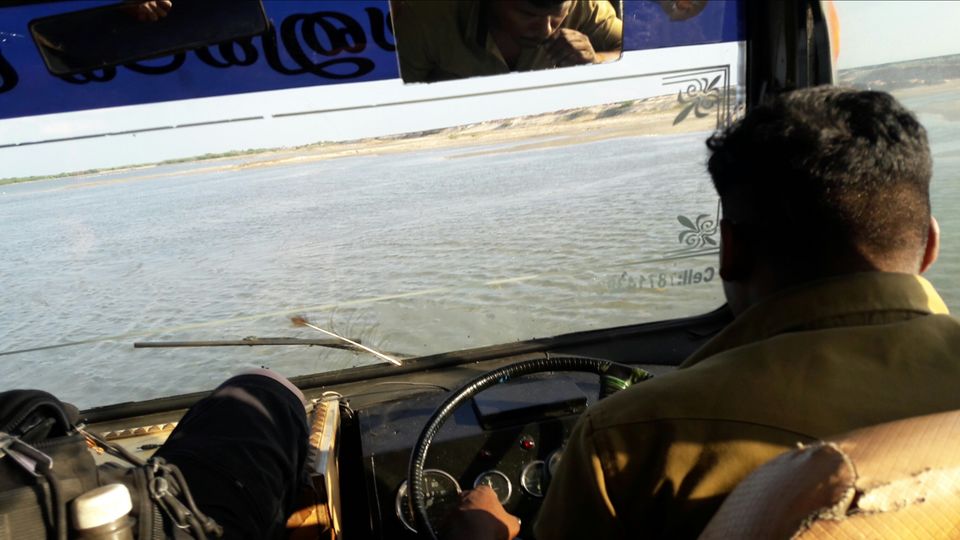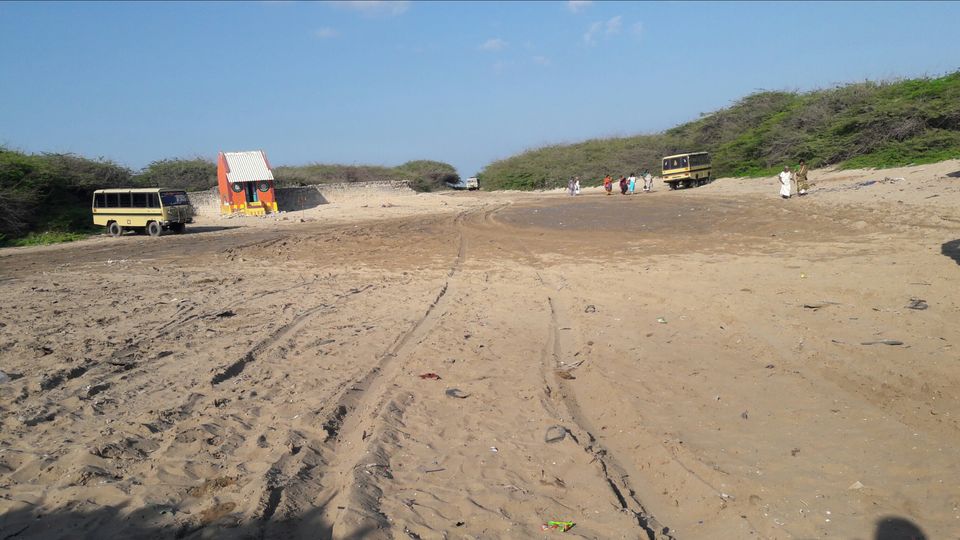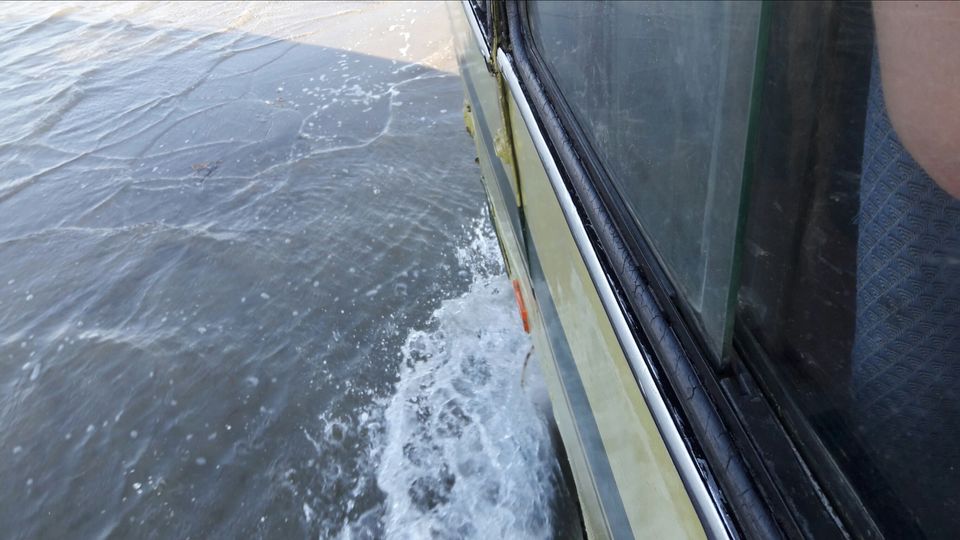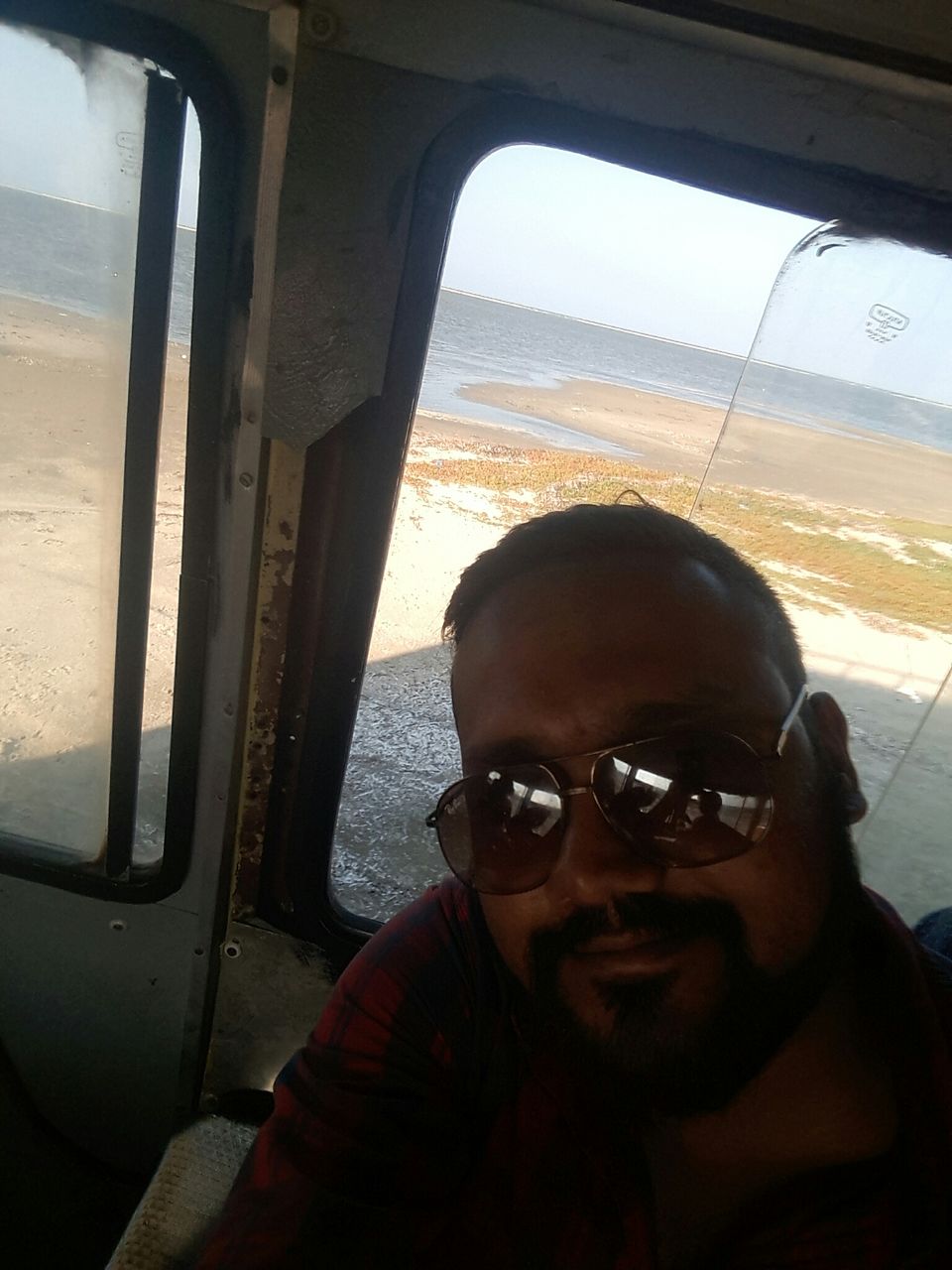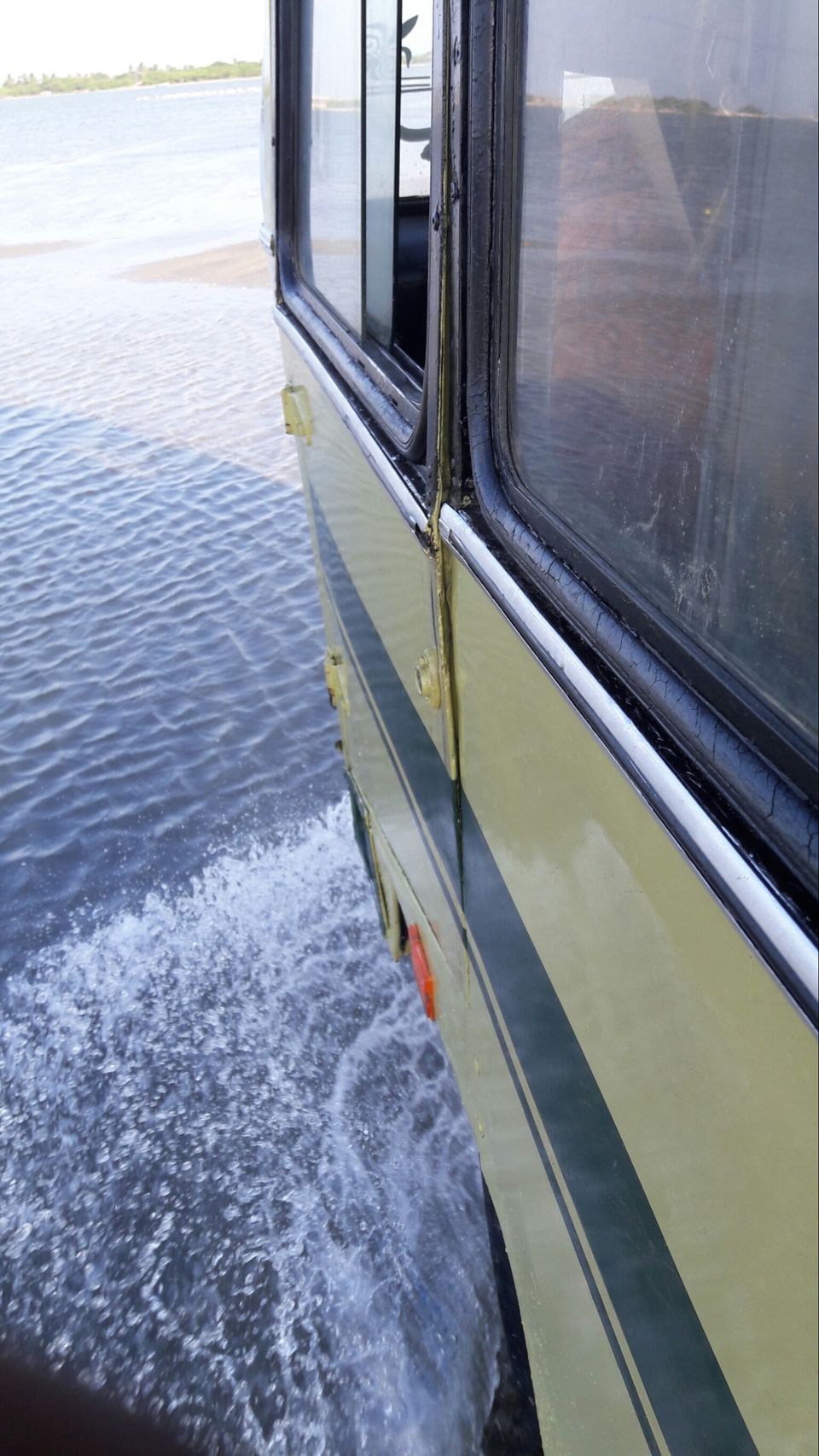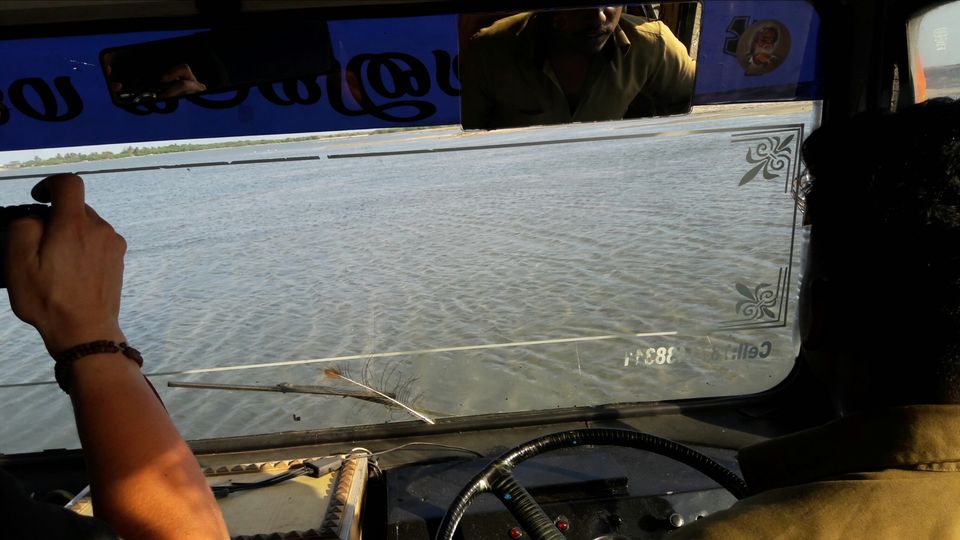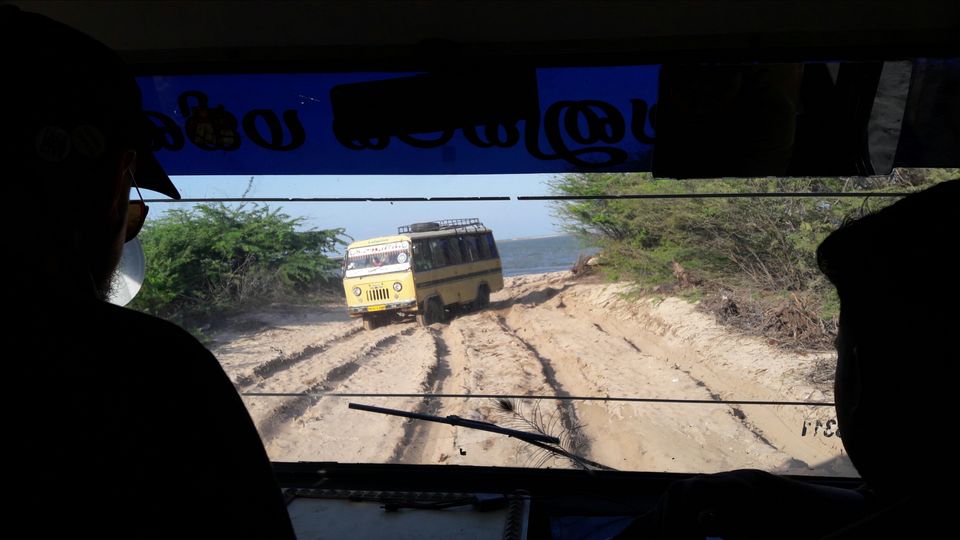 I feel amazed and lucky to be here and blessed too to watch the raw beauty of mother nature. Bay of Bengal on my left side, blue sky above me, Indian Ocean on my right side and golden sand kissed my feet. The perfect moment in my life. I saw those destroyed ruins of churches, post offices and other buildings.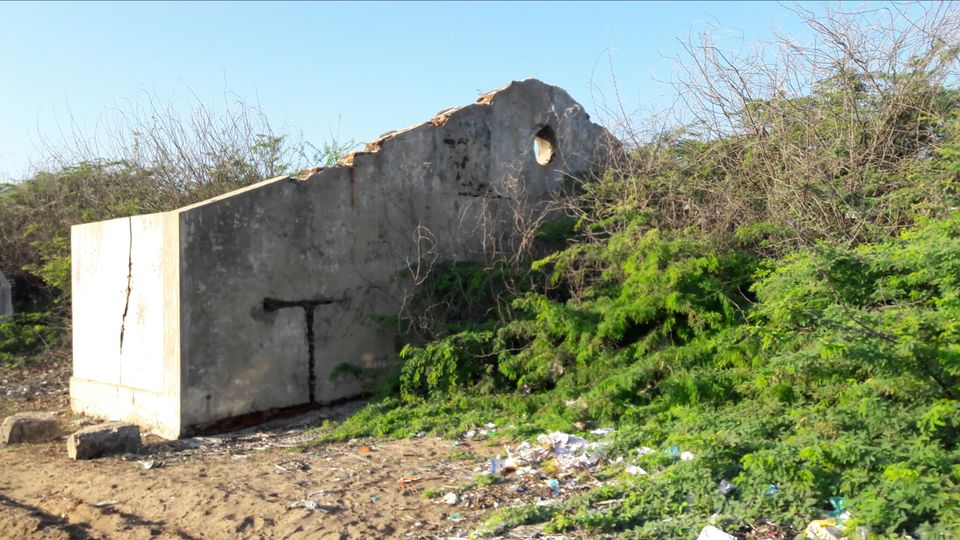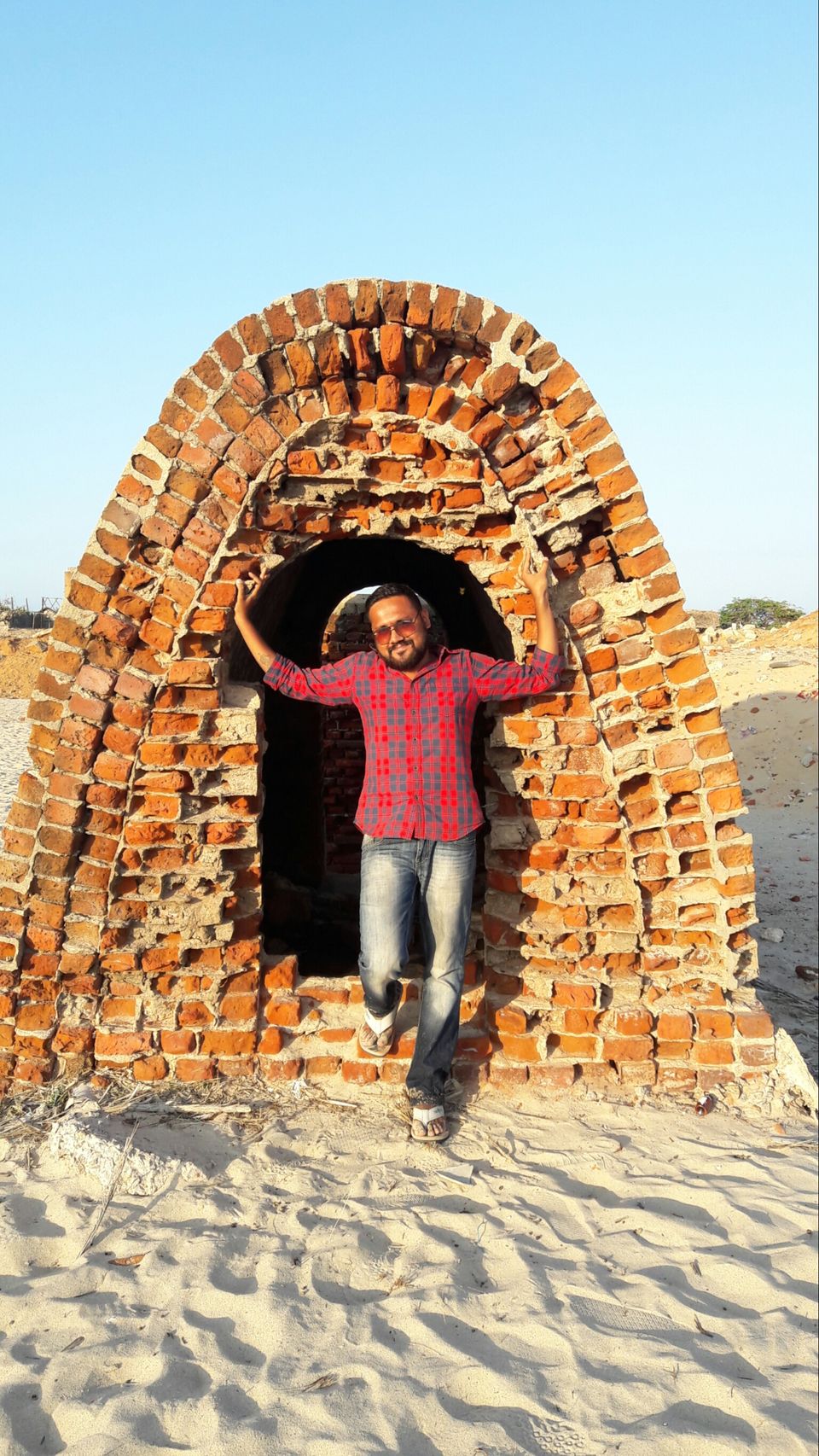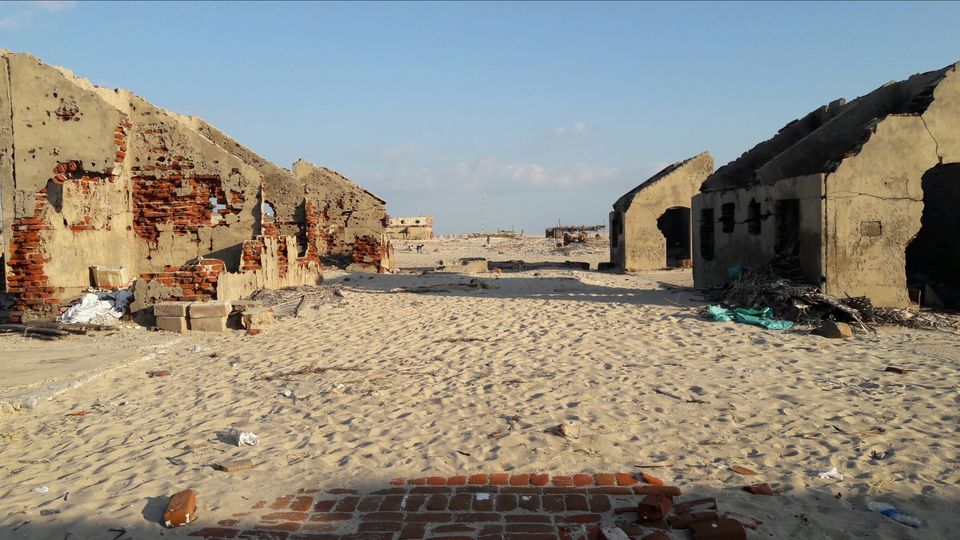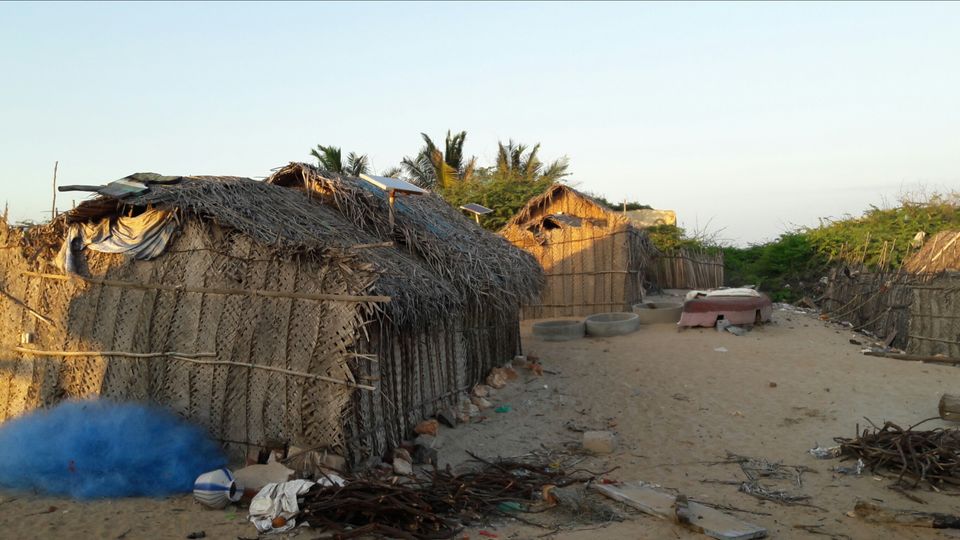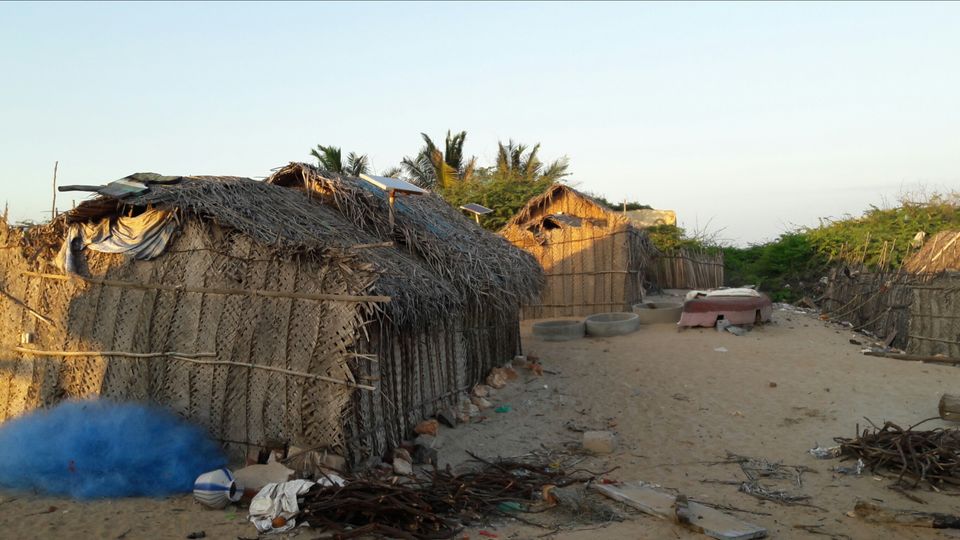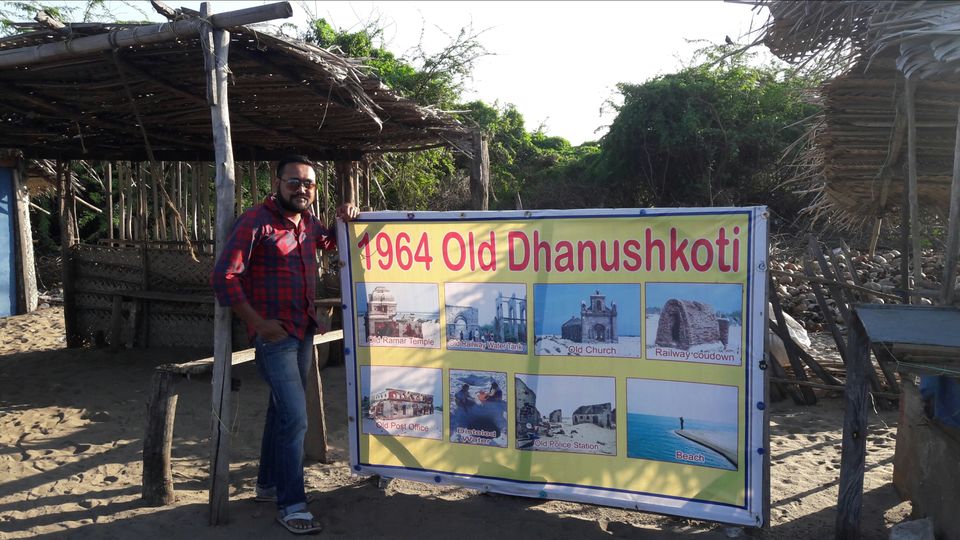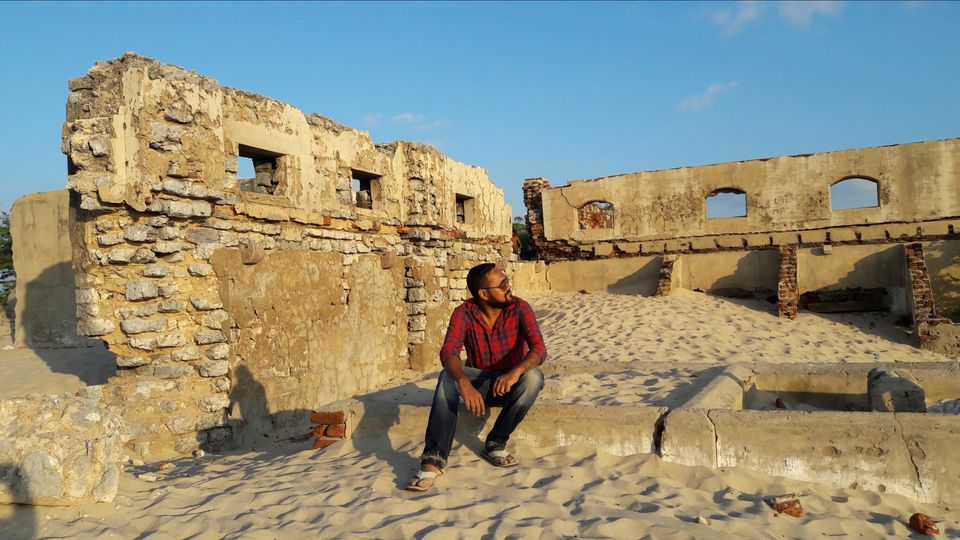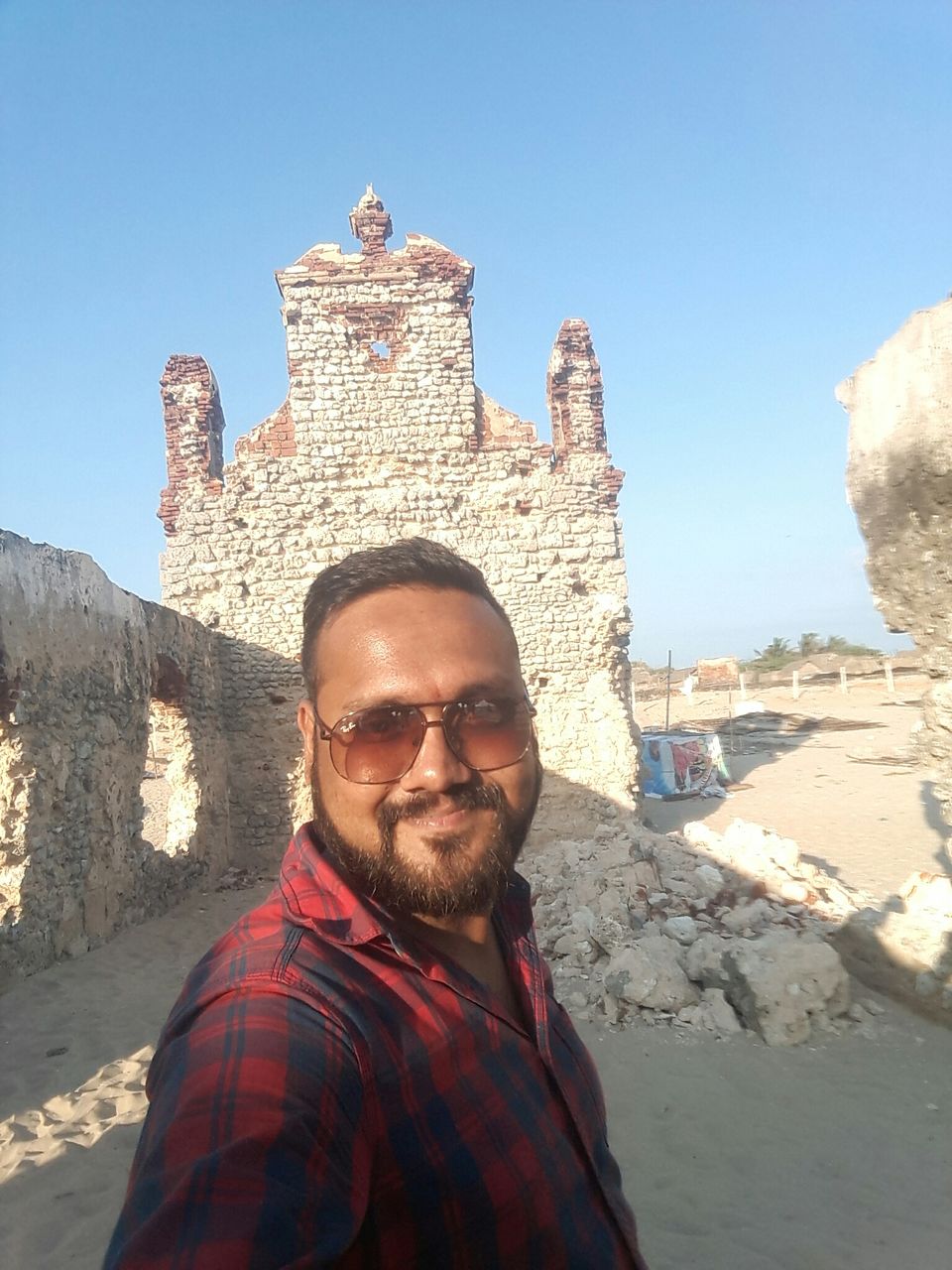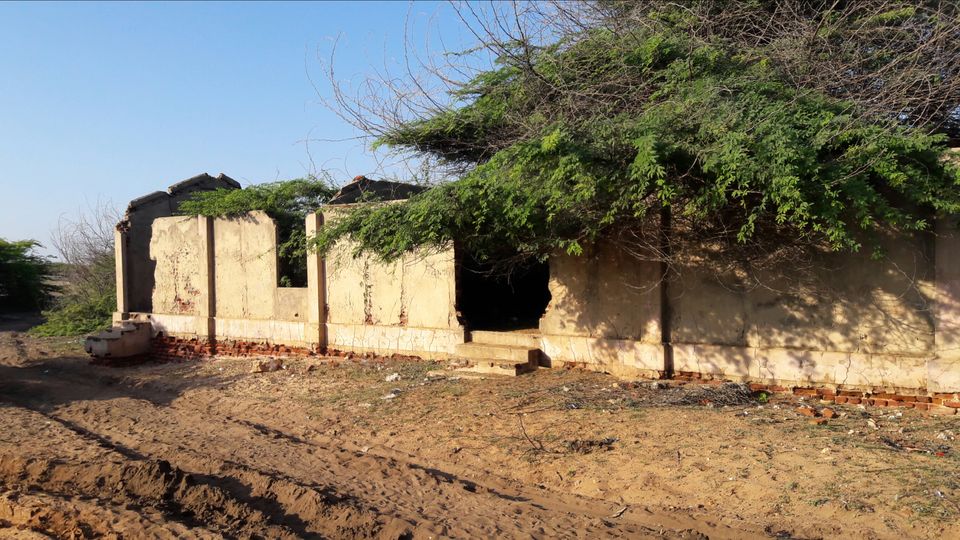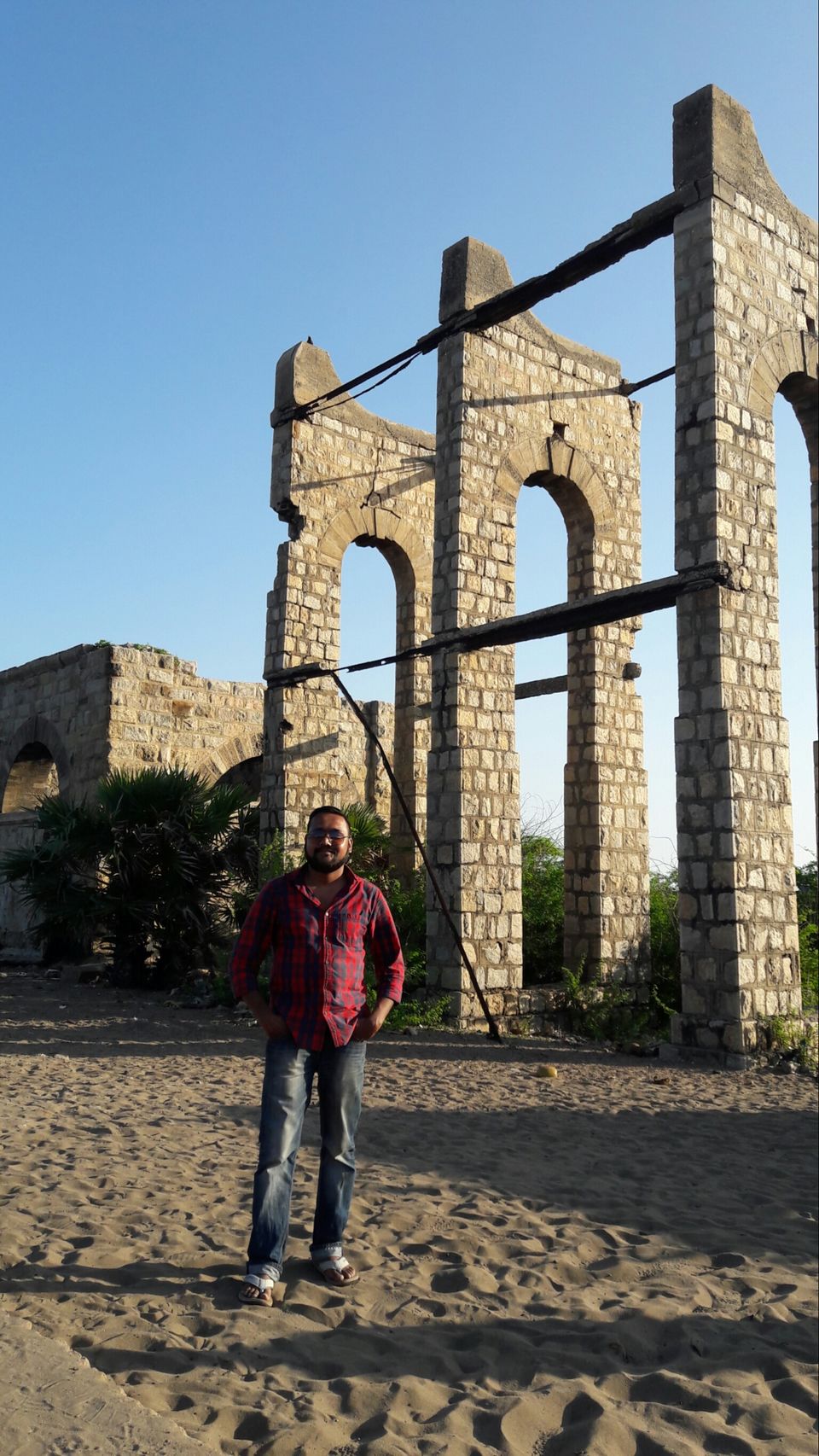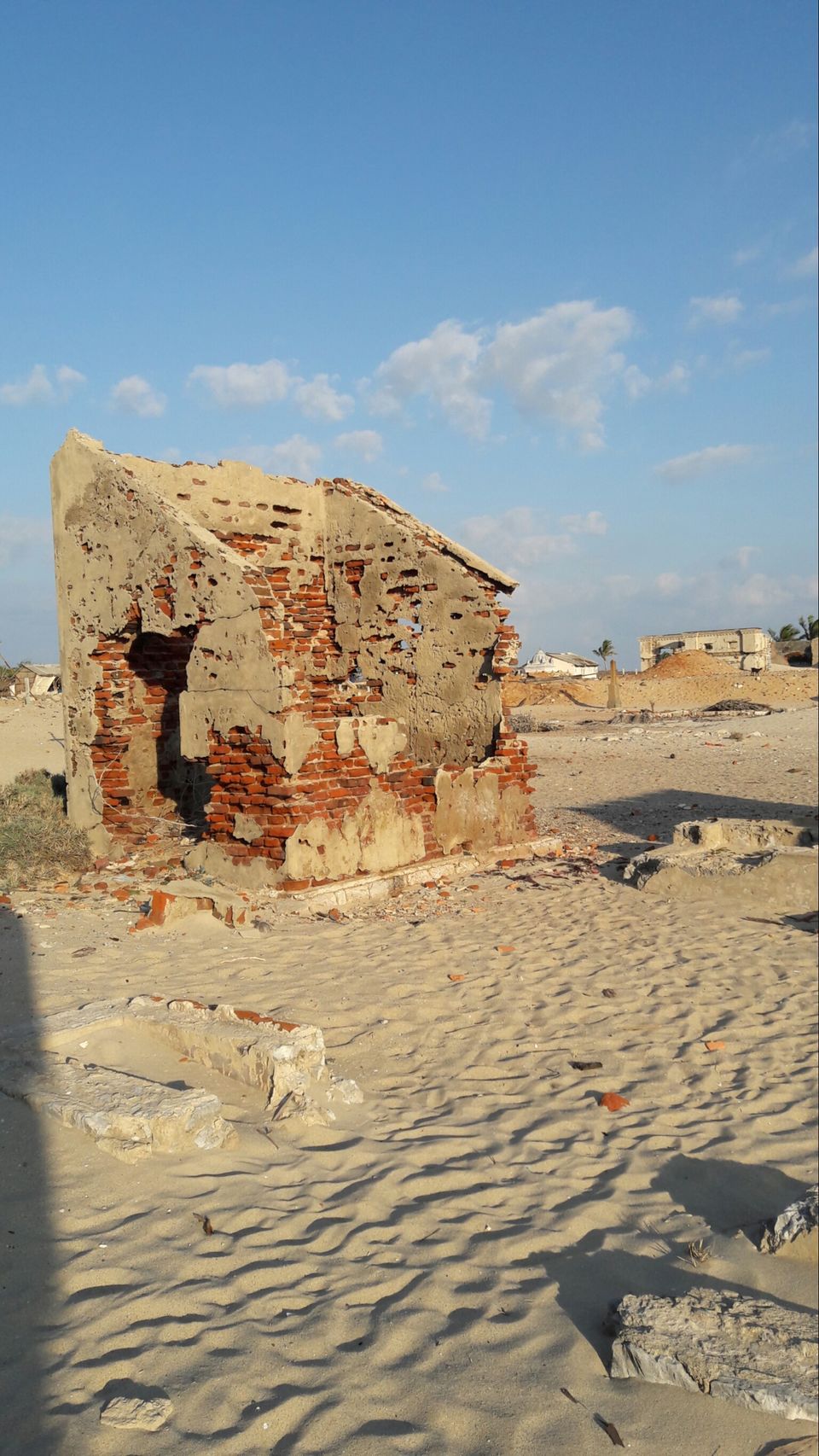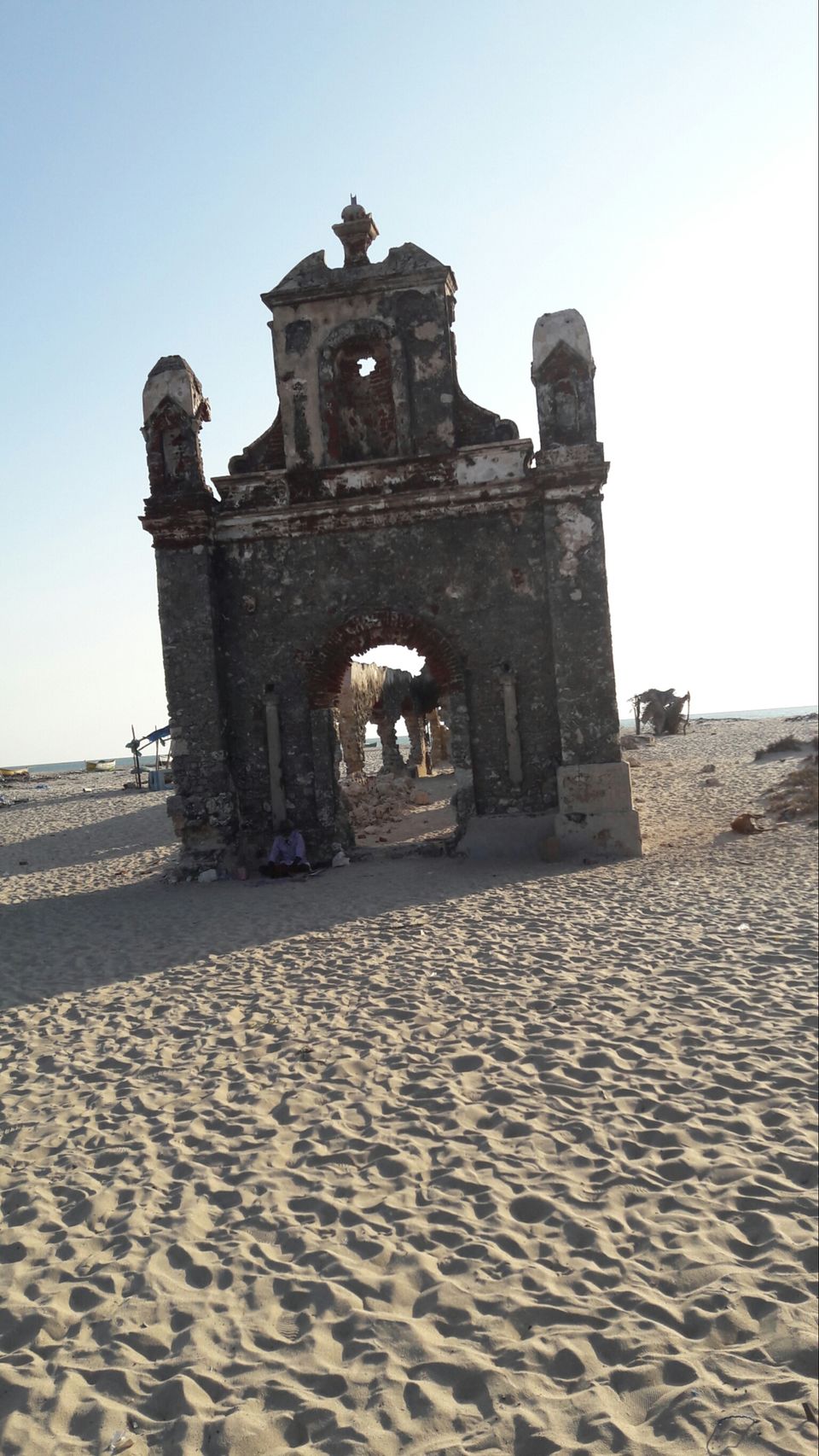 Present Govt is renovating the road over there as i saw the board of NHAI. Which is a blessing for the locals as i came to know while sipping tea from one of the local fisherman's hut, also came to know about their daily life routine over here. There are few fisherman's hut who live over here mainly for fishing purposes.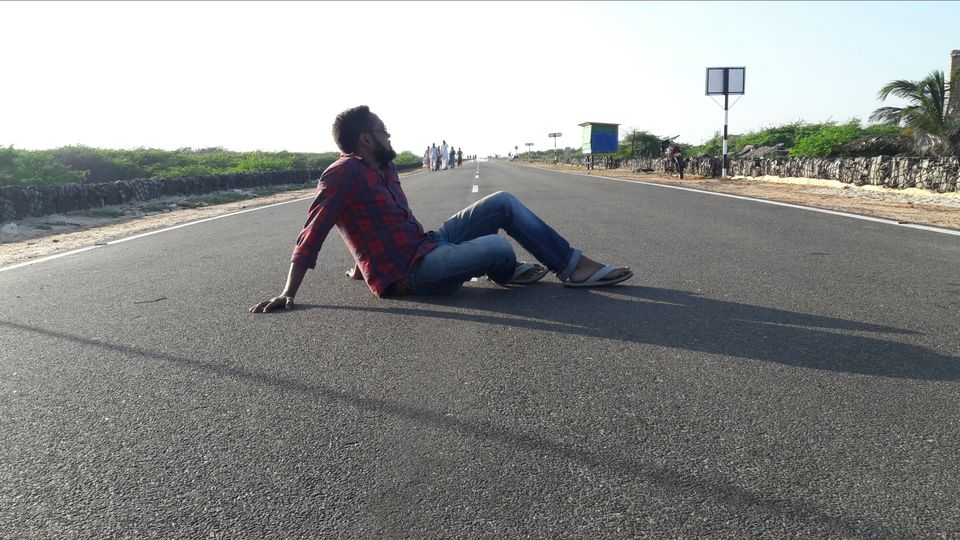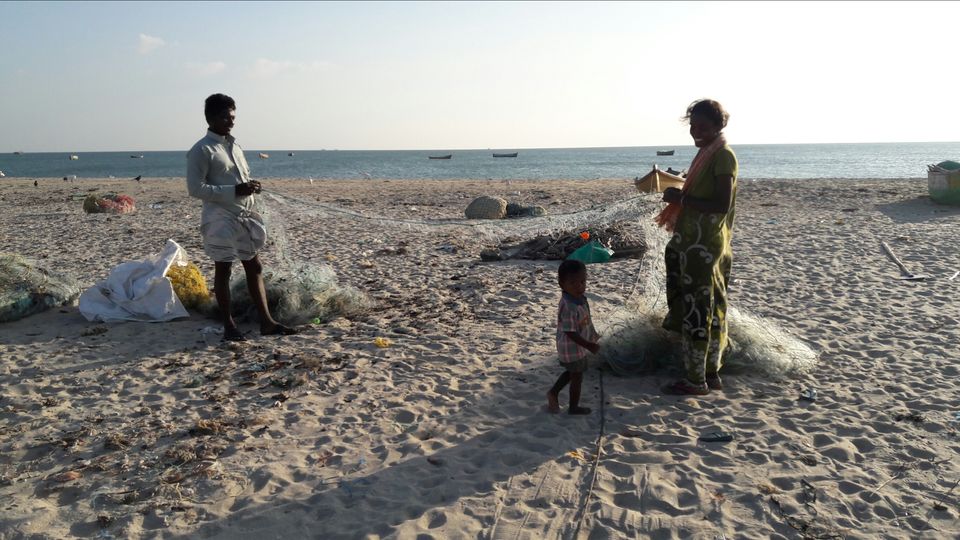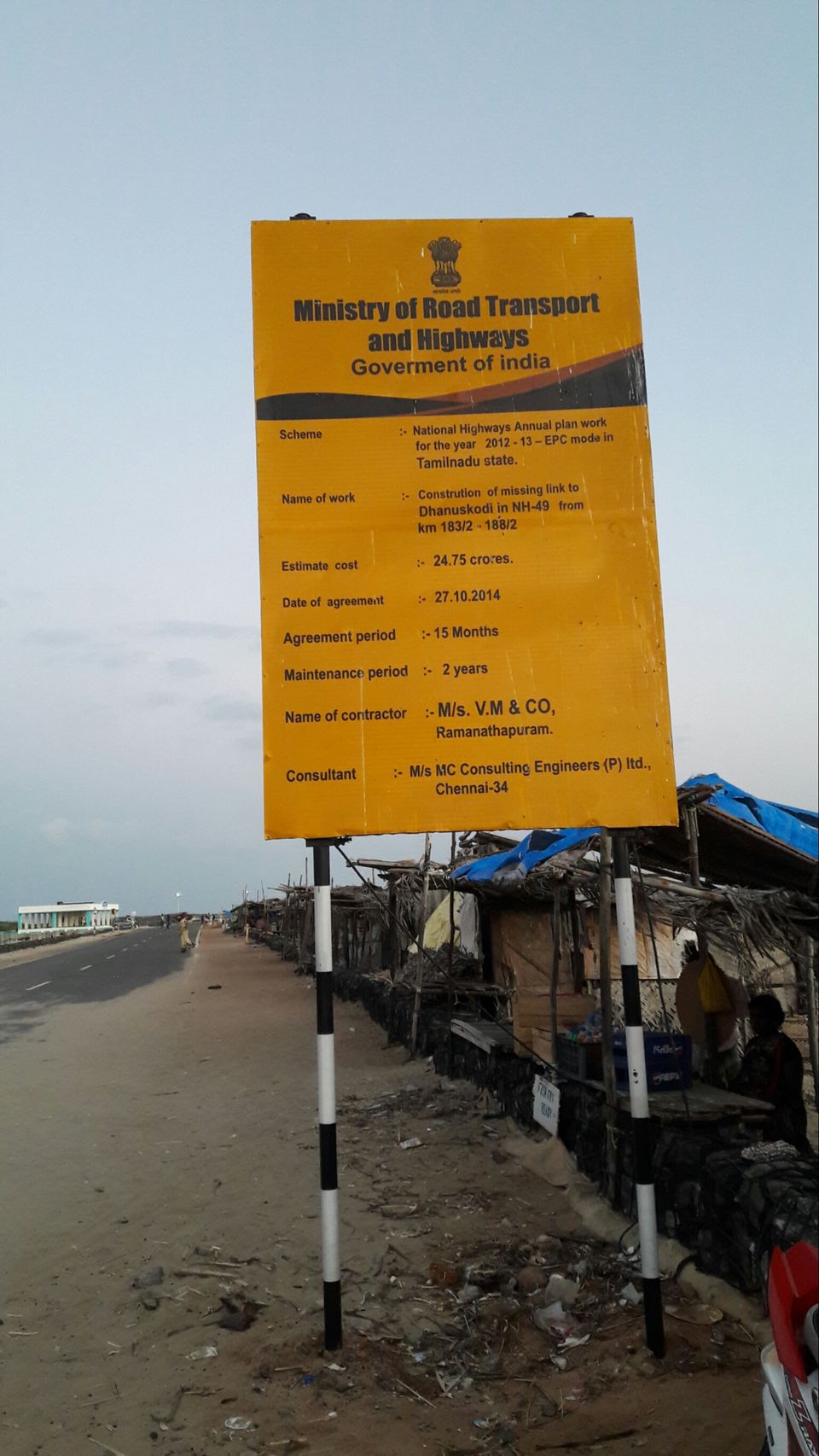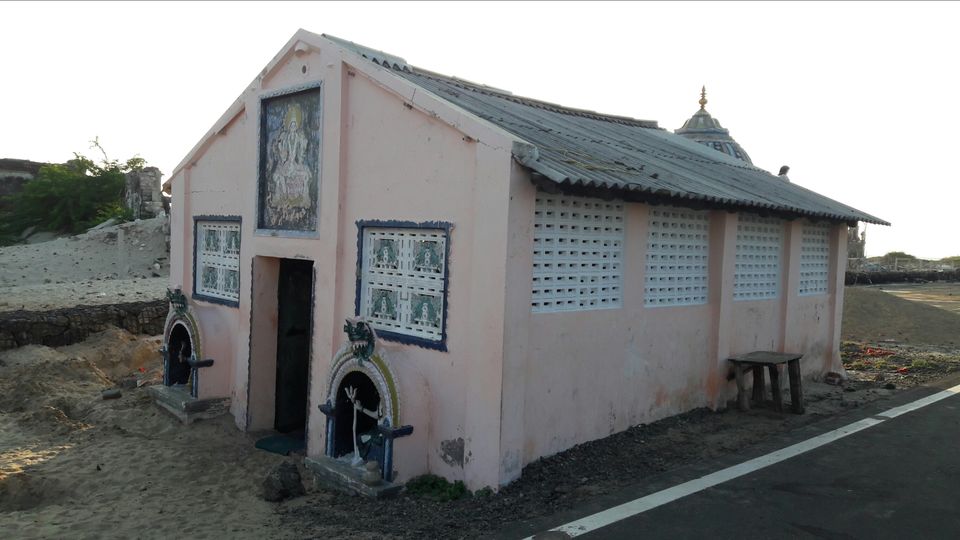 I went towards the beach and feel the urge to visit Srilanka's mannar island coz its just 18kms from here...but alas Indian Coast Guards are always on the watch tower having surveillance on every tourists and locals here.
I waited few more minutes here as i want to witness the sunset from the last village of India.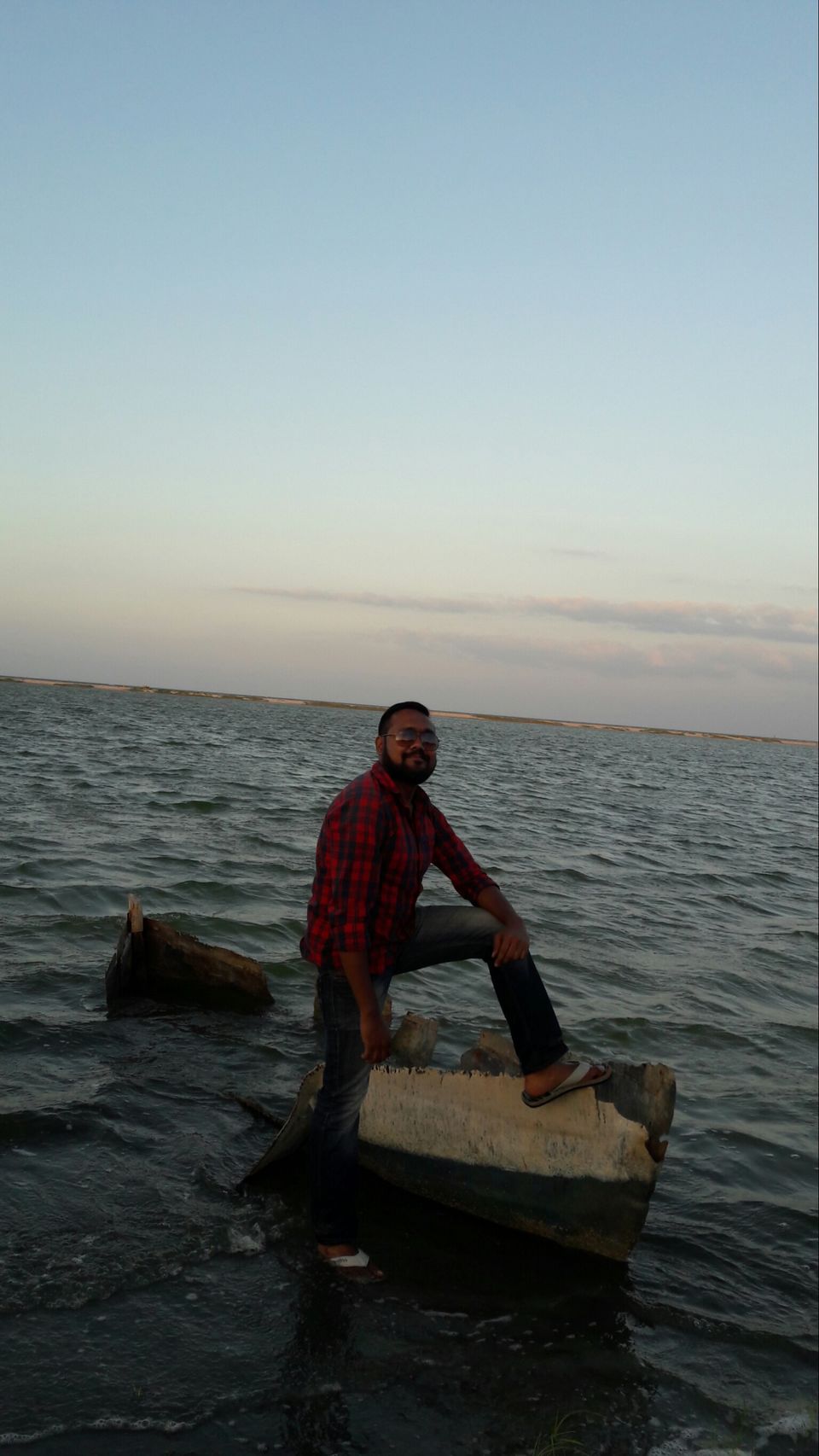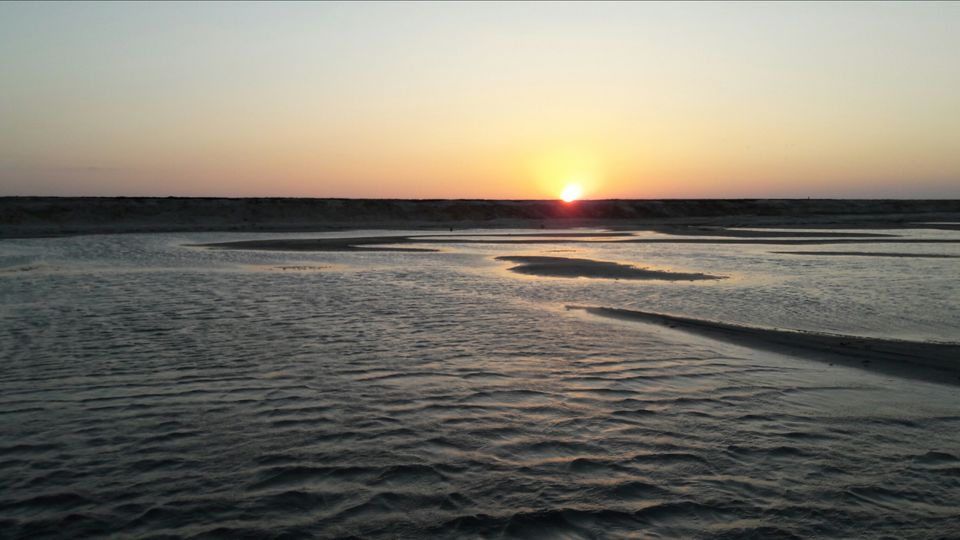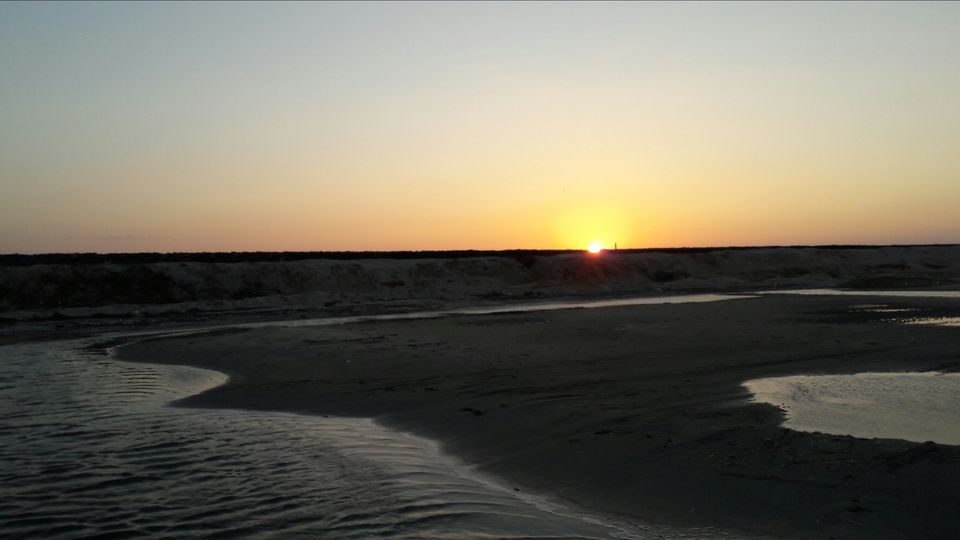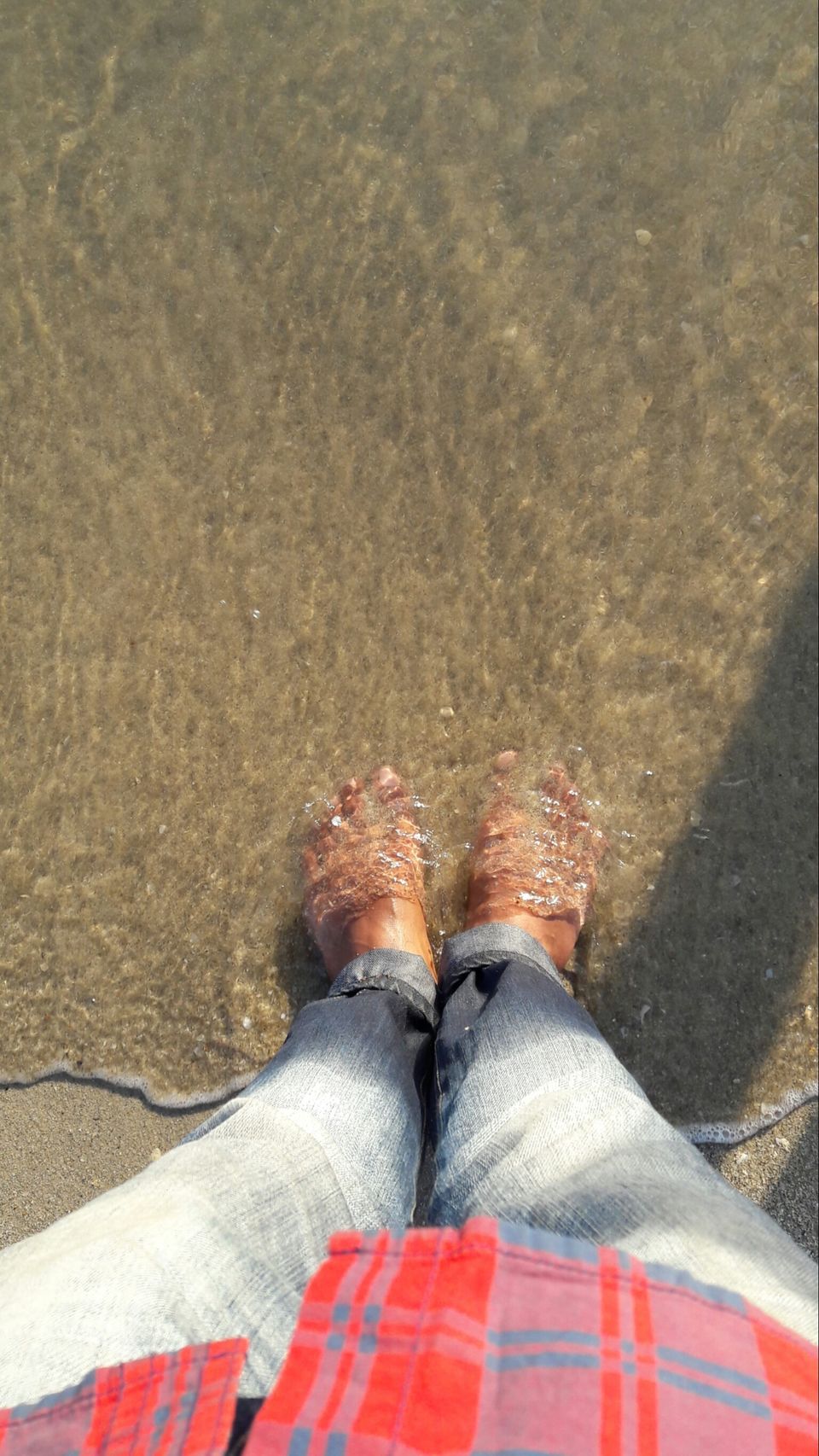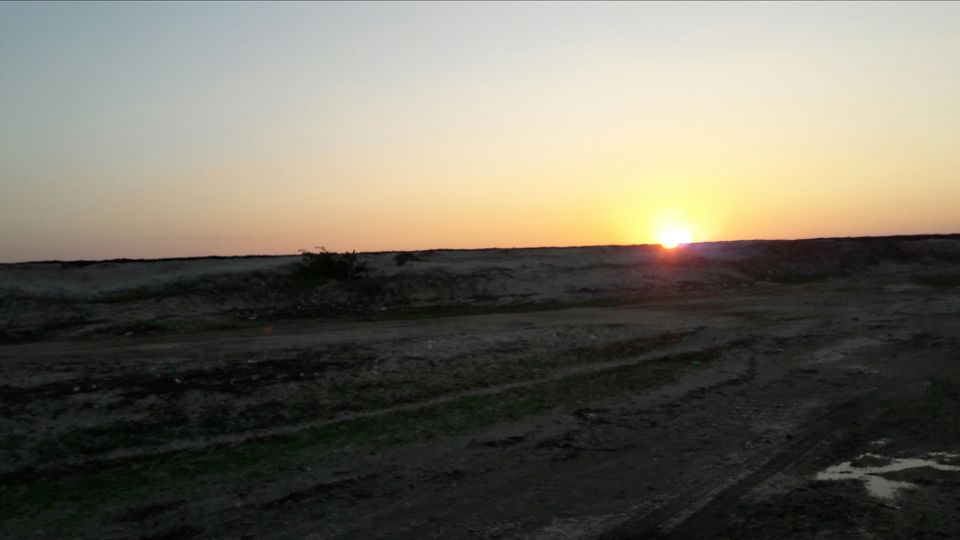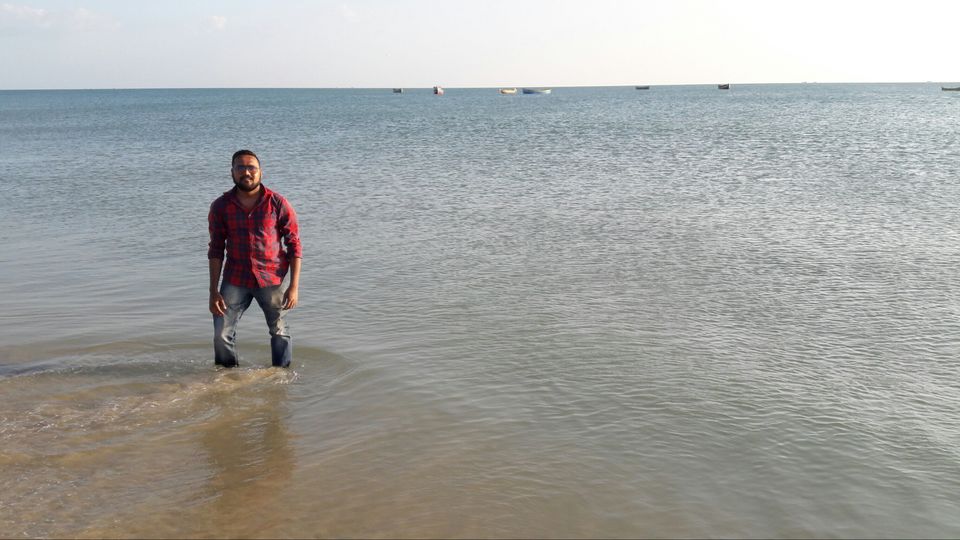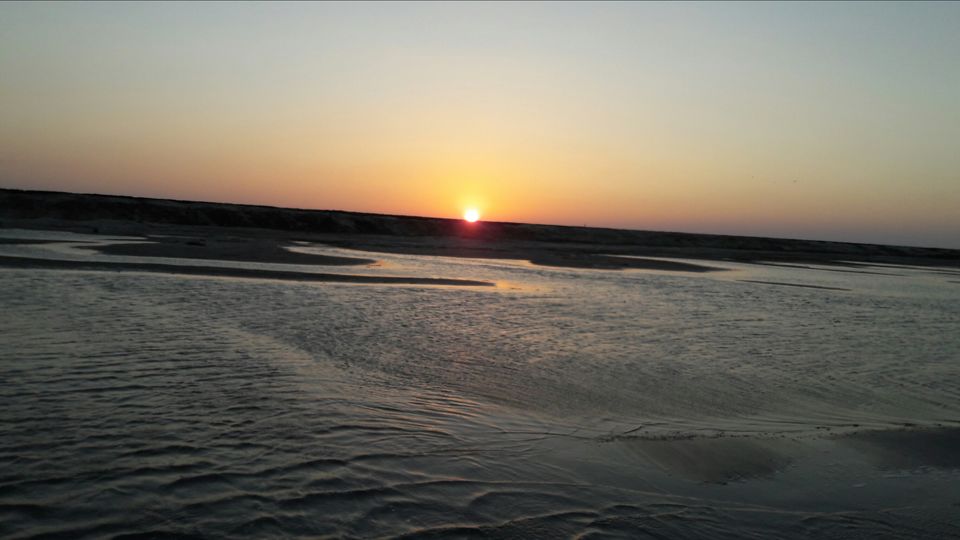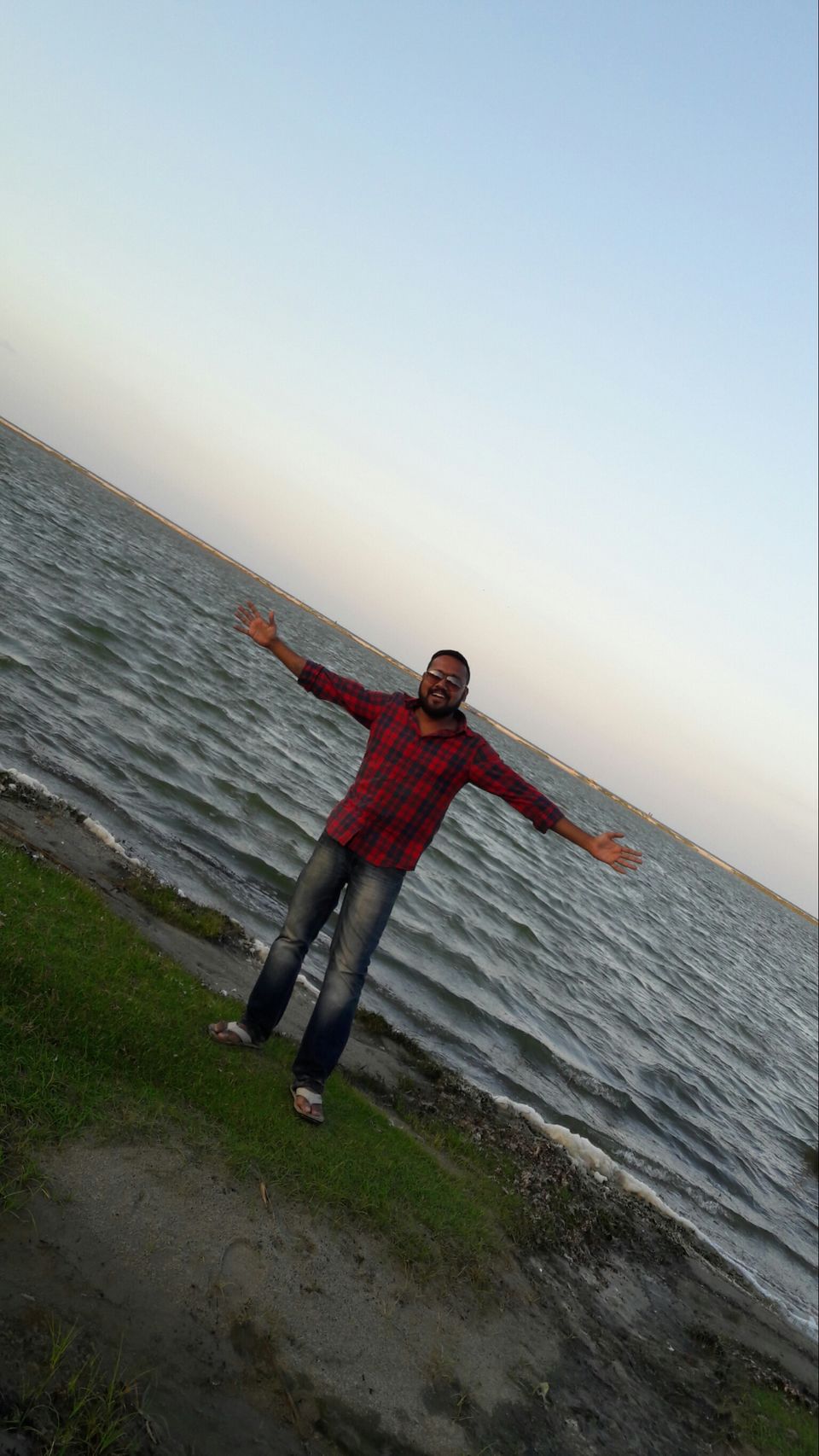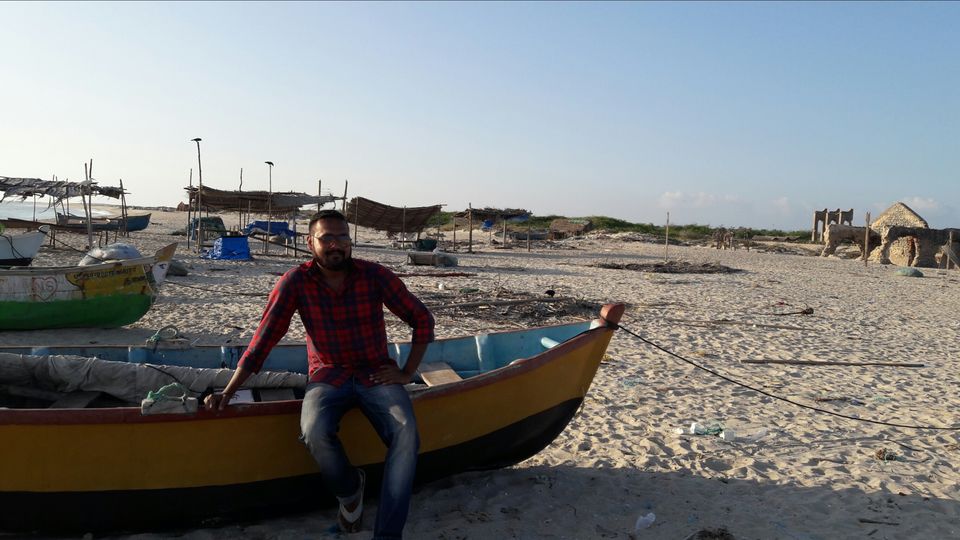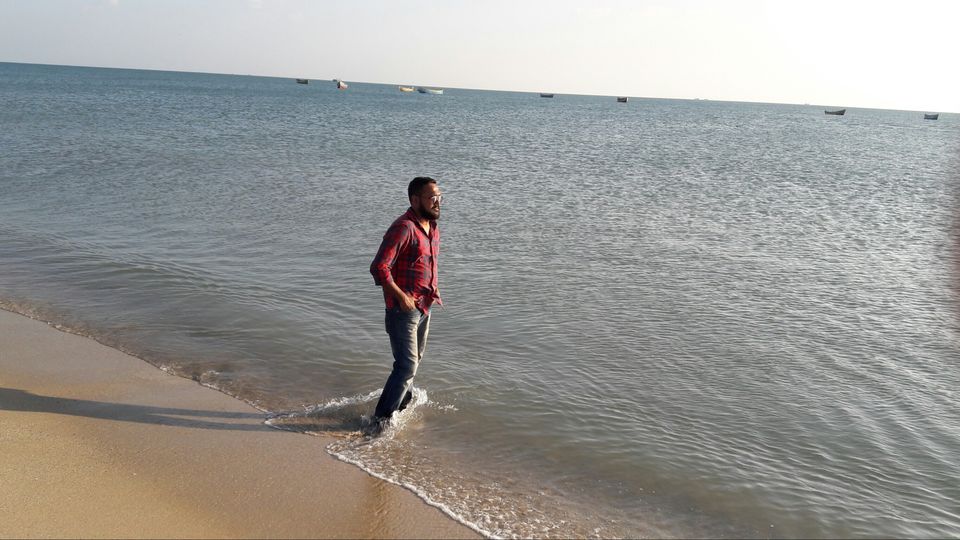 I came back to the cab its almost dusk, sun already sets from this place and Dhanushkodi looks totally different now its totally isolated place now. It drops me at the bus stop from where i bid adios to Dhanushkodi and left for Rameshwaram.
After reaching i took my rucksack from the temple cloak room and proceed towards the rameshwaram railway station as my next destination is Kanyakumari. Keep following my next blog regarding Kanyakumari or Cape Comorin.