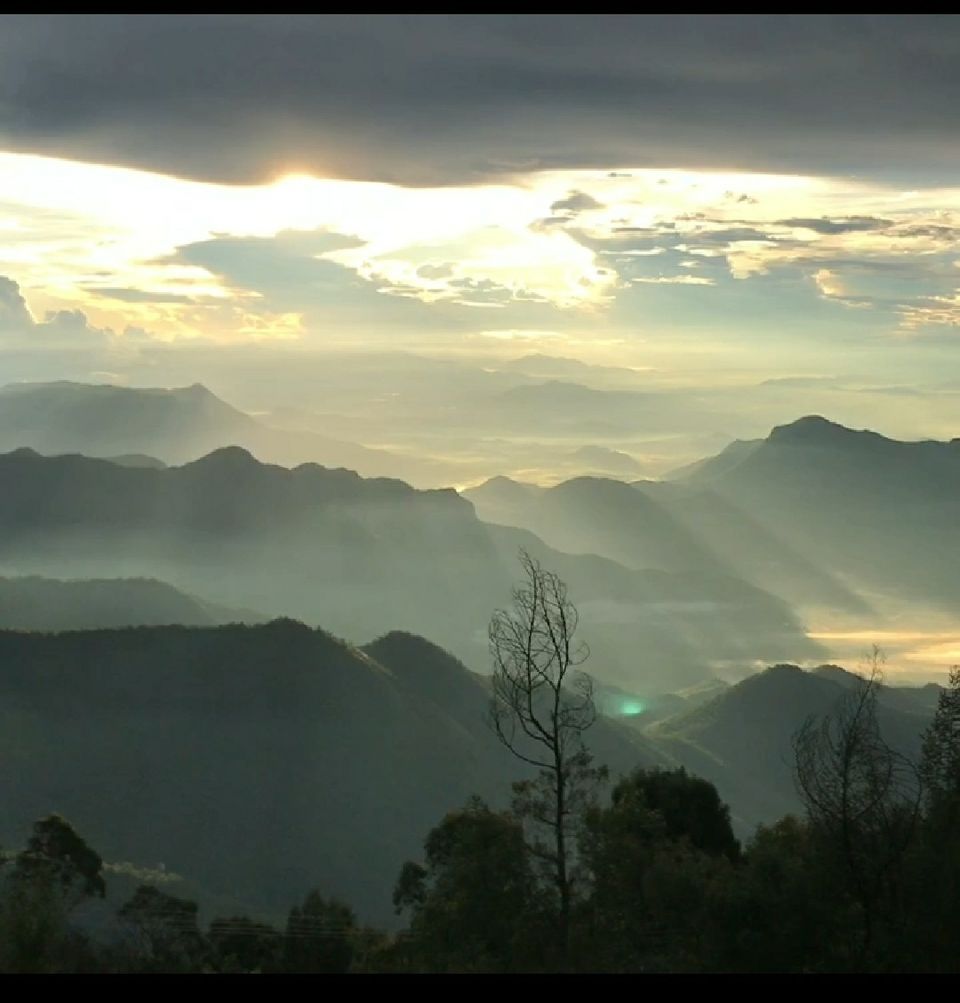 It all began with an impromptu road trip. I have been here twice through several modes of transportation such as bike, bus etc.
This time it was a car. I personally, believe that the serene beauty of Kodaikanal can only be enjoyed when you are on the highway. It will be a treat for your eyes if you take a car/bike as you can enjoy the fresh and cold breeze as well as the rollercoaster ride on the roads. The sight of the curves is a sight to behold.
The best time to visit the place is during the monsoon/winter season. You can enjoy the cold weather and the rains. Foggy weather and clouds serenading the sky. The view of the valley is breathtaking.
We started from Chennai in the night around 11. There's less traffic during the night. Whole night we played lots of Bollywood songs to keep us awake and made 2-3 stops for the amazing Kumbakonam filter coffee. The highway from Chennai is very well built and safe to drive. We passed through Trichy around 3 in the night. We reached Dindigul at 6 in the morning from there our destination was just around 92 kms. The highway from Dindigul to Kodaikanal is one of the most beautiful roads I have seen. It has red soil and lush green vegetation on both the sides. We reached kodai ghat from where we had to start ascending uphill to Kodai. The roads were like a roller coaster ride. There were many narrow bends and curves. You can see Manjalar Dam, a famous tourist location, while climbing uphill. We passed by schools and colleges and couldn't help but feel jealous of people studying there. Finally we crossed the tollgate for Kodaikanal.
We reached Kodaikanal after driving all night from Chennai. We parked near Kodaikanal lake. The weather was cold and welcoming. The place looked more beautiful then ever. We reached sooner than we expected. After feeling proud that we successfully reached our destination we started feeling a bit hungry. And there's no other place better than Punjabi Dhaba who satisfy our craving to eat tasty food. Punjabi dhaba is a small restaurant located 2-3km above Kodaikanal lake. The first time I visited this place the cook proudly stated to me
"If you find Parathas more tastier than mine,I will refund all your money"and he was right. Since then every time I visit Kodai I make sure that I eat here. His specialties include aloo paratha, paneer paratha, chicken paratha and gobi paratha etc. loaded with veggies, butter and love. Make sure that you come to this place in the mornings as in the evening the place is very crowded.
After breakfast we headed towards vattakanal for our stay. We stayed at a place near altaf Cafe at dolphins nose. The place is called Wildhomes and has the best view from the room.
Wildhomes is built on a large green landscape. The place has many rooms including dorm rooms, tree houses, cottages and room for couples. The place is ideally suited for every type of Traveller. The rent for the room starts from as low as 1000 bucks. It is quite affordable for such a spectacular view. The staff can arrange for a personal bonfire for your group in the night with an additional cost.
We slept for a few hours before heading for cycling and boating in the Kodaikanal lake. Kodaikanal lake has a track of 4 km where you can cycle/walk or paddle a boat. But make sure you reach before dark as they don't allow boating after sunset. We went to Bryant Park ,an another tourist spot, which is nice place to spend the evening. Around the lake there are shops from where you can buy tasty handmade chocolates. You can also buy locally made wines. After this we headed back to Wildhomes. We ate dinner at Altaf Cafe. Altaf Cafe has very tasty food and is located at a place from where you can view the whole valley from your table. Altaf Cafe serves a variety of cuisines including Mediterranean dishes.
We headed back to our room and within minutes a staff boy knocked our door to tell us that our bonfire was ready. We chatted, sang, played guitar and danced around the bonfire. The staff provided us with special lemon tea and black coffee. We spent the night looking at stars until the clouds started surrounding us as the night got colder.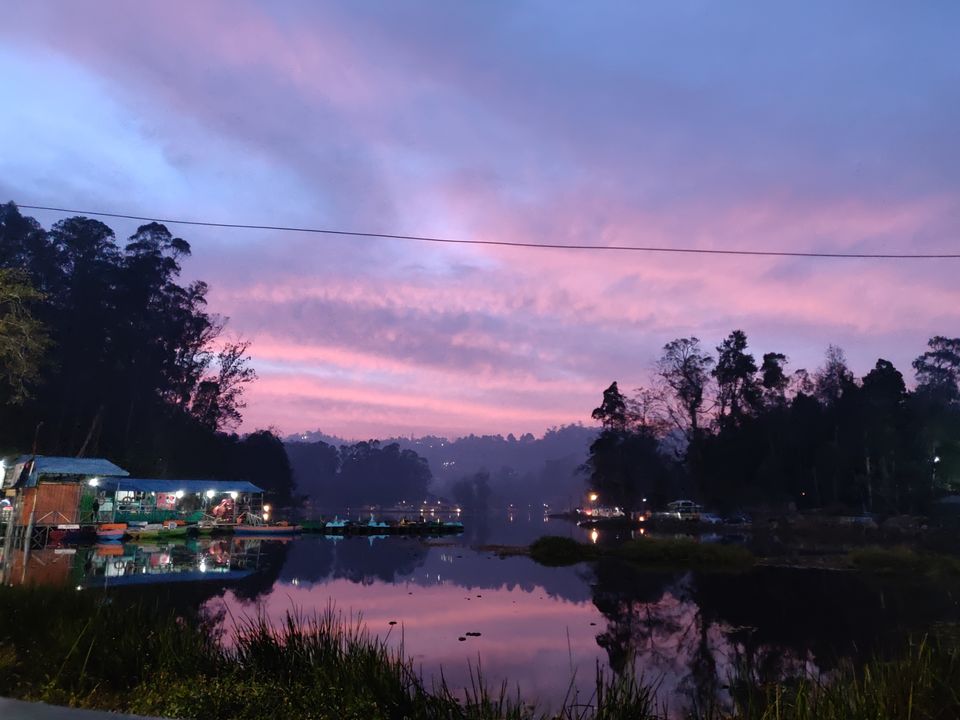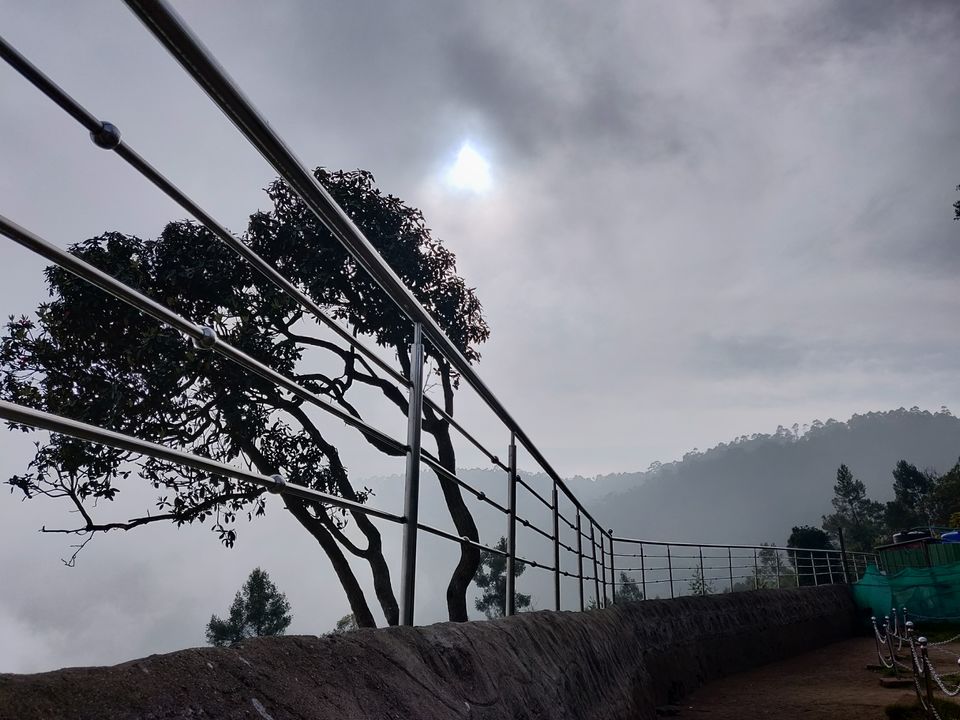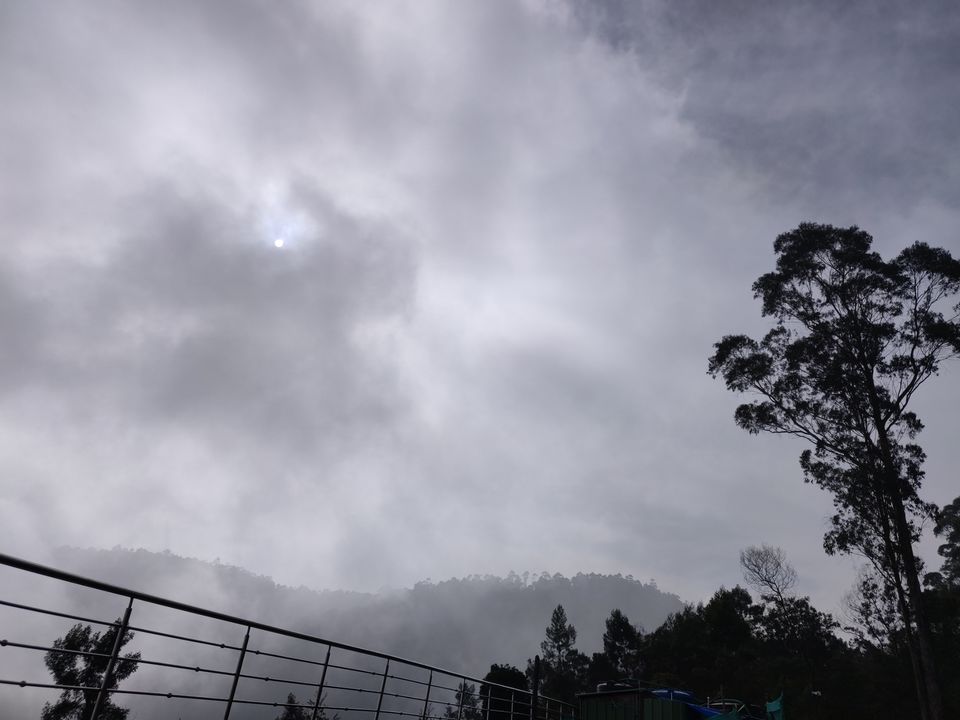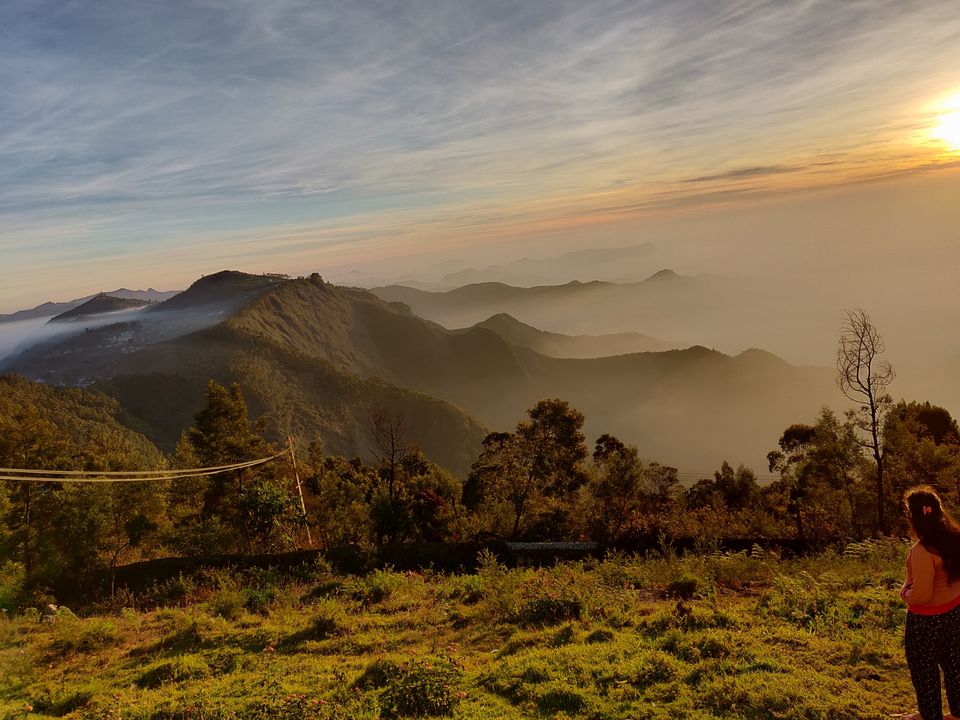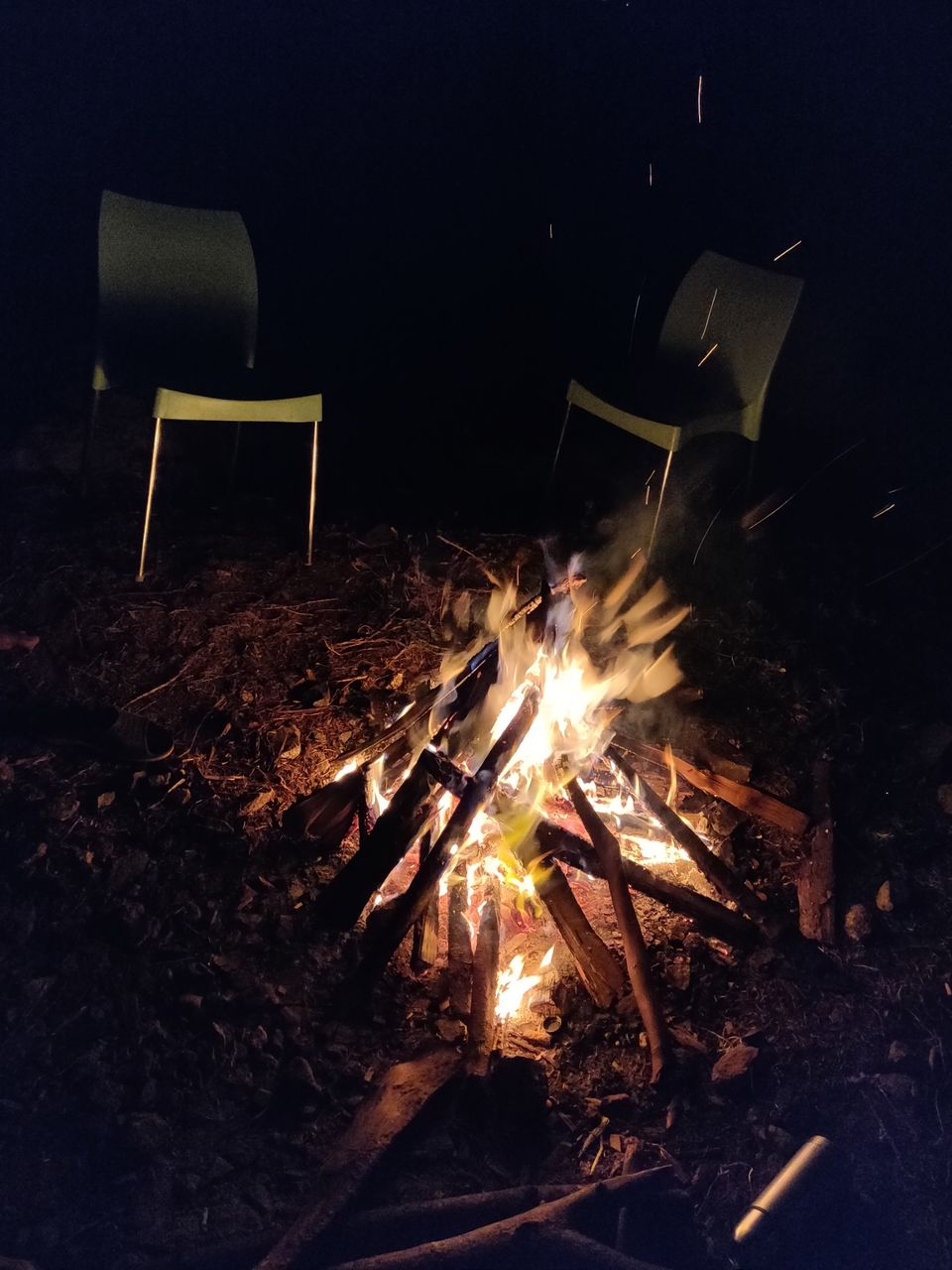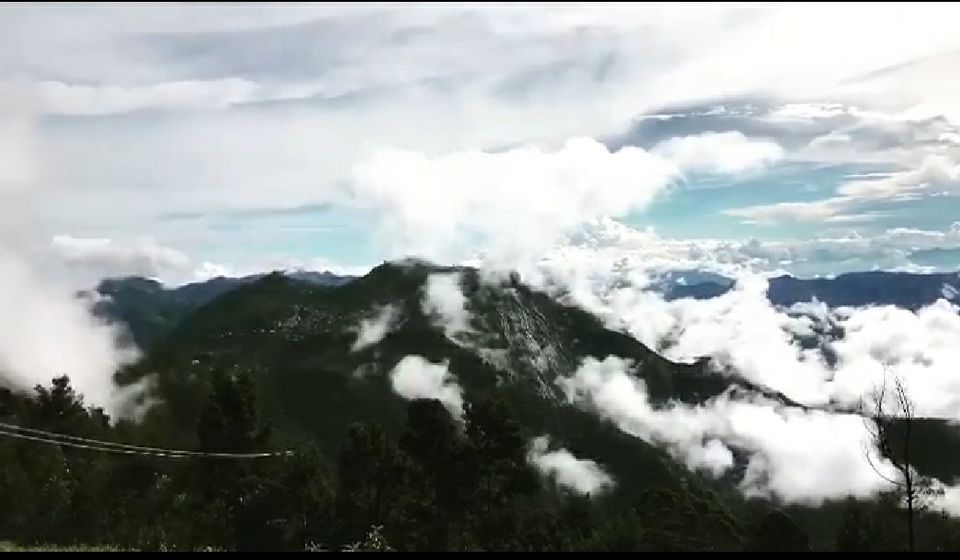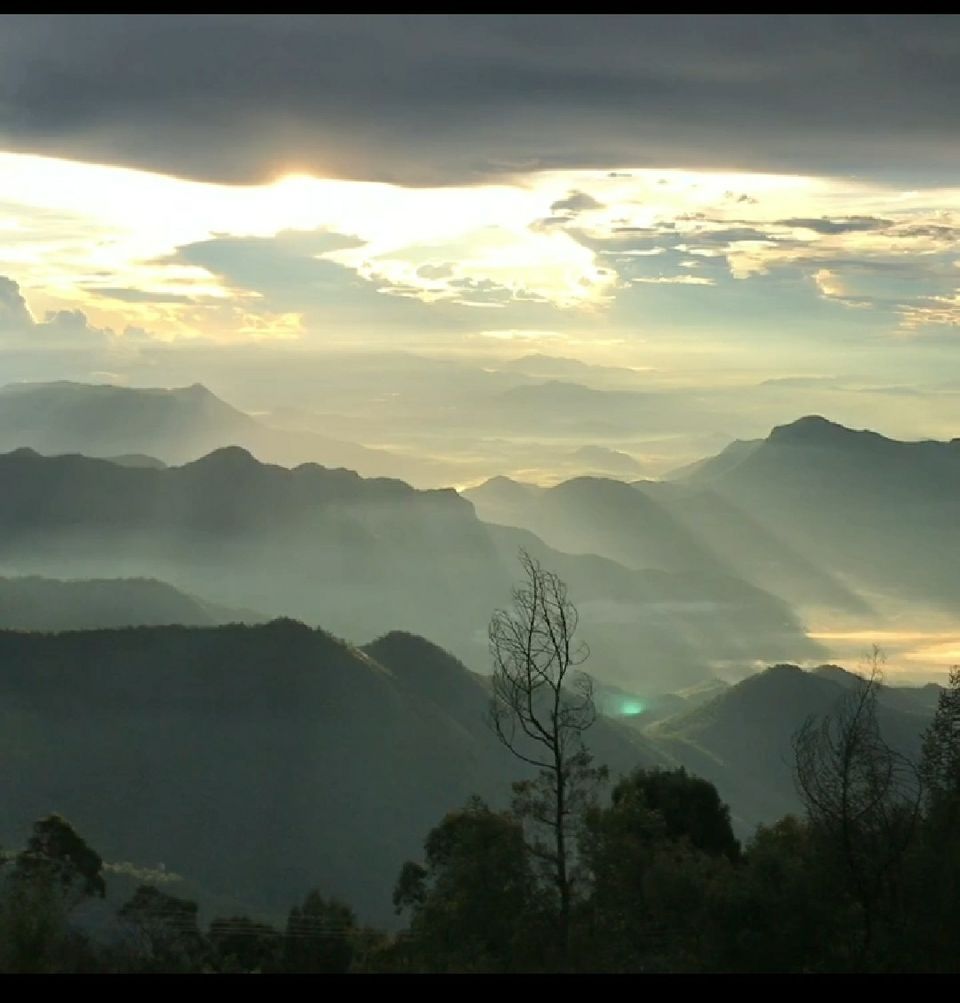 We woke up in the morning at six. to witness one of the most beautiful Sunrises I have ever witnessed. The whole valley cleared up and welcomed the sun with joy. Every place I go to I make sure that I see the sunrise and sunset. If you come to Kodai and stay at this place make sure you witness the sunrise. Without this your trip would be incomplete. After watching the sunrise we got ready for our drive to Kodaikanal wildlife reserve.
We First went to upper Lake view and headed towards berijam Lake. Berijam lake is at the distance of 23 km from Kodai. To visit berijam lake you have to reach the check post by 8:30 a.m. only the first 25 cars are allowed inside in a day. The timing to visit by the Forest Reserve bus is 9:30 a.m. to 1:00 p.m. you need permission from forestry department office to go to berijam lake which is situated inside the Berijam Forest Reserve.
Then we went to Pine forest. The place is clean and beautiful. The pine trees stand straight filtering the sunlight, making it a very photogenic spot.
Next stop was Guna caves. This place is full of wooden bridges made by hand. The trees are big and one can see the thick and long roots covering most of Guna caves.
Next we headed towards the Pillar rocks, this spot has view of the valley and three vertical granite boulders famously known as the pillar rocks. Going ahead from pillar rocks one can see Kodai golf club. Both sides of the road is covered with large green fields.
On the way back to Kodai one can see Pambar falls, Fairy falls and Coaker's Walk .
We reached back Kodai in the evening and ate dinner at Hilltop inn restaurant. Then we headed back to vattakanal for the sunset. We visited dolphins nose and spent the time embracing the beauty of Vattakanal.
This place never fails to mesmerize me anytime I visit it.
It will always be a memorable and amazing experience.