Day 1 : Mar 1, 2019 : Mumbai to Ooty via Coimbatore
After landing at Coimbatore in the afternoon we proceeded to Ooty. It took around four hours. It was a scenic drive to Ooty. We also saw different types of monkeys on our way. In Ooty we stayed in Serling Fern Hill Resort. My review of the hotel is very bad. One of the worst hotel i have ever stayed in my life. Very slow housekeeping. We saw some negative review of this hotel on 'Make My Trip' but due to the location of the hotel we booked the hotel and repented. Only consolation was their breakfast menu which was grand and very royal. Food options were wide and all of them was very very delicious.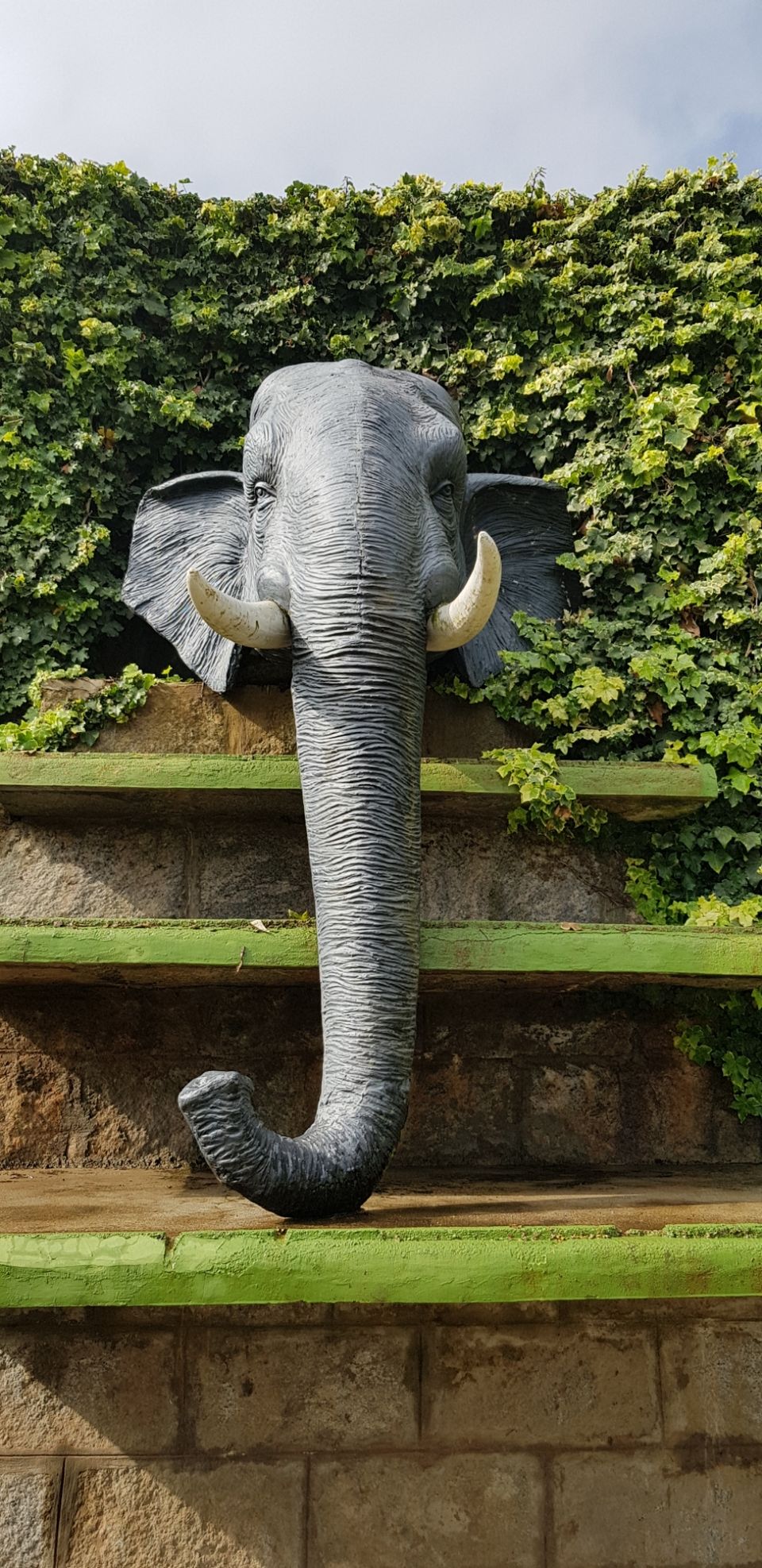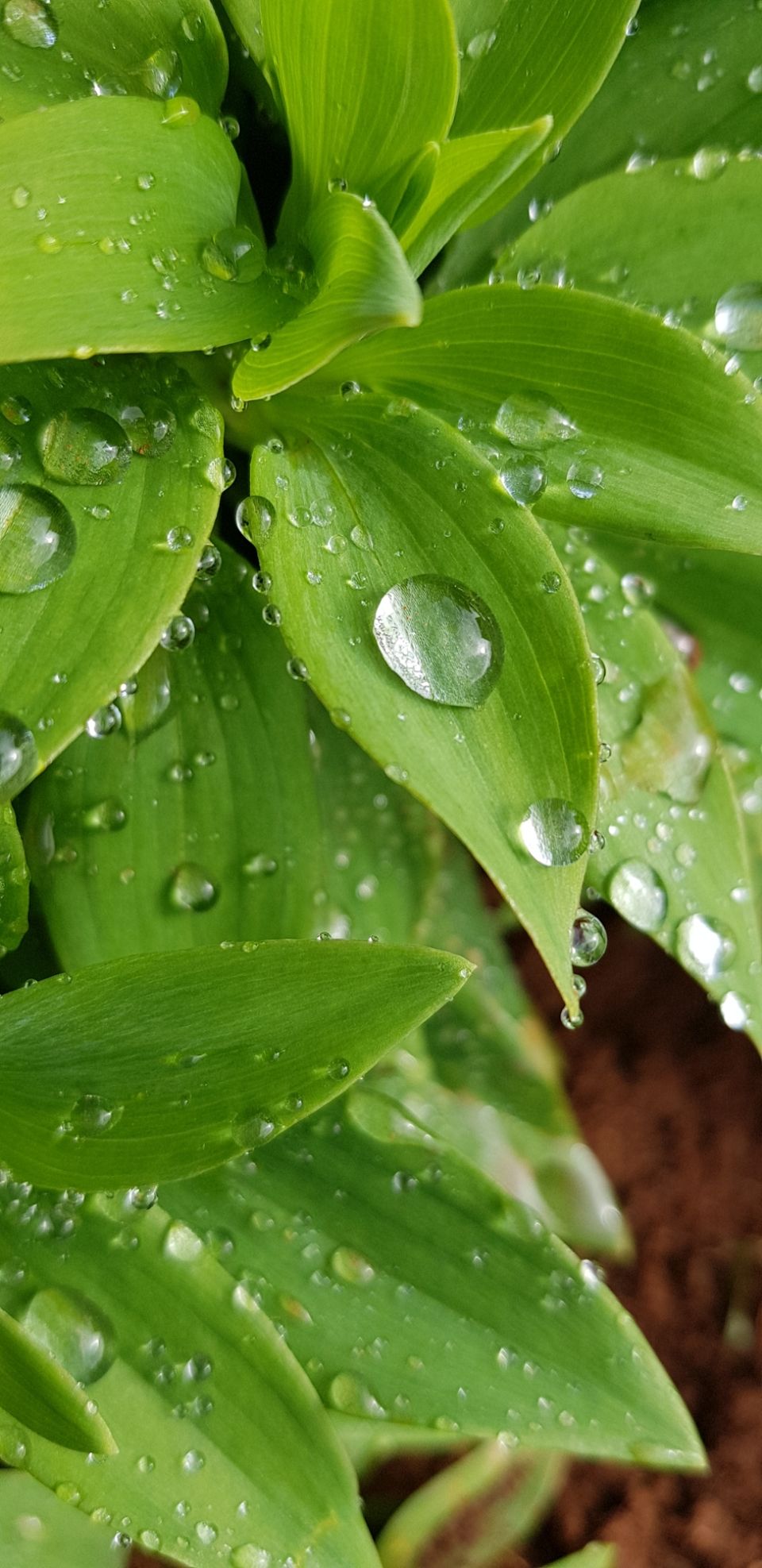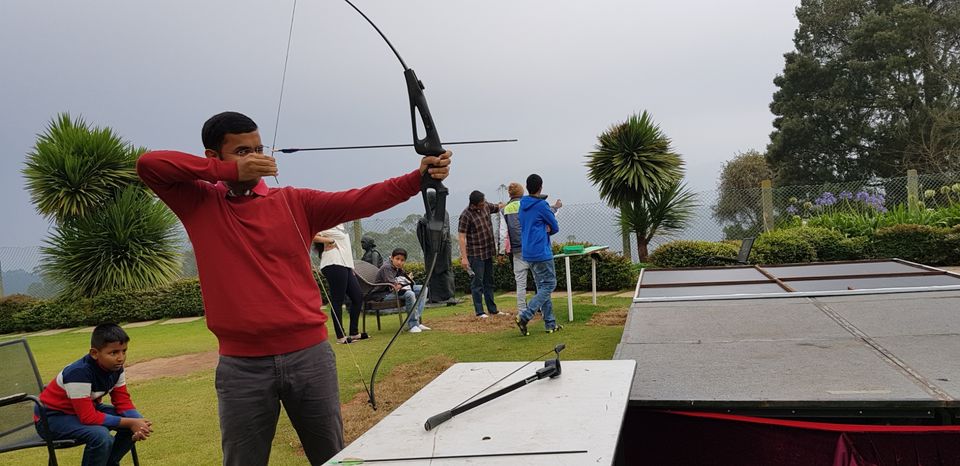 Day 2 : Mar 2, 2019 : Ooty
We started the day with Botanical Garden. This garden has great variety of plants and trees. The we moved to Rose Garden. This Rose Garden was in the making and around 70% of the plants were waiting for blossom of Roses.
We also visited one Tea Factory and chocolate factory on the way. My feedback is average for them. If you don't have anything to do you may visit them. If you are travelling with kids, you may let them know how the tea and chocolates are processed before coming on shopping centre's shelves.
After Rose Garden, we proceeded to Doddabetta, the highest peak point of Tamilnadu. We had a wonderful arial view from there.
We ended the day with Boat Club. Since there was a very long queue, we did not tried boating.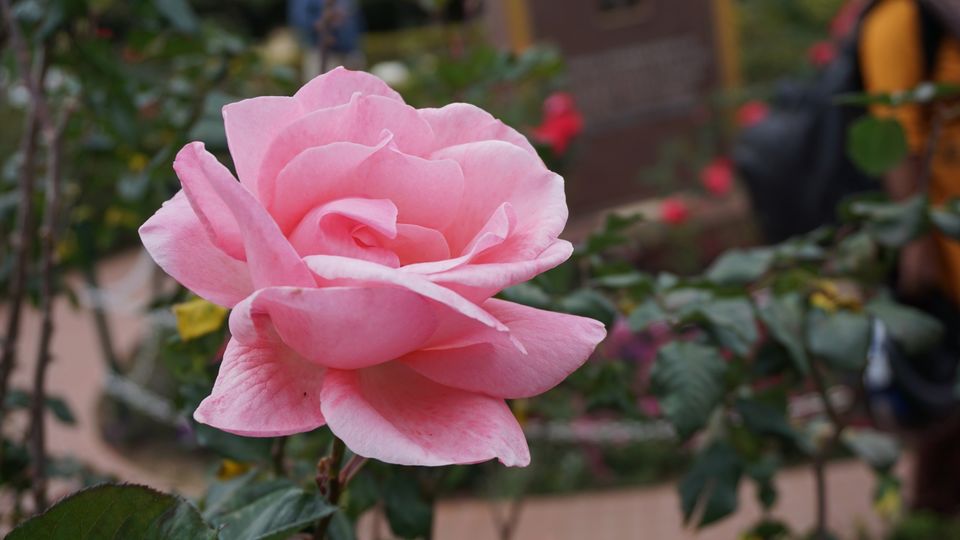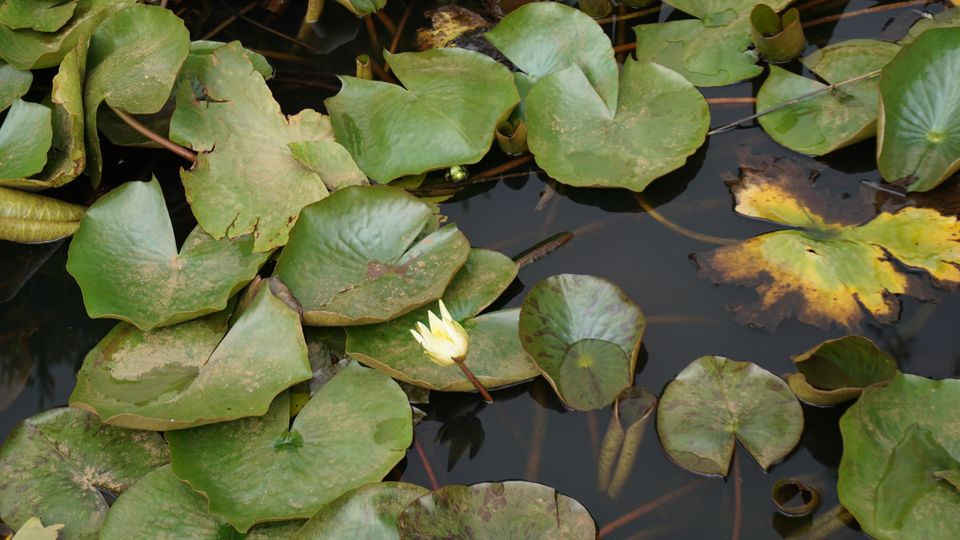 Day 3 : Mar 3, 2019 : Ooty to Coimbatore
We checked out from the hotel around 9 am and reached Hotel Poppy, Coimbatore around 1 pm. We found Hotel Poppy good, room was carefully planned. Rooms light were digitally controlled. Their services were quick. Breakfast variety was also good but not as wide as in Sterling Fern Hills. However considering the price of the stay, breakfast variety was indeed praise worthy.
After lunch, we proceeded to Isha Foundation. This place is amazing and a must see place in Coimbatore. You need min two hours here to properly explore this place. This place has a wonderful temple of Lord Shiva where you need to observe strict silence. You can also maditate here. This place also has a huge statue of Adiyogi. Since we visted just one day before Mahashivratri this place was very crowded.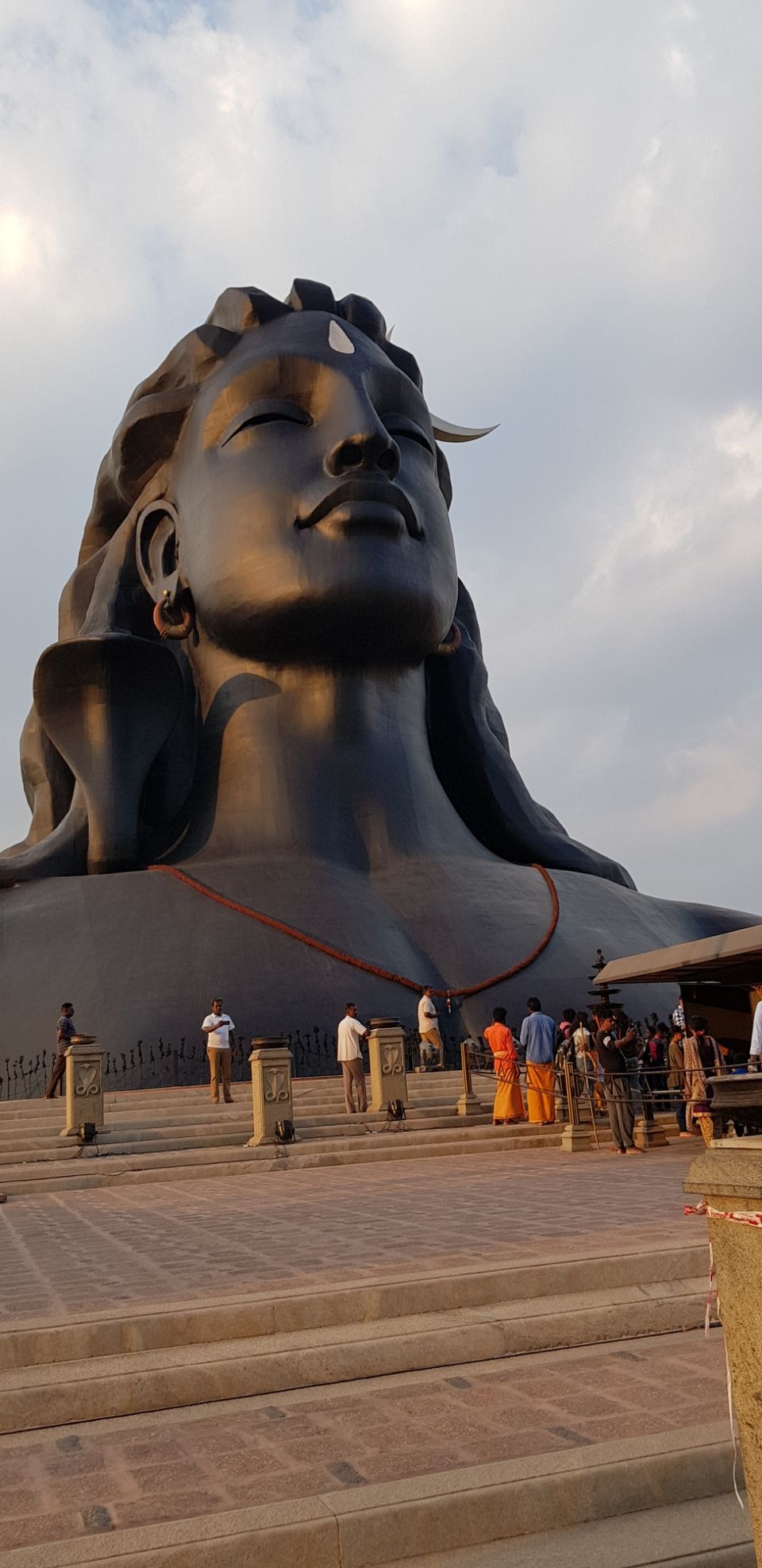 Day 4 : Mar 4, 2019 : Coimbatore to Chennai
Today after breakfast we went to see Murugan Temple. Its is out of city and situated on a hill. This temple had beautiful paintings on its wall.
We came back to Hotel and rested to catch our evening flight to Chennai. Upon arrival we checked in to hotel (KTDC Rain Drops) and over night at Hotel. Though the first impression of the hotel was not good but at the end they won the heart by their great service.
Day 5 : Mar 5, 2019 : Chennai
After tasty breakfast at the hotel we started our day.
Sri Parthasarathy Temple. This temple is dedicated to lord Vishnu. We started the day with this temple.
Kapaleeswarar Temple : This temple is dedicated to lord Shiva. Please keep 15 mins for observing the beautiful sculpture on the outer wall of the temple.
In the noon as temples were closed, we did shopping at Decathlon and lunch at Sarvana Bhavan, T Nagar. We ordered north indian dish at this south indian restaurant and realised our mistake.
After lunch we had ice cream at Elliot's Beach. Thereafter we went to Theosophical Society to see the great banyan tree. Its a huge tree and considering to be around 500 year old. Some people also say its around 1000 year old. Its main trunk got distroyed but its huge branches are still there.
In the evening we went to Marina Beach and had 'dry bhel' at the beach before ending our day site seeing.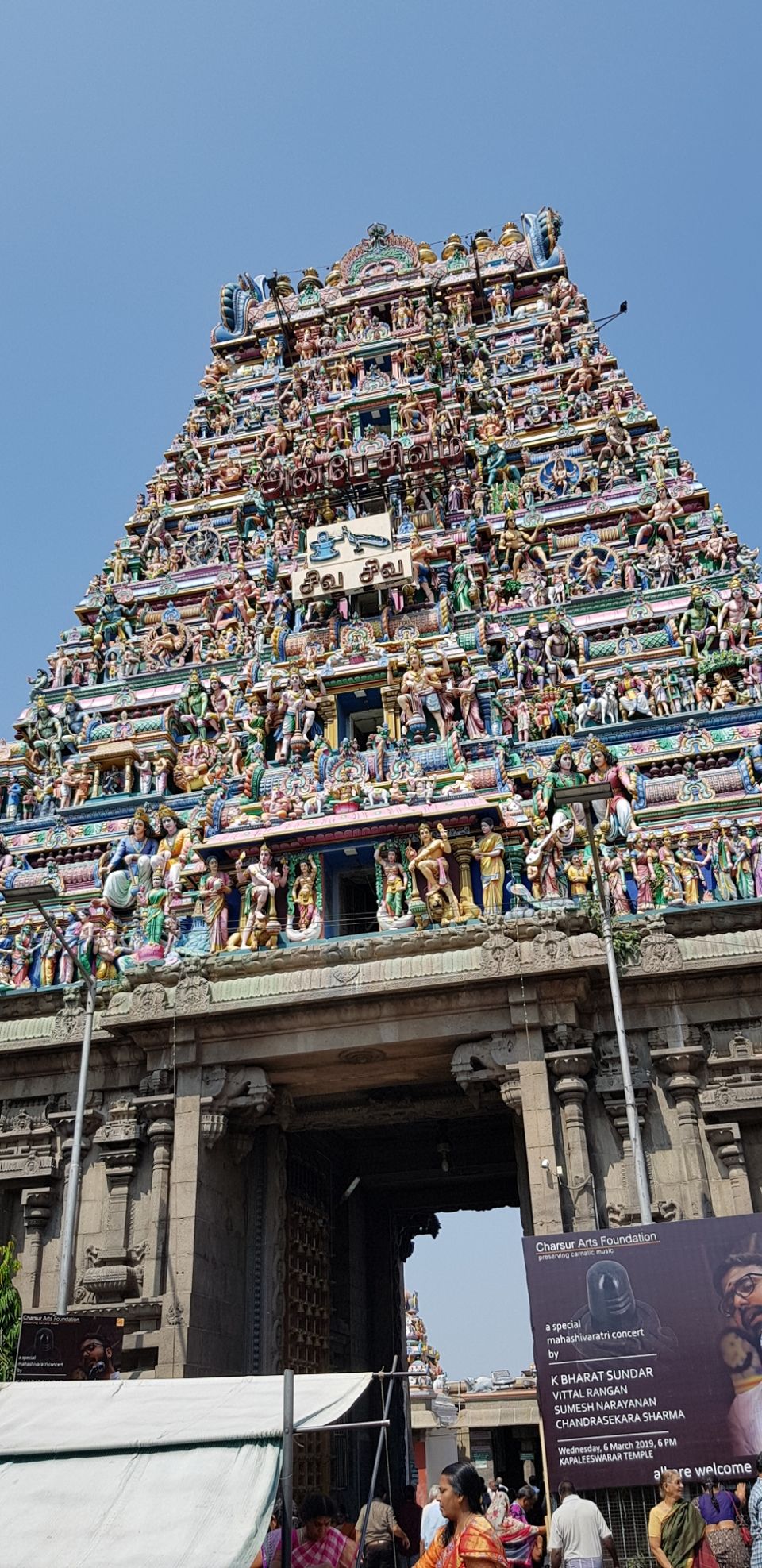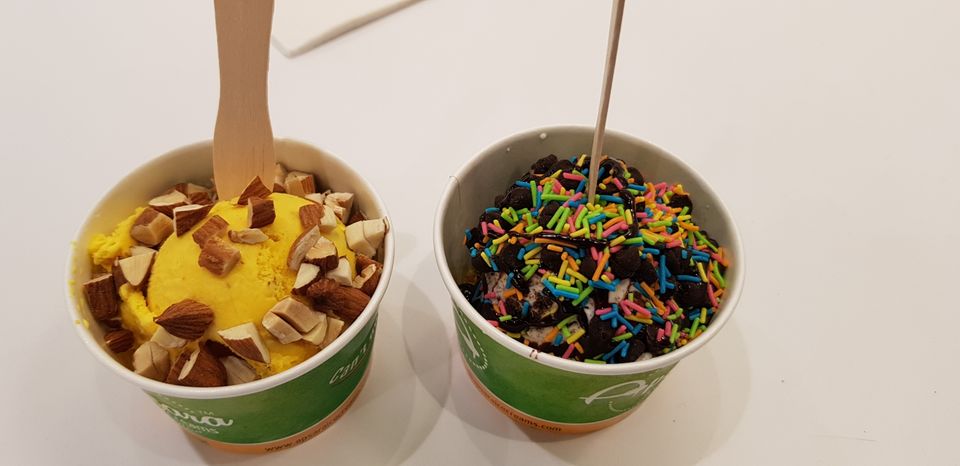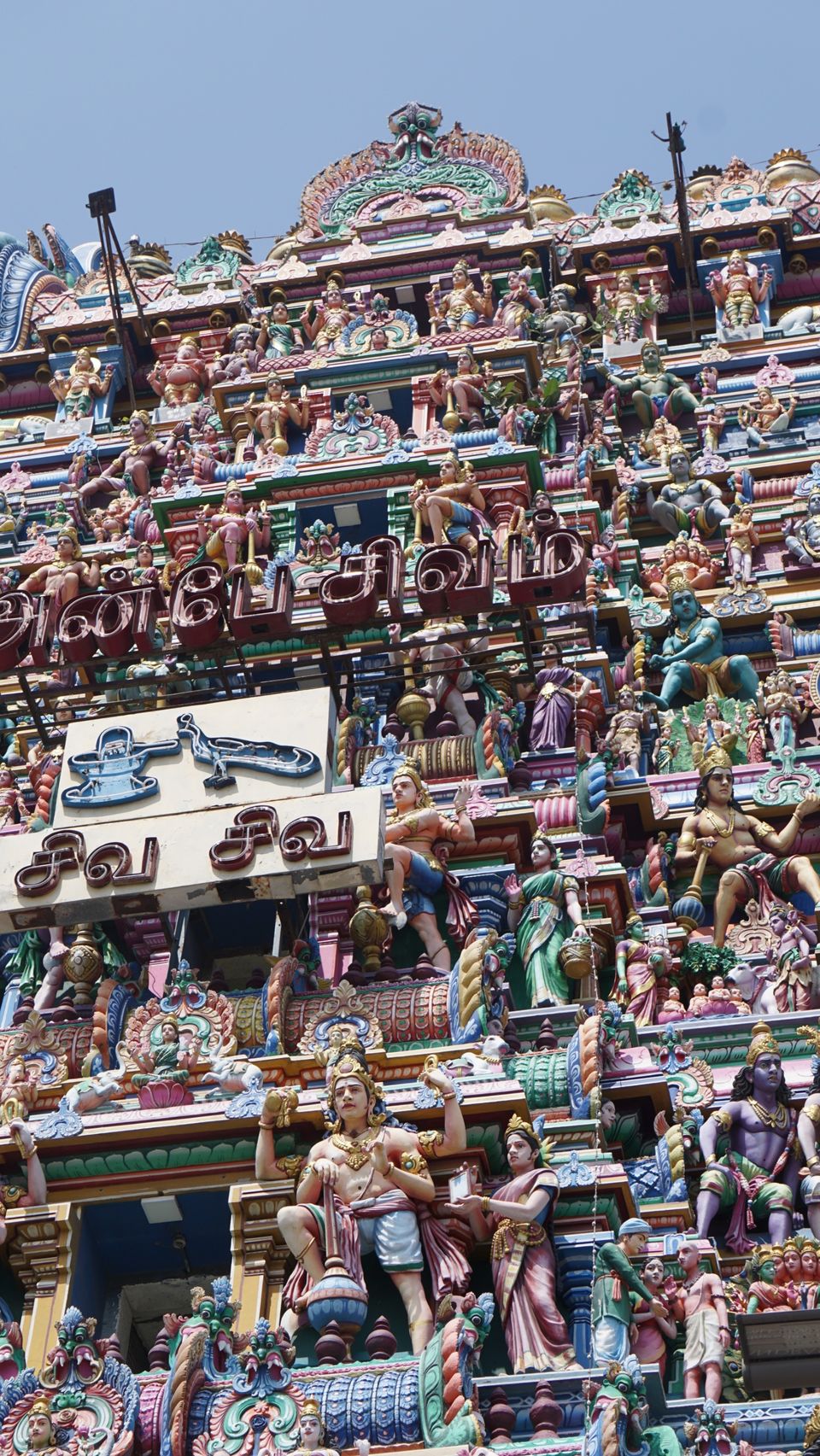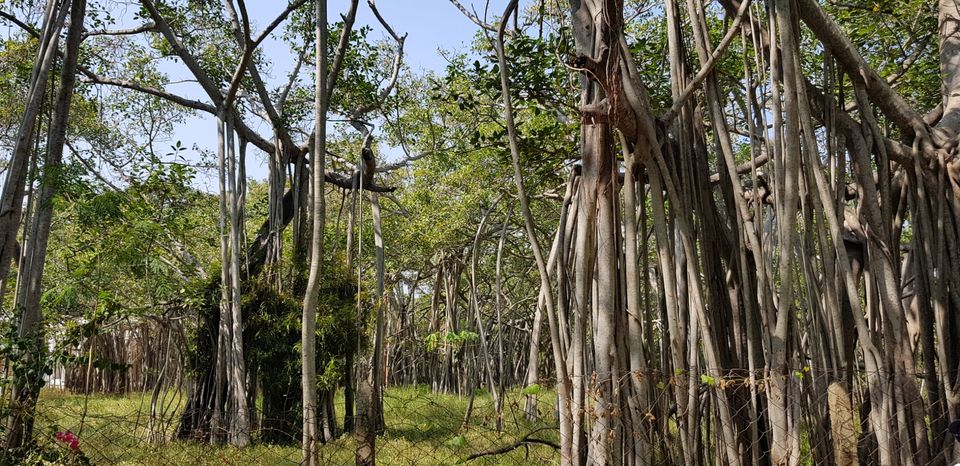 Day 6 : Mar 6, 2019 : Mahabalipuram via Kanchipuram
We checkout from Chennai hotel and started our drive to Kanchipuram. We started at 8.20 am and reached Kanchipuram at 10.40 am.
Kamakshi Amman Temple (Temple of Goddess Parvati, its believed that one should start from this temple only. We had a good darshan from outside).
Varadharaja Perumal Temple
It is a big temple and It is better to read the map carefully before entering the temple else you may miss some key temples. This temple has a very beautiful idol of God Vishu with a beautiful smile on his face. The idol is so beautiful that you will be mesmerised in thoughts for few seconds. In second temple there is a carvings of two lizards one is golden colour and second in silver colour. It is believed that if you touch these lizards, you are sins will be washed away. You need to buy ticket (Cost Rs 2/- per person) to touch the lizards. There was one uncle infrond of me, who came with a big family. He didn't buy a single ticket and was pushing, pulling, tickling etc etc the lizards that i was afraid that the roof should not fall on his head.
Ekambaranatha Temple (Old Shiva Temple with beautiful idol of Parvati worshipping Shiva, Many Shiv Lingas and we did pooja at one shiva linga. We finshed or temple run with this temple as all temples closes at 12 noon in Kanchipuram.
Sarvana Bhavan (Good South Indian Thali on banana leaf). Before proceeding to Mahabalipuram we had lunch at Sarvana Bhavan. I would recommend this place for sure for lunch in Kanchipuram. Try their local meal which they serve on banana leaf. Many foreigners also tried the same after watching us.
We left Kanchipuram at around 1 pm and reached Mahabalipuram around 3 pm. There were some goofup in the Hotel as we reached a different hotel with almost similar name. But it happened for good to us.
After short rest at the hotel we proceed to Shore Temple. I would recommend to visit this place after 4.30 pm to watch the sun set or 6.30 am to enjoy the sun rise.
Shore Temple and Mahisasur Rock. Beautiful temple on mahabalipuram beach, with clean gardens. We saw one very old shiva linga from outside. Temple is closed for any visitor. Its architecture was jaw dropping. Its feel like venturing in a different world. After Tsunami this temple got damaged. But still it has enough grace and glory to attract tourists.
After temple darshan, my wife did some street side shopping of stone necklaces.
India Seashell Museum. We saw a wide variety of sea shells, fish museum with clown fish, eels, crab etc. We also visited pearl museum and its shopping centre. We bought some pearl jewellery, pink counch, fridge magnets etc. This place is a must visit in Mahabalipuram. Prices at this place was also reasonable.
We had dinner at a Veg restaurant near to our hotel. We tried Paratha Korma which was average in taste.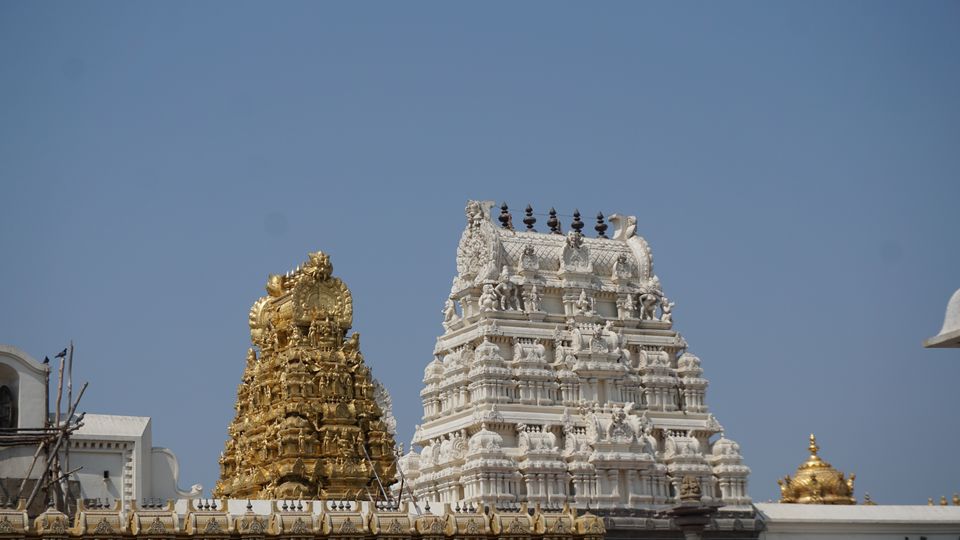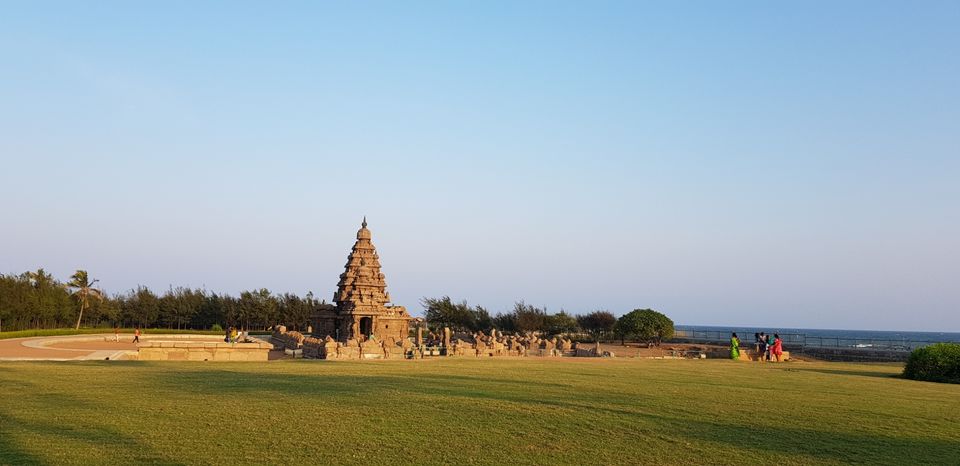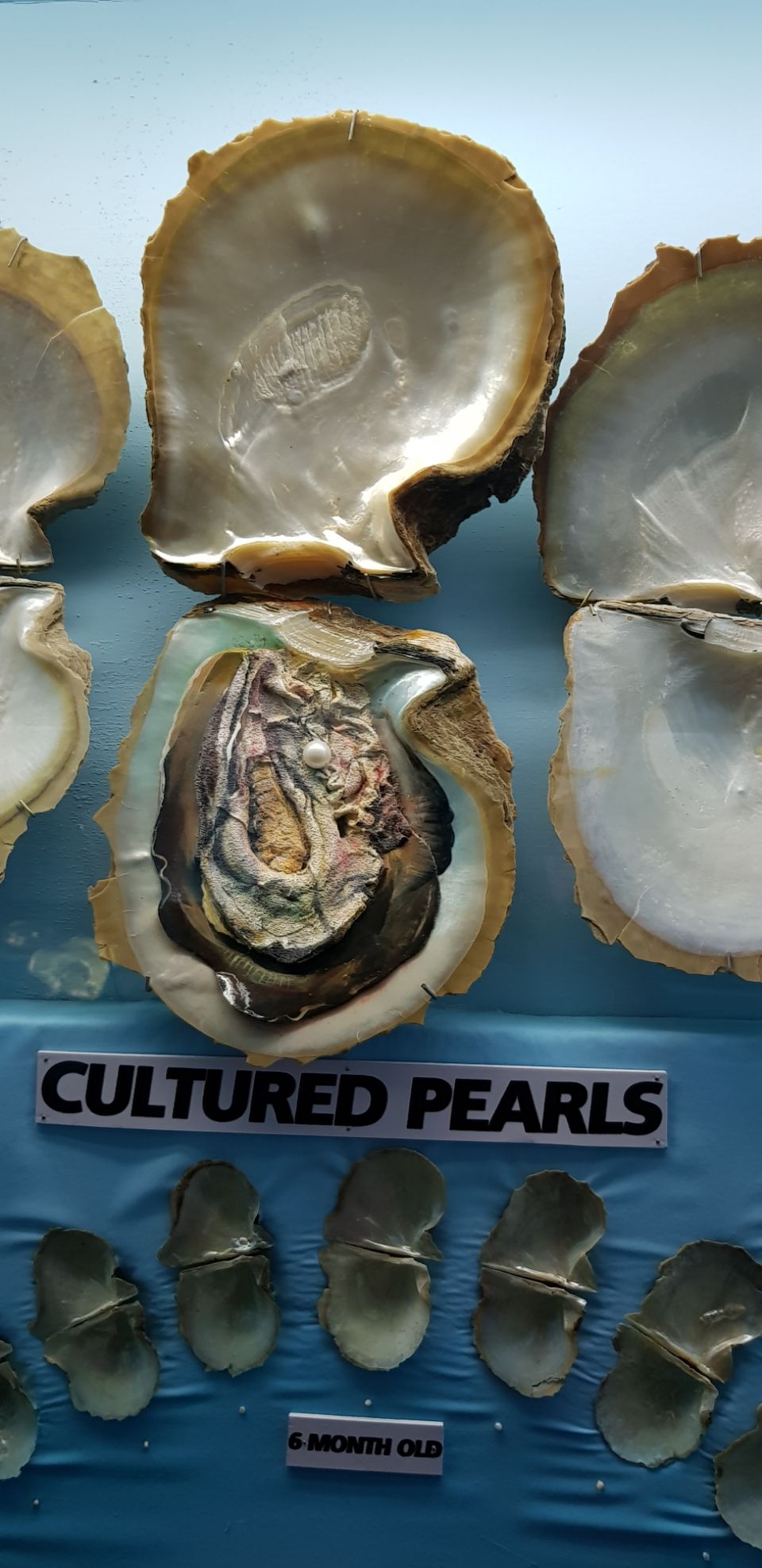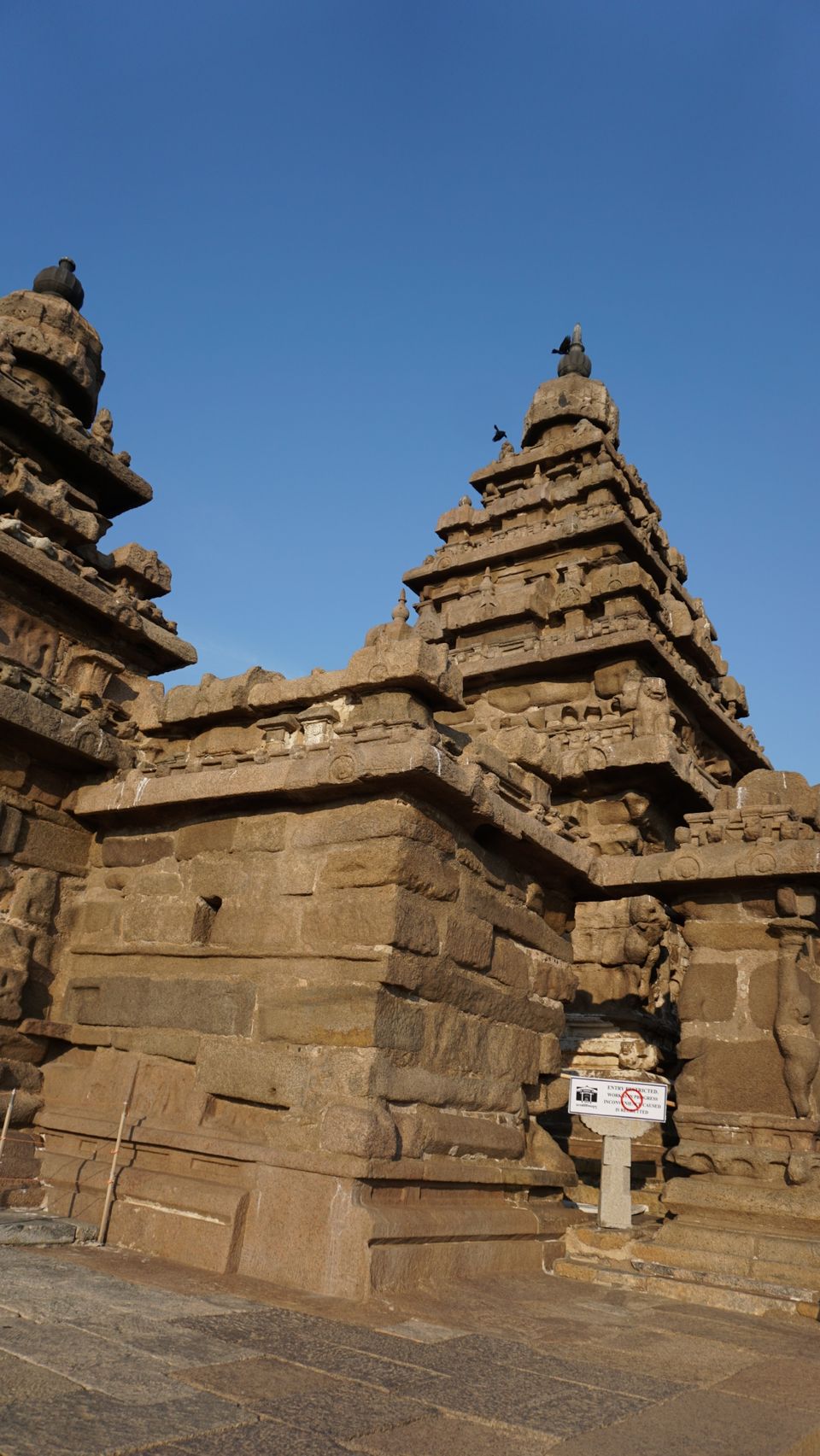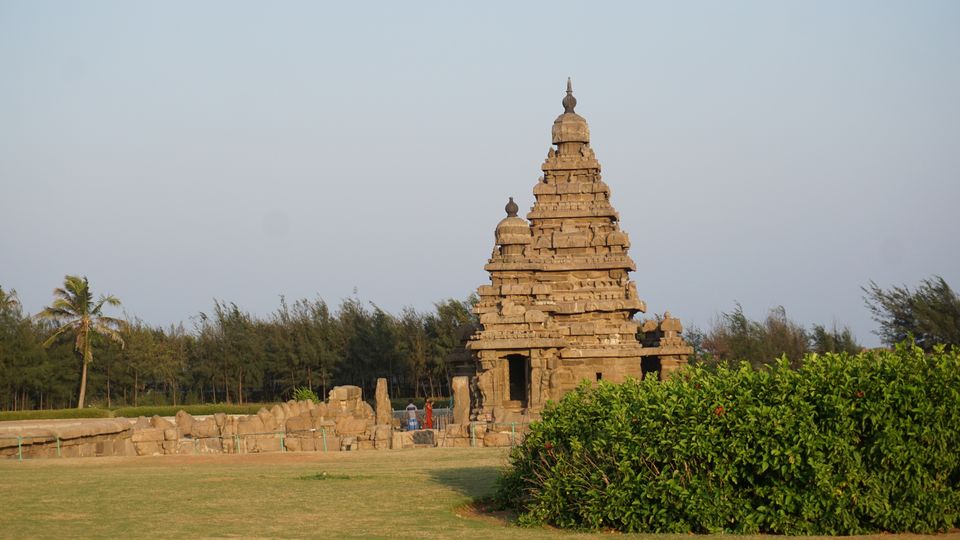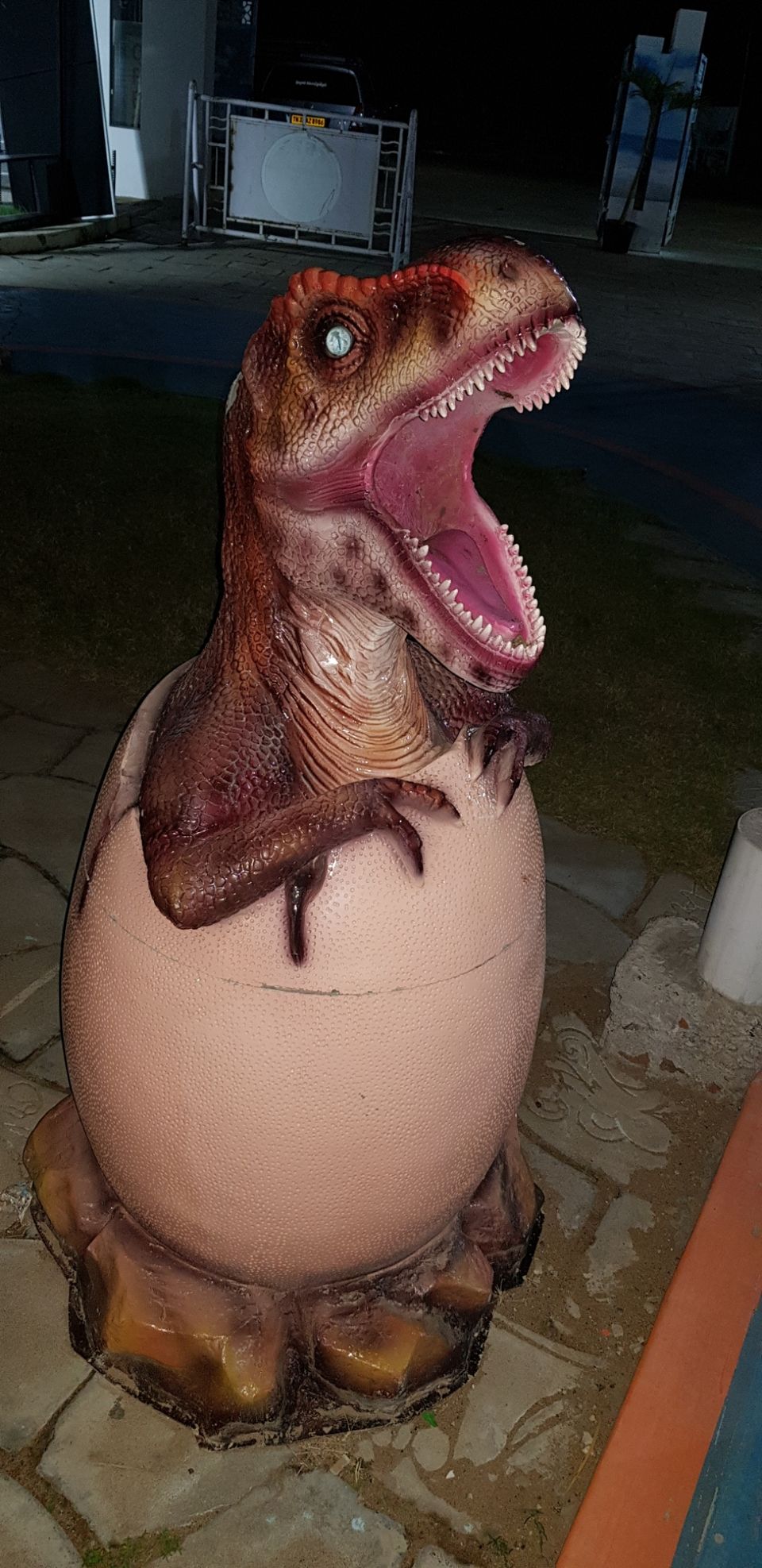 Day 7 : Mar 7, 2019 : Mahabalipuram
Today i did some exercise on the roof top of the Hotel. It has a wonderful view of Temples and light house.
We started our day with walking tour of Arjuna's Penance and Krishna Butter ball. Its at walkable distance from the hotel. It took only 5 mins to reach there. Carving on the stone were great. Its better to read some history before going there to make the trip more meaningful. Krishna Butter ball was also very delightful, we took many photographs there. This compound also has many semi finished temples. After completing most of the temples we moved to the hotel to have our complementary breakfast. The breakfast in the hotel was average and very limited. You can order eggs, doosa and poori bhaji separately which was also complimentary.
Afternoon we stayed indoor as it was very hot outside. We watched TV. We also used swimming pool which was clean.
Evening we went to Five Rath. There are many shops before the ticket counters and we became so busy in shopping that we forgot to buy the tickets. When we reached the ticket window it was closed. We were lucky as we found a person who had accidentally bought some extra tickets. We bought tickets from him and we also hired a guide. Guide took Rs 100 which we found sufficient considering the history which he informed to us. We bought stone wine glasses from a shop and some stone artworks. It advisable to check prices in some shops before making a buy decisions. For eg wine glass which we bought at Rs 315 was priced as Rs 2500 in the shop near to our Hotel.
After shopping we had dinner at a road side food seller. The food was fresh, very tastey and pocket friendly.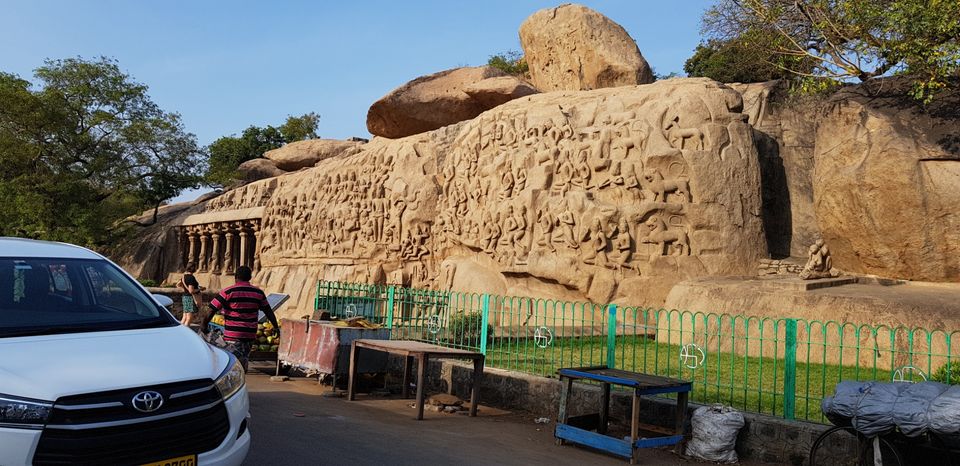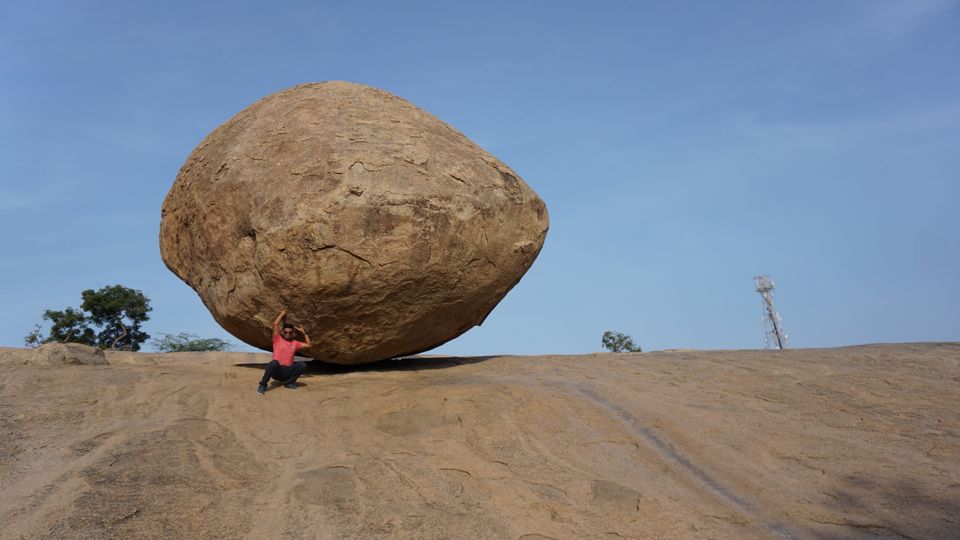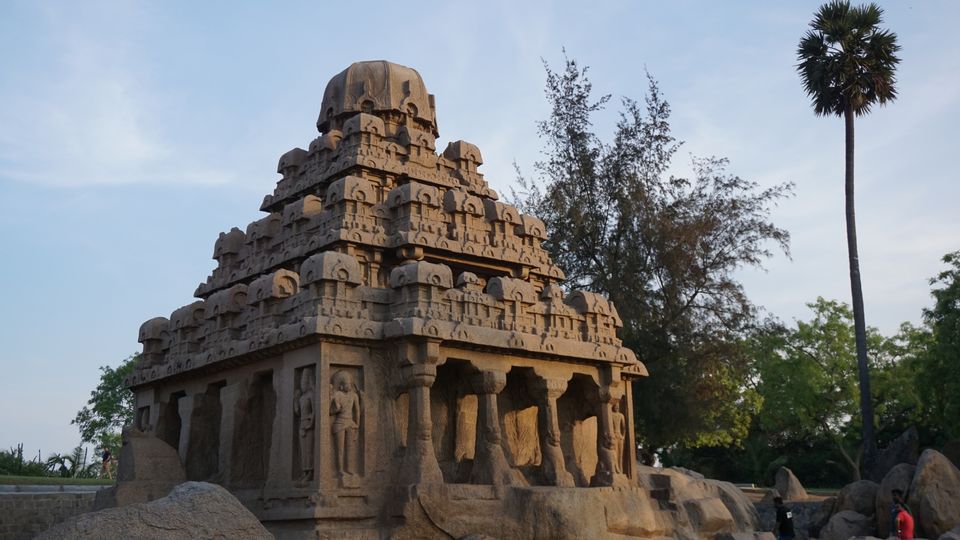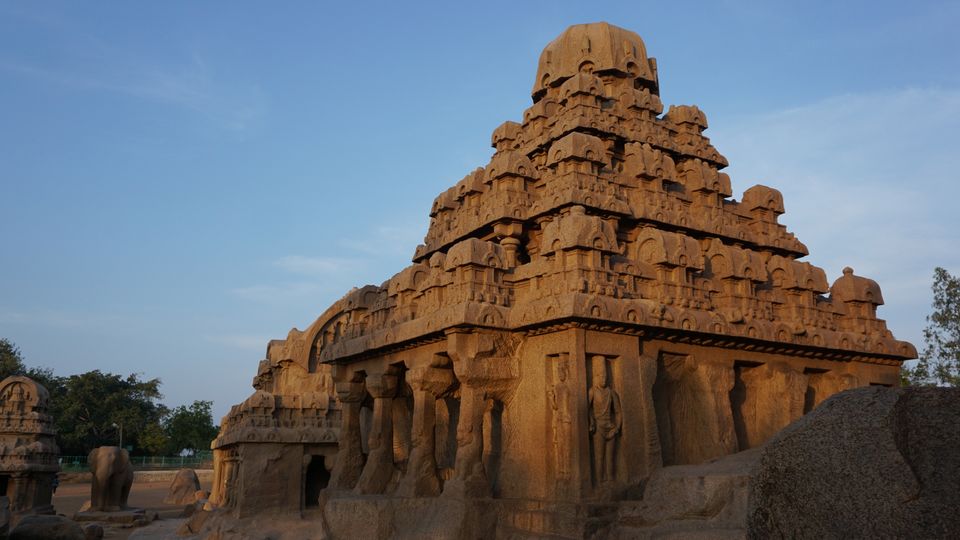 Day 8 : Mar 8, 2019 : Pondicherry
We checked out from Mamalla Heritage at 10.15 and started our drive to Pondicherry. We reached Ginger Hotel Pondicherry at 12 noon. Hotel lobby is good and spacious. We had a swift check in though the official time of check in was 2 pm. This hotel has a coffee house and a restaurant offering tasty dishes in the lobby. We tried some north indian food in the dinner and it was good. However the location of the hotel is not good there is nothing outside of the hotel.
Le Cafe : We went to sea side to eat some food. It has many french style buildings including the office of Chief Minister and French Counsellor. We went to Le Cafe to eat pizza in Lunch. I find this place a very good eating joint at the sea shore. It was offering various types of coffees and snacks. We tried water melon juice, pizza and Mushroom Sandwich. Mushroom sandwich was very tasty.
Aurbindo Ashram : After lunch we went to Aurbindo Ashram. Its very peaceful place. You are asked to switch off your mobile before entering the ashram. This place has very good collection of flowers and books.
Promenade Beach : This place is like marine drive of Mumbai. You may spend some time in the evening here or can do the jogging in morning. However you need to be careful as this place and many stray dogs.
We had room party in the evening. Liquor prices in Pondicherry are low as compared with Tamilnadu and Mumbai. However not as low as in Goa. In Dinner we had Papad, Veg Manchurian, Paneer Butter Masala and chapati. Food was good.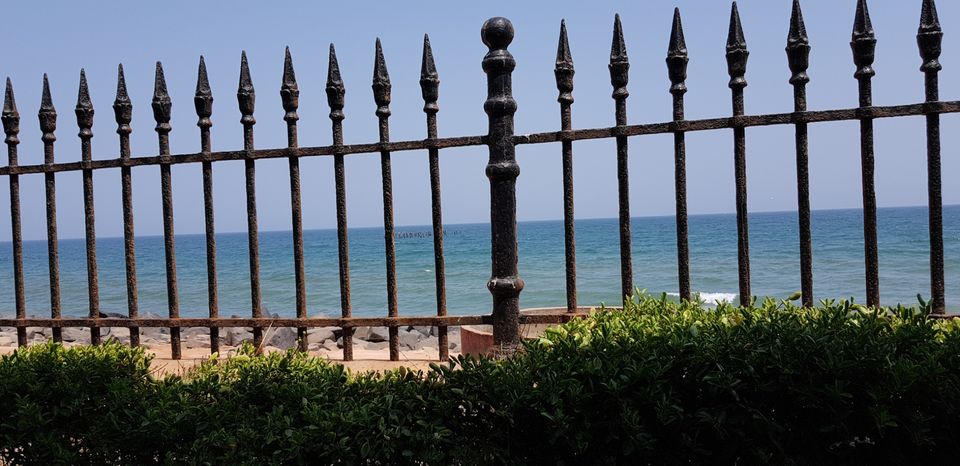 Day 9 : Mar 9, 2019 : Pondicherry
The breakfast at the Hotel was good. Though the options were limited but we find the enough to satiate your hunger pangs. We liked the sambhar and methi paratha the most.
This hotel as a garment shop in its compound. We bought some T Shirts and my little one bought one color changing T Shirt which changes its color when you venture out in Sun.
We again came down to lobby for lunch at restaurant at the lobby. Though all the dishes were very tasty but the service order was not good as the starters were given after main course. Aaloo Paratha is a must try in this hotel.
After lunch we went to Auroville. To see the Matrimandir you need to walk for around 10 to 15 mins. Alternatively you may also rent a bicycle. The place is full of fresh air and serenity. Lot of big trees and a hugh mammoth banyan tree. I never saw such huge tree in my life. We got tired after walking so had very delicious ice cream at one of the cafe in the ashram. Ice cream were very good and reasonably priced. I would say better than natural ice creams. Its a must try thing in Pondicherry. We also tried samosa and tea at a different shop. They were also very tasty. We also visited a boutique but found most of the stuff were very highly over priced.
After Auroville we went to Auro Beach but came back after five minutes as there was no place to sit. We also saw a lot of garbage around the beach area.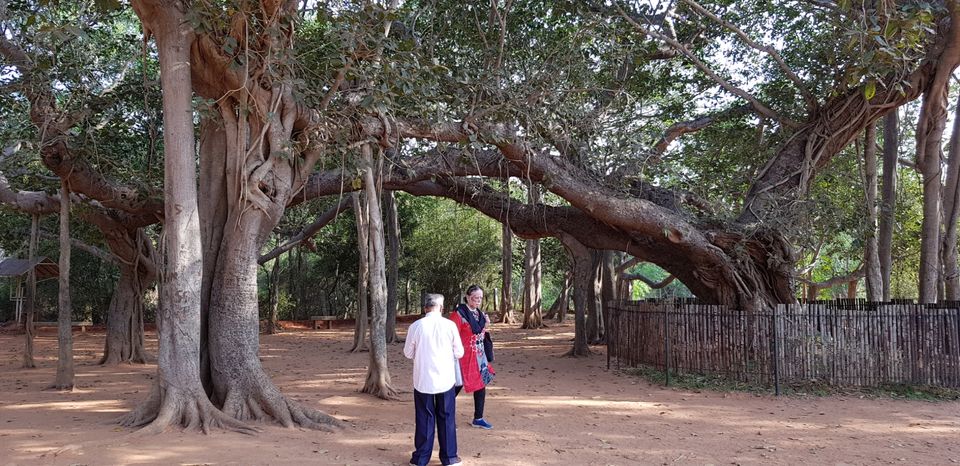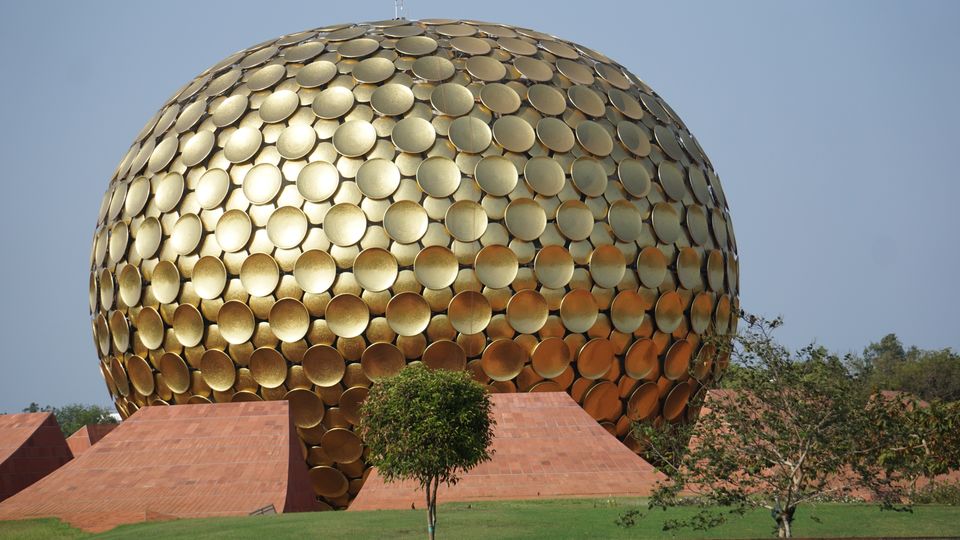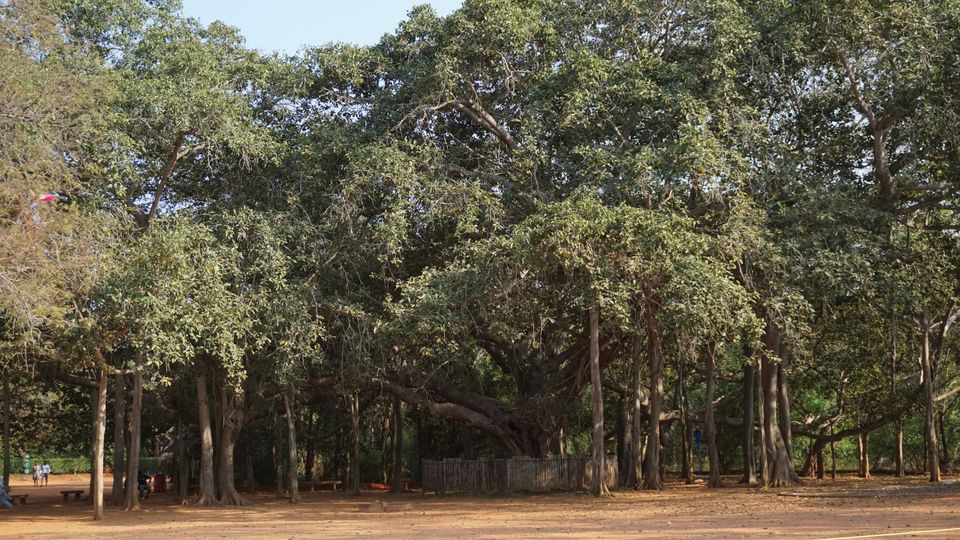 Day 10 : Tanjore via Chidambaram
After an average breakfast at Ginger Hotel, we left for Chidambaram at 8.30 am. It was a scenic drive with green rice paddy fields on both the sides. We also saw one big lotus pond on the way, there were atleast 100 lotus in that pond.
Thillai Nataraja Temple (Chidambaram). This temple was our first pit stop. We reached here at 12 noon. This temple has intact old carvings, big status of 'Nandi Bull'. I would recommend this temple a must visit in your tamilnadu trip. After temple darshan, we ate delicious bhel from a street vendor.
Local people told us that this temple is located at the Center Point of world 's Magnetic Equator. (It is believed that of the "Pancha bootha" i.e. 5 temples, Chidambaram denotes the Skies. Kalahasthi denotes Wind. Kanchi Ekambareswar denotes land. All these 3 temples are located in a straight line at 79 degrees 41 minutes Longitude. This can be verified using Google.) They also believe that no aeroplane crosses the temple as it affects their radio connectivity. Some people also believe that you will never be able to see the shadow of the temple.
Brihadisvara Temple (Gangaikonda Cholapuram) One second stop was this temple. This temple was not in our itinerary but our driver told us to visit this temple before visiting the 'Big Temple' of Tanjore. This temple is in very good shape. Most of the carvings are intact. And you can also take pictures as many as you want. Ristriction of Photography is only in the main temple. This temple has one big Shiv Linga. Very good garden around the temple where you can relax.
Airavatesvara Temple (Darasuram). After lunch we reached this temple. This temple also has lush garden outside the temple complex which has some huge tamarind trees, however inside temple there is no greenery like in Brihadisvara Temple. When we reached this temple it was closed, so we had all temple to ourselves. We could not visit the deity temple, but had enough time to take pictures, observe the structure, carvings on pillars and roof etc. We spend enough time in the temple complex to appreciate this architecture marvel.
After this temple we proceed to Tanjore. It was a one hour drive and we checked in at Hotel Sangam, Tanjore. Evening we did some shopping of snacks and water and overnight at Hotel.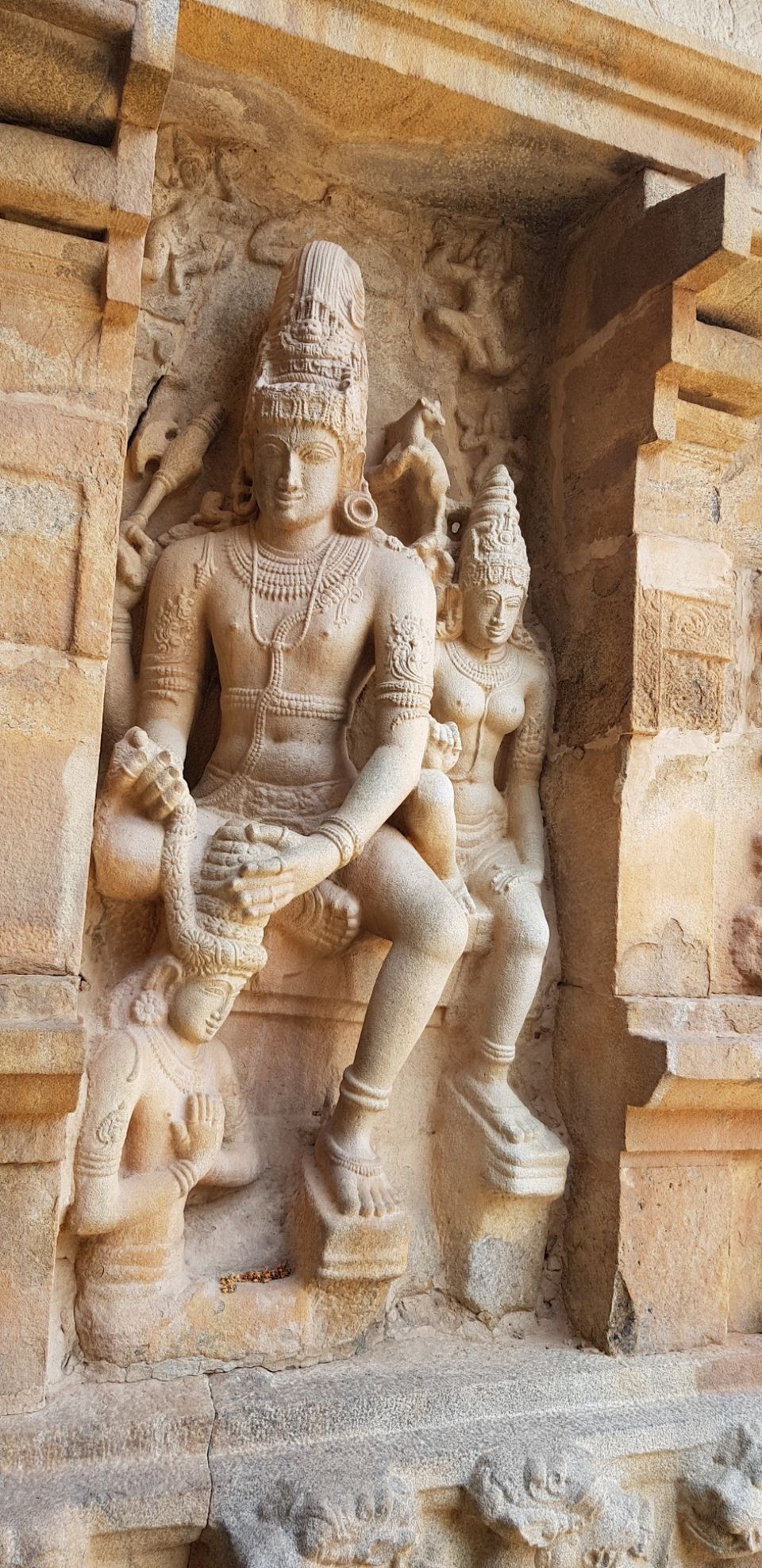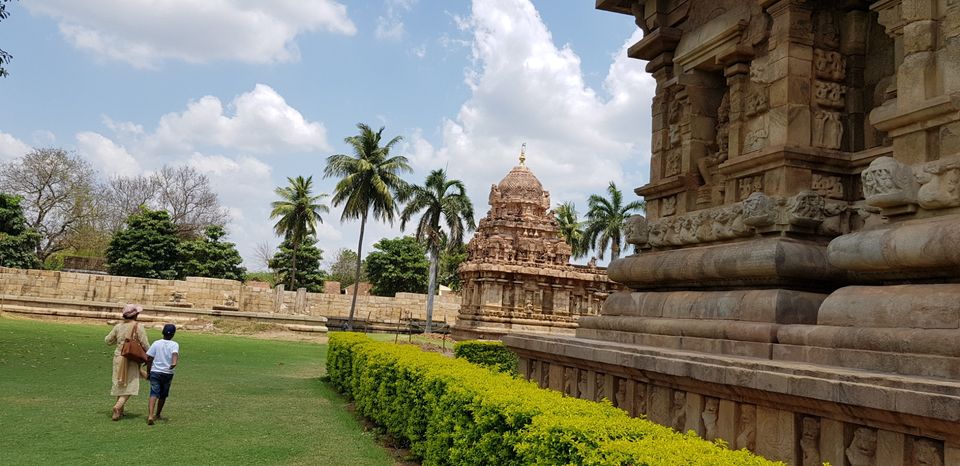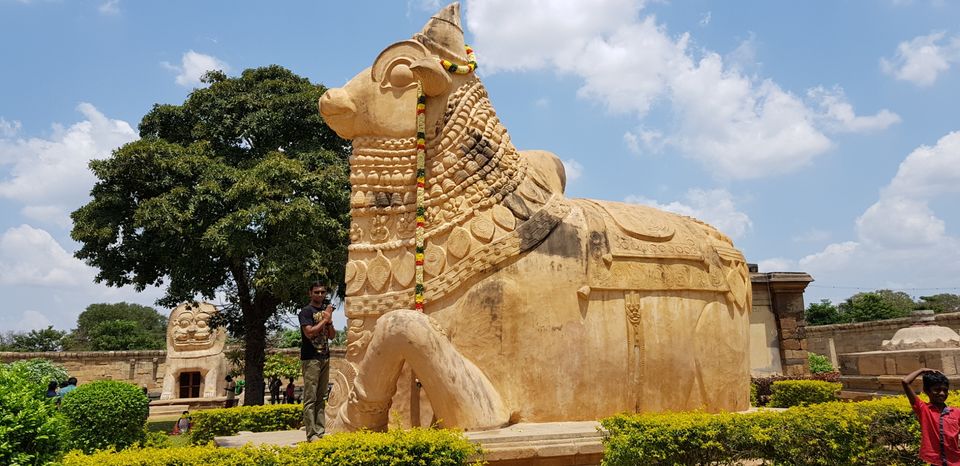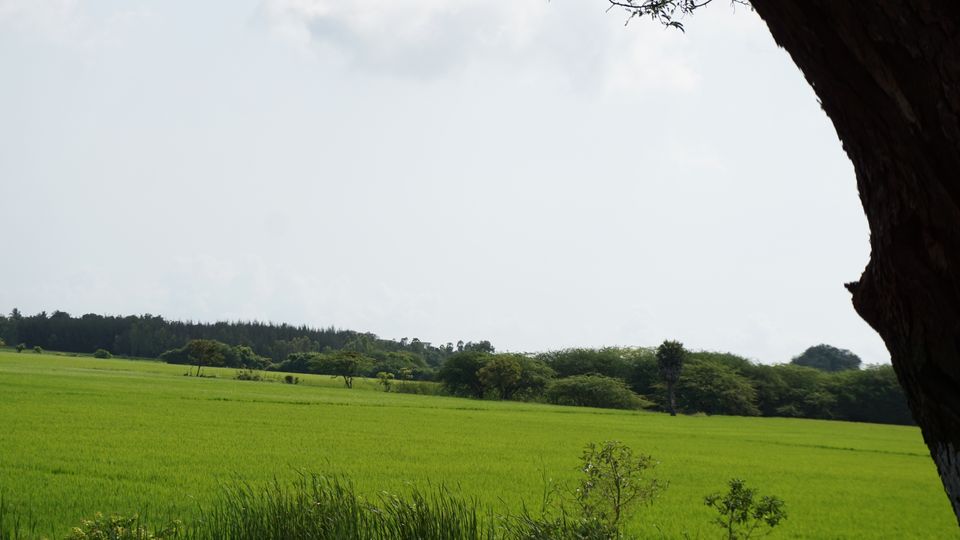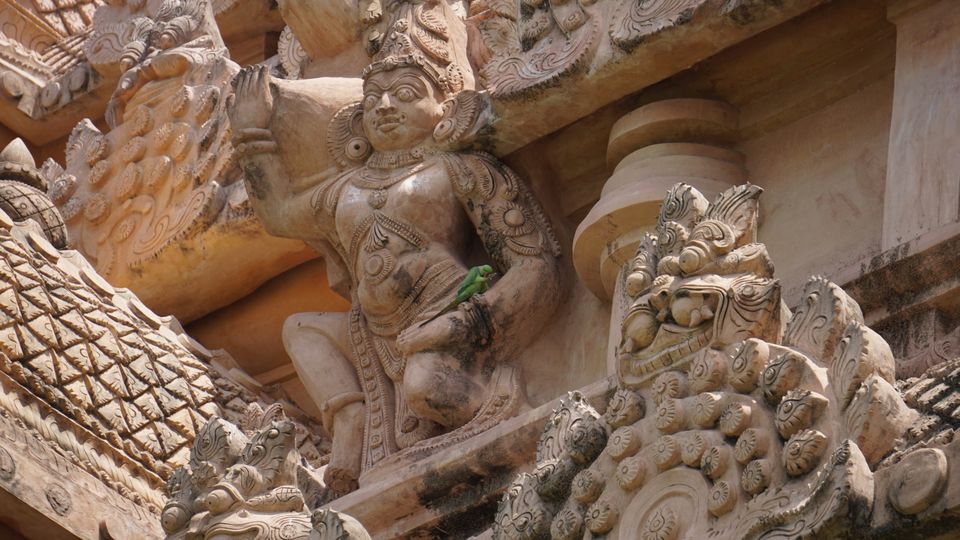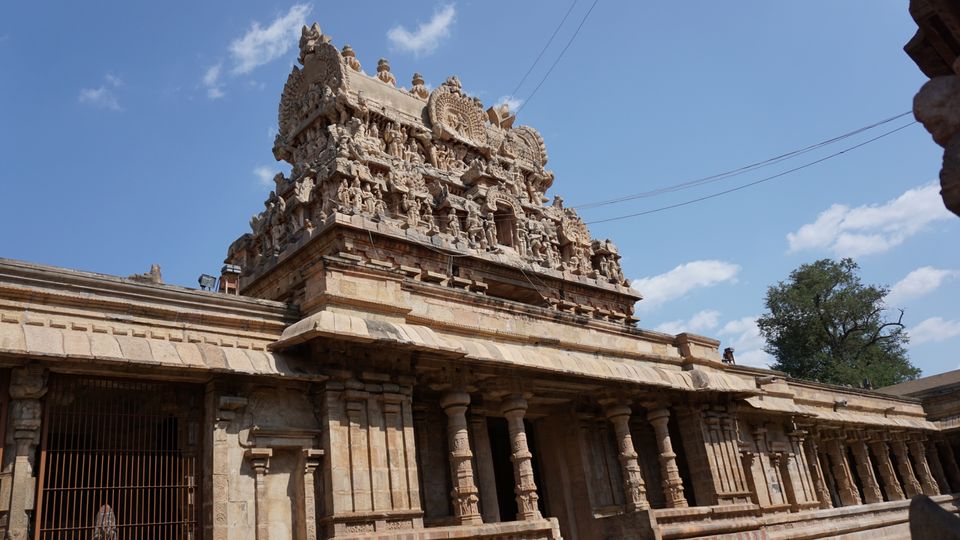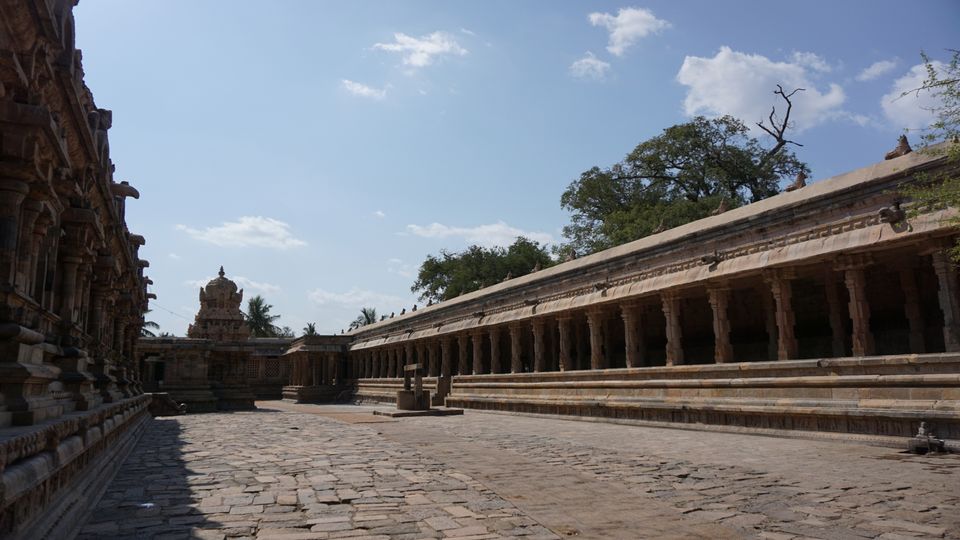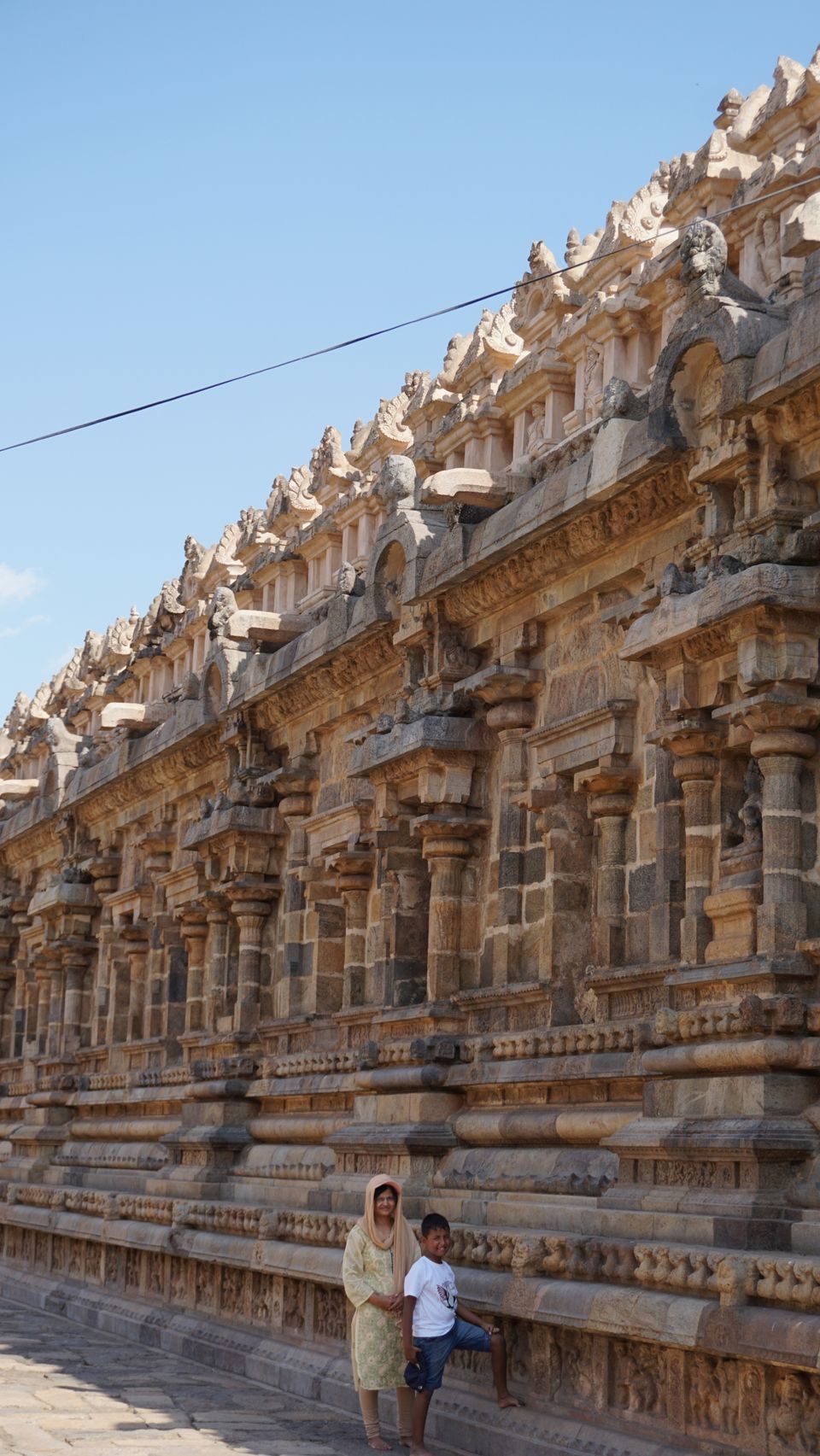 Day 11 : Tanjore
Today after lavish breakfast at the Hotel we proceeded to see Big Temple (Brihadeeswara Temple). This temple is very similar to one we saw in Cholapuram. The name of temple is also same. however this temple is bigger in size. We saw beautiful painting on the roof of this temple and as usual spectacular carvings.
After temple we moved to Royal Palace including Sarasvati Mahal Library. Its a must visit place in Tanjore. They show a 30 min video of Tanjore's history in tamil (with english sub titles) which will tell you the history in details. I would recommend to watch this video before visiting any temple of Tanjore. There is a musemum of old manuments and brass sculptures dated back to 10th centuries.
After museum, it was very hot so we moved to Hotel for savouring Tanjorian delicacies.
Evening we relaxed in the hotel.
Day 12 : Trichy
We Checkedout at 9 am and proceeded to see Kallanai Dam. It is an ancient dam built across the Kaveri River, located at a distance of 15 kms from Tiruchirapalli. The dam was originally constructed by the then ruler of the area, a Chola king Karikalan around the 2nd Century AD. It is one of the oldest standing dams of the world. There is one memorial near the dam. When we reached at the dam, the was no water in the river.
After dam, we saw Sri Ranganathaswamy Temple. This temple is situated in Srirangam Town of Trichy. The temple is devoted to Lord Ranganatha, a reclining form of Lord Vishnu. The temple complex along with the surrounding area covers a total area of 156 acres. There is a quick darshan facility and for that you need to buy ticket of Rs 250 per head. We bought the ticket and got the darshan in less than 10 minutes. This temple is very big and you should memorize the gate where you remove your shoes else it will be very difficult for you to find your shoes. There is buggy facilities for old age visitors and hadicapped visitors.
In evening around 4.30 pm we left to see the most popular place of Trichy i.e. the Rockfort Ganpathi Temple. It derives its name from it's unique building style. The temple structure comprises a huge rock, which is believed to be the oldest rock in the world, even older than The Himalayan Mountains. To visit the temple you need to climb a long stairs. There are approximately 400 steps on this stairs. You will get a very good view of entire city from top including the gopuram of Sri Ranganathaswamy Temple.
Overnight stay at the hotel. In trichy we stayed in Sangam Hotel. We find the hotel good in facilities. They have a large swimming pool, a ok ok gym and a restaurant. However their Air Conditioning in room was very poor.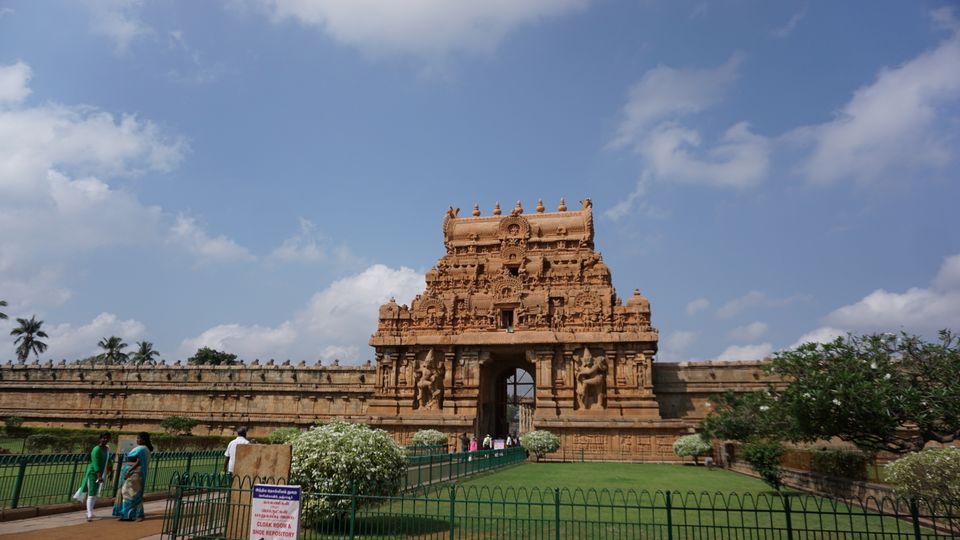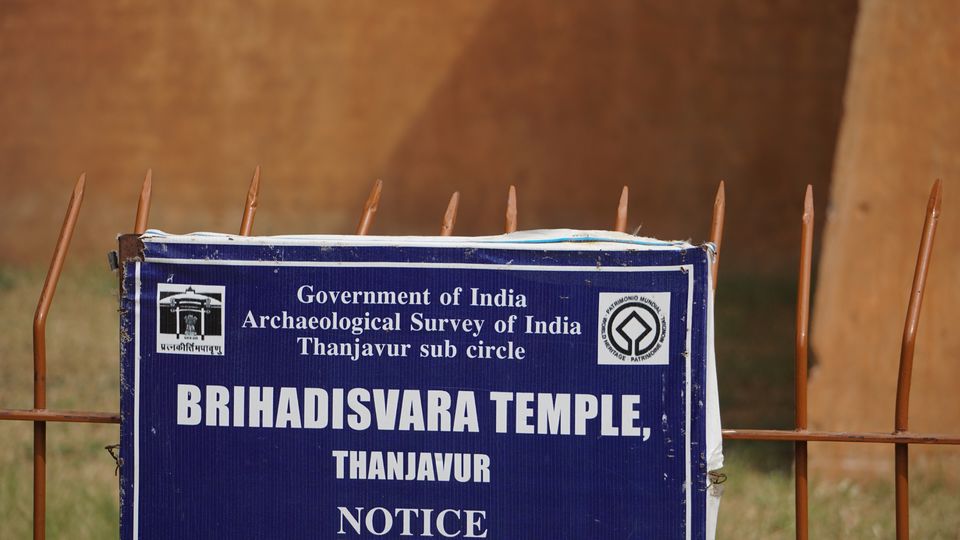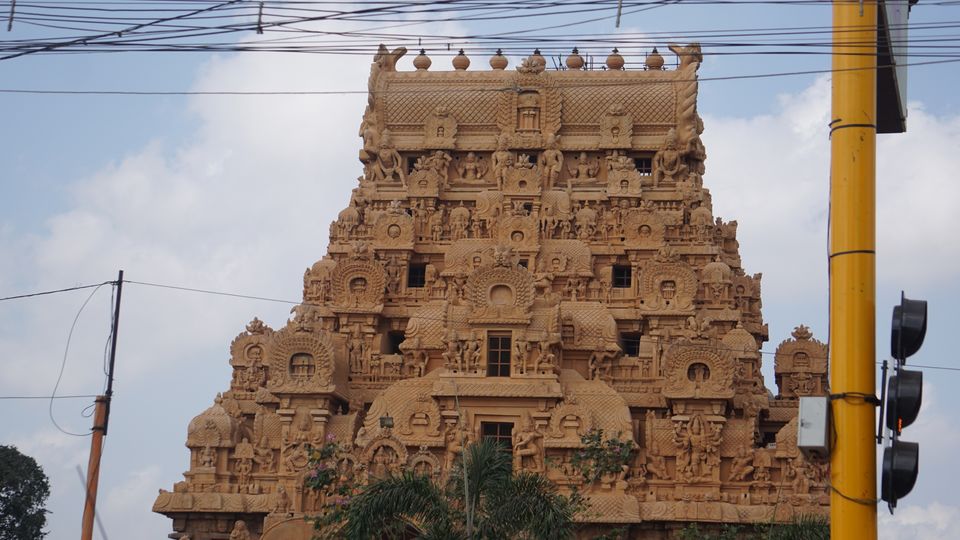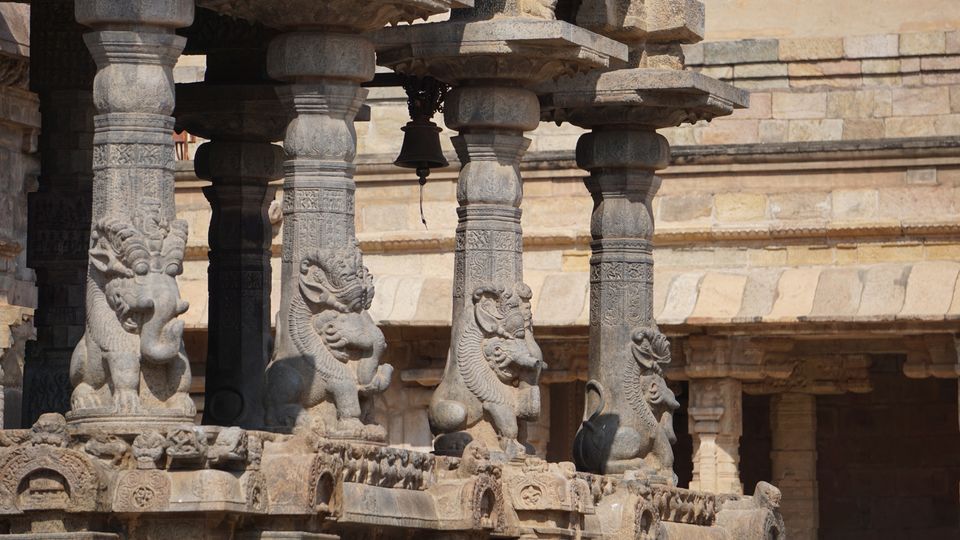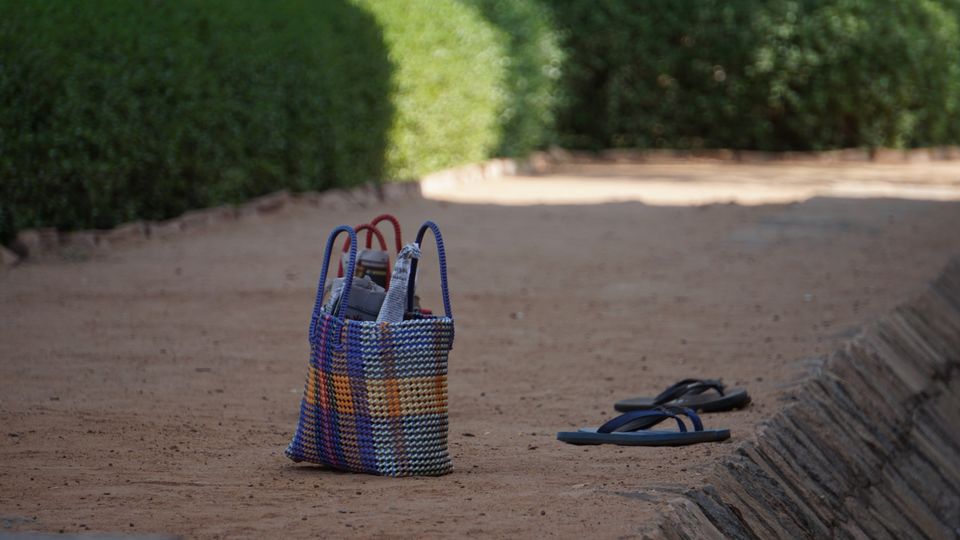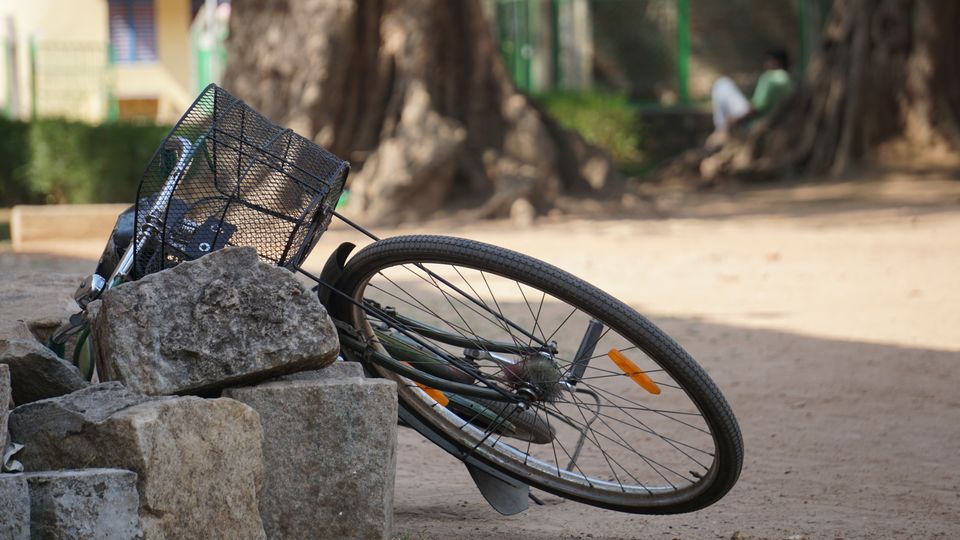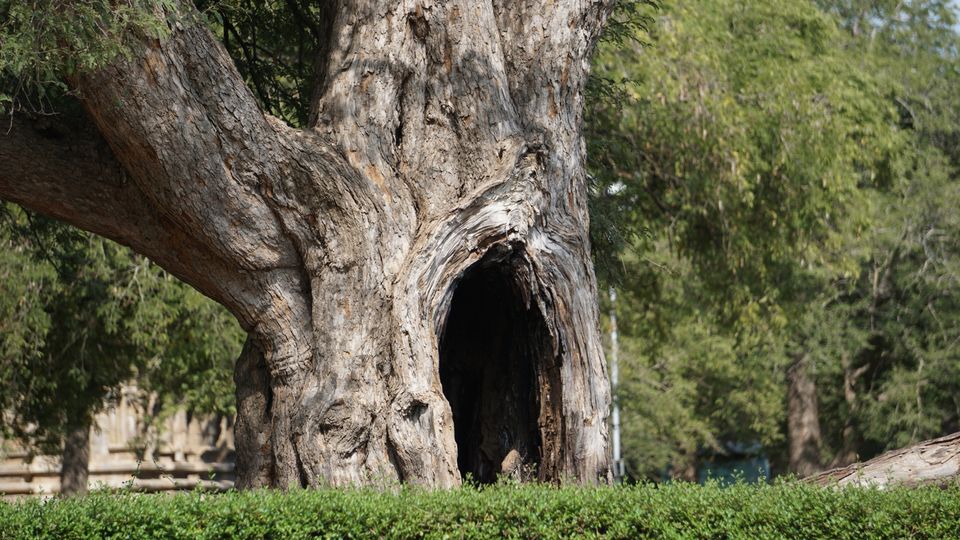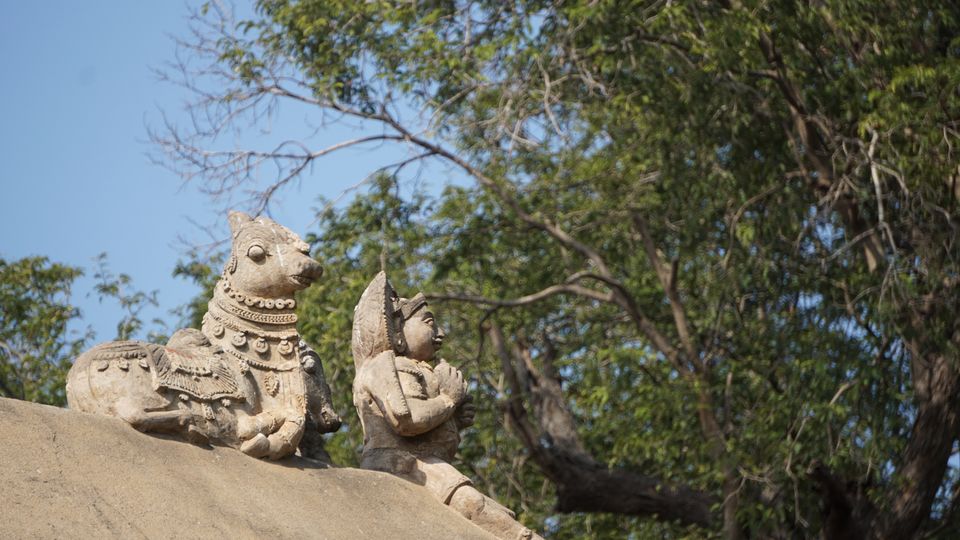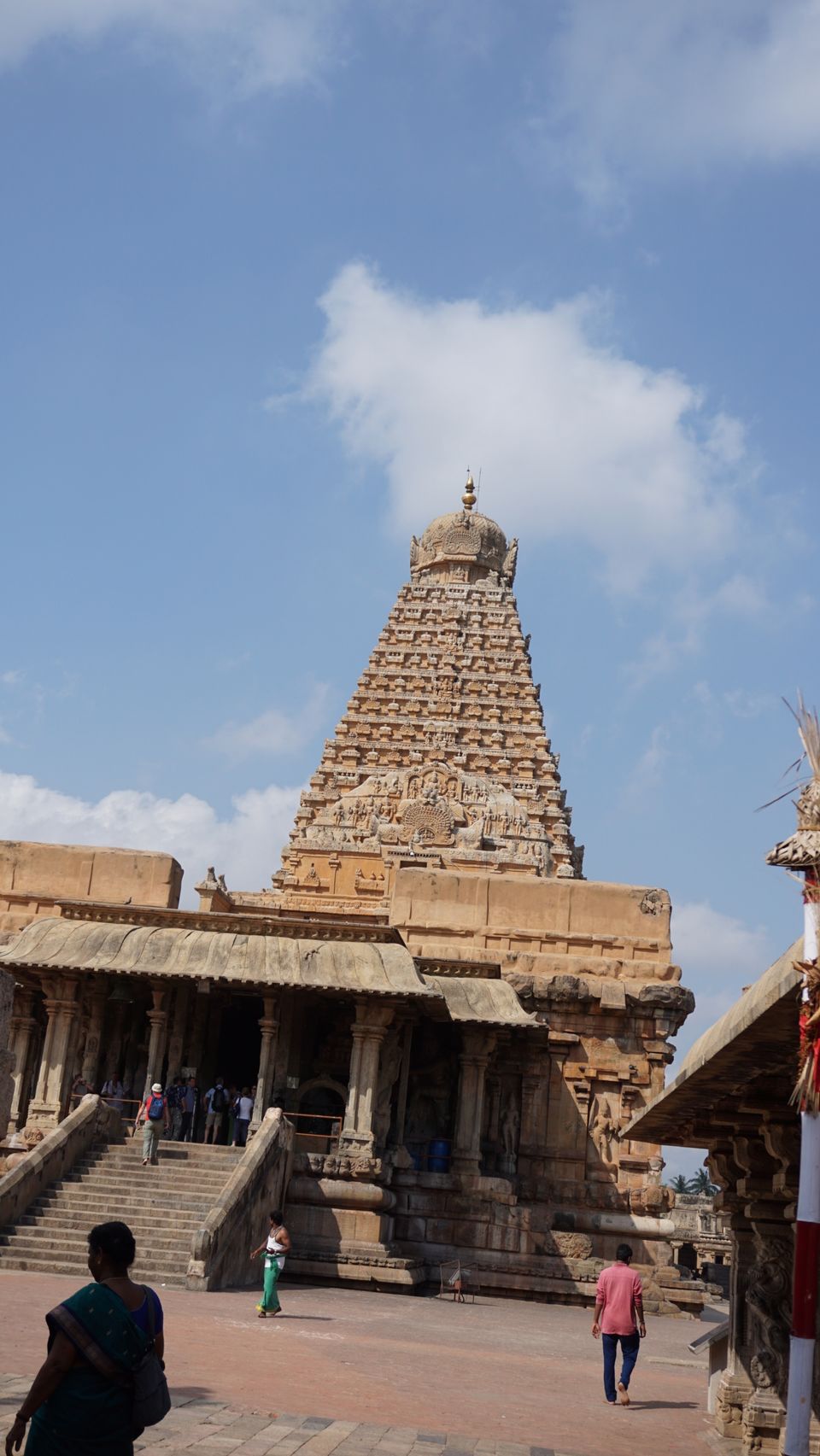 Day 13 : Madurai
We left our hotel at 10.30 and reached Madurai at 12.30 pm. We checked in to Poppy Hotel, Madurai. Our feedback for this hotel is average. This hotel is away from the main temple and their food was very bad. However property is good, their room was spacious. They also has a swimming pool.
in the evening we visited Meenakshi Amman Temple. We hired a guide as this temple is big and there is a lot of history to this temple. This is also the oldest temple of India. Guide charged Rs 400. He manged our time well and we saw the entire temple in an organized way that too is less than 20 minutes. In this temple also we bought VIP darshan ticket for Rs 50/- per head and got a quick darshan. This ticket has a very beautiful picture of Goddess Meenakshi and this ticket can be kept as a souvenir. Mobile camera etc not allowed insude so you better leave it in your car. We also ate taste tamarind rice (prasad) in this temple in just Rs 10/-. This temple has very strong positive vibes which you will feel as soon as you enter the temple. This temple has a very beautiful picture of Shivalinga on its roof, which will always face you from whatever direction you see the picture.
Overnight at Hotel.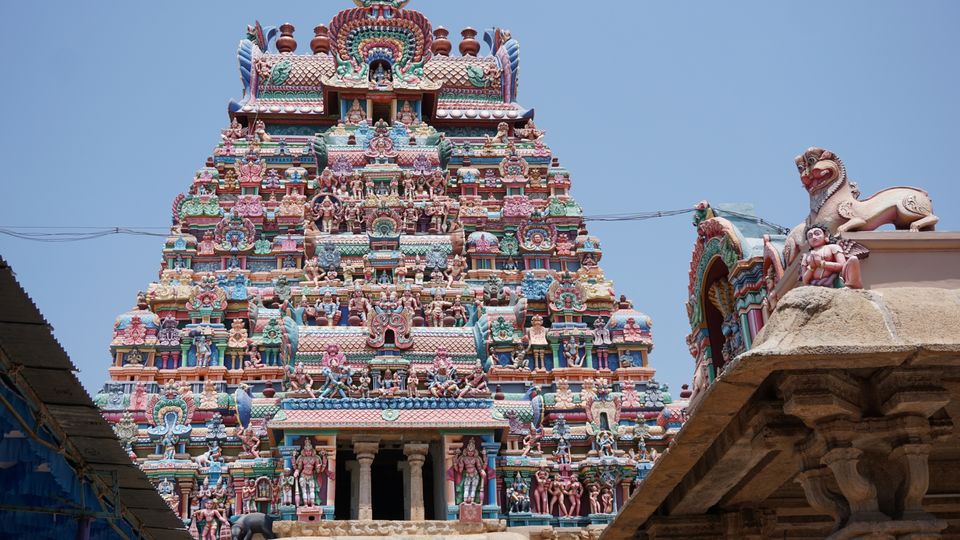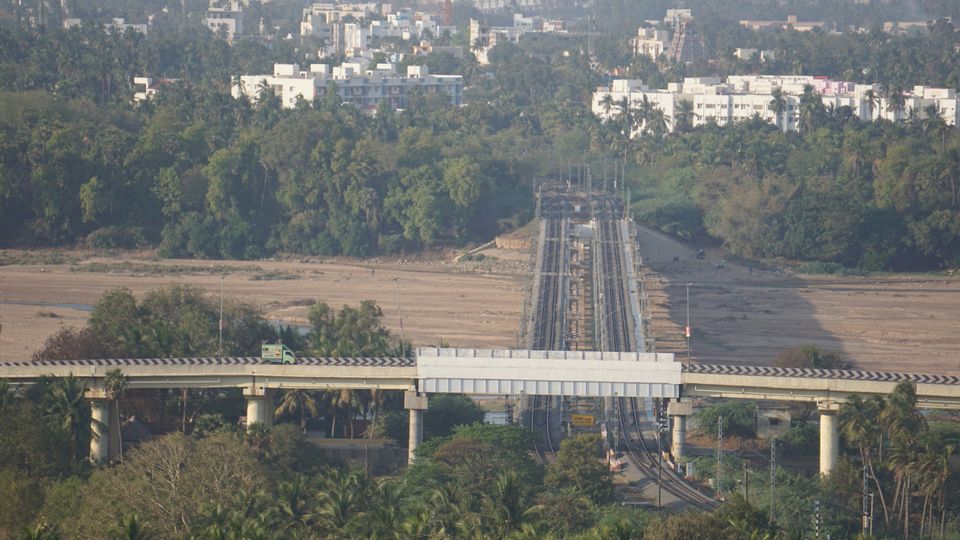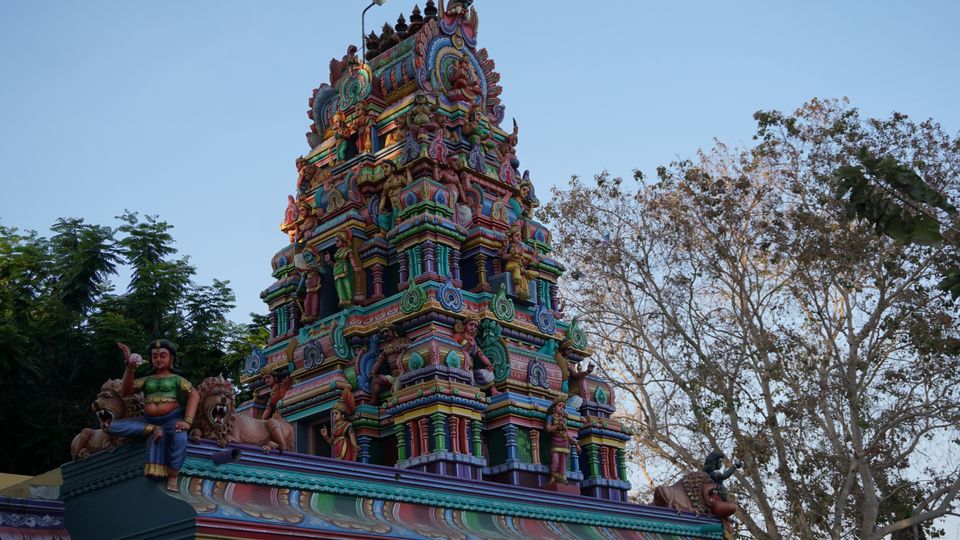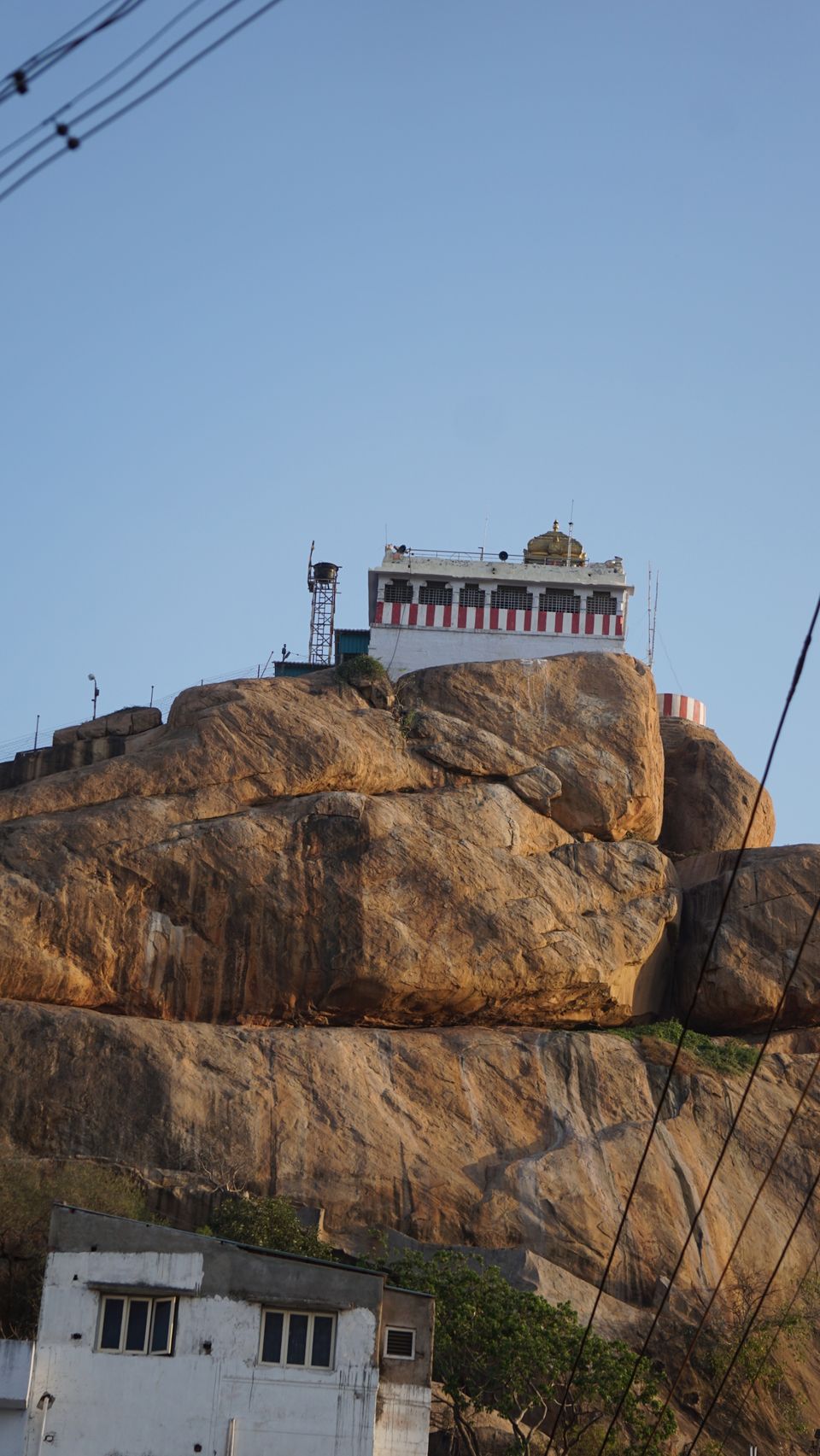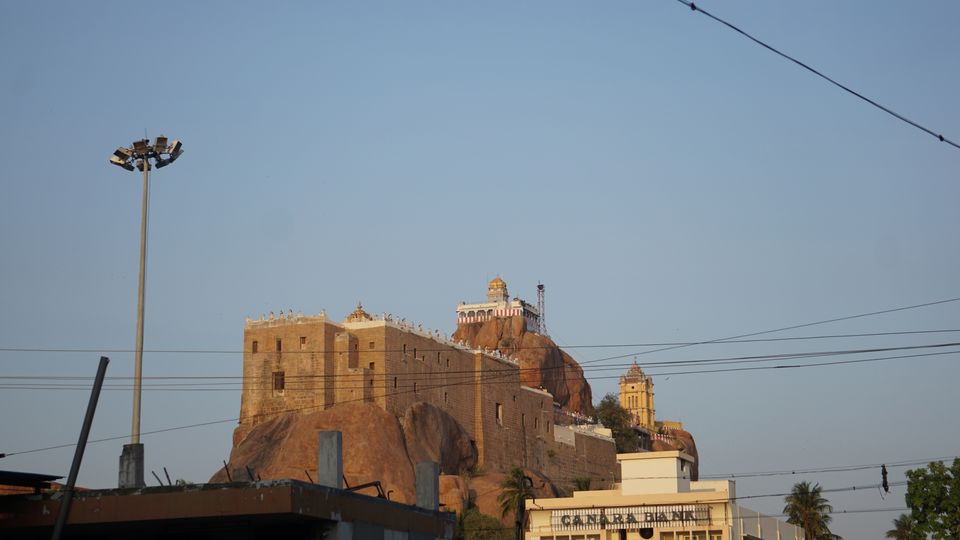 Day 14 : Rameshwaram
We checked out from hotel at 9 am and started to Rameshwaram. We reached Pamban Bridge (India's oldest bridge) at around 12 noon. This bridge connects Rameshwaram with main land. We took a short break to click some pictures on this bridge. There is a parallel rail bridge as well. We were lucky as we also saw a train crossing the bridge. Pls note stopping of vehicle is not allowed on this bridge and you need to be very fast in clicking pictures. After bridge our second stop was memorial of Dr APJ Kalam. Its a very beautiful place where you can learn and know many important information about our past President. Its a must visit place in Rameshwaram.
This place is hot and humid so during noon time we stayed indoor. Around 4 pm we left for Dhanuskodi. This place is the last place of India and Sri Lanka is only a few kilometres away from here. This place got distroyed in a big cyclone and since then this place was completely abandoned. This place is also known as Ghost Town as the state govt has declared this place unfit for human living. There are ruins of old churches, school etc. There is no electricity. Now the current central govt has taken a inclusive approach and a concrete road is available till last point. Railway line is also being built. This place is extremely beautiful and you will see beautiful sea on both sides of the road. However the sea is rough and currents are mostly wild. Beach is also uneven. Foeget swimming even bathing is prohibited. There are policemen on duty who will ask you to leave if they find you doing any mischievous deed. There are some shops which sells item made of sea shells, pearl jewellery, counch etc. However you need to bargain hard to get a good deal. For e.g. A big counch we bought at 1200 was originally priced at 2500. If you are non vegetarian, there are many small shops which sells dishes made of freshly cought fish and you may find this place very interesting. While coming back, one tree has fallen on road and there was traffic jam. After some time one villager started cutting the tree with his coconut cutter knife. After few minutes, firemen also arrived and carried the rescue swiftly. For dinner we today choose a road side small vendor and his food was fresh and very tasty. We started with one dish thinking of eating less but the food was so tasty that we ended up eating one one potion of all the dishes available in that restaurant.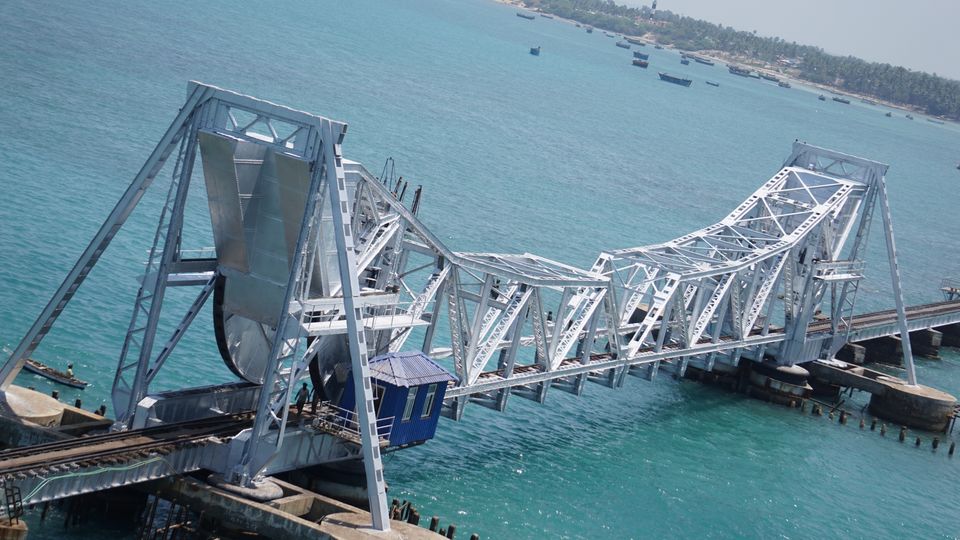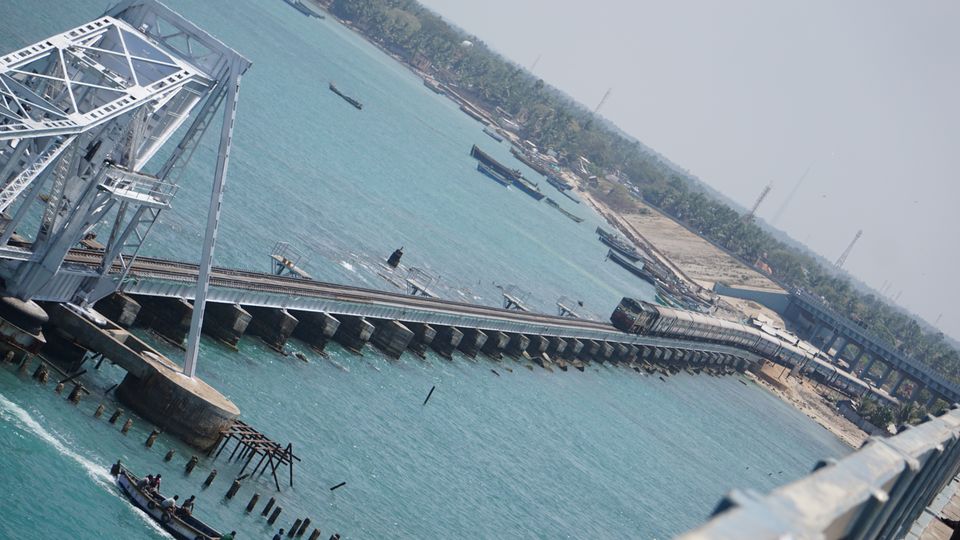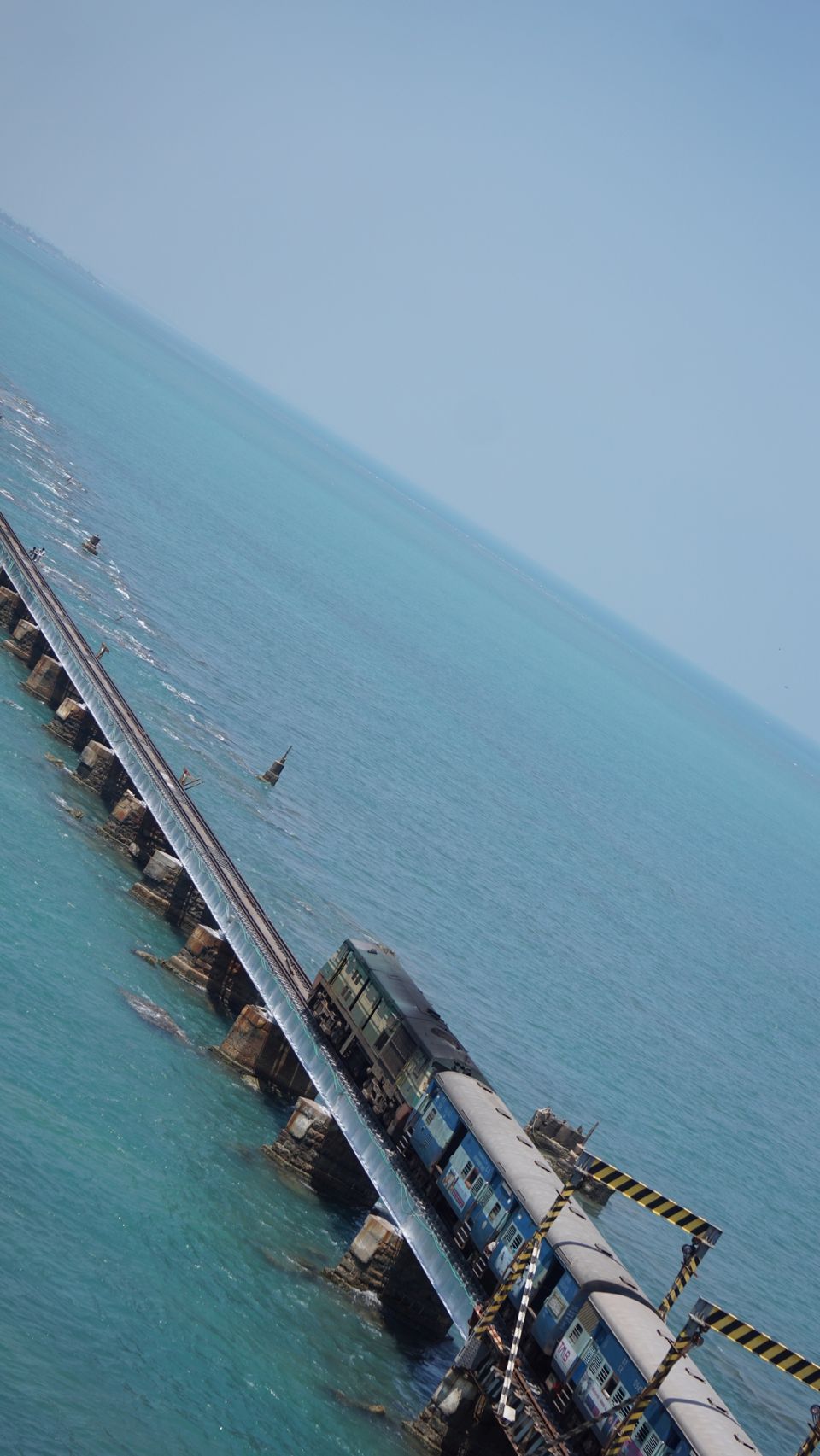 Day 15 : Rameshwaram
Rameshwaram Temple : After breakfast we proceeded to see one of the four religious places of Hindu Dharma i.e. Rameshwaram Temple. Our driver provided us a guide and he took us to the temple. However we felt like he took some unnecessary money from us in lieu of VIP darshan. I would not recommend taking a guide, as there are sign board every where and you can see the temple on your own. Another disadvantage of taking guide is that he will keep pushing you and you will not get time to see and feel the temple peacefully. I would advise you take a guide and fix the lumpsum charges in advance. To visit the temple you first need to take bath from holy water. There are twenty two wells and one attendant will pull the water from well and pour it over you. This process had to be repeated at all 22 wells. This entire process was very enjoyable and my little son also enjoyed it.Since we had a guide, we got priority at each well. At one well, some fishes also came in the bucket and while pouring water they got down on floor. My wife and i had to collect the fishes and throw them back in water so that they don't die. After 22 holy baths, you need to change your clothes and visit the temple. I saw some people throwing their clothes and cleaning staff was collecting them. However i decided to keep my clothes with me in my bag and proceeded to see the temple.
My guide recommended to do a Rudrabhishek Pooja before visiting the temple. We decided to do the pooja. After Pooja we were placed in front of the main shiva linga (awesone feeling) and our milk (part of pooja preparation) was poured on shiva linga. This is called Rudrabhishek. After this temple we saw the temple of Goddess Parvati. We again got the priority in queue in this temple. After Parvati darshan we left the temple complex. We collect our mobiles from outside. Please carry some clothes, towel in a bag and atleast Rs 3000 cash per head for guide, pooja, vip darshan, tip etc. Keep some extra cash, if you want to do some shopping. While leaving the temple, we decided to visit the temple again in evening to see the temples again in a peaceful and no rush environment.
Our next stop was Panchmukhi Hanuman Temple. This temple houses the rock that is believed to be part of Ram Setu. We saw the temple, offered prayer and gave Rs 500 as donation as temple was getting repaired. The pujari at the temple gave a part of the rock that floats on water.
Our third stop was Ram Paduka. This place has the leg impressions of God Ram. This place is on hight so you get an amazing view of entire city and sea.
After this stop we proceeded to rest at the hotel.
In the evening around 3.30 pm we again visited the Rameshwaram Temple and we found the temple all to ourselves. We had very quick darshan at both the temples, even we stand there at the temples for few minutes observing the beautiful Shiv Linga as there was noone behind us. We did some shopping at dirt cheap price in the temple.
After temple we again moved to Dhanuskodi to see the Sun Set. We spend almost one and half our at a small eating joint. We ate some food, saw many sea shells, sea cucumbers, counches on the beach, clicked some nice pictures of the Sun Set On the beach. We also saw some live sea cucumbers who accidentally bought by sea waves on the beach. This beach is very good for shell collection. You will get atleast 100 kinds of sea shells in few hours. After sun set we moved to the Hotel for dinner and overnight at Hotel.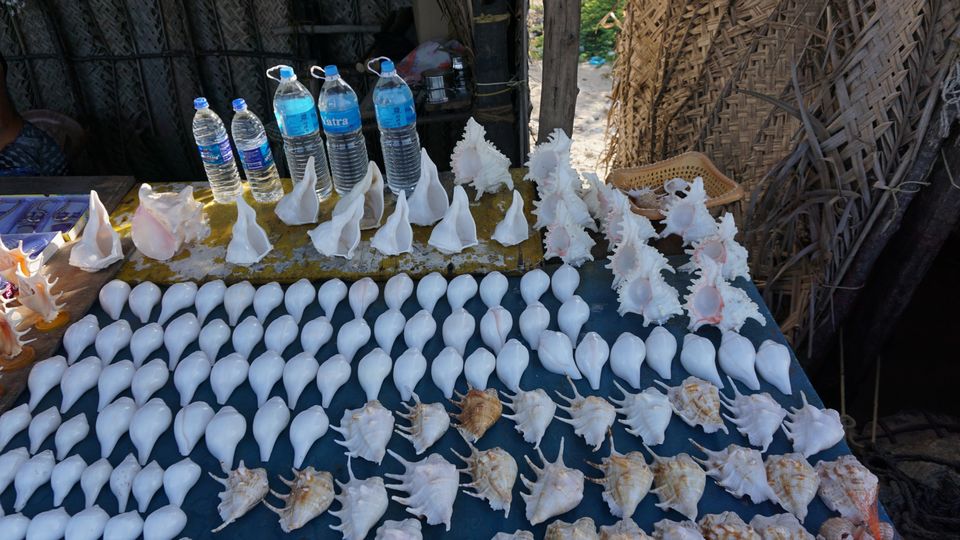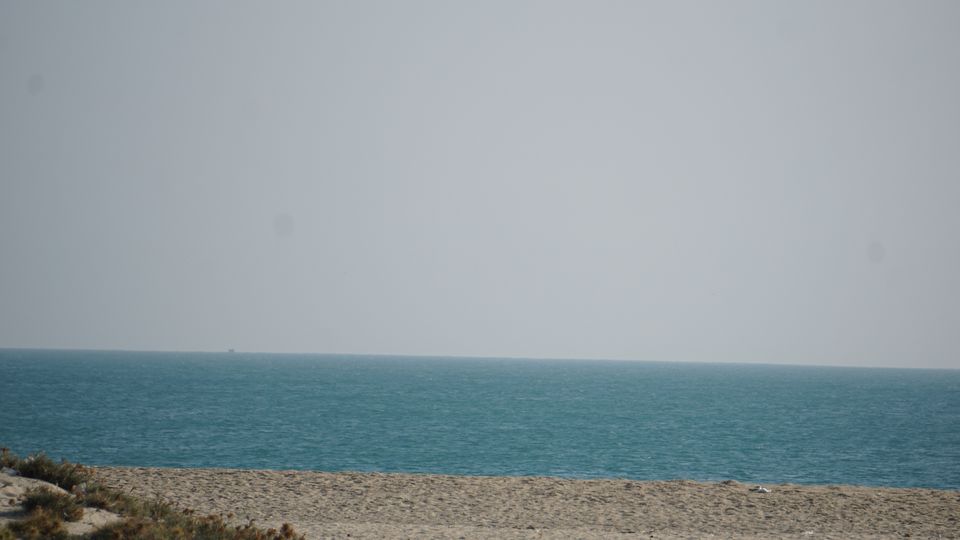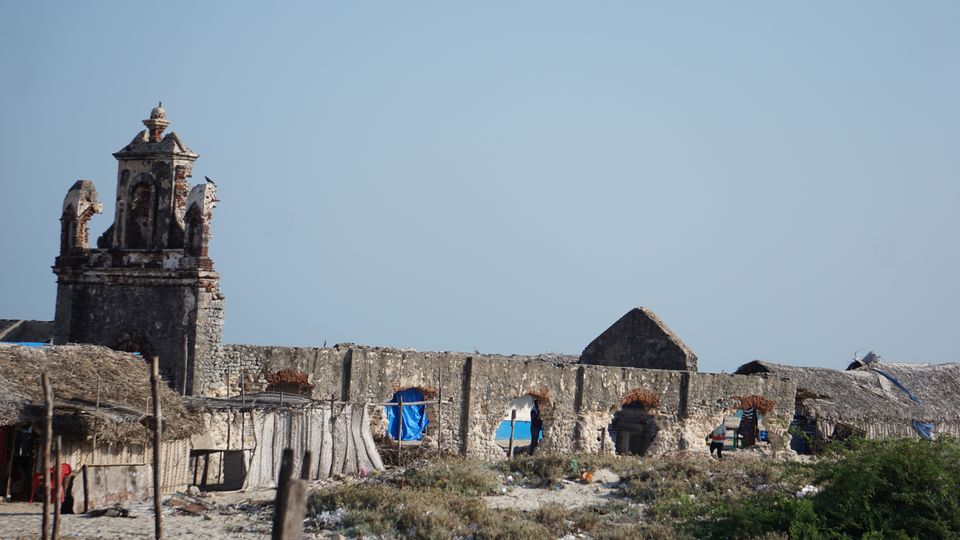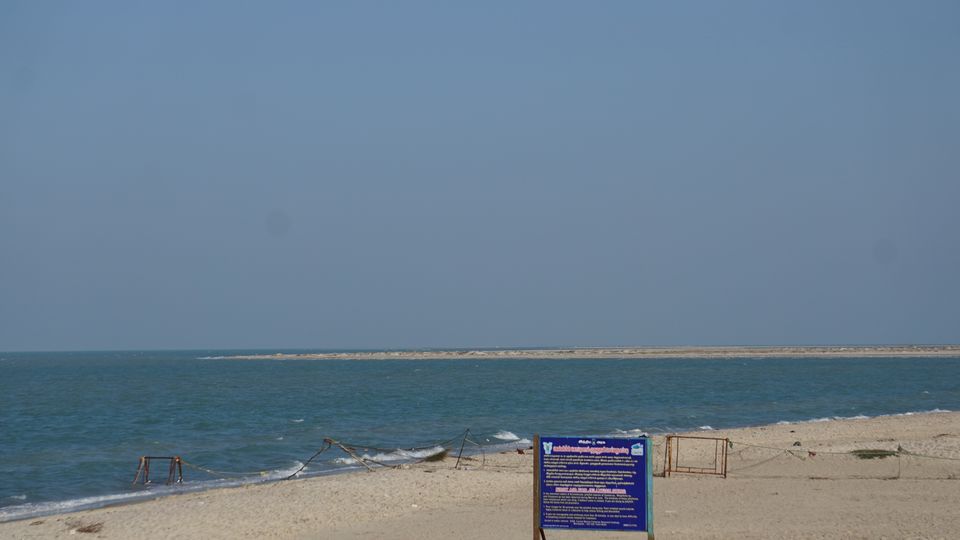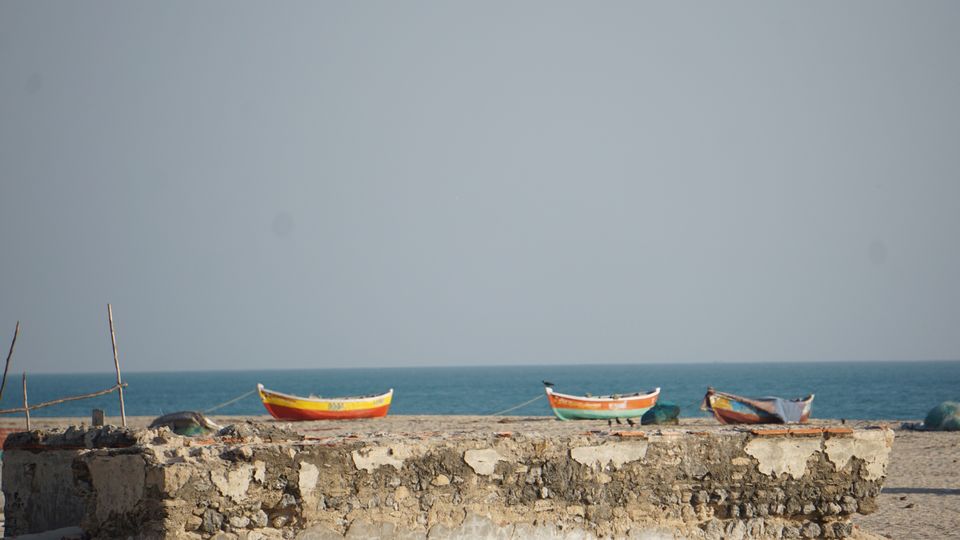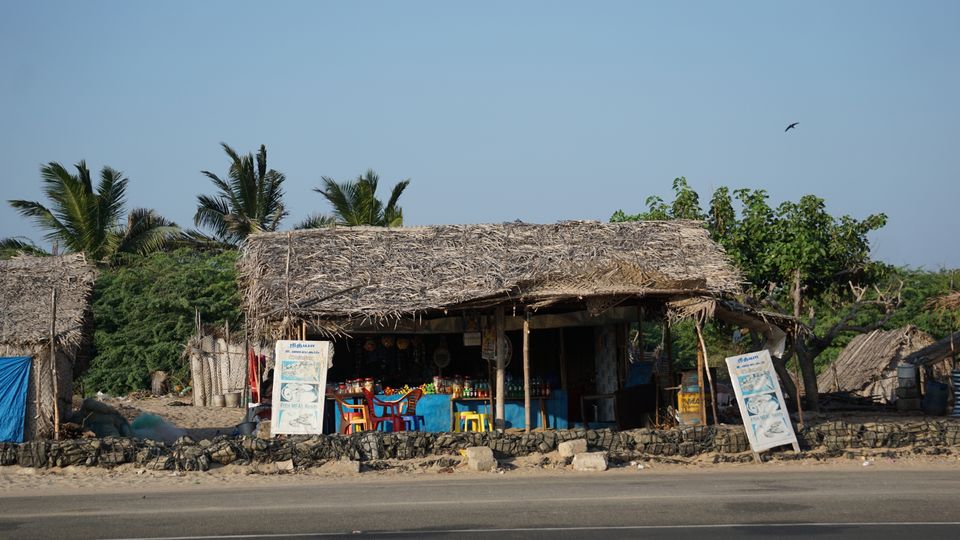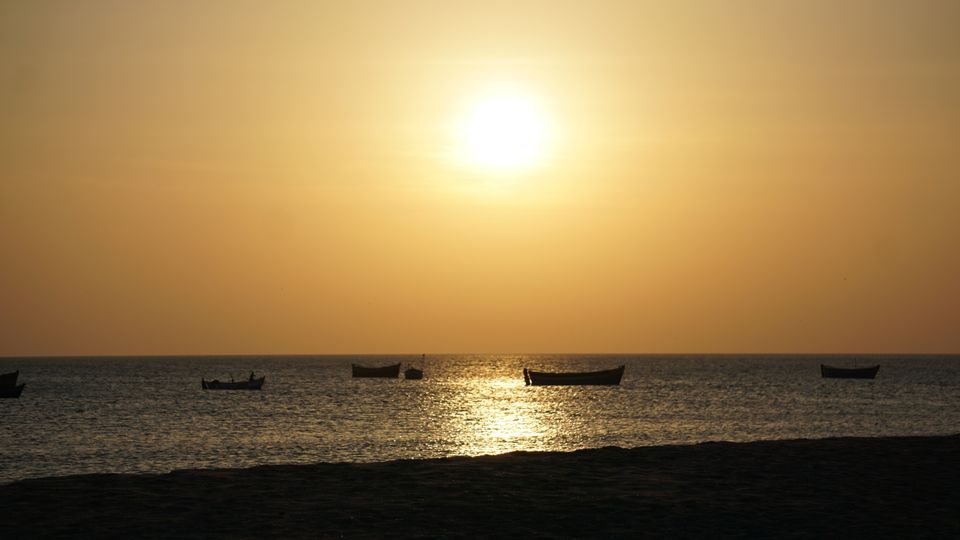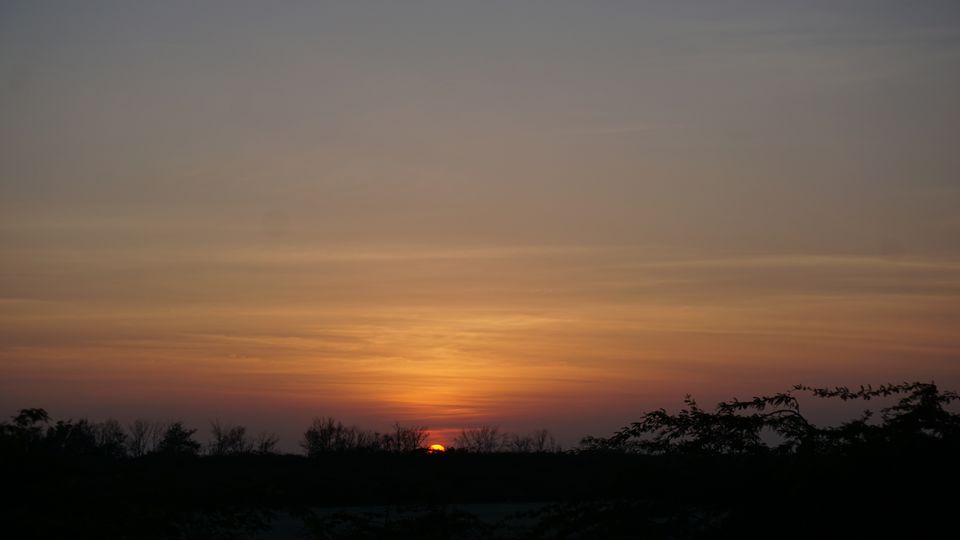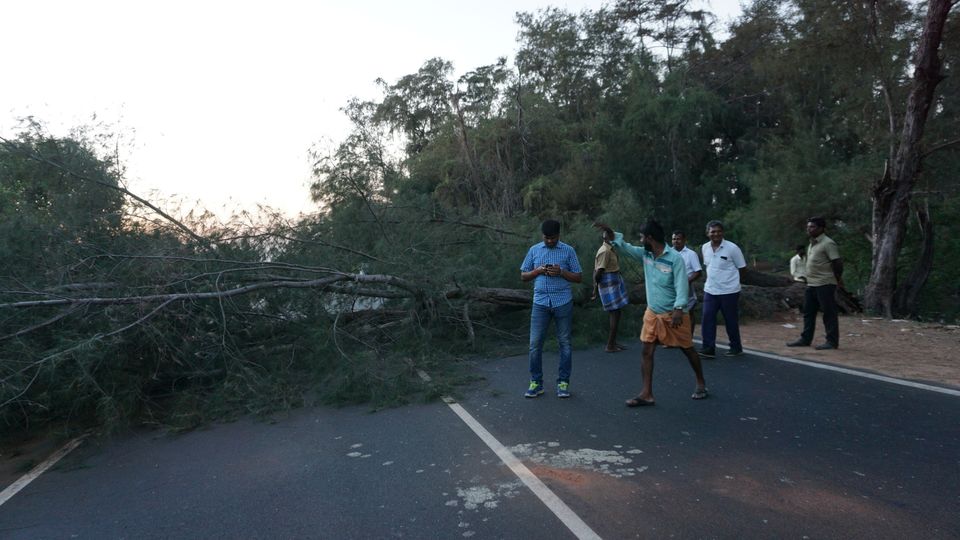 Day 16 : Kanyakumai
After checkout around 9 am, we left for Kanyakumari. It was a long six hour thirty minutes drive and we reached Kanyakumari at 3.30 pm (including one tea break and one lunch break). The road to Kanyakumari was very good and very scenic. While on road we took a bio break at Thamarai Kolam Village to click some pictures of Lotus. This Village has many beautiful lotus ponds. After crossing this village we saw huge Salt Pan on both the side of the Road. We also saw closed factory of Sterlite Copper. They we took a short stop to click some pictures of Big Wind Mills which were on both side of the roads. For Lunch, we took a break at Hotel Maduram, Tirunelveli. Their food was extremely tasty. Their speciality was that they use only Cow Ghee for cooking.
After reaching Kanyakumari we didn't checked in to Hotel as we straightaway moved to Boat Ferry to see the Swami Vivekanand Memorial. The ticket cost per person is Rs 50. After reaching memorial you need to buy separately entry ticket to see the memorial which cost Rs 20. It takes around 10 to 15 minutes by boat to reach the memorial. The memorial was good and clean. We got a very good view of Kanyakumari city from the Memorial. There is one more memorial for great poet 'Thiruvalluar'. However at that time Ferry service to Thiruvalluar Memorial was closed so we clicking some pictures from the Boat. While going to these memorial, please wear slippers as the sea is rough and sometimes water comes in the boat and your leather shoes will get wet.
After Memorial we checked in Hotel Sagar International. My review for the Hotel is negative. Their services is bad and rooms require maintenance. My room was messy and lacked basic facilities like water, tissue papers, hanger in cupboards etc. Their exhaust fan was also not working. Only after many complaints they changed our room.
In evening we left for Sun Set point. Sun Set point was good and clean. You will get tea, coffee, ice cream and chat items there. As there were clouds, sun set was not clear.
Then we moved to see 'Arulmigu Bhagavathy Amman Temple'. This temple is very old. It is believed that the Nose Pin of the Goddess is made of a big diamond. VIP darshan ticket cost is Rs 20 in this temple. In old days due to shining of nose pin two ships collapsed thinking it was a reflection from a light house. Due to this accident the sea side gate of the temple is always kept closed.
After reaching Hotel, we realised that they rented the adjacent rooms to a big gang of Bachelors who kept partying whole night and we couldn't sleep for whole night. Hotel Manager was not able to communicate in English properly so we had tough time to explain our grievances. Since we couldn't sleep, we get a chance to see the Sun Rise the next day from the top floor of the hotel. Again as it was cloudy in morning, the sun rise was not very clear.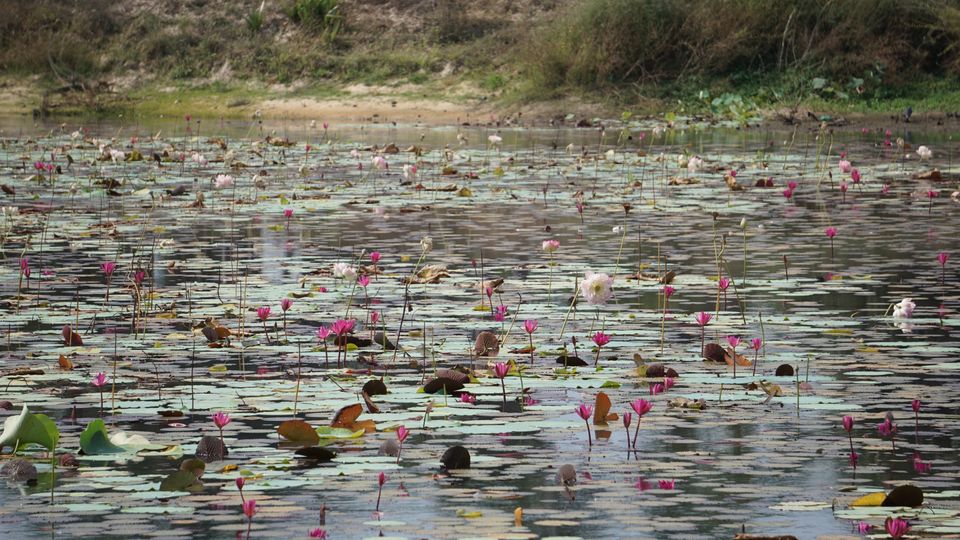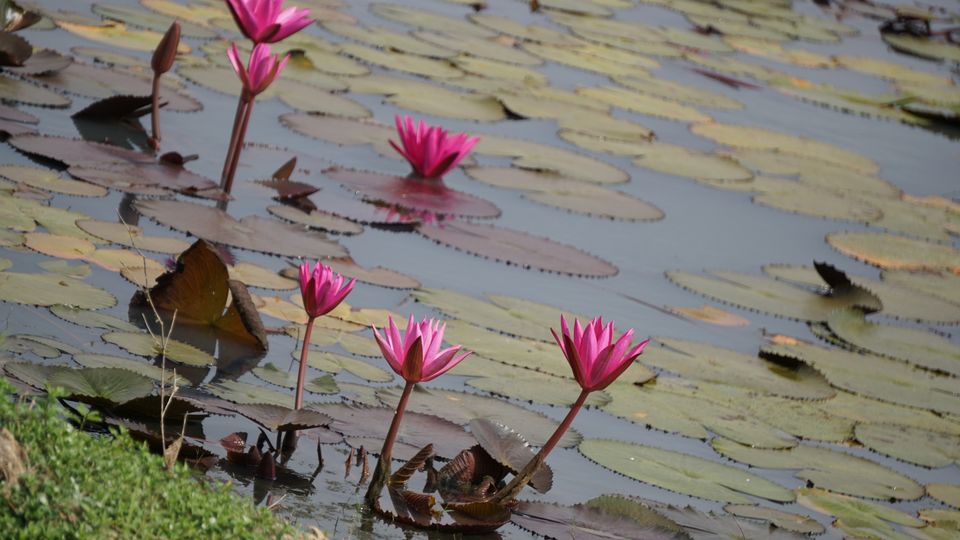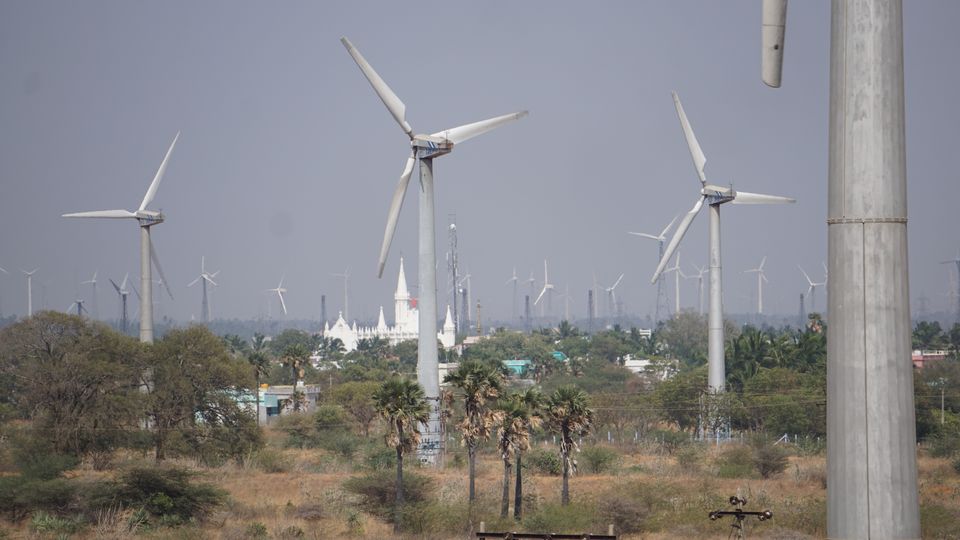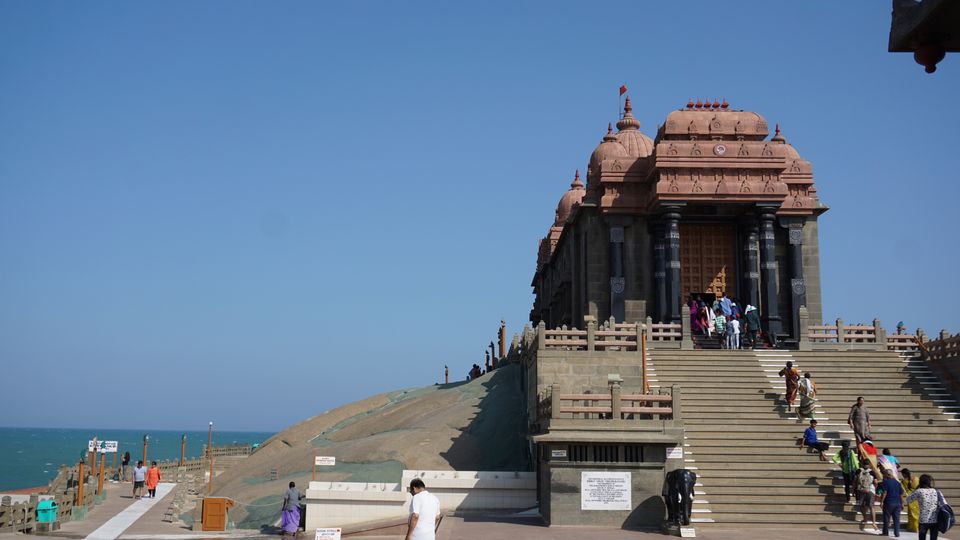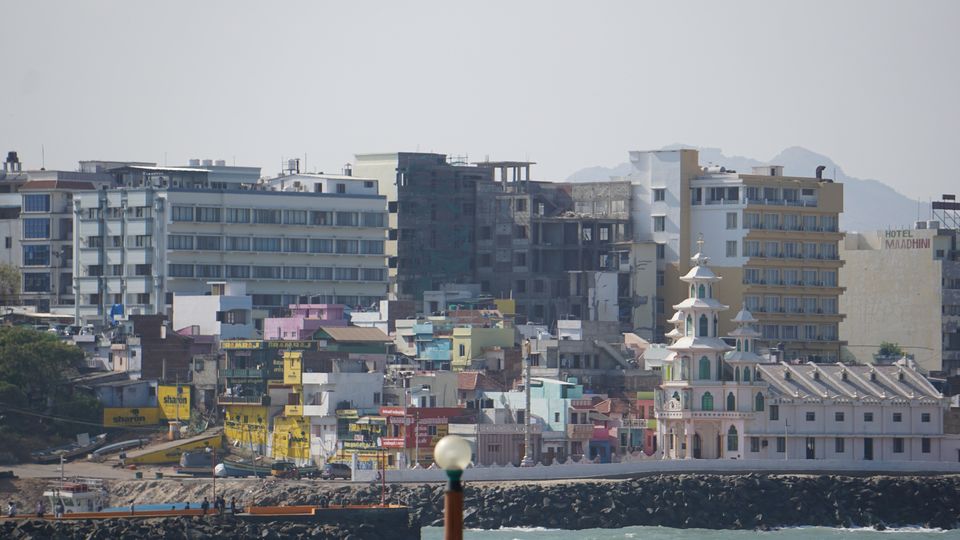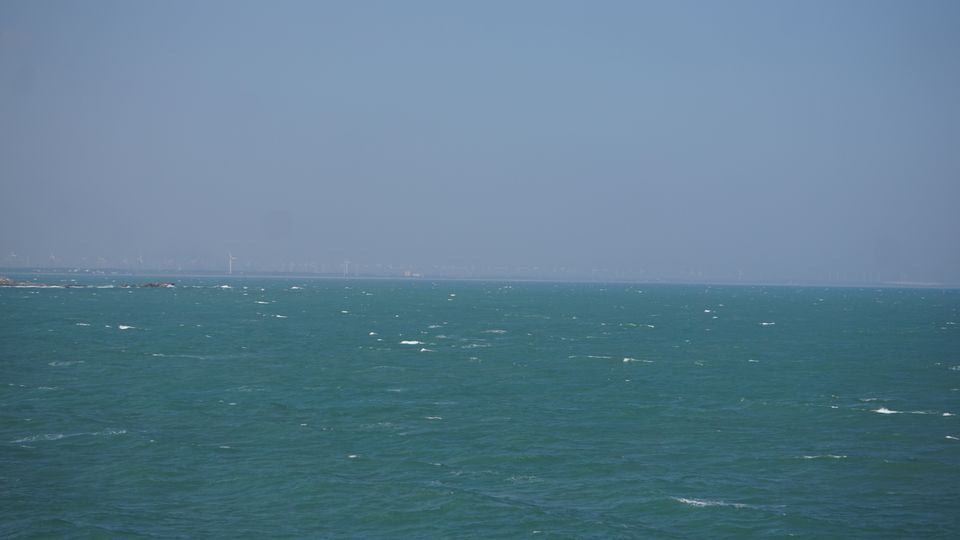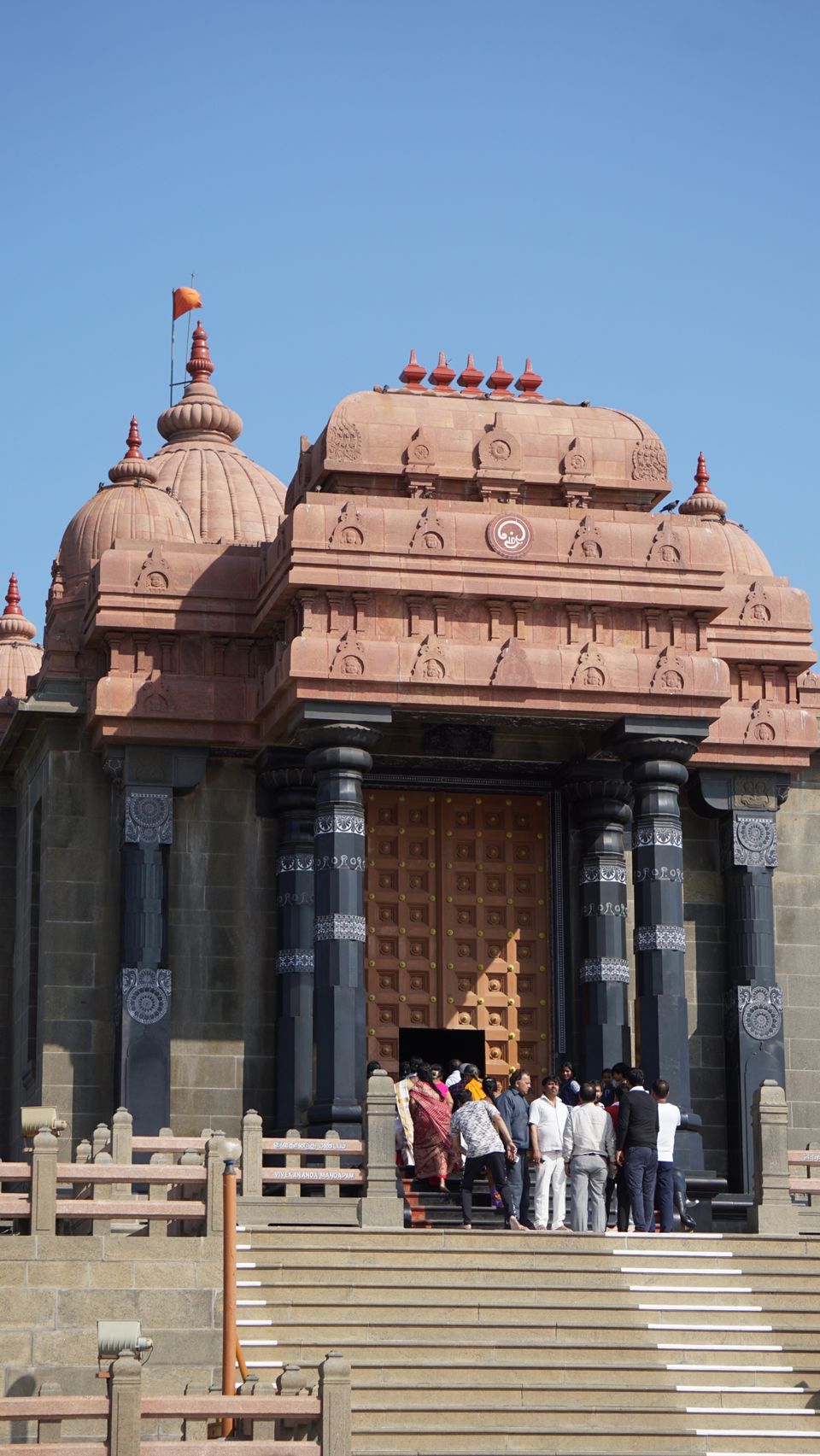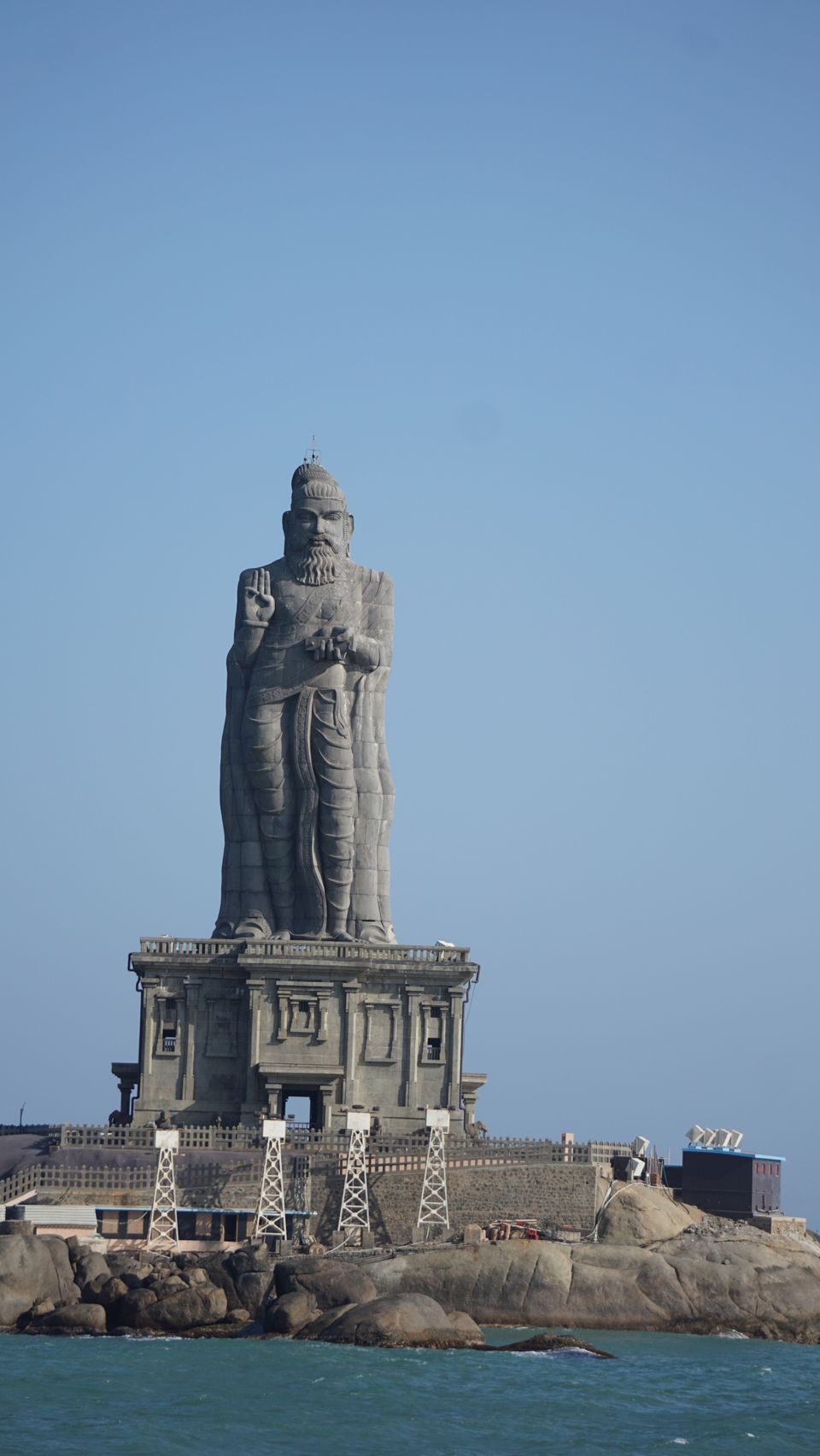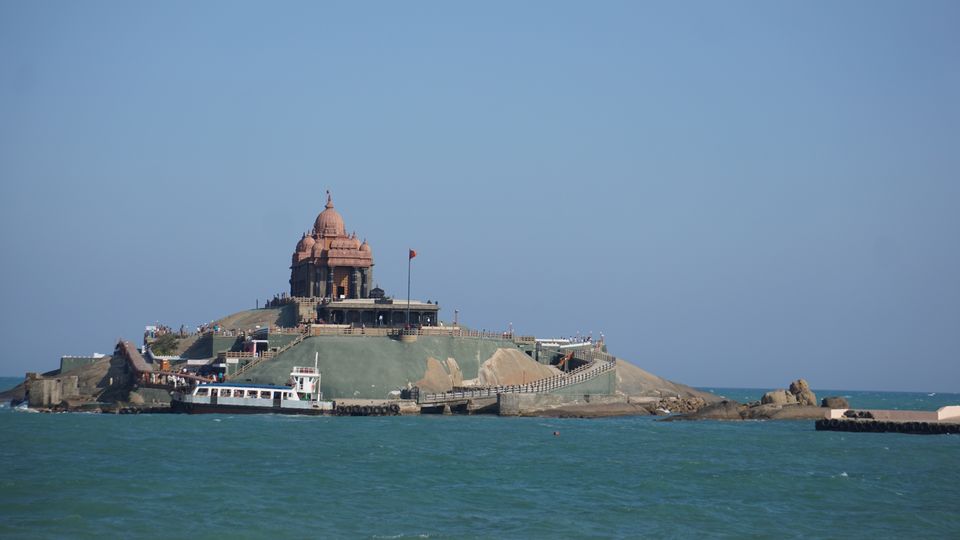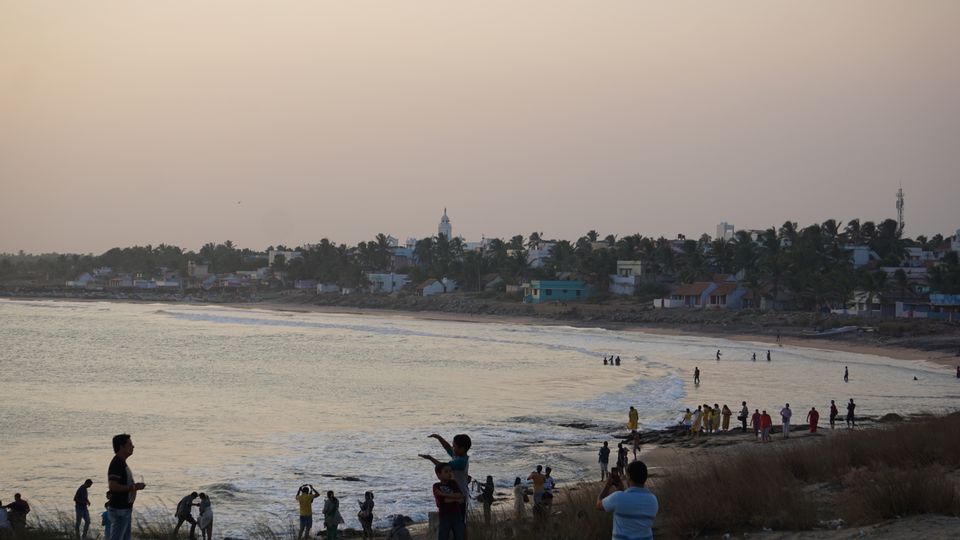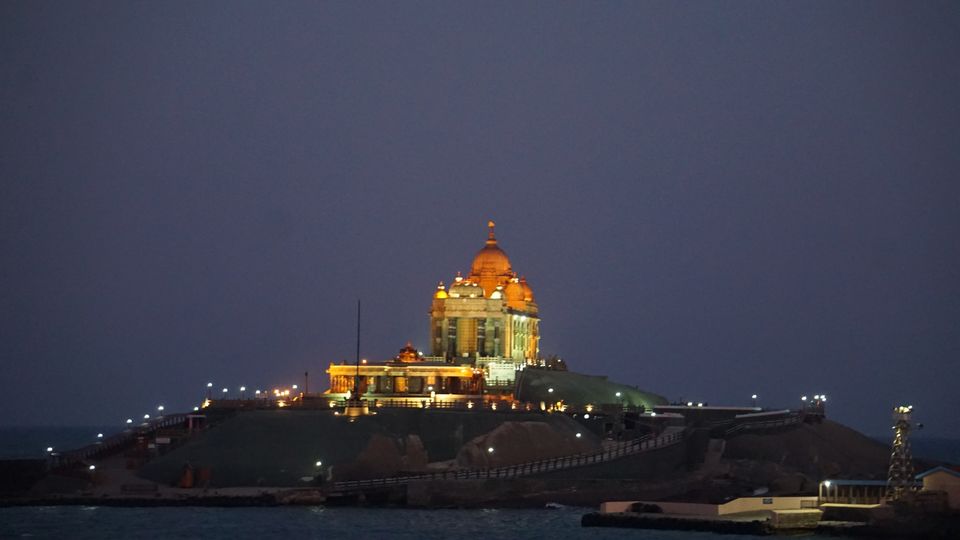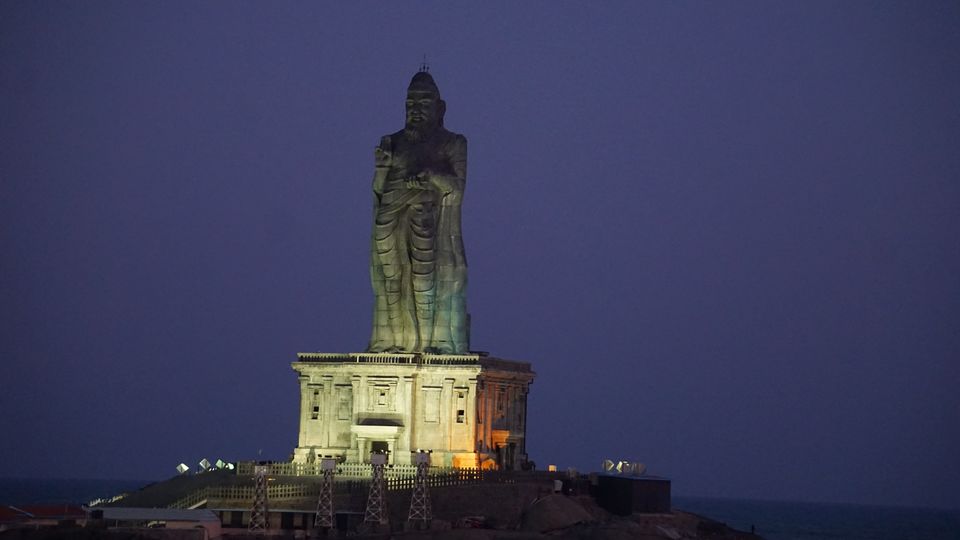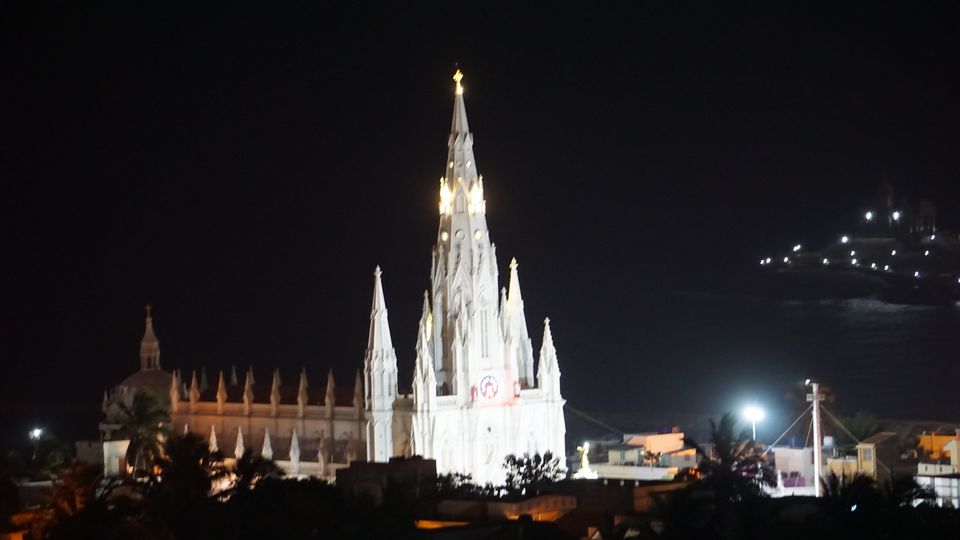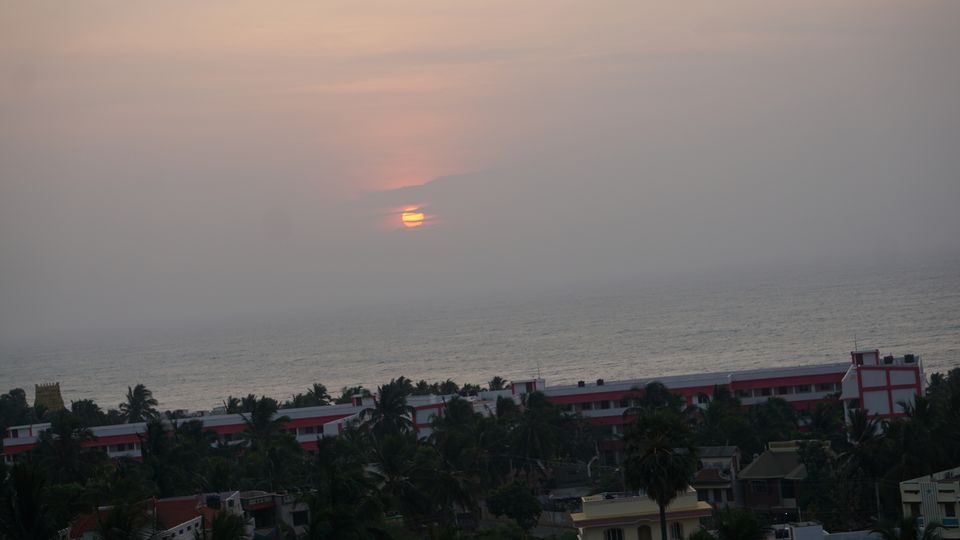 Day 17 : Kovalam, Kerala
One good thing about Kanyakumari is that there are many good restaurants. After Sun Rise we decided to skip the Hotel's regular Breakfast to eat a different breakfast at a local restaurant. It was a wise decision as we had very tasty Parathas at a Punjabi Dhaba Pure Veg. After breakfast we rested in Room and left around 12 noon for Kovalam, Kerala.
We checked in to the Hotel Travencore Heritage Beach Resort at 2.30 pm. Please don't use Google map to reach this Hotel as google will take you to its back gate from where entry is not possible. My review for this Hotel is positive. Our room was very big and it has a full and uninterrupted view of the sea.
At 3.30 pm we left for Poovar Island Boat Trip. It is a must do trip. It was a two hours backwater boat trip. We saw beautiful greenery on both the sides. We also spotted different kinds of Birds and some rare plants. We also had Ginger Tea and paneer pakoda at one floting restaurant. You are going to remember this two hour journey forever. Anaconda movie was shot here. You will feel that you are in the movie at some places. We took a motorized boat and due to this many birds just flew by hearing the sound of its engine. You may take a non motorized boat, which are traditional and looks more elegant. Additional adavantage will be that your journey will be peaceful.
After Poovar Island trip we came back to hotel.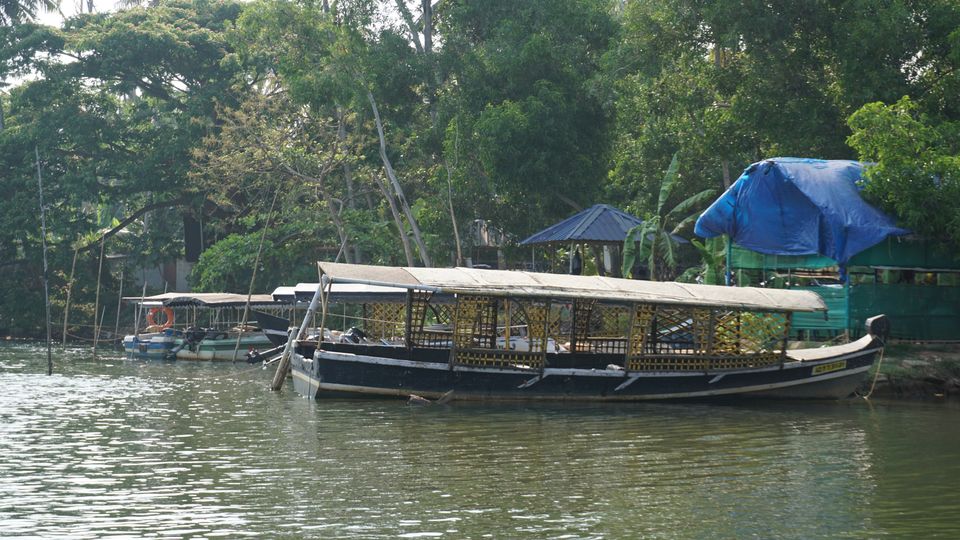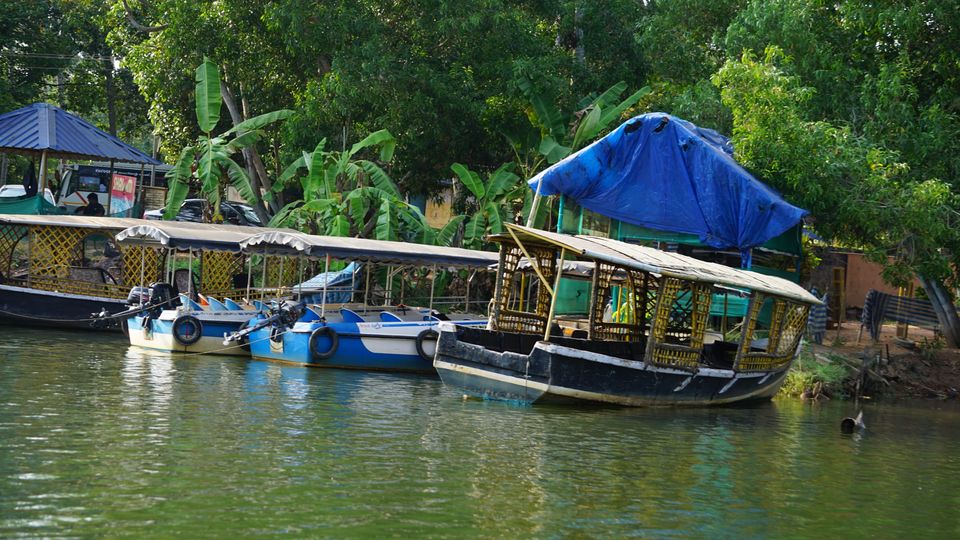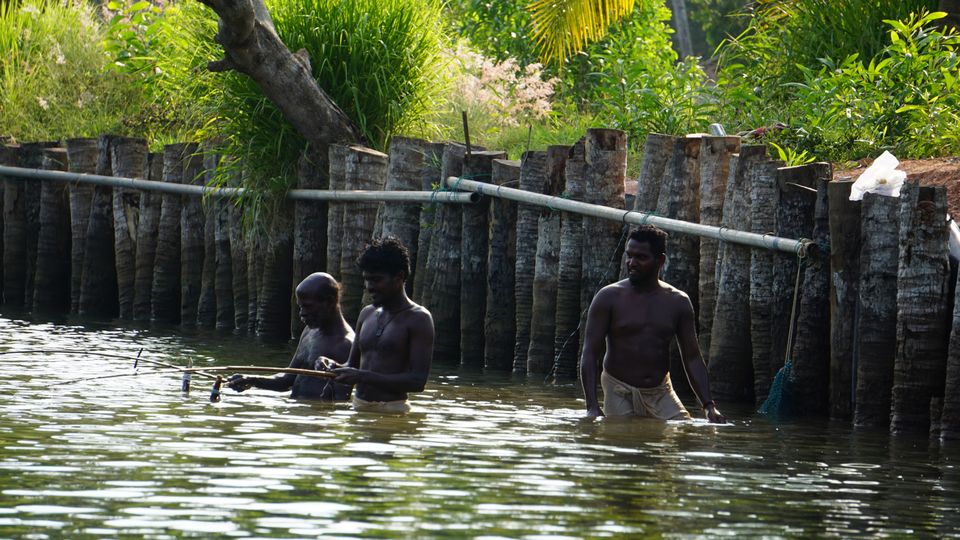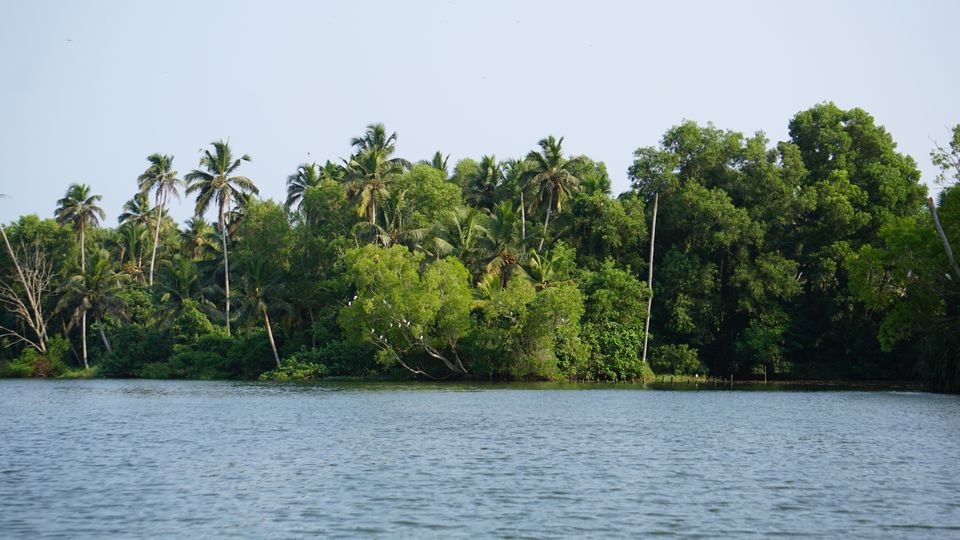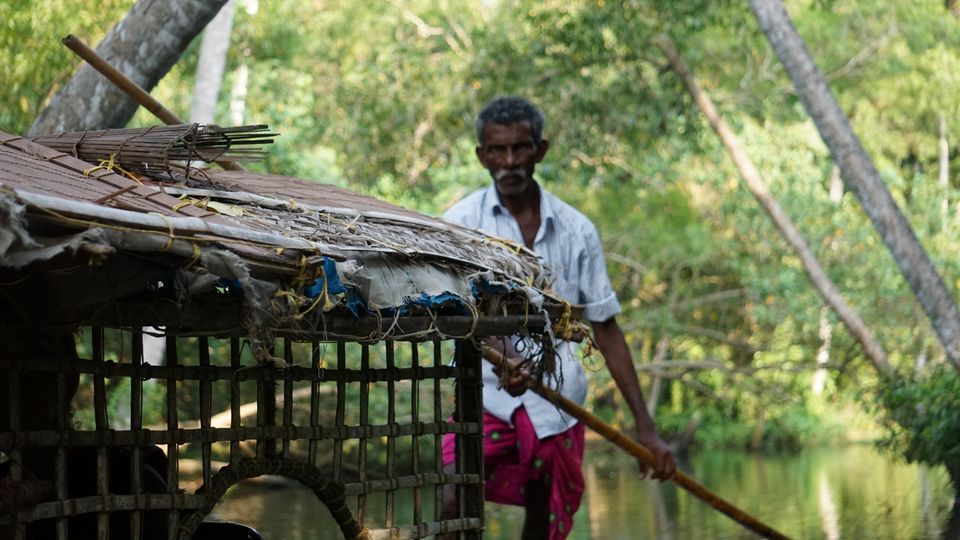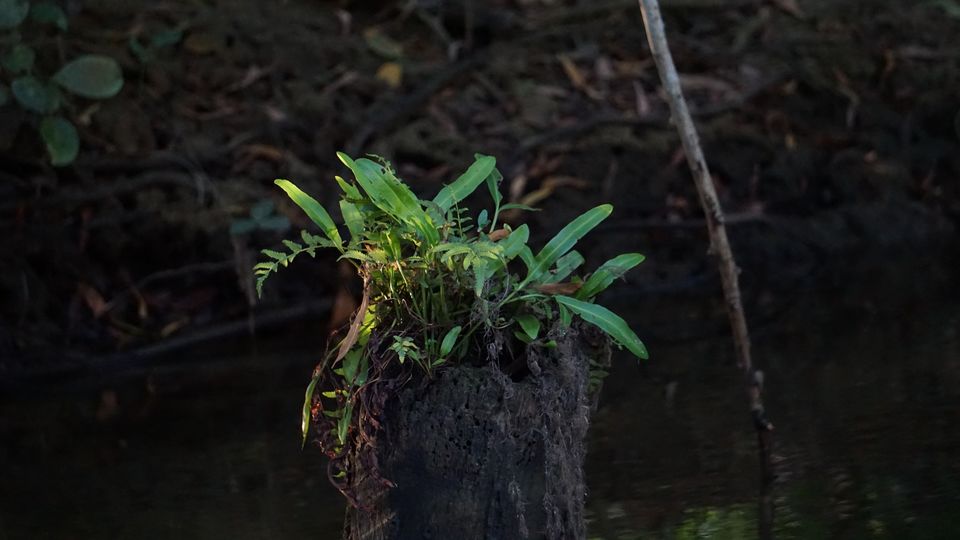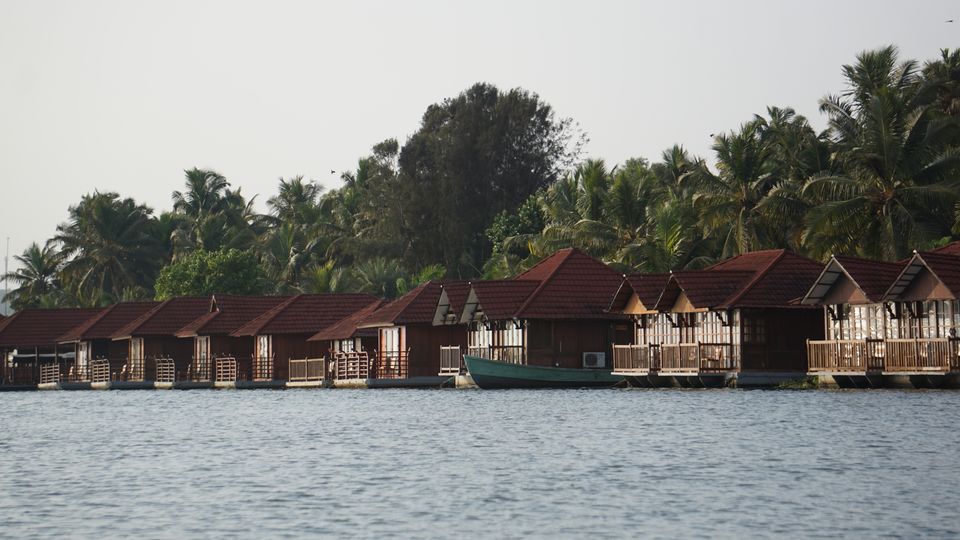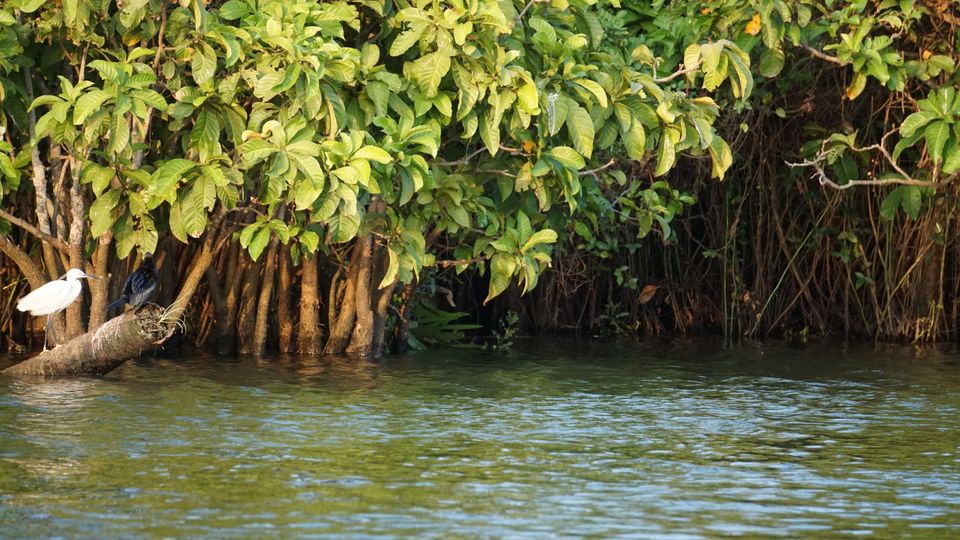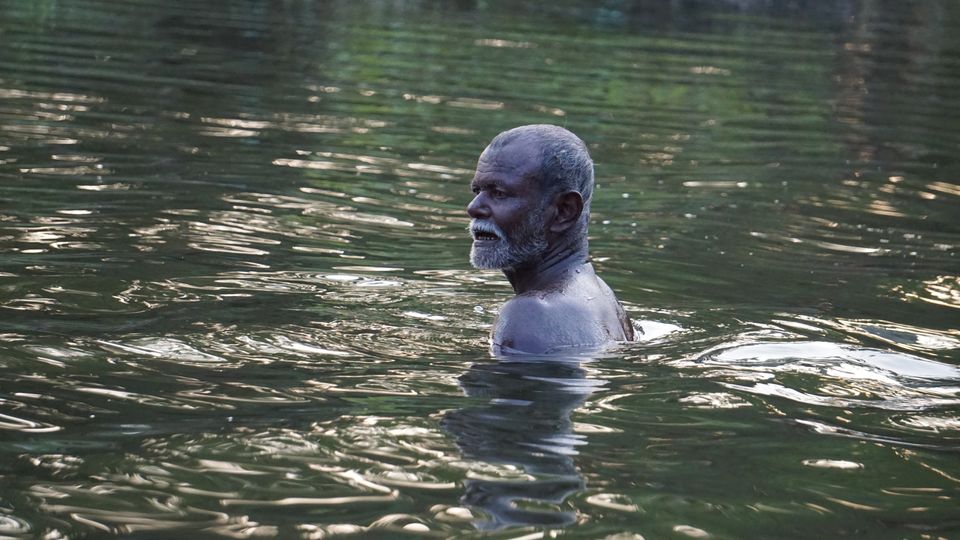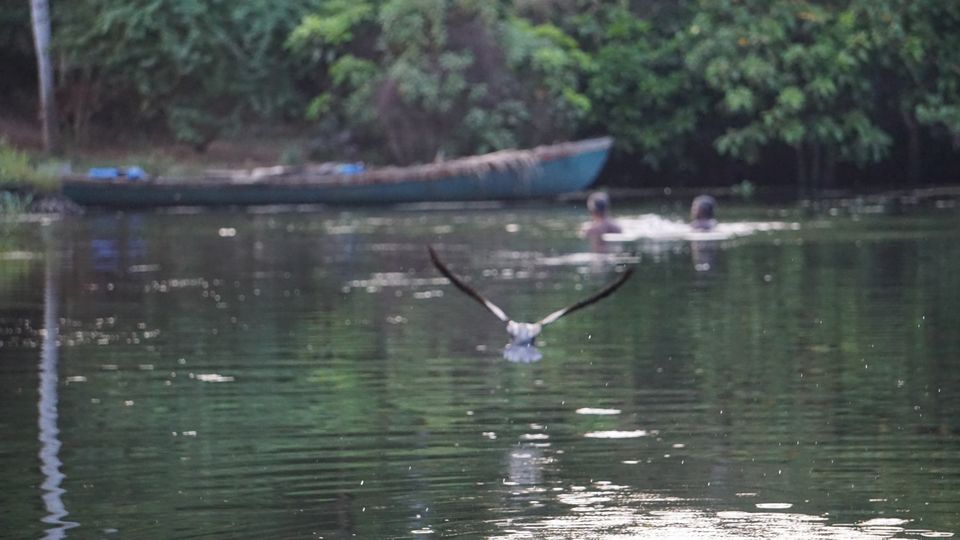 Day 18 : Kovalam, Kerala
Today morning after breakfast we spent few hours on the beach. Beach was clean and we saw many red crabs on the beach. The hotel's life guard were there on the beach and they informed us that it was high tide for two days so we shouldn't enter into the sea. This hotel has demarcated some private area on the beach where you can relax on a sun bed. We played in sand and clicked some pictures. All of a sudden, a big wave came and it threw one beautiful fish on the beach. I ran to rescue the fish and a bigger wave came in between. I decided to first rescue myself so i ran for my safty along with my son. It was fun running with my son. Third time much stronger wave came and my camera and mobile which was on a sun bed got wet. Our water bottle started swimming and our slippers were found atleast 100 metres away. This time it was my wife's turn to run who was still on a sun bed parked on the beach. This time we decided to enjoy the sea from our room's balcony and came back to our room. Sea was really very wild and rough today.
In the evening we visited Shree Padmanabhaswamy Temple. This temple opens for only few hours during the day for darshan and your are advised to visit their website before making any plan. You need to remove your mobile, watch everything before entering into the temple. Dress Code for male is lungi and no clothes on upper body. For female Sari is compulsory. Saree can also be draped over the salwar suit. VIP darshan cost is Rs 200 per family if three people. Please do only VIP darshan if you want to see the full idol of God Vishnu. In free category, you will get a chance to see the idol from distance and you may miss the chance. Its a very high security zone so you are advised to follow lane discipline. The idol is very big and there are three gates from which you can see the idol in parts. Its an idol of reclining form God Vishnu. There are some small temple as wellwhich you may visit before leaving the temple. Traditional dress can be purchased from shops in vicinity for as low as Rs 50 per person.
Overnight at hotel.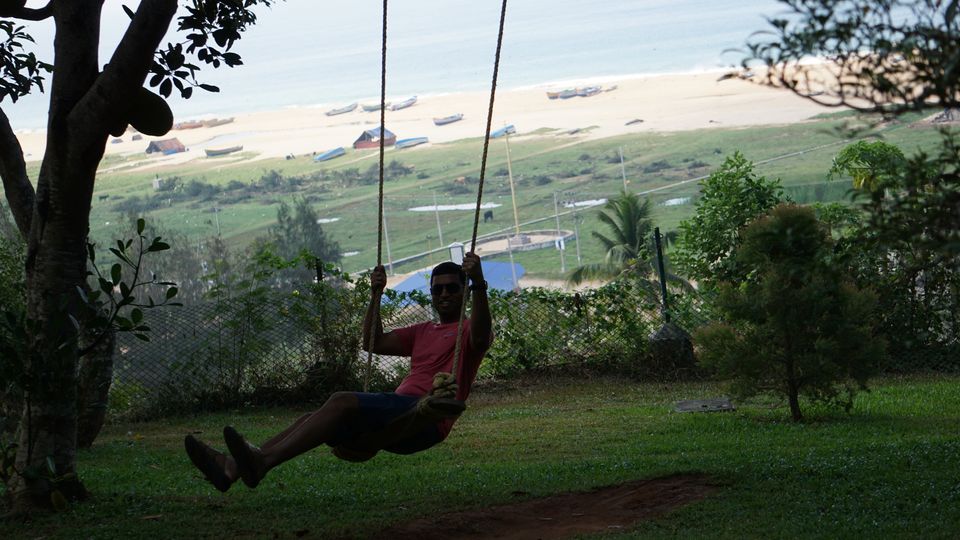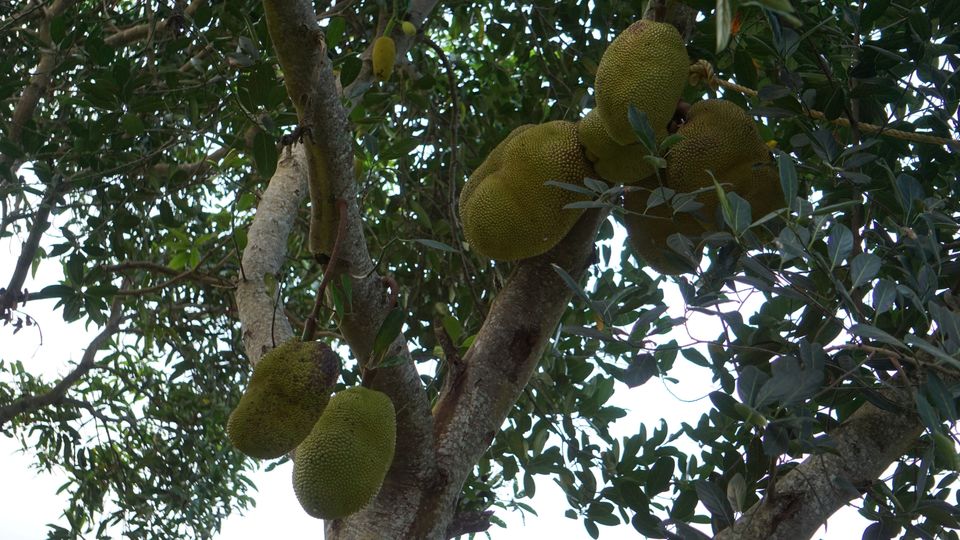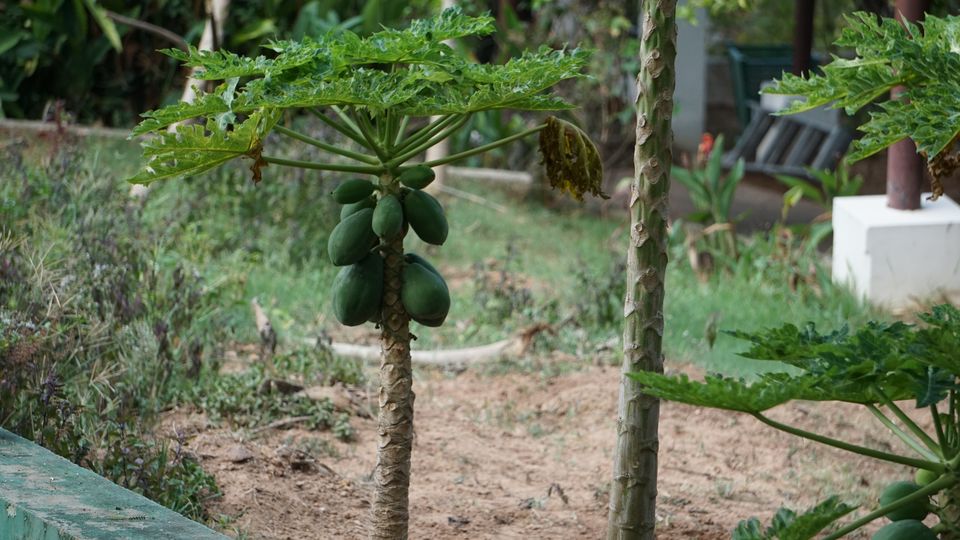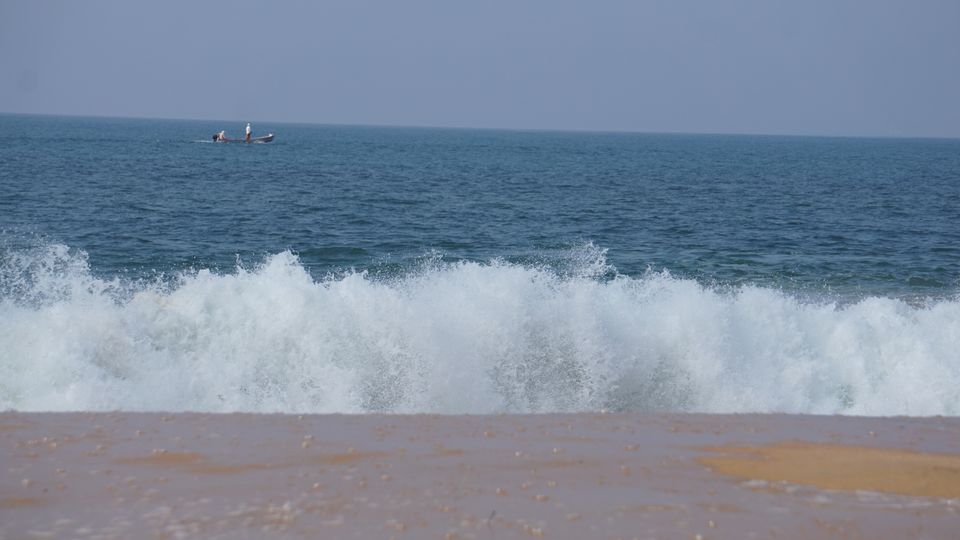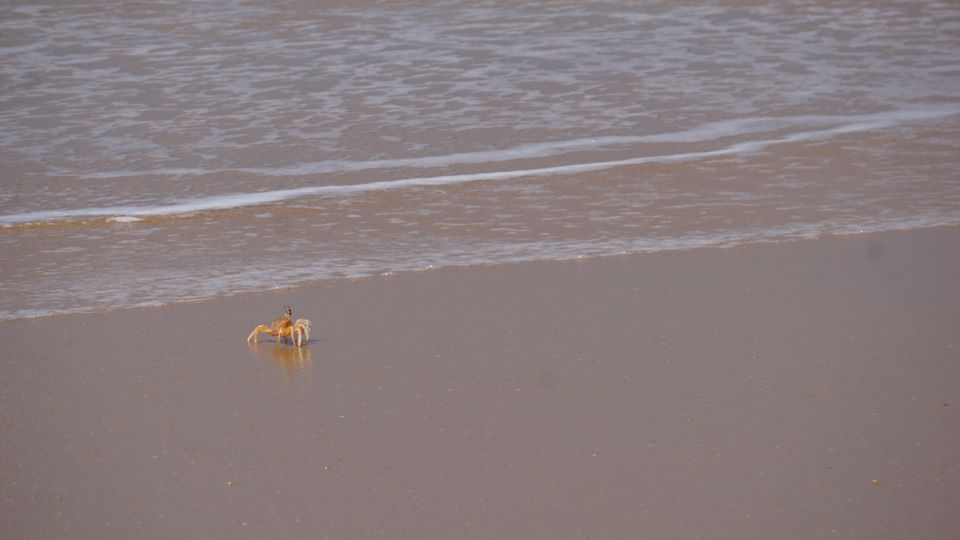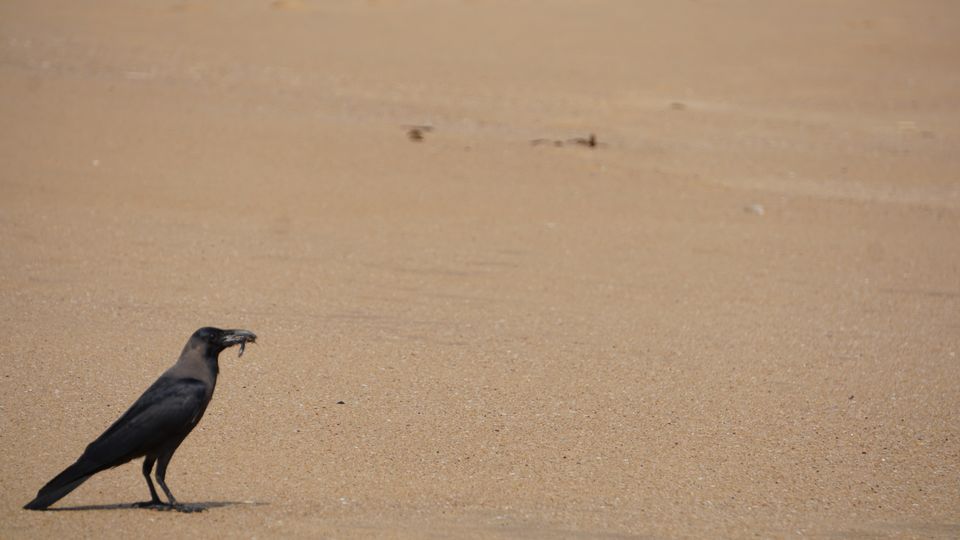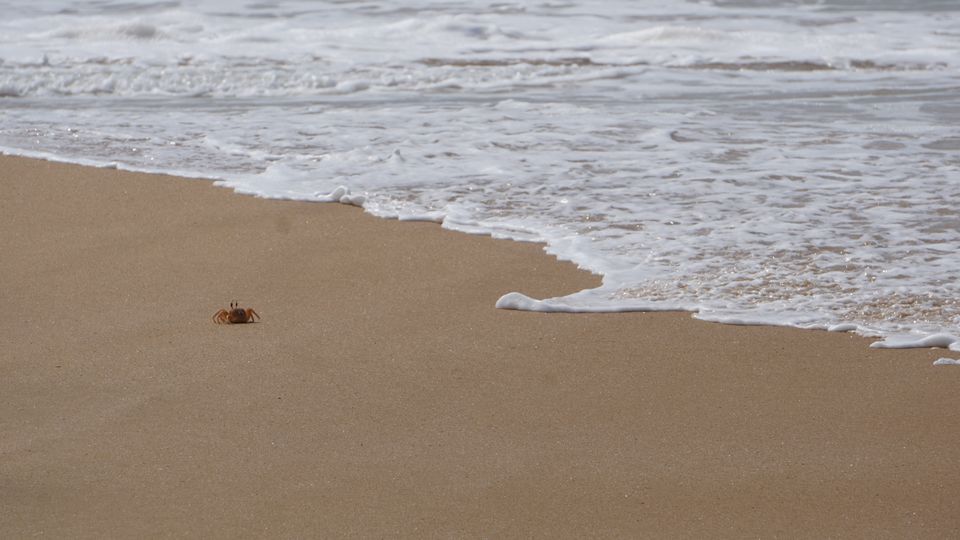 Day 19 : Kovalam, Kerala
Today we took rest at the hotel before taking our return flight.