This was my first journey to South India with my family (in my crew - mom, dad, me, my wife, moshi). This was very much awaited trip for my family and specialty of this - it was ~2200km road trip :) . I must admit that road infra is really good in Tamilnaidu.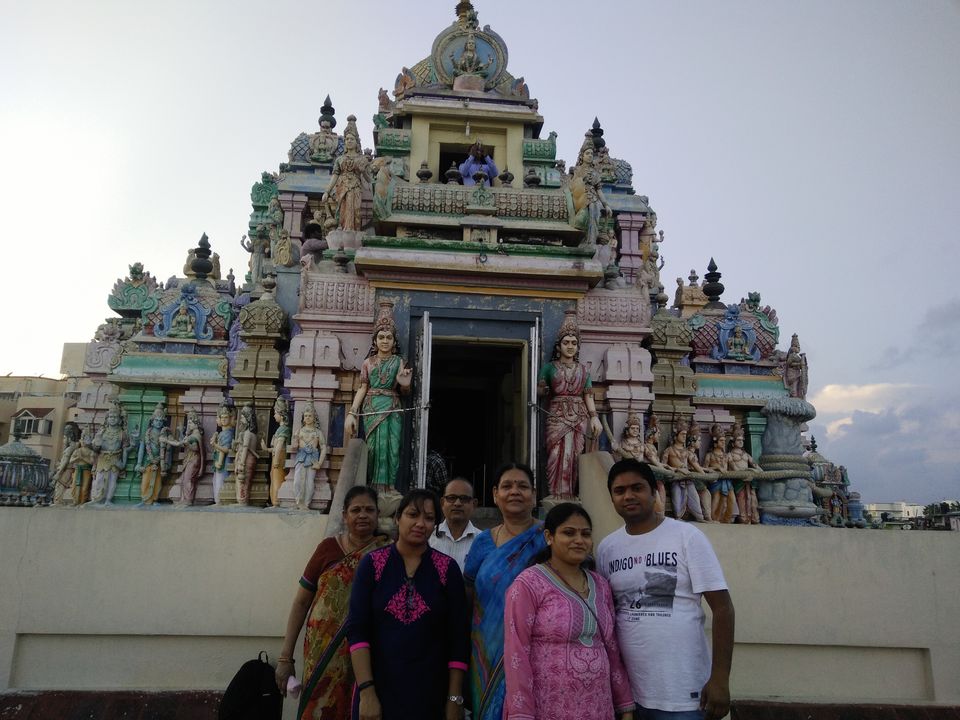 We started our journey from Delhi and landed in Chennai. Spent a day there and rome around in Chennai. In Chennai, we tasted two good things - Food in Murugun Idli Shop & Corn.
We started our journey early morning from Chennai to Pondicherry. As per initial plan, we thought first go to Mahabalipuram and then continue our journey to Pondicherry but last minute took decision not go their. Although we covered that place later on. It took ~4 hrs to reach Pondicherry. We first went Auroville center and spent a good time there. After that we went to Pondicherry city where we see Sri Aurobindo Ashram, Ganesh Temple, Beach bay. We spent 4-5 hrs there and continue our journey for Rameshwaram. My recommendation is stay a night in Pondicherry and enjoy the some cafe on beach side. We saw few temples on the way to Rameshwaram and reached there around 10pm in night. There are planty of options are available to stay at low cost. My recommendation is book in advance because some time heavy crowd surprised you. Recommended things to do - Water Activity (we didn't did this), Dhanush Kodi Visit, Early morning sunrise from Rameshwaram temple front, Spent time on Rameshwaram bridge (alleast spend 1hr by walking on bridge), Early morning (~4am) Shivling special darshan, late night sleeping pooja (~8pm).
We spent a full day in Rameshwaram and rome around. In evening, just sit on Rameshwaram temple sea side and enjoy the heavy wind. Although, next day we thought to leave for Kanyakumari but unfortunately Tamilnaidu CM Jailalita was no more so have to spent one extra day.
Next day late evening we started for Kanyakumari and after ~6hrs journey we reached there around ~9:30pm. I already did my booking into Vivakanand Ashram via online portal.
We woke up early morning ~6am and reached to Sunrise point and spent around ~2hrs there. That is much recommended activity and feeling is just awesome.
After spending a good time on beach, then we visit Vivekanand statue. On same day we started for Thiruvananthapuram. After ~4hrs journey, we reached to Padmanabhaswamy temple. We spent ~4 hrs there and come back to Kanyakumari for night stay. My recommendation is go by train. Also plan in that way spent at-least a full day in Vivakanand ashram (include Kanyakumari).
Next day early morning we started for Madurai and reach there in ~4hrs. Places to see - Madurai Temple, Muragun Temple, Madurai market. Although this took more time (~8hrs) than my expectation. Finally, on evening we started for Tirupathi ( which was ~600km). Although we traveled by car but my recommendation is to go by taxi to Tirupathi since Andhra Pardesh (AP) has a highest state entry tax (2000/-).
We reached next day early morning to Tirupathi and booked a hotel on spot. After took some rest for some hours and then started for darshan. It took us ~7hrs to complete our darshan and recommended book darshan ticket online. In evening, we started for Chennai and reached there in ~4hrs.
We spent 1 day in Chennai and then me & my wife started for Goa :). If someone is also planning in same way then my recommendation is go Goa from Thiruvananthapuram which nearest. (Chennai -> Tirupathi -> Pondicherry ->Rameshwaram -> Madurai -> Kanyakumari -> Thiruvananthapuram -> Goa).
Full Journey view on google map.