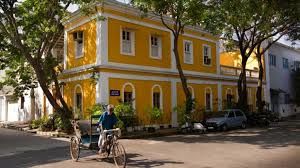 A fun-filled tour through Pondicherry's main neighbourhoods—on a vintage bicycle was one of my must do things. We started at Muslim Quarter also called Green Quarter. Then, we continued to Tamil and French quarters with its colonial houses. While riding along the streets of Pondicherry, you will understand what makes it a multicultural place: architecture, urban city design, and of course, the people on the streets. Pondicherry combines French touch with a typical Indian taste.
We had breakfast at Auroville Bakery. Trust me it was sinful breakfast that included Apple crumble which was gooey and soft, cheese croissant, chicken escalope sandwich along with cappuccino.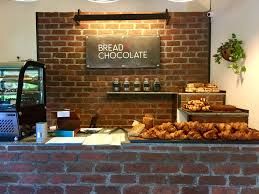 After extensive breakfast we went for shopping which is another one among the must-try things to do in Pondicherry. The city is famous for incense sticks, aromatic candles, essential oils, handmade paper items & handicrafts, souvenirs, mementos, cotton dresses, and metal artefacts. For fascinating retail therapy visit Kalki boutique: Known for jewel-coloured silk and cotton fashions, as well as accessories, incense, essential oils, handmade-paper knick-knacks.
Lunch was at Café des Arts; It is a Bohemian style restaurant offering the best crisp salads, baguettes & toasties, croissants, and the coffees & fresh juices of the tow. We had macchiato along with nutella crepes and ham omelette.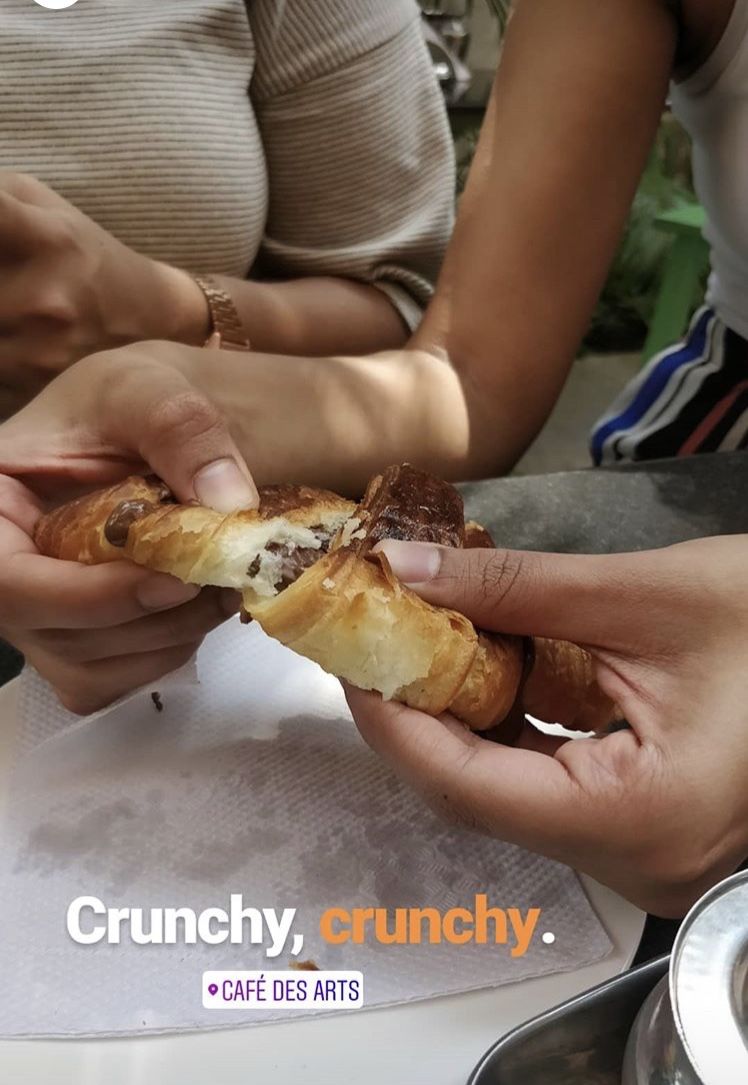 We wanted to spend our evening at Chunnambar Boat House. The popular venue offers spectacular boating facilities in Chunnambar River, with the lush green plantations and backwaters in the backdrop. Located along the Cuddalore Main Road, this is an amazing location for relaxing and chilling out. One can also sunbathe here and enjoy magnificent views of the sunset. The boats usually take people up to the placid and picturesque Paradise Island Pondicherry, also known as Plage Paradiso.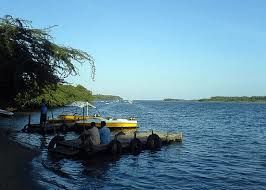 We wanted to keep our second day relaxed. After quick breakfast comprising of eggs, toast and juice at Olive De Villa where we were staying. There is a very old lighthouse that was built in 1836 by French engineer. This lighthouse is hardly open for 2 hours per day (3-5 PM). With an entry ticket of 10 INR (15 cents), this place is epic and must be visited when you visit Pondicherry. You get to see entire Pondicherry with a scenic view of the coastline as well.
If you want sense of the history of Pondy then Pondicherry museum should not be missed. This place is right near at the Bharti Park circle, it is a small museum which consists of various coins and other dug up stones. They also have a small painting gallery which is very beautiful.
I wanted to end my tour with exotic seafood and that's why went to Blueline. Not only it happens to be the one of the popular seafood restaurants in Pondicherry, but it's one of those rare restaurants that treat you delicious food and impeccable services for 24 hours straight. It offers panoramic views of the Bay of Bengal.
Along with boating up to the beach, there are some interesting and thrilling things to do in Pondicherry, especially this part of the city. You can go for backwater boating in Pondicherry, hiking, picnicking, and overnight camping in tree houses in backwaters. From here, people can also take short cruises to the sea. You can be lucky to spot dolphins too!
Pondicherry offers myriad things to be done, ample of spaces to be explored and exhilarating adventures to dive in.
Frequent searches leading to this page:-
pondicherry 7 days tour package, pondicherry tourism, pondicherry honeymoon tour package, pondicherry itinerary for 5days, pondicherry travel guide, pondicherry tourist places, pondicherry tour plan, pondicherry tour guide, pondicherry tour package from chennai, pondicherry travel guide, pondicherry family package, pondicherry family package from banglore