Located 140km away from Bangkok lies the historical Bridge on the River Kwai that you must have read about in history books or watched the eminent war film that goes by the same name. Having read about this bridge, my family and I were eager to visit it during our recent trip to Bangkok. The visit turned out to be not only a learning experience but also a great road trip. Here's what you need to know if you're visiting Bangkok and are planning on a day's getaway to River Kwai in Kanchanaburi.
About River Kwai
It was during World War II that the invading Japanese created a strategic railway line between China and Burma, a part of which is the bridge. However, this project that would be complete only over 5 years, was finished in 16 months: a horrifying story about exploitation of a free labour force, the Allied prisoners of wars (POWs). The bridge is symbolic of their utter ill-treatment and the blatant inhumanity that was inflicted upon by the Japanese. As we walked along the beautifully maintained bridge over the pristine River Kwai, we were told of the treachery that the POWs faced: starvation, absence of sanitation and rampant diseases at the face of this project. In fact, the horror of the labour was so extreme that it was known as the "hell fire pass".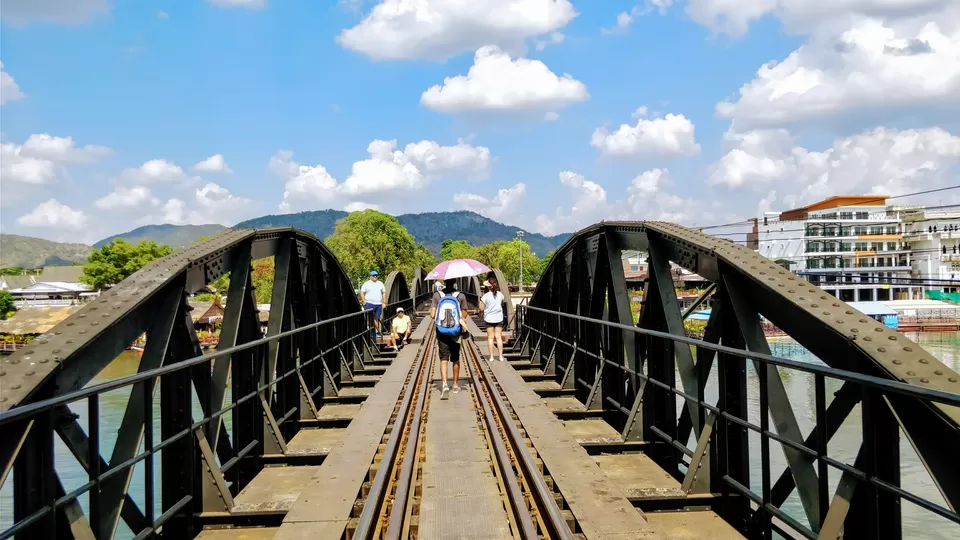 However, after almost 70 years to the horror, the bridge has now been retained to become a highly-rated tourist attraction. The river beneath is beautiful, with several over-water Thai restaurants where you can enjoy authentic Thai food. You can even take a tour of the river on a speedboat which is sure to be an amazing experience.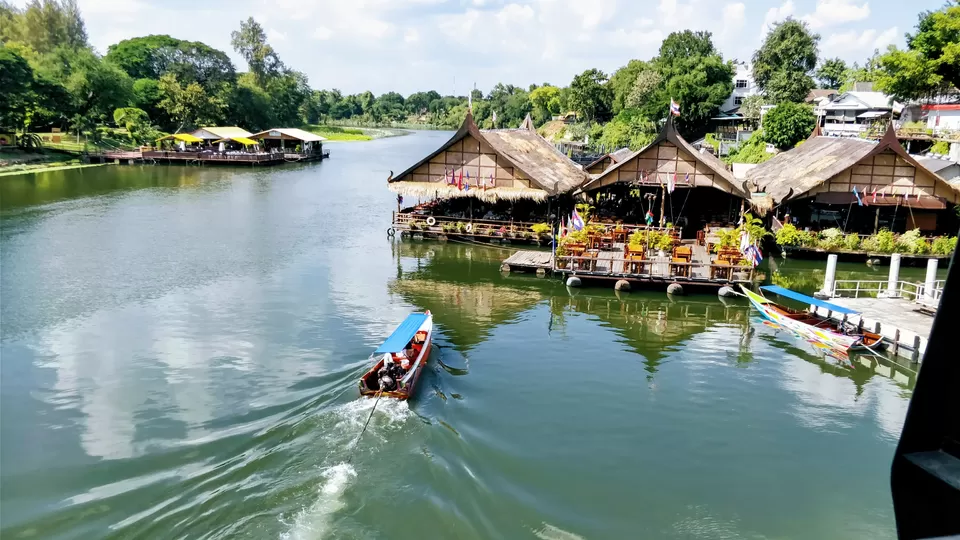 There are also various stalls and shops which serve dragonfruit shakes, coconut shakes and coconut water to refresh you in the scorching heat. Be experimental and try the different flavours they have to offer.
The War Museum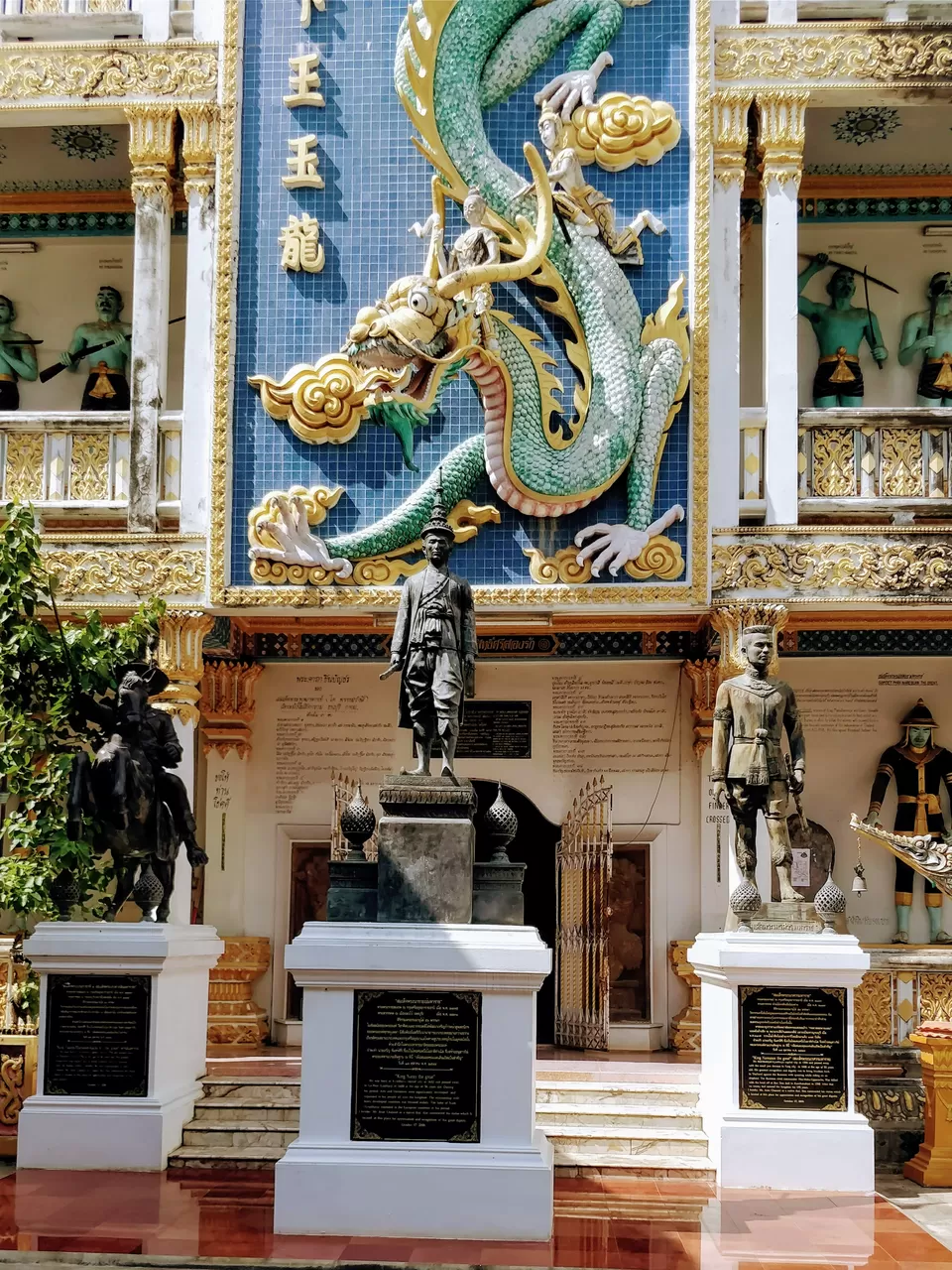 Kanchanaburi, where the bridge is located, is a tiny picturesque town. The museum about a kilometre away from the bridge is a must-visit, dedicated to the powerful leaders, scientists and philosophers of the twentieth century. You will also find several Japanese relics in the museum like cars, ammunition, and other artifacts. If you're interested in WWII, then you must go around the museum and spend time there.
As lunch approached, our next stop was a restaurant where I had the yummiest food during my entire one month trip to Bangkok.
This seemed to be one of the best eating joints in town, with brilliant ambience, good crowd and a wide variety of food and drinks on their menu. We had way too many dishes at the cafe and each one left us wanting more. A must-visit if you're in Kanchanaburi. What's even better about the cafe is its tiny library where you can enjoy a cup of coffee and read. Despite the fact that there were mainly Thai books inside, the ambience of the library is something you must experience.
How To Get Here:
Air: The closest airport to River Kwai is the Swarnabhumi International Airport in Bangkok which is almost 3 hours away. From the airport, you can either hire a car or take the bus or a train.
Road: From Bangkok, the journey by road to Kanchanaburi is extremely comfortable, and you can hire a car as cheap as ₹4,000. The distance from road is 140km and will take you about 3 hours to reach.
Rail: Several trains run from Thonburi Station in Bangkok to Kanchanaburi on a daily basis, and will cost you about ₹500 and up. It will take you 2.5 hours to complete the journey.
Getting to Kanchanaburi is extremely easy. So take a break from your revelry in Bangkok and indulge in something of historical relevance that will add to your knowledge a great deal!
All photos belong to the author. For more pictures from the trip, you can follow my Instagram handle here.
Been to more iconic historic locations around the world? Share your experience, travel hacks and suggestions on Tripoto!