Easily one of the most visited South East Asian country, Thailand is inarguably a must-visit destination for one and all. From the happening beach parties of Koh Samui to the backpacking trails in Chang Mai, there aren't many corners of this country that haven't been explored by travellers and tourists alike. From the jungles in the north, to the beaches in the south, this country is stunningly beautiful and has the ability to charm you despite over-growing tourism.
There are many ways to go around Thailand. The most favoured one is the roads, with buses available to and from every major and minor destination and taxis available at economical prices throughout the country. Many people also choose to hop on some flights and fly across the country. However, there is one mode of transportation in Thailand tour packages that is highly underrated, the railways.
Thailand's train system is extensive and connects the four corners of the country. It is a beautiful, scenic way of exploring this gorgeous paradise. Whether you wish to travel to the jungles of Chang Mai or go south to the peaceful beaches of Surat Thani, train journeys in Thailand are fun and thrilling to say the least. So, if you wish to explore the panoramic views of Thailand, here is a list of the best train journeys you can take.
The train in the middle of a market: Mahachai Shortline train
Mahachai shortline is no ordinary train route. Originally constructed to transport produce, today this train has become a sort of a tourist attraction. Starting from Wong Wian Yai station in Thonburi in the western part of Bangkok and ending at Samut Songkhram, a port side town. This journey is divided into two parts. The first part is an hour long ride from Wong Wian Yai, an hour long ride of rumbling through Thai countryside full of small canals and farmers, a view in direct contrast to the bustling Bangkok. The second leg of the journey involves getting off at Samut Sakhon, taking a 10-minute ferry across Tha Chin river and board the train at Ban Laem, for a 90-minute ride to Samut Songkhram.
It is during this second leg that you pass through the most interesting train station ever, Mahachai. This station is in the centre of a bustling "wet" market, so much so that the stallholders lay out their wares for display on the tracks themselves, only moving them to allow the trains to pass.
Timings: Trains run every hour from Wong Wian Yai to Samut Sakhon with connecting trains at 10.10am, 1.30pm and 4.40pm to Samut Songkhram. There is also a bus service between Samut Sakhon and Samut Songkhram and from Samut Songkhram to Bangkok's south terminal.
Price: You can buy a ticket from the Wong Wian Yai station itself. It's 10 bahts (₹21) per person, one way. The trains are non-ac and the seats are plastic. There are no classes and it's a slow train that stops every few minutes.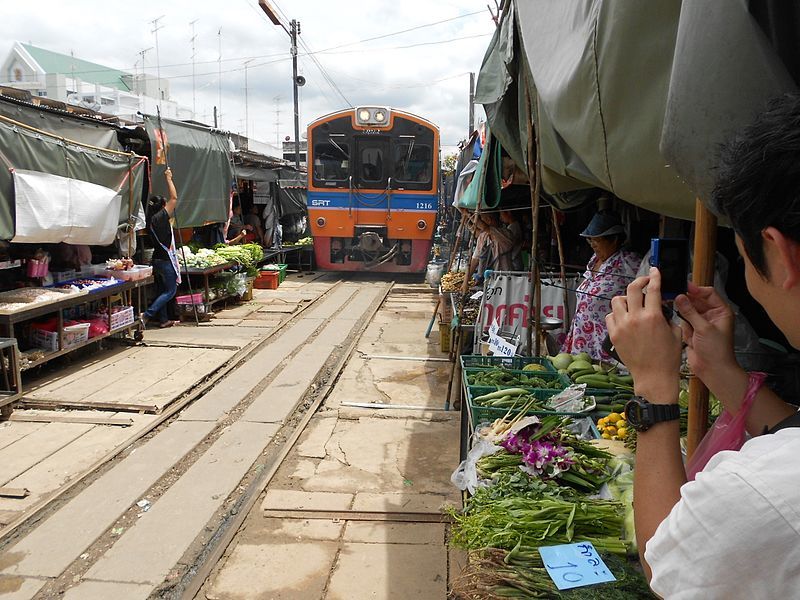 Exploring the dark history and impact of World War II in Thailand: the Death Railway
Yes, that name is very depressing but that is actually what the train route between Bangkok and Kanchanaburi is known as. Kanchanaburi is a beautifully scenic Thai town with a painful past. Death Railway of World War II, is that same railway route which Allied prisoners-of-war and Asian forced labourers were made to build, connecting Thailand with Burma under appalling and inhumane conditions. This is also the route where you can see The Bridge on the River Kwai (made famous by the 1957 film of the same name) and the Wampo Viaduct, which, while picturesque, was built through forced labour as well. You also pass Konyu Cutting, or Hellfire Pass, a site where labourers experienced the harshest conditions and the greatest loss of life, and was named as such because the sight of the emaciated labourers toiling by torchlight resembled something out of hell. Hellfire Pass is now a memorial, and there's a museum commemorating the suffering of those who worked on the railway. You can stop by and take a tour to truly understand the harsh conditions the workers were forced to work under.
Timings: From Bangkok to Kanchanaburi, the timings are 7.50 am and 1.55 pm. The return train timings, from Kanchanaburi to Bangkok are 7.19am and 2.48pm, in case you wish to do a day trip.
Price: 100 baht (₹212) per person, one way.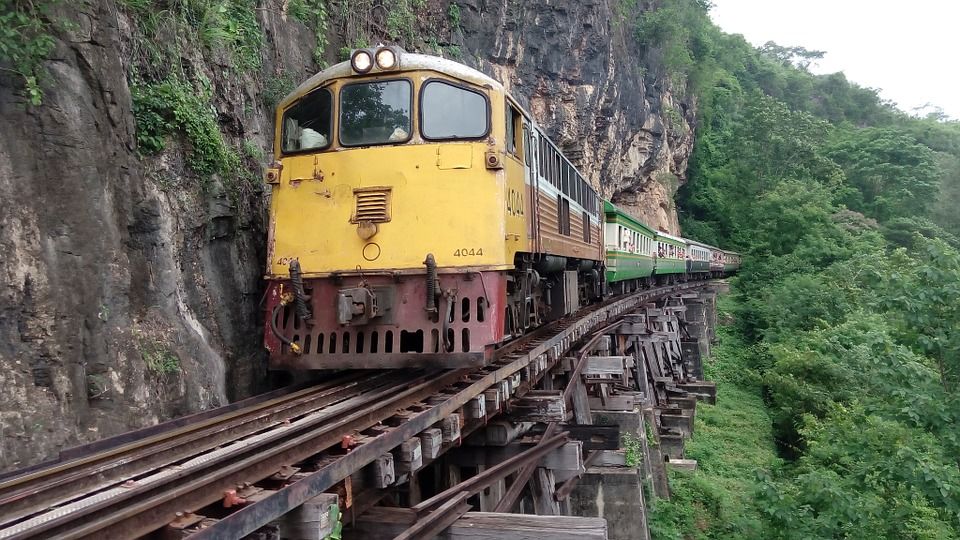 Experience luxury and opulence of the era gone by: The Eastern & Oriental Express
The emerald green of the Eastern & Oriental Express turns heads at Bangkok's majestic Hua Lamphong Station. With sleeping compartments akin to Queen Victoria's private boudoir and two gourmet dining cars styled like a Parisian restaurant salon, this is luxury like you've never experienced before. The least expensive cars also have en suite shower rooms and feather pillows so soft, that it will make you never want to get out of bed. And the cherry on top is the open-air observation car that places passengers within touching distance of verdant jungle and sapphire sea. A luxurious three-night tour from Bangkok to Singapore will take you through three countries.
Timings/Dates: 18th Sep, 27th Sep, 9th Oct, 21st Oct, 1st Nov and 10th Nov
Price: Three nights on the Eastern & Oriental Express costs £2,211 (₹2,02,908) per person, based on two sharing a cabin, with all meals including.