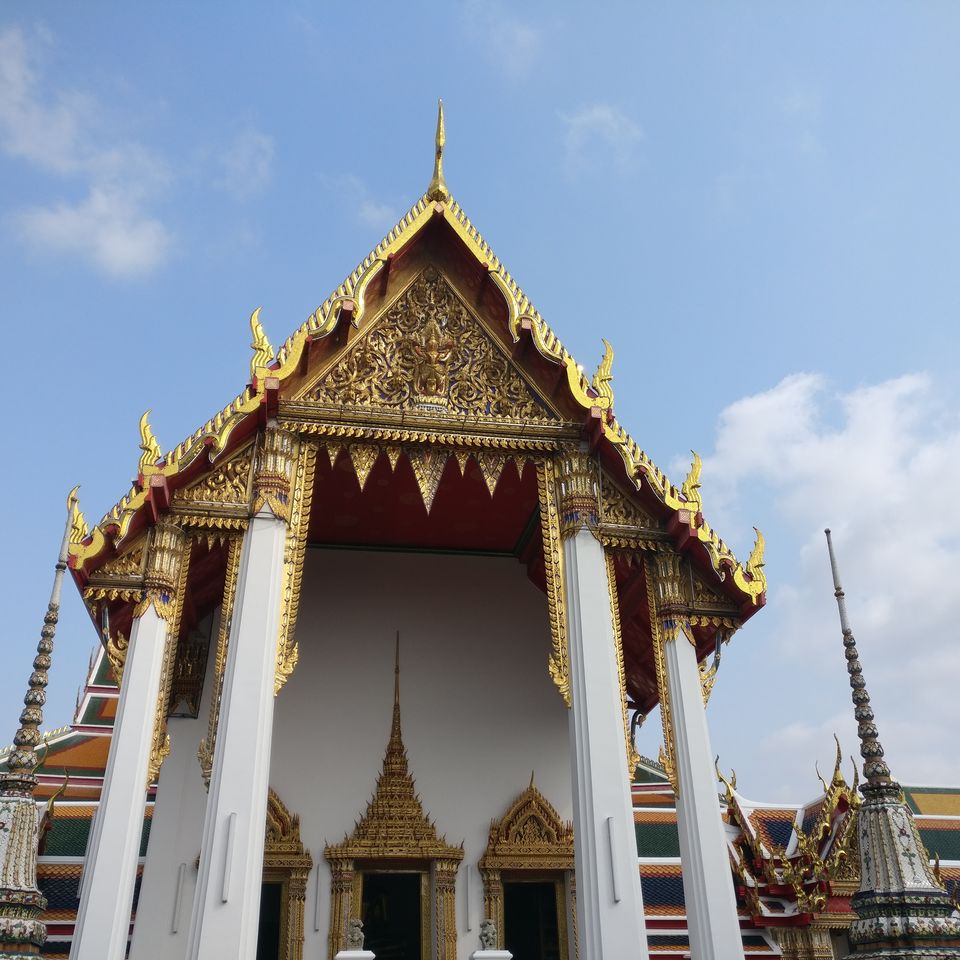 After 2 short trips (Lonavala and Alibaug) in January-2018, we (me and my husband) were craving to the first long trip of 2018. After a week of discussion, we decided to visit Thailand on March,2018. As we had only 1 week of leave, we decided to visit only Bangkok and Pattaya. So, on the first week of Feb, we booked the flight tickets from Goibibo and started planning the itinerary.
We decided to stay 3 nights in Bangkok and 2 nights in Pattaya and started looking for the accomodations accordingly. After going through lots of travel sites, we booked a hotel in Sukhumvit-11 in Bangkok and an airbnb Condominium apartment (Unixx condo) at south Pattaya. Usually we prefer airbnb apartments instead of hotels, but in Bangkok, we could find a suitable option in Sukhumvit area and hence booked a hotel. As there is Visa on Arrival option available for the Indians in Thailand, we did not apply it before departure. One of my friend suggested not to miss the dinner cruise experience in Bangkok, so I booked Chaophraya dinner cruise via klook.in. So, these are the only bookings we did before leaving for Bangkok.
We reached Bangkok by evening on 6th march. After the visa on arrival process done, we applied for SIM cards in the airport itself. There are many SIM card options available for tourists and as we were there for only 1 week, we applied 2 SIM cards(for me and my husband) with 7days of validity (unlimited internet), each of them cost 299 THB. After the SIM done, we booked a prepaid taxi and headed to our shelter at Sukhumvit 11. Uber is also available in Thailand, but we could not find any Uber cab for our destination and hence we booked the prepaid taxi. We were totally mesmerized by the beauty of Bangkok and this city turned out be a wonderful city and much more developed, beautiful, well maintained than our expectation.
After the sun wanes, Bangkok gets its second breath. After a shower, we decided to roam around Sukhumvit area and to taste the famous street foods of Bangkok as much as we can. Vibrant streets of Bangkok were all set to welcome a crazy and memorable night. The very first thing we did in Bangkok was to order a tom yum soup and fried fish from a food stall at the street of Sukhumvit. After that, we thought to take a sip of Bangkok nightlife and started walking towards SOI Cowboy which was only a few kilometers away from our place. Soi Cowboy was named after the cowboy hat-wearing African-American who opened the first bar here in the early 1970s, this place has a more laid-back, carnival-like feel to it than Patpong or Nana Plaza. We had plan for having dinner at hotel, but could not resist ourselves from the mouth watering street food available on Bangkok street and ended up with yummy street food.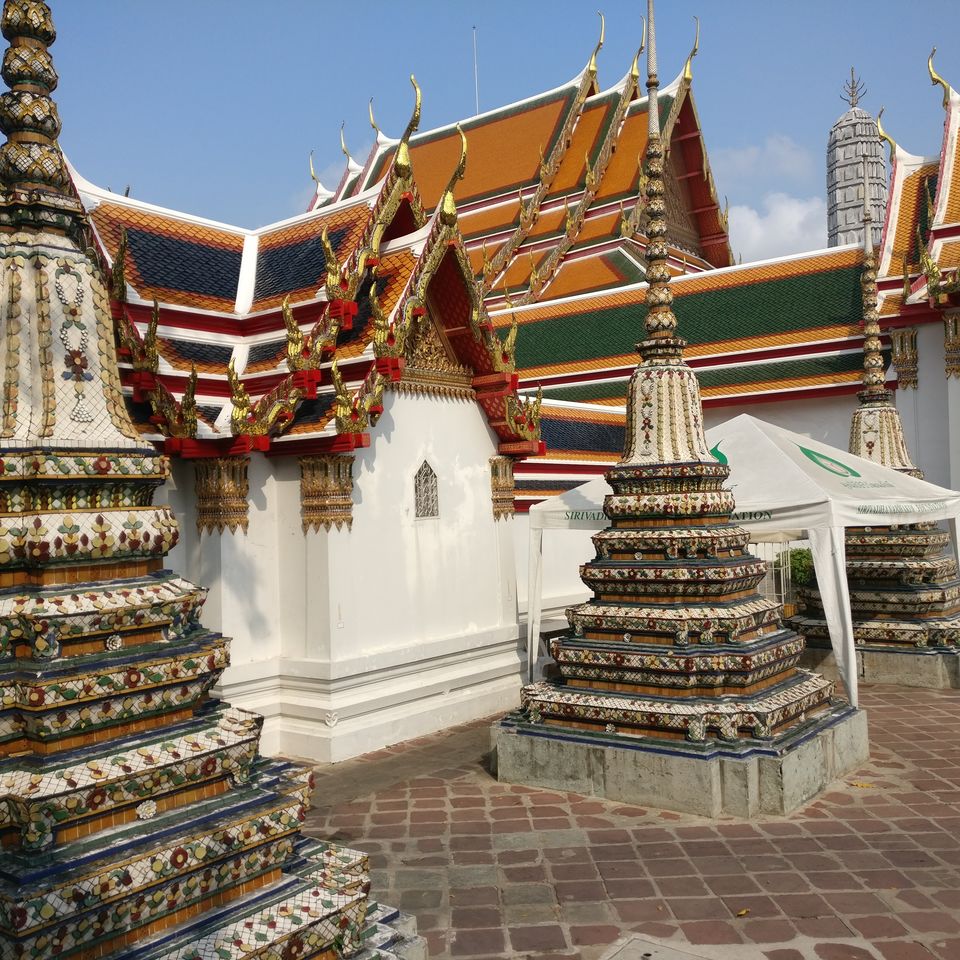 Waking up early is always tough but when you are travelling, waking up early is the best thing as you get more time to explore new places. The second day, we woke up early in the morning (around 6am which is very early for me) and got ready to visit the beautiful temples of Bangkok before it becomes too sunny. We booked an Uber cab and reached WAT PHO around 8am. Wat Pho is the oldest and largest temple in Bangkok. It has actually several temples within one complex. Of all the sights to see, the most stunning is the Reclining Buddha and we were totally mesmerized by its size and beauty. Wat Pho is a paradise for the architecture lovers.
After WAT PHO, we had breakfast in nearby cafe and headed to Grand palace. Grand Palace is 5 minutes' walk from WAT PHO. While walking towards Grand Palace, many people told us that Grand Palace is closed and suggested us to visit the floating market instead. But we had already read about those scams in many websites and hence ignored them. There was big queue in front of the ticket counter at Grand Palace. Grand palace entry fee is 500 THB per person and this place has a strict dress code. If you show up in short pants or sleeveless shirts/tops, clothing can be rented at the entrance at 200 THB per person. This complex is one of the most famous landmarks of the country and offers spectacular buildings and sacred sites. Grand Palace is mesmerizing architectural beauty and the most beautiful structure in Thailand.
We had a plan to visit WAT ARUN after Grand Palace, but we were too tired as the sun rays were falling perpendicular on us. So, we decided to skip that plan and decided to do some shopping instead. We took a taxi and headed towards Platinum Fashion mall.
If you loves clothes, then Platinum mall is the right place for you. After having lunch in the mall's food court, I started shopping. Platinum mall has a huge collection of trendy women clothing at a very minimal rate. But, as we had to get ready for the night cruise, I could not spend much time in shopping and had to rush back to hotel. This time we tried the Bangkok Sky train. Sky train is the most convenient way of traveling in Bangkok and we were amazed to see how disciplined and well maintained the BTS stations are.
We booked the Chaophraya Princess Dinner Cruise via klook.in and the booking amount was 2000 INR per person which includes the buffet dinner in the cruise. We had to reach the pickup point before 7-20pm as 7-30pm was the cruise departure time. We faced a heavy traffic on the way and were about to miss the cruise due to this traffic, but the google map saved us. The taxi driver was a very humble person and consoled us all the way from the hotel to the pickup point. He took all the possible shortcuts and luckily we reached the pickup point by time.
A dinner cruise is the ideal way to enjoy the City of Angels by night and it was the best part of our trip. Relaxing in modern comfort and enjoying famous Thai hospitality, you will view the majestic river and the many canals of the city once known as the "Venice of the East". During the dinner cruise, you can view the magnificent architectures on both sides (which includes the jaw dropping view of the temple of dawn Wat Arun and the royal Grand Palace) of the cruise along with the delicious buffet dinner and the live music throughout the ride.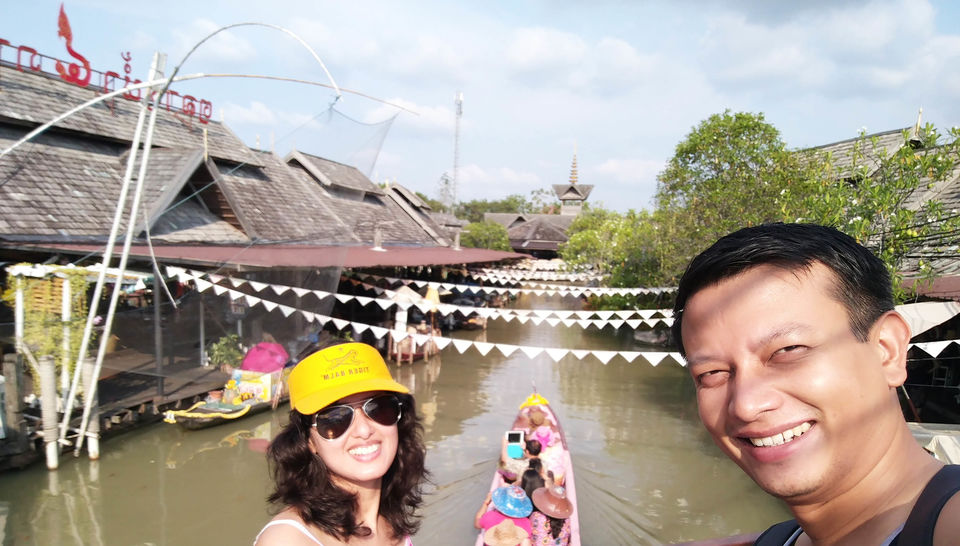 Now, it was time to leave Bangkok and to explore the Pattaya City. Our original plan was to take a early morning bus from Bangkok to Pattaya, but I could not wake up early that day. So, we dropped that plan and booked an uber cab and the rate was 1650 THB. While leaving, the hotel management told us that it was too much for Pattaya and they can arrange a cab at 1500THB. So, we cancelled the uber and took the taxi arranged by the hotel management. We bought some yummy sandwiches from 7-Eleven on the way ( 7-Eleven is a Japanese-owned American international chain of convenience stores) and reached Pattaya in 2 and half hours. We burst with joy and happiness when we saw our apartment in Unixx, south Pattaya. Unixx Condo is a beautiful building with all the modern facilities such as swimming pool, gym, Wi-Fi etc. situated in Pattaya South, 900 m from Walking Street Pattaya. Pattaya Viewpoint is 400 m from the property. Our condominium, which was on the 32nd floor of the property, was a beautifully decorated studio apartment equipped with all the modern facilities and had a jaw dropping window view (sea view).
Before exploring the city, we decided to visit one of the sky gardens in Unixx and went to the sky garden at the 42th floor of property. The mesmerizing view of Pattaya City from this sky garden was a perfect bliss to us.
After spending some time in the sky garden, we decided to visit the beaches which are at walk able distance from Unixx. But suddenly, it started raining and we had to change our plan. We booked a grab cab, which is easily available and convenient in Pattaya and went to the Pattaya floating market.
Pattaya Floating Market is riverside attraction in Pattaya displaying and showcasing the beautiful ancient Thai riverside living community and authentic ways of life, a walk through the hundreds of wooden houses built in the different styles of the four regions is pleasant and fun. Food happens to be the main draw as there are plenty of authentic Thai dishes and yummy dishes available. We tried many different Thai dishes and desserts there. The coconut pancake, banana pancake and the rice noodles with duck were extremely delicious and were my personal favourite. Apart from food, the Thai handicrafts and some ancient toys made from wood or die-cast metal are widely available within the market. It is a very pleasant place away from the crowd of the city to experience the Thai architecture and riverside side.
Pattaya nightlife is world famous and when we think of Pattaya, the first name which come to our mind is 'walking street'. Walking street is only 900m away from Unixx and we decided to a walk to the famous street and reached there around 7-30pm. Walking street is a lively place with colourful lights and loud music everywhere. After a walk, we went to Pattaya sea zone restaurant to explore the seafood in Pattaya. This restaurant has an amazing ambience with the great view of the bay of Pattaya. We ordered some prawns and fish dishes which were good but we found it too expensive. Before heading back to our apartment, we went to a Turkish ice cream stall in the walking street and the tricks performed by the ice cream vendor (Turkish ice-cream tricks) entertained us to the fullest.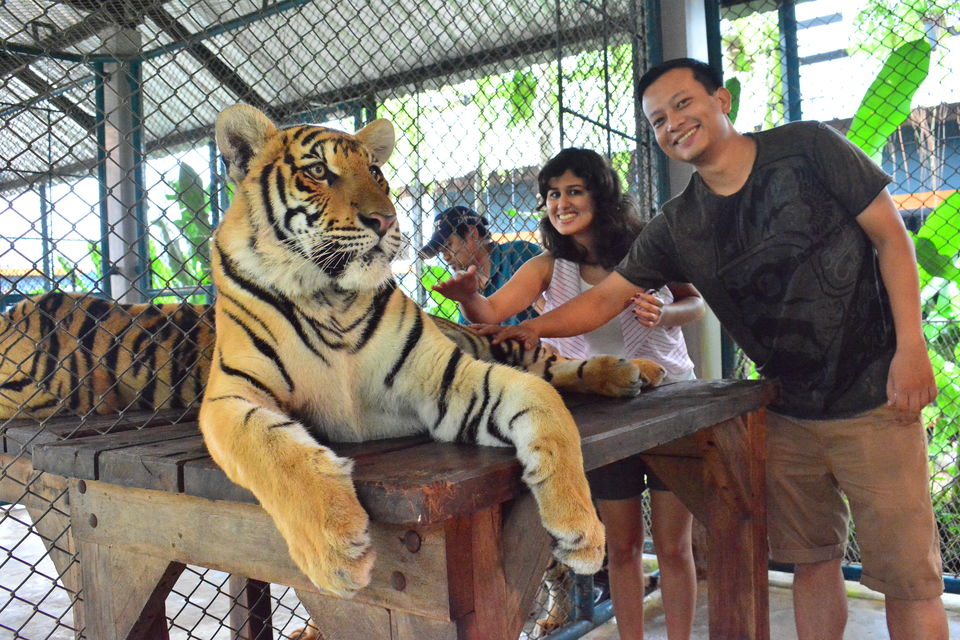 It was raining heavily in the morning. When I woke up and looked through the window, it was not satisfactory at all. "Rain rain go away, come again another day". I prayed to God to stop the rain but the rain did not seem to stop. I went to the kitchen (as it was a Airbnb studio apartment) and prepared some tea. The day before, we bought some yummy sandwiches from 7-eleven near the walking street. After breakfast, we decided to visit the tiger park, as it was not possible to go to the beach due to rain. We booked a grab cab and went out to visit the big cats in the Tiger Park, which is situated near the Pattaya floating market.
Tiger Park turned out to be a lifetime experience for us. I strongly recommend this place to everyone. If you visit Pattaya, do visit the tiger Park and take photo with the open tigers. After buying the tickets, there are a few important rules/instructions about getting close to the tigers in order to ensure your safety in Tiger Park. Trained and professional staff will be inside the cage with you all the time of your stay in the cage to give you information and take care of you so that you get a relaxing picture in nice environment during your exciting time.
After the tiger park, we came back to apartment and waited for the rain to stop. Luckily, within sometime the rain stopped and we got ready to explore the city on foot, as much as we can. First we went to the Jomtien beach which was almost 4 km away. As we decided to walk, it took almost 20/25 minutes to reach the beach. We first had lunch nearby and spent some time relaxing on the beach. After Jomtien, we went to the Bali Hai Pier, Pattaya to buy the ferry tickets to Koh Larn Island for the next day. There, we came to know that tickets are available on the ferry itself and the first ferry leaves Pattaya by 7am in the morning. From there, we went back to our apartment and spent rest of the day in pool and the sky garden of Unixx.
For dinner, we walked to the walking street again. We had some yummy burgers and some Thai dishes there. After a refreshing walk, we came back to our shelter.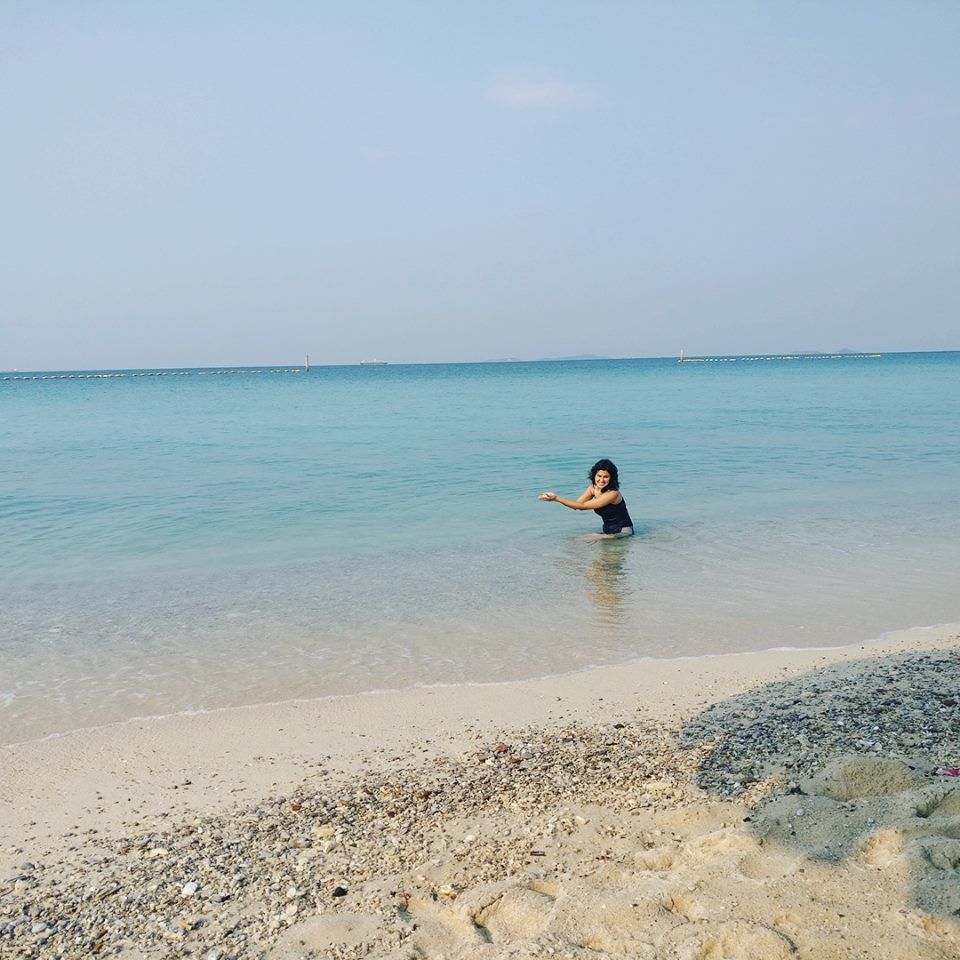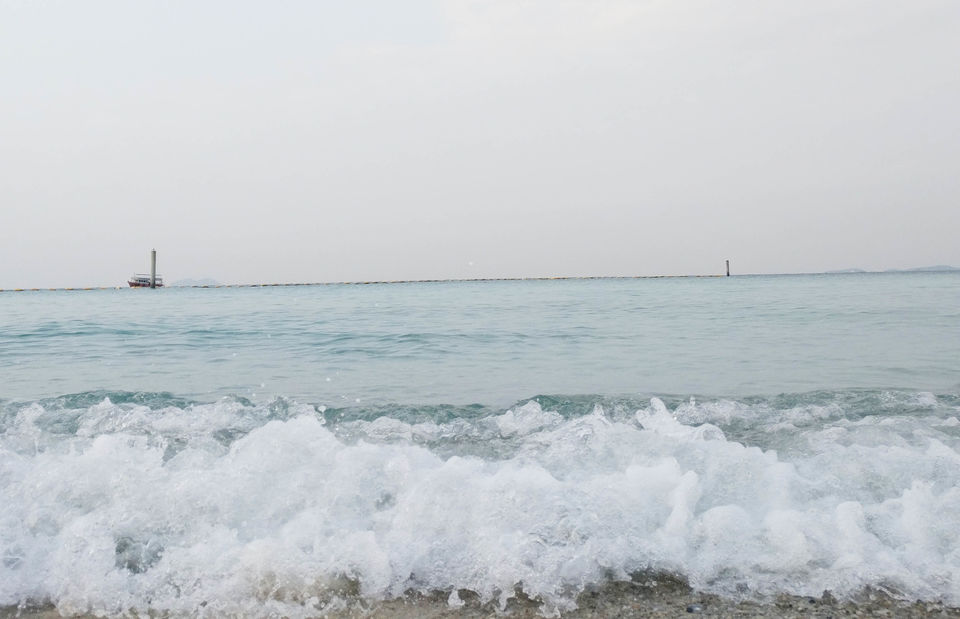 As a beach lover, this day was the most awaited day for me as we were going to Koh Larn Island which is sometimes called as coral Island. There are ferry services available from Pattaya to Koh Larn and a ferry ticket cost 30 THB per person. There are speedboats available from Pattaya to Koh Larn which cost around 1500 THB. We decided to take the first ferry of the day which starts from Bali Hai Pier Pattaya at 7am and reach Na Ban Port, Koh Larn by 7-45am.
So, we woke up by 5-30am that morning, had some tea, packed some food (from 7-eleven) and left out apartment by 6am. Bali Hai Pier is situated at a walking distance from Unixx and we reached there by 6-20am. So, we boarded the ferry and left for the Coral Island.
Koh Larn has six main beaches and a few smaller ones. All of the beaches are of white sand and clear azure waters. We wanted to visit a quite and secluded beach which is away from the crowd and hence Samae beach was the best option for us. Motor Bike Taxis are easily available at Koh Larn and we booked one bike taxi to Samae beach. Samae beach is a white sandy beach with crystal clear water. We reached this beach around 8am in the morning and it was a clean and quite beach away from the crowd. After spending almost 2 hours in that beach, we headed to Tien beach which was at a walking distance from Samae beach. Tien beach is very beautiful white sand beach in Koh Larn which offers a breath-taking scenic view. This beach was not too crowded but not as quite as Samae beach. After spending some quality time on the beach, we booked a bike taxi to Na Ban Pier so that we can catch the 12pm ferry back to Pattaya.
It was time to say bye bye to Pattaya and around 2pm we checked out from the beautiful Unixx condo with lots of beautiful memories. We booked an uber cab to Bangkok and reached Bangkok around 4-30pm.
It was our last evening in Bangkok and we decided to explore the malls of Bangkok and to shop as much as we can. We visited MBK mall and platinum fashion mall. Pantip plaza was the next in our list, but could not visit that mall due to lack of time.
After spending 5 beautiful days in the land of smiles, now it was the time to say Goodbye to this beautiful country. As we had an early morning flight back to Mumbai, we woke up with a heavy heart and a promise to visit this place once again. Time flies but the memories last forever. "Hasta La Vista, Thailand".
Frequent searches leading to this page:-
Thailand honeymoon package cost, Thailand tourism honeymoon packages from India, Thailand tourism cost, Thailand holiday packages for family, Thailand tour packages from Delhi, Thailand tour package from India