Thailand is one of the most popular tourist destinations in the world. All thanks to its pristine white beaches, stunning landscapes, exotic islands, beautiful Buddhist temples and spectacular wildlife. I know that I was painting a perfect picture, the last 24 posts on Thailand. But, yes! No rose is without thorns. There are some popular scams in Thailand that you should be aware of before planning a trip to the otherwise incredible country. While I had done an intensive research, reading the many experiences that tourists had to share, unfortunately, we also fell prey to a couple of them.
Popular Scams in Thailand
1. The Grand Palace is closed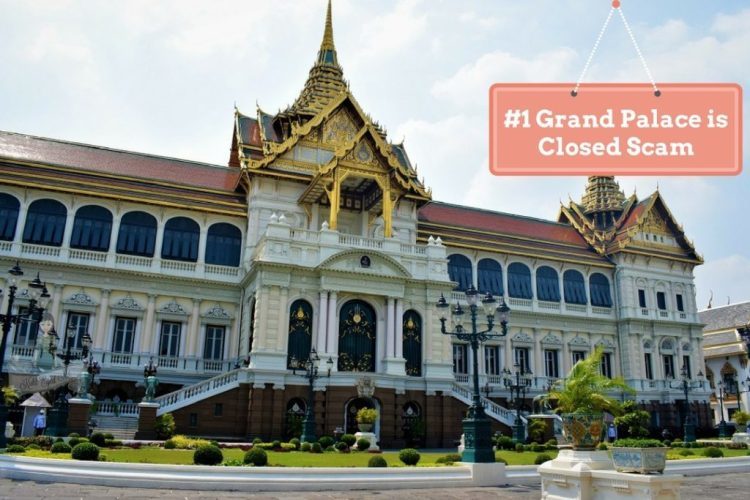 It is a common scam, where the tourist is informed by a local, a random stranger nearby the Palace, Tuk Tuk or taxi drivers that the Grand Palace is closed because it is a National Holiday. While you contemplate on what you should be doing next, the TukTuk driver offers you a ride to a nearby temple such as Sitting Buddha/Lucky Buddha which is open only once a year (oh, you are so lucky!). Listen to them and you will end up in some gem or tailor shop.
2. Tuk-Tuk Scam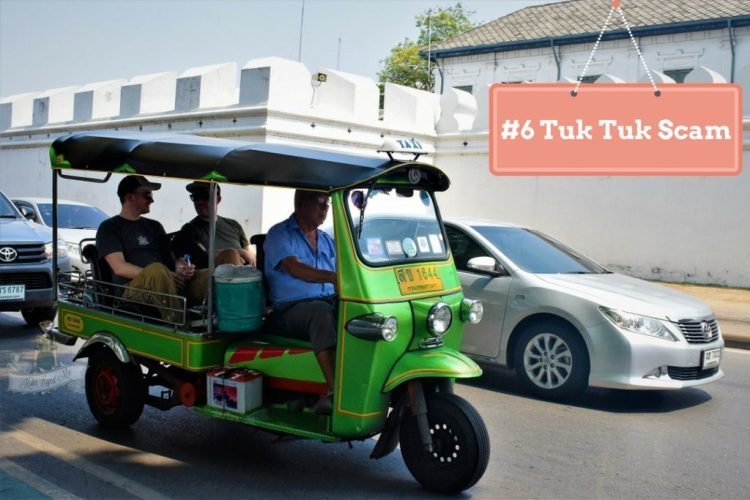 Now that you've ended up in a gem shop, you are coerced into buying something. The Tuk-Tuk drivers will insist that they get a meager commission out of it and that you are doing a big favor to them. But in reality, it would be his relative's shop.
Something kind of this happened with us. After the Grand Palace visit, we had decided to walk down to Wat Pho which is close by. However, the sun was in his unforgiving self and I couldn't walk any further. We were approached by a Tuk-Tuk driver who said he'll drop us for just 10 Baht. We happily settled on the pretty looking rickshaw and then he started listing his demands; that he would take us to other temples in the vicinity for an additional 10 Baht provided we also go to a gem shop on the way. Well, thank God I had read about this scam and we politely declined his offer. Well, he said, "You start walking then". Phew! That brings me to the next scam in Thailand.
3. Thai Gem Scam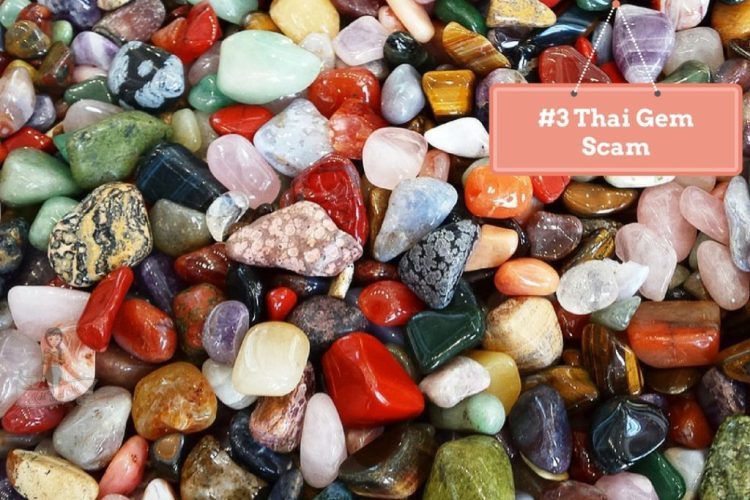 You will be told that gems in Thailand are abundant and that you will get it at real cheap and wholesale prices; that you can sell it for a fortune in your home country. They may even scare you trying to lure you into buying the gems for health reasons.
4. Patpong Sex Show Scam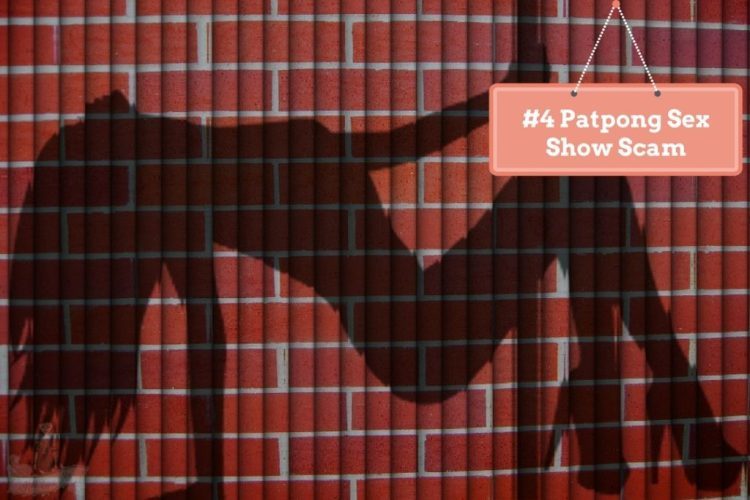 Walk at night through any Sois in Sukhumvit, you will be shown by Thai men or taxi drivers, a laminated list of Ping Pong shows - the Menu, where you get to see different acrobatic prowess which you dare to imagine. Patpong is the red street of Thailand. While experiencing a Ping Pong show may mischievously be on your bucket list, beware of the scams that come with it. You will be offered free shows for just 100 Baht for a drink and you will be led to some shady place. This turns into a nightmare as you'll be asked to give a generous tip for some meek trick. You'll be given a bill of few thousands in the end and you'll have no other go than paying them. Things could get violent here as the bouncers tower over you.
5. Watch Repair Shops in Pattaya
We were astounded to see a row of watch repair shops in Pattaya. As fate would have it, the husband's watch had to be repaired and we went into a small shop. God knows why we acted so stupid not to ask how much it would cost for the repair. He literally looted us. Thank God, at least he had put in some original Tissot parts, else I think my husband would've been heartbroken all the more.
Always remember to ask beforehand how much they would charge if you go for a watch repair. They could loot you!
6. Taxi Scams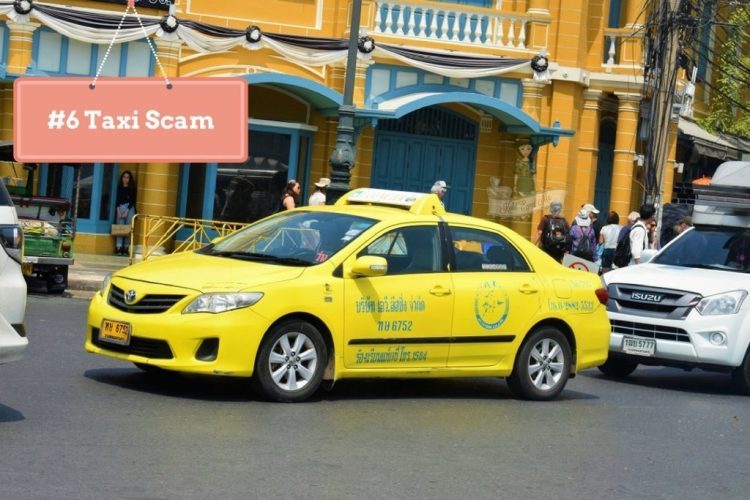 Avoid taxis without meters or broken meters. Negotiate the price beforehand. Taxis at airports costs more than those that are outside.
7. Motorbike Taxis in Pattaya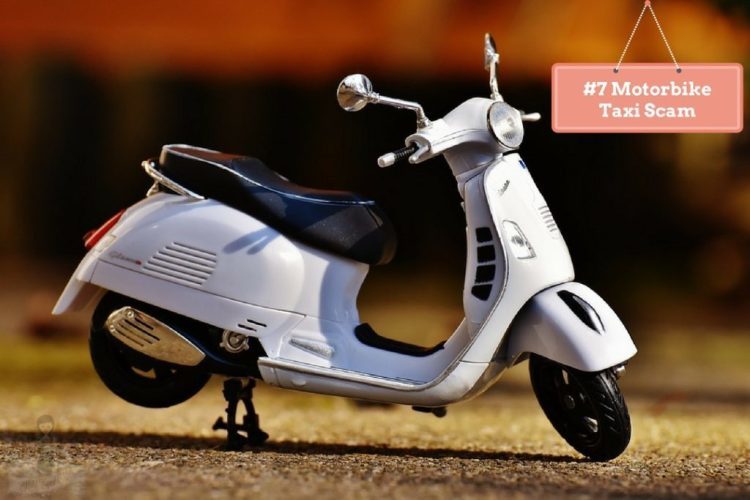 If you take a bus from Bangkok to Pattaya, you will be dropped in a bus stand. There will only be motorbike taxis and you will be charged a couple of hundreds for getting to your hotel which could hardly be a few meters away. Make sure you've pickup arrangements by your hotel. There is no other go!
Also, never hand over your passport as collateral when renting a motorbike. Give a photocopy if they insist.
How to avoid getting scammed in Thailand
Trust your instincts always. Do not act too touristy or inexperienced. Thai people are rather shy. So watch out for those who try to start a conversation with you. Thai people are not so fluent in English (most of them, except maybe the receptionist at my hotel in Bangkok :O ). So, if someone approaches you in fluent English, be skeptical.
This blog was originally published on Kohl Eyed Capers.