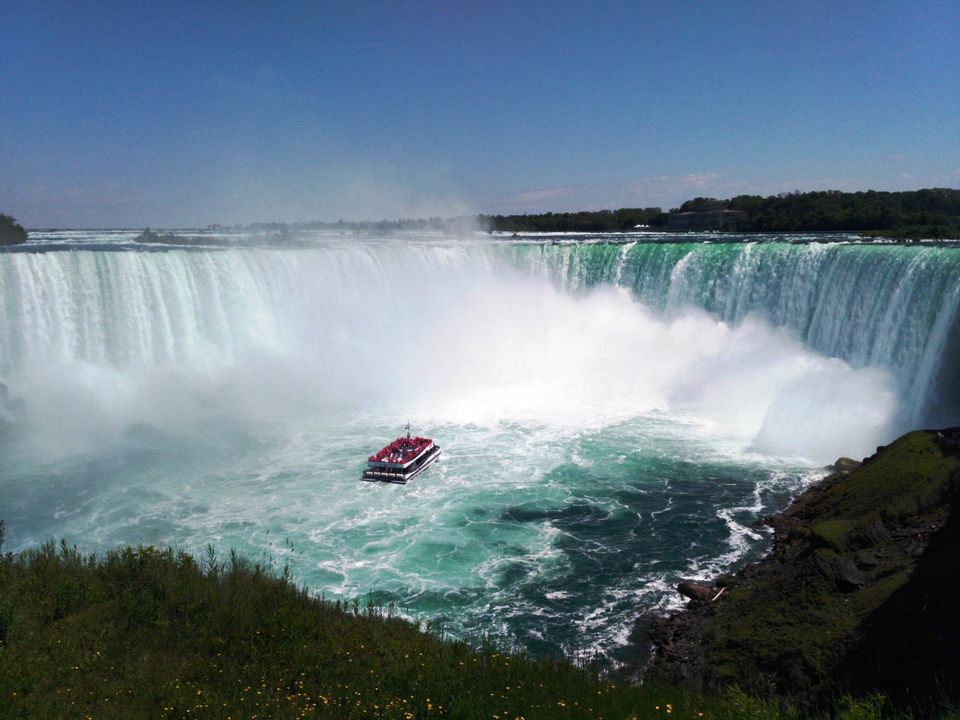 Wow, man! What a country! The world's second largest. Where 80% of Canadians live in the cities and vast open spaces are unoccupied. This is a country that could do with a lot more immigrants!
Canada is celebrating its 150th year. In 1867 it broke free from the British yoke. But the indigenous peoples have been here for over 12,000 years and some of them say it's ridiculous to celebrate a 150 year watershed. Notwithstanding these murmurs, Canada is reaching out to the international community in a big way, showcasing its strengths, its natural beauty and its love of peace. And the country's drop dead gorgeous Prime Minister is making the world fall in love with him at every step. When it comes to unveiling his torso Justin Trudeau can give Salman Khan an inferiority complex. He doesn't shave himself clean – and he even has a super-sized tattoo! What's more the junior Trudeau has a knack of balancing chairs and babies. Can he handle the balance of payments and balance the budget? Well, I don't know. Let's wait and see.
The outcome of all this hullaballoo is that Canada has suddenly started looking good. It's no longer viewed as a poor cousin of the United States. At first glance the similarities with the United States are rather striking. But as the days pass you realize this is really a warmer place. There's something about Canada you don't find elsewhere - it's hard to put a name to it, but it's very real.
Niagara Falls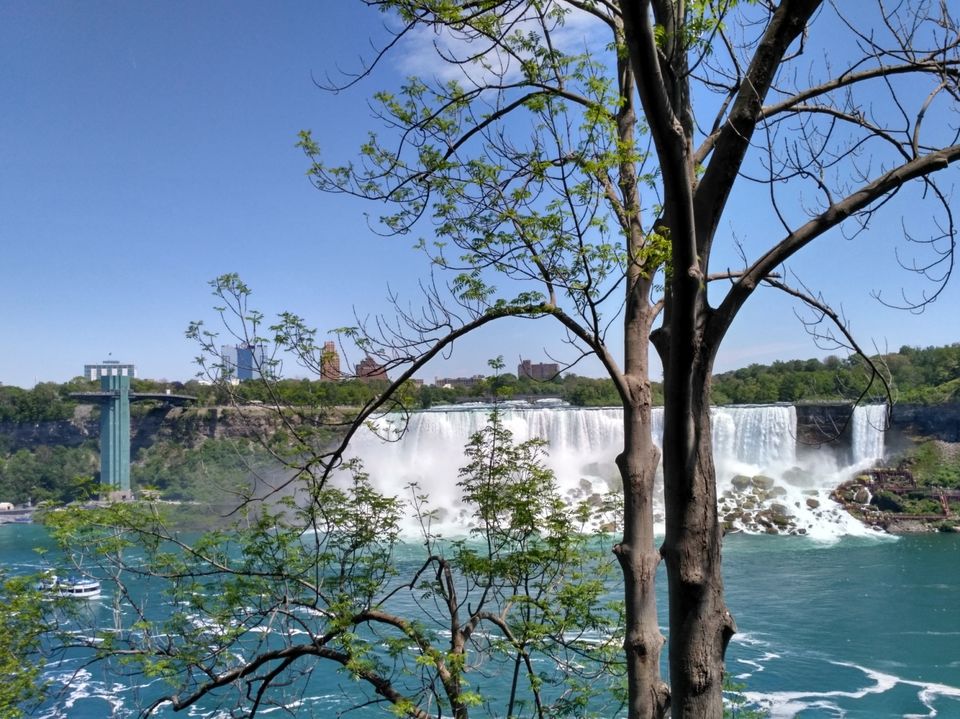 My access point was Niagara Falls, that dream destination everyone on the planet needs to visit. I just walked across the Rainbow Bridge, daintily stepping from the Unites States into Canada. All my worldly possessions were in my over-sized red handbag. Earlier that day I had spent hours at the Niagara Falls State Park with friends and family and enjoyed the Maid of the Mist boat ride, not to mention scrambling over wet, slippery rocks in a blue poncho.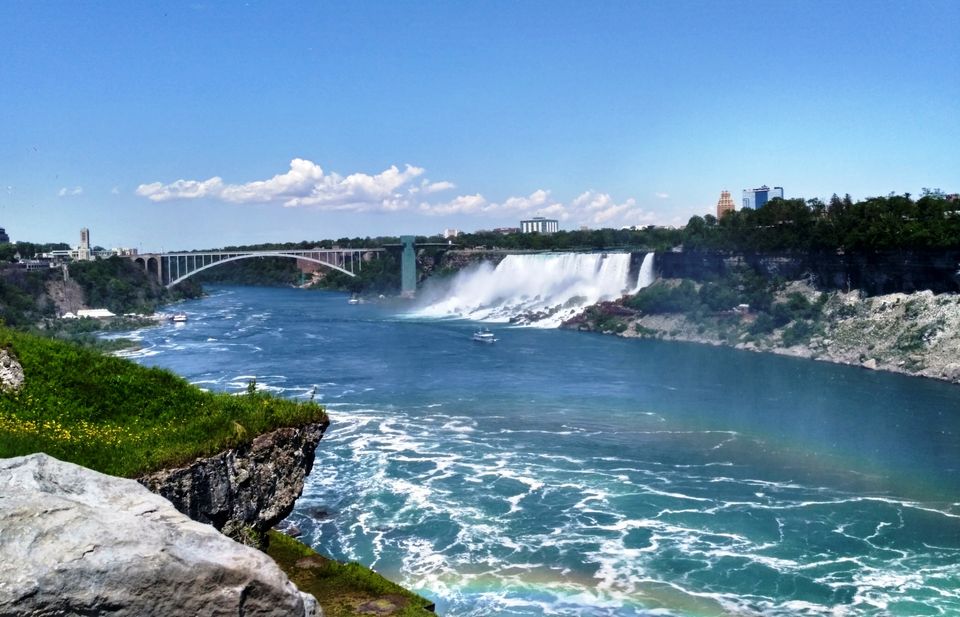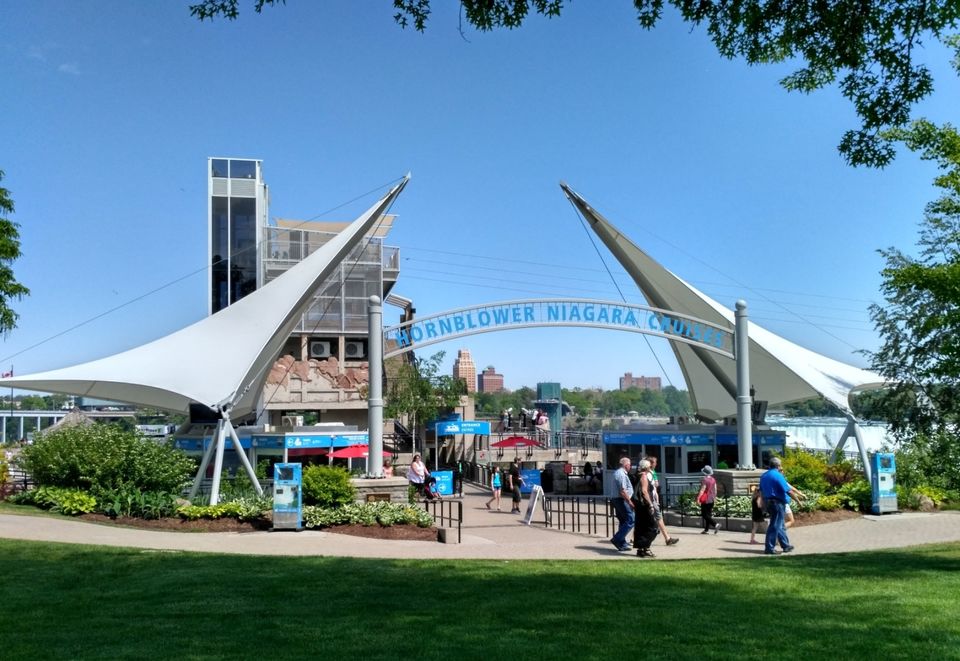 My friends Beena and Aji had come over from Toronto to pick me up. They turned out to be superb hosts. Their two adorable kids Aditya and Abhinav welcomed me with open arms – and tried quite unsuccessfully to induce me to play with their puppy!
The view was better from the Canadian side. The rainbows looked brighter and the Rainbow Bridge reminded me of the bridge across the Victoria Falls connecting Zambia and Zimbabwe. The Horseshoe Falls were an amazing shade of green. Climb up Skylon Tower or take the ferris wheel if you need better views. To entertain the young there are dozens of play houses with delightful names such as Haunted House and Castle Dracula. But we didn't linger because Toronto was our base camp for the night and we had a dinner date with a friend at Mississauga.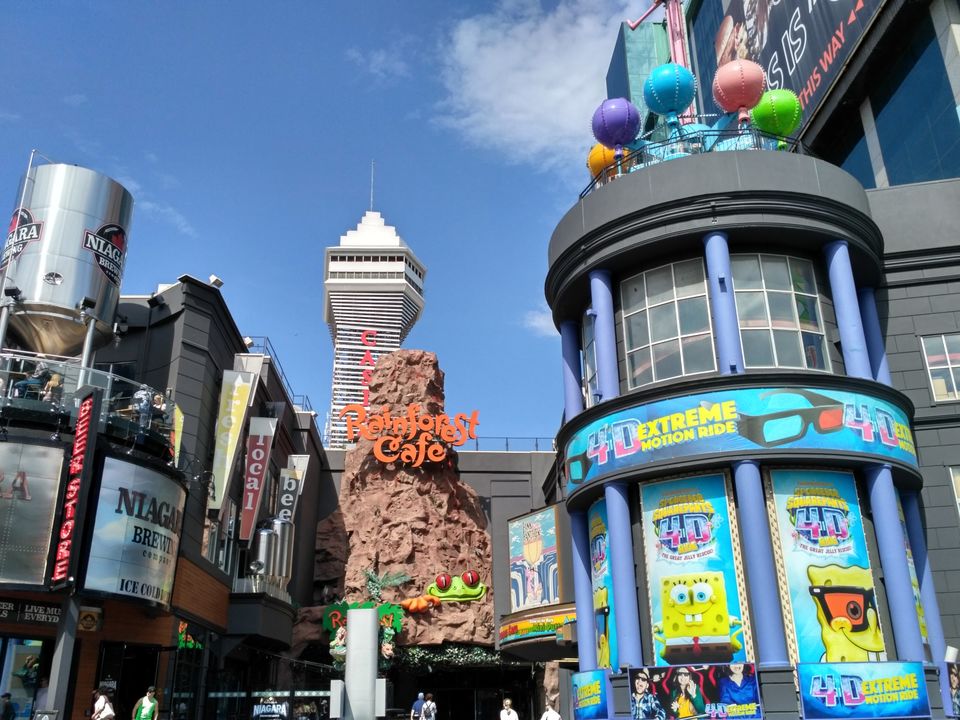 Driving along the shores of Lake Ontario was a pleasurable experience. It took us all of two hours. We had dinner at Sanjay Kapoor's Khazana and enjoyed some mouth-watering delicacies.
Toronto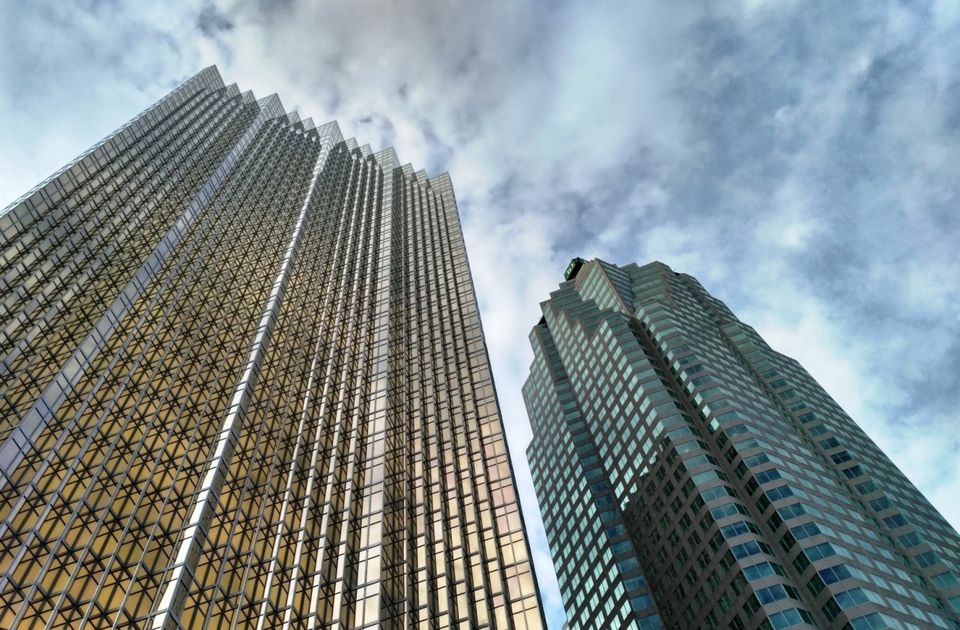 Toronto was terrific. Downtown had the expected crop of tall buildings, Union Station, the beachfront and what not, but what I loved most was the Royal Ontario Museum. Not the iconic CN Tower, not the run of the mill Trump Tower (now renamed), but the designer building in weird geometric shapes, conceived by an American architect, Frank Lloyd Wright, who folks say was Ayn Rand's inspiration for the 'ideal man' character of Howard Roark in her 1943 novel "The Fountainhead". Well, the building looks like it might collapse on your head any moment – it's a bit like the horror mirrors you see when you visit a circus.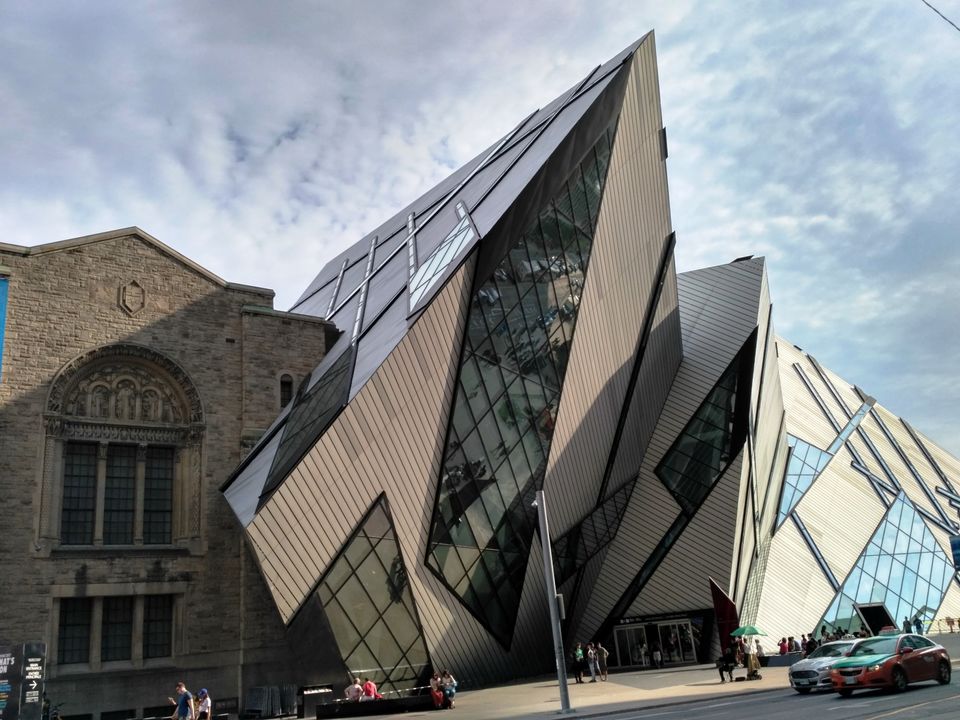 We stepped into the Second Cup for a steaming cuppa but our moments of relaxation were rudely interrupted by the sound of people shouting. No it wasn't a terrorist attack! Only a peaceful demonstration by animal lovers. They held red flags and blocked the traffic for a few minutes. Gosh! I had always thought this could happen only in God's Own Country - my home state of Kerala. And I had travelled half way across the world to be proved wrong. Right here in Toronto! Don't believe me? Then just look at the pictures.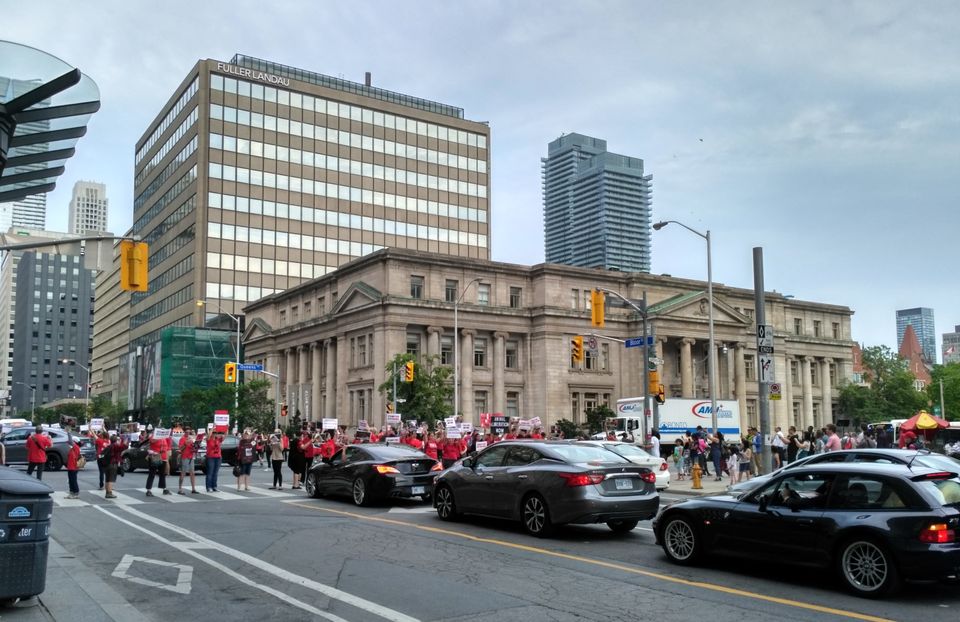 When the crowd dispersed we stepped back into the cafe to finish our coffee, but it didn't taste the same any more. The taste of home was on our lips now.
We rode the Go-train - and thoroughly enjoyed the ride.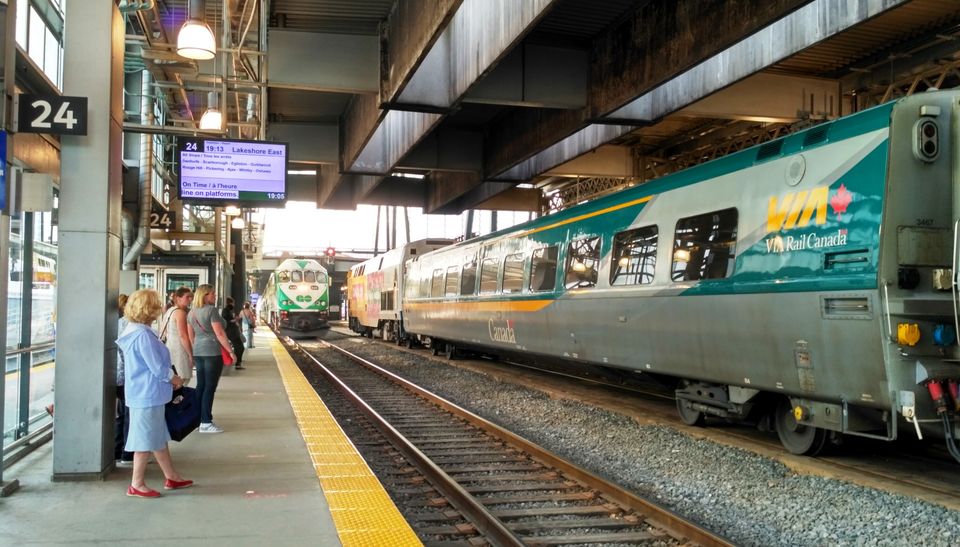 We visited Casa Loma, a castle-like palatial residence built in the early 20th century for a filthy rich I-dunno-who. Today it's a tourist draw. And no wonder, because the views from the top are spectacular and there's everything from wine cellars to secret passages to vintage cars. Actually there's a lot more - go see it.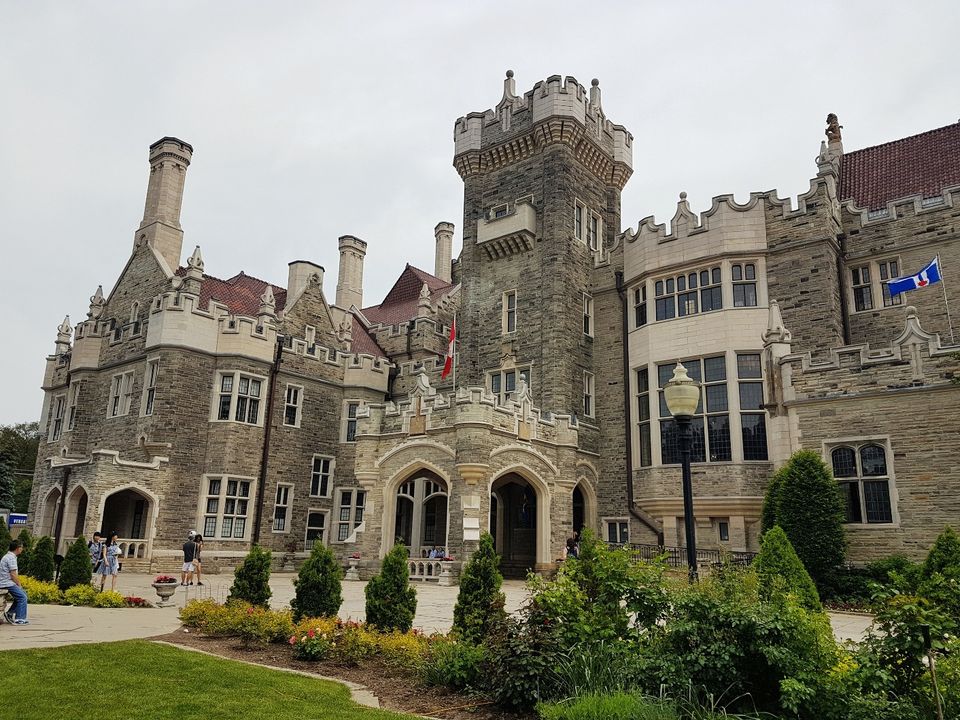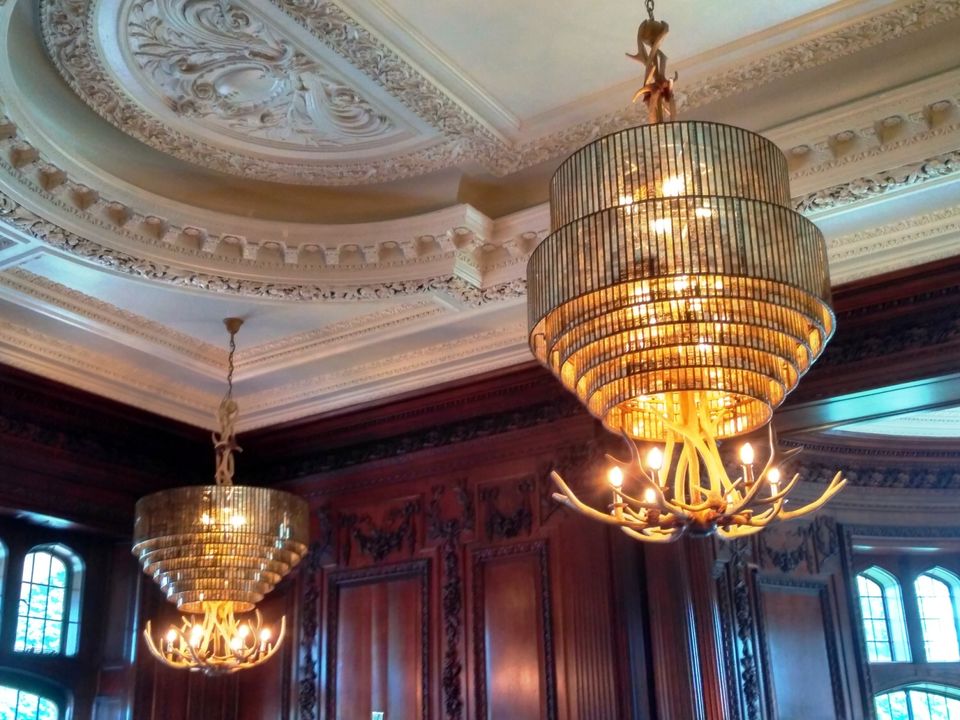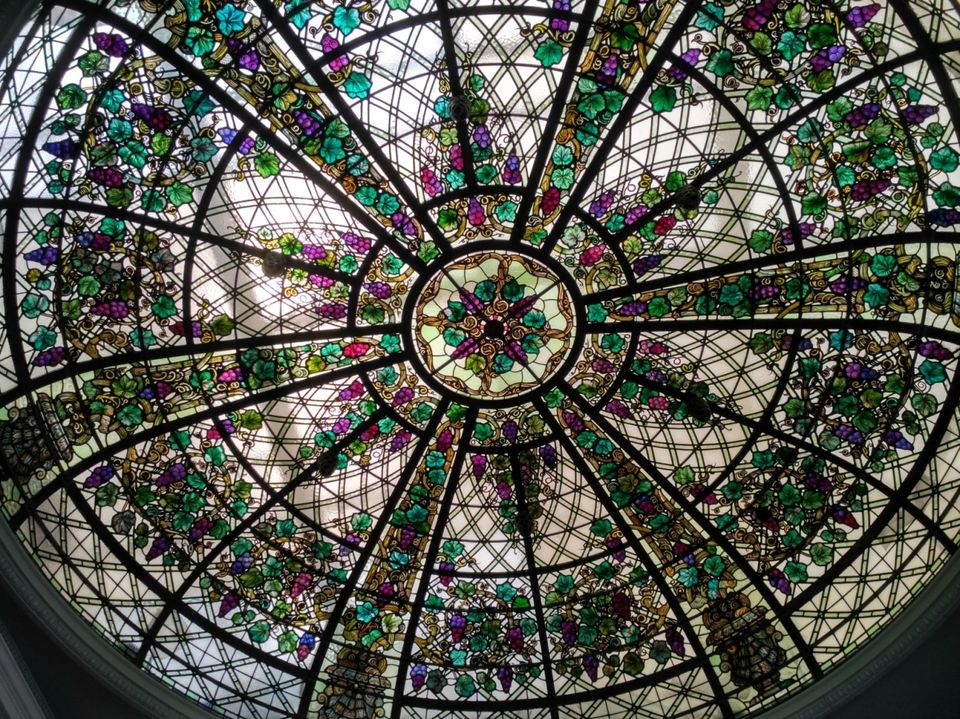 We found time to visit two suburban temples that were poles apart. Each had its own unique charm. The pictures will tell the entire story. The Shiva Temple is truly South Indian and the kind of place a temple-goer could visit every day for a quick prayer.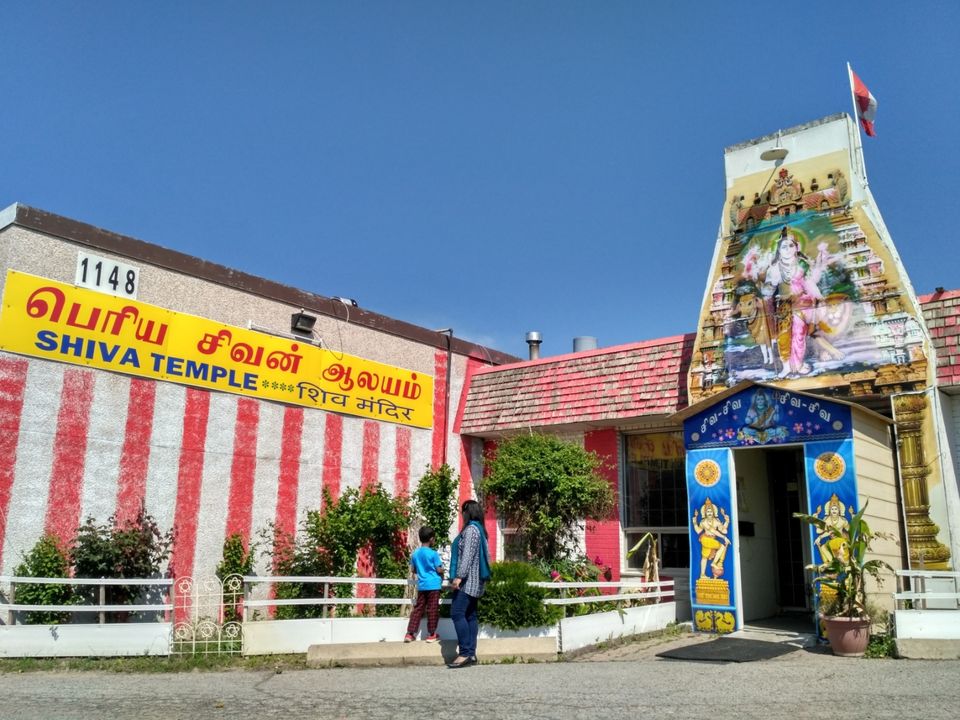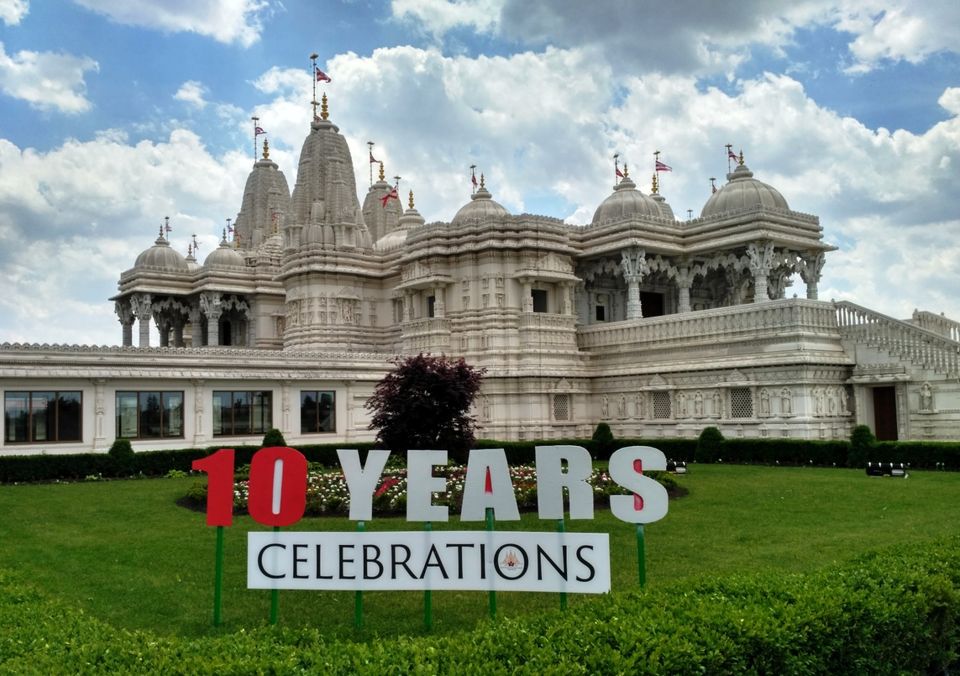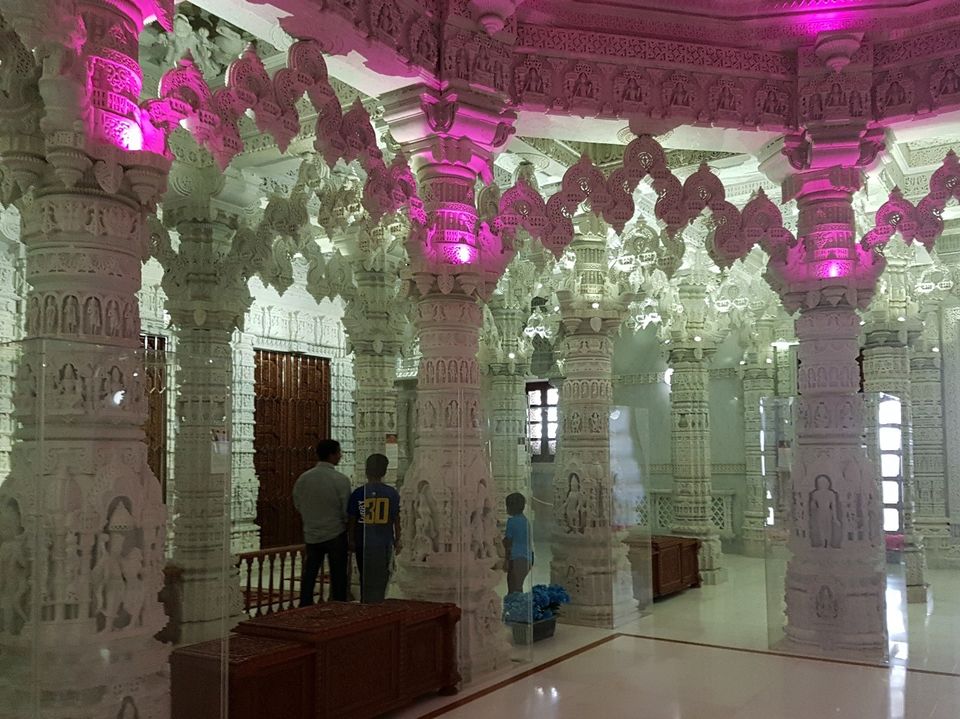 The Swaminarayan Mandir built on 18 acres of land boasts thousands of slabs of Carrara marble and exquisite architecture in traditional Indian style. It's a real sight to behold, the glorious interior reminiscent of the Jain temples of Mount Abu. But more importantly, it has a Heritage Museum where carefully crafted exhibits clearly outline the basic tenets of Hinduism with emphasis on universal human values. I haven't seen any temple anywhere in the world that really enlightens a visitor and introduces him to the core values of the religion. Most of the time the focus is on rituals and mantras, poojas and prasad, and the worshipper comes in ignorant and goes out ignorant. But this was a different scenario altogether. And honestly, I felt proud to be an Indian. Both Hindus and non-Hindus must visit this place at least once.
(to be continued)