Cambodia is a popular Southeast Asian Country for backpackers because it is cheap and offers a lot of options to the travelers. But, what if I told you that you can further reduce your travel cost to this amazing country even while traveling solo?
Yes, that is right! Cambodia is an inexpensive country but what a lot of people don't know is that USD is one of the major currencies accepted here. As a result, the tour packages and entrance tickets to main attractions are high and can easily leave you with an empty wallet if not careful.
I traveled to Cambodia solo for my birthday and was able to enjoy myself for 10 days here in just 34,000 INR. And here is how you can do it too!
Route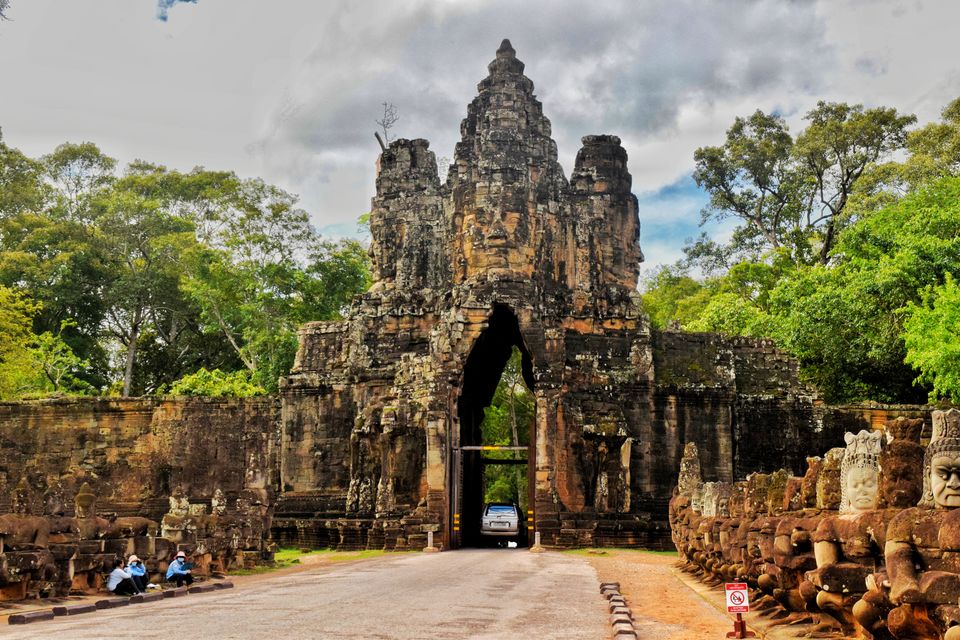 I had booked my roundtrip flight to Cambodia from Phnom Penh because it was cheaper. As a result, I had to plan my trip in such a way that I am back in Phnom Penh on the 10th day in order to not miss my flight.
My Hyderabad to Phnom Penh flight tickets cost me 16,000 INR for the round trip. And then, from Phnom Penh, I went straight to Siem Reap and spent 3 days here, exploring the ruins and city. Next, I took a bus back to Phnom Penh and spend 2 days here, exploring the historical places.
Then, I headed to Sihanoukville to enjoy some beach time and took a ferry to Koh Rong island. On my 10th day, I took a ferry back to Sihanoukville and then a bus to Phnom Penh to catch my evening flight.
This would be my suggested route for people who have Phnom Penh as their to and fro airport from Cambodia:
Phnom Penh - Siem Reap - Phnom Penh - Sihanoukville - Koh Rong - Phnom Penh
Cambodia Itinerary for 11 Days
With this 11-day itinerary, you can explore the major attractions in Cambodia without spending a fortune.
Phnom Penh is the capital city of Cambodia and is completely different from all the other cities in this country. There are several ancient Pagodas built here which have beautiful architecture and are a great place to relax and meditate.
However, if you have a late evening flight reaching Phnom Penh then it would be good to spend a couple of hours here, roaming and exploring the city. And then, take a night but to reach Siem Reap early morning the next day.
I reached Phnom Penh at 3 p.m. and then after clearing the Visa and Customs, I left for the main city. There is a local bus stop right outside the airport which will charge about 3000 Cambodian Riel for the city stop. After getting down at the stop, you can explore the nearby markets, shops, etc. And, you can also taste street food to get the first taste of Cambodian culture.
You can book a bus online or on the spot for Siem Reap and then sleep while you travel across this country.
Siem Reap is one of the most famous tourist destinations in Cambodia. This is because this city houses the magnificent Angkor Wat Complex and also has some amazing streets for shopping and partying.
After reaching Siem Reap, you can book your stay in a hostel for a price of 1.5 USD per night. On the first day, you can relax and walk to the Night Market, Siem Reap Pub Street, and visit the Floating Village for an amazing sunset view.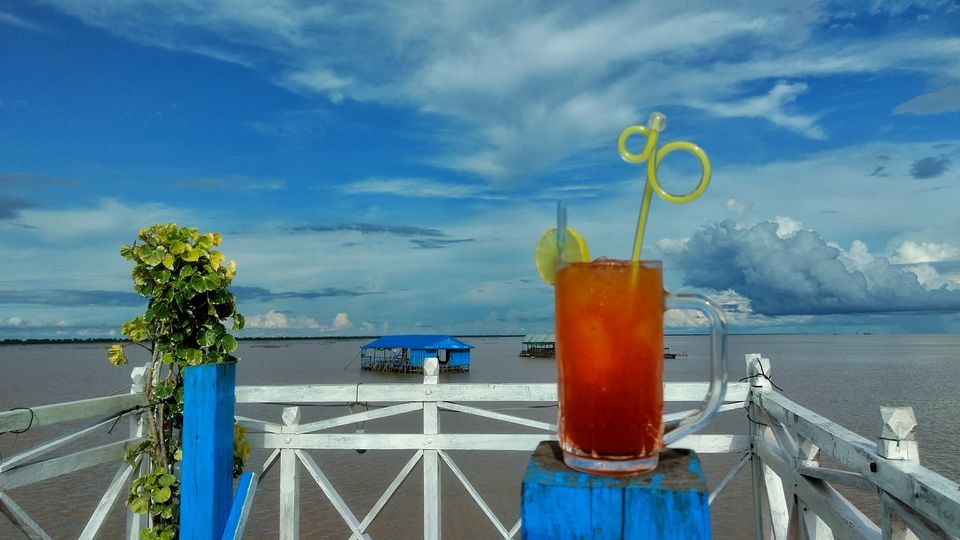 Also, make sure that you get the tickets to the Angkor Wat Complex before 5 p.m. so that you can start early the next day. Rent a cycle for 1.5 USD/day and cycle to the Angkor Wat Ticket Complex which is about 5 km from the city and would take you around 1.5 - 2 hours for the to and fro journey. The ticket price for Angor Wat Complex for a 3-day visit is 62 USD.
Where to Stay: You would find several hostels here for 1 - 2 USD per night which you can check on booking.com or hostelworld.com.
Start the next day at 4 a.m. so that you can cycle to the Angkor Wat temple for the sunrise. The distance from Siem Reap city to Angkor Wat temple is 7 - 8 km so it would take you max 1.5 hours to reach. You can park your cycle in the parking area but make sure that you lock it before leaving.
After the sunrise, you can have breakfast from the Angkor Wat temple ground but it will be expensive. Otherwise, you can have a sandwich from outside the temple which will cost you about 0.5 USD.
Then, you will need 2-3 hours to explore the Angkor Wat temple as it is the largest temple in this complex. Next, head to the Bayon Temple which is 3.5 km from the Angkor Wat temple and takes about 20 minutes to reach on the cycle. This path is one of the most beautiful paths as you have trees lining the road on both the sides and you cross the Angkor Thom gate on the way.
You have a few more temples and viewpoints on the way that you can stop at if you wish to. Bayon Temple is relatively smaller but would easily take 45 - 60 minutes of your time. As the temple complex closes around 5 p.m., you can head back to the Angkor Wat temple to watch the sunset and then cycle back to the city.
At night, head over to the Night Market and the Siem Reap Pub Street where you can party or eat some delicious street food. Make sure that you try the Pancake Rolls here which will cost just 1 USD.
On day 4, start for the Angkor Wat complex early in the morning and cycle directly to Ta Keo temple which is 15km from the city and would take around 2 hours to reach. Spend 30 minutes in Ta Keo and climb the top to see the 360-degree view of the temple.
From Ta Keo, cycle to Ta Prohm (the famous Tomb Raide movie set) which will be 1.2 km and will take barely 5 minutes to reach. Here, you can explore the temple for the next 1-2 hours and learn more about the fascinating trees and plants growing inside the temple.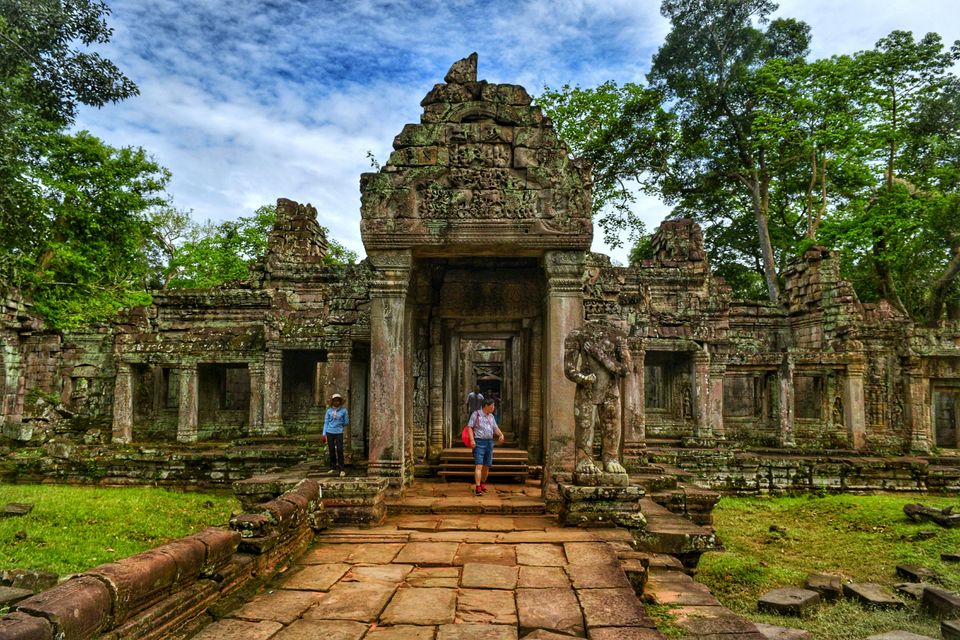 Next, head to Banteay Kdei temple which is only 1 km away and spend next 2-3 hours exploring this temple and Srah Srang viewpoint. You can then cycle to Pre Rup temple which is 2.5 - 3 km away and East Baray which is again 1.5 - 2 km away.
After exploring both these places, you can head to Jayatataka viewpoint which is another 5 km from the East Baray. You can see the water lilies here and spend 20 - 30 minutes exploring around here.
Finally, make your way to the famous Preah Khan temple which is 2.5 km away and then explore around for the next 30 - 40 minutes.
From Preah Khan, cycle back to the city for about 1 - 1.5 hour. Then, pack your bags and catch a night bus back to Phnom Penh city.
You will reach Phnom Penh early in the morning. Then, you can check-in to your hostel and rest for a while. In the afternoon, rent a cycle for 2 USD/day and explore the local market and the Mekong riverside.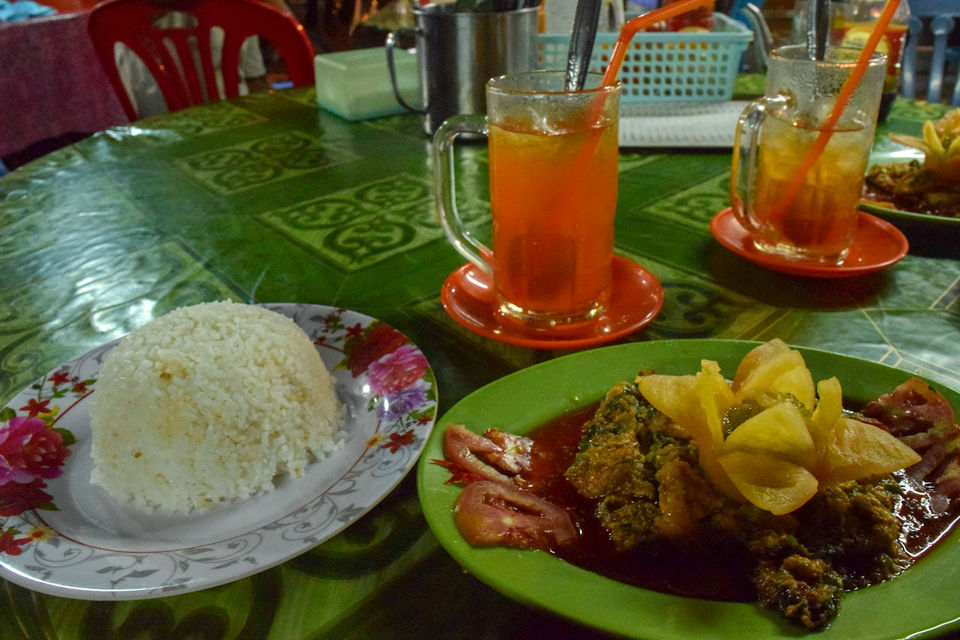 You can visit the Royal Palace, Silver Pagoda, Central Market, etc. in Phnom Penh. Also, make sure that you try the famous Amok dish over her which is of Khmer cuisine and is absolutely delicious.
Where to Stay: You will find several hostels in Phnom Penh for 2.5 - 3 USD for a night which will be close to the Mekong river. Check them out on booking.com or hostelworld.com
Start early the next morning and cycle to the Tuol Sleng Genocide Museum which is 2-3 km away from the city. Here, you will easily spend 2 hours, learning the history of Khmer and about the mass Genocide that happened a few years back.
Then, cycle to the Killing Fields which is situated around 12-15 km from the city and will take you approximately 1.5 - 2 hours to reach. Here, you will take an Audio tour of 1 hour where you will learn further about the killing process in Cambodia during the Khmer reign.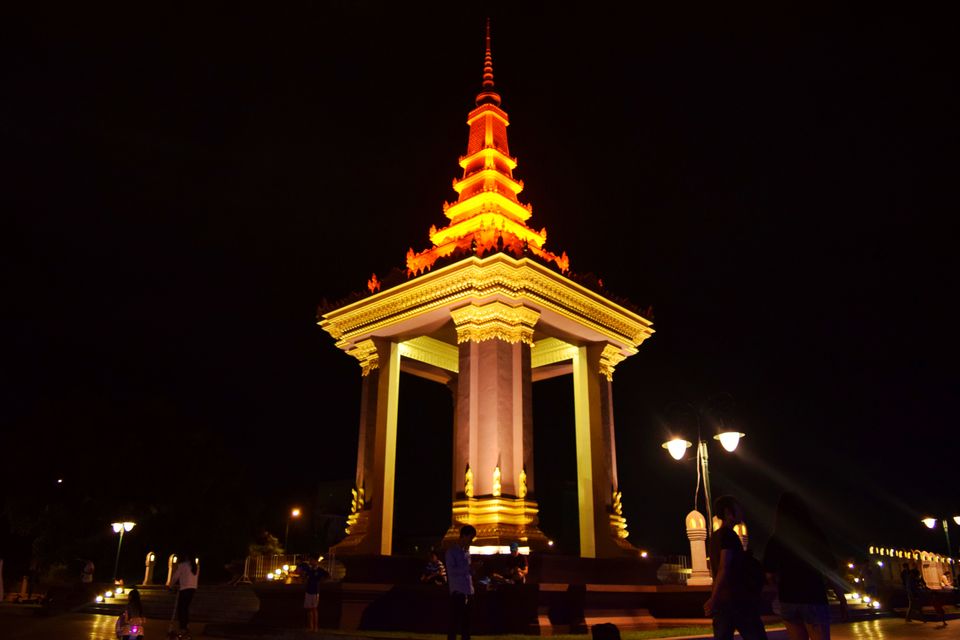 Cycle back to the city and then head to the Independence Monument, Cambodia - Vietnam Friendship Monument, etc. to observe the streets at night. After some time, you can cycle along the Mekong River and enjoy the cool night breeze.
Leave for Sihanoukville in an early bus so that you reach the place by 12 p.m. It takes around 5-6 hours to reach Sihanoukville from Phnom Penh so plan your journey carefully. Sihanoukville is a famous beach town in Cambodia from where you can go for island hopping too. Here, you can also explore the most beautiful beaches and sunsets which Cambodia has to offer.
Once you have reached Sihanoukville, go to the Serendipity beach and explore the pier and beach area. Here, you will find several restaurants and shacks to eat at. At night, you also see fireworks in the sky from the beach and several entertainment programs going on here which makes it quite lively and fun.
Where to Stay: You can find hostels here for 2-3 USD for a night.
Next day, you can relax at the Serendipity beach for a while. Then, start in the afternoon on cycle to go to the famous Snake House Restaurant where you can observe various reptiles and birds. Here, you can also see crocodiles in their natural habitat and some really humongous snakes too. It is around 5.6 km from the Serendipity beach and will take 1 - 1.5 hour to reach as the road is uphill in the middle.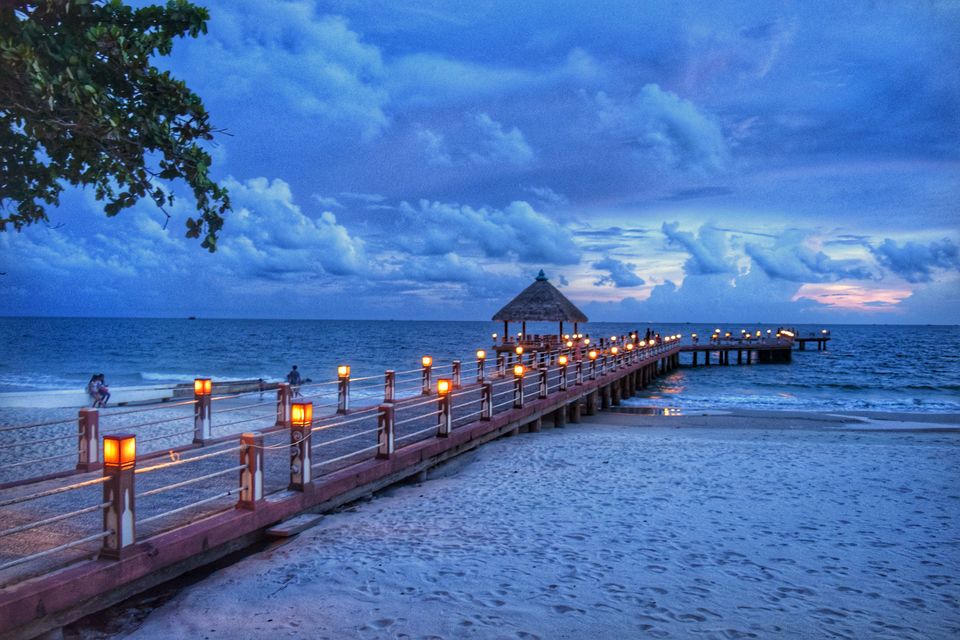 From the Snake House, you can cycle to the Ratanak Beach which is around 2 km away and watch a beautiful sunset from the shore. Another 2.5 km away is the magical Independence beach which looks like a setting straight out of a fairytale. You can spend 15 - 30 minutes, observing the view and the beautiful setting.
Cycle back to the Serendipity beach which is 5 km away from the Independence beach and have dinner at a street food shop or one of the beach restaurants.
Next morning, leave for Koh Rong island on a fast ferry which will take 30 minutes to reach. You can choose a boat tour which will include Fishing, Snorkeling, Island hopping, BBQ, Village tour, etc.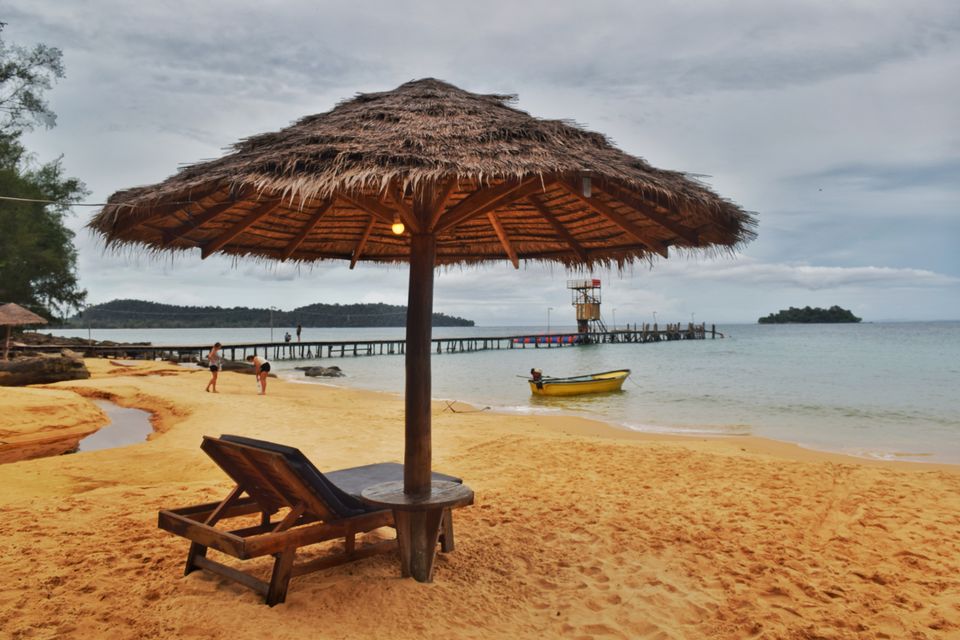 This will take the entire day and you will have seen most of the things to see in and around Koh Rong. At night, you can go to the Police Beach to party and make some new friends.
Where to Stay: You will find a few hostels or shacks to stay here for 2 - 2.5 USD per night.
On the last day of your trip, explore the Koh Rong Island on foot and spend some time relaxing at the beaches. Try different cafes and food stalls here and party on the beaches for an epic time.
Head back to Sihanoukville on an early morning ferry and then take a bus to the Phnom Penh International Airport. Bid Adieu to Cambodia and reminisce about your wonderful time here.