When you hear about Cambodia, which is the first place that comes to your mind? Angkor Wat? Phnom Penh?
But what if I told you that apart from the historical and culturally rich side, you can also relax and chill on the beaches here? Yes, that is right! While exploring Angkor Wat can be an exciting experience but that is not the only thing to do on your trip.
One of the best things to do in Cambodia is explore the beaches and the islands here. Because, trust me, Cambodia has some mind-blowing beaches, a few of them in Sihanoukville. So, a trip to Sihanoukville is a must when you are on a tour of this amazing South East Asian country.
This coastal city offers a lot of activities and places to visit and can be a welcome change from the historical aspect of this country. Planning a visit to Sihanoukville in Cambodia? Then, this guide can help you make the most of this coastal city in just 36 hours.
Best Time to Visit Sihanoukville
Although you can visit Sihanoukville throughout the year, the best time to visit Sihanoukville depends on what are you are looking for. If you want to enjoy a cool and pleasant weather then head to Sihanoukville in the winter months, from November to March.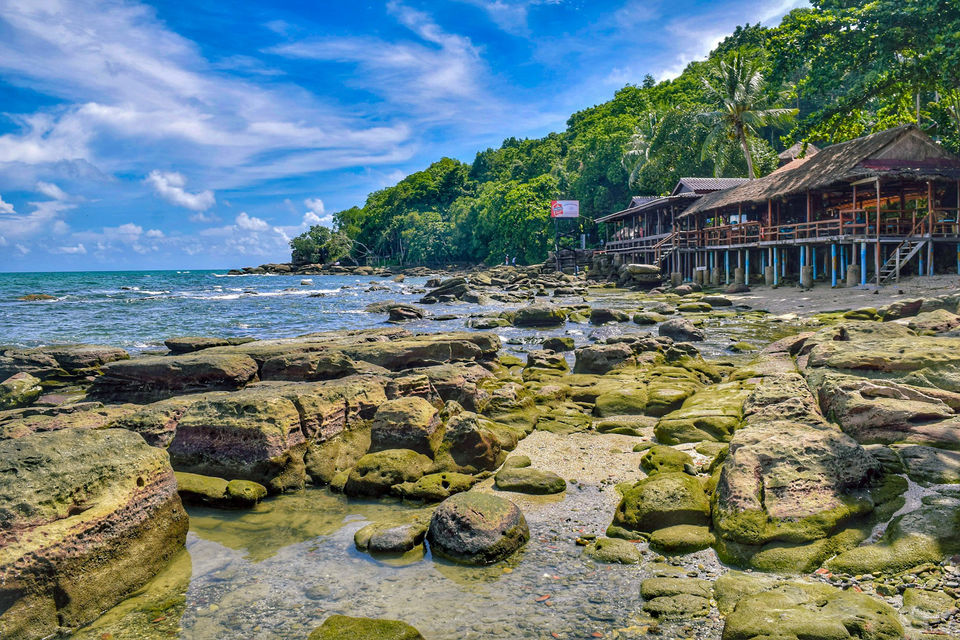 However, if you want to avoid the crowds and are looking for cheap rates, then go in the offseason like I did. You can visit any time between May and October to get the best prices and can enjoy a nice swim in the ocean as well. But remember, this is also the monsoon period so you might experience occasional rainfall.
Where to Stay
One of the best things about Sihanoukville is that there are several budget-friendly hostels available here. You can get a dorm bed for 2-3 USD for a night with good Air Conditioning over here, just check on booking.com or Hostelworld app.
I stayed in Spicy Society Sihanoukville hostel which cost me 3 USD for a night and was just next to the Serendipity Beach. As a result, I was able to just walk to the beachside and enjoy my evenings looking at the fireworks or evening entertainment here. You also have a lot of parties going around in this area so if you are here to party, this would be a good place to stay.
How to Get Here
Now, you might be wondering how can you exactly reach Sihanoukville. Well, you have several options to reach Sihanoukville.
Air
Sihanoukville has its own International airport which is connected to a few International cities like Kuala Lumpur, Ho Chi Minh City, etc. You have a few flights connecting to Siem Ream as well but you will need to check the flight timings before hand because the frequency is less.
Also, most of these flights would also be quite expensive, making it an invalid option for budget-travelers.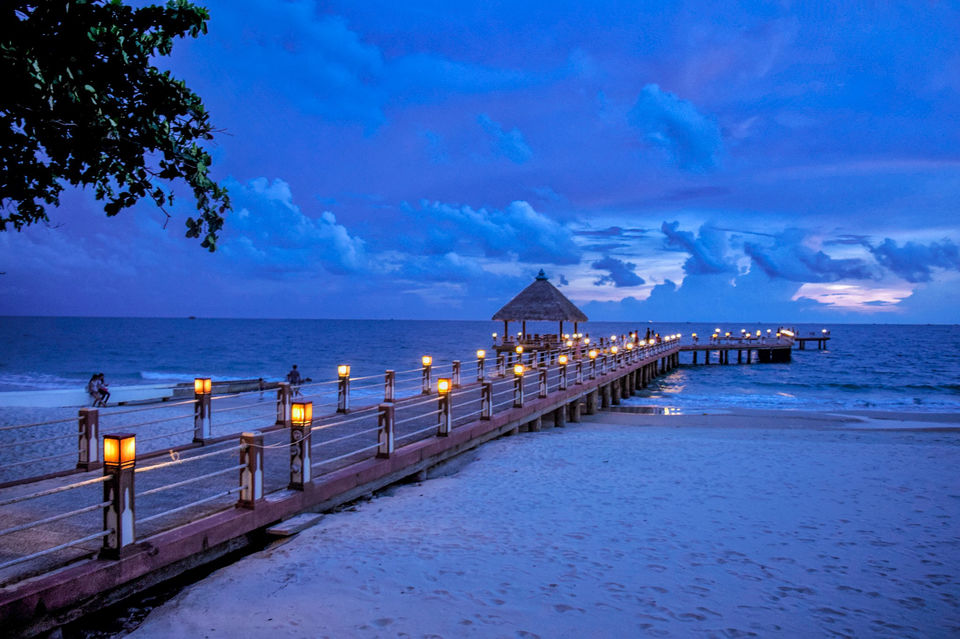 Train
If you are traveling from Phnom Penh, Kampot, Takeo, etc. then you have an option of taking a train to Sihanoukville. However, there are only 3 trains running every week so you will need to plan in advance. A ticket to Sihanoukville from Phnom Penh will cost about 8-10 USD and will take 8 hours to complete.
Bus
Honestly, the best way to reach Sihanoukville is by taking a morning bus from Phnom Penh or an evening bus from Siem Reap. It will cost you about 6-7 USD and will take 5-6 hours to reach from Phnom Penh.
You can book your bus tickets online at Camboticket website.
Things to Do in Sihanoukville in 36 Hours
While Sihanoukville is a small coastal town, there is a lot to explore here and 36 hours might just not be enough to cram it all. However, if you are short on time then here are a few things to try in this small yet amazing city.
Cycle Around to Explore the City
One of the best things to do is to cycle around Sihanoukville is you want to explore this city fully without spending too much. There aren't many public buses going around in this area so you will either need to hire a Tuk Tuk or a Motorcycle to travel around.
Renting a cycle will cost you about 2.5 USD for a day and will allow you to explore the entire city easily. You can go to the beaches, farms, cafes, etc. here and enjoy the ocean views around here on your bicycle.
On your way, you will also come across the famous Golden Lion Roundabout which is a great artwork in this city. You will especially like the view at night when the gold sparkles under the night lights.
Watch a Sunset at Ratanak Beach
If you are a sunset lover like me then Ratanak Beach is definitely one of the best places to catch the sunset. It is slightly offbeat so you won't find a lot of tourists around here. You can cycle to this place which is situated at a distance of 7 km from the Serendipity beach area.
Here, you also have a nice restaurant to order something or you can sit on the swing to enjoy a lovely sunset view. And you also get an unobstructed view of the famous Snake Island from here.
Take a Tour of the Local Crocodile Farm
There is also a famous Crocodile and Reptile farm, known as the Snake House, where you can go for a lunch to observe the crocodiles in their natural surrounding. This place is elaborate and you will find several reptiles here, including huge snakes, spiders, and so on.
However, the most thrilling part of this place is that you can see a doxen of crocodiles closely. It can be slightly intimidating but if you are interested in such things, then this is a good destination to visit. You will need to pay an entry fee of 3 USD to spend some time in this small farm.
Chill at the Independence Beach in the Evening
Personally, one of my most favorite beaches is the Independence beach which looks like the ideal couple beach. With white sand, blue sky, and reddish sunset hues, this beach is the most romantic beach ever and should definitely be a stop on your itinerary. Reach this place an hour before the sunset so you can walk on the pier here and the sparkling white sand.
Once the sun starts setting, you will observe the most gorgeous sky colors ever.
Go for Island Hopping or Water Sports
You can also go for island hopping from Sihanoukville to explore some amazing islands like Koh Rong, Koh Sanoleum, and so on.
But that is not all, you can also enjoy some exciting water sports here like scuba diving, snorkeling, kayaking, and so on. This place has a good coral and underwater life so you would really enjoy doing these activities here.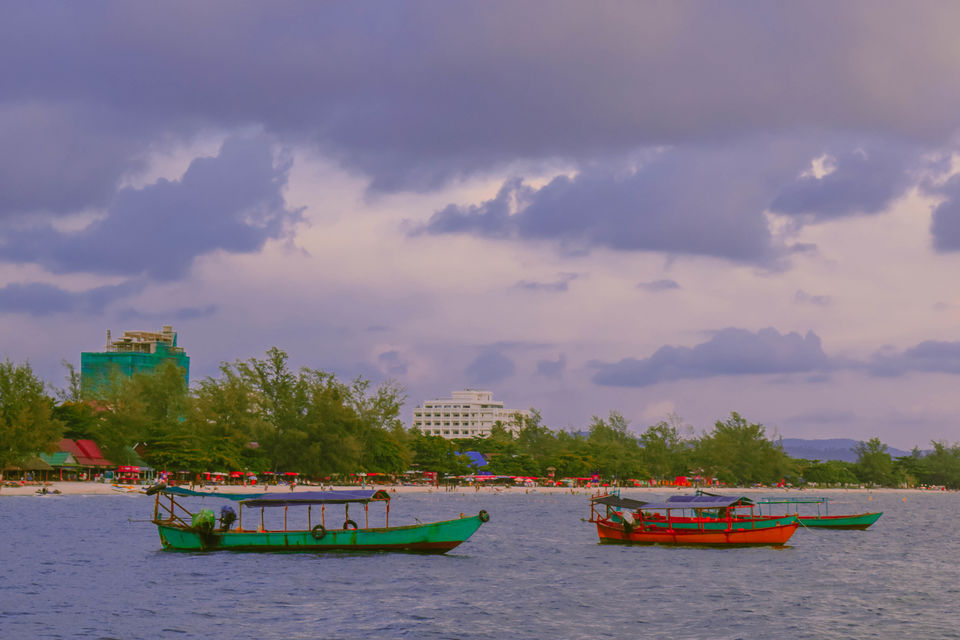 Apart from the mentioned activities, you have a lot of small shops to buy souvenirs or gifts for yourself. And don't forget to try the local cuisine when exploring this city. Sihanoukville is not one of the most touristy place out there so you would definitely love exploring it.
Relax at the Serendipity Beach
Serendipity Beach is one of the most popular beaches of Sihanoukville, where you can see a lot of people partying and chilling throughout the day. In the afternoon, you can take a book and relax on the beach while taking in the ocean view.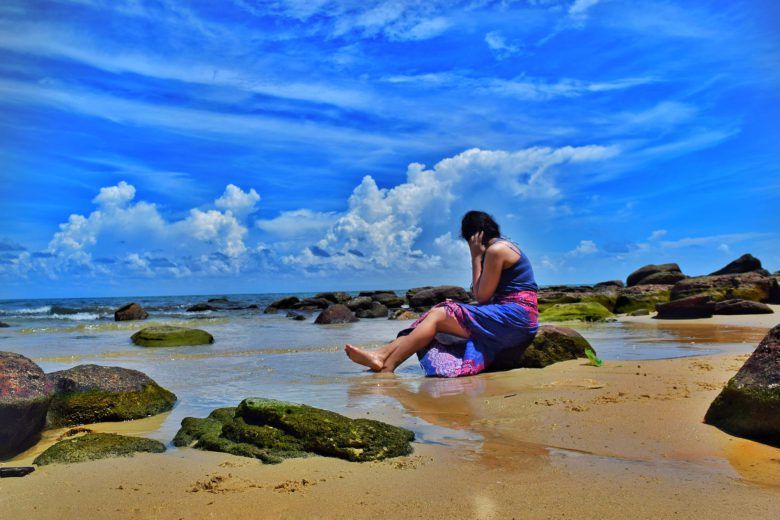 And in the evening, you can take a walk to the Serendipity pier to watch the sunset or you can sit in one of the beachside cafes to enjoy the view. At night, this area bustles with music and shows, so you can either go for bar hopping or you can juse some fire entertainers.