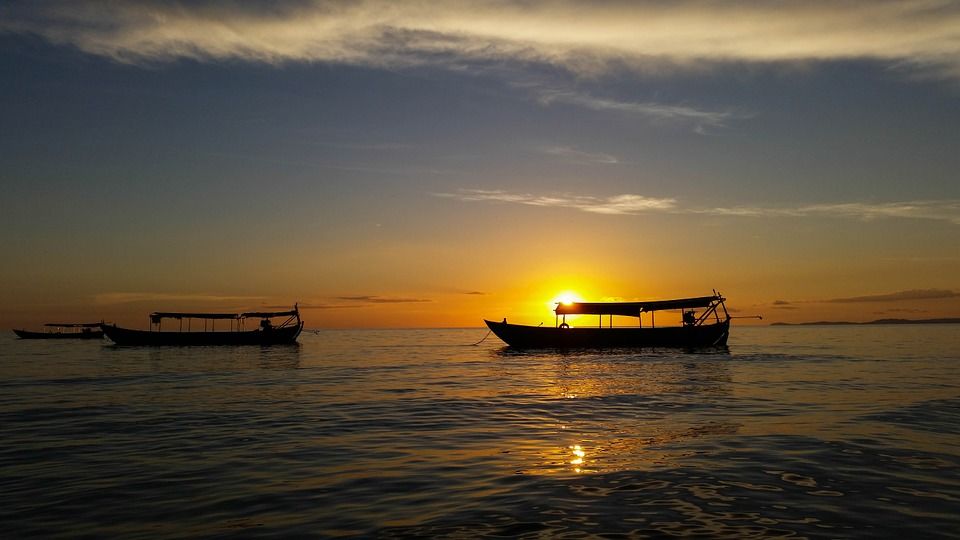 The kingdom in Cambodia is where authenticity meets modern. Be it the fabled temples of Angkor, or its urban sophistication such as Phnom Penh and Siem Reap, or the refreshing beaches to the south of the country, Cambodia is sure to lure you with its beauty and magnificence.
Let us take a look at some of the best places to visit in Cambodia on your next trip!
Angkor Wat is Cambodia's top tourist attraction. It is a Buddhist temple situated in northern Cambodia, and is home to numerous religious structures. Though Angkor Wat is not a temple anymore, it is an archaeological site that attracts tourists from all across the globe on a daily basis.
The magnificent architecture of Angkor Wat is something to marvel at. Watching sunrises and sunsets at the Angkor Wat are one of the most picturesque views you can experience at the place. For sunsets, the most popular place is Pre Rup. Phnom Bakheng but a quieter and less crowded option is The Bayon and Ta Prohm temples in the nearby complexes are also popular temples that are a must visit.
Being a UNESCO World Heritage Site, Angkor Wat is the national pride of Cambodia and a trip to the county would be incomplete without visiting this place.
Koh Ker is a remote archaeological site located at northern Cambodia and is famous for its grand pyramidal temple, Prasat Thom situated amidst a jungle. It is a day trip's distance from Siem Reap and was the capital of the Khmer Empire for a short while. The seven tiered pyramid gives you enchanting views of the jungle from atop it.
It was one of the places that was once remote and not very accessible but now has become a tourist destination for visitors. Prasat Krahom is another significant monument at Koh Ker, constructed with red brick architecture.
Sihanoukville is the beach destination in Cambodia. Though not heavily commercialized as the beach resorts in Thailand, the beaches of Sihanoukville are a perfect place to lay back and enjoy quality time away from the hustle and bustle of cities.
Some of the popular beaches near to Sihanoukville are the Long Beach, Koh Tuch Beach, Coconut Beach & Long Set Beach in Koh Rong and the Lazy Beach, Sunset Beach & Saracen Bay in Koh Rong Sanloem.
The beaches are where tourists who have been backpacking in Cambodia visiting the temples, come to enjoy a few days of unadulterated bliss.
Phnom Kulen is a day's trip from Angkor Wat and is a refreshing tourist spot on the Kulen Mountain. Phnom Kulen has a wide range of activities for tourists, the major ones having a Buddhist temple at the top of the Kulen Mountain where you can go and offer your prayers. It also is a national park and has two waterfalls which you can visit to take a refreshing bath or just picnic in the vicinity. Kbal Spean, an archaeological spot where The River of a Thousand Lingas is another place that is situated at Kbal Spean, and is an archaeological site popular for the linga sculptures located at the riverbed.
Siem Reap is a popular tourist hub in Cambodia, that acts as a gateway to most of the popular temples around the city. If you wish to take a break away from temples, and refresh yourself with some city life, Siem Reap is where you should be. From fine dining to party hubs, and restaurants to local shopping, Siem Reap gives a taste of the cultural aspects of the place.
You could visit the Angkor National Museum, or take a food tour to get a taste of the various cuisines that Siem Reap has to offer. The Cambodian Circus is also a choice for entertainment at Siem Reap. Across the streets of Siem Reap, you find a lot of artisans who would be delved into their crafts making exquisite stuff. That means you get to do a lot of shopping and bring souvenirs back as memories of Cambodia.
The Banteay Srei Butterfly Centre is situated in Siem Reap province and is home to around 35 species of butterflies specific to Cambodia. It is a popular butterfly center in southeast Asia, and in addition to enjoying the beauty of the butterflies, they also give guided tours into the lifecycle of butterflies.
So, that is it for the article guys! I hope this has inspired you to add Cambodia in your bucket list destinations. Have fun and stay safe!
Have you visited Cambodia, or planning a trip real soon? Let me know in the comments, I would love to hear your experiences.
Author's BIO: Mark Bennett is an American writer and traveler, whose major inspiration has been camping with his father ever since his childhood. He aims to visit 75 countries before he's 30. You can also follow his adventures on his site Outdoorily.
..............................
I hope you found the write up above interesting & useful as well . You may like to check out some other exclusive Travel Blogs & Travel Videos from across the world here :
Travel Blogs @ Inside Out with Rahul Yuvi
Travel Videos @ Inside Out with Rahul Yuvi
Namaste & Take Care till my next post.
(Just Google : Inside Out with Rahul Yuvi)
Frequent Searches Leading To This Page:-
the best places to visit in cambodia, best places to visit in siem reap cambodia, best places to visit in phnom penh cambodia, tourist attractions in cambodia, famous attractions in cambodia