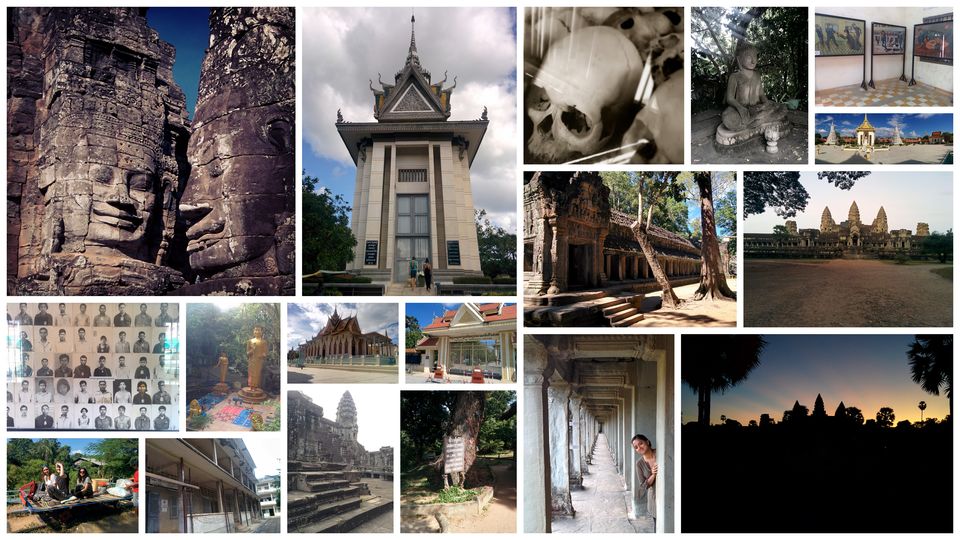 Why to Visit?
Angkor Wat & Surrounding Temples - Killing Fields - Long Coastal Lines & White Sand Beaches - Isolated Islands - Backpacker Partying
Places Traveled
Phnom Penh-->Kampot-->Sihanoukville-->Koh Rong-->Battambang-->Siem Reap -->Phnom Penh
Logistics
Visa
On Arrival for Indian Citizens or can apply of e-visa
Places to Stay
Mad Monkey Hostels in Phnom Penh & Kampot - Party Hostels, Great place to meet fellow travellers and travel buddies if you are travelling solo. Great Service and food. A bit on the expensive side for dorm / hostel, but worth the money
Backpacker Hostel in Sihanoukville - Didn't stay long enough to form an opinion about the hostel. Passable affair for day's stay
Paradise Bungalows in Koh Rong Island - Only Bungalow boasting electricity during evenings on the island. Beach Shacks are quite expensive and start from 35$ a day. (Yes it is expensive for Cambodia)
Royal Hotel in Battambang - Very cheap for a hotel. Needed one after travelling in the Night bus. Very good service and great location. Free pick-up and drop from the bus station.
One Stop Hostel in Siem Reap - One of the best I have stayed in the country. Dorms are spacious, beds are comfortable, good facilities and they also run tours to the temple if you want to share it with others. No partying crowd which means a good night sleep.
Things I loved
Killing Fields & S21 Prison
Okay Love is not the word for it. It is extremely disturbing and awful. But we need to see this. We as humanity need to learn from the past. So one has to go there no matter what.
Angkor Wat
Magnificent is only word I can come up with. I fell out of words when I first glimpsed the temple. Though the hoardes of tourists do not give you any private moments, the temple itself is so peaceful. Beautiful carvings, incomparable architectural brilliance, and of course, the pride of the people.
Koh Rong
Beach, peace, isolation. Need I say more?
What I would have done?
Ratanakiri and Modulkiri - I am hoping to cover it the next time I visit Cambodia.
Warning
If you are travelling solo, please do not take the night bus. I did, and it was pretty risky. Even if I took the risk and came out nearly unscathed I wouldn't recommend for solo travelers.
Check out my blog for more details