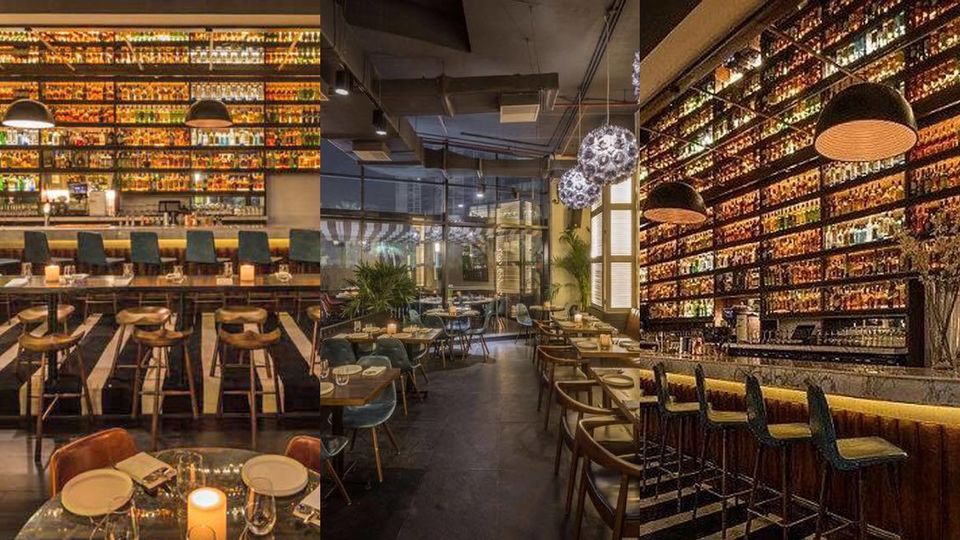 Delectable street food, lip-smacking dishes and mouth-watering delicacies dominate the food culture of Delhi. But while Delhi is a renowned for its food, its neighbour, Gurgaon is not too far behind when it come to offering restaurants that will stun you with their offerings.
Restaurants in Gurgaon boast a unique ambience and offer a delectable range of food and drinks. Here, local, Indian and International cuisine all come in galore. Let's embark on a virtual tour to the top 10 restaurants in Gurgaon which are a must-visit while you are in the city.
1. Spectra
Location: The Leela Ambience, Gurgaon
Spectra is one of the royal restaurants in Gurgaon, offering cuisines from several continents of the world. It has a huge seating capacity of 225 people, spread over an area of 16000 square feet. The chefs are super talented, presenting palatable dishes and drinks. The entire area is adorned with seating enclaves, dining rooms and live kitchens. The best part is its architectural beauty that dazzles with a combination of marble, wood and glass. The chandeliers and the sparkling lighting arrangements bewilder the eyes. You can find an authentic collection of wines from various parts of the world.
Timings: 9 AM to 1 AM on all days.
Price: INR 2537 approximately for 2 persons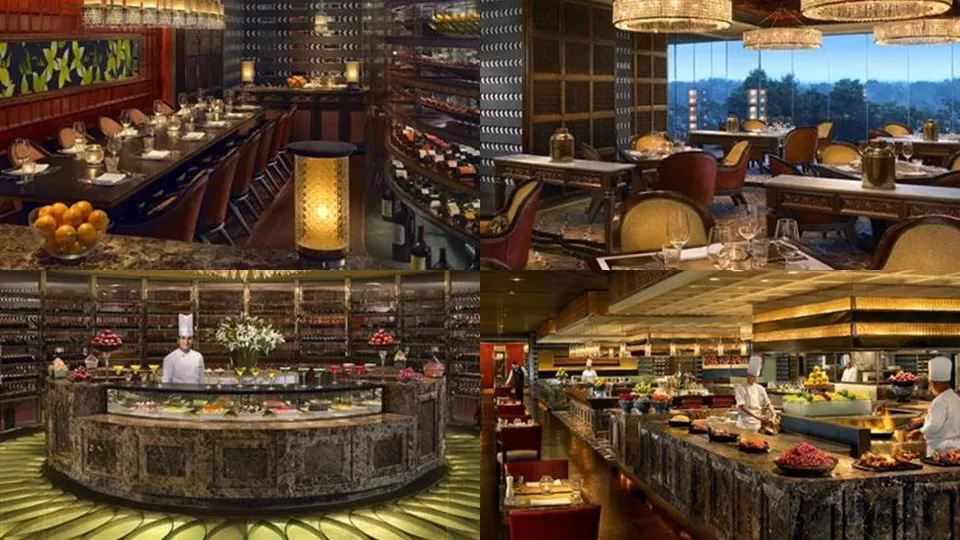 2. The Biker's Cafe
Location: Golf Course Road, Gurgaon
Imagine relishing your favourite food and drinks accompanied with live music and a band. That's exactly you will find when hopping into the Biker's Cage. Amazing interiors coupled with seating arrangements will greet you here. The signature dish of the cafe is 'Bikers Chicken'. The dish comprises of grilled chicken breasts plated with 'Mexican flavoured Rice'. 'Meat Lovers Fantasy' is another one of the best dishes in its culinary array. There are a whole lot of options for breakfast, which you must not miss out. You can enjoy foods from Italian, Continental and Chinese restaurants.
Timings: 12 PM to 12 AM on all days.
Price: INR 1500 approximately for 2 persons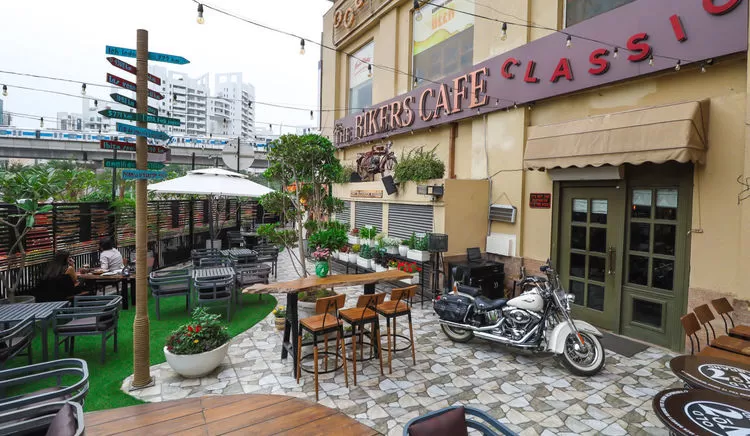 3. Whisky Samba
Location: Shop No. 103,104 Two Horizon Center, DLF Phase 5, Sector 43, Gurugram, Haryana
The restaurant is elegantly decorated with both indoor and outdoor seating arrangements. At night, the sparkling lights enhance the beauty and the grandeur of the place. You can enjoy Chinese, Indian, Japanese, Thai and other Pan Asian cuisine foods. Seafood and sushi are some of its delicacies. As the name suggests, Whisky Samba offers a fabulous collection of whiskies. Try their whiskey infused desserts like whiskey sour ice cream, whisky and burnt caramel tiramisu, whisky samba chocolate souffl, oconut pina colada ice cream, kaffir lime cheesecake, and many others.
Timings: 12 PM to 1 AM on all days.
Price: INR 2500 approximately for 2 persons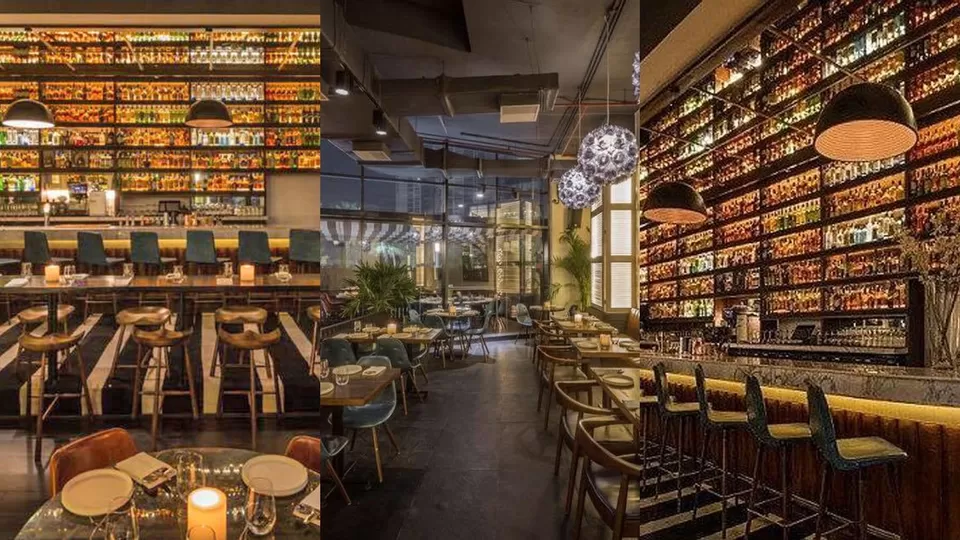 4. Feel Alive
Location: SCO - 53, Level - 2, Leisure Valley, Gurgaon
This restaurant has gained prominence to a great extent among the food lovers due to its pleasant ambience and pleasing dishes. American, Japanese and Indian cuisine flourish at their best in Feel Alive. There is an aura of royalty and grandness in its decor with traditional motifs. The seating arrangements are quite cosy and comfortable. The best in its appetizers are chimichurri spiced prawns, piri piri skewers, bruschetta, tandoori chicken, cooper's flaming chicken wings and many others. The main course menu is also sumptuous. Among its yummy desserts, the gulab jamun and cheesecake are quite famous.
Timings: 12 PM to 1 AM on all days.
Price: INR 1500 approximately for 2 persons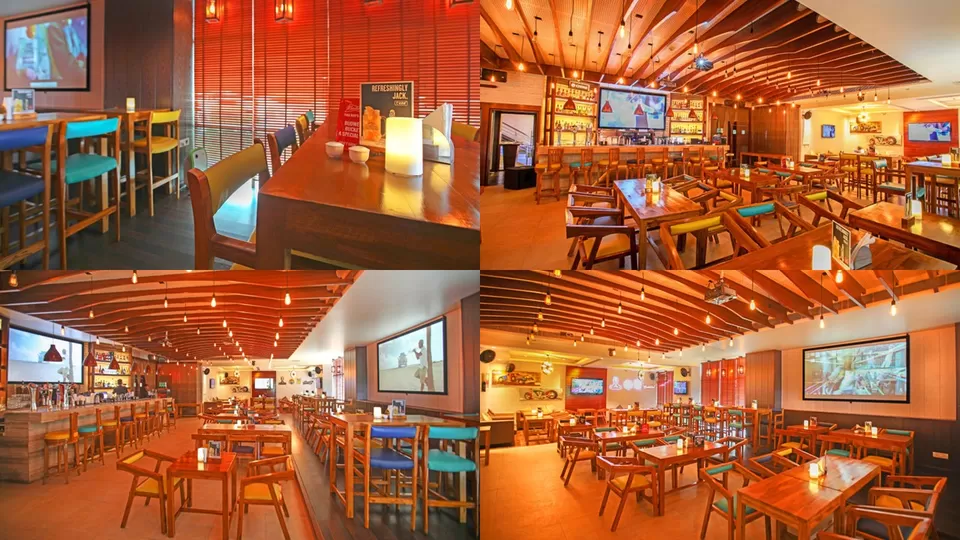 5. Sutra Gastropub
Location: Cyber Hub, DLF Cyber City, Phase 2, Gurgaon
This multi-cuisine restaurant is one of the best in town especially for its outdoor seating arrangement. The interior and outdoor are warmly adorned with wooden furniture and walls to impart an aesthetic look. Even the cutlery is mostly wooden and is said to personify the taste of the dishes. Its cheesy chicken nachos are the best. Try out its premium brand liquor Glenlivet along with other domestic brands. There are some etiquettes for the dress code, that needs to be followed - mostly formal outfits are preferred. You can enjoy live music while savouring some of the tasty dishes and delectable drinks.
Timings: 12 PM to 8:30 PM on all days.
Price: INR 2500 approximately for 2 persons
6. Brewocrat
Location: Element One, Block A Lower Terrace, Sector 47, South City 2, Gurgaon
Brewocrat is quite a spacious restaurant with both indoor and outdoor seating arrangements. Glittering chandeliers and wooden decor are the specialties of the restaurant. The ambience brings in an aura of class and royal grandeur. You must try out the Chicken Shishtaouk Platter – Lebanese Marinated Grilled Chicken Served with Dips, Lavash & Soft Pita. Its specialty drink is 'Brewocrat G&B Cocktail' and freshly brewed beer. You can enjoy dishes from Italian, Oriental, North Indian and Mediterranean cuisine. Among its desserts, Hot Walnut Chocolate Brownie with Vanilla Ice Cream is the best.
Timings: 12 PM to 1 AM on all days.
Price: INR 2000 approximately for 2 persons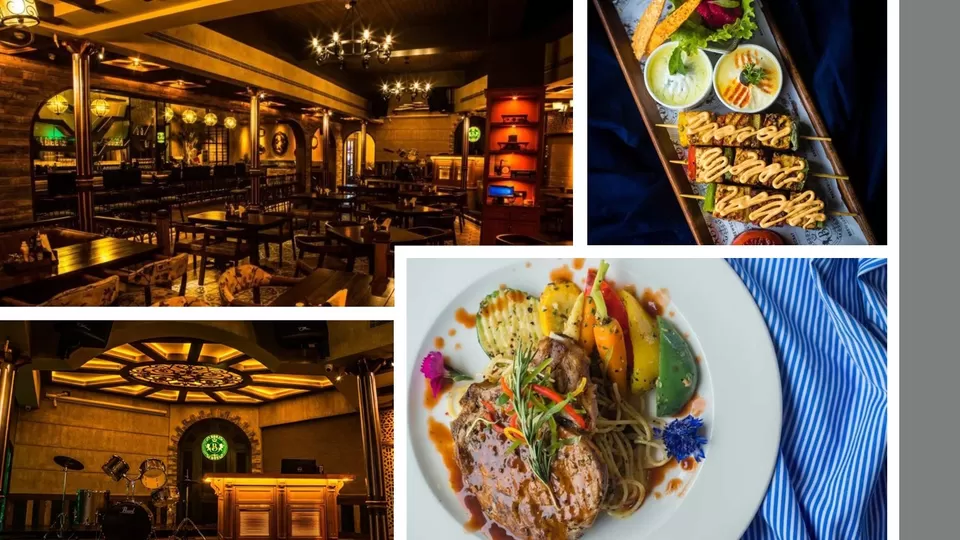 7. Absolute Barbecues
Location: MGF Metropolis Mall, MG Road, Gurgaon
As the name implies,Absolute Barbecues specializes in barbecues. You can enjoy exotic mouth-watering dishes ranging from Italian and Indian to Chinese cuisine. The best part is the grill is served on the table in skewers. You can select from a good option of vegetables, meat and seafood. The best among them are Barbeque Grill Veg, Ajwaini Paneer, Beetroot Coconut Kebab, Country Club Chicken, Italian Prawns, or Sesame Seekh Kebab. The restaurant has a live counter where you can prepare pastas of your choice along with your preferred red and white sauce. It also serves some exotic cocktails and mocktails. The prominent among them being Strawberry Lemon Fizz, Mexican Recipe, Red Sour, or AB's Rocker's, Barbecued Fruit Cocktails like Chilly Watermelon, Sweet Basil Delight or AB's Sangria.
Timings: 11:30 AM to 4:30 PM and 6 PM to 1 AM on all days.
Price: INR 1600 approximately for 2 persons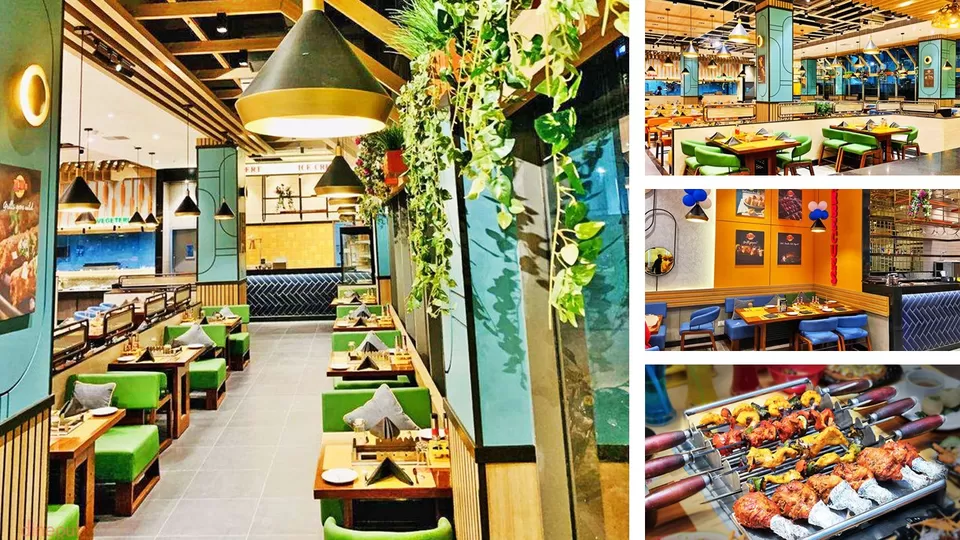 8. Three-sixty one degrees
Location: The Oberoi, Udyog Vihar 5, Gurgaon 122016
Three-sixty one degrees in an all day dining space within the Oberoi Grand Hotel. The restaurant has an amazing pool view and a vertical garden that imparts a lush green effect. It has both indoor and outdoor seating arrangements. There is a wooden deck placed on the water where you can sit and enjoy the special hand-crafted recipes of the Oberoi chefs. The restaurant specialises in Japanese, Chinese, Italian and Indian cuisine. The Sunday brunch is a specialty with mezzes, salads, soups, kebabs, sushi, dim sum and an assortment of beverages.
Timings: 9 AM to 11 PM on all days.
Price: INR 5500 approximately for 2 persons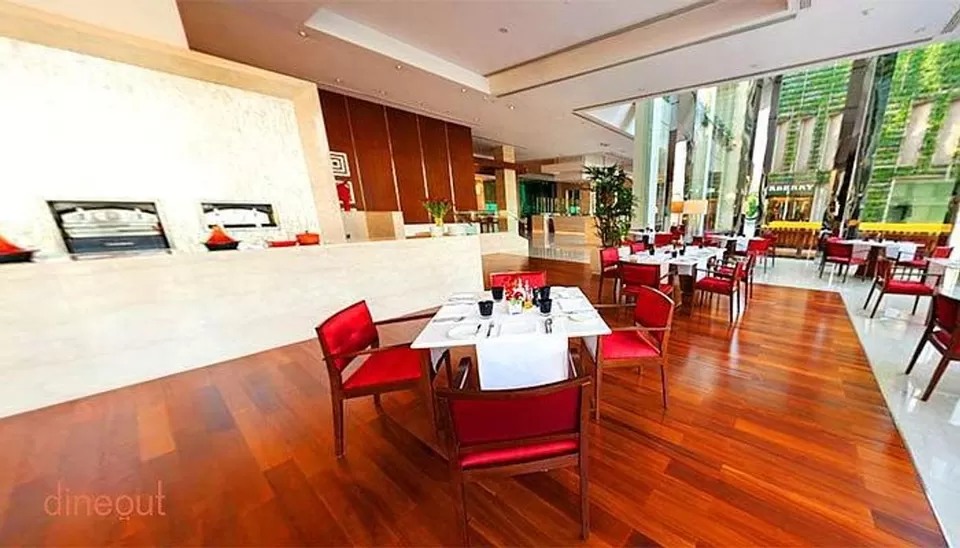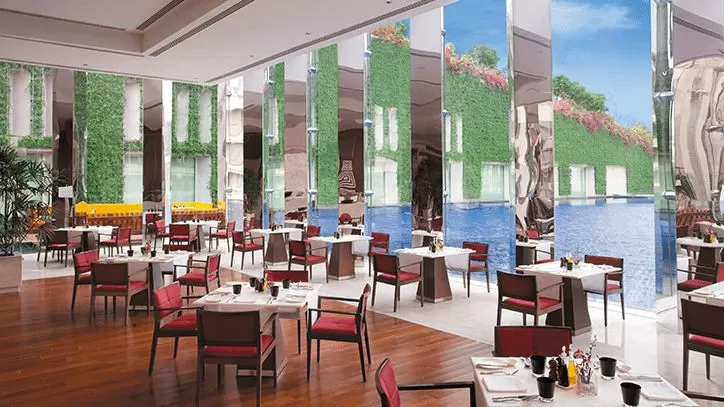 9. Seasonal Tastes
Location: The Westin, MG Road, Sector 29, Gurgaon
Seasonal Tastes is the restaurant of the Westin Hotel. It is an all day dining eatery with a plethora of buffet options for breakfast and lunch. The ambience and the decor are soothing to the eyes. The restaurant is specially known for its dishes from Continental, Asian, Italian and North Indian cuisine are served accompanied by some tempting beverages. You must surely check out its list of appetizers like bruschetta, mezze platter, warm smoked salmon, honey ginger prawn, tandoori jheenga, murg tikka, hara bhara kebab, mahi tikka and spring roll. The Chaat counter is best where you can opt for selecting your preferred combination to relish the appetizing options. The desserts are also one of the best offered in the restaurants; the delectable ones being gulab jamun, Viennese apple strudel, sorbet, fresh fruits, cheese platter, melting manjari mousse cake and chocolate walnut brownie.
Timings: 10 AM to 1 AM on all days.
Price: INR 4500 approximately for 2 persons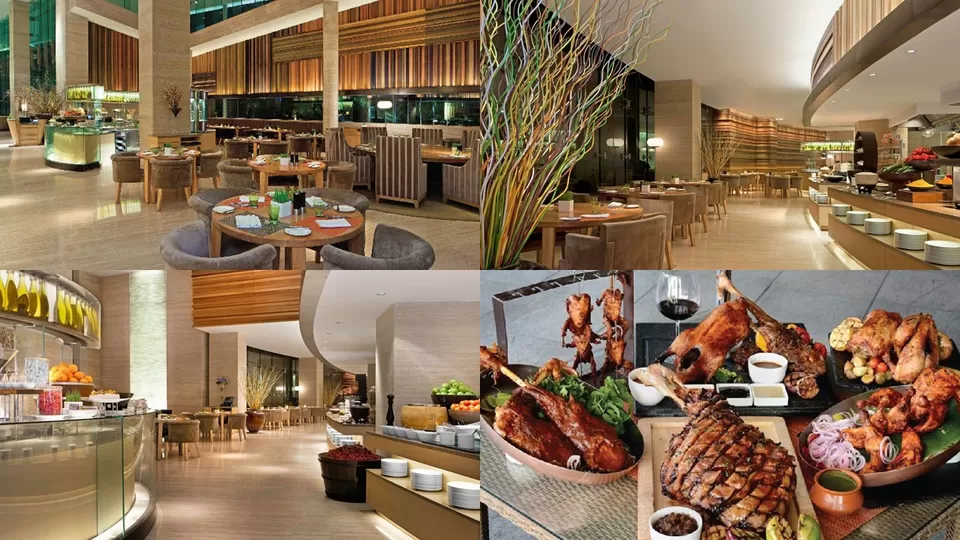 10. California Boulevard
Location: SCO 383-384, Sector 29, Gurgaon
California Boulevard welcomes the guests with a Harley Davidson at the entrance. This a two-floored restaurant with convenient space to sit and enjoy the delectable foods. You can find a replica of a San Francisco tram just after the entrance. The decor inside the restaurant is unique, following the Hollywood inspired theme. You can find pictures of many celebrities adorning the walls of the restaurant. Wide plethora of menus from the cuisines of American, Asian and European greet the food lovers. Its specialties include pizzas, burgers, sandwiches, mixed Schezwan vegetables, lamb roulade, chicken pot pie, charmoula fish, lobster curry and many more.
Timings: 12 PM to 3:30 PM and 6:30 PM to 12 AM on all days.
Price: INR 850 approximately for 2 persons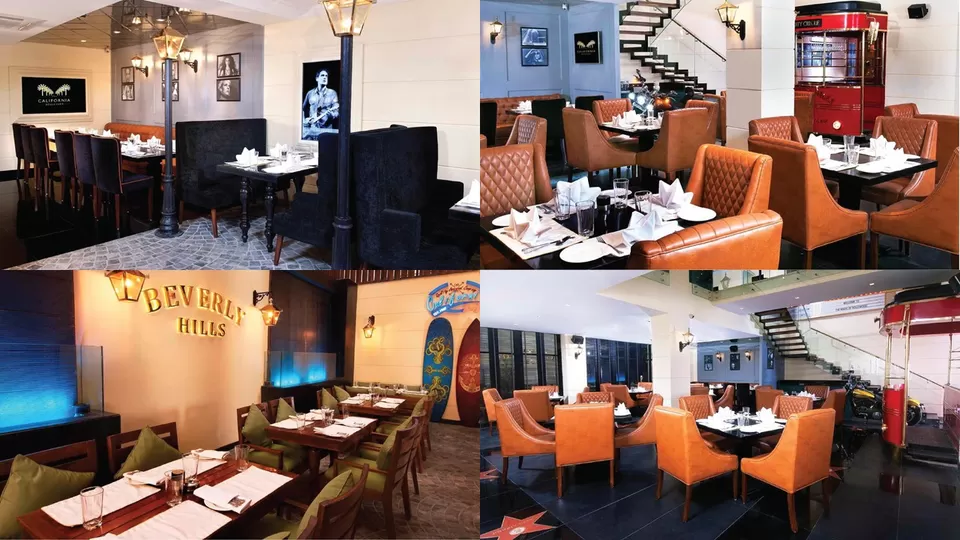 So next time when you plan a visit to Gurgaon, do not miss out visiting the restaurants for a taste of their delicious dishes.
Ready to travel for free? Earn credits and redeem them on Tripoto's weekend getaways, hotel stays and vacation packages!
Frequent Searches Leading To This Page:-