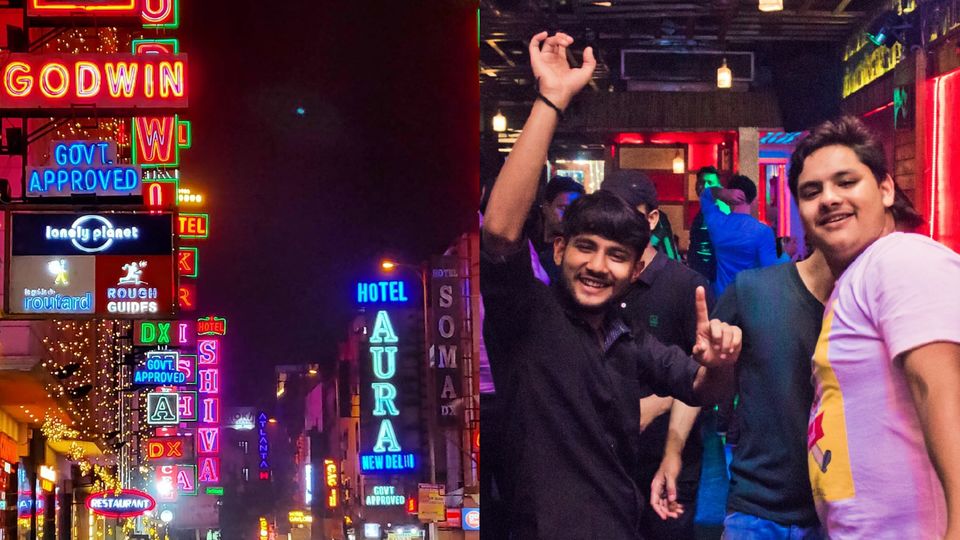 Delhi's nightlife is the stuff of legends. While some swear by the plush night clubs of South Delhi, others flock to Gurgaon's famous microbreweries. However, if you're someone who really wants to experience the city's vibe, step away from the pretentious party scene of South Delhi and head to the backpacker paradise–Paharganj. The winding lanes of Delhi's very own Las Vegas behold some of the craziest bars where you can party like there's no tomorrow.
Here are 7 best bars in Paharganj you must drink at to experience the dark & trippy underbelly of Delhi
What's so special
This is one place in Paharganj that stays true to its name. As soon as you step in Gem Bar, you disconnect yourself from the hustle-bustle of everyday life. What greets you is a dimly-lit space with occasional neon signboards, cheap alcohol and a live band recreating Altaf Raja numbers. In short, this is everything that you don't get when you go out drinking in a South Delhi club. Tread carefully!
What's so special
Even though many new places have recently opened up in this part of the city, no trip to Paharganj is ever complete without drinking at My Bar. Period. This legendary bar with its smoke-filled air and stained walls attracts passionate drinkers from all parts of the world. Go here, shed all your inhibitions and experience the mecca of the Delhi underbelly.
What's so special
A favourite amongst one-sided lovers who drink their sorrows away, Gold Restobar is a place of historical significance. Gold happens to be the oldest bar in Paharganj, first opened in 1994. Ever since this, every night here has been about scores of single men downing glasses of cheap whiskey as a mediocre group of musicians rehash Jagjit Singh ghazals. Going through a tough breakup? A night at Gold might just be what you need!
What's so special
Located right in the heart of Paharganj Main Market, Sam's is yet another place that has stood the test of time. Paharganj regulars swear by the popular rooftop cafe's lip-smacking food. On the other hand, the recently-opened bar has become the go-to place for office goers who come here to unwind after a tiring day at work. If you are someone who likes meaningful discussions to go with your drinks, this is the place to go!
What's so special
Fans of all things dark and shady, Cheers Bar is downright creepy – even by Paharganj standards. Undoubtedly the loudest place in this part of the city, Cheers is not meant for the faint-hearted. The food here is not the best and the selection of spirits is also limited. However, in spite of all the shortcomings, Cheers Bar is an experience in itself. Rustic, trippy and super fun – it's everything Paharganj stands for.
What's so special
Merely a stone's throw away from the famous My Bar lies yet another iconic watering hole of Paharganj, Green Chilli. The dingy bar was traditionally an adda for sport fanatics who would come here to place friendly bets on cricket matches. The magicians behind Green Chilli recently decided to venture into a new customer base altogether. The cramped up bar now attracts local traders and shopkeepers who discuss everything from their household problems to world politics here. Needless to say, there's blaring loud music here as well!
What's so special: Single and hatin' it? Head over to Paharganj's White Heart Bar and you will definitely end up meeting similar people. Every evening, single men flock to this rather tacky bar in hope of finding mental peace. By the end of the night, one can spot new connections being made, strangers turning into friends and phone numbers being exchanged. As the name suggests, this place is all about love!
Know of any such hidden gems in your city? Click here to share your secret spots with the Tripoto Community right away!