Waking up to the quiet and peace of dense greenery, not having to think about our daily grind at all and room service – could we ask for a better escape from our hectic everyday lives? These resorts that are barely about two hours away from Kolkata right in the middle of Sunderbans, India's biggest mangroves, home to the royal Bengal tiger offer you all of that while also being completely eco-friendly.
The beautiful Sunderbans are a treasure trove of some of the best flora and fauna the country has to offer. With all its rivers, lakes, dense greenery and some rare species of birds and animals wandering about, an experience here is definitely worth cherishing. But can we do that without disturbing and disrupting the life, beauty and serenity of the forests? These eco resorts aim at just that.
Located in Dayapur, the Sunderbans tiger camp is one for those who are here for the animals of the place. There is a mighty good chance of you being able to spot a tiger or any other animal while you are here. The resort also offers safaris. For those of you who would like to spend time reading on animals of the Sunderbans, there are a whole lot of books in a quaint little library that is a part of this resort. Along with their executive rooms and non-AC cottages, they've also got swiss tents in which you can stay.
Book a room in the Sunderbans Tiger Camp here.
Beautifully built around a lake with its cute little cottages and fences, the Sunderbans tiger land resort is one that's quite popular with the regular visitors to the forest. The food that is served here is also known for being tasty and comprises of Indian, Chinese and Continental cuisine. You can stay in one of their executive rooms or their deluxe rooms which are all well-designed with all the basic amenities. They also offer boating in this lake and you are definitely going to love that.
Book a room in the Tigerland Resort here.
This resort in the Pakhiralaya region of the forest is one of the most beautiful resorts that exists in Sunderbans. The cottages and rooms are large and beautiful with their wooden build and beautiful interiors. Their restaurant is also known for some great Bengali cuisine and some good continental cuisine as well. Yet another thing that you'll love about this place is that it offers bicycles on rent for you to explore the forest by riding them.

Book a cottage in the Solitary Nook Resort here.
The V resort Sunderbans mangrove retreat is yet another resort you can stay in Satjalia region of Jamespore village right on the edge of the mangrove forests of the Sunderbans. With tiny huts that belong to different categories such as executive and deluxe, you can choose the ones that you like the best and also get to sample all the authentic Indian and Bengali cuisine on offer at their restaurant. There are many ponds and gardens in the premises of the resort where you can get a good taste of all the greenery and the serenity of the Sunderbans. The resort also offers boating in the areas around here.
Book a room or a cottage in Vresorts mangrove retreat here.
Tora eco resort is one of the greenest resorts you will find in the Sunderbans with all of their wooden cottages made of materials that were taken right from the forests. The location is great too, with paddy fields all around it and river Gumdi flowing right next to the resorts. The entire construction has got a rural design and there's an organic vegetable garden as well from which the kitchens of the resorts get their vegetables from. The food's simple as well, with pure and authentic local cuisine.
Here's where you can book yourself a room at this highly eco-friendly accommodation.
If you want to actually experience staying right in the middle of the forest with just basic amenities, you should choose this lodge. You can reach this lodge only through boat. It offers many safaris and treks with guides to help you out too. It is extremely cheap and if you are on a budget, you can stay here for a number of days without going bankrupt.
Book a room in this lodge by calling them here- 03218 214 960.
If you want to go completely off the grid, these three resorts that are not only eco-friendly but also quite remote in their location.
Sunderban Jungle Camp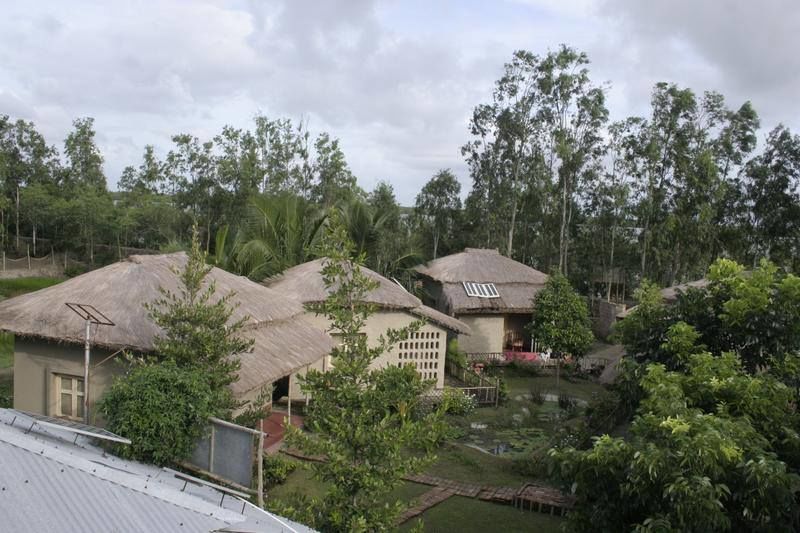 A group of thatched huts located on the Bali island of the Sunderbans are one of the most popular resorts of the forests with eco-friendliness being one of their major themes. Despite the rustic look, the rooms of the resort are actually quite beautiful with their four poster beds and cozy interiors. There are six cottages that belong to this resort all spread among the greenery of the island and a large dining area that is common for them all. If unwinding among the beautiful Sunderbans for a few days is what you're looking for, this camp is perfect.
Here's where you can book a room in the Sunderban Jungle Camp.
Sunderban Mangrove Retreat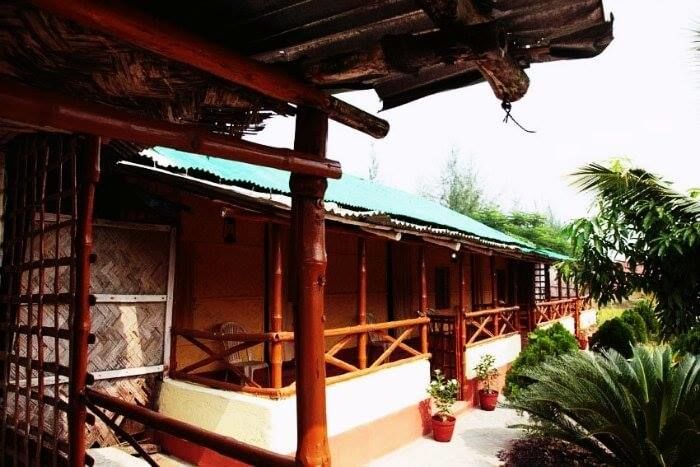 Sunderban mangrove retreat is yet another beautiful resort that is located on the Satjalia island of the forest and comes under the Jamespore village. The rooms were beautifully built with comfortable and swanky interiors and an artistic exterior appearance made of wood. You can actually fish in one of the many little ponds within the retreat. The sea-food of this place is known for being delectable. This resort has got lots of rooms that you can choose from – exective, AC cottages and Non-AC cottages all with different pricing. 
Book a room in the Sunderban Mangrove Retreat here.
Sunder Cheetal Forest lodge
Sunder Cheetal lodge which also happens to be located in Sajnekhali is one that you'll love if you are on a budget and yet want to stay in beautifully designed wooden rooms which are painted with green so as to blend in with the greenery around it. The resort is quite large and has got as many as 60 rooms with a restaurant that has got some great food to offer as well.
 Book a room in this lodge here.
Have you had the chance to stay in the beautiful Sunderbans? Would you like to share the experience? You can do that here.
Get travel inspiration from us daily! Save and send a message at 9599147110 on Whatsapp to start.