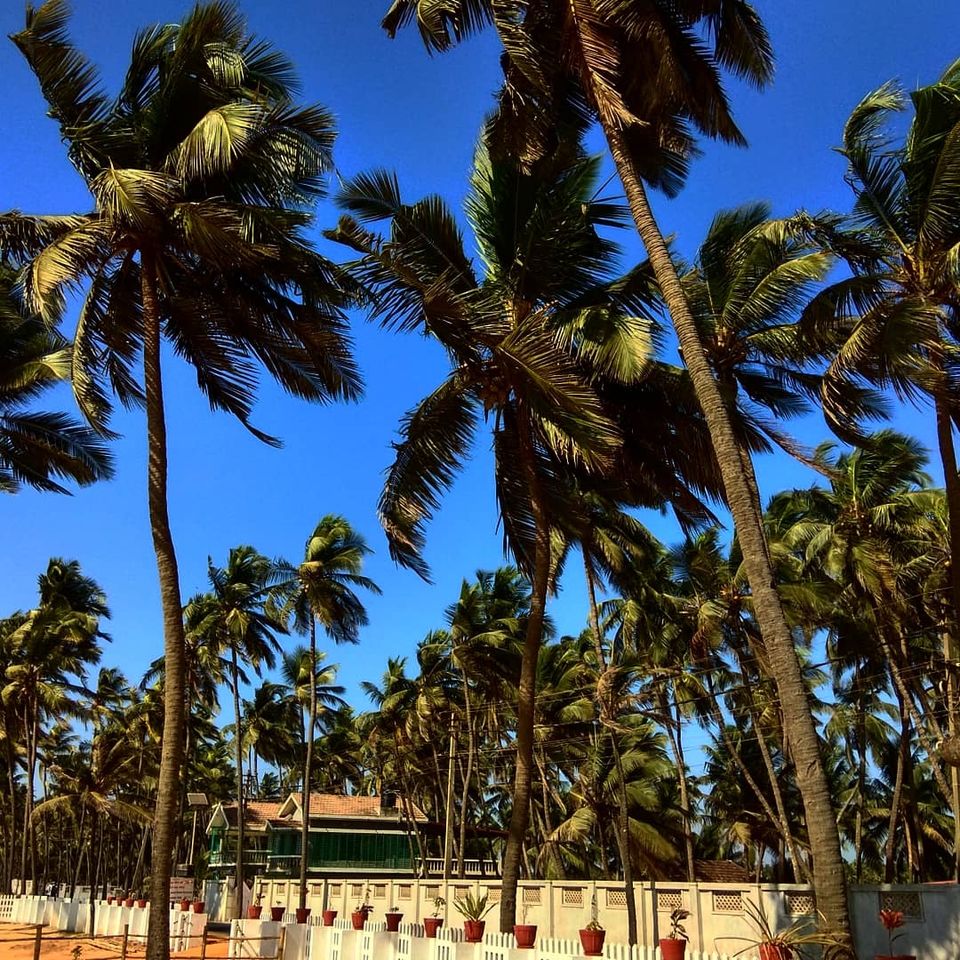 What an unexpected turn of events!
I had just pulled an all nighter when I received a call from a friend. He asked if I wanted to go to Kemmanu. I had never heard of this place before. Lack of sleep was dragging me back but I gave in. Little did I know it was going to be a chain of adventures I would have regretted not being a part of.
It was around 10:00 am when I got the call. We planned on leaving by 11:00. With absolutely nothing other than my phone I left. We caught a bus to Udupi. After a little enquiries, we found the bus to Kemmanu. The conductor was very friendly. He gave us a quick idea about the place. Made us a little itinerary. The bus dropped us right on the beach and what a view it was!
There it was, right in front of us.Straight beaches with clear blue water, soft sand beneath our feets, coconut trees marking the boundary and soothing breeze! And the biggest plus was that we had the place all to ourselves. Still untouched by the curse of commercialisation, the beach still remains in its natural form.
After wetting our feets, feeling the wind in our hair and a billion pictures we came back to the trees. Walking our way on the stone perimeter, we started towards Kodi Bengre( popularly known as " Delta Beach"). Jumping on the stones, chasing each other but also walking silently at times feeling the peace was a different experience.
We had our lunch at Canara beach resort on the way. Chilling there for an hour and a half we set forward.
We had just walked for about 2 min, when we found this! Next 1.5 hours were the best moments of the trip.
It was this coconut leaping forward towards the river. We all were excited to climb our way into water. A little scared in the beginning, carefully gauging the strength of the bark. Seeing if it could take our weights, we took turns dragging ourselves as far as we could from the shore. After we finally established the strength, came the next part. The Dive!
Setting off from that bark, letting go in to the stream was the best feeling ever. The currents were perfect for swimming. I got a few scratches while trying to climb up in the tree but it was all for good. In that moment, during that leap we were alive! We came out all drenched, breathing heavily, still shaking a bit but we had that smile on our faces, with adrenaline still rushing, we had that feeling of satisfaction!
We walked again. Drying our clothes on the way. We had walked a kilometre more, we had two more to go. The plan was to catch a ferry from Kodi Bengre a that'll leave us at Hangarkatta from where we could catch a bus back to Surathkal. We asked the locals, enquired about the ferry. They warned that the last ferry leaves in 45 Min. We were all tired by now. We had to find an alternative way.
There was nothing that was gonna ruin this perfect day of ours. And so happened. We stopped a car and asked for lift. He happily agreed. But we all weren't going to fit in. There were a couple of scotties coming our way. To our surprise, they stopped too. I had never gotten an easier lift ever!
We reached Kodi Bengre. The boat still had a last trip to make. That gave us 30min to chill.
We went to the beach and there it was ,a clear sky and the setting sun.
What more could we ask for!
But alas! Our ferry was there moments before the sun set. We had to miss it. The ferry ride was equally amazing. View of the trees against the setting sun marked the end of the beautiful day.
Leaving the place brought a little restless. It was too pretty to say bye too. We had such a little time. I was sure there was a lot more to this place and we had just scratched the tips. But that's the thing about travel. You need to keep moving. And goodbye are going to be an very important part of it!
I'm sure I'll go back again and also sure that this place will have a lot more to offer than as well!