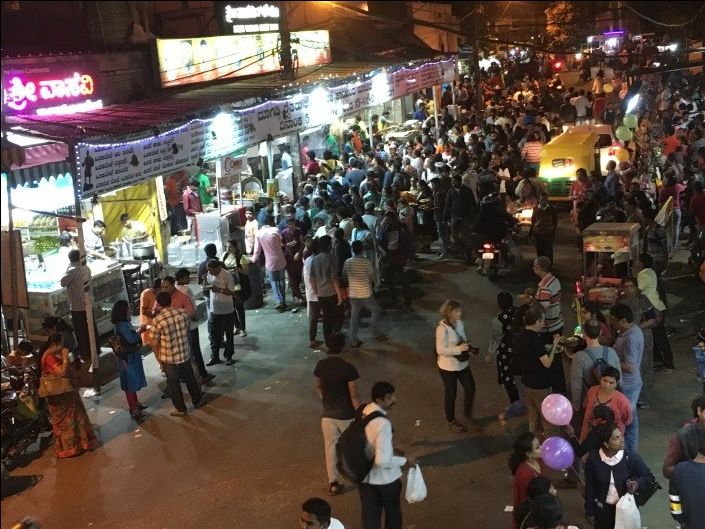 VV Puram Food Street,Bangalore.
How to reach ?
Bus – You can take all the BMTC Buses which goes to lal bagh, from all the part of the city.
Metro – Or even metro is also a prefect option, you can get down at Lal Bagh Metro station.
Road – With traffic it take nearly 1-1 1/2 hours to reach.
Best Timings to go : Evening 7 to 11 ( All days ).
Special things about VV puram Food Street :
If you are a foodie, who likes to eat more spicy foods,than sweet foods and like South Indian food so much, then its your kind of place…DO VISIT…DONT MISS IT.
You can able to eat all the items that are famous in South India.
Don't Worry about cleanliness, its perfectly hygiene,and no chances of getting stomach upsets and food poison.
Its Starts from one end of the street and ends at the other end..Small street, so need to worry about walking distance.
Some tasty foods,you shouldn't miss:
Sri Vasaavi Mane Tindi (Dosa Special) :
If you are a Dosa Addict like me, then ofcourse,its your kind of place.Do visit this place, and try all 20 & above type of dosa's and make your tummy happy.
Idli Mane ( Special for Idly's ) :
If you love typical tamilnadu sambar with Idly and white coconut chutney, then do visit this place and get your prefect dinner served.
Potato Twist ( Special Potato Spring rolls ) :
If your mouth, tempts you to eat some spicy, Peri-peri , hot, creamy potato twist rolls, then don't miss this stall in the food street, ran and grab yours first.
Spring roll stalls in good street
They are serving two types of twist
Peri- Peri twist rolls
Cheese twist rolls.
Bhajji Shop ( Special for bhajji's and bonda's) :
In the dead end of the street, comes a very special bhajji shop,which serves all type of bhajji's and aloo bonda.
Dont forget to try Capsicum and Banana Bhajji here.
Aloo Bonda in Bhajji Shop
Shivanna Gulkun center ( Special for Gulken Ice cream ) :
As i'm from tamilnadu, that is the first time, even i'm tasting ,Gulken Ice Cream. Its really tasty and a new experience for me , tasting a ice cream with all the fruits on it, by mixing it up with gulken side by side. Aaah…!!Yummmmmmyy …right….!!!!!
V.B.Bakery ( Special for cakes and cookies ) :
If you are a dessert lover and you didn't find anything on the street in favor of you, reeeellaaaxxxxx buddy…In the end of the street,opposite to that bhajji shop, comes this yummy, mouth watering bakery, where you can get all kinds of desserts from Cakes to biscuits.
Last but not least : Chats
Of course,everybody will love chats,no doubt in that. don't forget to taste,all the varieties of chats that are available in the food street and make your tummy happy place.
These are some of the foods, which i tasted and felt,its really good and worth sharing…Other than this, there are, so many other shops/ stalls, that are worth visiting.
So, do visit VV Puram Food street with your friends and family in your free time,and make your tummy – a yummy place.
Recommending,all the,one time visitors / tourists of Bangalore, to add this yummy food court to their itenary.
Go and Grab your spoon soon…!!
Good day….:)