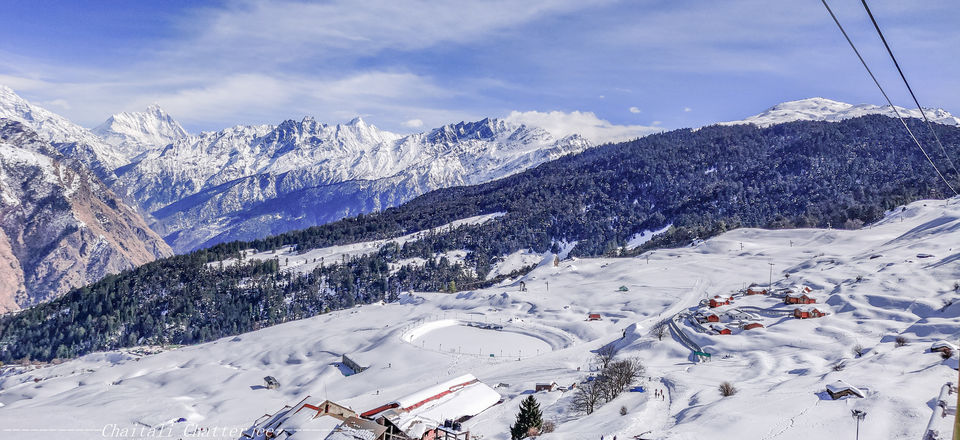 Auli - A snowy dreamland, where I wanted to go from long. I couldn't make it to Auli last year, hence was very determined to strike-off from the list this year. A Bike Ride to Auli in Winter, its called "Toofani", in my words.
Zoom Car/Rented Car was out of our budget and early morning buses aren't feasible for me.Hence we decided to rent a Bike from Dehradun and ride all the way ,the plan worked pretty well.
Day 1 - Dehradun- Rishikesh
Our trip started on 9th Feb 2019 from Dehradun where we rented Enfield Himalayan from @Dehradunbikerental and loaded our luggage. No wonder our luggage was over-loaded due to warm clothes, as I kept monitoring Auli's temperature dipping down to 2-3 Degree in the morning.
Alternate Commute - You also get State buses directly from Dehradun Hill station road to Joshimath which starts by 5:00 am and reaches Joshimath around 5:00 pm. You may select this options too, but make sure to pre-book your stay at Joshimath as you may get delayed due to Landslide.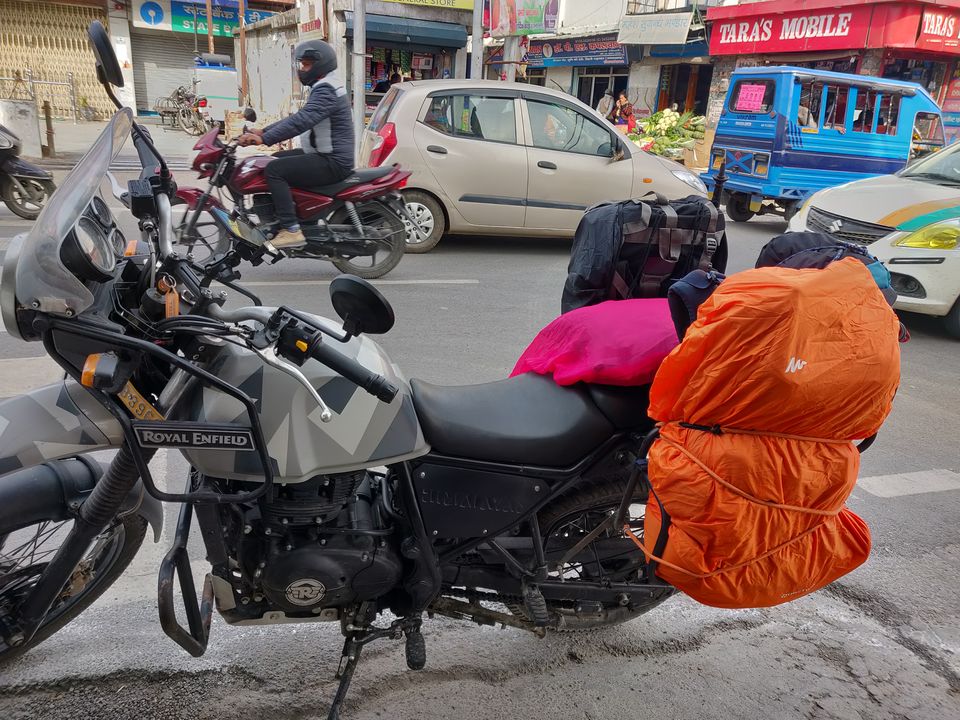 After 90 mins ride from Dehradun , we reached Rishikesh and spent out night at a guest House . Happened to view the Laxman Jhula and Triveni Ghat.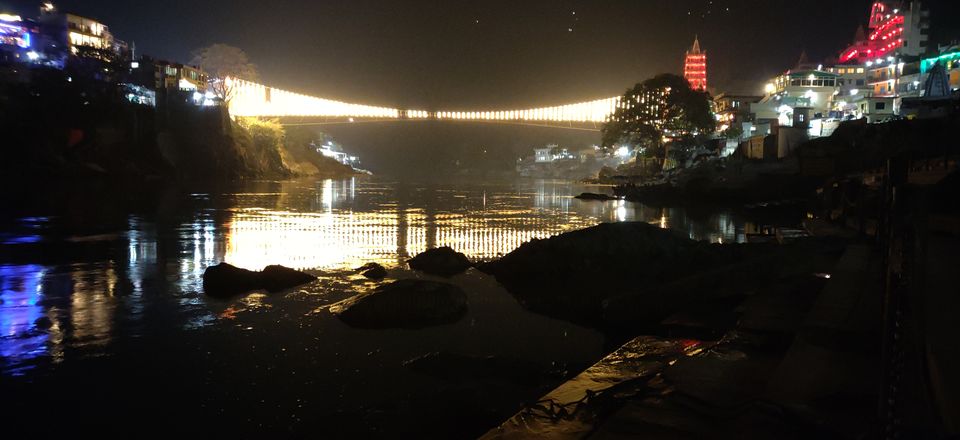 Stay- We stayed in a guest house, booked through Airbnb. It was spacious and decent location near to Laxman Jhula. Cost - Rs. 850 per room.
Food- You have few food joints near Freedom café from where you can get an amazing view of Laxman Jhula.
Places to Visit - Laxman Jhula, Triveni Ghat. If you have time, you can visit Haridwar too. Rishikesh is famous for white water River Rafting (during Monsoon) and Bungee Jumping.
Day 2 - Karnaprayag
Early morning after having a quick Bun Masala for breakfast in Rishikesh, we headed towards Joshimath. Although the time suggested by Google Maps was ~9 hrs, but with minimal halts we could only reach Karnaprayag by 7:00pm and we decided to halt there. Roads were bad and you cannot go beyond 40-50 km/hr or less than that. The roads were dusty due to construction ,make sure to cover yourself and luggage well. We got stuck at few landslides too. There is a proverb "Speed Thrills, but it Kills". Be more cautious while riding/driving in mountains.
On the way you see Devprayag, the confluence of Alaknanda and Bhagirathi rivers to take the name Ganga. It has a beautiful view from the top. You can go further down to the rocks for offerings and prayers. Since we were shortage of time, we enjoyed the view from top and rode further.
We filled petrol at Srinagar (This is in Uttrakhand, and not Kashmir) and stopped for Lunch there at Zaika Restaurant. If you are riding/driving make sure to keep the petrol tank full as there are very few refilling stations. Debit/Credit cards are accepted here. You have few places to stay at Srinagar and can take a night halt if needed , however, we choose to go further so that we can reach early to Joshimath the following day.
Karnaprayag seems to be a decent place and we stayed at Nanda Devi Tourist Lodge ,just next to the bridge with amazing view. In 200 mtrs you have good food joints for Dinner/Breakfast. You can feel the temperature going low from here. Nights were pretty cold with temperature below 10 degree.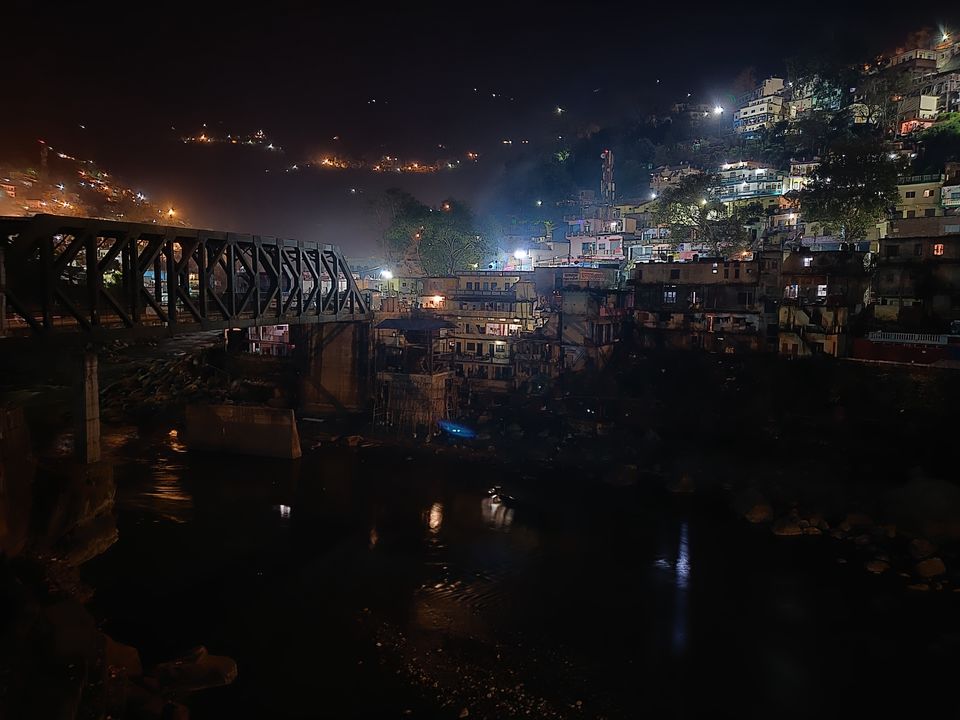 Stay- Nanda Devi Tourist Lodge. They charge Rs. 500 per person. You have big rooms for families accommodating 6-7 people. Since it was off-season, the big room was ours. There are no room heater here, but geyser exists.
Alternate Commute - You can reach Karnaprayag by buses from Rishikesh. Shared Jeeps are available from Karnaprayag to Joshimath and other surrounding places.
Day 3 - Enroute Joshimath
It's hard to wake up early during winters, and hence we ended up leaving around 10 am, after our morning Chai and Samosa.
We followed this route - Karnaprayag - Nandaprayag - Chamoli - Tapovan - Joshimath.
The road from Chamoli to next 15km is full of thick mud. The roads are slippery and hence ride cautiously .You get an amazing view of Gopeshwar from Chamoli.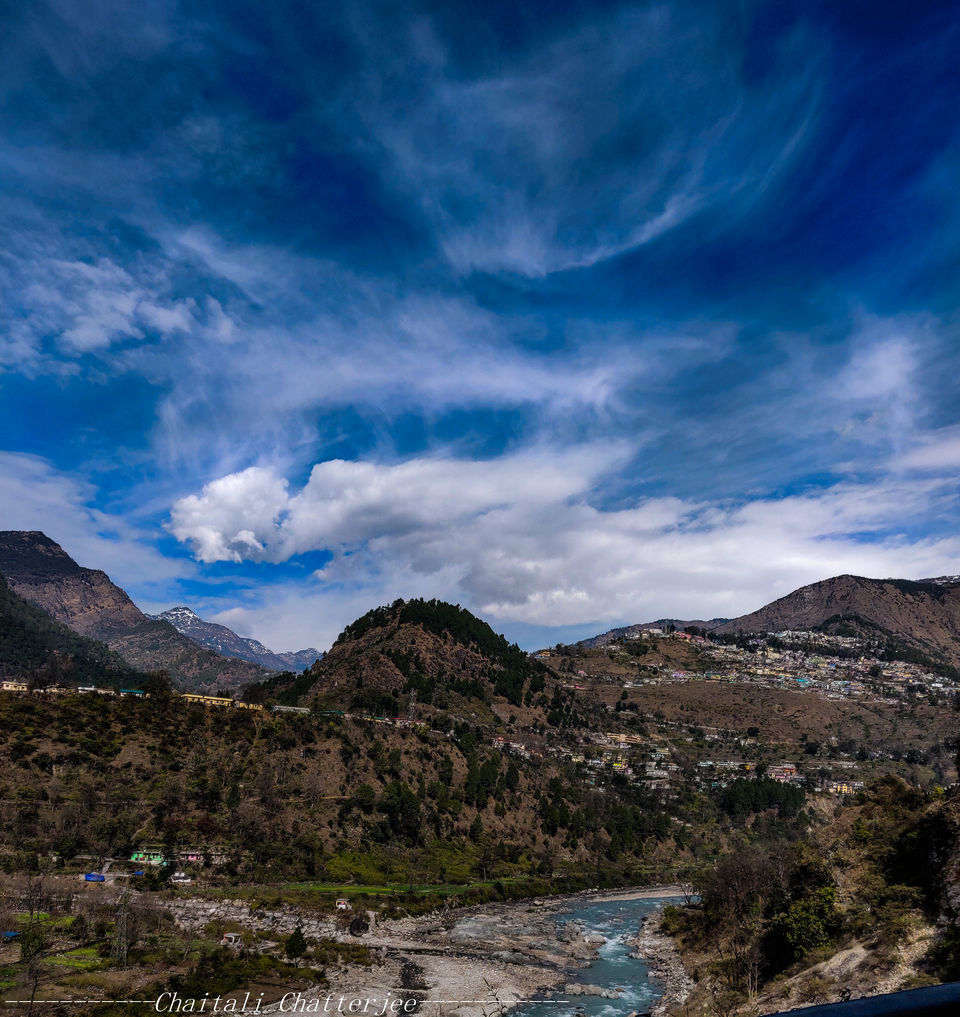 Very few food joints are available on this route. On the way we saw a small dhaba and halted for Lunch. The food was simple and good.
On the way you get an amazing snake view roads of Tapovan. Some roads are worth stopping, enjoying the moment and capture those in your cameras.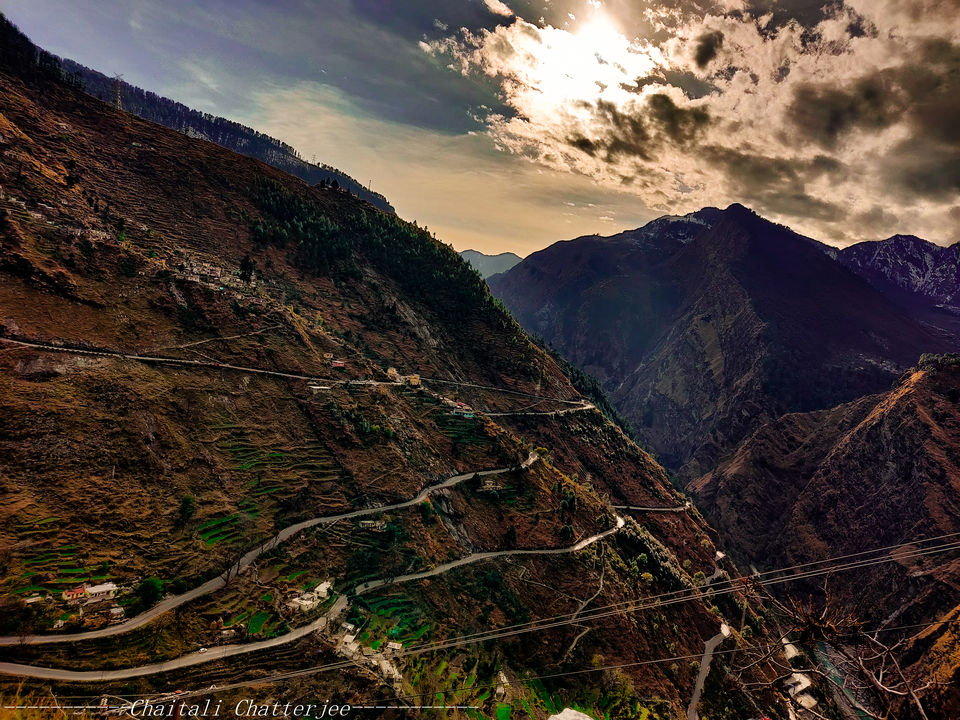 We reached Joshimath around 5pm before it started to get dark. Google maps doesn't work well on Mountains, so make sure you ask locals for directions. We ended up going towards Auli Road which was full of ice. If you are getting your own car, you can wrap it with Chains which breaks the snow to make the path. The roads are slippery and there are chances of vehicle getting skid. However, during winters, you can take your vehicle to a certain point due to huge pile of snow.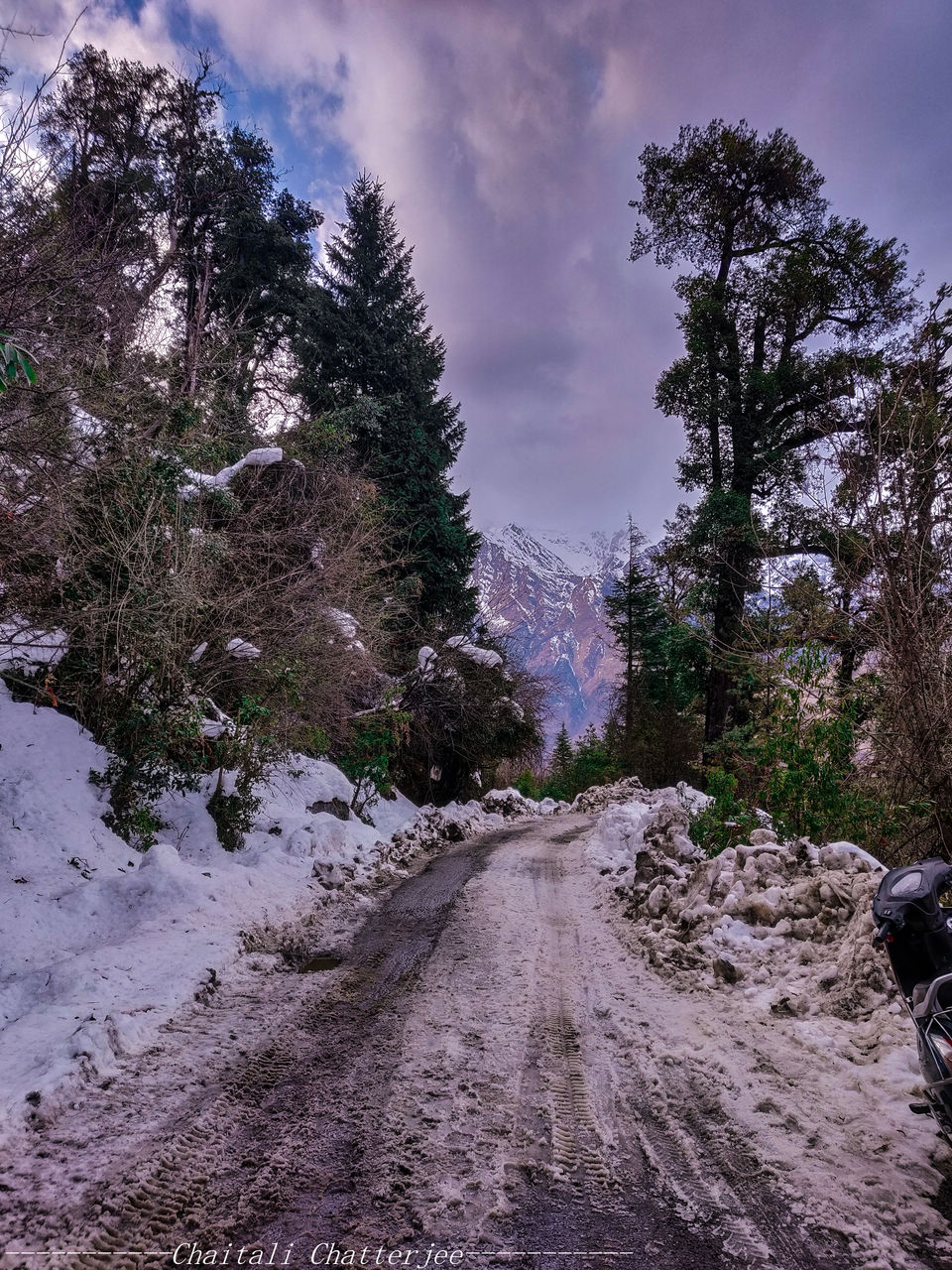 Nights are chilling at Joshimath with temperature below -5. We needed room heater to make it comfortable. Enjoy early dinner and a good-night sleep after a long ride.
Stay - The Nature Inn, Auli Road. Although the place is decent, but not upto the mark. Cost Rs.3000 per room. You have quite a few places to stay like Tatva, Xra etc with the same price.
Food - Panchavati Inn near Auli Ropeway. Food is good and we ended up going multiple times.
Day 4 - Auli Laga
Woke up shivering ,and reluctant to come out of the blanket. Opened the curtains to view the snow capped mountains and at last "We are in Auli".
Since we visited during winters, the road to Auli was closed due to snow. The only way up is via Ropeway.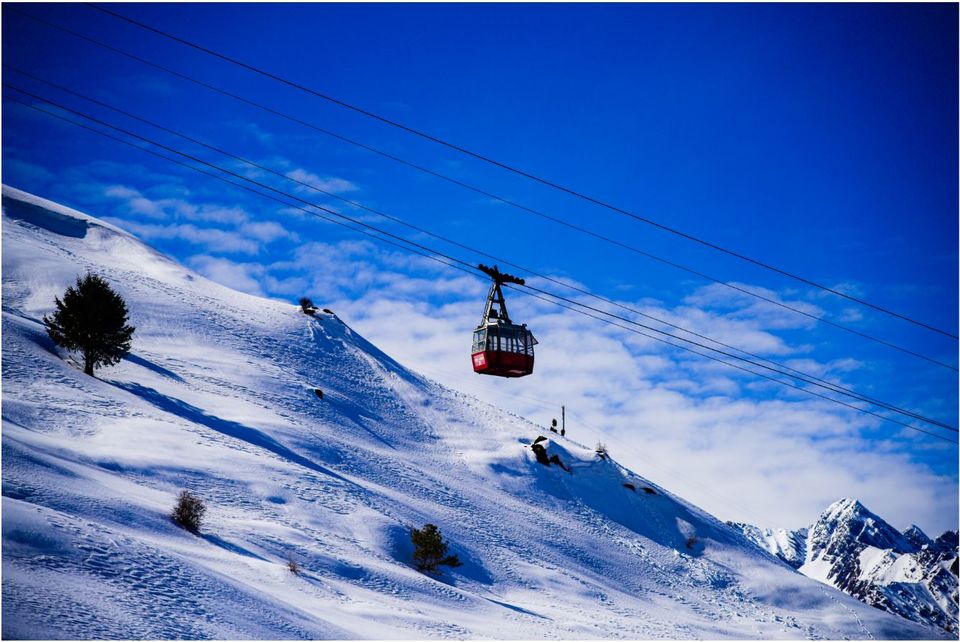 Ropeway starts as 9am. We booked the return ticket for the same day at Rs.1000 per person. We didn't find any queue in the counter as it was off-season. The ropeway takes you to Auli top in 20 mins, and you can view the amazing forest, snow capped mountain ranges on the way. Joshimath to Auli covers around 15Km by road and 5km via Ropeway.
Take a look at Adorable Auli surroundings - dont have words to describe the beauty.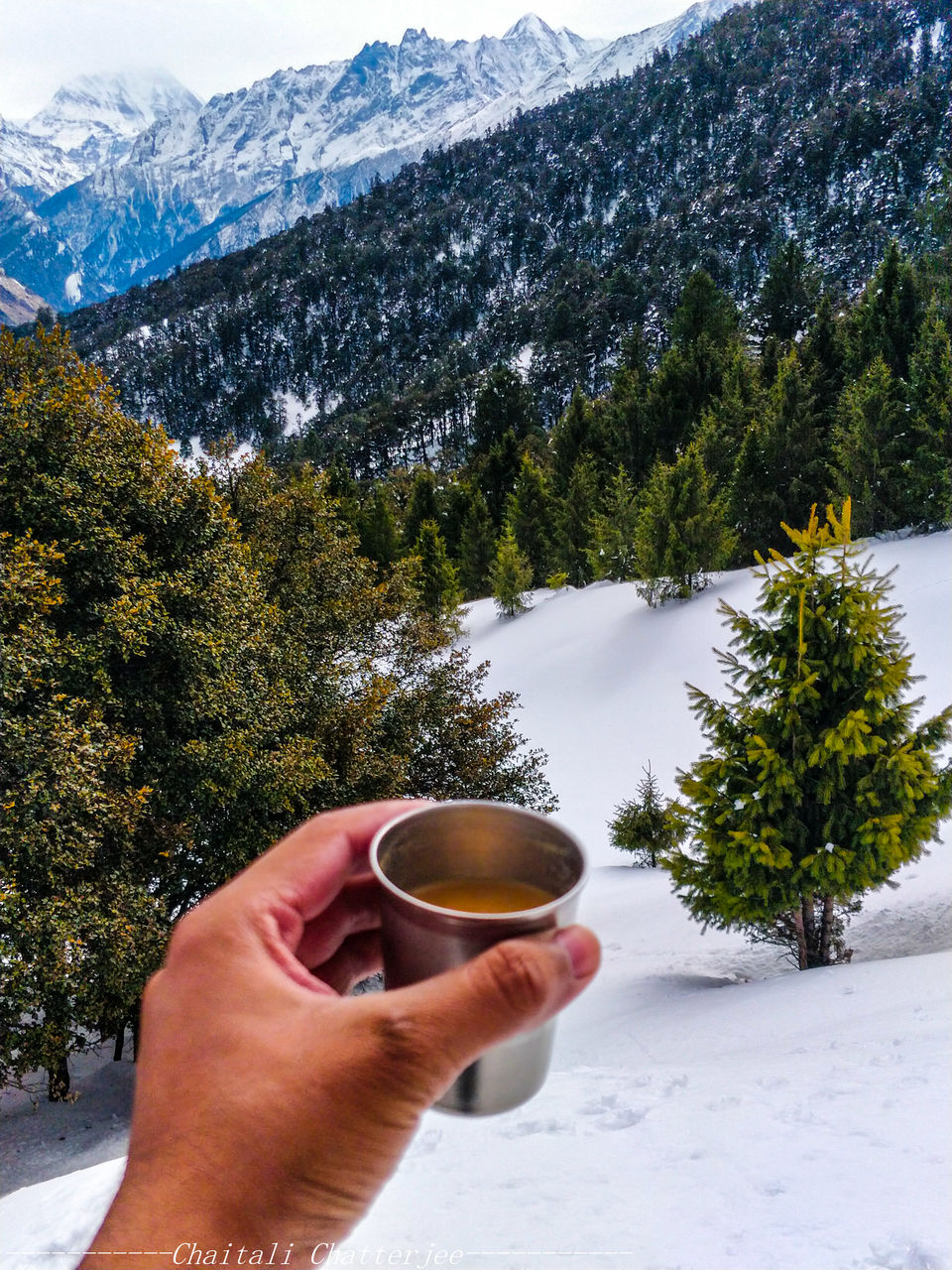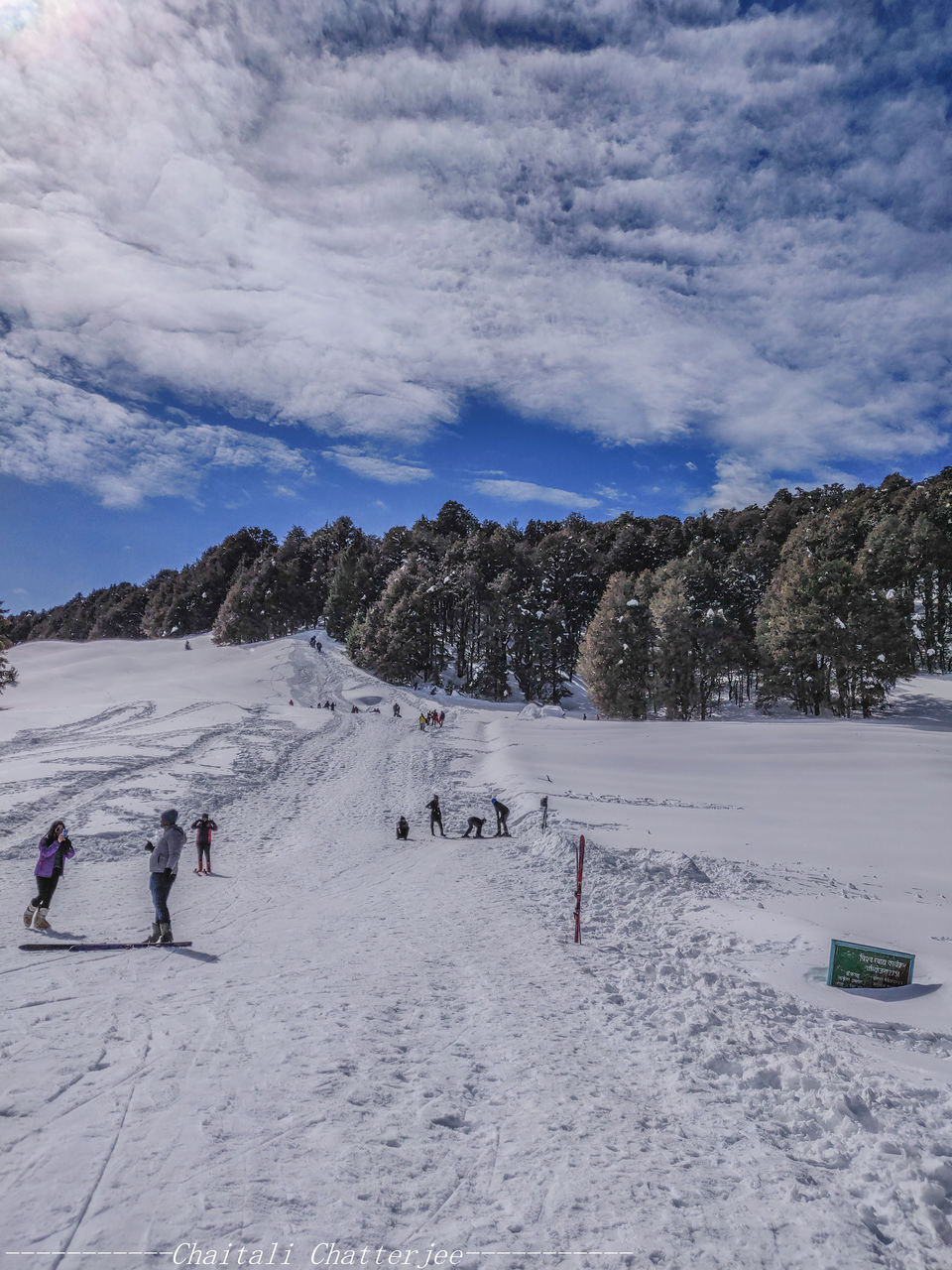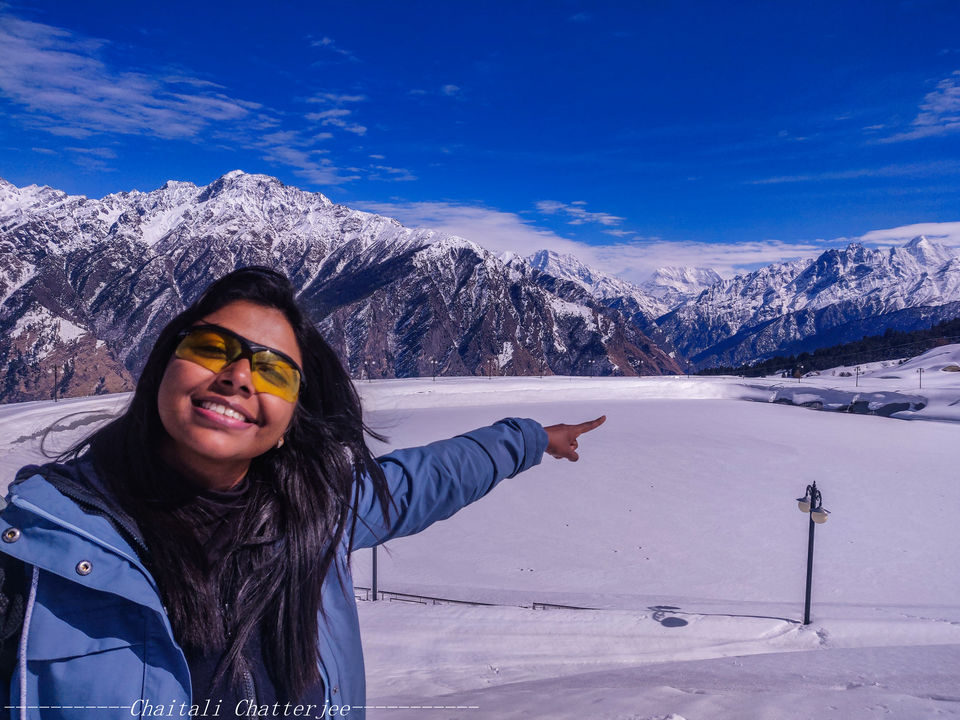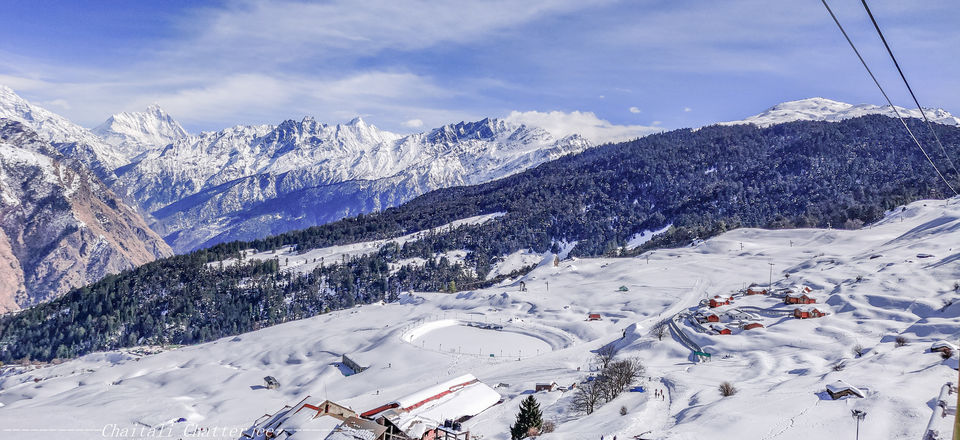 The ropeway starts at 9am and ends at 3:20pm. The return time would be mentioned on the back of the ticket. However, if you wish to stay longer, you may, but do not miss the last ropeway specially if you are visiting during off-season.
We enjoyed and spent quite a lot of time with lots of activities. Surprisingly, Airtel prepaid and 4G is amazing at Uttrakhand.
Firstly , Chai and Maggie to keep the stomach calm which has been making noise for quite sometime. There is one only food counter with limited options.
Skiing - It was my first time to skiing and the shoes are literally difficult to walk with. However, its necessary as they prevents injury to the ankle if you fall during skiing. It costed Rs. 750/per person for 1hr. It was a great experience as first timer. They do have basic courses too which you can enroll.
Auli Lake - After a small hike of around 800 mtrs, you would find artificial Auli Lake. It was frozen and covered with snow.
Chair car- Once you cross Auli Lake, you can take a Chair car to go on the end of the Auli and enjoy the 360 degree view of Auli. You shouldn't miss this. This would cost you Rs.500 per person.
Snow Bike - You can go for Snow Bike too. The radius was very small and hence we didnt opt for this.
After an amazing and exhausting day at Auli, we were back at our hotel in the evening.
Stay - We didn't stay at Auli, but you have amazing and expensive stays at Auli. Auli Ski Resort, Clifftop etc which would cost you ~8K per night. Reaching to these places with luggage is bit hassle as you would need to commute via Ropeway which has specific timings.
Food - There is one food counter which provides limited snacks.
Day 5 - Hanuman Chatti - Karnaprayag
We planned to visit the Last Indian Village "Mana" and headed back to Karnaprayag. Mana Village is 2hrs ride from Joshimath. We headed towards Badrinath road via Vishuprayag at early morning. The roads are very smooth and could hardly see any snow until 15 km.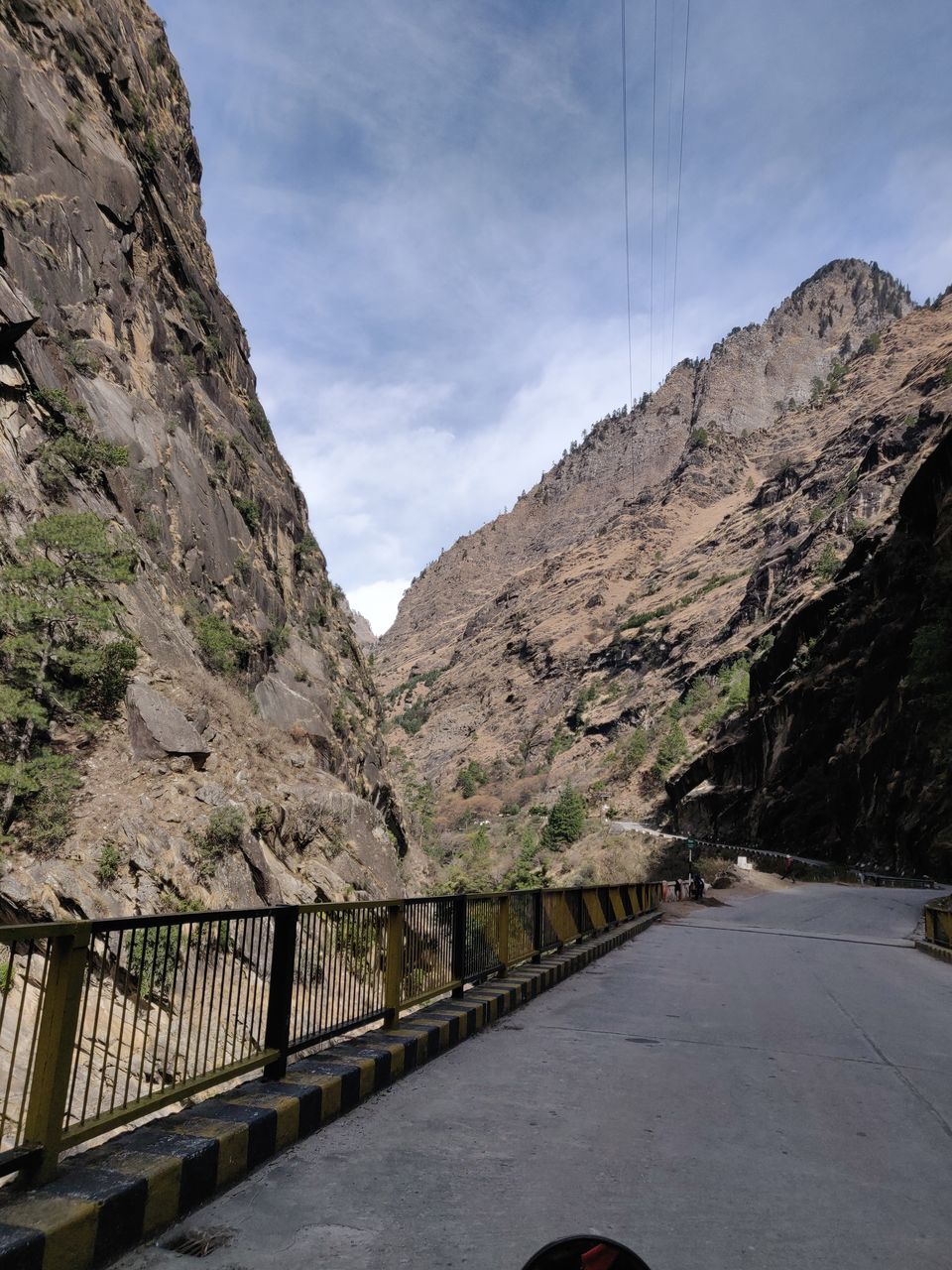 After sometime, we started to see snow on the sides of the roads which increased gradually. It was almost 4 feet of snow and looks like the roads were cleaned by Army. Reached Hanuman Chatti and we were stopped by Army as the roads weren't cleaned further, as Mana had 12 feet of snow. Silly of us, we didn't knew that.
However, we don't regret as few places should be left behind , so that you have a reason to come back.
We saw an amazing Glacier and the surroundings were like snow-land.
We didn't find a single person on that road and the place felt like we were at the top of the world. We literally spend couple of hours there, mesmerizing the beauty. I wished we could have stayed back for some more time, but there were no place for staying as everything was closed and we needed to head back to Karnaprayag and stayed at the same Lodge.
On the way back, we visited Vishuprayag.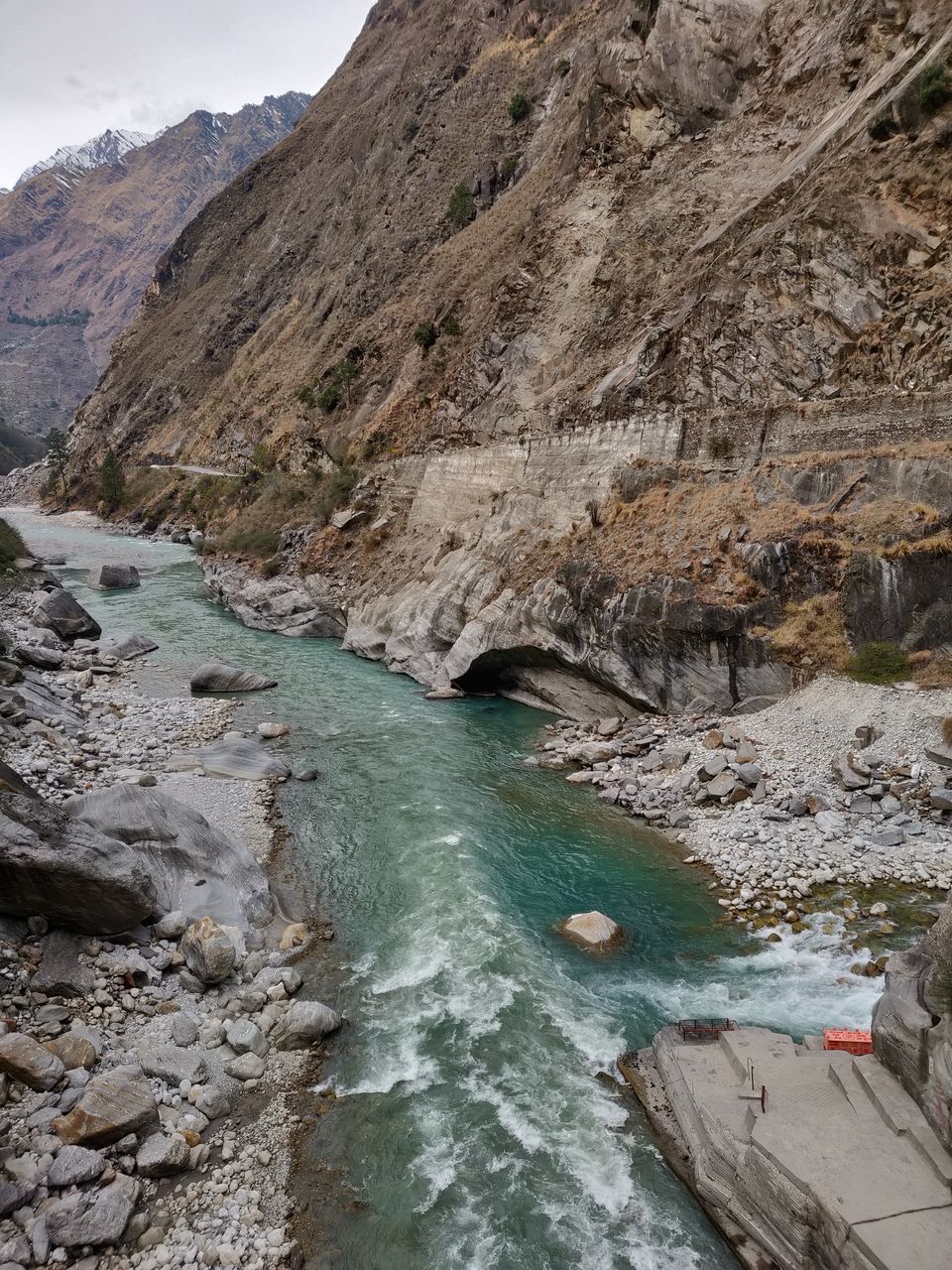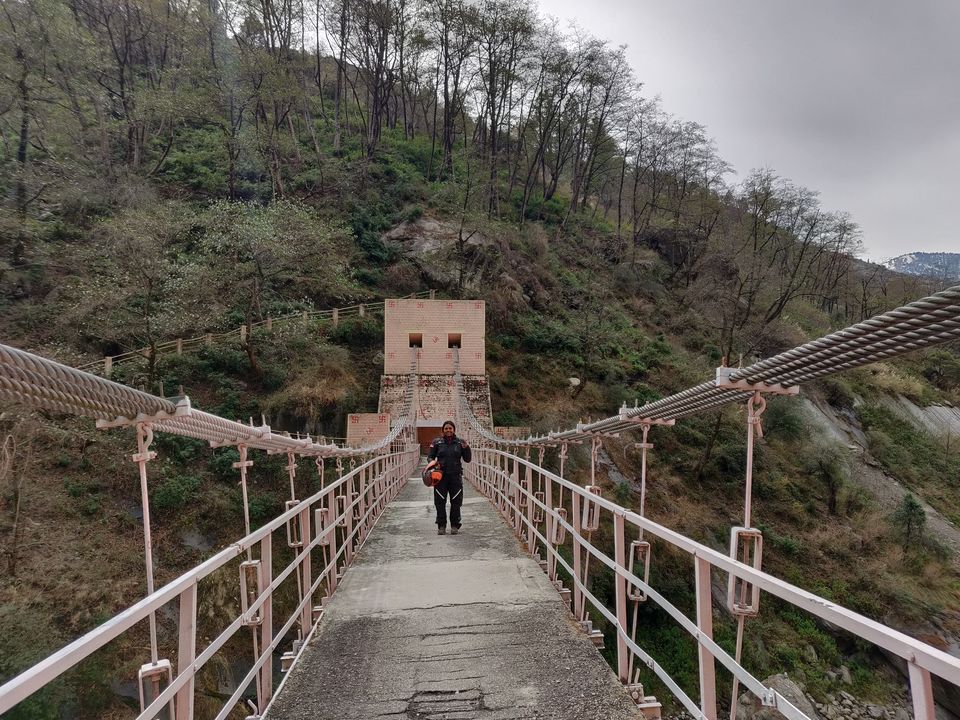 After spending quality time at the snow land , we headed to Joshimath and then to Karnaprayag. Sun was setting and what an amazing golden hour from behind the mountains. Sunsets are always my best shot and I am always ready to capture.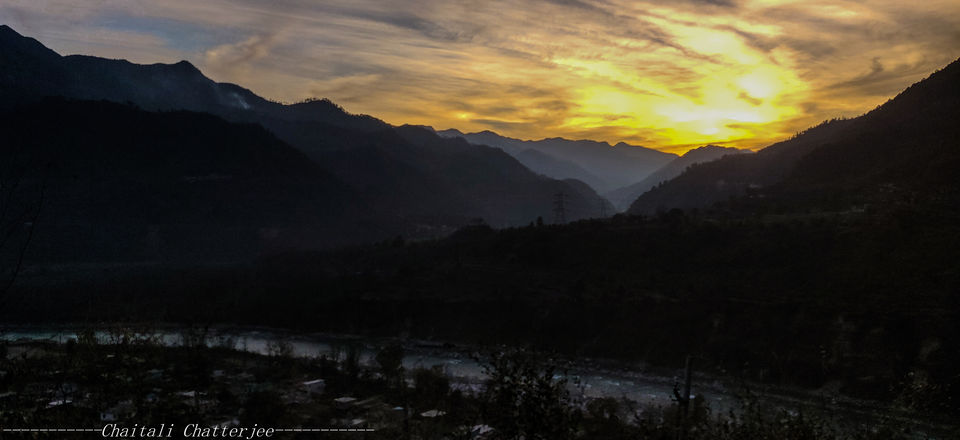 Day 6 - Chamba
We left Karnaprayag in the morning to our next destination Dhanaulti via Rishikesh. It was a rainy morning ,we put our raincoat on and headed forward. We diverted our route from Srinagar and headed towards New Tehri as Rishikesh seemed far and we were ready to explore new offtrack.
We had our brunch near a small food place at Alaknanda River . By the time we reached this spot, our shoes and socks were wet and we were shivering. Finished our brunch with Egg Maggie and lots of tea to keep us warm. While they were preparing Maggie, we enjoyed the river view. They have a toilet facilities too, which you do not often find here. As the rain stopped for few mins, we headed towards New Tehri.
We planned to head towards New Tehri and stay overnight. On our next tea halt in a small village near Pipaldaali we waited for an hour as the rain and cold was unbearable and we were full wet. While talking to locals, they suggested to stay at Chamba rather than New Tehri, as distance from Chamba would be less as compared to New Tehri.
Winter and rain is certainly not a good combination , but some destinations are worth the travel. On the way we crossed the highest dam in India - Tehri Dam. The dam connects to a Hydro project and its being guarded. The gate closes at 6pm.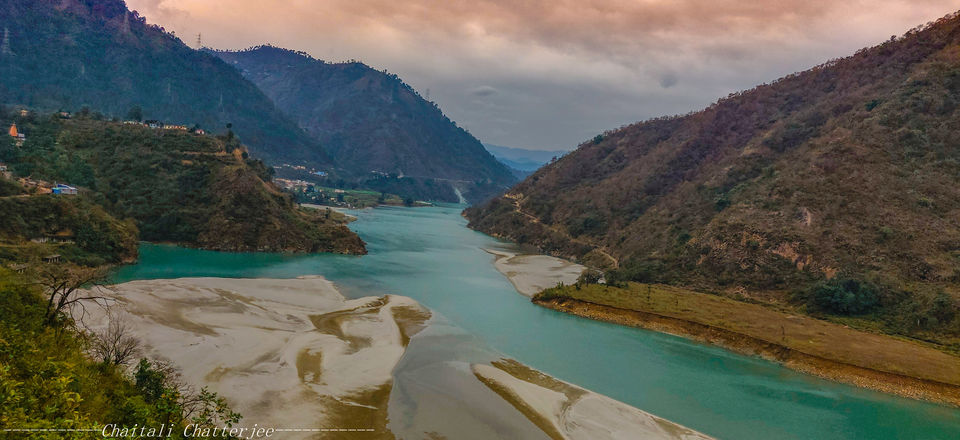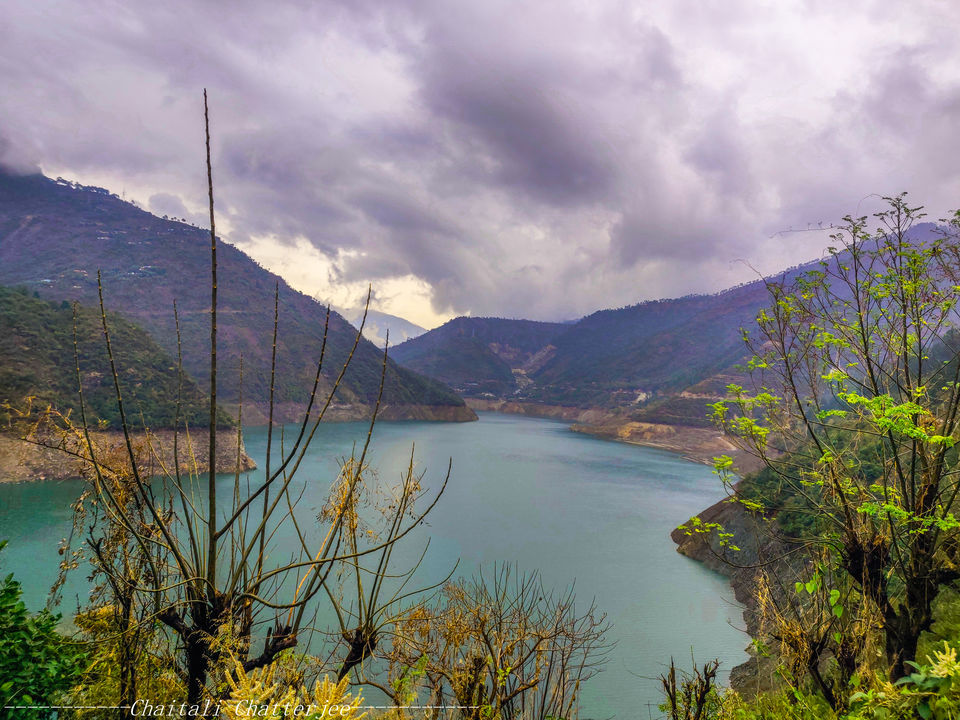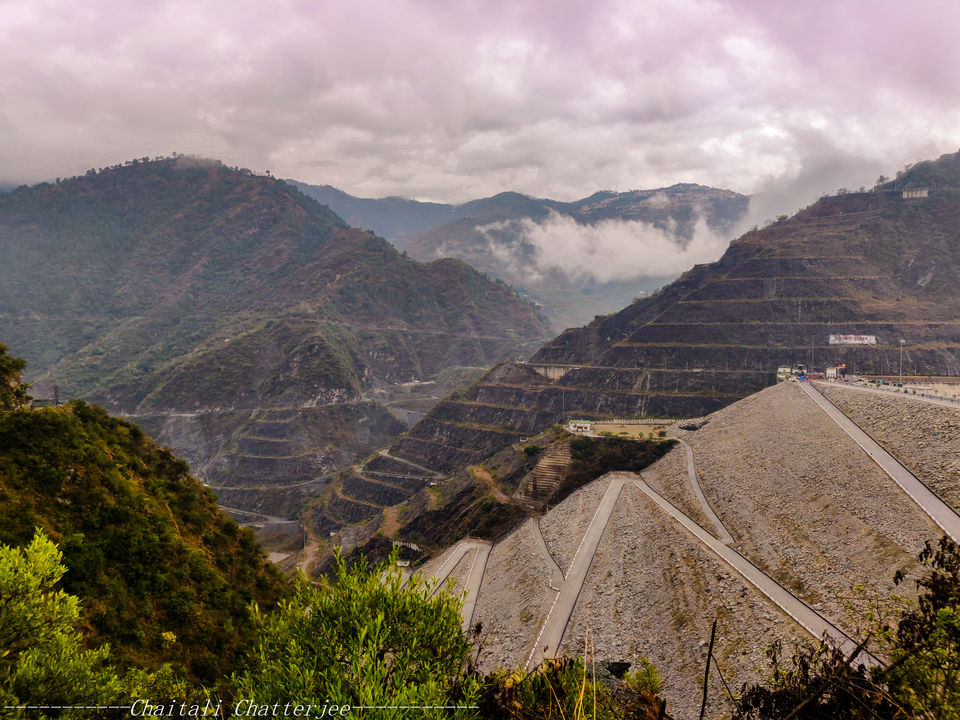 By evening we reached Chamba and stayed in Gautam Residency. The only 2 things we wanted was Room heater to dry our clothes and a Hot shower, and luckily, we got both. We took a small walk in the evening around the place, and enjoyed a sip of hot Chai (tea).
Stay - Gautam Residency. Rs. 1500 per room. (Make sure you negotiate the price.) They have a restaurant and bar attached. You have a good view from the balcony of the entire Chamba. The food is good.
Day 7 - Chamba - Kanatal - Dhanaulti
The mornings were full of fog with almost zero visibility and we waited to complete our breakfast and leave for Dhanaulti.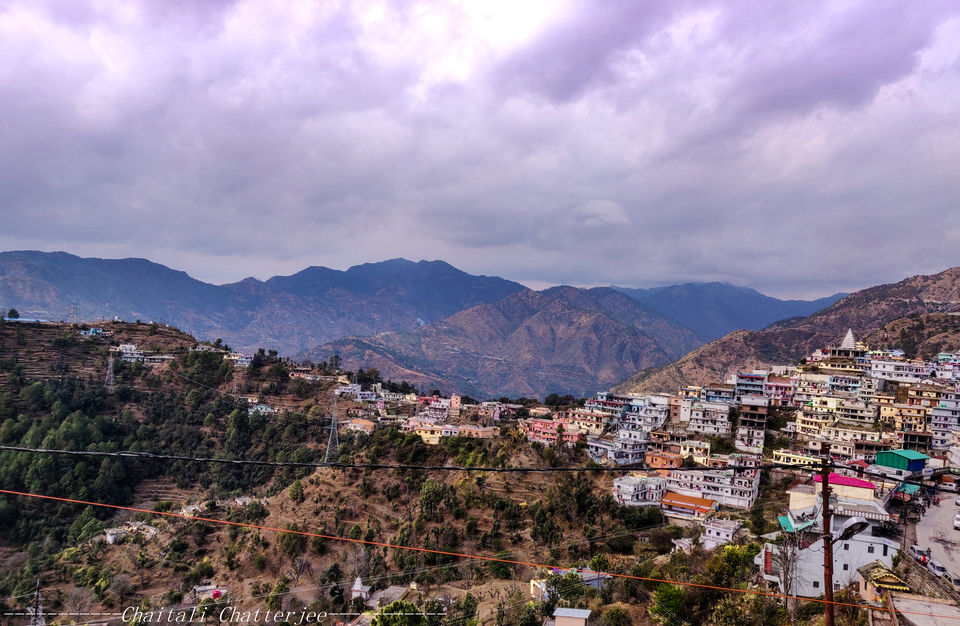 The path from Chamba towards Kanatal and Dhanaulti was decent and took around 4 hrs to reach. You could see snow only on the sides of the roads.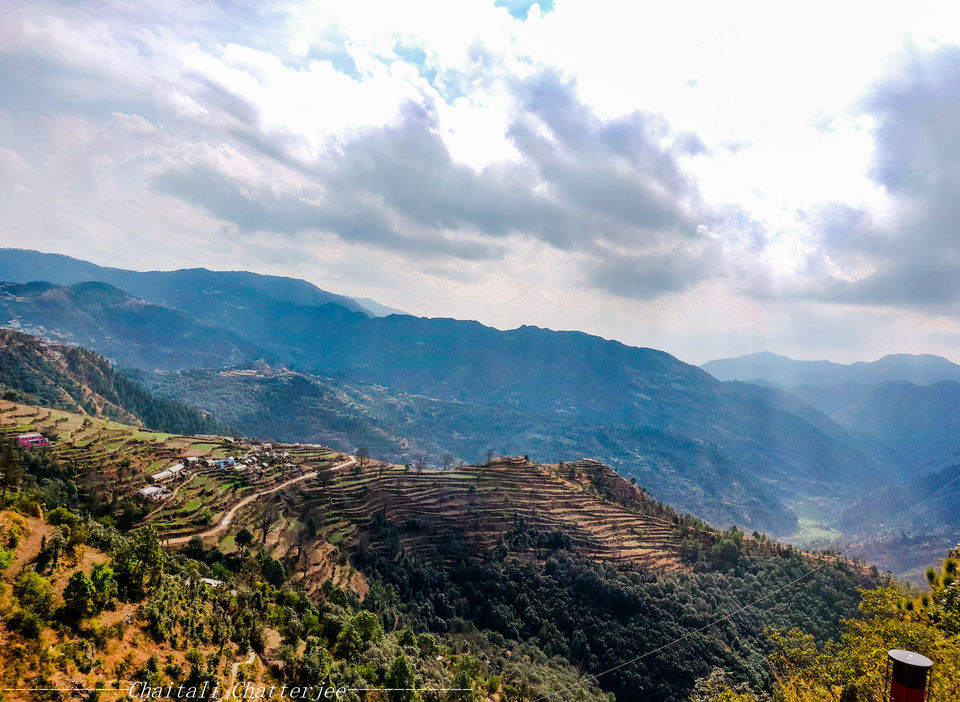 However, as we reach Dhanaulti, we got Hail storm and it was freezing and unbearable as we ride further. Somehow we reached our hotel and freshen up. This small hotel has room heater and an amazing view.
Stay - Mount View Dhanaulti Dreamz . Rs. 1000 per room. Food was decent but Tea was bad :(
Places - Eco Park and Surkanda Devi temple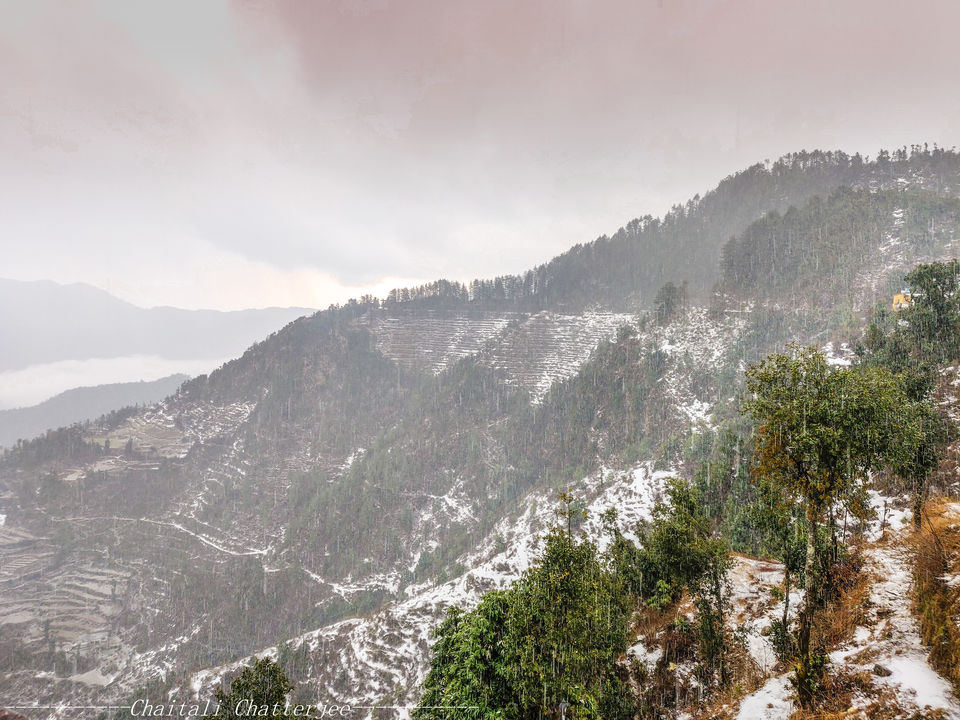 Day 8 - Mussorie - Dehradun
We headed down to Mussorie and back to Dehradun. The climate was cloudy and foggy and left before it starts raining. The road to Mussorie was fine and the view was awesome. We could feel the temperature going normal and no longer cold. You can enjoy Landour, Gun Hill view point on the way.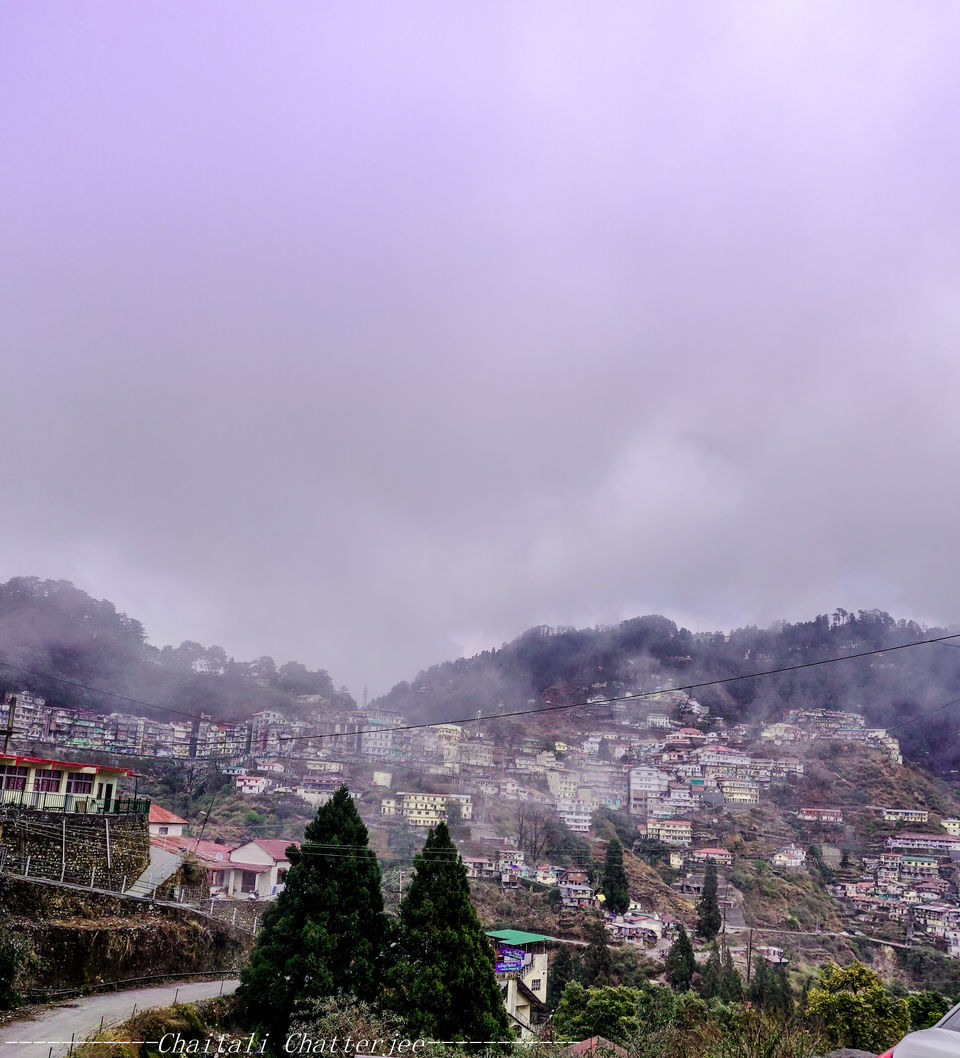 Road from Mussorie to Dehradun was very steep and it literally hurt our knees. But cannot compromise on the views though. I wished we could have come back to that road at night, to view the city in dark.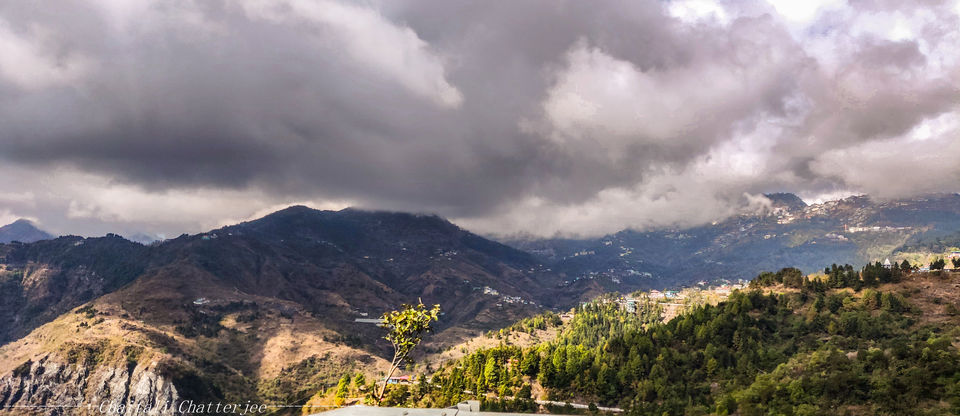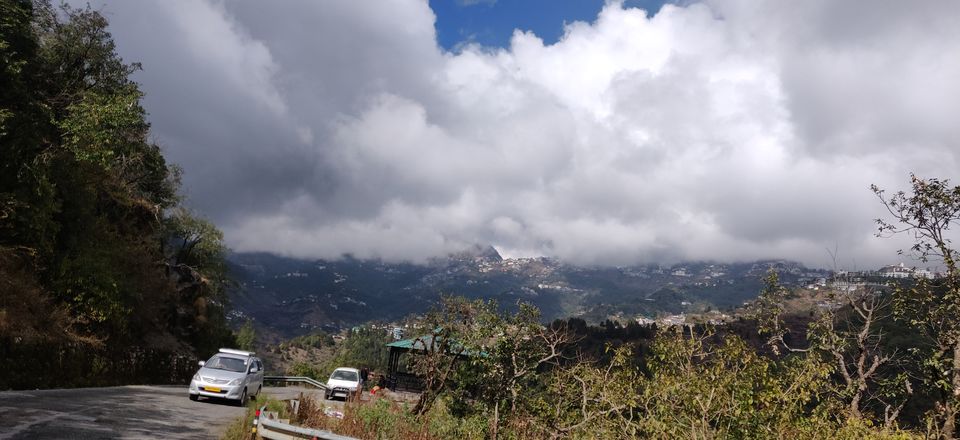 Reached Dehradun and stayed in Guest House. We no longer needed multiple layers of clothes, as we needed in Auli. We just wanted to relax , take a walk finding some tea. Mistakenly, we skipped our dinner and survived on the remaining chocolates that we carried. Ideally you have lots of places to explore in Dehradun- so keeping for next time.
Day 9 - Dehradun
Our amazing trip ends here and we take a flight back to the City jungle.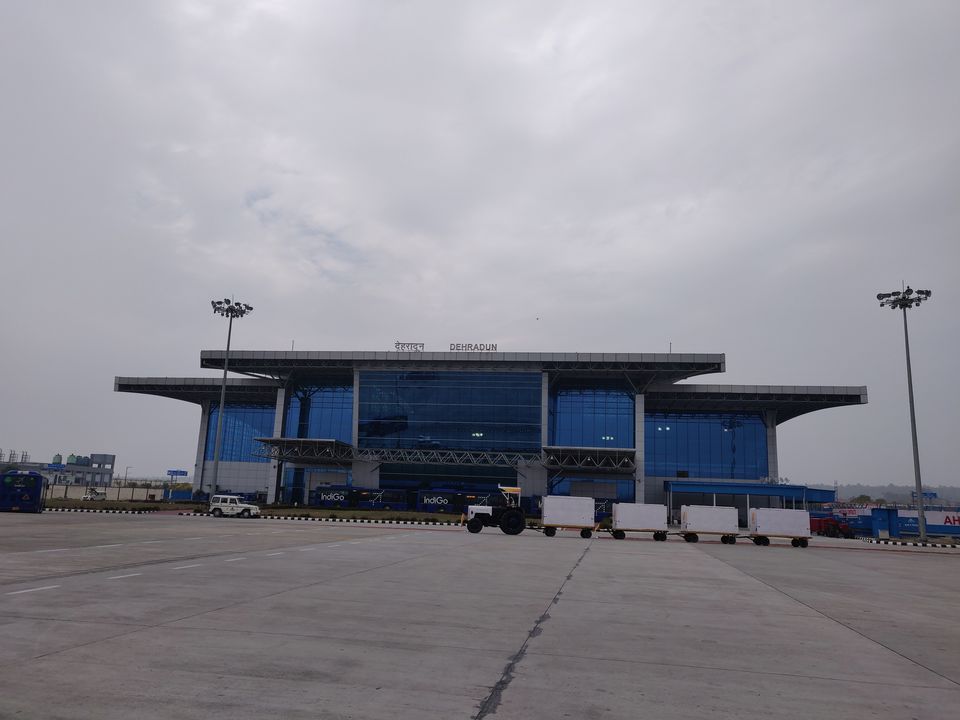 Expenses -
Stay for 2 people - Rs.12500
Bike Rental - 12000 for 8 days
Flight tickets from
Blore to Delhi- 3100 (Used credit card Points to get it cheaper)
Dehradun to Blore - 5200
Train tickets from Delhi to Dehradun - 700 Per person
Food - As per your choice
Clothes to Wear – Checklist
Well if you are travelling here during winters the temperature goes down to as low as -8° C
Gloves
Muffler
Neck Warmer
Fleece/warmer/thermal
Woolen Cap
Sunglasses
Down jackets
Snow boots/trekking shoes – You can get snow boots and equipment for skiing from the operators only
2-3 pair of socks
Best Time to Visit Auli
Auli gets the last snowfall , hence you would mostly find snow post Feb. Snow starts to melt around April. Clear view can be found post September. Avoid going during Monsoon, due to road bad roads and landslides.
Itinerary
Day 1 -Fly from BOM/BLR -- to Delhi.. Reach Delhi around 4 AM .Take a train from Delhi from 6am and Reach Dehradun around 1pm. Hire Bike in Dehradun and ride to Rishikesh. Reach Rishikesh around 5pm. Watch Ganga Aarti and Laxman Jhula depending on the time. Stay night at Rishikesh in a Lodge.
Day 2 -Rishikesh to Karnaprayag-- Stay at Nanda Devi Tourist Lodge.
Day 3-Karnaprayag to Joshimath . Stay at Nature Inn Hotel.
Day 4 -Visit Auli via Ropeway. Spend entire day at activities in Auli. Stay at Nature Inn Hotel.
Day 5 -Visit Hanuman Chatti and head to Karnaprayag. Stay at Nanda Devi Tourist Lodge.
Day 6 -Karnaprayag to Chamba - Stay at Gautam Residency
Day 7-Chamba to Dhanaulti .Stay at Dhanaulti - Mount View Dhanaulti Dreamz
Day 8-Dhanaulti to Mussorie. Sightseeing in Mussorie. Ride back to Dehradun . Night stay at Dehradun
Day 9-Back to base
P.S - Please keep our planet clean, there is no other planet which awaits us.