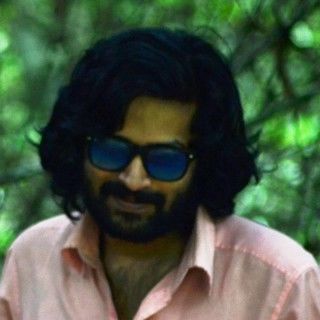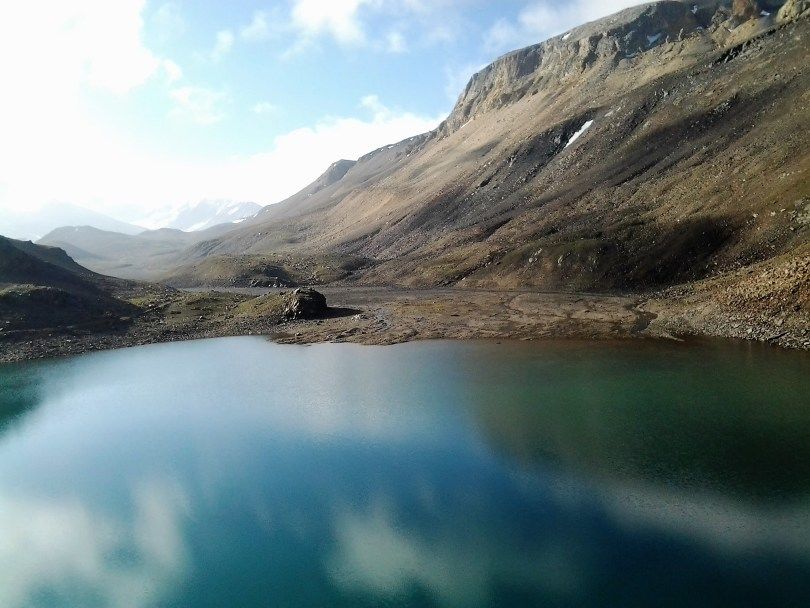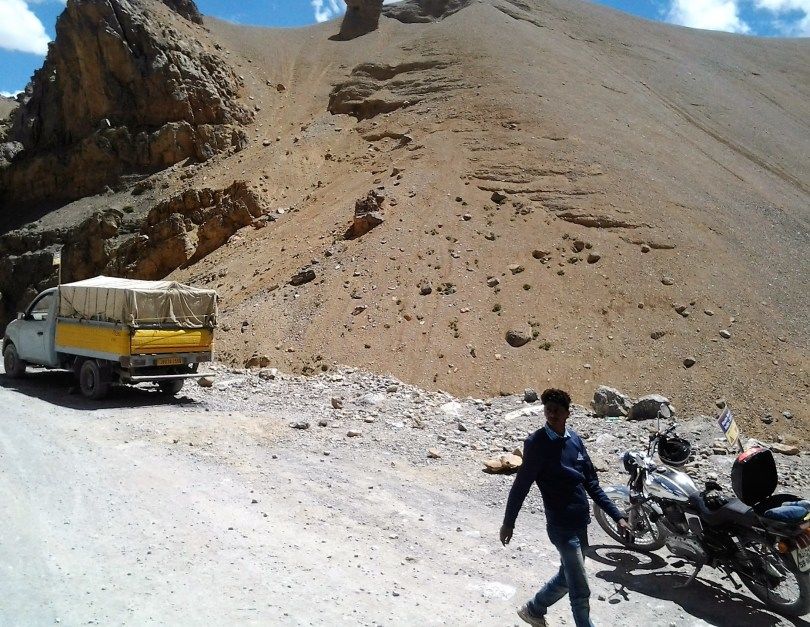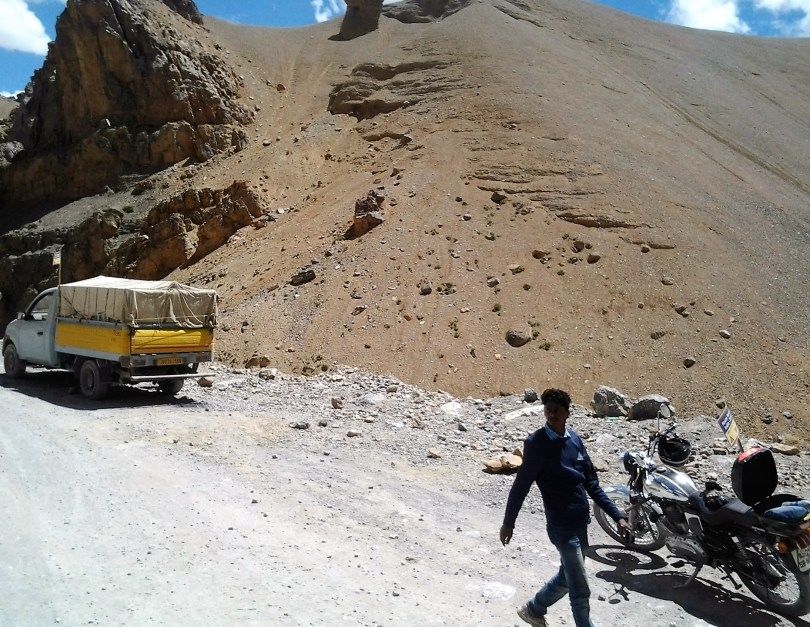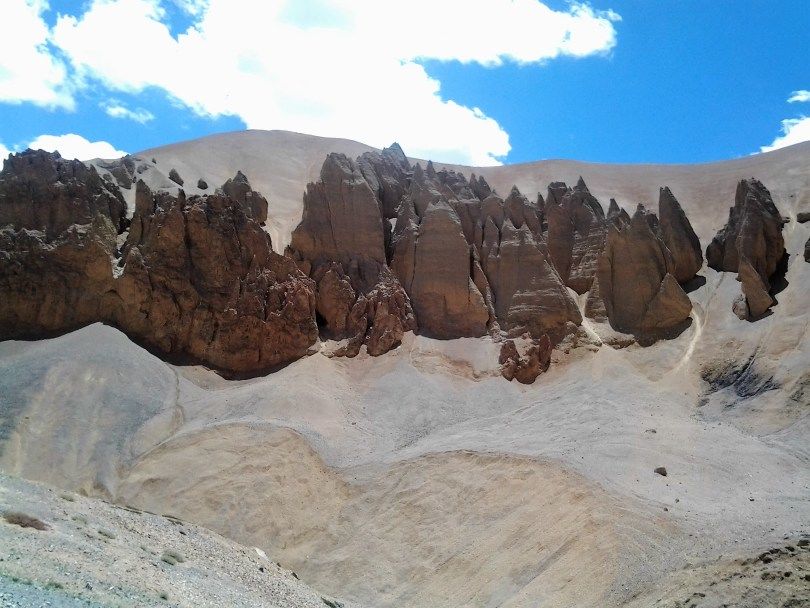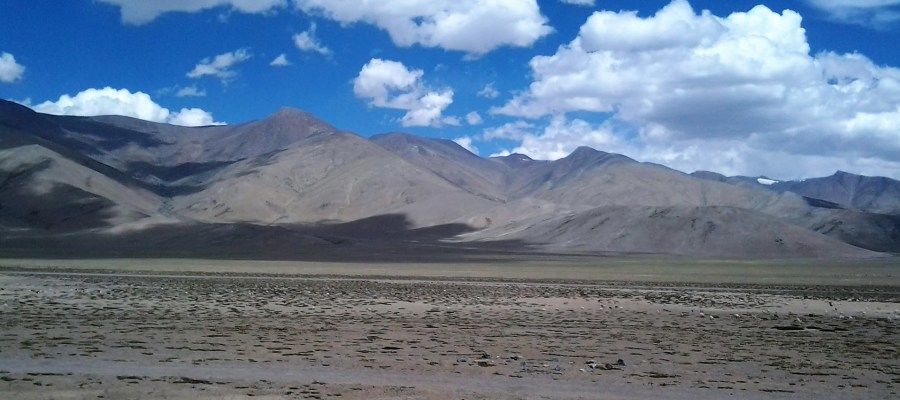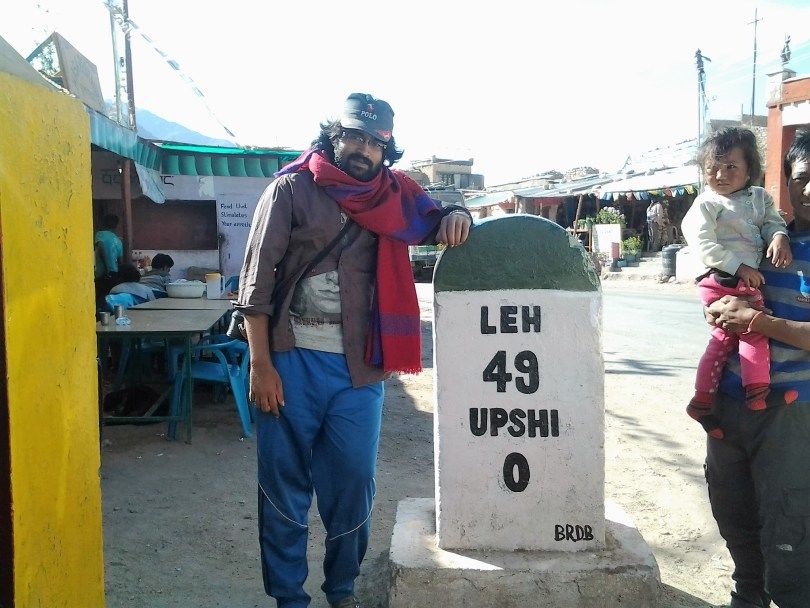 The air of Manali was refreshing, but the hotel guys kept on disturbing for availing their rooms which I respectfully declined. It was only 7 am in the morning. My back was stiffed by the thousands of kilometers of travel in the last twelve days. But the overnight journey from Chandigarh to Manali on a Tata Starbus was the most exhausting of all.
I wanted to go to Spiti valley, even though I knew nothing about the place except for seeing it on a movie song. The enquiry guy at the bus station said that the bus to Spiti valley had left early at 5 am, as per schedule. Holy Shit!
"What about Leh-Ladakh bus?" I asked out of curiosity and desperation.
"There" he pointed towards a bus, "It will leave after an hour."
"Thank you."
I knew Leh-Ladakh is a beautiful place. I had googled and seen pictures of mountains, blue sky, clouds, bullets, riders. And prayer flags. Nothing more than that. The place is in Jammu and Kashmir, the North-est state of India, and I was from one of the southern most places of Kerala.
I went looking for a bathroom, found the very neat and tidy Sulabh public toilet. Why takes rooms just to refresh!
Entered the bus. Happy faces. Wrinkled faces. Foreigners. Luggage and commodities.
"To where?" the conductor asked.
"Ladakh." I said.
"Leh?" he asked.
Now this was something I was confused about – whether Leh is in Ladakh or Ladakh is in Leh, for most of the times I have heard is Leh-Ladakh together. I was ashamed of sounding too ignorant.
"Kahan jaana hei aapko?", he asked. Where do you want to go?
Will he take me there if I said Spiti valley?!
"I want to go to Leh-Ladakh."
"Okay. Leh. The place is in Ladakh." He said finally sensing my lack of idea.
While I gave him too many hundred notes for tickets, he said again:
"Today the bus will go until Keylong only. You will have to catch the same bus tomorrow 5 am." And he handed me the tickets until Keylong. So this is going to be a two-day journey.
The two-sided coin
The bus started climbing the mountain. The landscapes were beautiful, pine valleys so peaceful and the people who sat nearby so welcoming. Lopsung, (that's what I figured out/heard!) and his elder sister, in their twenties, talked with me. Their accent of Hindi was a little hard to grasp at first until Deepak, another passenger who works at Koksar, helped by explaining.
The bus halted at a place where I had sandwiches and a packet of slice for breakfast, all while enjoying the glances from a beautiful foreign lady, who happened to be with some other beefy guy.
Bus ride again. The tarmac road was good. Semi snow-clad mountains were visible at a distance. Then suddenly, the bus started climbing down the road at the other side of the mountain. Slowly another kind of world was being unveiled. The road turned dusty, rugged and without tarmac. Military vehicles passed by in rows. And the foreign cyclists, both men and women, with GoPros mounted on their helmets found it hard to cope up with the paradigm shift.

The path getting rugged and uneasy
The bus trembled, while the trucks shook up the dust, the sun shined too bright and the passengers were shaking. After a while we got used to the dangerous drive and the hairpin curves way too curvy, and I dozed off for a while. Now, that was a rarity while I travel to unknown places. The bus halted for a stop for lunch, waking me up from the half-sleep state.
I looked down at my pants.
Damn. I was having an erection. But why now?
Even the French girl in the bus was skinny, and I sure wasn't fantasizing. Did the danger paths of adventure turn me on?
The place was Koksar. In order to avoid the probable chaos supposed to happen in belly due to continuous shaking of the bus, I avoided eating too much.
The bus reached Keylong by 3 pm. The first day journey from Manali to Leh ends here. I stayed at Hotel Snowland and visited Shashur Monastery.
On the road Again
When I woke up the next morning at 4.30 pm, remembered forgetting to put an alarm. The bus leaves in half an hour. I quickly left the hotel, mounting the stone steps to the road, and vanishing into the dim light towards the bus stand.
There were familiar faces from yesterday in the bus which embraced the first rays of sunlight soon after departing.
I felt a little sleepy. The journey was mostly silent. I talked with the French couple for a while. Paul and Natalie were travelling for two months by now in India, and most of the places they told of having visited were unheard of by me. They had been even to Tamil Nadu and expected to visit Kerala some time in future. I explained the beauty of my state of coconut trees, seas, backwaters, mountains and monsoons, but secretly I was in love with Himalayas.
These foreigners! They come from another continent and backpack too much that we fall short in knowing our country.
While the bus halted and I watched the dry hills and the tent shops/hotels around, suddenly I heard someone speak in Malayalam. They were the three riders- Dheeraj Thampy, Libin and Neeraj, all from Kochi. Our happy chat ended in a few minutes as they departed, and I watched with a grim face their bikes going through the dusty road and finally disappearing.
As the dust settled I was getting disillusioned by the search, for something beyond the ordinary, something beyond the normal clutches of day to day surviving.
I felt lonely.
Fear is inevitable
Riders with riding gear covering their whole body rode on their Royal Enfields overtaking the bus often. Manali-Leh Highway is Rider's paradise. (Only later did I find out that we passed through famous Rohtang pass the day before. I was so unaware of the name). There were hell lot of cyclists too on the road, while once in a while a car or SUV passed us.
I checked my phone. No signal at all. The road was getting more dangerous. The mountains were barren, glowing under the strong heat of the merciless sun. No human life, except passengers. No life even. Not even a single tree. Sometimes the distance from one shop to another ranged to a hundred kilometers.
The terrain had been changing constantly. We were literally going through an isolated place. And I felt very uneasy at times. Trans Himalayas is a dangerous desert, which lashes the faint hearted to either suffer or thrive.

A small blue lake along the way
Then, when the bus was passing through another dusty path, a few vehicles were parked overboard and people were looking down the valley.
I watched in shock, to find a silver car at the end of the valley. The accident might have happened only a few minutes ago. The car had gone all the way down the slope after losing control. There was no way for someone to get down there and check if anyone was alive. I found it hard to look again down the slopes after seeing this.
Fear entered the mind several times of travelling such a long distance to a strange unknown isolated land with no mobile range at all. I was unable to call home and inform my whereabouts. While fear dominated, sometimes it was overshadowed by another part of my mind which wanted to prove myself that I could go places alone. Places far and away.
Fear wins again. Even about things like perhaps losing ATM card and being left with no money.
The bus climbed hills, went through plains, climbed down hills, shivered like an alcoholic who didn't drink, and passed the hundreds of kilometers like a lonely warrior.
The passengers were deeply silent, as if in a meditative trance. Triggered by beauty and a sense of disbelief at the same time. Overwhelmed by the seductive charm and the dangerous taste of the rugged journey.

Barren landforms
The rewards
The bus passed through a straight road with astonishingly stunning views around. Especially on our right side, where across the plains there were the mountains, complemented by the totally bluish sky, and white unmoving clouds the shadows of which falls on the mountains. Like a surreal painting it looked like. I haven't seen a more beautiful landscape ever in my life.

The reward of the journey
It was blissful. The journey is giving away its rewards.
The vehicle stopped near a large board decorated with colorful Buddhist prayer flags. TANGLANGLA, said the yellow milestone. "You are passing through the second highest pass of the world", it said, and we were 5328 meters above sea level.
A group of cool riders halted there too to celebrate their milestone, while the bus went on again ignoring their call to stop so that someone else could take a group picture of all of them together with victory symbols around the board. That's when I missed the point – I hadn't let anyone take my picture on my mobile camera with me standing near the thing. Fucking stupid!

TanglanLa
Upshi was our next stop, a better town so far on the way. Leh was only forty-nine kilometers from here. I was finally making it despite many voices within and outside telling me constantly about the risks involved. To celebrate, I drank a packet juice from the hotel named 'Save Tibet'.
After a few kilometers we ran aside a small muddy river with reddish mountains on the other side. A few more kilometers and there was the famous Thiksey monastery on our right side, white buildings layer by layer from the bottom to top of a hill.
At last, the bus reached the Leh bus station, by almost 6 pm. It had taken thirteen hours to reach from Keylong to Leh, some 300 plus kilometers. And I survived the journey with no music, no reading and no sleeping more than half an hour maximum. Goodbyes to Staphanie and Paul, who were in search of Palace View hotel.
Get adapted or Die thinking
I tried to get rid of the dust that had settled on my bag. At a point of time during the journey high volumes of dust were entering the bus that we had to close the windows, which made it hard to breathe overall in the high altitudes.
I checked into a very small but neat room of Gakhil guest house. A hot shower and doing laundry made me feel sane again.
Leh had nothing much to attract at the first sight. And I had no idea of where to go and what to see. There was no phone network to check the internet even. Well, that's when the true traveler instinct of asking others questions comes to your help, a basic thing that gets rare nowadays with the advancement of technology.
I went to Main bazaar to call home and some friends from a phone booth. Mobile connections from outside the state of Jammu and Kashmir do not work here, unless it's a postpaid connection of either BSNL or Airtel.
I roamed around, talked with Trevor and his girlfriend, two backpackers from USA, got instructions about visiting various places in Ladakh around and the means of transportation available from one shopkeeper named Sonam, who maintained an air of knowledge and wisdom. I bought a piece of brochure about Ladakh from him, with a little map and names of important places to see around.
I stumbled upon to 'Mountain Call Adventure' and talked with Mr.Ghulam there. He took tourists to places in a taxi, the cost of which is shared among the passengers.
So that's it. Within some time I had an overall idea about the main tourist attractions of the place. There is Nubra valley, and on the way, some thirty-seven kilometers from Leh, there is KhardungLa, the so-called highest motor-able road in the world. There is Pangong Lake, the bluish greenish astounding water body surrounded by hills, made famous in the climax scene of 3 Idiots, some 150 kilometers away. There are other places like Shey palace, Tso Moriri Lake, Thiksey monastery, Hemis monastery, Shanti Stupa, Magnetic hill and other places too. The main attractions.
I walked back to the room. Leh was going to be expensive if you stay and see the places. I calculated the odds. The money was getting narrow. I thought about going back. It takes two days to reach Manali, a night to reach Chandigarh, and 60 hours from there by train to reach my place in Kerala. Another hour or more to reach my home. That was like six days of restless continuous journey depending upon the availability of transport.

Finally someone clicked a photo of mine during the day, at Upshi!
And I sure wasn't feeling any better about taking the bus ride to Manali again, as I was already exhausted and startled by the two-day journey. Riders were all around making me jealous but I was not an expert biker either. It felt safer to avoid hiring a bike. Beyond every other concern, I felt too lonely too, on a secluded part of the world.
At last, I decided to begin with by visiting the nearby places like Hemis monastery, Thiksey, and Shey palace the next day, either by bus or on a shared taxi.
And I slept. Knowing I couldn't be the same anymore here. First big solo journey. I was scared. And excited. This new realm, well beyond all my familiar comfort zones, is going to test my endurance, big time.
And I slept. In hope of figuring out things along the way, as always, and escape as early as possible from this alien land of several mind-bending mountain passes…..
In hope of getting Leh'd from the time I wake up the next morning…..
I slept.
This post was originally published on 'Wander Maniac'.