So this was a kind of a trip which I wanted to do for so long but just wasn't getting the opportunity to do. But finally got an opportunity in the name of a Long Weekend and off I was on this journey.
So apart from the route nothing else was pre-planned.
I had 3 and a half days in hand so I figured out a route so that I could cover a great deal of Southern India in less time and so the name Crash-Travel. I started from Chennai and the places which I covered were Madurai, Kanyakumari, Trivendram, Varkala and Allapuzha (Allepey).
So the night before the holiday I went to Chennai CMBT bus stand and hopped on a budget 3×2 TNSTC bus to Madurai which costed me around 200 rupees.
After an eight hours journey I reached Madurai at around 7-8 in the morning and finally my Day 1 of the journey started.
The primary goal to visit Madurai was to behold an impeccable structure called Meenakshi Temple, and what a piece of art that is.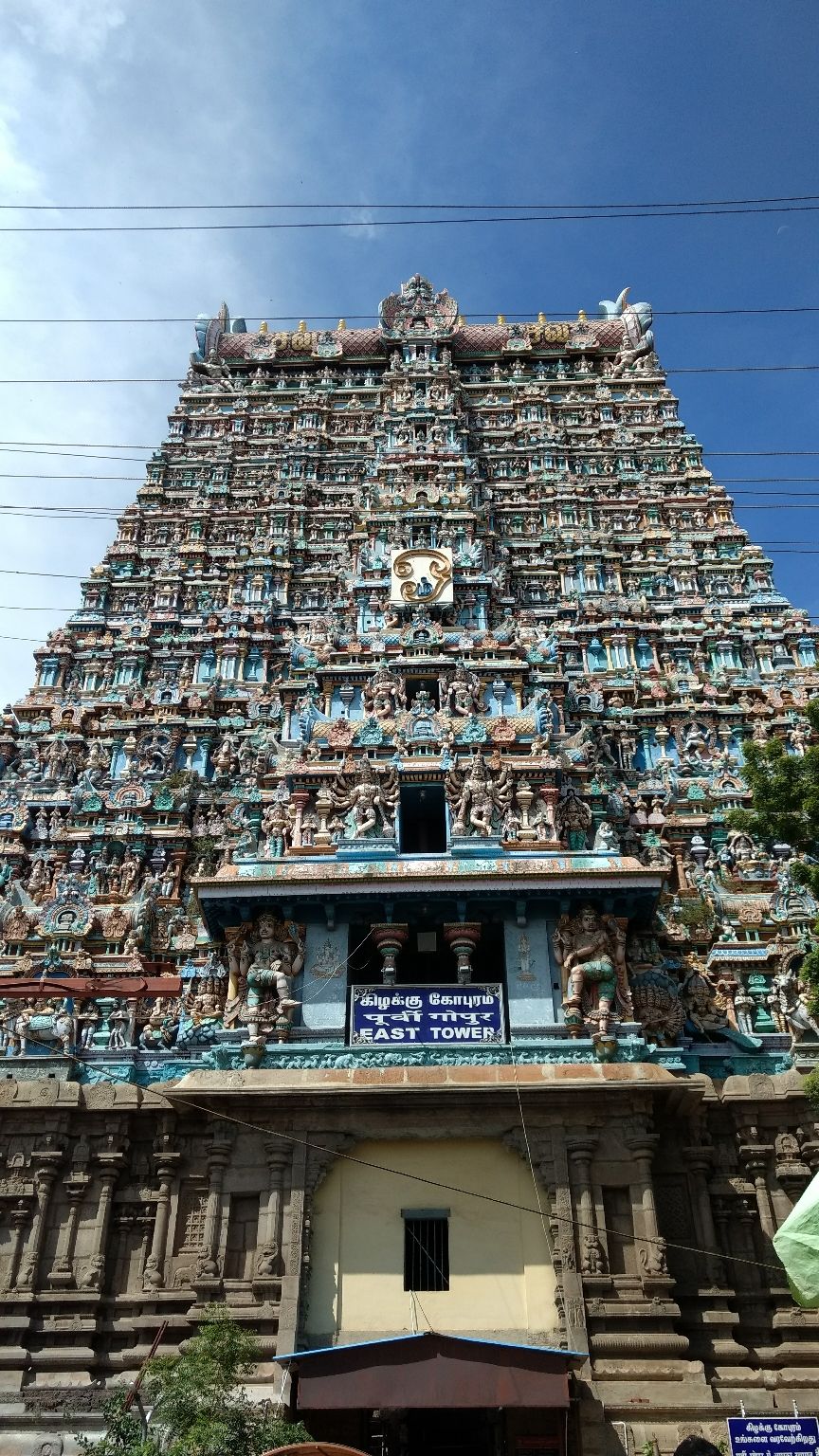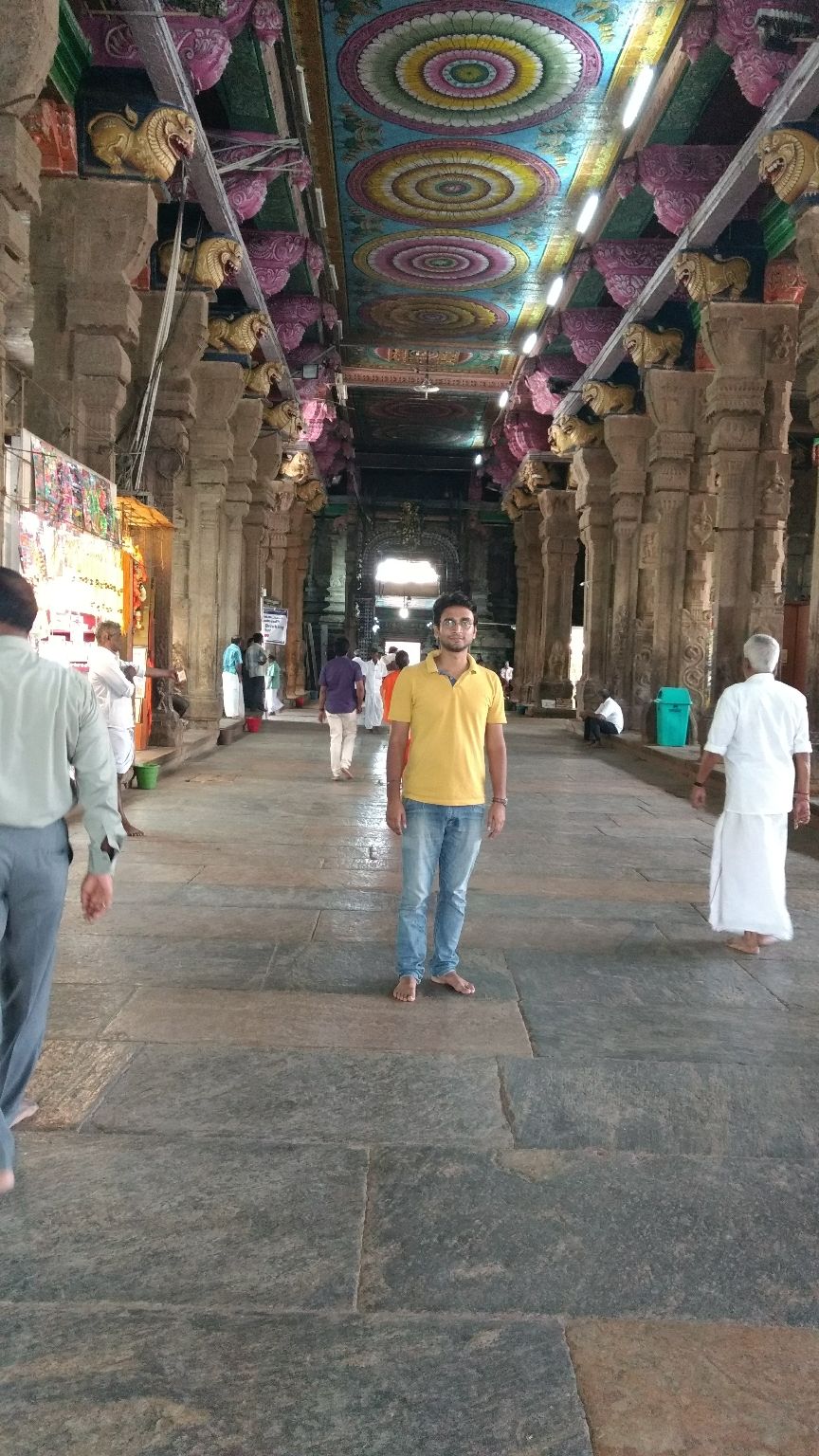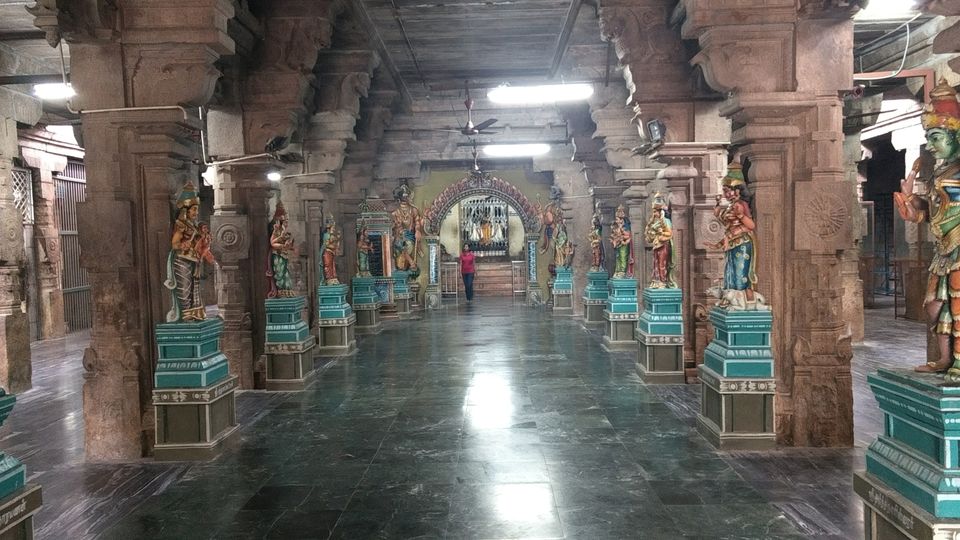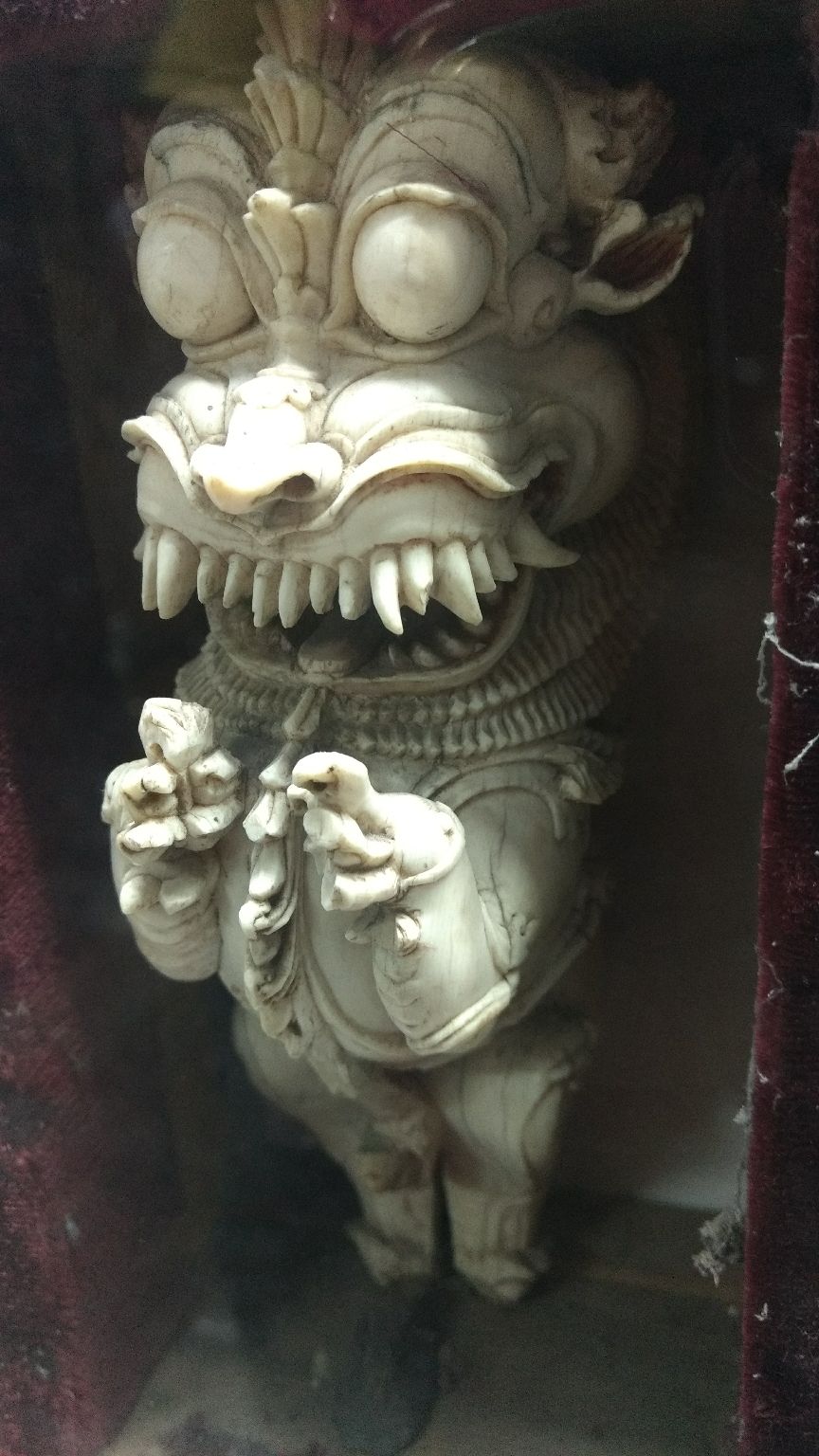 So it takes about a whole day just to see around the temple properly and to gaze at its beauty.
One can even take rest in the lodges present just outside the temple.
So after a full day at Meenakshi Temple I headed to the bus stand for my second destination- Kanyakumari.
Famous for its 3 sea confluence and beautiful sunrise and sunset Kanyakumari had always been on my wishlist. I started from Madurai last night by 11-12 and was able to reach Kanyakumari beach at about 6:30 in the morning. And the first thing I did was drinking a cup of tea and devouring some vadais.
One can find many hotels in the vicinity of the sangam beach. I stayed in a decent buget hotel Manickam Palace. After resting for an hour or so I freshened up to visit the famous Vivekananda Rock. Usually there is huge queue for getting into the ferry so one should always be patient enough. It is a 5 min ride to the rock. Once you reach the you can visit Vivekananda memorial and  Kali temple. It is the same rock where Vivekananda performed tapasya and where Goddess Kumari performed austerity.
From the rock one can also gaze at the breath-taking statue of Thiruvalluvar, a famous Tamil poet.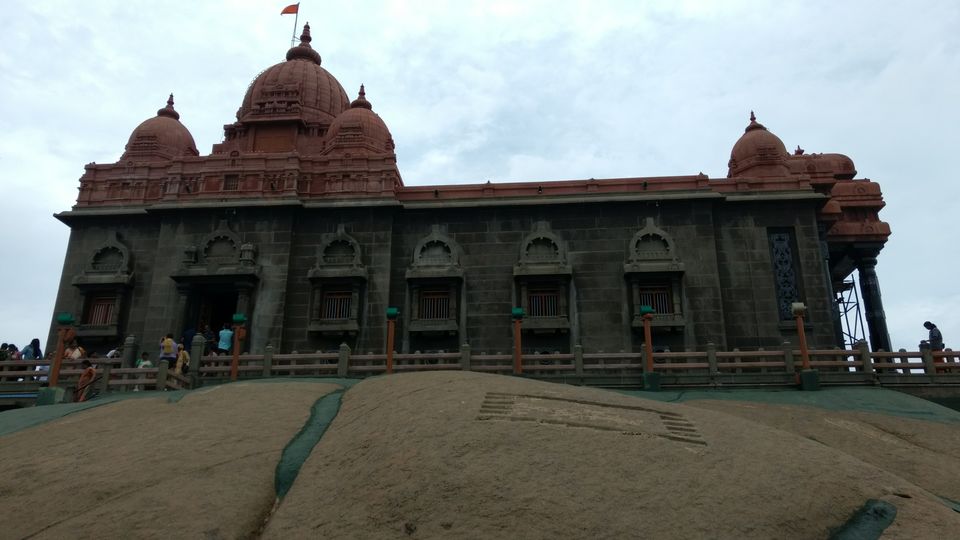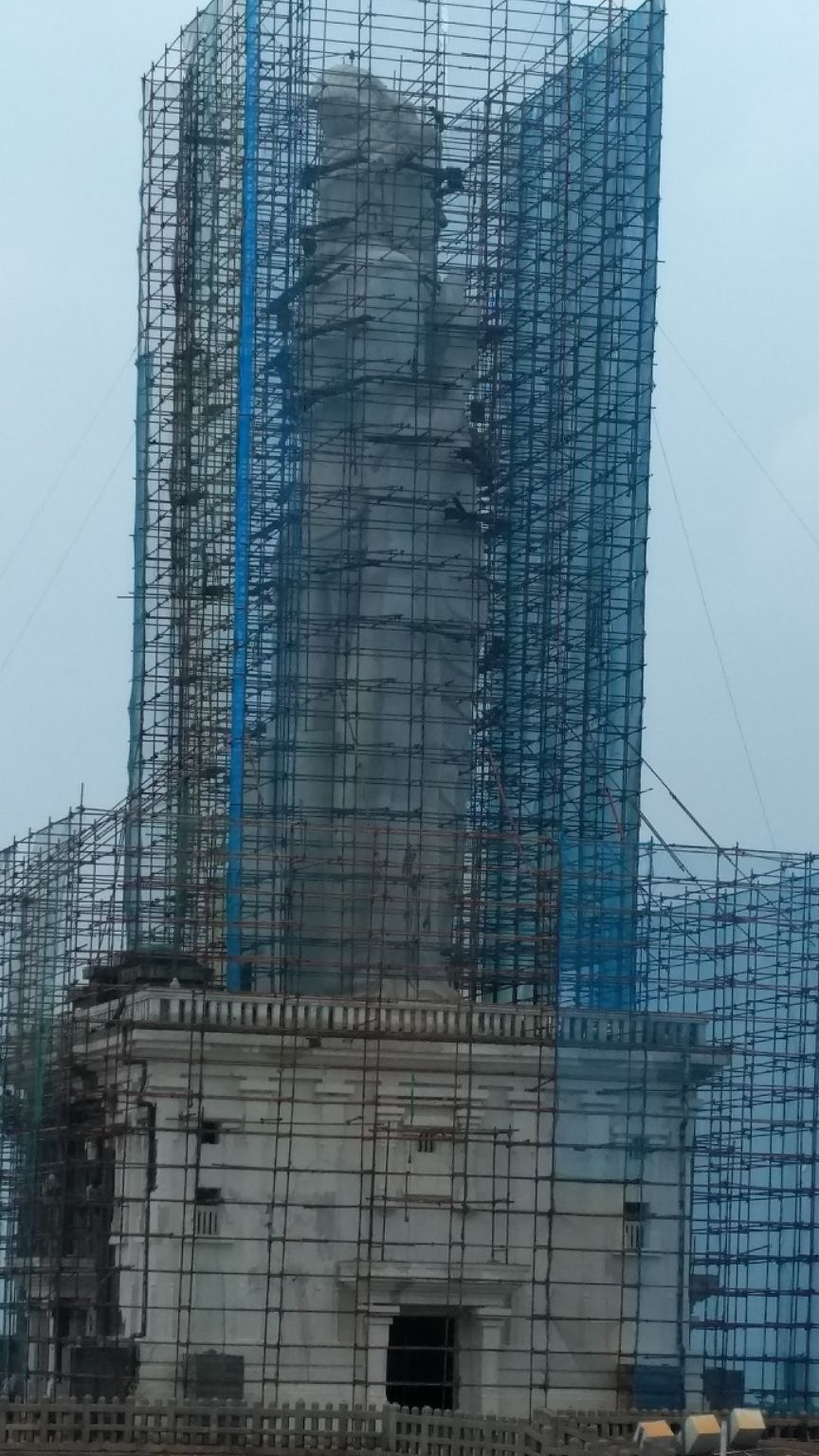 After doing all this I just sat near the symbolic sangam point where the three seas- the Bay of Bengal, the Arabian Sea and the Indian Ocean meet. Slowly the time passed and it was the time for a glorious sunset although I couldn't get a full glimpse of it because of clouds.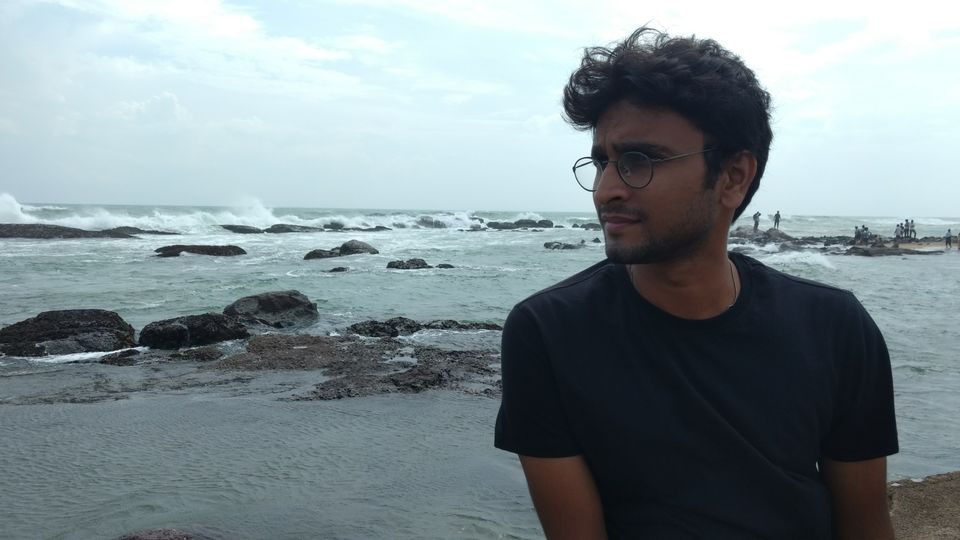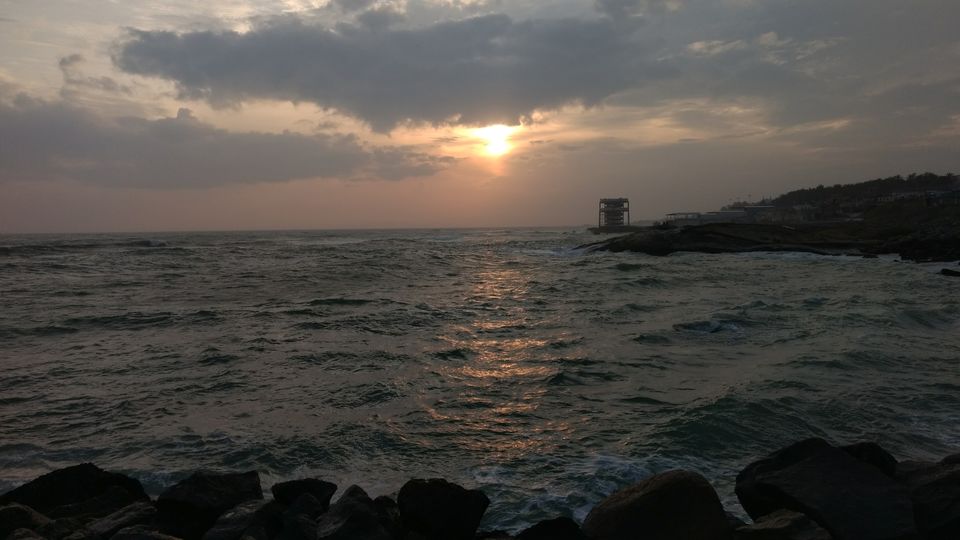 I woke up early on day 3 to see the sunrise from the sea (both sunrise and sunset at the sea happens only at few places in the world except for islands).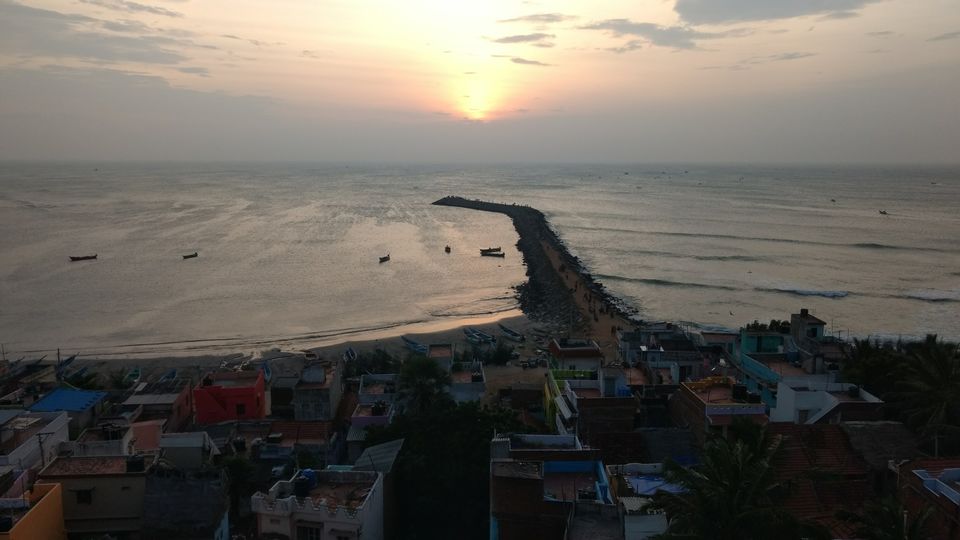 I wanted to go to Padmanbhpuram Palace but being a Monday it was closed. Then I decided to go to Varkala via Trivendram which I about 140km away. To my misfortune it was strike in Kerala that day and Kerala Transport buses were very hard to get. So after a long while I got a bus and I finally reached Trivendrum in about 4 hours. Now I couldn't spend a lot of time in Trivendrum as I had to catch a 2:30 train to Varkala. I could only visit the iconic Indian Coffee House which was an interesting round shaped building and tables were arranged on each step.
The I hoped on the train and reached Varkala by 3pm. From the station I took an auto for the Papanasam Beach. And when I reached the beach it was mesmerized by its beauty.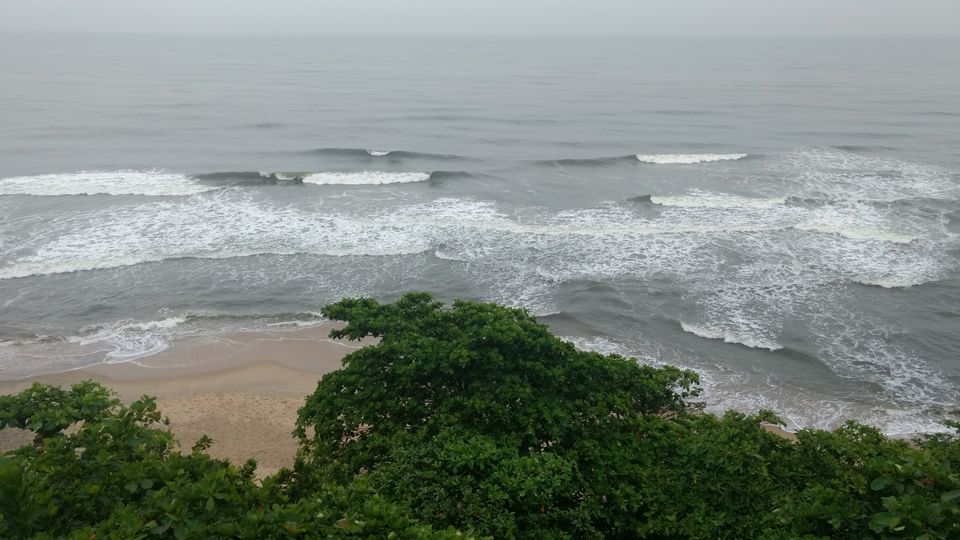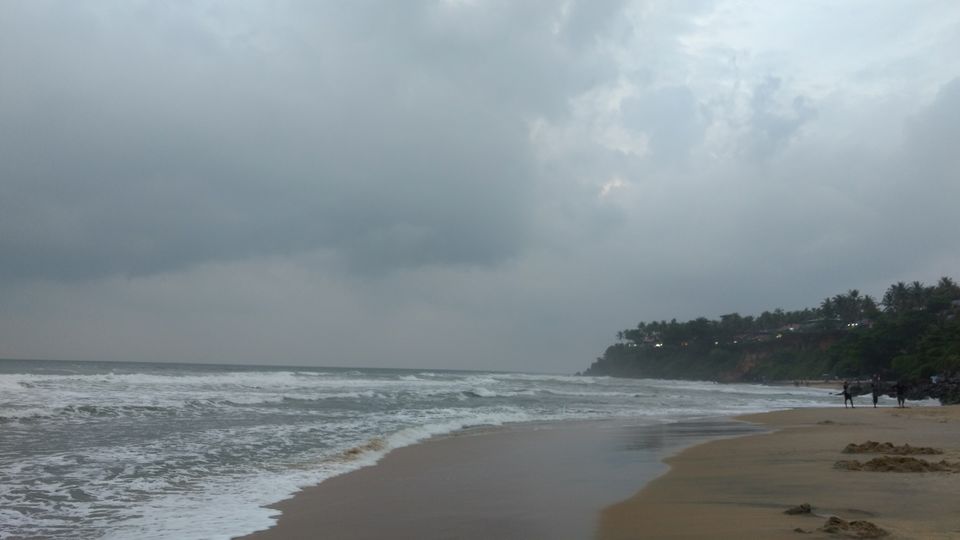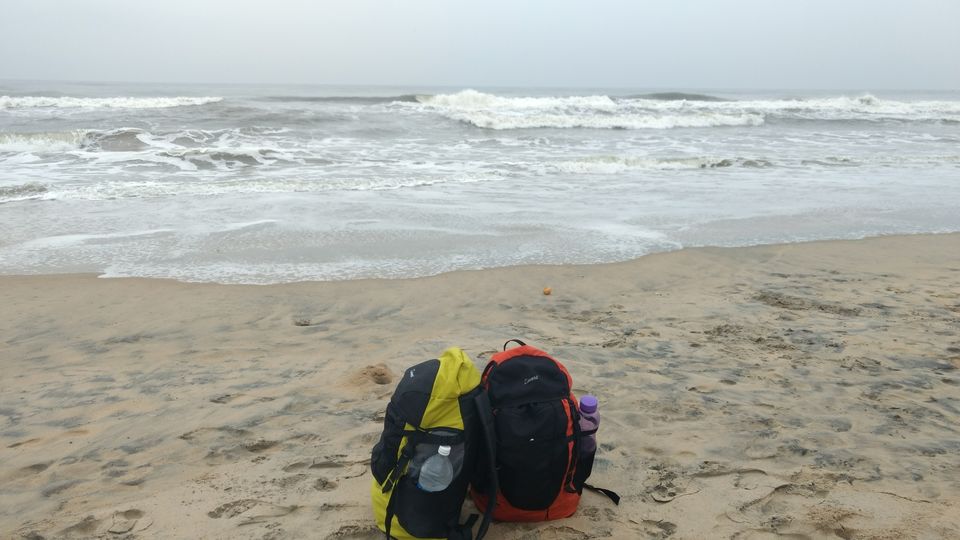 One can sit there on the soft sand for ages. Places like these can tune anyone into a poet.
Many lodges, hotels and spas are available in the vicinity of the beach which are relatively cheaper in price ( I booked an ok room for 400 for a night). Many shacks are also present on the beach which serve delicious food.
There is also an ancient temple present near the beach by the name Janardanswamy Temple. The temple is about 2000 years old and its peaceful environment will surely leave anyone enchanted. Photography is strictly prohibited inside the temple.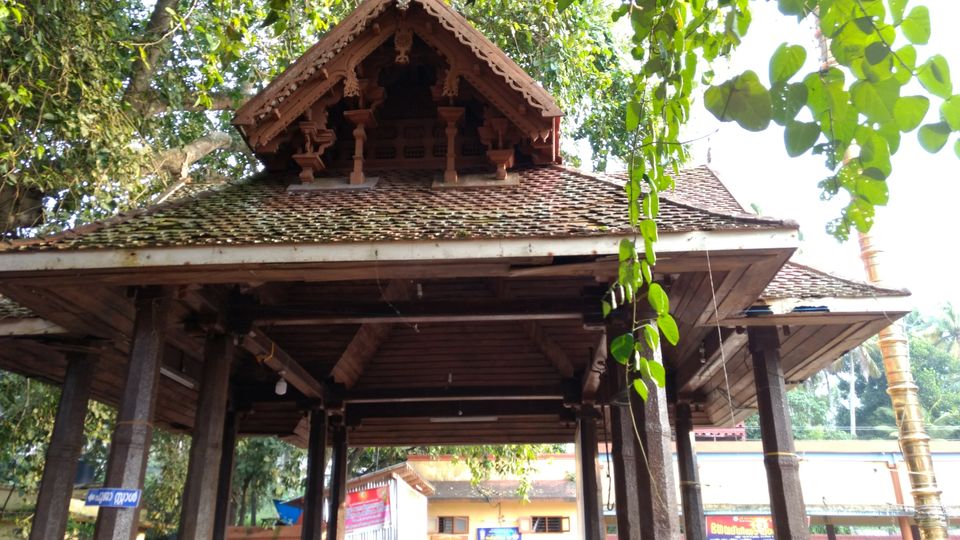 Now back on the beach, in the evenings one can take a long walk thinking about life.
I started the next morning a little late and went on the cliff near by to behold the the wonderful Varkala Beach. Then I went to the bus stop to take a bus for Alleppy which is about 116km from Varkala. I reached there in 3 hours and I had only 3 more hours in hand to visit the famous backwaters as I wanted to catch 4pm train (Chennai Express) back to Chennai. I reached the Boat Jetty and booked private boat all for myself for 2 hours for ₹800.
One can also take government boat ride but that won't be private.
The whole boat ride was simply a ride to remember. The sprawling backwaters, small islands in between, a soft drizzle, the sight of beautiful houseboats, I was simply transfixed.
People living in lagoons use small boats for their day to day transport.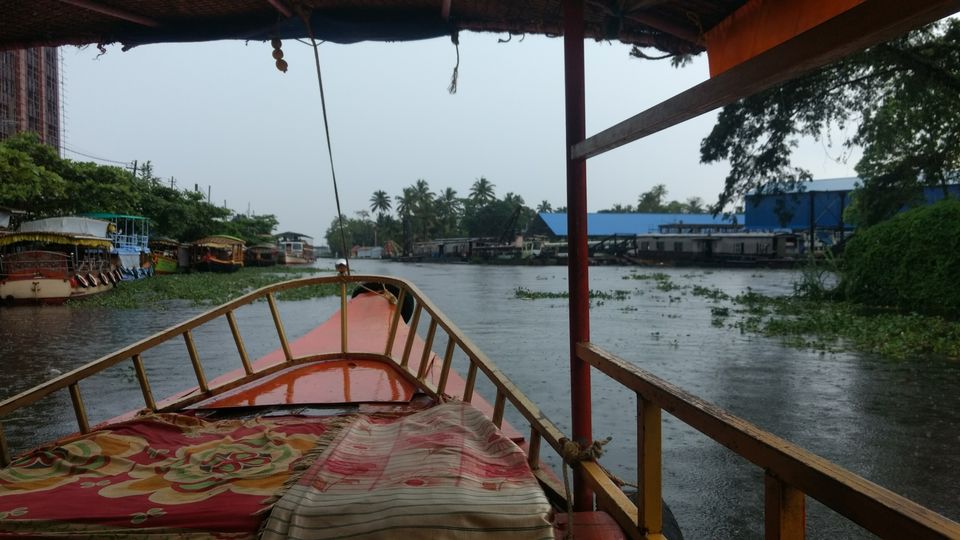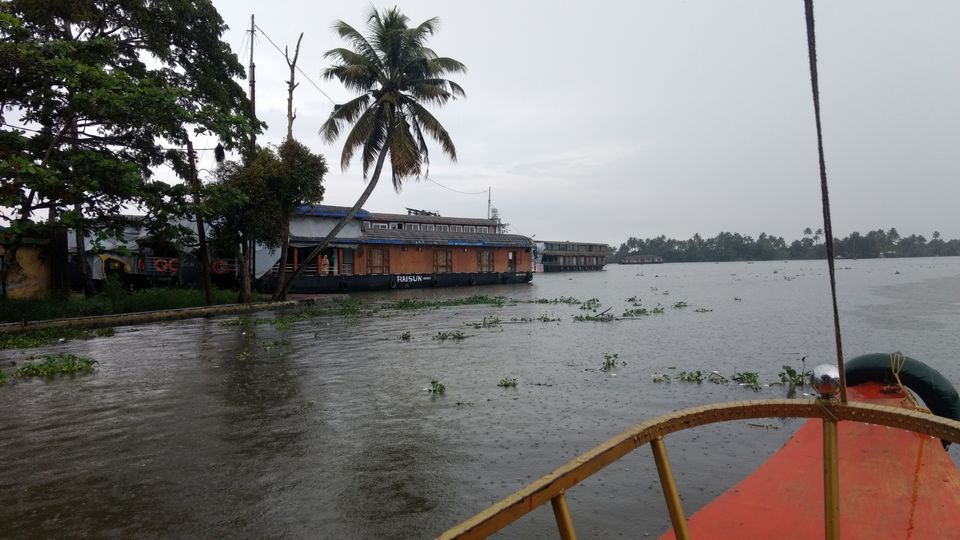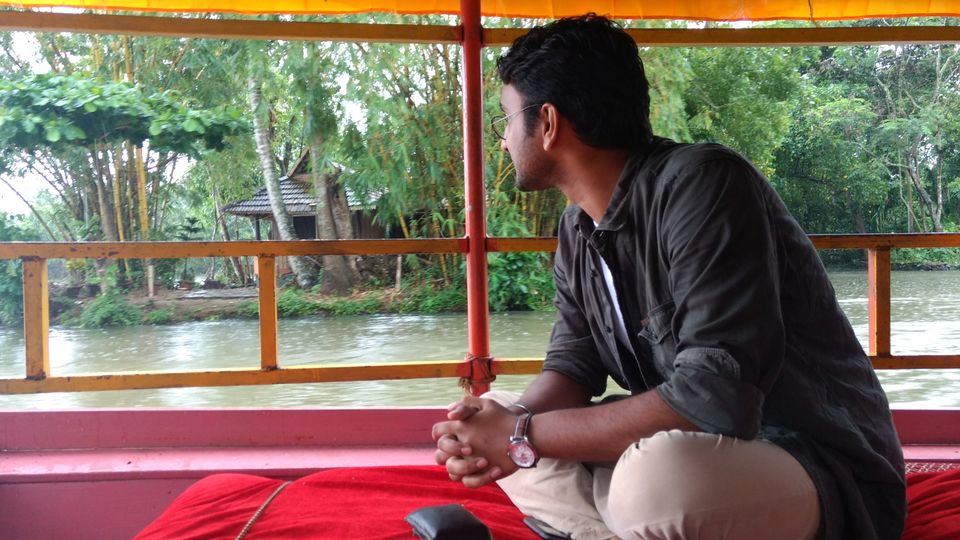 Alas this glorious boat ride ended and I was on my way to the railway station which is about 4km from the Boat Jetty. Before leaving I loaded my bag with 2 packs of the famous Kerala banana chips.
By 4pm I was on my train recalling the memories of the journey and also planing for the next one.