A hill top with a view – is there anyone who does not think of this as the ideal location to unwind when they are looking for a peaceful vacation? And while we know so many places with such a view, this unexplored place is away from the tourist eye, and can offer tranquillity like no place other. We are talking about Budha Pinath or Pinath Top, the top of mount Pinath in Kasauni, Uttarakhand.
What?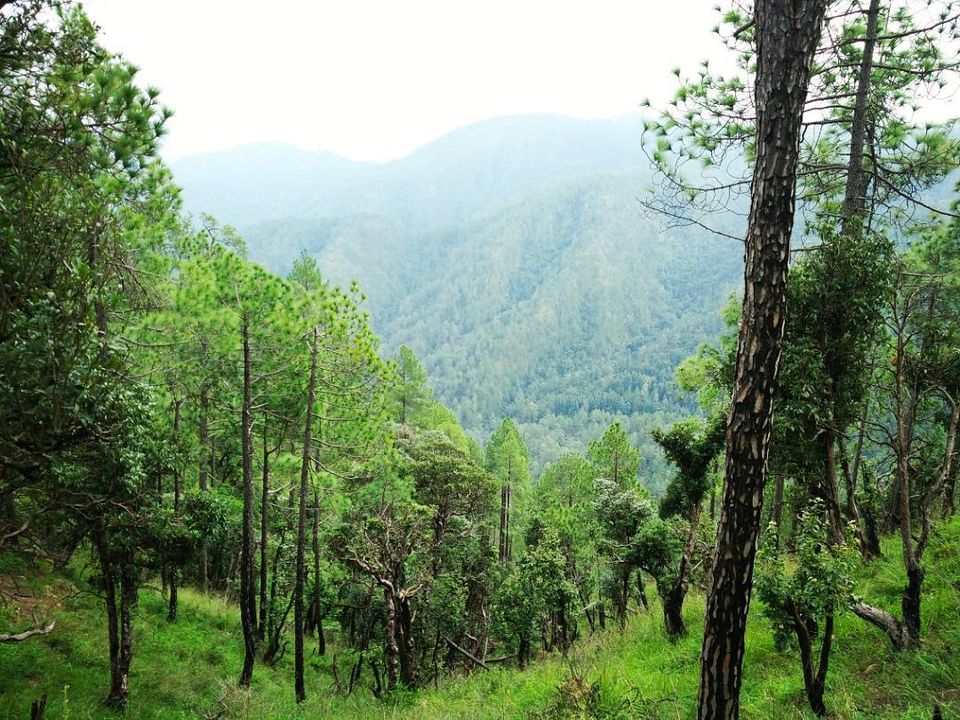 Nestled in natural beauty, least affected by commercialisation, Pinath is a sleepy village near Kasauni in Uttarakhand. The village is blessed with gorgeous pine and rhododendron forests which hide some pretty waterfalls within. The locals trek from Kantali, the last motorable place on the circuit to Pinath top which is also home to the temple of Lord Shiva. A few metres ahead of the temple is the Budha Pinath view point which gives a panoramic view of the Kumaon Himalayas.
The trek also offers the visuals of Rudradhari waterfalls, and has some small caves. The entire trek from Kantali to Budha Pinath takes about 6-7 hours, and is recognised as an easy trek. However, the ascent increases as one moves towards Pinath. There are no shops nearby, hence, it is advisable to bring snacks and water with you.
For whom?
Trekkers and hikers seeking to spend a weekend away from traffic and noise, would love Pinath. For city dwellers looking to immerse in rural, indigenous culture, this is an ideal place to meet locals and spend time with them.
How to reach?
The nearest town to Budha Pinath is Kausani. From Kasauni, the last motorable place towards Pinath is Kantali (10 kms). The trek to Budha Pinath begins from Kantali.
This is how you can reach Kasauni:
By air: The nearest airport is at Pantnagar (170kms). Flights to Pantnagar are available from Delhi and Dehradun. From here, you can hire a taxi to Kausani.
By rail: The nearest rail-head is Kathgodam (140 kms). From Kathgodam, you can either hire a taxi or take a shared cab to Kausani.
By road: Direct buses are available for Almora from Delhi, Dehradun and Lucknow. From Almora, one can easily get shared cabs, jeeps and private buses to Kausani. The journey takes about 2 hours.
Where to stay:
For budget travellers: