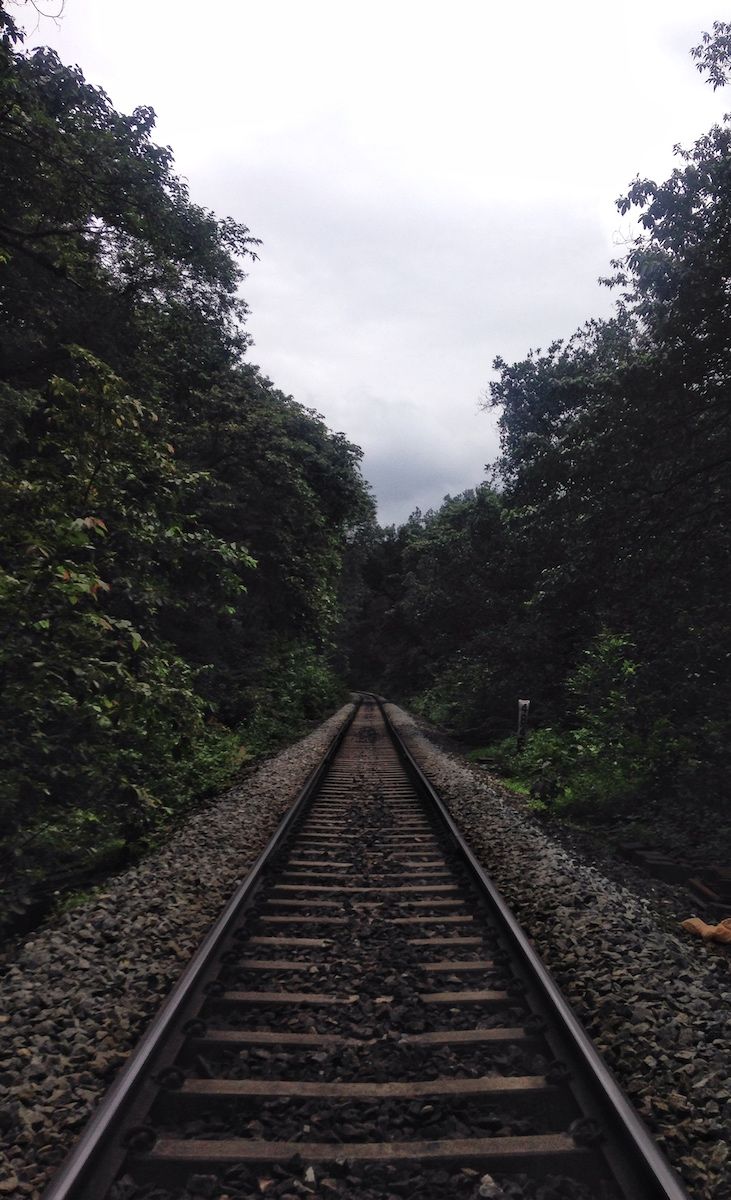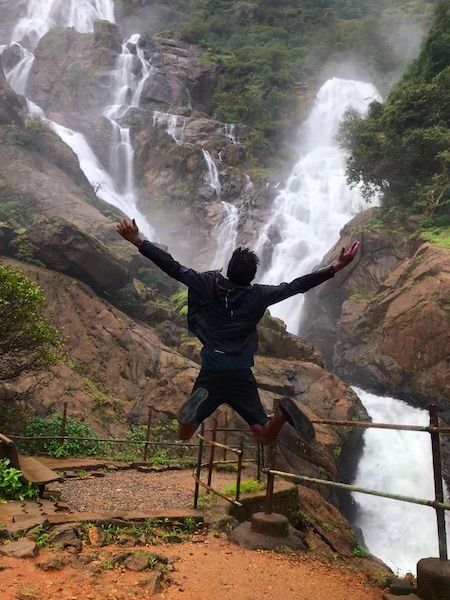 If you want to go on a trip to Dudhsagar, but have no idea about how to make it, then this blog is just for you.
If you could spare some time from your daily chores and wouldn't mind learning my experience on trip Dudhsagar, then happy reading to you!
The rest of the peeps get lucky with your daily chores!
TRIP DUDHSAGAR
Waking up on a Friday morning with the TGIF vibe is special! But, isn't it brownie points for a Friday when you can sign out much earlier for the weekend! Extra brownie points for me because every other penny for the trip is from my first earning.
Post lite lunch, I left the office and headed over to my little den and kick-started my Trip Dudhsagar. With a stuffed backpack, fully charged devices and of course some enough supplies to munch on, here is to my Trip Dudhsagar.
Duration: 2 Nights & 1 Day (PS: Nights were dedicated for travel)
To pack: Waterproof backpack, Good shoes, plastic covers to waterproof your electronics, raincoat (Yes! Am a bit old school), couple of extra Tees, Towels, spare mobile, power bank, earphones, torchlight, limited first aid, notebook and pen (only if you would document the trip) and make sure you have a Jio-sim since it's the only network which works in the destination.
Mode of transport: Public transport (PS: Expect delays or any uninvited mess)
Night 1(Friday): Bangalore to Margao
Took a bus from Bangalore (starts by 4:45 PM) and reach Margao the next day morning (expected arrival at 5:45 AM Saturday)
Day 1: The Trek to Dhudsagar
There are two trains from Margao to Kulem, the first one at 6:45 AM (expected arrival at 7:45 AM) and the second one at 8:15 AM (expected arrival at 9:15 AM). Expecting the delays I was hoping to catch the second one.
The first half of the day was planned as follows, once I reach Kulem it was planned to have breakfast and start my 5 hours estimated up and downhill trek (2.5 hours up-hill Kulem to Dudhsagar and 2.5 hours down-hill Dudhsagar to Kulem). Post my trek, I have planned to visit the Colva beach which is 6 Kilometres away from Margao to enjoy the sunset. Visiting the Colva beach was considered as a buffer plan because I had a bus to catch by 8:45 PM to head back.
Expecting uninvited delays or other circumstances I also had alternate plans to compromise on my down-hill trek by taking a train from Dudhsagar to Kulem (from Dudhsagar by 3 PM, reaches Kulem by 5 PM) or cancel my Colva beach.
Night 2(Saturday): Margao to Bangalore
Started from Margao (8:45 PM) and reach Bangalore the next day morning (expected arrival 9:20 AM Sunday)
Here is to my adventurous trip to Dudhsagar…
Friday 04:45 PM
After a 15 minute delay, the bus finally turned up. I was the first one to board followed by only 6 to 7 people after me, only after then I surprisingly got to know that it is a connecting bus. It has been 2 hours since I boarded my first bus for the trip and then we reached the main bus station to board the actual bus that takes us to Goa. Since I decided to stick to the public transport, after a 45-minute delay (which wasn't surprising me) our bus to Goa turned up. Surviving in Bangalore, I had to force myself and learn Hindi, in which am still a beginner where I try to understand the context vaguely. As the conductor said that the bus would reach Margao by "saadhe chhah baje" (half past six 'o clock) the next morning, I was hoping to catch the 8:15 AM train and dozed off.
Saturday 05:00 AM
It was 05:00 AM Saturday, all my excitement about the trip in the subconscious woke me up even before the alarm would. As the bus took us through the west coast on a higher altitude than the sea level, it was a spectacular view through my window seat. It was a semi-darkness state of nature where all I could see was a gloomy yet sparkly Arabian Sea and the unlit mountains on the other side. As the dawn set on, the first light of the day peeped up with a slight drizzle which is believed to be a nativity of the west coast. Soon after the beautiful view, the bus started having troubles in moving further breaking my inner peace! The worrying drama prevailed for a while and then the views resumed.
"Margao aa gaya hai! Margao aa gaya hai!", shouted the conductor from the front. Dreaming about my 8:15 AM train to Kulem, I woke up to the reality that its 15 minutes past 8:15 AM already. As the rain was pouring down, the greedy inner me urged to check the train station if the train has delayed by any luck! But sadly the Indian Railways surprised me with an update that the train was already left Margao on time, pushing me back to the bus station and hunt a way to reach Kulem with the locals' help. As many other blogs and articles on Dhudsagar falls said, there is no direct bus that connects to Kulem from Margao.
Saturday 09:00 AM
Amongst the noise created by the pouring rain, I heard a conductor shouting "Ponda..Ponda..Ponda". Ponda is a small town 15 kilometres away on the north from Margao. I rushed to the conductor to ask if there is a way to reach Kulem, He suggested me to board the bus to Ponda from where I can get a bus to Kulem easily. Being all touristy and all I still wanted to check if his idea would work to assure myself and boarded the bus to Ponda grabbing a pack of Hide and Seek cookies from a nearby shop. The journey to Ponda was serene! All I could see were water bodies on either side of the road, fishermen doing their sport, small bridges connecting lands, farms and the invaded architecture. Enjoying the serenity, I started scripting my trip to Dudhsagar.
I reached the Ponda bus station and started enquiring quite a few locals to know how to reach Kulem. Surprisingly many locals didn't even know the existence of a place called Kulem in their neighborhood. Disappointed by the responses and building new ideas I got hungry as well. After a while, I saw two young men who appeared like they were on a trekking trip, without any second thoughts I approached them and asked if were going to Dudhsagar. To add a pinch of happiness to the inner me, the guys are from Pune and are Tamilians by root made me feel like a safe house. After an understanding that all the three of us are in the same kind of circumstances, we decided to look for cabs to reach Kulem which is still 35 kilometres away from Ponda. The cab charged us Rs.1100 for the short trip, with the challenging limitations we decided to take the cab and reached Kulem by 11:45 AM.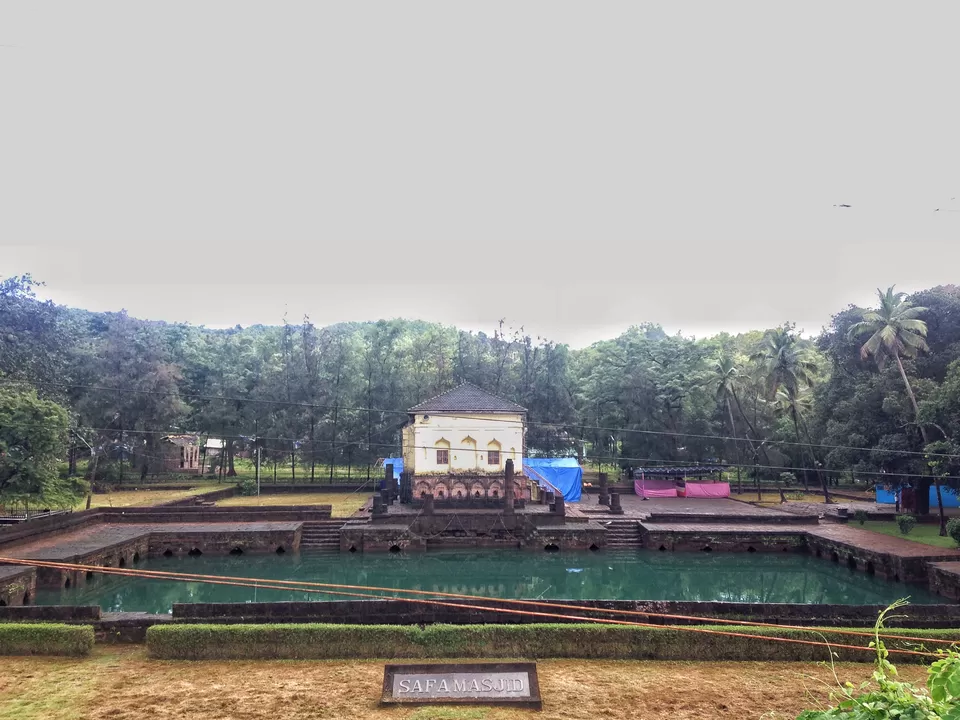 With only pav-bhaji and tea as the options left for lunch, we quickly grabbed them up. After understanding that hiring a guide and life jacket as mandatory to begin the trek, we did tough bargaining and hired a guide (Costs Rs 400 per head which is Rs 200 down from the initially said charge).
It started drizzling and we started our trek walking along a railway track. We saw a lot of people returning down-hill, without life jackets or a guide along (Wondering if we were brainwashed or the people we saw returning went on an illegal trek). All through our trek, we heard the sounds of small streams, falling water, chirpy birds and goods train running at a distance. We spotted a couple of peacocks on our way as well.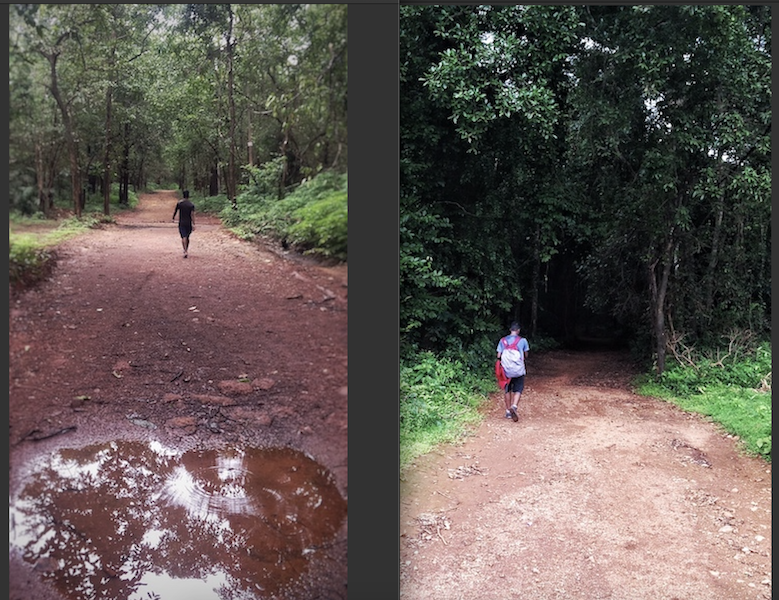 After walking along the railway track for 4.5 kilometres, we took a diversion into the forest. After paying Rs 50 to the forest officers, we got out forest zone ticket and resumed our trek. Through all our way in the trek, we saw a number of small water streams. Our guide who knew Hindi, English, Kannada languages started narrating his stories that he had experienced during his previous treks to Dhudsagar and helped us to take a couple of good pictures as well. Around 2:30 PM we reached a hotel on our way where we filled up our water bottles and resumed with the trek. With moving further up-hill all the minor streams we saw grew stronger and the trek route became much messy, muddy and slippery. It was getting darker meanwhile.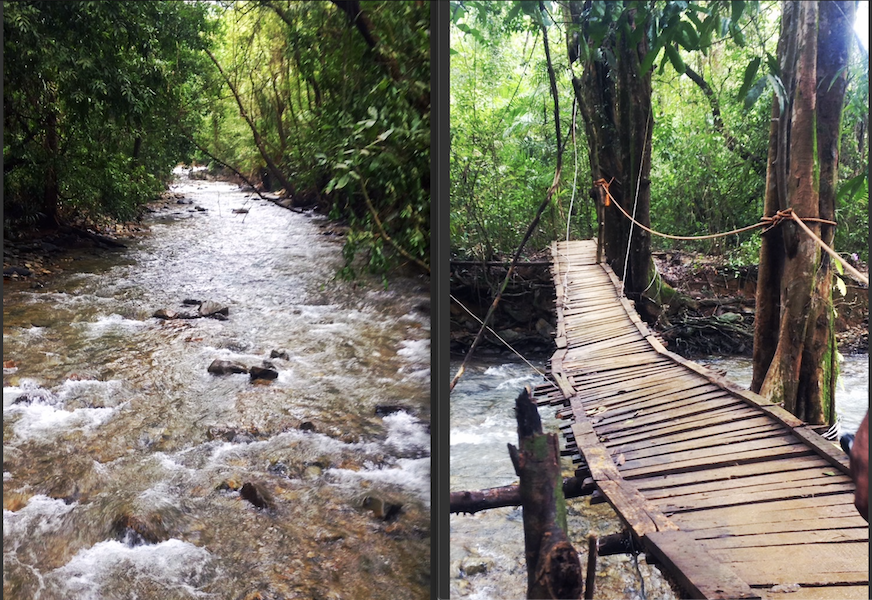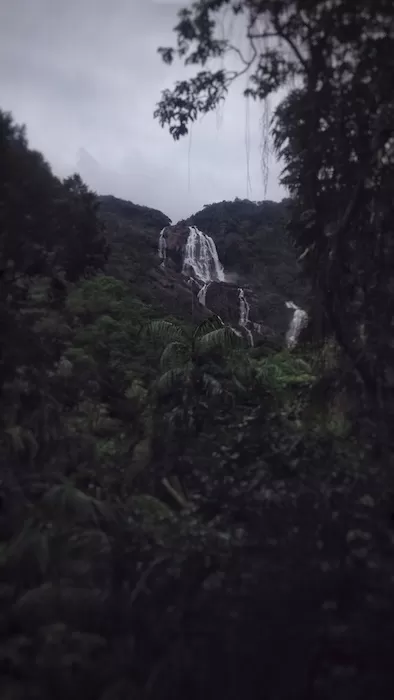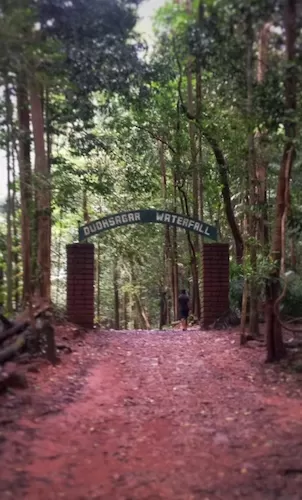 Saturday 03:15 PM
After trekking the beautiful 6 kilometres in the Bhagwan Mahavir Wildlife sanctuary, we reached the fourth tier of the mighty Dudhsagar falls. The loud sound of the water falling downstream, strength which can push a person, soothingly cold water accompanied by rain and a view for which we can't resist a bath, of course, was blissful. Trust me it was a bath with a view and worth the hunger.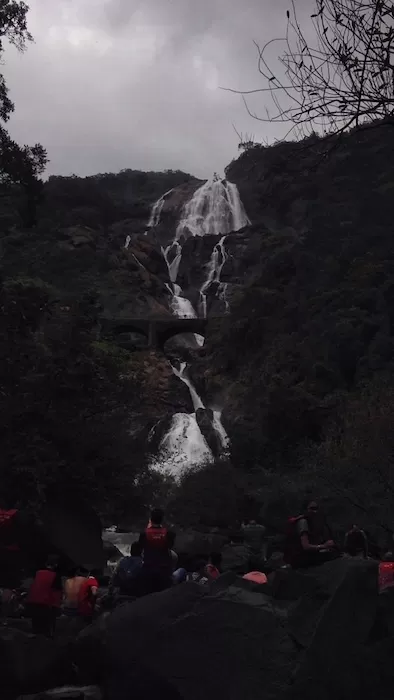 After spending 10 minutes at the fourth tier, we decided to trek further and reach the second tier (a railway track leading to the Dudhsagar railway station). To get a view from the railway track we chose a different route. There is a train from Dudhsagar at 3:15 PM which leaves to Margao. Due to delays, we were informed that the trains would arrive at the Dudhsagar railway station by 4 PM which provided us around 35 minutes to trek further. There are two different routes to reach the Dhudsagar station. First one is a 2 kilometre descent route comprising of 1km in the forest area and 1km along the railway track and the other one is a 1km path which is pretty worse comprising of a 750 metre of forest area parallel to the waterfall which is bumpy, muddy, slippery and highly inclined followed by a 250 metre along the railway track. We chose the second one since we wanted to reach the station as quickly as possible and wanted to experience a challenging trek. The guide demanded an extra RS 200 from each person to proceed further.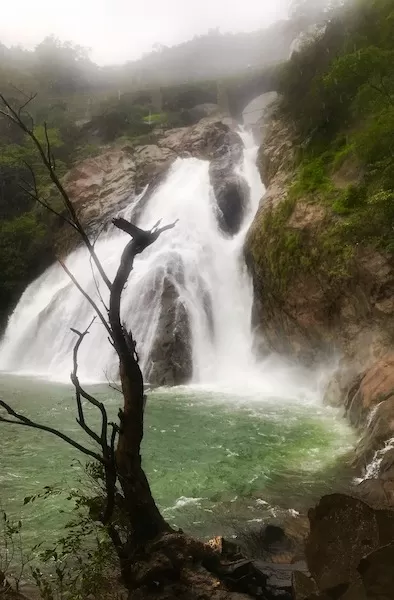 Left with no other option, we agreed to pay the extra amount after reaching the second tier. The second route was much adventurous than we expected, we had to cross the waterfalls where the water stream was up to our hip level which was a tiring and challenging task to reach the other end. It was a risky task as well! Wearing the life jacket, carrying the backpack as well, was difficult but we managed to do it successfully. Preceded with a 10 minutes inclined trek, we reached the third tier of the waterfall. During the peak seasons, a lesser water flow opens the third tier for swimming (life jacket is a must). The water flow was too high this time that we couldn't swim but it was a wonderful sight out there.
It was a difficult trek further to reach the railway track. After reaching the railway track, we had to cross a couple of tunnels to reach the station and we were much fortunate to enjoy the beautiful trains crossing around. There were around 100 to 150 people at least at the station which was surprising me. To be very honest we couldn't distinguish between the tourists and locals at the station. The view from the second tier was mesmerizing and the satisfaction we had can't be expressed in words.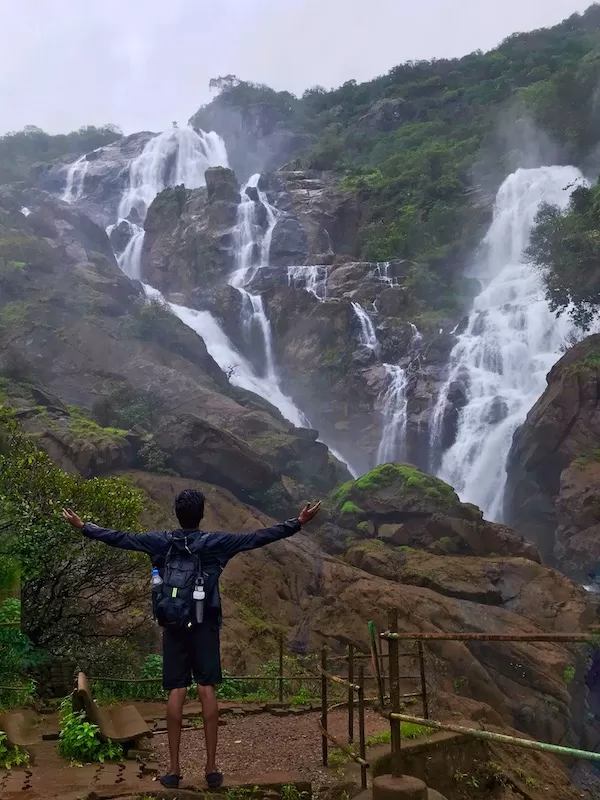 It was around 3:50 PM and we took a few pictures before the train would come. The train got delayed by 30 minutes which gave us more time to enjoy the scenic view. We were extra cautious because I was aware that the guides might cheat the tourist by boarding them on goods trains which is illegal, which is the reason why we agreed to pay the guide only after boarding the train. An extra tip from my experience is to double waterproof your mobile phones since mine got drained with water.
Saturday 04:40 PM
The train arrived, only after boarding, we realised that we didn't buy the tickets and most of the passengers who boarded the train from Dudhsagar do not have the tickets. A group of 10 people who boarded along with us from Dudhsagar shared their experience since they took the 11 kilometre railway route to reach the station. They neither hired a local guide nor a life jacket either since it is not their first time to Dhudsagar, they knew the in and out of the rules and how to handle the situations. The train which usually takes 2 hours from Dudhsagar to reach Margao, which means I can't experience the sunset at Colva beach. Still, I didn't want to miss visiting the Colva beach. The train halted in between and I enjoyed this beautiful view.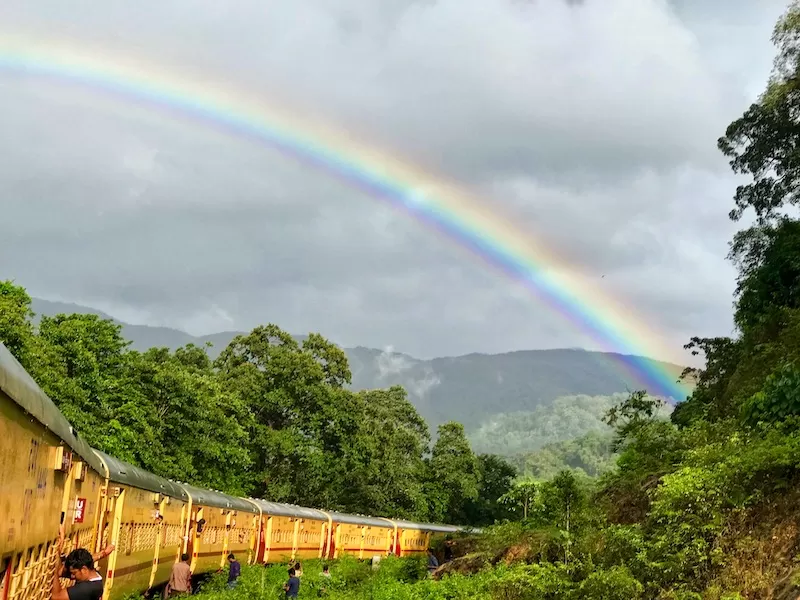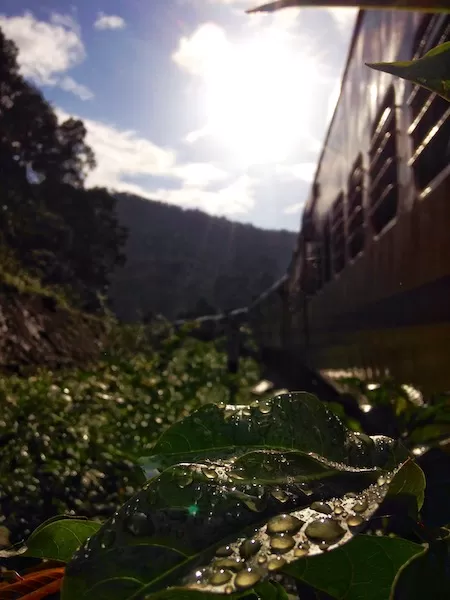 After a 40 minute halt, the train resumed. Once the train reached Kulem most of the passengers got down and we bought our tickets to travel from Kulem to Margao. We binged on snacks and enjoyed the train journey with a scenic view of sunset on both sides. We reached Margao railway station by 7:15 PM. We took a bus and reached the bus station and finally spotted a restaurant at 08:00 PM to have our first proper meal for the day. Since my mobile didn't work my new friends helped me with their phone which was waterproof and survived the rains. We bid goodbye to each other expecting to meet on another unplanned trip. I bought the Goa famous cashew savouries and sweets, and, reached the boarding point on time and yet another delay, not surprised that my bus was delayed by 30 minutes to start my journey back to Bangalore.
I have never been a travel freak before and am not sure if that is the reason that this trip turned out to be much awesome for me. I have heard my friends saying that unplanned trips are the best. My trip was partially planned and nothing went by the plan from its beginning but still, it turned out to be the best one. Without any doubts, I would love to visit Dudhsagar again during the next monsoon.
Hey! I am Lokesh! Sesil and the other guy (forgot his name, My bad memory!) are the two guys whom I met on this trip and that's my story of Trip Dudhsagar. Thanks for reading and cheers to many more adventurous trips, exciting experiences, and new friends.