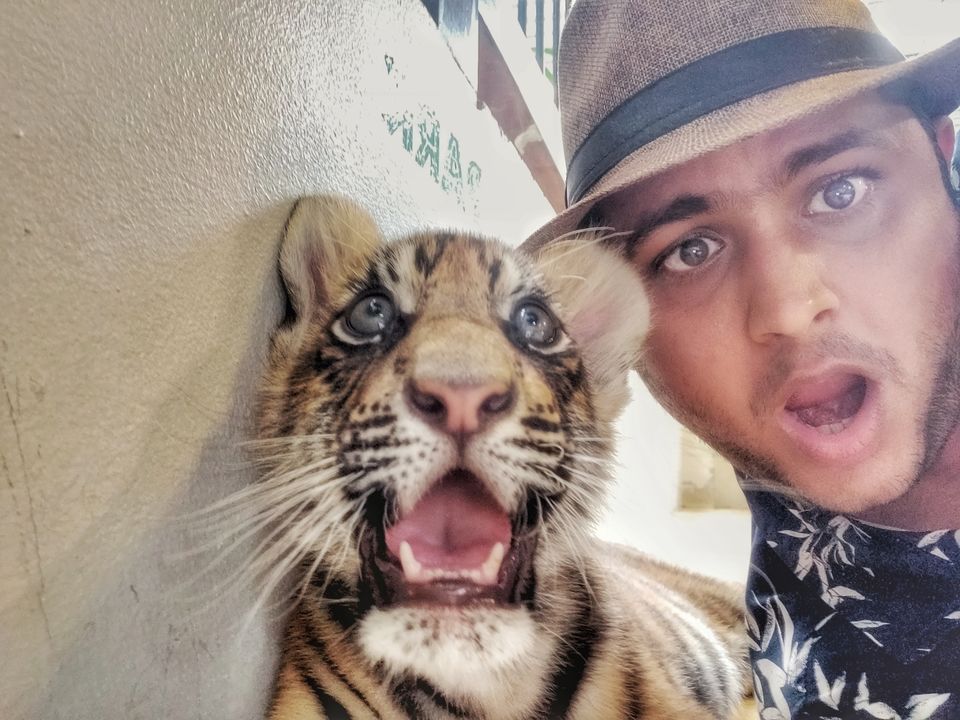 My excitement was through the roof as I could finally see, and touch a baby tiger. Imagining all the pictures I could click and brag about it to my friends, and make them feel jealous. Yeah! I was being a show off. As I washed my hands and set foot inside the "New Born Tiger Area" of the Tiger Park. There, I saw him. Watermelon, an energy ball of fur aged one month, jumping around his sleepy siblings Starwberry and Banana.
Wow! Such fruity names for the most ferocious jungle cats. I guess the names from 'The Lion King' have become too cliche. I laughed as the trainer introduced them to me. Being a hopelessly romantic cat lover I rushed towards Watermelon as he was the only one up and playing around. Also, it's dangerous to wake up sleeping tigers.
As I approached Watermelon, he was rolling on the floor and nibbling his paw like a baby sucking its thumb. What an incredibly cute sight! I rushed into my pocket, pulled out my phone to click a picture and quickly handed over my phone to the trainer as I only had 15 mins.
I sat besides him and playfully started rubbing his belly with my fingers to which he tangled his legs across my arm, guess I unintentionally picked up a fight. He then stood up to climb my lap and started biting me. Alright! I made an adorable enemy. But, the moment I touched him I felt this would be more than just a session of posing with a cub.
I was enjoying the moment and the little one trying to hunt me down. And out of nowhere the trainer hit him on his face with a foot long stick. Why? I shouted. "He's not supposed to bite else he'll become wild and it would be difficult to keep him in the facility." Then just release all these tigers in the wild if you can't treat them well, I replied angrily. "We cannot sir, as all these tigers have been raised in the park and do not know how to hunt. So they won't be able to survive in the wild." Aren't people opposing? I asked. "Yes sir, we've had many protesters and the park is making efforts to train the tigers to hunt." I shook my head and shifted my focus from the Thai beauty to my adorable enemy.
The trainer handed me her stick and requested me to put Watermelon on the ground and asked me to tap the stick to the ground. And like every other cat, he started jumping and playing around the stick curious about the noise. But, a minute later started ignoring me and sat down. Typical cat behaviour. No doubt tigers are from the family of cats.
I lied down besides him as if trying to cheer up my angry girlfriend and started talking to him. To my shock! He was paying attention and listening to everything I had to say. Loud enough that he could hear me and not so loud that the cute trainer would judge me. I spoke my heart out in that breif period of time. A talk I'd prefer keeping in between me and Watermelon. Suddenly, I heard the trainer's voice, "Time over!"
It was time to say goodbye and my Joy was slowly turning to sorrow. I sat down and started waving bye bye at my adorable enemy but he grabbed my thumb and started chewing it as if he was asking me to stay. To his response I got a bit emotional and like an idiot kept repeating "Oi oi oi bye bye" with the trainer continuously chanting "Time over, time over".
I requested for another minute and with a heavy heart I rested besides him to click a goodbye selfie forcing a smile, but I couldn't. The little one looked at me as if he understood everything and could read my situation. So, he leaned forward towards my cheek to kiss me goodbye.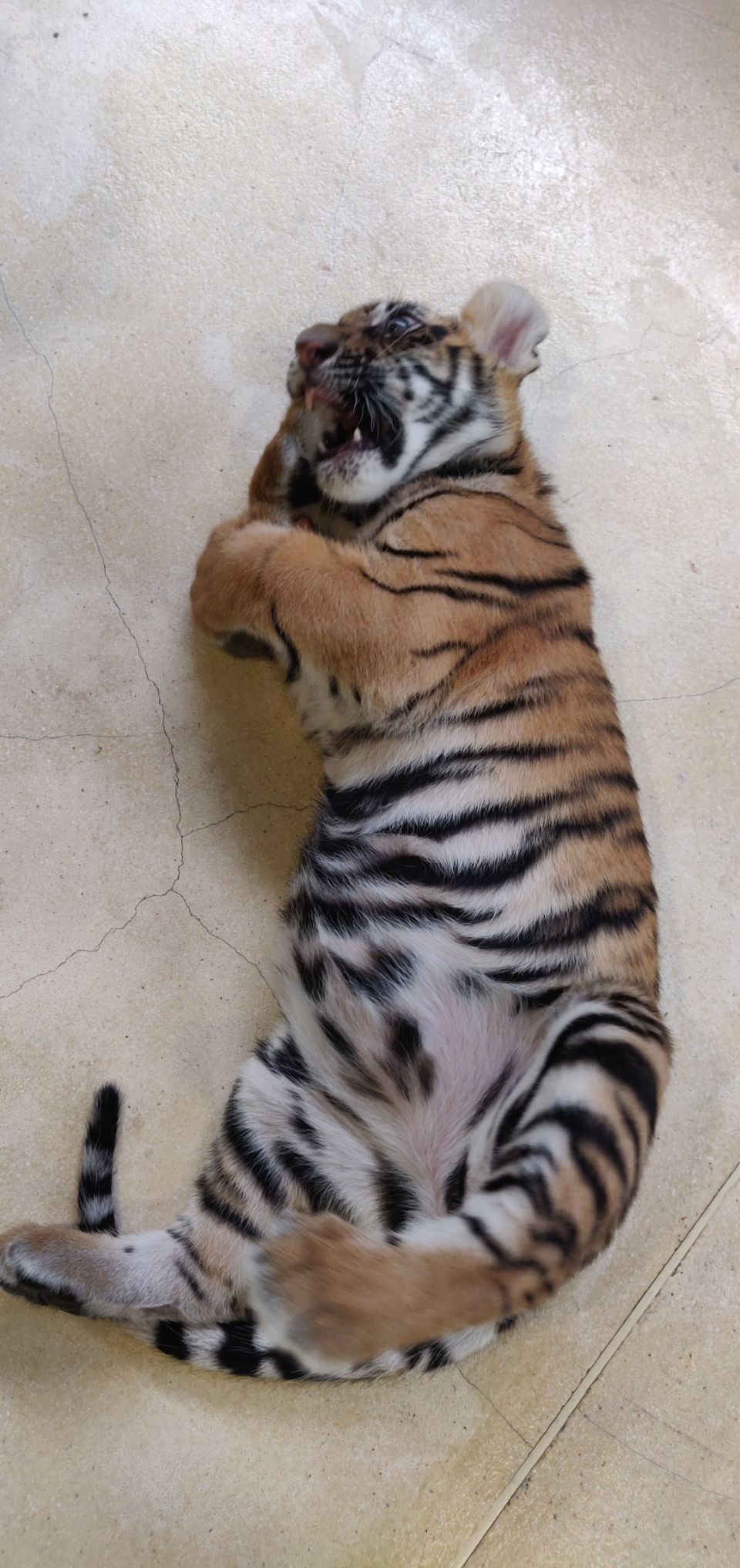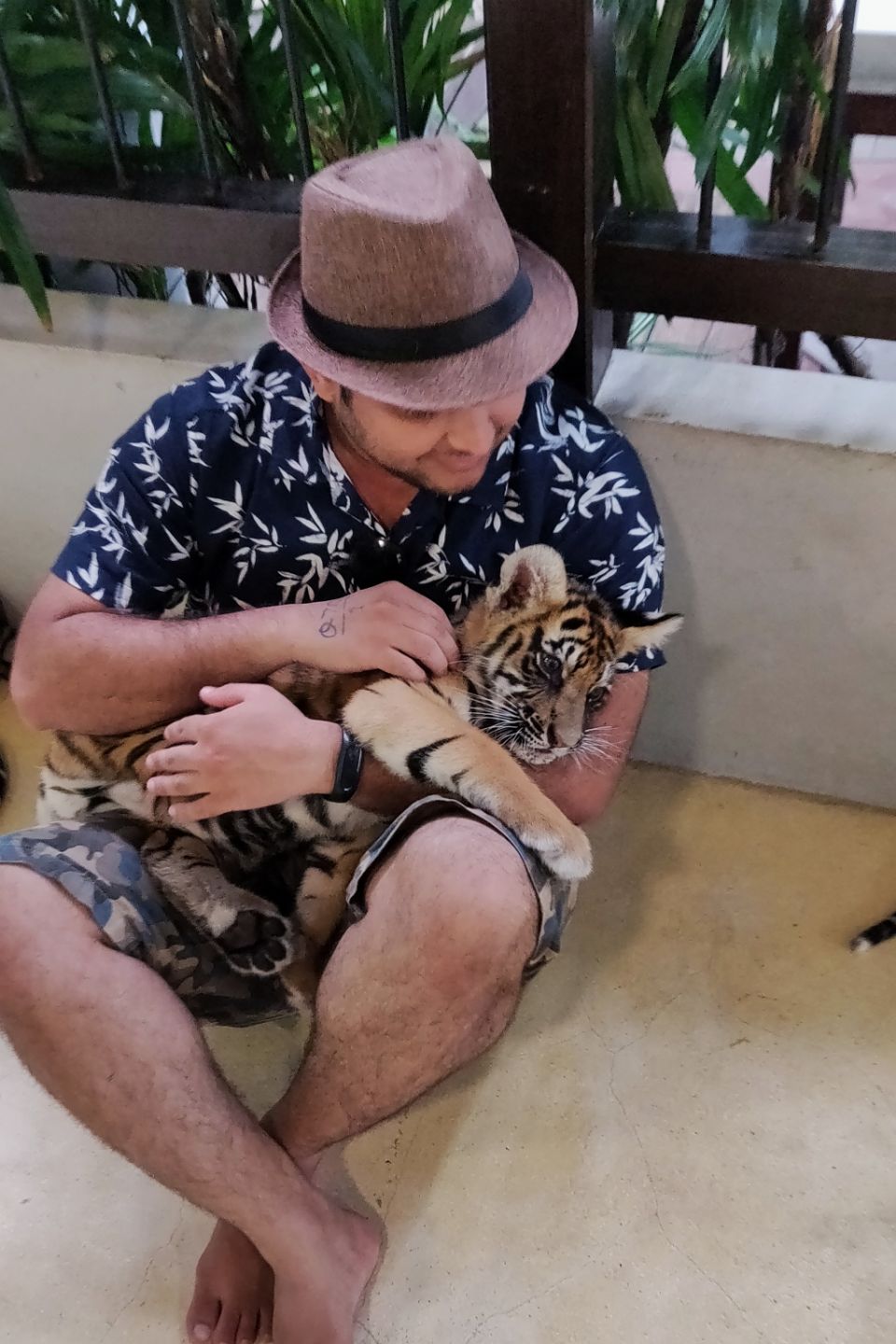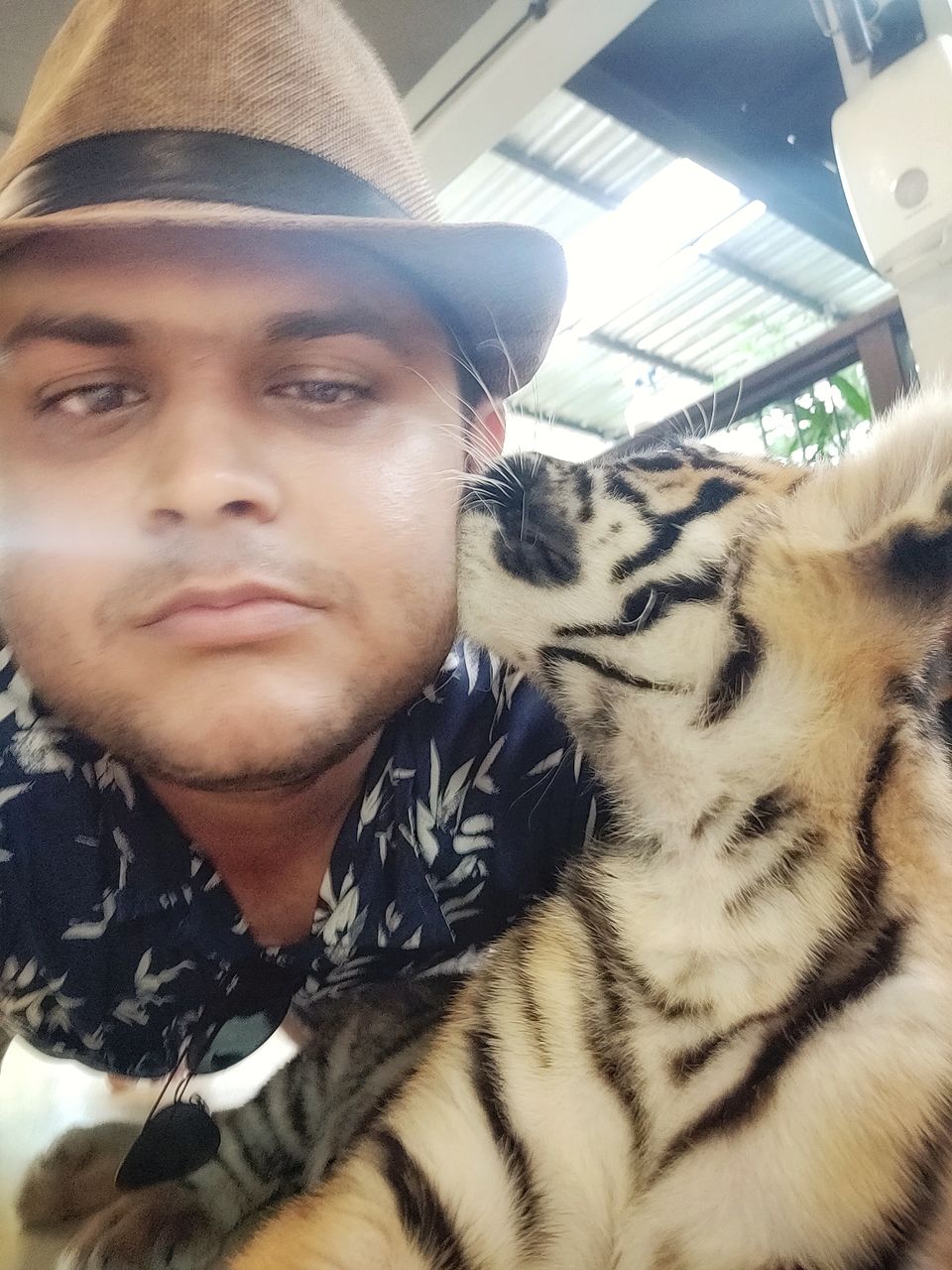 Tiger Park
Location: PATTAYA Jomtien Sukhumvit Road.
Mode of transportation: Songthaew
Cost of transportation: 200 Baht (includes pick up and drop from hotel) 4 people, 50 Baht per person. Just negotiate properly.
Timing: 9am - 6pm
Other facilities: A cafeteria and a toy shop
Tiger sizes and cost:
New born tigers. : 1099 baht
Smallest tigers. : 899 baht
Small tigers. : 599 baht
Medium tigers. : 699 baht
Big tigers. : 899 baht
You only get to play with the new borns.
With the rest you simply get to touch their back and tail. And of course click pictures.
So, I chose the New borns.