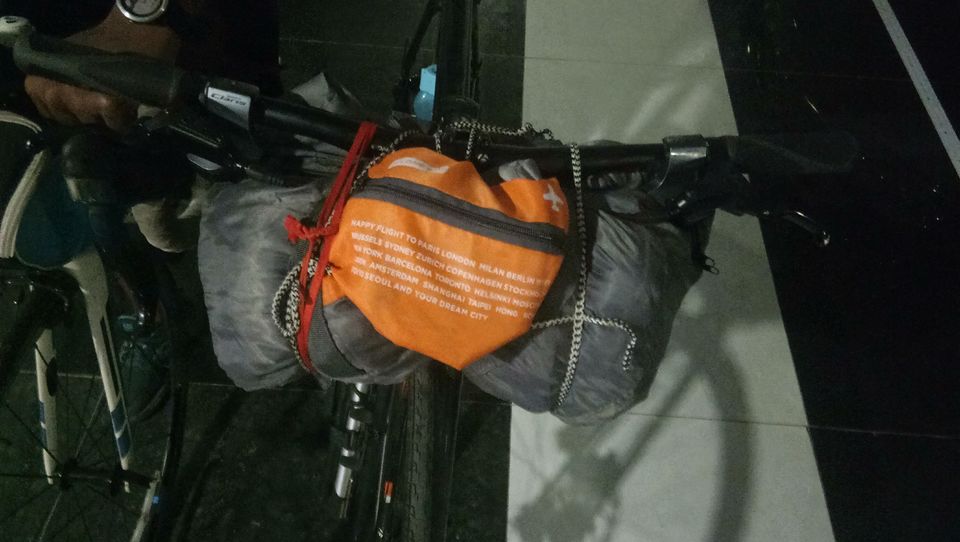 What could possibly be more blissful than a long bike-packing trip? We had planned this ride with the intention of making the last days of college much more memorable. I am Krishna kanth along with my buddy and brother- in-arms, Samanyu. Prior to the trip, we hadn't the slightest idea that the place would turn out to be so stunning. BHADRACHALAM, the place gave us what we wanted-- PLEASURE.
With neither a bungee strap nor a packing bag, we made it all the way with only a fold-able travel bag and an elastic rope.
Though we always carried Rear Lights, Front Lights, Extra Batteries, Puncture Kit, Salt Capsules, Wet Wipes, Chargers, Helmets and Reflective Vests, we decided to add two pairs of Night Wear and Casuals to the list. After airing up our tyres, cleaning our chains and dusting off the frame, we finally started. We had 220 kilometers to cover. About 50 kilometers from the start point, we pulled to a halt at a place called Kondapalli. There, we fueled ourselves with food in a small restaurant and then set off again.
It had turned ghost-dark. The night flew-by with us singing songs and cracking lame jokes. It had started raining when we reached the Telangana border. We were wet to our very bones and had tried to catch a few winks at a nearby hotel, but could not. We waited there for a while, and soon it was dawn. It was then, at daybreak, that the beauty of the place was truly revealed to us. The lush green fields and the fresh, cool breeze was what pulled us back to our seats.
We started riding again, never minding being soaked to skin. With tires spraying mud all around and onto us, we surely looked a little filthy. The weather seemed unyielding, the rain did not seem to let up. People could be seen with their umbrellas as the fields slowly turned into puddles, the hills started to be engulfed in clouds and the sun playing a game of hide n seek. The nature distracted us plenty. The trees welcomed us, waving. We could hear the rain dripping from leaves, and could smell the Petrichor. We rejoiced among the Hills and the Fields, dancing, chanting and Singing with Josh.
Soon after the rain, we were back on track. When we were about 100 kilometres short of our destination, we started to get hungry, and began looking for a hygienic place to eat. A Village near-by met our expectations. And once again, we were now back on our bikes, though this time, burning under the scorching sun. The roads were dry. We were now comfortable in our now-dry clothes. It was the burning sun which forced us to rest at a Eucalyptus farm. We made a bed out of branches and leaves, and slept for a while. We also found a pond and washed ourselves and our muddy Bikes.
Thereafter, we pedaled hard. We entered a hilly area and could see no human. Soon, we were hungry and thirsty again. Neither a restaurant nor a tuck shop was there to bail us out. But after riding for a long time with empty bellies, we were greeted by a man, who took us to a Temple where food was offered to the needy on Saturdays. #ANNADHAANAM. The villagers were staggeringly hospitable to us. We got a very warm welcome. After washing ourselves, we went inside the temple where prayers were being offered. Later on, we had lunch. They were kind enough to offer us 200 bucks to take care of the miscellaneous expenses we might come across on the rest of the trip. We thanked them numerous times, expressing our gratitude in only words. We were really glad to find them. We even charged our mobiles and our Garmin Tracker and slept inside the temple for a while.After a brief nap, we were awakened by the thunder. It had started raining again. Our bags, shoes and cycles were wet once more. We were forced to pedal bare foot.
It was night-time and we were only 20 kilometres away. We found a shortcut, which gave us a gain of 10 km. And then finally, we reached Bhadrachalam. There, we stayed at a friend's house.
THE RETURN:-
While returning, we did not take the same route. We went searching for #KAPPALABANDHAM, a village 100 km away, where our above-mentioned friends' grandparents live. It was a beautiful village, surrounded by greenery all around. We even sneaked into a farm, relaxing there.
Upon reaching, we were astonished at the size of the meal arranged. Like all grandparents, she(ammama) filled us up to our necks. We slept, had bath and plucked and packed some Goose Berries. We hydrated ourselves with coconut water and started back. It was such a large meal, that we stopped no where to snack. That single meal was enough for us to ride 150 km.
We made many rides, to test our limits, but this one is very special.
We explored the Life out of the city.
Spare a still moment
Every once in a while.
Take in the beauty around.
Take it in with a smile, for Bike packing is Bliss.
JAI HIND.