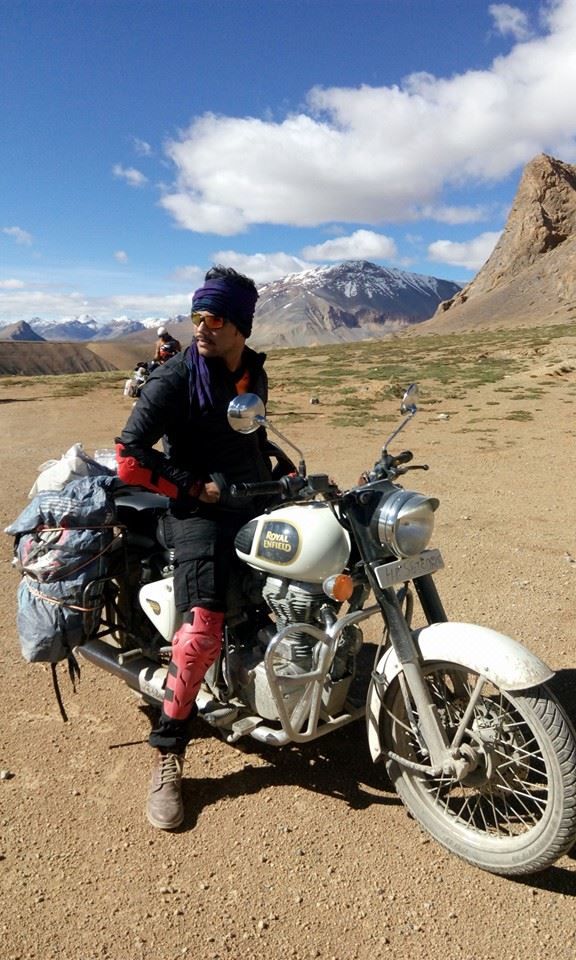 Travelers put down their tales on paper for various reasons. Some to inspire others and some to inform & some just to keep a record of nostalgic moments. But I suppose there's a deeper reason beyond all this; we write about our experiences because it allows us to go back to them, once again. As we reflect back on the time spent on the road, we live them again
And so as I begin to write about it,
I used to spend endless hours looking at pictures of the beautiful places that Ladakh has to offer and I had been craving for this road trip for almost two years.
A 10 day vacation is not an easy one to get but after going through million pictures, a thousand videos and months of planning, we decided to JUST GO! & DO THE JOURNEY AS IT COMES....
DAY 0: Hyderabad-Delhi- in route Manali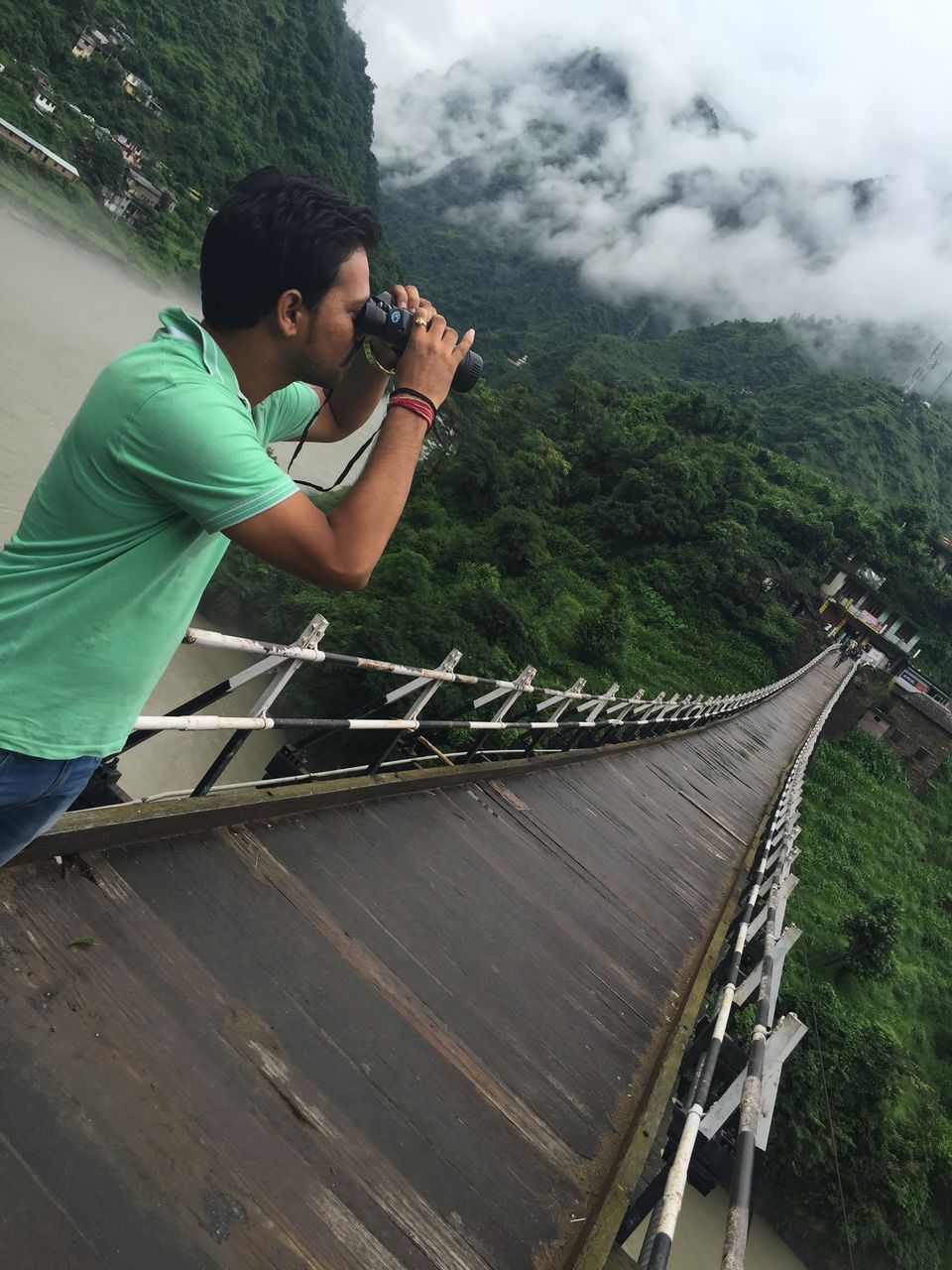 We (Myself & Rahul) took flight from Hyderabad  to Delhi on 8th August where Namo & Prateek joined us from Noida & Lucknow Respectively & we  took a Volvo from Delhi to Manali same night.
We were supposed to reach Manali by 10:00 am in the morning and start our journey from there by afternoon but as due to minor landslide our bus was delayed by 4 hours.
DAY 1 : MANALI- ROHTANG- KRAMPHOO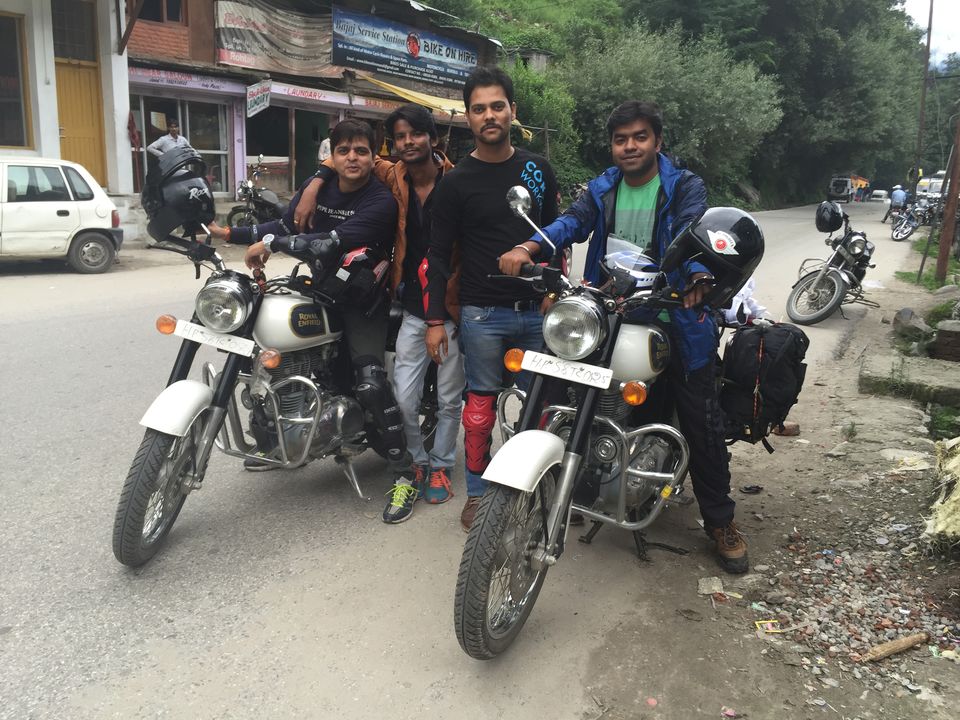 After reaching Manali we got freshen up, took our bikes, had some shopping done, and started for the onward journey by 04:30pm.
As we started our journey Rain welcomed us, and we realised that we have done mistake by starting so late & that too without plastic covers for our luggage.  Actually we tried to get plastic covers but being Sunday, market was not completely open at manali.I will say that we were selfish as we got Rain coats for us.....
It started darkening by the time we reached Rohtang and due to cold weather & extreme bad road condition it was getting very difficult to drive. Approx around 08:30 we reached a small village at downhill of Rohtang pass.
We managed to get home stay there offered by a family who also served us prathas & curry to kill our hunger. Rahul & Namo has got fever by now, they took some medicines & we all went to sleep as soon as we went on the cot.
I got up little early and as I came out of my room, I was like OMG.What a location?  Lush Green Mountain, partially snow covered and melting snow taking shape of small canal like rivers. The village of hardly 10-15 families surrounded by Mountains was really a cool place to be at.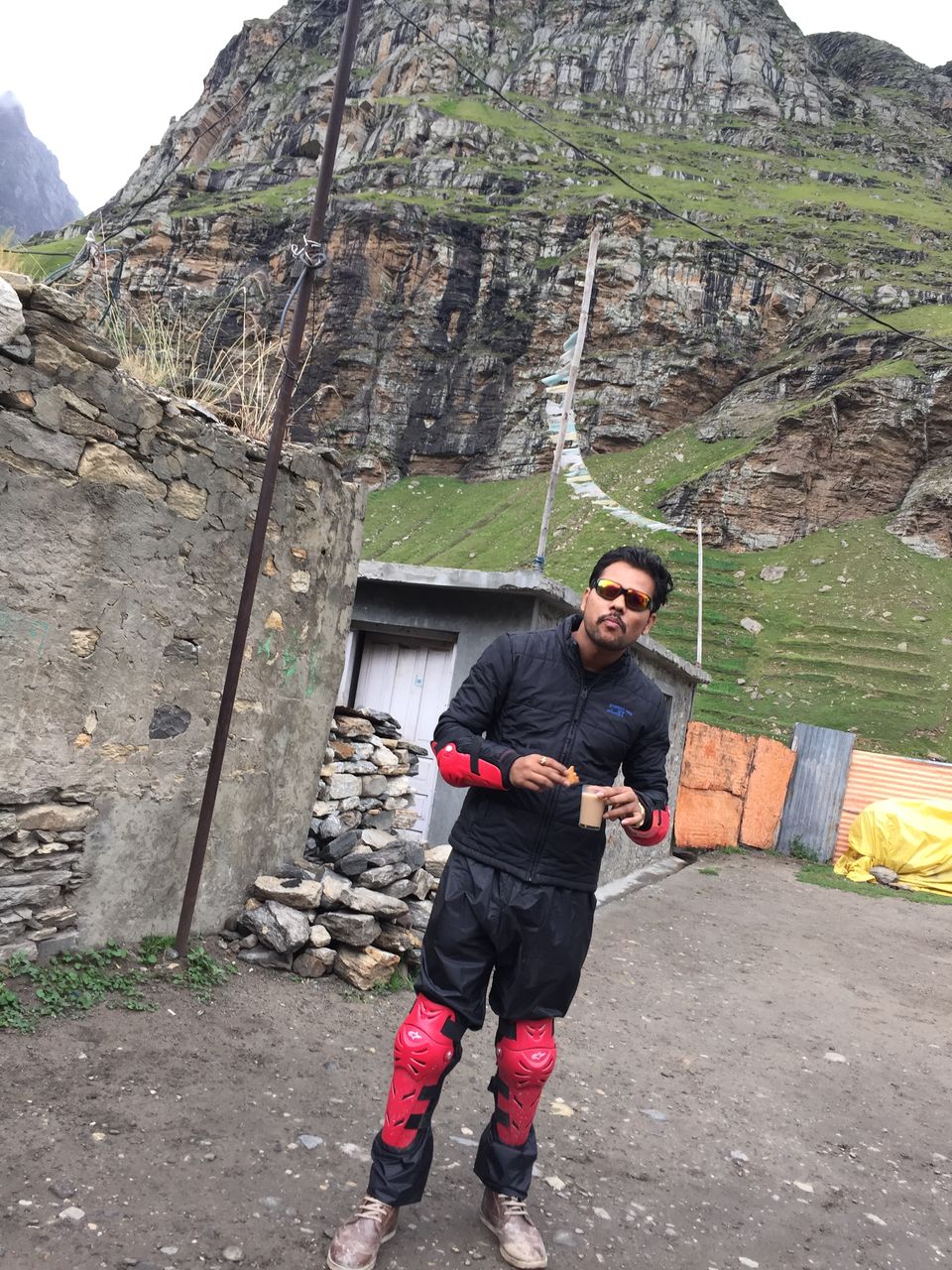 We enjoyed the beauty, had our breakfast and as we were about to start it again started to rain. We enquired for plastic covers but couldn't get it as Plastic is ban in Himalaya. The family has helped us with big Jute bags which very nicely covered our bag and protected our luggage throughout the journey. When asked for the price, the lady said "HAR CHEEJ PAISE SE NAHI MILTI BETA, "and smiled.....
DAY 2: KRAMPHOO-SARCHU-PANG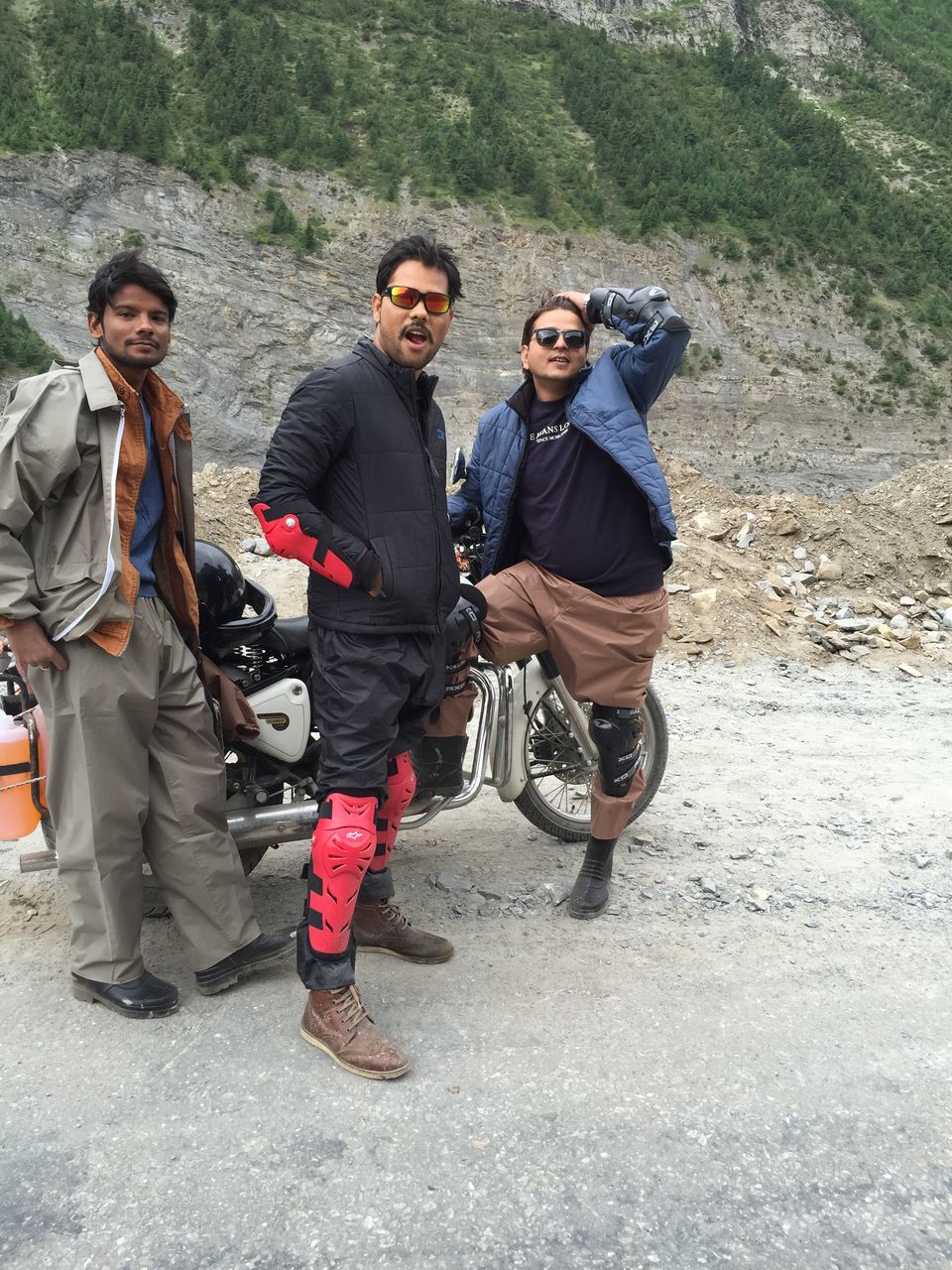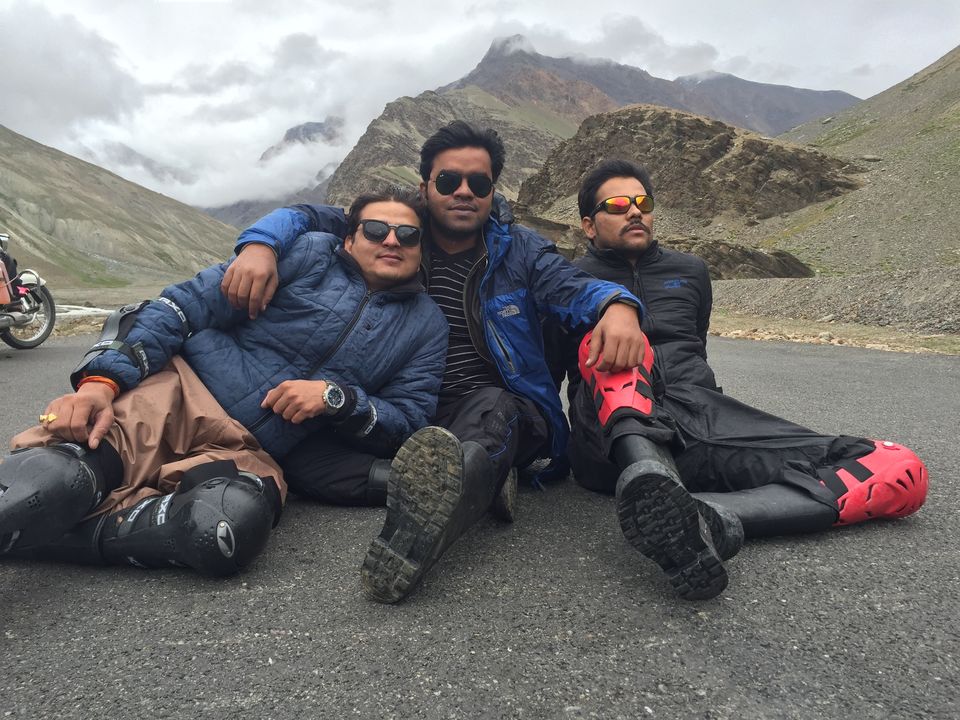 With the plan to halt at Sarchu at evening we started our journey in rain and it was awesome to ride in Himalayas in Rain. Crossing Tandi & Keylong, Jispa was the next on the way and it had a charm of scenic stretch beside the Chandra River. The lush greenery and valleys around Jispa was telling me that this is going to be one of the best trips of my life. The scenic views and the high mountain ranges were getting richer as we progressed. There were many places that melting snow has taken shape of lake like structure & it was flowing across the road in full force making it difficult to cross.
The next highest pass we pass through was the Baralacha La Pas which is surrounded the mountains of Pir Panjal and Himalayas. This place is also famous for the Suraj Tal Trek. ZingZing Bar is one of the highest roadside bars in the world. It was truly the most peaceful place in Leh Manali highway.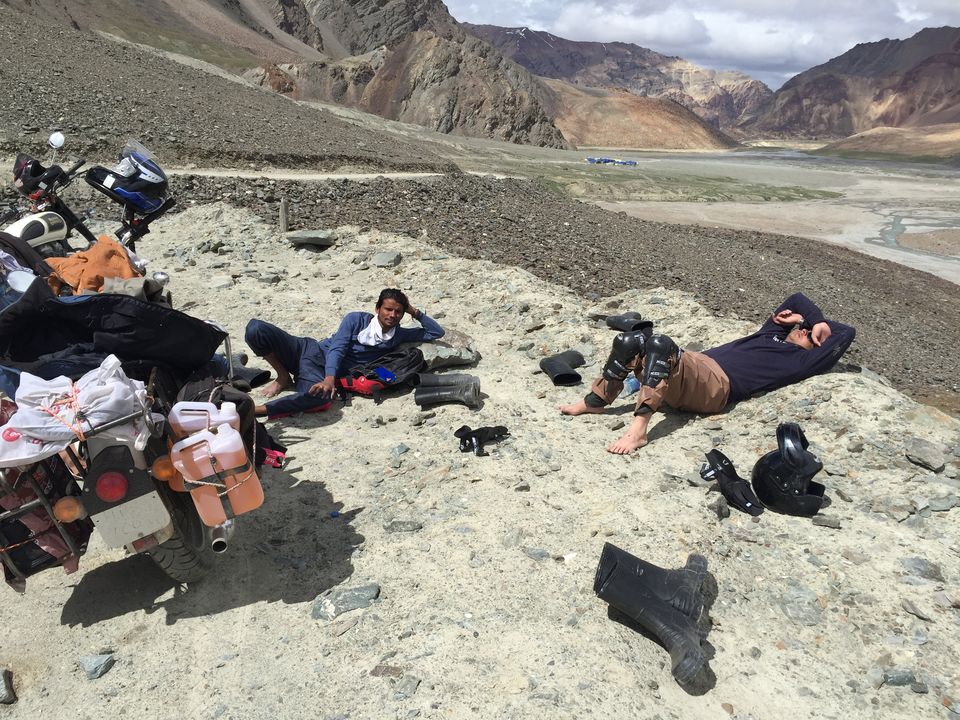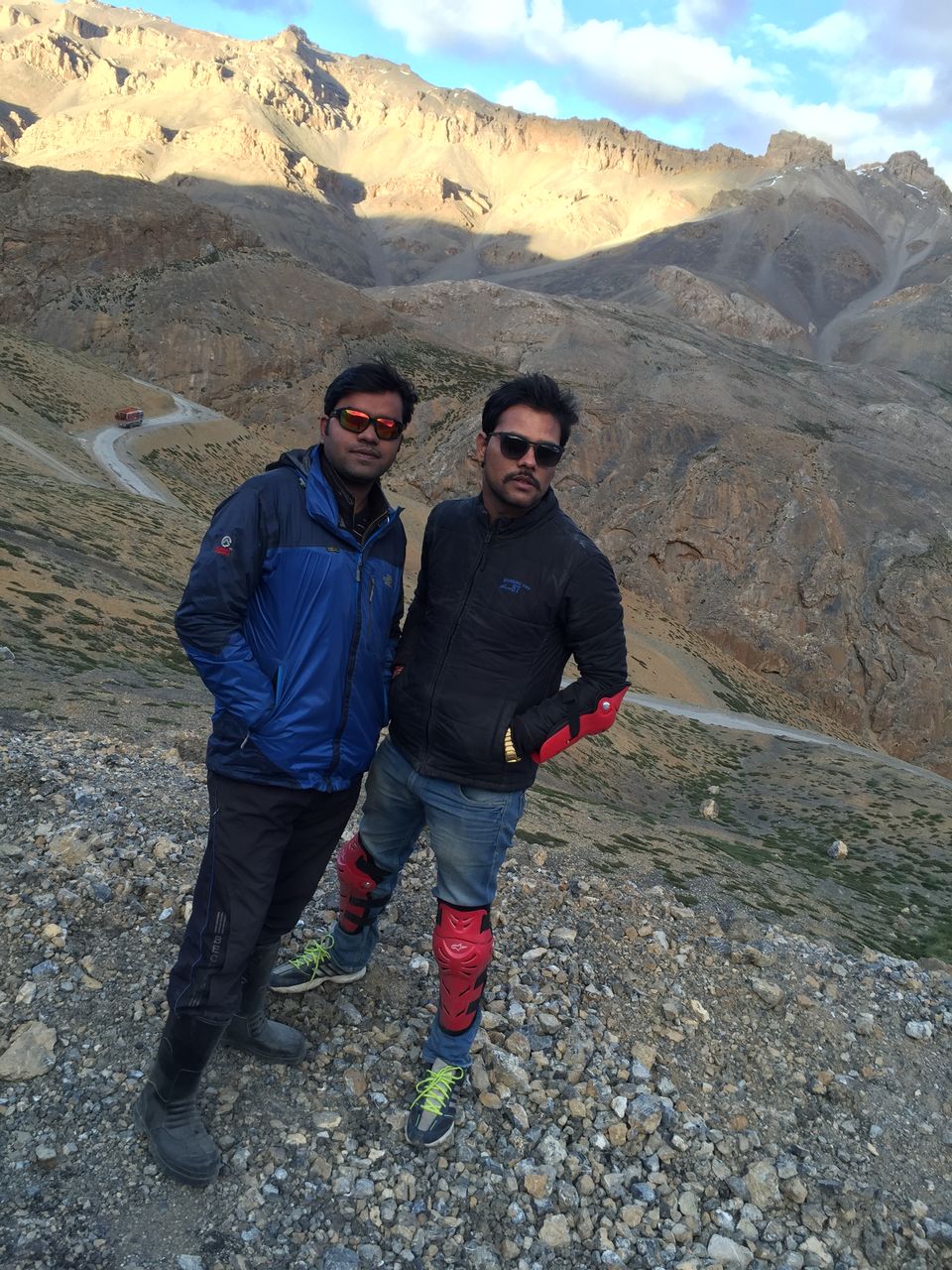 We reached Sarchu by 04:00 pm which was quite before expectation and plan, as we halted at sarchu for Tea and some hot Maggie it was like life saving food for us which felt heavenly. We also realised that Rahul's fever has worsen & He was shivering severely with cold. In the group of four only me & Rahul were the two who could drive
& it felt like difficult to progress further that evening. But as medicine worked for him & he was like "BOSS chalte hai Pang me hi halt karenge ". Pang was approx 90 kms from sarchu and we thought that will reach in 02:00 hours or so. But Himalaya has something else in store for us, as we progressed, the roads started to worsen and journey seemed difficult to complete with no sign boards, no lights and extremely bad roads testing our driving skills in shivering cold weather conditions.   I still fill that silence in my ears when no one was speaking a single word & just moving forward. Finally Prateek spoke " Bhai ye pang kab aayega ?".
When we reached Pang we could see several tents as it was the only place where nominal facilities were available to stay after sarchu. Several tourists & Bikers have parked their vehicles, we also were successful to get a tent, immediately we unloaded the bikes, kept our luggage in tent & went into blankets as our hands and legs were freezing due to sudden drop in temprature. The tent owner also helped us by arranging fire to keep us warm and provided some food which was ok type but it killed our hunger.
 I wanted to get some sleep so badly but there was something unexpected waiting for me to experience. As the night went by the temperature dropped below -10 degrees and the wind blowing outside was so strong that it was literally shaking our tent. I felt like someone is holding my neck so tightly and I was struggling to breath, I could also feel huge pressure on my chest.  I opened my eyes and saw prateek was still sitting close to fire, Namo & Rahul have slept by now as they were already not keeping well. I told prateek about my condition, he asked the family who was managing the tent for help. Fortunately there was a doctor available at pang and tent owner asked me to walk with him. As soon as i came out of tent, I vomited severely. Doctor checked oxygen saturation & it was perfectly fine. He gave some medication which helped me survive that night.
DAY 3 : PANG- TANGLANG LA – KARU –LEH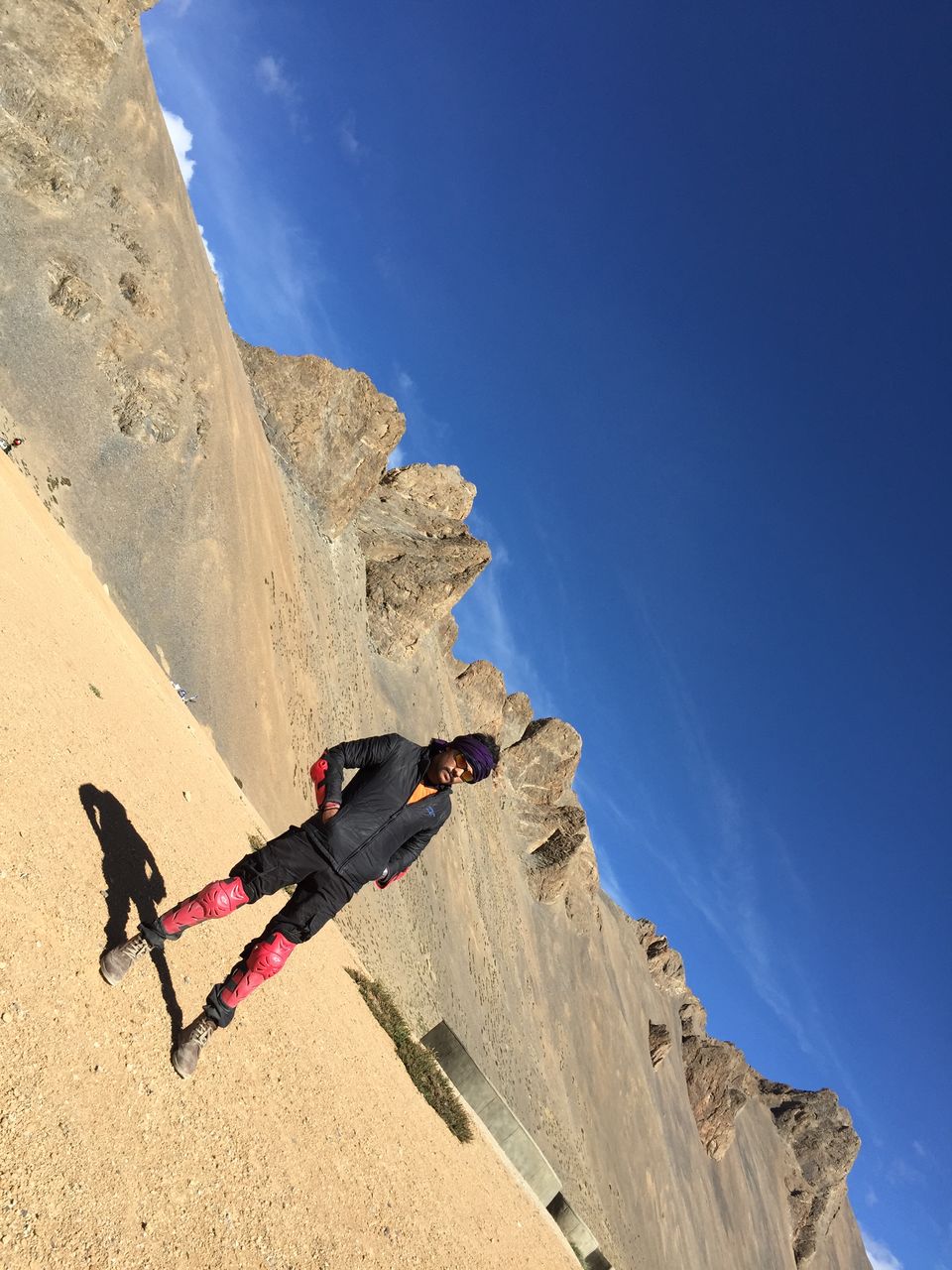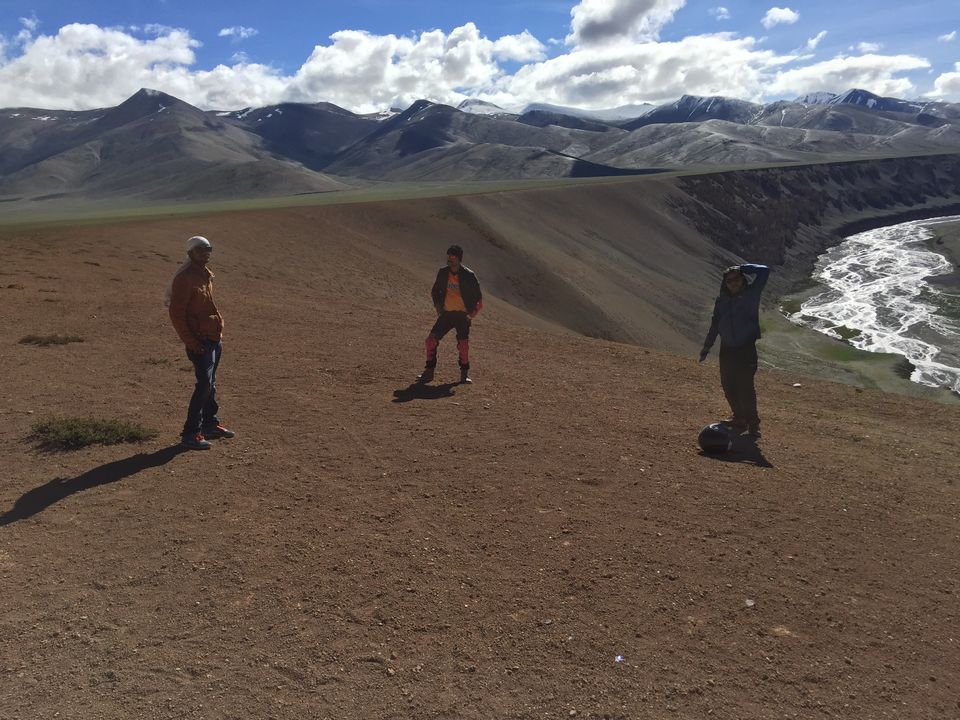 The scenery of this place is breathtakingly different than any other place in Leh - Manali Highway. There is one straight stretch road (Morey Plains) in Pang which is more than 20 km long! The ride though Morey plains was truly amazing with mountains on both sides and beautiful view of valley across the roads.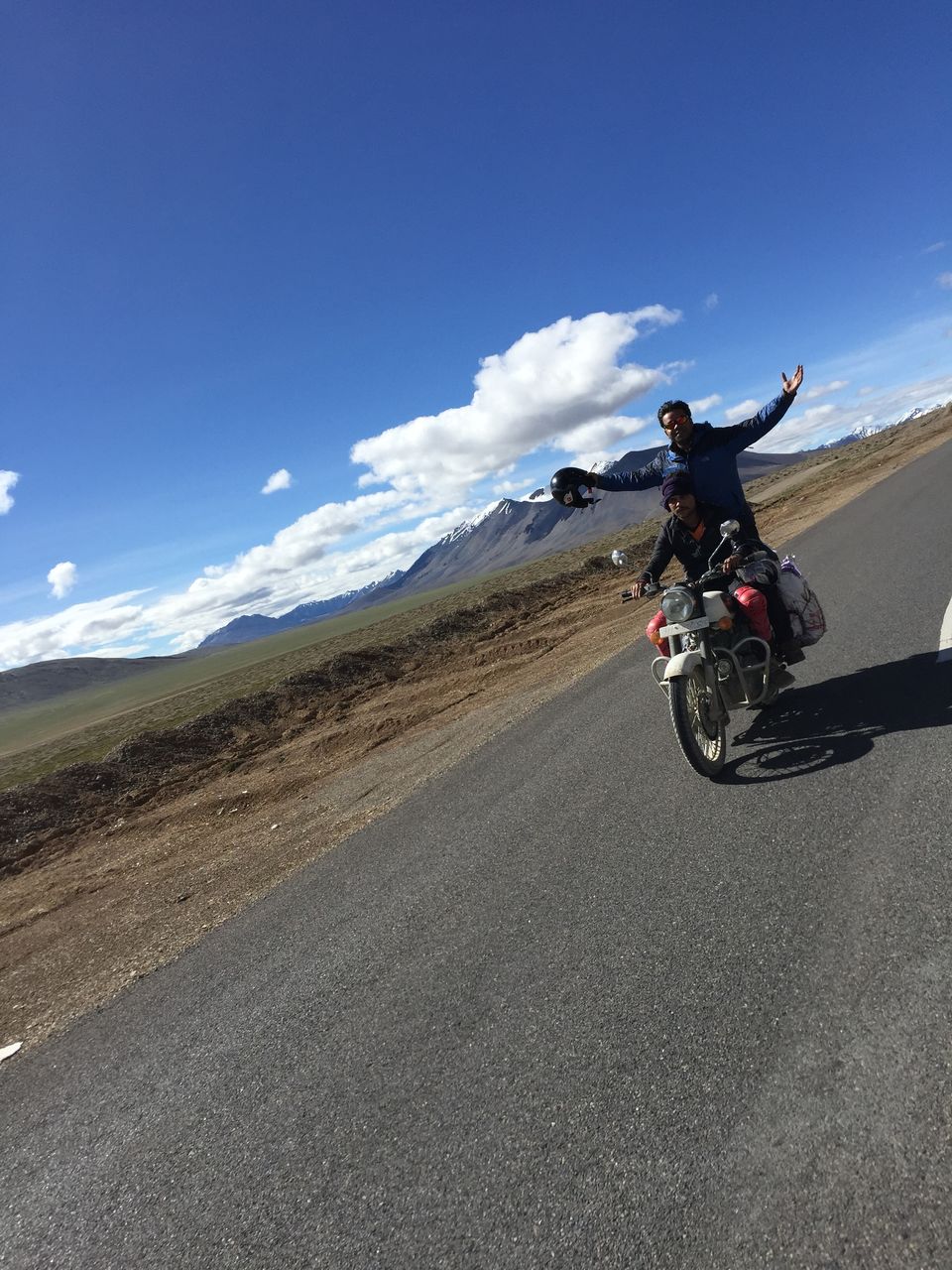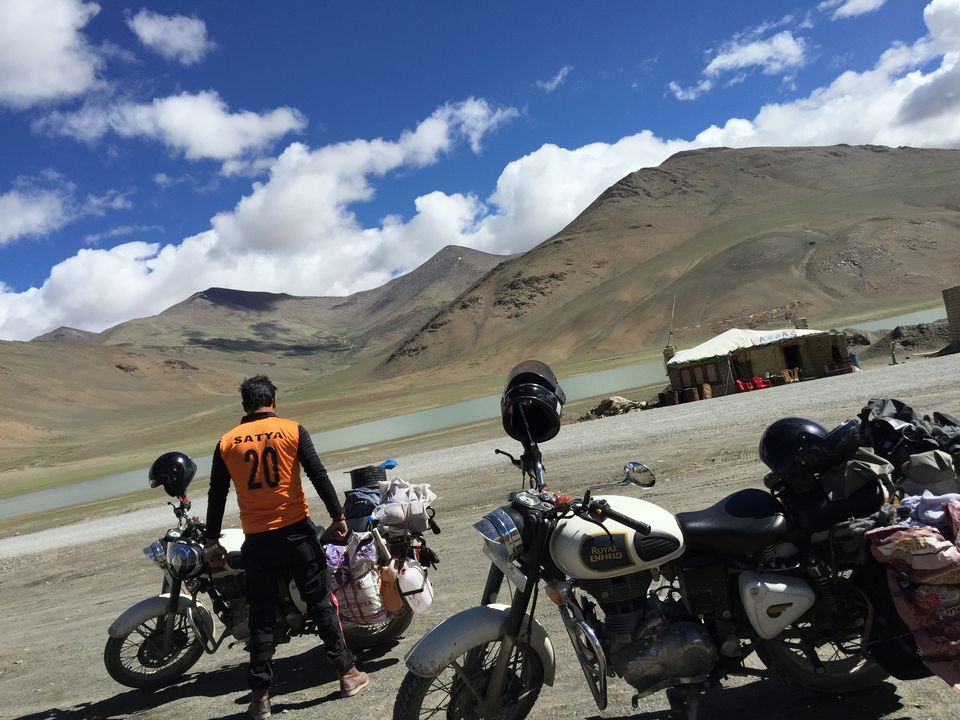 Way up to Tanglang La Pass was very steep and slippery. The weather was already below zero in the afternoon and it was dropping further as the time went by.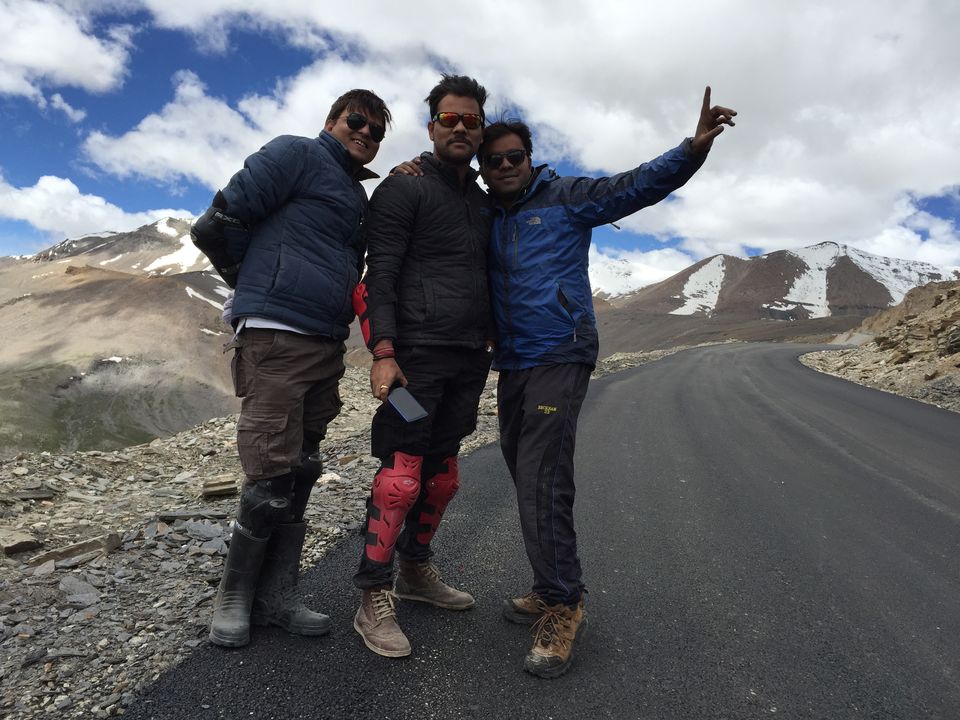 We reached one of the highest mountain passes in the Ladakh region, the Tanglang La pass, which is the highest pass on the Leh - Manali Highway and the 2nd highest motor able road in the world. You will be able to experience the feeling on riding above the clouds, mountains were partially covered by snow and weather was freezing cold.  As we stopped at Tanglang La Pass to have look at beautiful view prateek started feeling difficulty in breathing and we decided to proceed way down from there. Those muddy roads were narrow and dangerous, trucks and buses pass through the road. You have to save yourself from falling a good few hundred meters down or getting rubbed against the mountain walls. It was clearly visible that the harsh winter is around the corner as some of the hills were covered with snow and the roads were wet and slippery because of the ice formation on shiny rocks which we were riding on. The uncertain weather conditions and horrible roads were making us ride even slower than expected but the scenic landscapes was amusing and encouraging us to ride further.
We reached Leh in evening by 04:00 and parked ourselves at a beautiful hotel in the lap of mountains. After having our first bath since we started our journey from Hyderabad we went to famous shanti stoop, visited local market & had delicious food at cool restaurant.
After playing cards for an hour or so we made ourselves comfortable as we planned to start our next day early.
DAY 4: LEH- KHARDUNGLA- PANGONG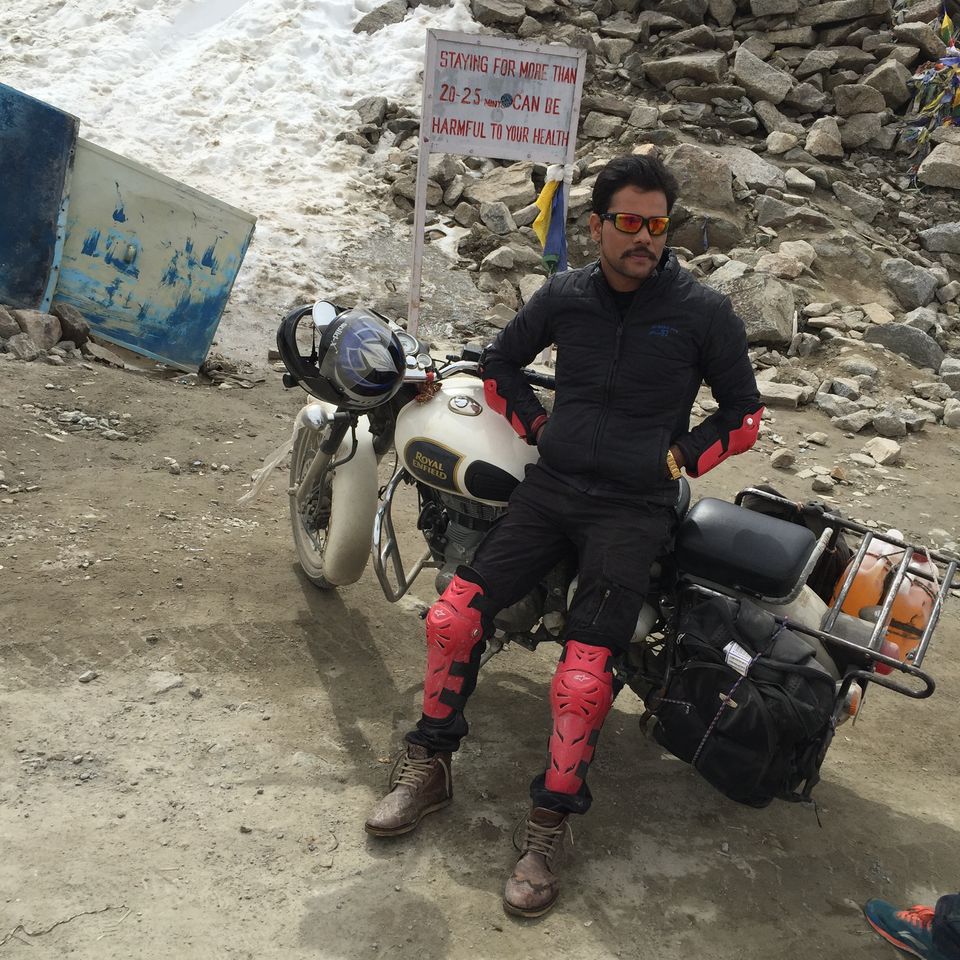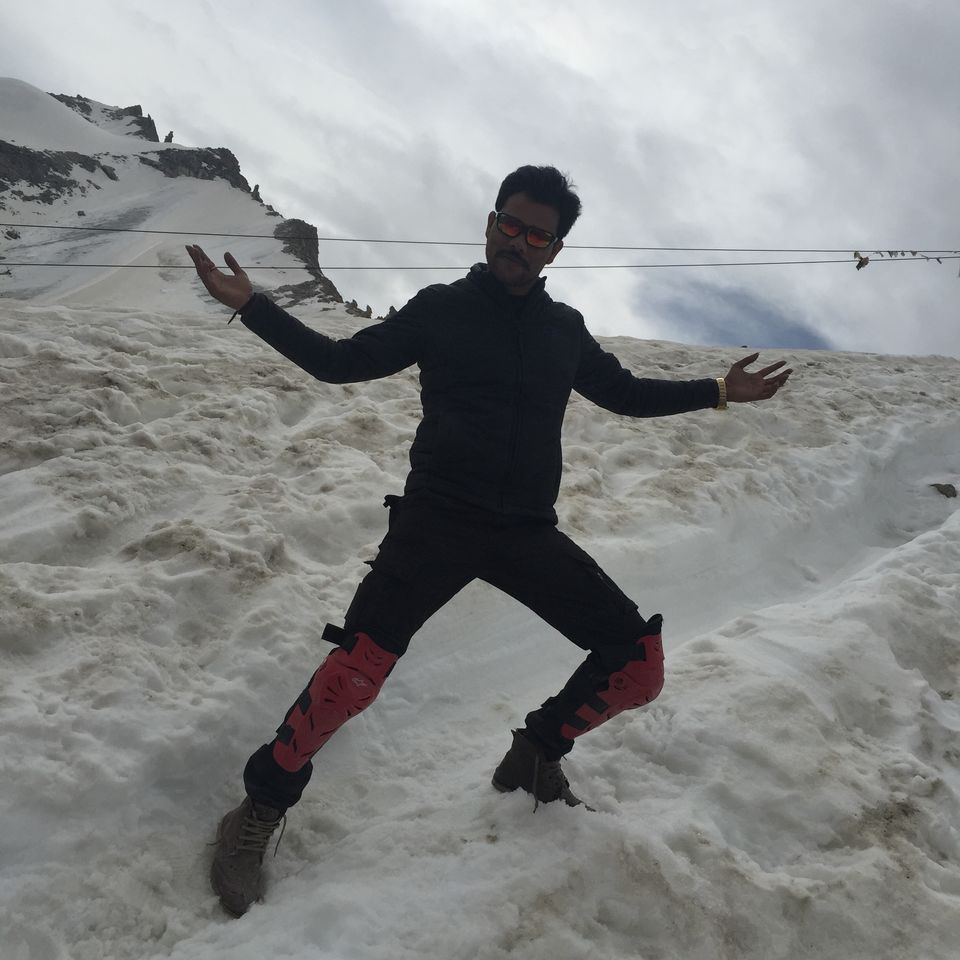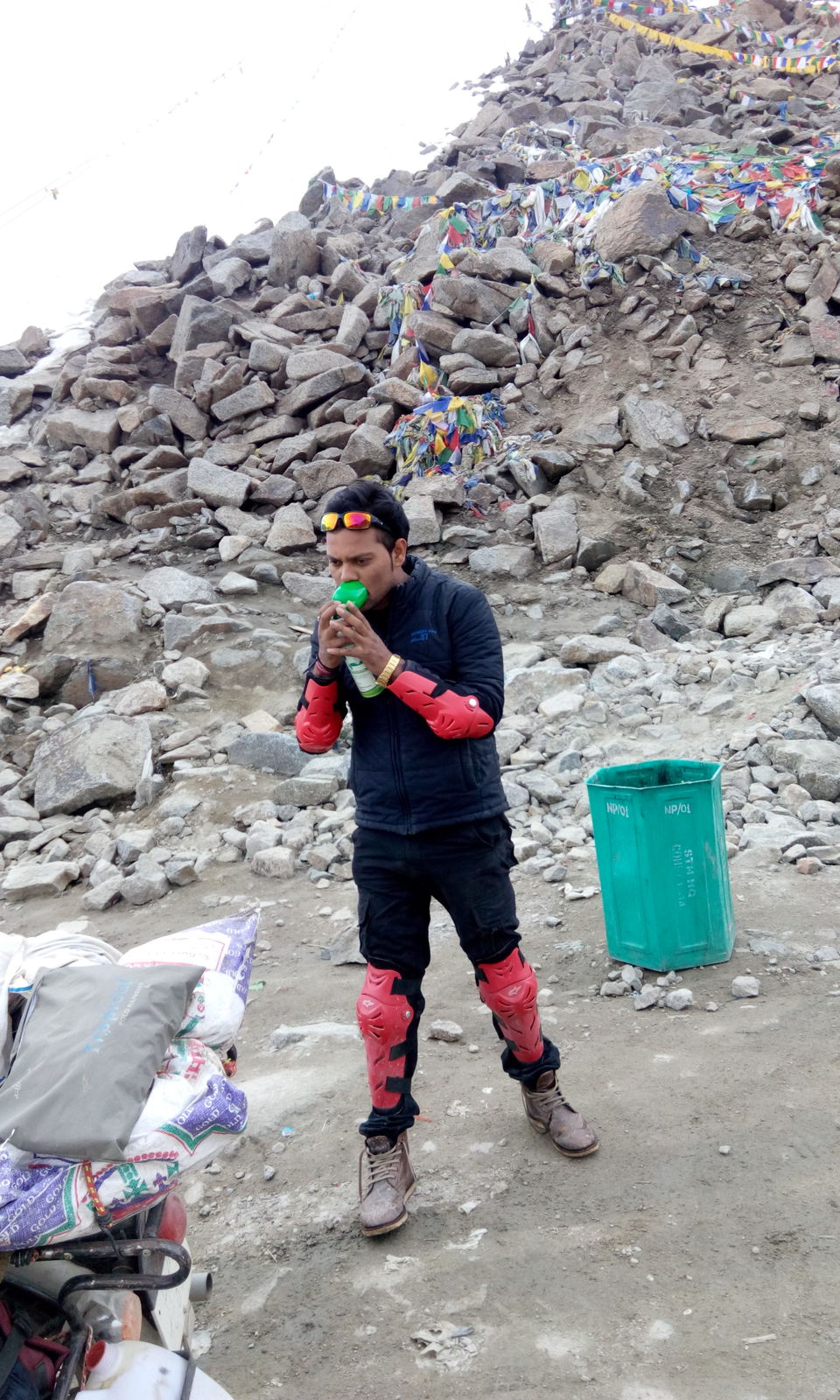 We started from Leh at 6:00AM for khardungla- world's highest motrable road. It was very cold and windy. The roads started pealing and fading away as we approached the uphill roads of the highest motor able road in the world. It was getting tougher every minute to ride further because of the deadly roads and the weather. We stopped at North Pullu for permission to ride further & had tea & toast at only available nearby cafe. We started our journey from there to the top. View was extremely beautiful, we were extremely excited, weather was extremely cold & roads were extremely bad. Numbers of Army trucks were also crossing us from both direction & leaving very little space for us to drive. After fighting out hard finally we reached the highest point of the world's highest motor able road, The Kardung La Top (18,380 ft above the sea level). It was an amazing feeling to achieve that feat.  We enjoyed the view for quite some time and had some discussion with other travellers & army personals there. There was a mountain close to road which was completely covered by snow & we (Myself & Prateek ) decided to climb on it as we could see some temple like structure there on the top. As we reached on top we could feel difficulty in breathing and it took bad shape so frequently that we were unable to walk also now. Somehow we managed to come down sliding on snow, reached our bikes, took out oxygen cylinder which helped us to regain our breathe. We rode away from Kardung La Top. Next destination was to reach Pangong lake by evening but as we came down Rahul's Bike started giving  some problem  for which we approached a local mechanic and got the problem rectified & break shoe changed
After 35km ride from Leh we took the first deviation from a small town called Karu. You need to register your information at the Karu Military base to go further. After taking the next deviation from Skati, after 35km of ride we reached the 3rd highest motor able road in the world know as the Chang La Pass (17,688ft above the sea level). We crossed several military bases on the way with very motivational quotes written throughout the way. Roads were mix of good & Bad & we got to see wild horses and Yaks while riding through that road. We started feeling little low after riding from Leh towards Pan Gong Tso Lake because the route was not as scenic as compared to the route which we already covered. So we even started thinking that is it really worth to ride all the way just to see a Lake!
By the time we reached Pangong it was completely dark and we could locate few camps by lights. We got into the tents and the boy who took our order made us wait approx 45 minutes for the meal but trust me it was worth waiting for that great food & hot tea in freezing atmosphere.
DAY 5: PANGONG – LEH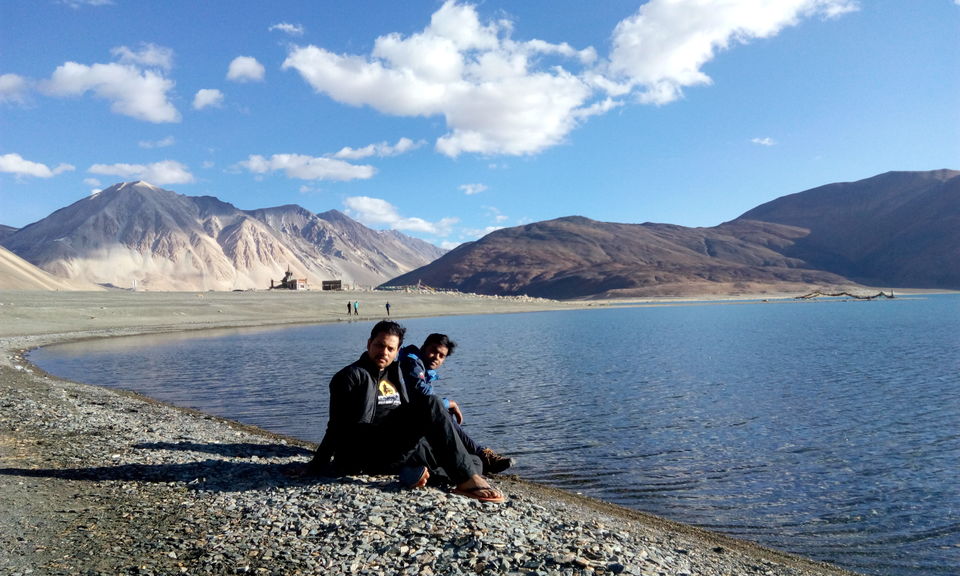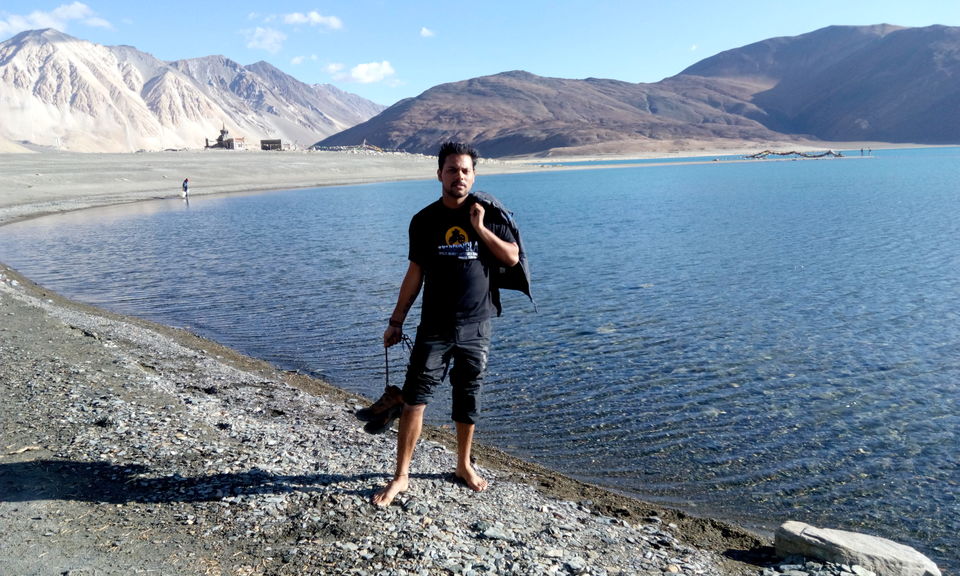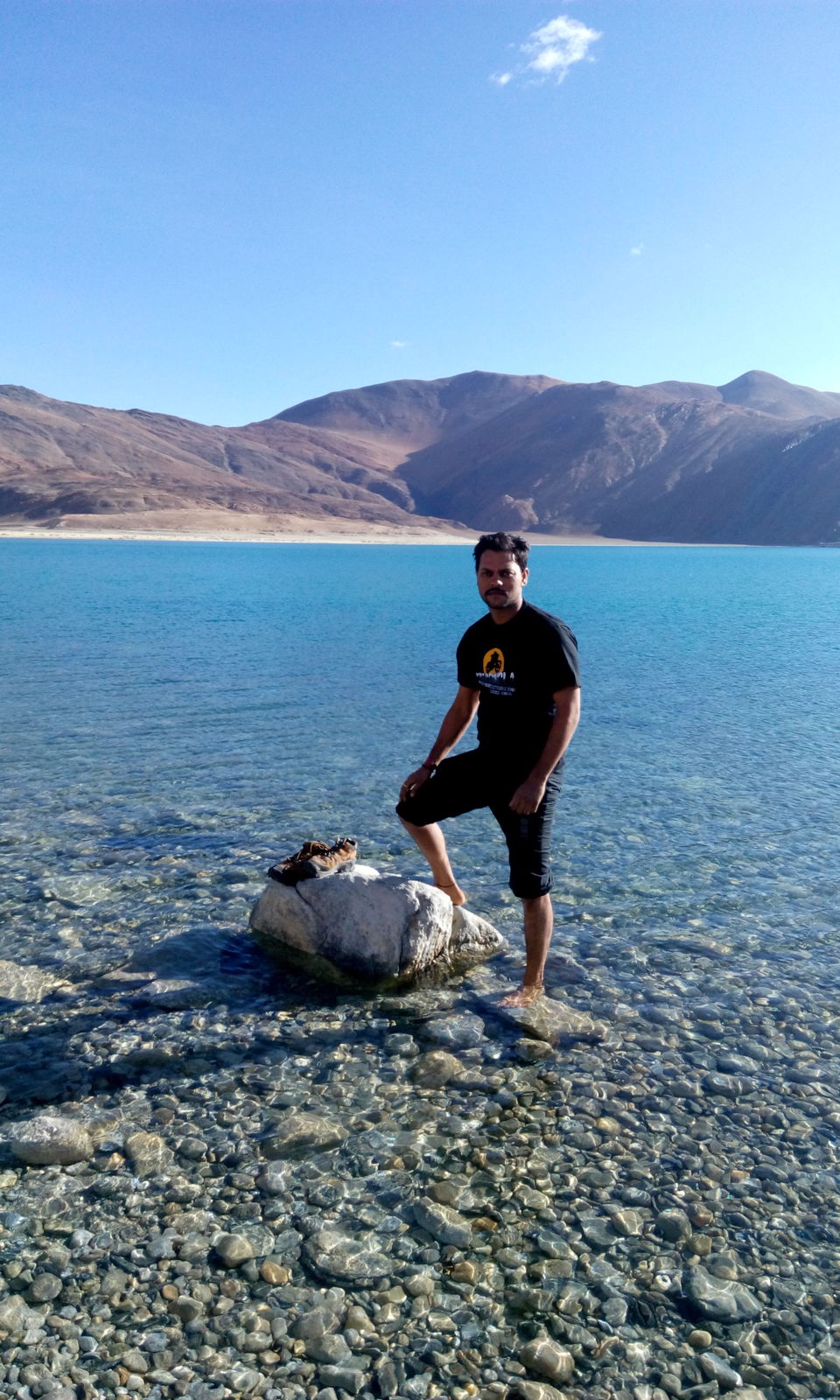 In the morning as we came out of tents I was like Oh my God. Lake was beautiful spread of blue surrounded by White Mountains and land. Our tent was beside the lake only & i was mesmerised by the beauty of location. I had never seen such a beautiful place in my life & imagination &I wanted to stay there whole my life. We walked to the lake and spent some good quality time there. We had breakfast at 3 IDIOT cafe at the bank of lake, spent some more time near beautiful blue water lake and headed back to Leh.
Our plan was to cross leh city by evening & stay somewhere on Leh – kargil highway but destiny has something else planned for us. My bike started giving problems as it was not moving forward due to steep height and load on the Vehicle. Rahul & prateek were quite ahead and were not aware of our situation & we were unable to communicate due to simple reason of no network in the area.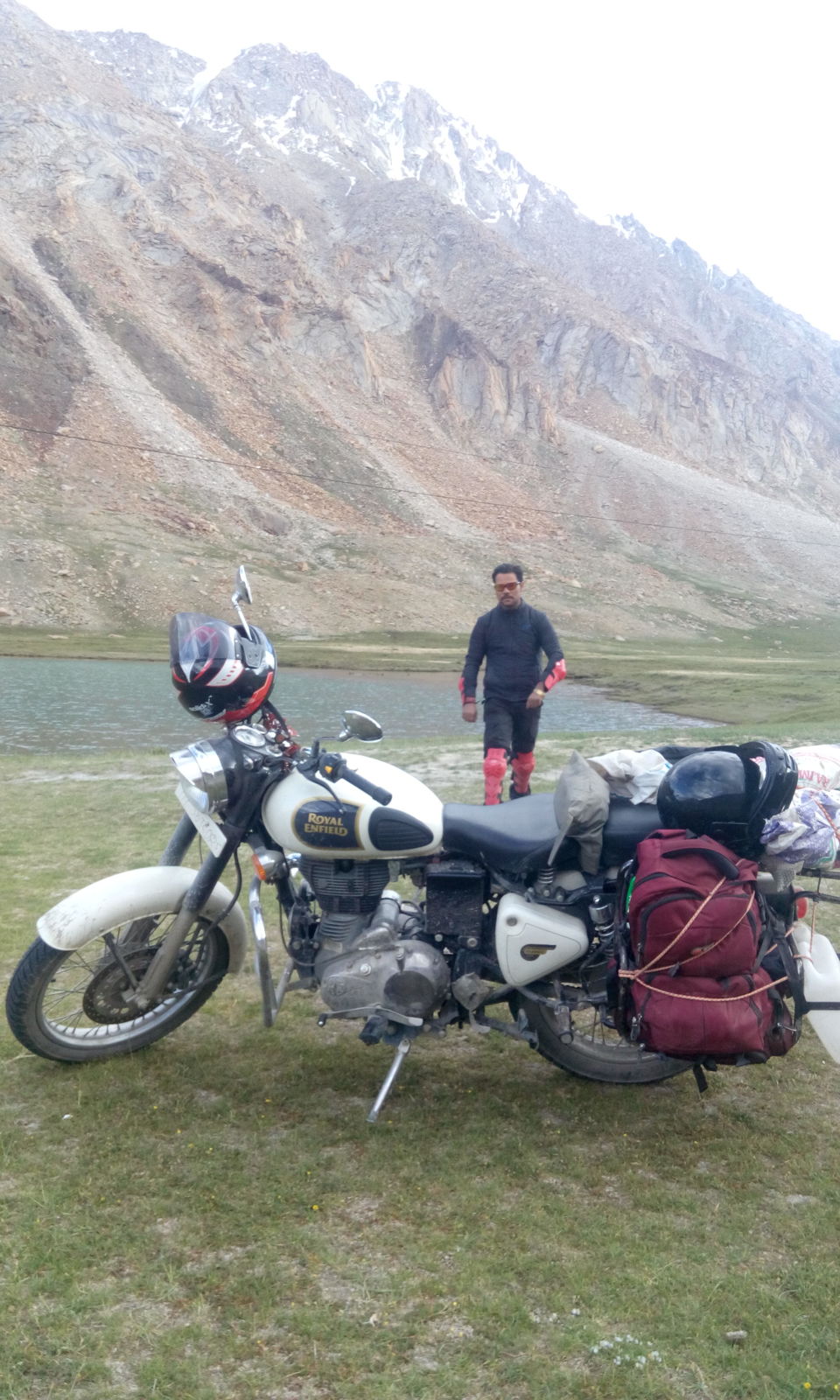 There was a small blue water lake where we stopped and waited for some help but of no use. After waiting for around 1 hour we decided to start once again. Bike was moving with a speed of 5-6km/hr with great difficulty & full accelerator. Wherever there was steep upward route, namo used to get down and push the bike, even then bike was moving with a snail's speed. Finally we managed to reach a Military camp and we anticipated that we will get some help for sure.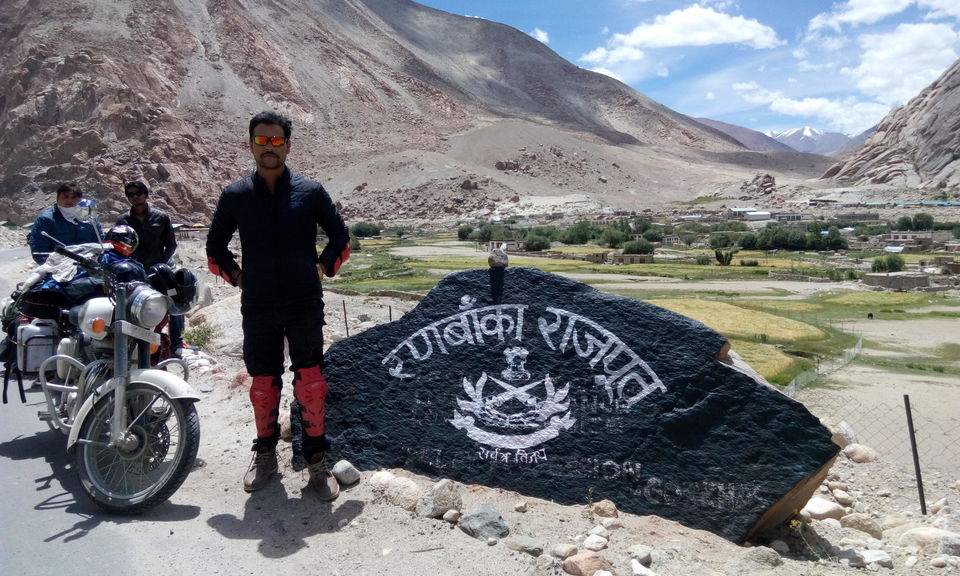 The army personals didn't had any idea about the machine but fortunately there was a biker from Chennai who has got some idea about it and what he did was just increased the flow of fuel to machine which helped us to get little pick up on the cost of increased fuel absorption. Thanks to the man who helped us and we managed to reach Karu where Rahul & Prateek were waiting for us. In this entire process we killed almost 4-5 hours which ensured that we have to stay back in leh tonight. Before going to the hotel I got my bike serviced for my onward journey and we reached the same hotel for night halt where we stayed a day before.
DAY 6: LEH- KARGIL-Zojila pass- SONMARG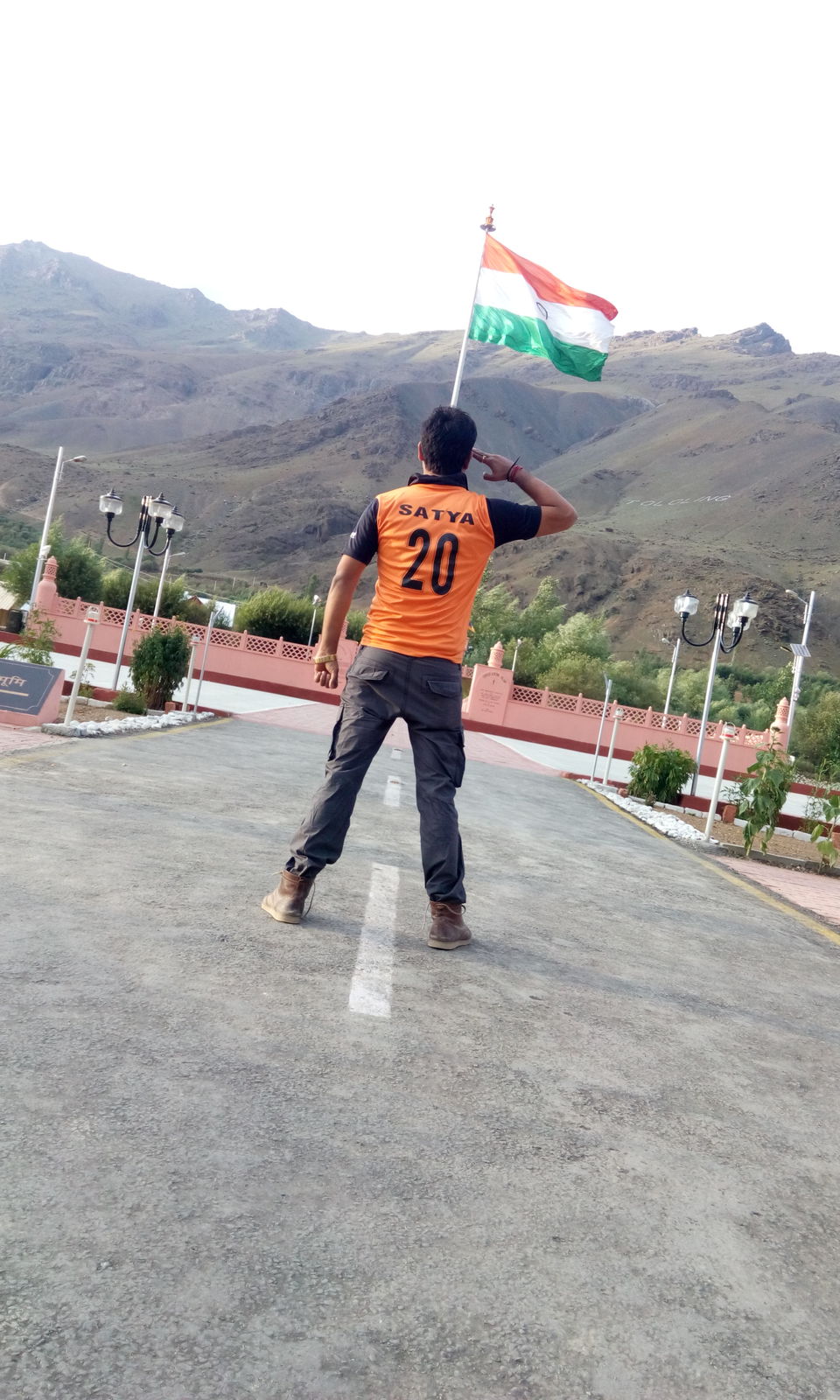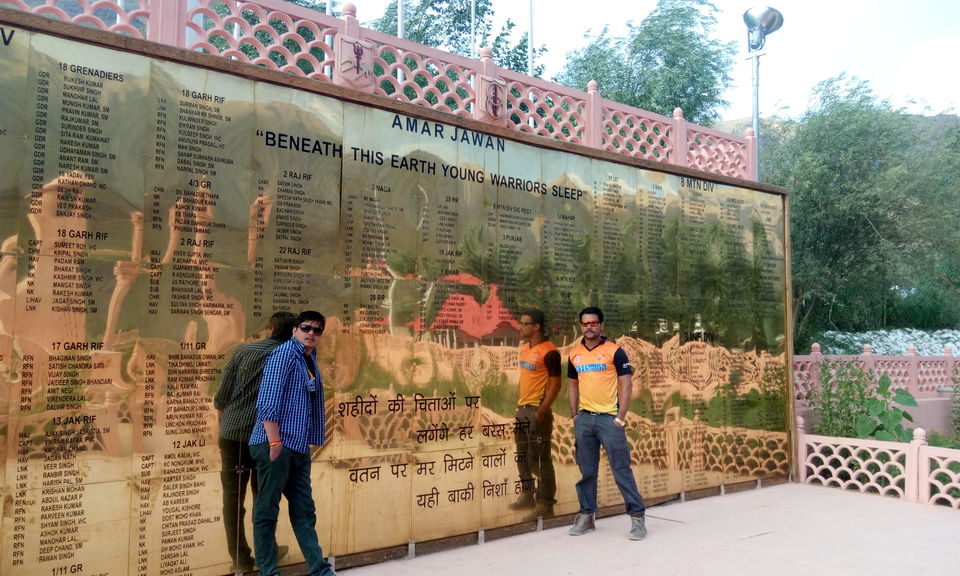 14th August morning we started from leh with the plan to halt at Kargil that night & attend Flag Hosting ceremony on 15th august at Kargil war memorial.
Roads from Leh to Kargil were good except at few places and we enjoyed the beauty of valley, mountains and rivers across the route. We reached Nimmu Village, where we saw the famous confluence of Indus and Zanskar River. The Indus was was looking clean and green while the Zanskar was wild and muddy. The next stop was at the Lamayuru village which is home to one of the oldest monasteries in Ladakh, dating back to the 10th century.
Crossing Fotu La Pas (13, 479ft). & Namika La (12,198ft) we reached Mulbek which has a huge statue of "Future Buddha" known to be built in the 8th century on a single rock. The Kargil war memorial was the next destination we stopped which was around 20kms away from Kargil town. The memorial is beside the famous Tololing Hill. The memorial has a huge wall with names of all the officers and soldiers who died in war. The martyrs grave yard made me feel extremely respectful to Indian Army for putting their lives in front to save ours. The line on exit gate read " when u go home, tell them of us, for your tomorrow we gave our today " . Not getting any decent hotel at kargil forced us to drive further till sonmarg for night halt. Slowly the temperature started dropping as the evening approached.
The next town was Drass also known as be second coldest inhabited place in the world! In peak winter the temperature there drops up to -60 degrees which is impossible for humans to survive there at that time of the year. The roads throughout from there on were good and bad on and off, the greenery around us faded away and dry, dark brown mountains had taken over and as night was approaching and temperature was falling down drastically it was making it very difficult to ride.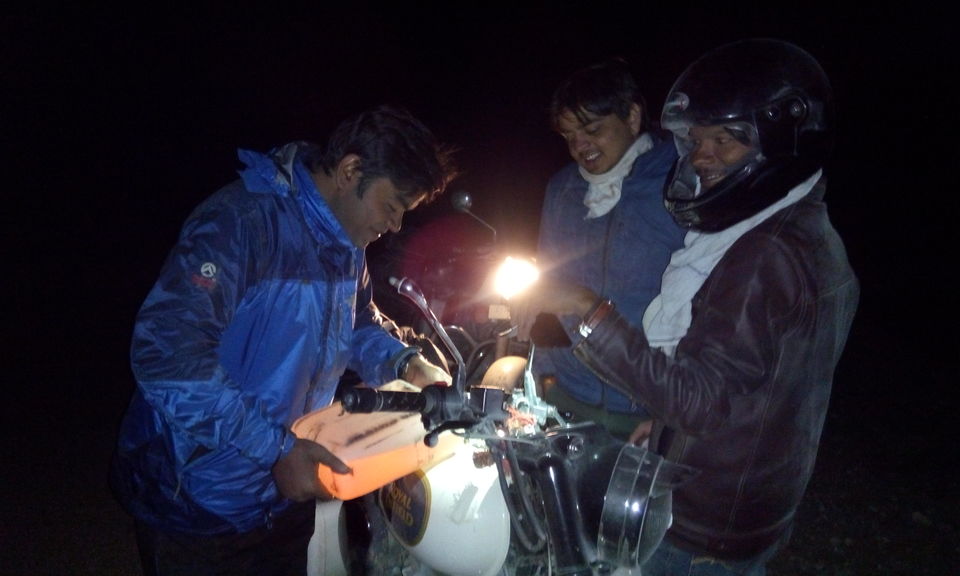 Just before Sonmarg, Zojila pass is there & trust me it was the deadliest pass of our entire journey due to sharp curves, narrow muddy wet roads and steep cliff. Even if u miss the road by an inch it was quite sure that u will go good 100 meters down in valley. Trucks & vehicles passing by made us to stop as at many places roads were too narrow and dangerous & crossing zojila in night was not a clever decision I will say. Finally we reached sonmarg town, had good dinner at a Punjabi dhaba & parked ourselves at a Hotel nearby.
DAY 7: SONMARG- SRINAGAR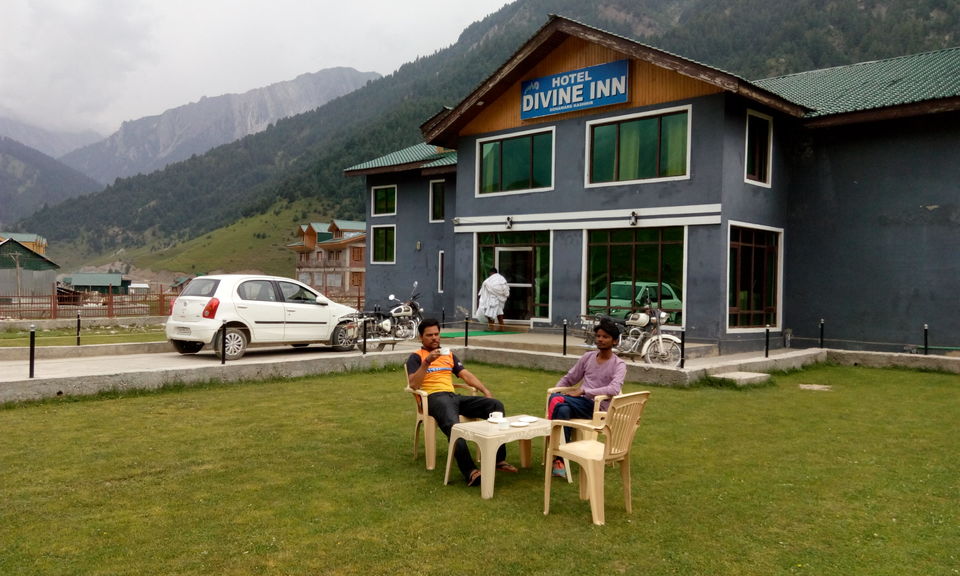 As we planned to move to Srinagar but as there was curfew due to security reasons on occasion of Independence Day. We were unable to move out of Sonmarg town. We also decided to utilise the day by visiting holy Amarnath cave as CISF choppers were there at Sonmarg & were providing services on nominal charges but as our flight was booked for next day from Srinagar, we didn't wanted to take the risk of missing it & finally decided to roam around the city, had some shopping done at local market & visited few beautiful glaciers there. By afternoon around 02:00 curfew was called off & we pushed ourselves to Srinagar for the last leap of road trip. We reached Srinagar well in time before sunset & went directly to the Dal Lake & hired a house boat there.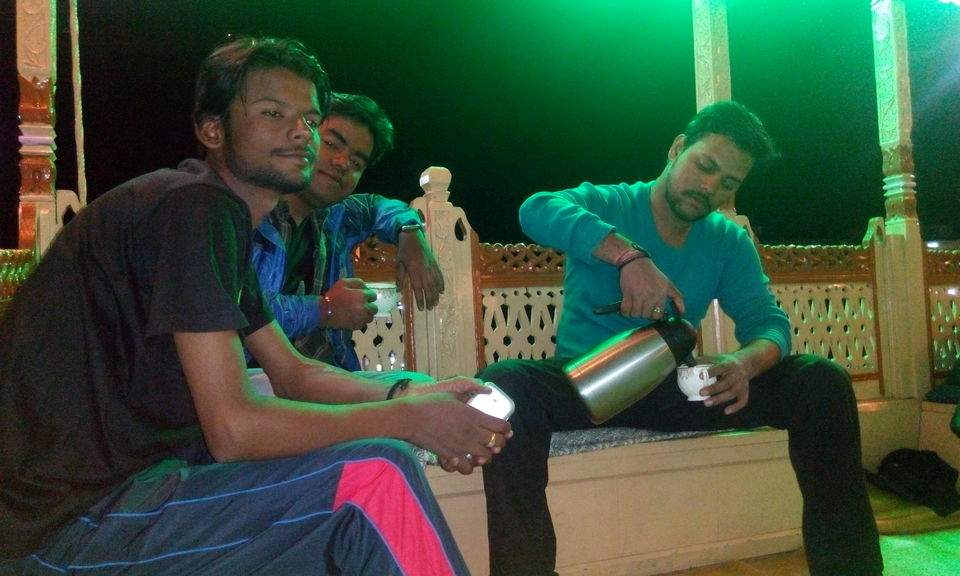 The uncle who owned the house boat was very polite and helping in nature, he also guided us to a famous kashmiri restaurant where we ate famous Wazwaan (kashmiri dish).
That night while sitting in corridor of house boat we recapped the beautiful memories of trip. We were happy that we did this trip and we were sad too as it was ending next morning.
DAY 8: SRINAGAR & WAY BACK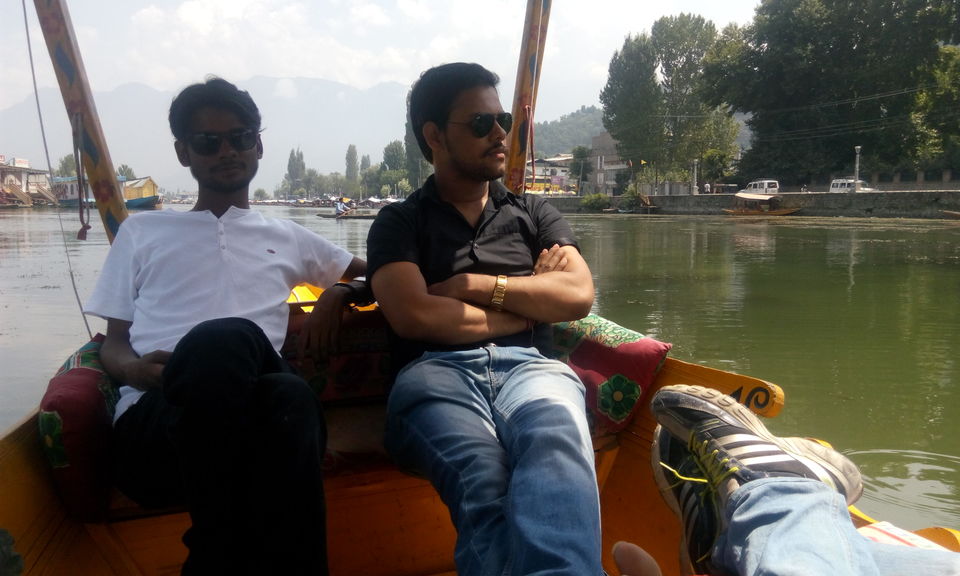 At morning breakfast was served by the boat owner, we also explored the Dal Lake and surrounding areas in a Shikara & We took our flight back from sringar to our respective location same evening.
After riding through the incredible Himalaya, Riding through the Morey Plains to 18,380 feet above from the sea level which is the highest motor able road in the world. Through high tech highways to unimaginably destroyed road which reminds you of the fine line between life and death every second while you ride through. Catching up with all buddies, making new friends, meeting all sort of people from different walks of life. Lush green Mountains, Hills, beautiful Himalayan terrains, fields, dry land, forests, lakes, rivers and more... I cannot conclude this without mentioning about the friends who made this trip more memorable, Rahul the fellow rider throughout the trip, especially Namo & Prateek (pillion riders) for having faith on us. This ride is definitely the best ever ride of our life and it will always remain the best of all for years to come. Remember... The ride never ends for a true rider...!,
Signing Off...for Now