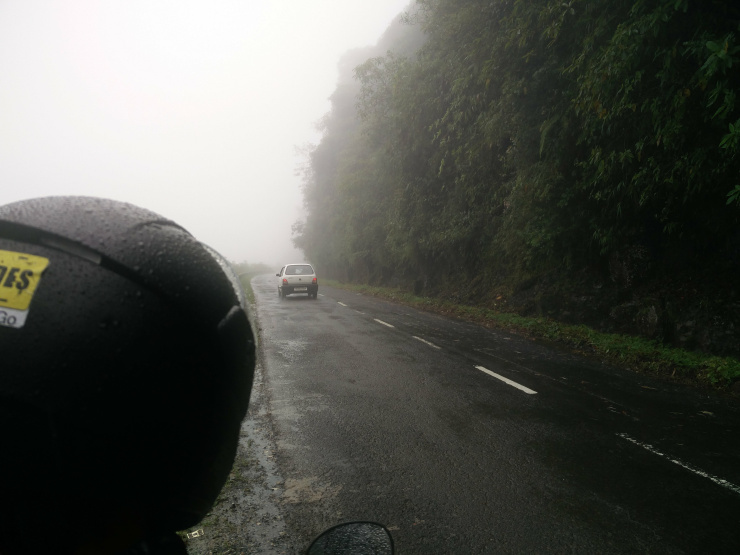 After a thorough planning (which din't work out well though) we started our first day in Meghalaya and it was filled with excitement, nervousness, fatigue and exposure to a wild world of mesmerizing beauty and rugged nature. We picked our ride from Awe Rides, Guwahati and reached to Shillong one day before. Today's plan was to start early and take a trip to shillong peak - Rynji falls - dawki - mawlynnong - laitlum grand canyon, have dinner at jiva sizzlers and sleep tight in our hotel at police bazar.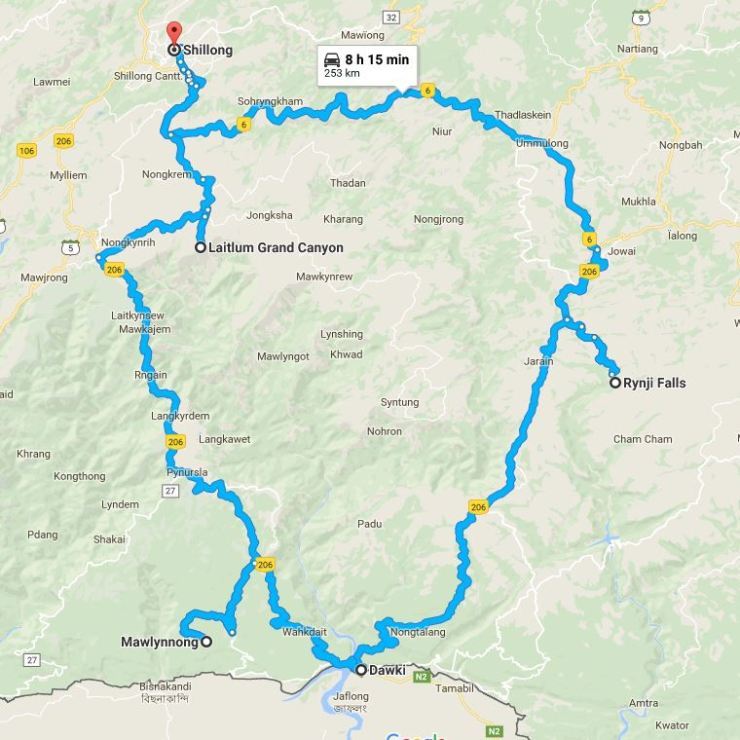 We started at 9 am from hotel. Weather was clear so we chose to wear cotton casuals for our journey, which turned out to be a disaster due to low temperatures and incessant downpour during the journey. First tip for a bike trip in meghalaya is, irrespective of weather conditions, alway carry full rain suits ( jacket and lower) with you. Thankfully we packed our rain jackets and wrapped essentials (mobile,cards, cash etc) in our a polybag, considering the volatile weather in the region. We were late so we dropped rynji falls from our itinerary and took a route more direct to dawki. Small drops started pouring down as we turned towards shillong peak from NH 206, till the time we reached at the front gate of army area (shillong peak is inside the cantt area) we were all wet.
At the gates, like all other visitors they instructed us to not click any photos in between entry area and the peak, we followed the rules like a responsible traveller. It was a regular tourist sports which you can find at all hill stations. A peak providing a birds eye view to the shillong city, however due to low visibility we din't get to see any views. We warmed ourselves with pakoda and chai, clicked few pictures and moved out. Thing I love about self drive road trip is, it gives you absolute independence to make itinerary, improvise it if required and customize it exclusively for yourself.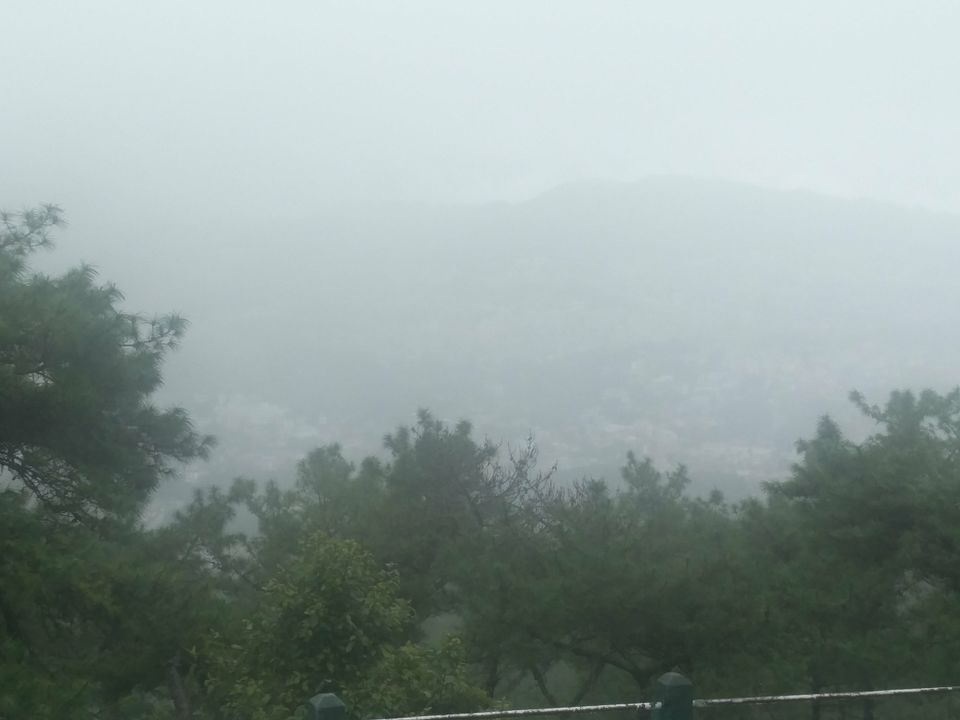 After a while as we moved down to NH 206, we anchored our bike to pack ourselves perfectly for heavy clouds ahead with whatever resources we bought along. A car stopped beside us and a man in form of angel rolled down the window and returned my wallet which was dropped from our bag somewhere on the road. He was behind us, saw when it dropped, picked it up, followed us and returned. In general I found people of Meghalaya rude and dry to tourists but this one act of righteousness saved me from certain doom and now I have high regards for them. My licence, ATM's and ID's all would have lost and managing 10 days of trip would not have been possible. I thanked him and wrapped it securely deep inside our bag.
We were moving up on the the hills under the drizzling showers along with numerous natural water falls waving down from wet green mountains, crashing on the roads. In meghalaya, roads and water escaping arrangements are really good or else heavy and relentless rainfalls may take the roads down to the river. After riding for 10 kms we reached at junction, where one road leads to cherrapunjee and another towards dawki. It was a place where you wish to settle down for rest of your life, make a hut where you can sit beside the river for hours, admiring the raw beauty of untamed nature. We stopped for few minutes and decided to take a long halt while returning.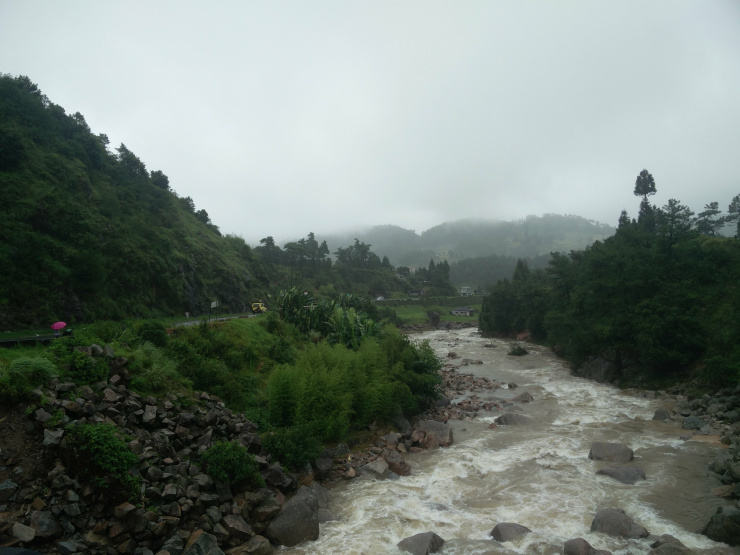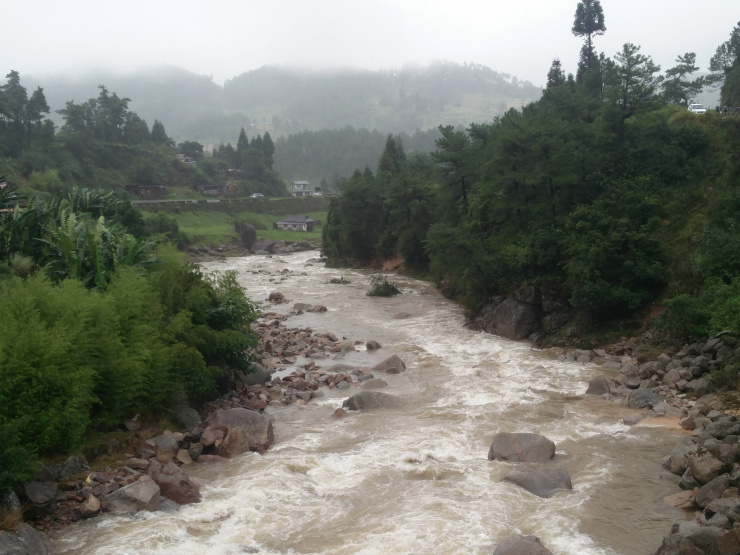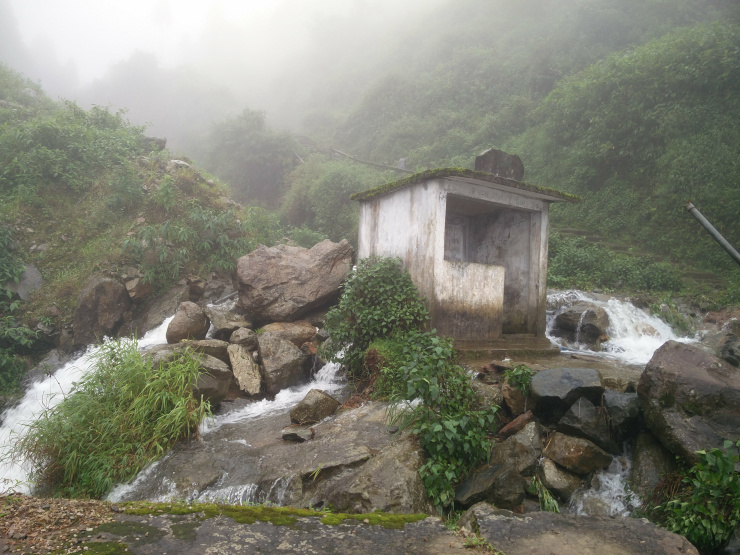 Landscape changed drastically once we turned towards dawki from disjunction. Wild beautiful waterfalls, steep curves roofed by rocky edges and lush green mountains were making it difficult to keep my eyes on the road. Soon weather turned into a nightmare for us, water beads were getting heavier and colder with each passing minute. It was quite a challenge to maneuver the bike on wet roads and cold showers, winding the hills. we started searching for shops to buy stuff which can keep us warm and dry.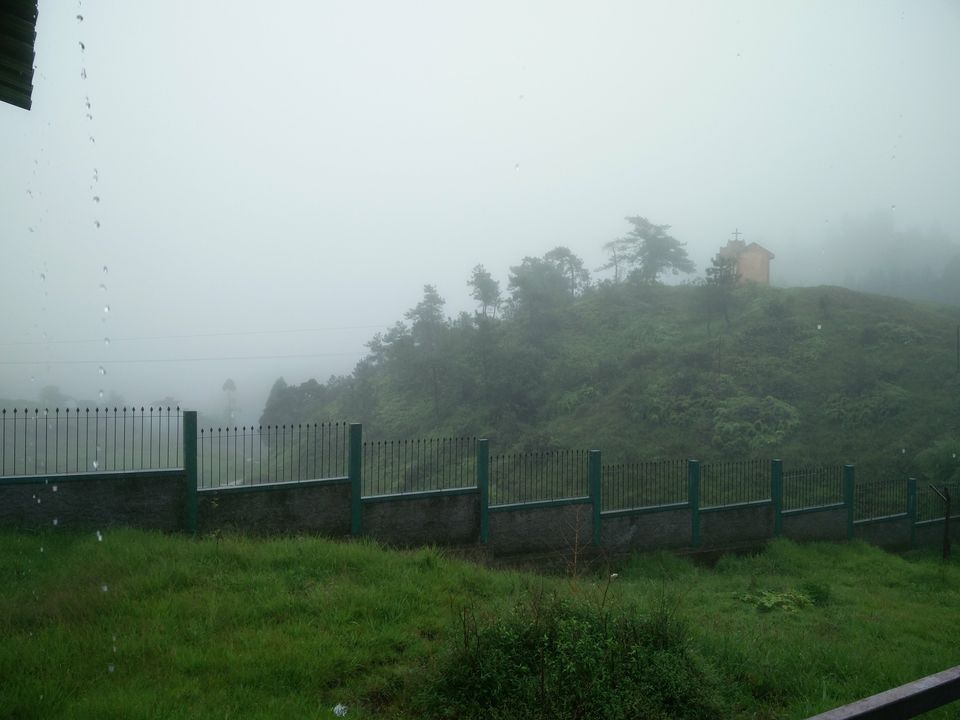 After riding for 30 more minutes on cold and mist hilly roads under the drizzling clouds we reached to a small town, Laitlyngkot. We both were half wet and shivering from the cold water penetrated to our skin. We stayed for a coffee at a decent cafe to dry ourselves under the warm roof and closed walls. We debated for next few minutes whether to move ahead or return back an finally enthusiastic little traveler inside us won over the nervous frightened adults. We were on the road again towards dawki.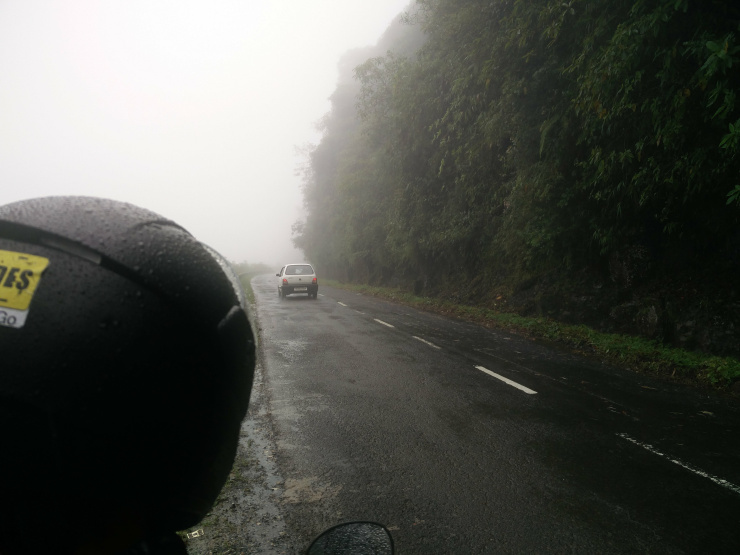 Weather was no different from earlier but the otherworldly charm of the misty meadows enchanted us to keep moving ahead. Visibility was as low as 20 metres at some places and roads were mostly deserted.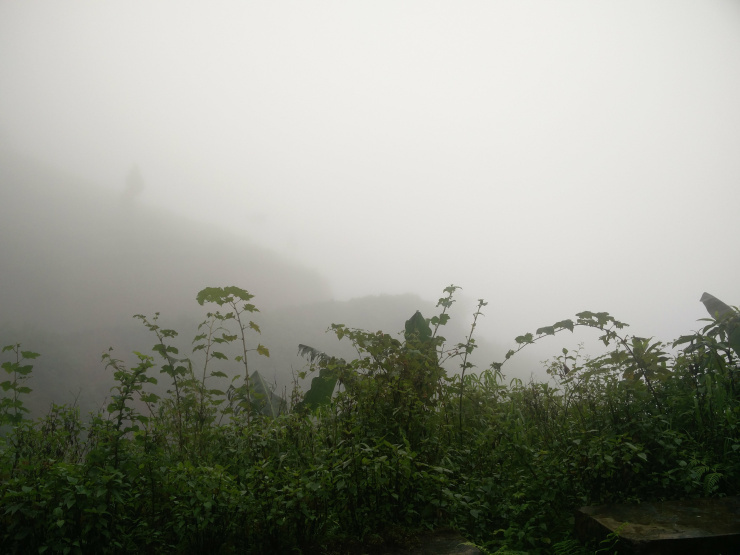 We were looking for shops to get some dry clothes and rain cover for our legs but din't find a single one for next half an hour. Houses were closed and shutter was down at most of the places. Pynursla is the only bigger town (comparatively) in the region, where you can get something but don't expect much there too. We found a spacious garment and accessories shop at small and steep marketplace settled on stairs along the road.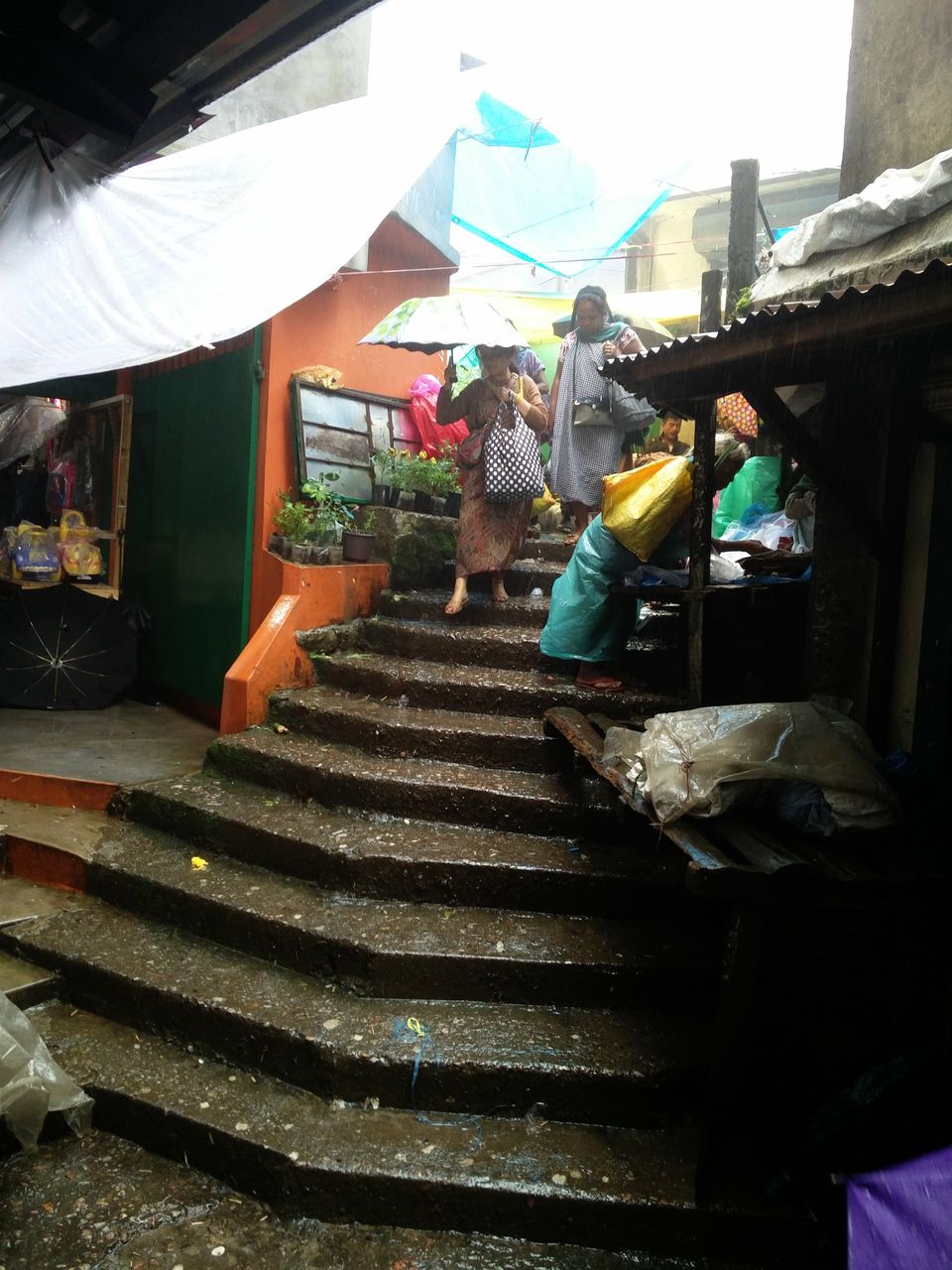 I guess we paid little extra but beggars can't be choosers and we were desperately lacking with options. people were nice and helpful in Pynursla. We changed into dry clothes, bought a rain lower and dried ourselves in front of a blower. People told us that weather remains like this for most of the time in this region but it will be warm and bright at dawki. We searched for a place to eat but din't find anything promising so we moved on. Finding a good food joint(without pork) in Meghalaya, was one of the most challenging task for us.
It took us 4 hours to reach 50 kms and now we had to reduce stoppages to reach back at shillong before sunset. Weather supported us in our onward journey. It was mostly clear (cloudy and not hazy) but occasional drizzle was not letting us remove our rain covers. It took us 90 minutes to reach dawki from Pynursla - 40 kms, without any further breaks. Road conditions were good except near dawki and we never found a single inch of dry land in the route.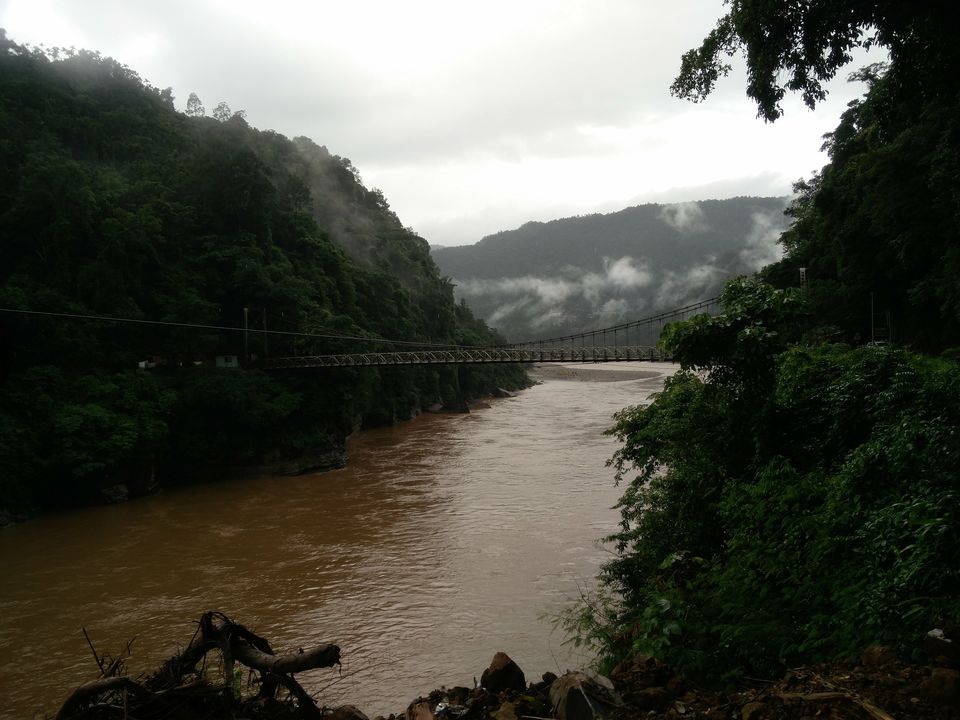 Dawki is a very small place situated on Jaintia Hills at friendly international border of India and Bangladesh. Main attraction of the place was Umngot River famous for its crystal clear blue water but due to heavy rainfall soil from nearby waterfalls made it more brownish. No doubt viewing a foreign land rushes your adrenaline and view surrounding the place is mesmerizing but otherwise you will not find much to do in here. River activities were closed for the rainy season but we din't come for those things anyway. It is one of the places where journey is as beautiful as destination. We sat near the river for an hour and suited up for our return journey.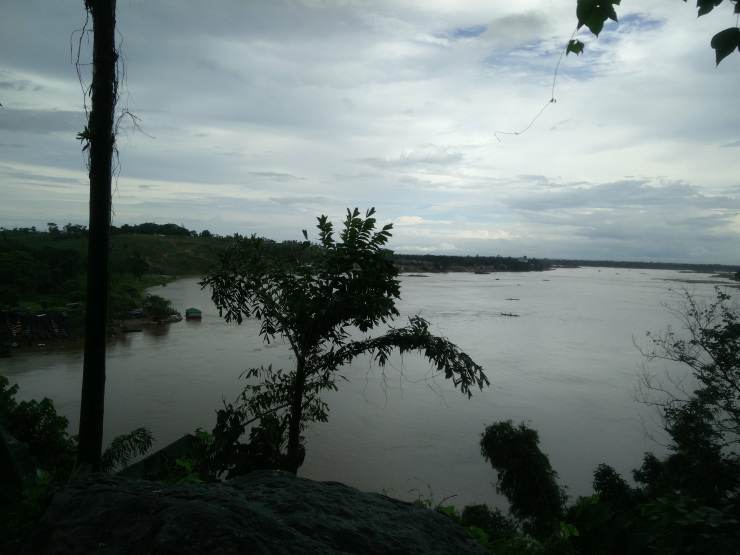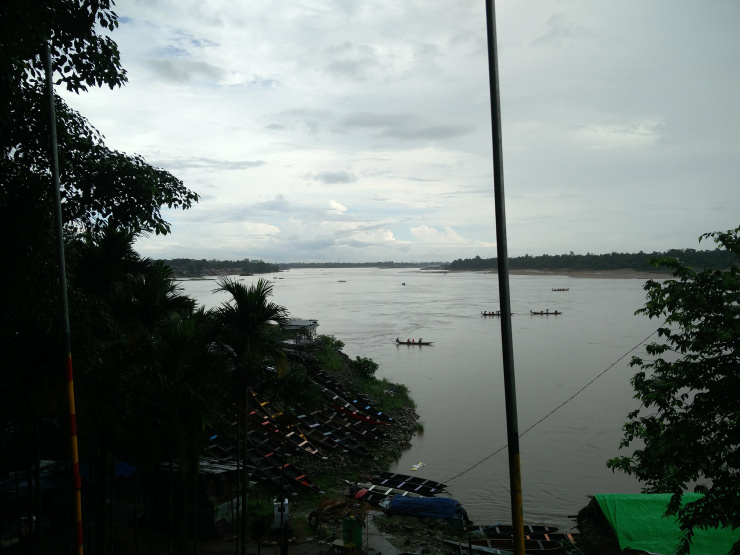 While returning weather was sunny and bright and for the first time since leaving shillong we saw sun peeking down from the clouds.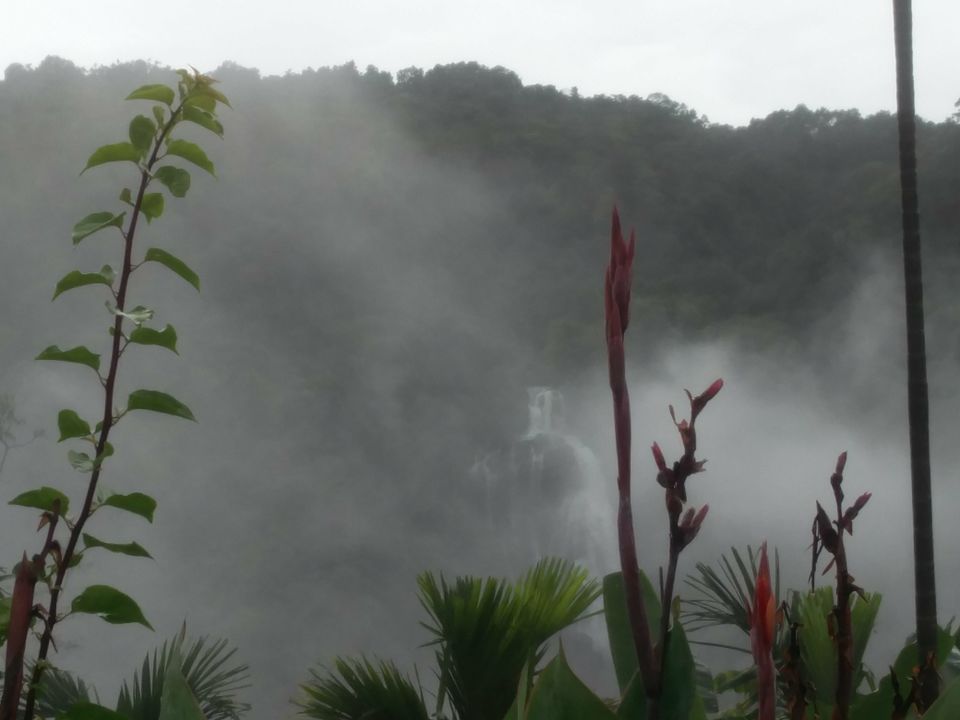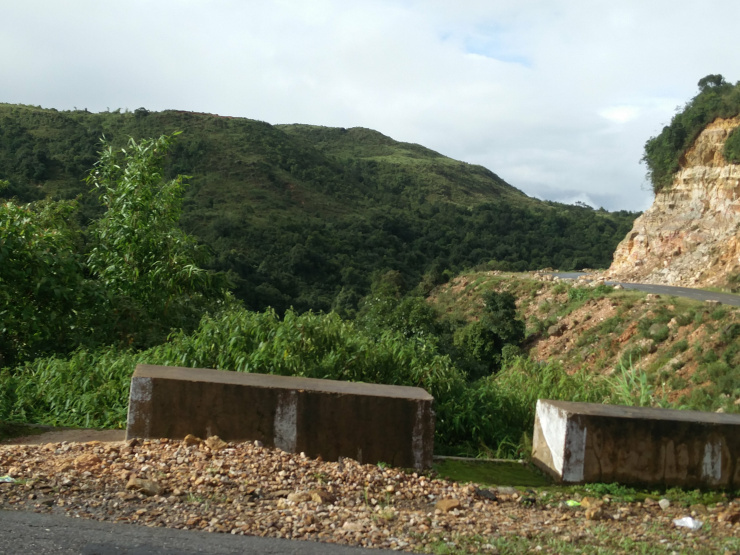 We got rid of our rain coats and stopped for a food break at a nice serene place in between the hills but menu was not vegetarian friendly (again) so we kept going after taking some pictures and washing ourselves in fresh stream of mountain water along the road. It was quite pleasing to feel dry after a long time and finally it brought smile on our tired faces and cramped body.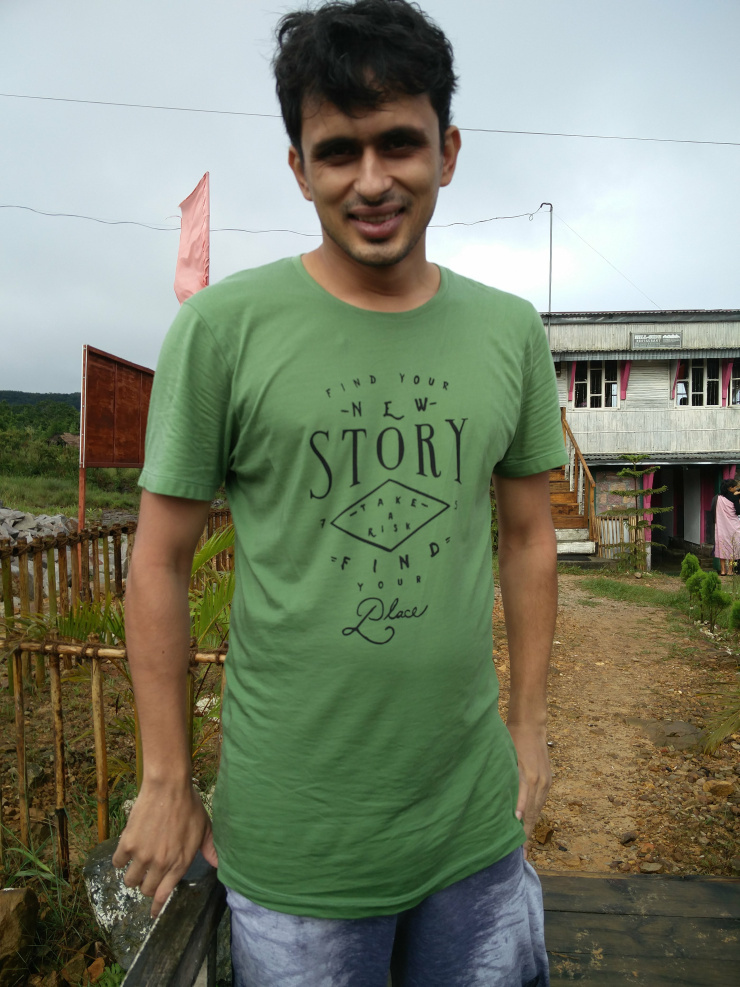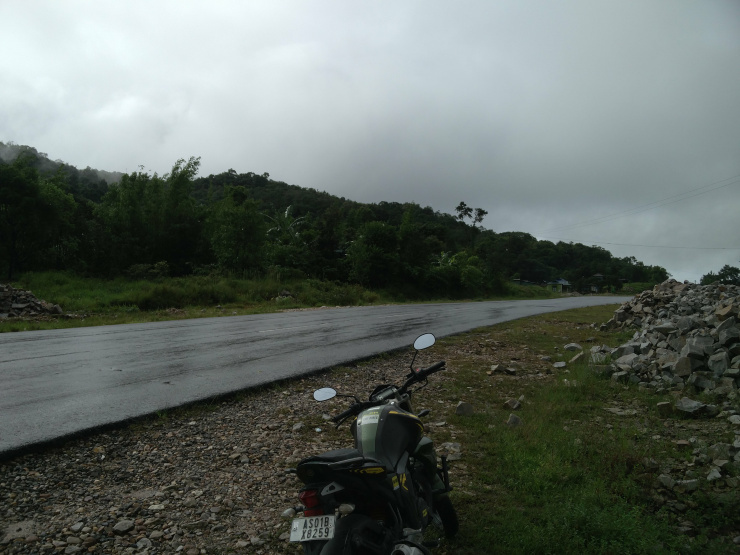 As we started again, hills were covered with dark clouds. We took out our rain gears and covered us. We were about to reach pynursla and it is going to be wet and foggy again.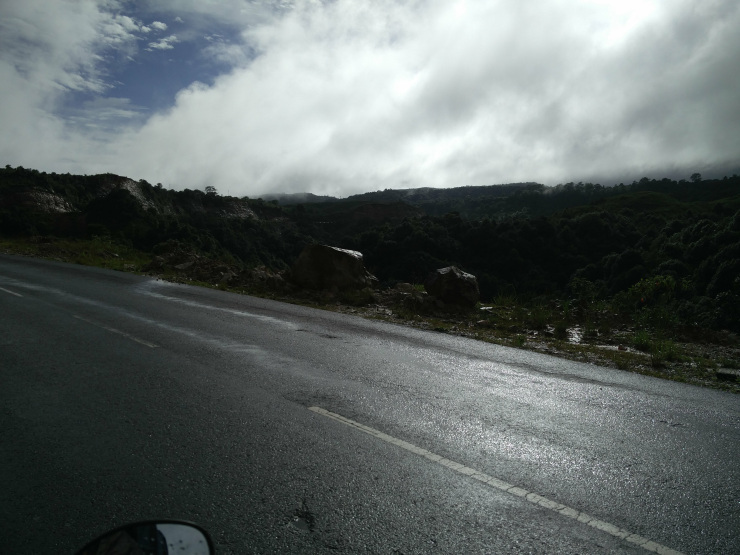 Fifteen minutes later we were riding inside the clouds, listening to the soft music of water dripping down from hills. Our headlights were on, traffic was lean and sun was going down somewhere behind the clouds. It was a dreamy feeling, riding to nowhere on empty wet roads in between the hazy calm sheets of cloud, separating us from rest of the world. We halted our bike near a small waterfall to absorb the beauty of innate nature with soothing sound of flowing water and birds chirping somewhere in between the misty smog.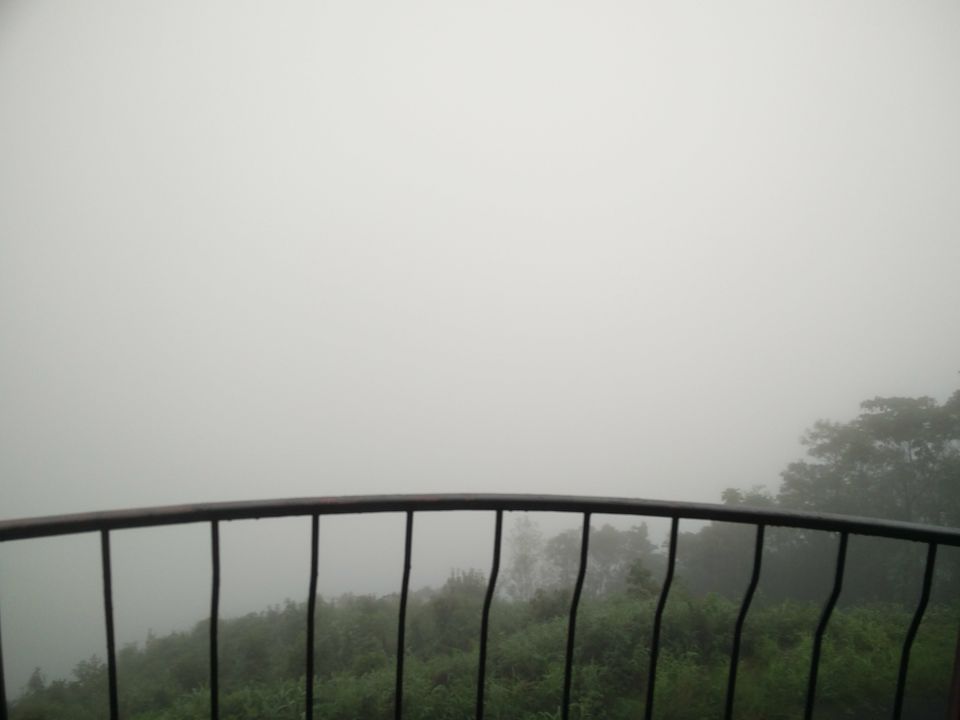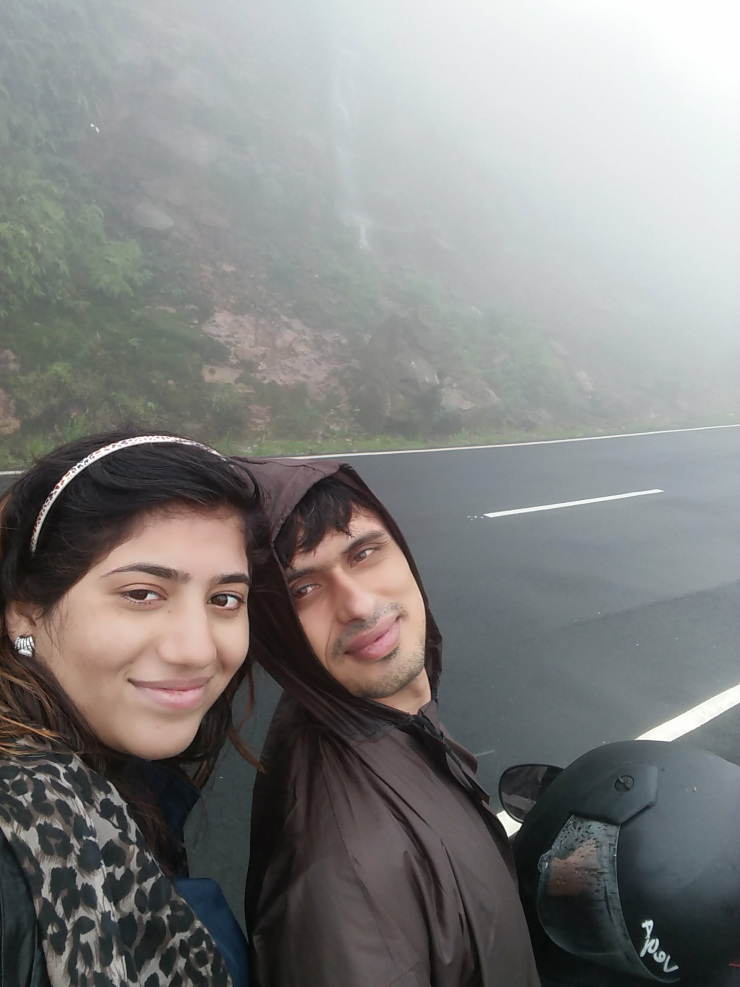 We were exhausted and hungry beyond our threshold limits when luckilu found a decent vegetarian restaurant named Evahun with closed warm hall and clean sitting area. It was the most relaxing moment of the day. We ate scrumptious food like a hungry beggar and sipped warm tea, resting for few extra minutes. They offered me a betel leaf after lunch and it was exotic, got addicted of it for next few days. It shook my sleepy head and made me ready for the last leg of today's adventure.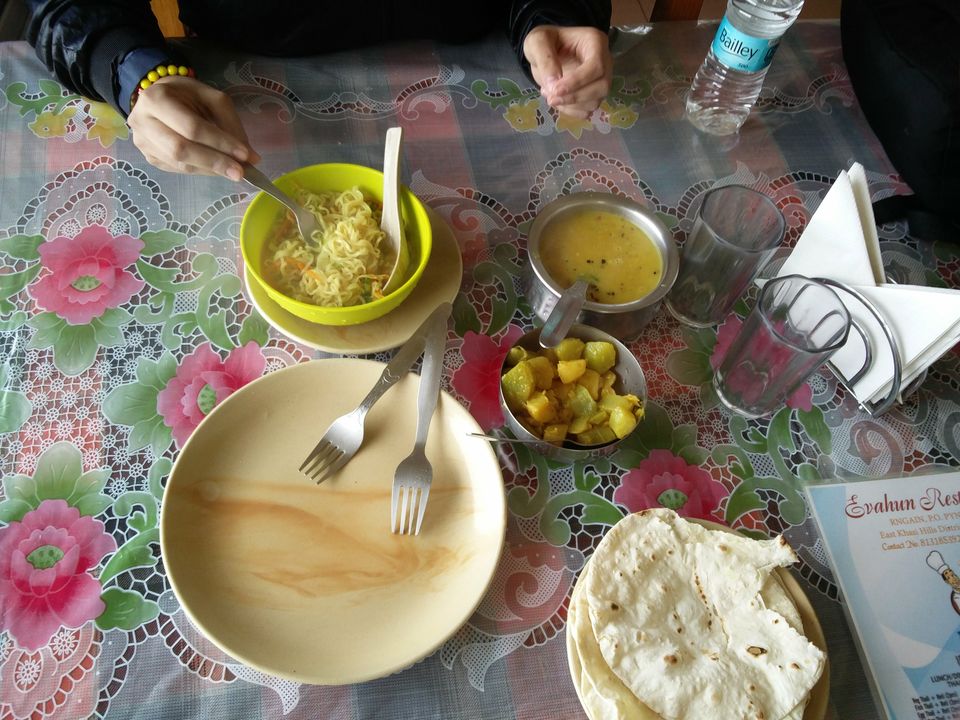 After having mouth watering food, refreshing ginger tea and mind boggling betel leaf we moved ahead to shillong. It was half past five and we had to cover a long distance yet, so we didn't stop for any further expedition during our onward journey. We reached at cherrapunjee junction in an hour, where we planned to take a long break in the morning. Sun must have set down at horizon but there was still enough light to hang around for few minutes and admire the artistry of the nature. My mind was stuck with the idea of hut again. My mobile was soaked in water while returning, so pictures we took from here on, are blurred.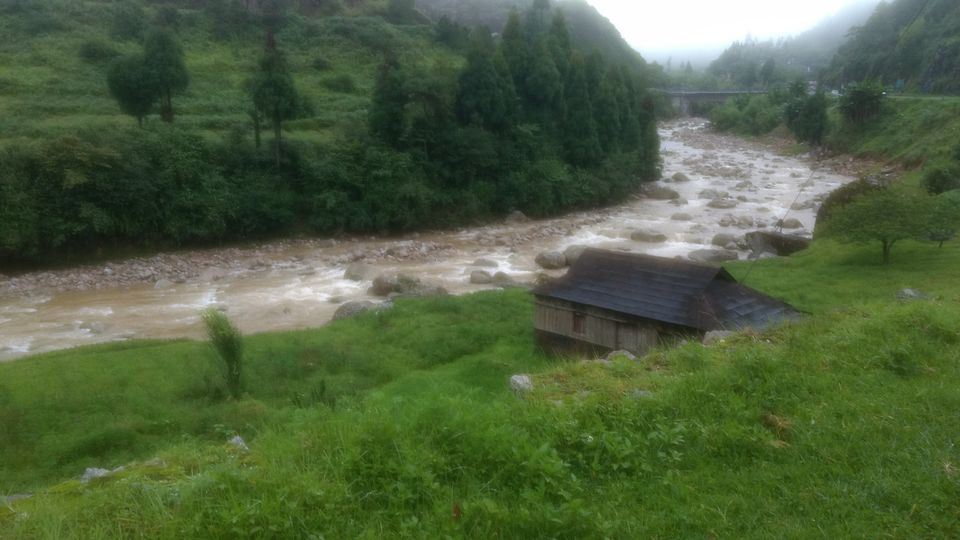 We traveled approximately 170 kms today. At some places riding was like walking on a rope and at other places like flying over a paradise. The unpredictable incidents of a road trip often makes it special and indelible and so was ours. At one side the extreme weather make it very difficult for us on the other hand scenic valleys and hazy surroundings made the whole journey ethereal.

When we crossed the cant area we heard shoutings and saw twinkling lights on the left side near a steep curve. To our amazement, a live boxing match was going on, inside the ring. It was clearly visible and audible from the road. We parked our bike on double stand, sat over it and enjoyed the match till the end. It was my first live boxing match which turned out o be real good. Red one was very quick and my favourite. He won. When we reached to our hotel we slept like a baby for hours, dreaming of our heavenly journey.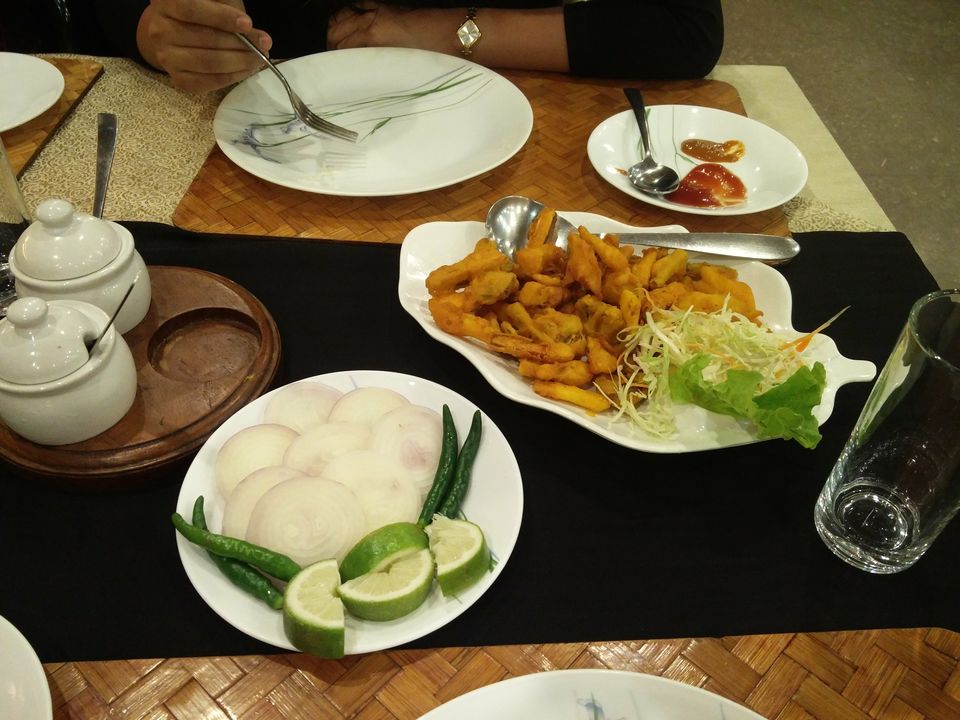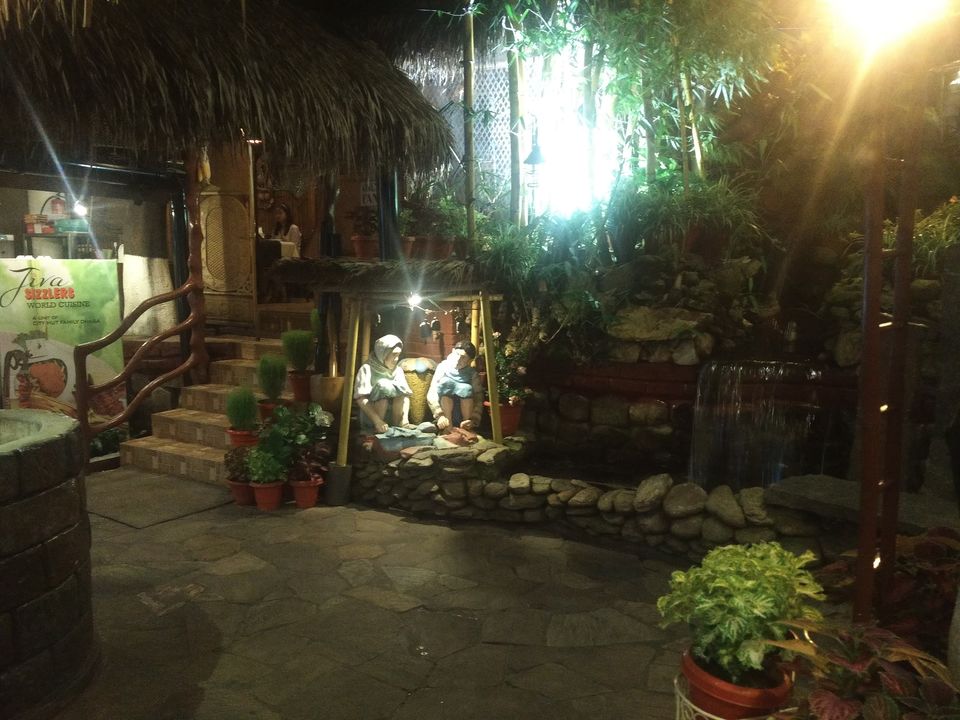 We woke up after 10 at night. It was late and dark. Most of the shops were closed but streets of Police Bazar was still active. We went to nearby city hut dhaba to tickle our taste buds with the delicious food, walked for a while and slept again for our next adventure to cherrapunjee tomorrow.