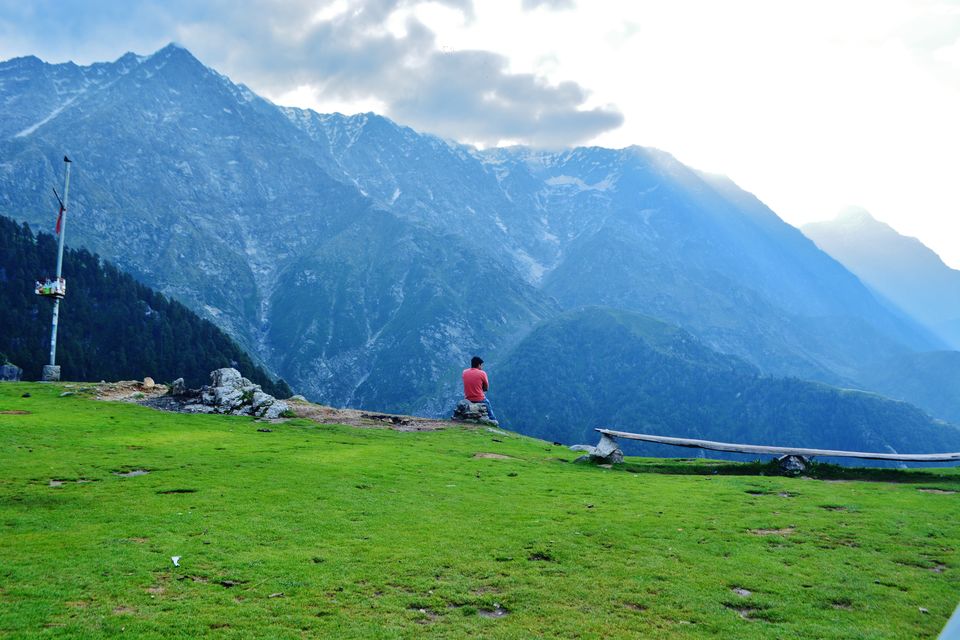 Day 0:
Early in the morning at 7, we were at Dharamshala. However, we decided to move ahead and took a cab to Mcleodganj.
Landing at Mcleodganj, we looked around to find some beautiful looking stays, but couldn't find any vacancy. We strolled along the mall road and eventually found a local who took us to a hotel, the entrance to which looked a bit shady but the rooms were fine and there were families staying in other rooms, so we booked it. The room did provide a view of the high snow peaked mountains.
Having freshened up, we went to have breakfast at this lovely place that offered us nice sandwiches, lemon tea and hot chocolate with rum, there were three dogs too there and the little girl introduced us to Ginger, a pretty handsome and gentle one.
We were too tired from all the travel and hence went off to doze and woke up only in the evening. We took towards Bhakshunag, had the very interesting potato momos on our way and then, it began drizzling. We took shelter in a shack on the way, and had not gone too far after the drizzling stopped that a heavy downpour started. We landed up at a German bakery which had found fortunes in the rain and was horded by people. We ordered an apple crumble pie, were tempted to eat the mud cake while we sipped on our hot coffee. However, the food at the place didn't impress us much. As the rain stopped, we moved around the area and I shopped. The area was heavily inhabited by the Jews who found pleasure in entertaining themselves as well as others with antics such as juggling and playing multiple instruments apart from dealing in stuff.
Now, we trekked down towards the base of the waterfall at Bhakshunag at first, got some pictures clicked there and then trekked up again to the waterfalls. The path was quite well maintained and the area near the waterfall too was quite tourist friendly, Bhakshunag being one of the major attractions at Mcleod.
And while we leisured back to our hotel, how could we resist the tempting chicken momos. We got back to the hotel and inquired of some of the popular restaurants in the area. We found out that Jimmy's Kitchen was the best place to have dinner. But then, when we were there, they were shutting down. We went to another one called Clay Oven, but it too was done for the day. So, eventually, we found out this restaurant which caused us to climb 7 floors to reach its terrace, the view was good and we ended up eating Punjabi Chinese.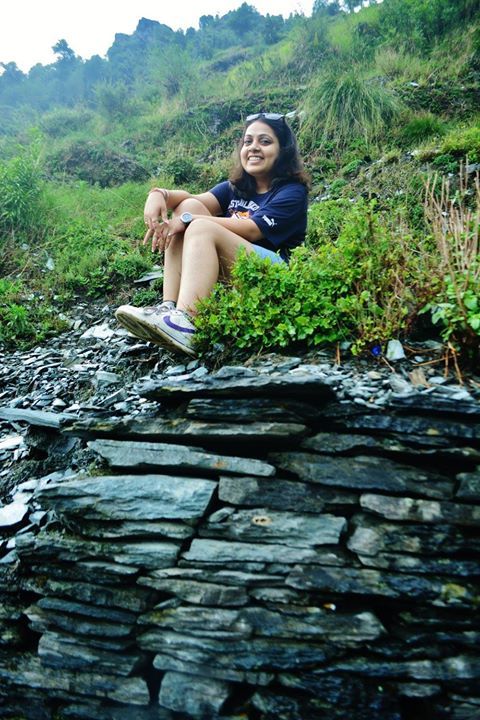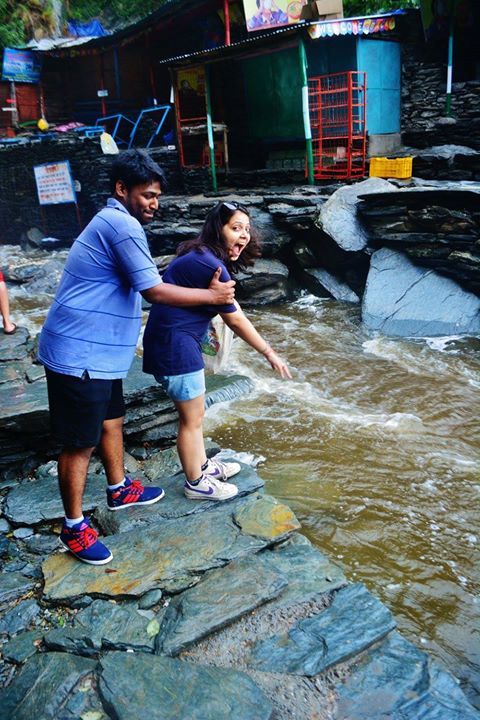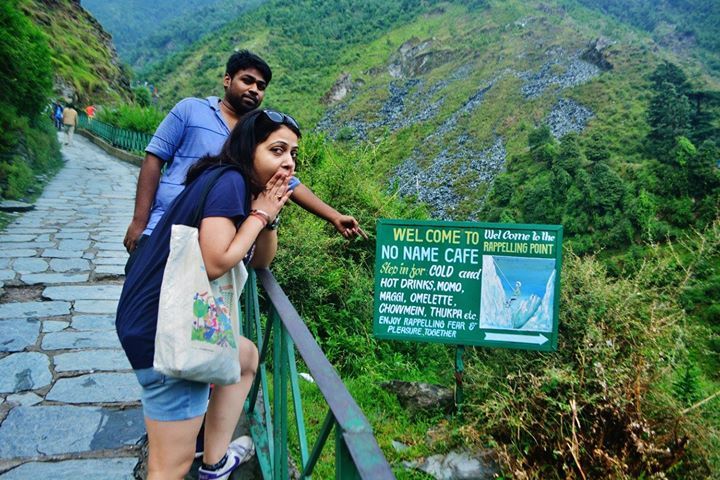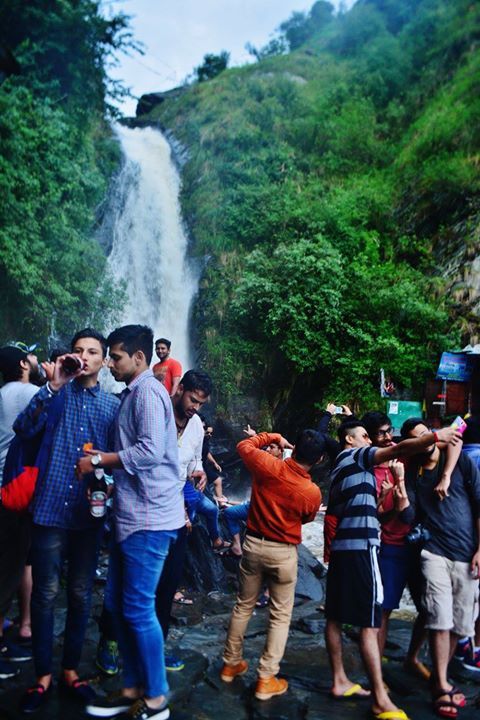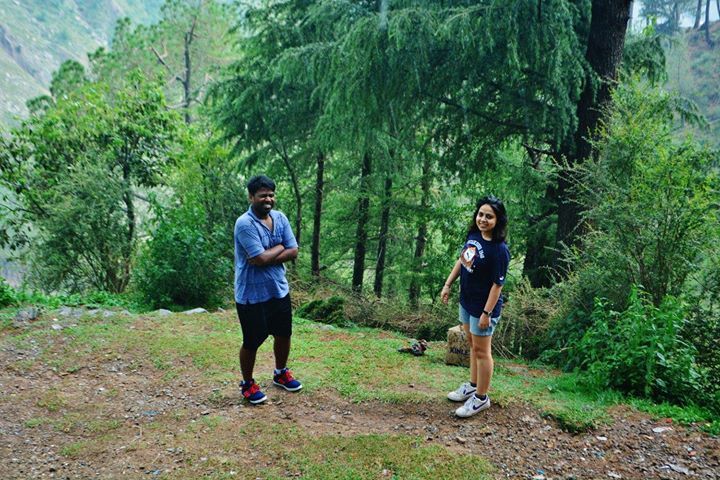 I woke up early in the morning, the sun was shining brightly and here I was standing opposite a high mountain range with snow covered on it. There were sheep all over, tripping over just anything and making all sorts of noises. There were cows who stood stoned looking into nothingness or probably they planned to eat those tents. All of this was interesting enough for some photography and I took my camera and spent a good hour clicking the place.

I woke Ramana who indulged into narcissistic photography through selfies and began posing vigorously at suitable picturesque locations. Shikha woke up later and we were happy to have survived the night and the place did feel worthy enough for the toil. We had some light snacks, found out that most of our stuff were still soggy and had no choice but to pack them again. Our shoes weren't dry and we had to continue our down trek in them.
The cricket ground at Dharamshala was visible as we began our trek. And, it was as we had wanted it to be- the path was totally dry and we could trek down fast. We took stoppages at the shacks, which wasn't required as such but we were fast enough to not avoid them. We were at the base of the trek in 3 hrs and laughed at ourselves for abusing the people who told us that we hadn't covered much, when we had asked them that the last day, as we realized that we were hardly able to cover 300-400 meters during the hailstorm, though it felt like a huge distance.
We reached Guna temple much before we had expected ourselves to make it to the place. This time we took a cab to the Mcleod market sharing it with another traveler who planned to travel to Ajmer from the place.
In the Mcleod market, our first requirement was to find a place to poop, which we hadn't done for a long while now as there were no such facilities at Triund. And CCD came to the rescue. Then, we finally had our lunch at Jimmy's which was worth the hype. And now, we were ready to move back to Delhi.
We took a taxi to Dharamshala bus stand and got a direct bus to Delhi from there. All of us got window seats and slept. We woke up later in the night, when our heads hit the iron bar in front of our seats as the bumpy bus hit the brakes. In the middle of nowhere, there was this Dhaba and there were other buses coming on the highway in a speed to kill, we were zoned out enough to not be able to figure out anything and slept back again.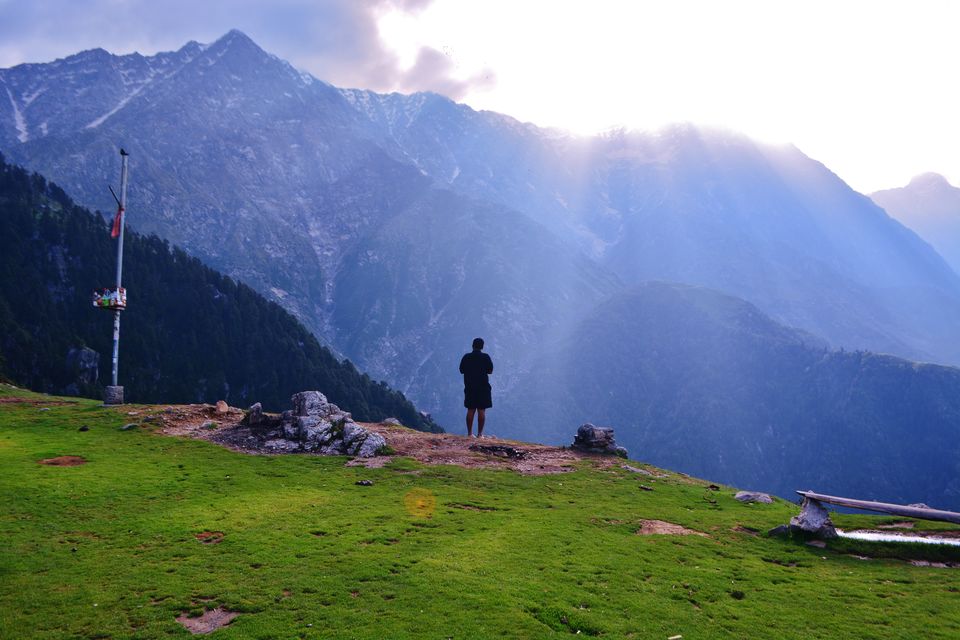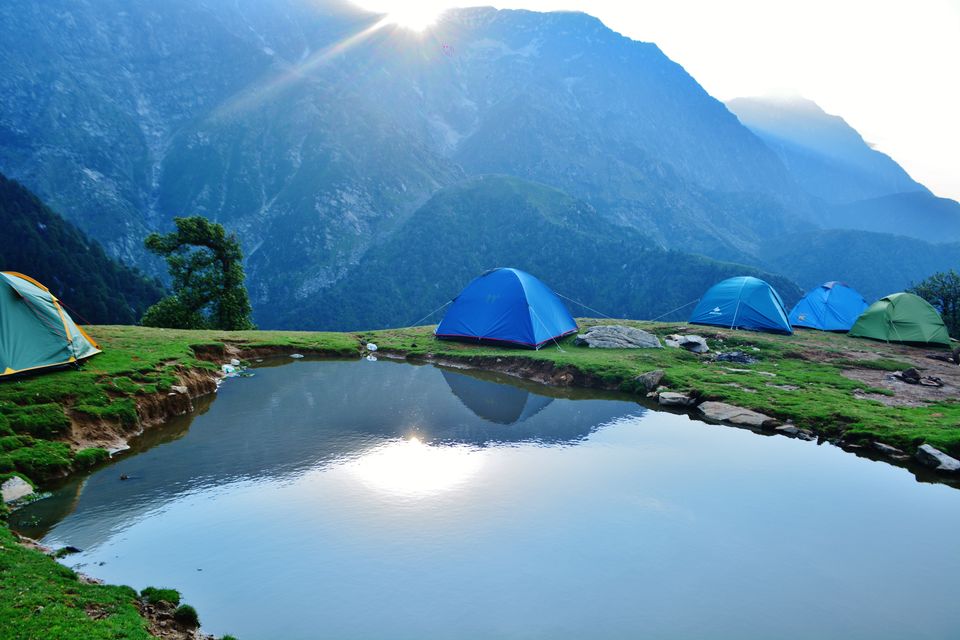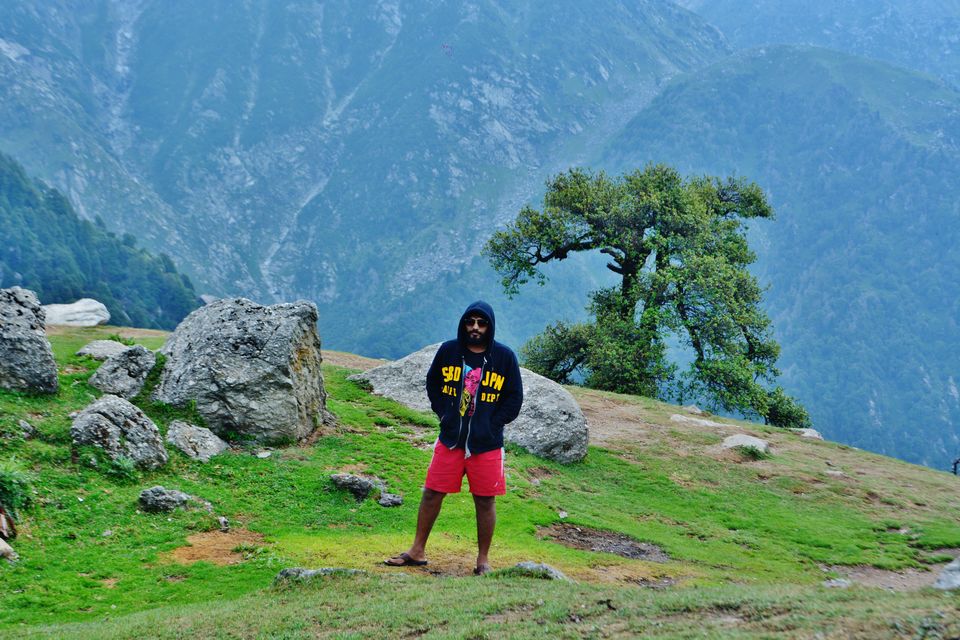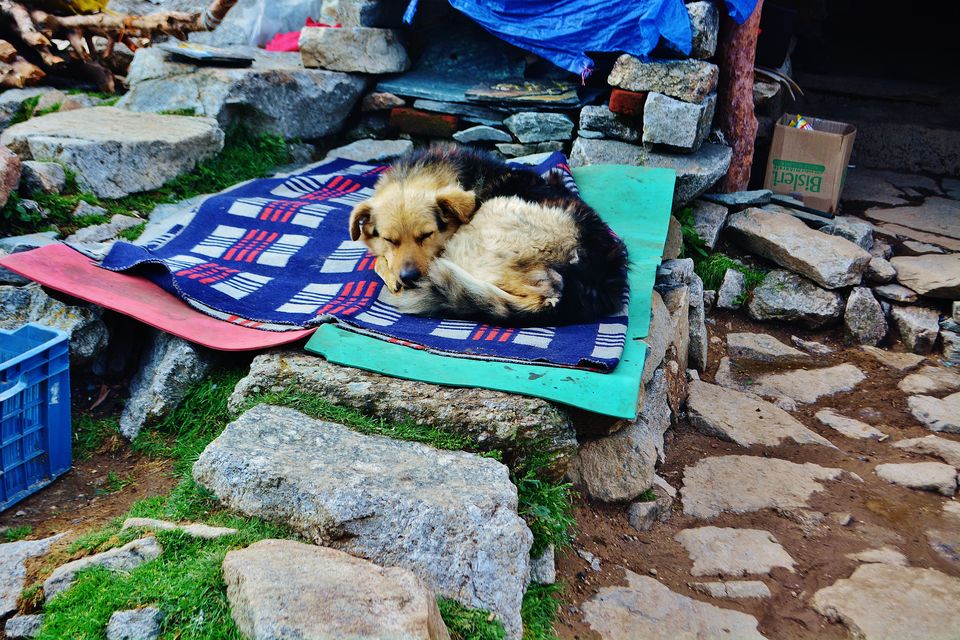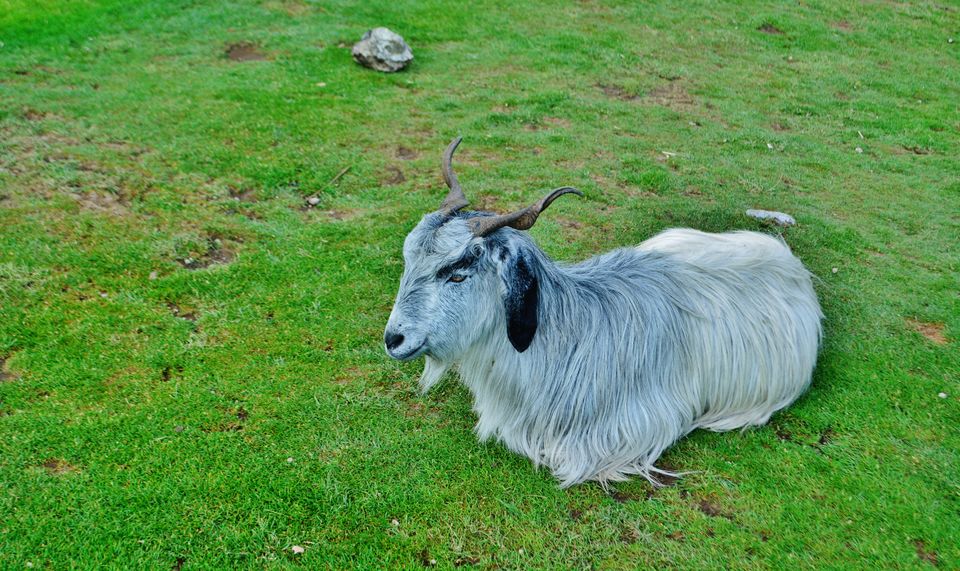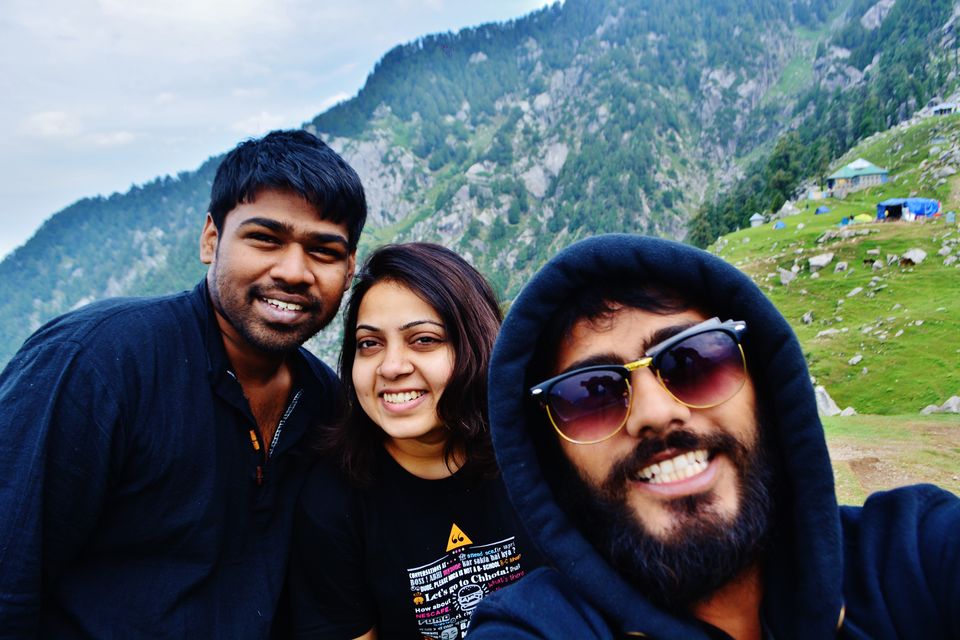 DAY 4
Early in the morning at 5, we were at ISBT Kashmere Gate, there was a huge line outside the metro and so we decided to board the metro from Civil Lines which hardly ever has any soul boarding the metro. We took the first train to Huda City Centre and reached my place and dozzed off again.

Three of us were in Delhi now. And we had to leave for Kasol in the evening at around 6 pm. But eventually, we were at ISBT only after 7. There was it, a bus heading towards Manali, but then, it had only 2 seats left and the next one was at 9.30. I saw a bus going towards Dharamshala and a sudden change in plans found us seated in it.
We were excited by the impromptu plan and jerked throughout by the bumpy bus whose driver made all attempts to make the ride a road rash.
Day 1

Day 2
I woke up early in the morning and was joined by Ramana on a morning stroll. We were enthused enough to climb steep roads and watch dogs and monkeys play fetch and monks climb down from their monastery.
Shikha woke up in a bit and we got ready for the city touring. It began with breakfast that was supposed to take place at Jimmy's but it hadn't opened yet. Hence, we had pizzas at the clay Oven. Shopping followed and we moved towards the Dalai Lama monastery. And we felt nothing like a hill station anymore, it was crowded and we were feeling hot. We decided to not explore the place and proceed towards Triund. On the way, Shikha and Ramana were stopped by the hotel broker, who asked for his service charge of Rs 200 and after putting a threatening stance was able to reclaim it.
We hadn't begun our journey that the other guys ran out of smokes and went back to the market to get it. And then, we began our trekking. 1 hour further, we were in deep Deodar woods walking on a path made my human feet that it began to rain. Thankfully, we had bought plastic raincoats which came in handy. The rain stopped in a while and we continued trekking. 2 hours hence, taking enough stoppages, hearing Shikha lament about how she is going to die, we reached Guna Devi temple from where the actual trek had to start. We had covered only that part of the trek up till which vehicles were available.
The next phase of the trek was more beautiful, Deodars led way to the Rhododendrons and we could see Mcleod and the stretch of woods we had walked through down below. We hadn't covered more than 500 meters when it began to pour. We were ready for this, and took out our raincoats. But it didn't stop raining, and it was getting difficult for us to move ahead. There were patches with shed leaves that were damp and slippery and we had to walk carefully. And someone got sarcastic, about how it would have been better for the rain god to cast us to hailstorm. And dear god, no longer than it was said, pellets of ice began hitting our face. And they were big enough t0 hurt my nose and ear. I couldn't stop laughing at our predicament. The hail lasted for a good half an hour and brave or stupid as we are, we didn't stop. We found some guys on the way, and they said it was another 5 kms. We were totally annoyed and called those guys stupid as we had traveled quite far. The rains never stopped until we reached a tea shack ad found some guys from Delhi resting there. We too had tea and chocolates, the rain had receded. We began walking further. Our bags were totally wet and heavy and it was difficult to pull the weight of the entire luggage that we had stupidly brought on the trek. Another kilometer might have been covered that it began raining heavily again. This time it wasn't safe to continue the trek and we took shelter in a cafe which overlooked the valley and was quite an old and popular one. We had Maggi and biscuits there, it was about 5.30 pm already and we had about 3.5 kms still to cover. Nevertheless, the rain stopped for final now and we could carry on. As we walked further, we realized that we were too tired and had to keep encouraging ourselves. And amidst silent stretches, moos of cows and glucose provided by biscuits we entered the last phase of the trek by 7.30pm and thankfully, it was still bright.
As we climbed up to see Triund, we just lay on the ground. We got a Quechua tent from one of the shopkeepers there and asked him to install it then and there. All our stuff was lying around. And everything was wet. We took out our stuff put it on the tent to dry them, hoping that it wouldn't rain; ordered rice plate and Maggi worth 120 bucks that was only available there. Got back to our tents and stayed there forever. The two other guys had no warm clothes, I had a jacket and all of us were freezing inside our sleeping bags. We tried a lot of tricks to warm ourselves, eventually we just curled in together. But then, there was loud noise coming from the tent next to us with distasteful music blaring through. And we felt that there were cows outside moving our tent and sheep feeding on our clothes. Among these thoughts, we slept.