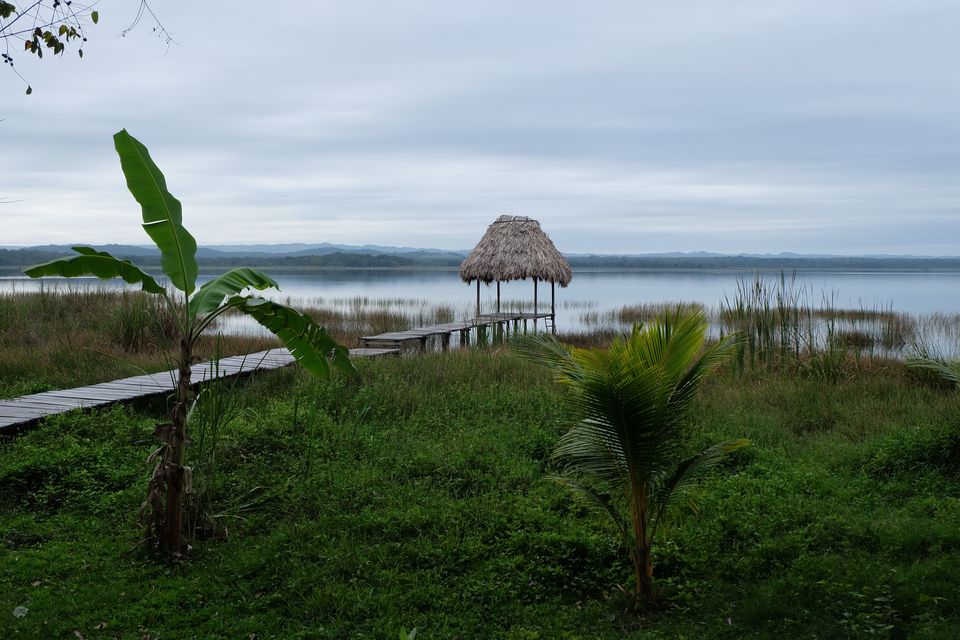 We had an amazing time in Belize and the stopover to Guatemala for three days was breathtaking. We usually travel by hitchhiking and buses. Accommodations include cozy guesthouses, hostels, and our greatest companion - our tent! Belize and Guatemala have a lot to offer, and we got the best of it: jungles, swimming, snorkeling, and the incomparable Tikal, an ancient Mayan citadel hidden in the rainforest. Hopefully this itinerary will be a helpful guide!
Stops: Tikal, Flores (Guatemala). Mountain Pine Ridge Forest Reserve, Mayflower Bocawina National Park, Hopkins, South Water Caye, Tobacco Caye (Belize)
You'll arrive at the airport in Belize City and you'll have to get to the bus station first. There is no public transportation directly from the airport, but taxi drivers here will charge you $25 US to get to town. Instead, you can walk down the airport road until you get to the main junction, and hop on a public bus which will take you to the main bus station. We were lucky enough to hitch a ride straight there, and left the driver with a small tip.
Depending on what time your flight arrives, you may be able to catch a direct bus to Flores, in Guatemala. The last of these buses departs around 1:30pm. Otherwise, a bus that goes to the nearest border town, Benque Viejo, departs roughly every half hour from the bus station. Try to catch the express bus, as these will make less stops on the way and get there quicker. Buses are a cheap way to get around in Belize (ranging from $2-6USD per person)
Once at the border town, you'll have to take a taxi to the border. Many locals do this so you should have no trouble splitting a cab with some other people.
At the border you must first go through Belize customs and pay an exit fee, and then cross through to Guatemala. The border is straightforward and simple. Be aware that you are not required to pay anything to enter Guatemala. There will be people at the border who can change your US or Belize dollars for you into Quetzales with a common exchange rate. You may be able to find a better rate at a hotel or hostel, so only change a small amount at first.
Once in Guatemala, the easiest way to get around (at least on the main roads) is by minibus. You can wait for one up the road by the nearest gas station on the right. You want to tell the driver you're going to Renate, and they will drop you off at the junction to that town. Keep in mind that English here is extremely limited. You can download the Google translate app ahead of time and download Spanish as an offline language to assist with communication.
Renate is a small town, transportation at night may be limited, but you can always hitch a ride to Alice Guesthouse (an alternative is to take the minibus straight to Flores and have a base there) for your first night.
Alice Guesthouse has both private rooms and dorms. The atmosphere is cozy, and at this point you'll probably want to order their 1 litre beer off the menu and get some dinner.
They also can organise transportation to Tikal for a reasonable fare, either at 5:30am (for the sunrise) or 9am. Book with them in advance for the following morning. You can also choose a return time if you'd like to spend another night at Alice Guesthouse, but this only gives you about a 4 or 5 hour window to see everything. Alternatively, you can choose to take the bus one way and make your way back yourself.
Meet the minibus at the appointed location at your preferred time. If you choose the 9am option, you may have time to take a refreshing morning dip in the lake and relax outside with a smoothie. You'll want to spend all day at Tikal so you can opt to purchase the Tikal picnic from the guesthouse, or plan ahead and pack something yourself.
If you are continuing on to Flores straight afterwards, you can leave your backpack at Tikal at the restaurant by the visitors center for a small fee.
To avoid purchasing a tour with a tour guide, you can download the Tikal Picture / Audio Guide app through World Culture Guides, which includes a map and audio for each temple in the complex. You'll want about 6-8 hours to take in the beauty and energy of this magical place. Look out for howler monkeys and coatimundis.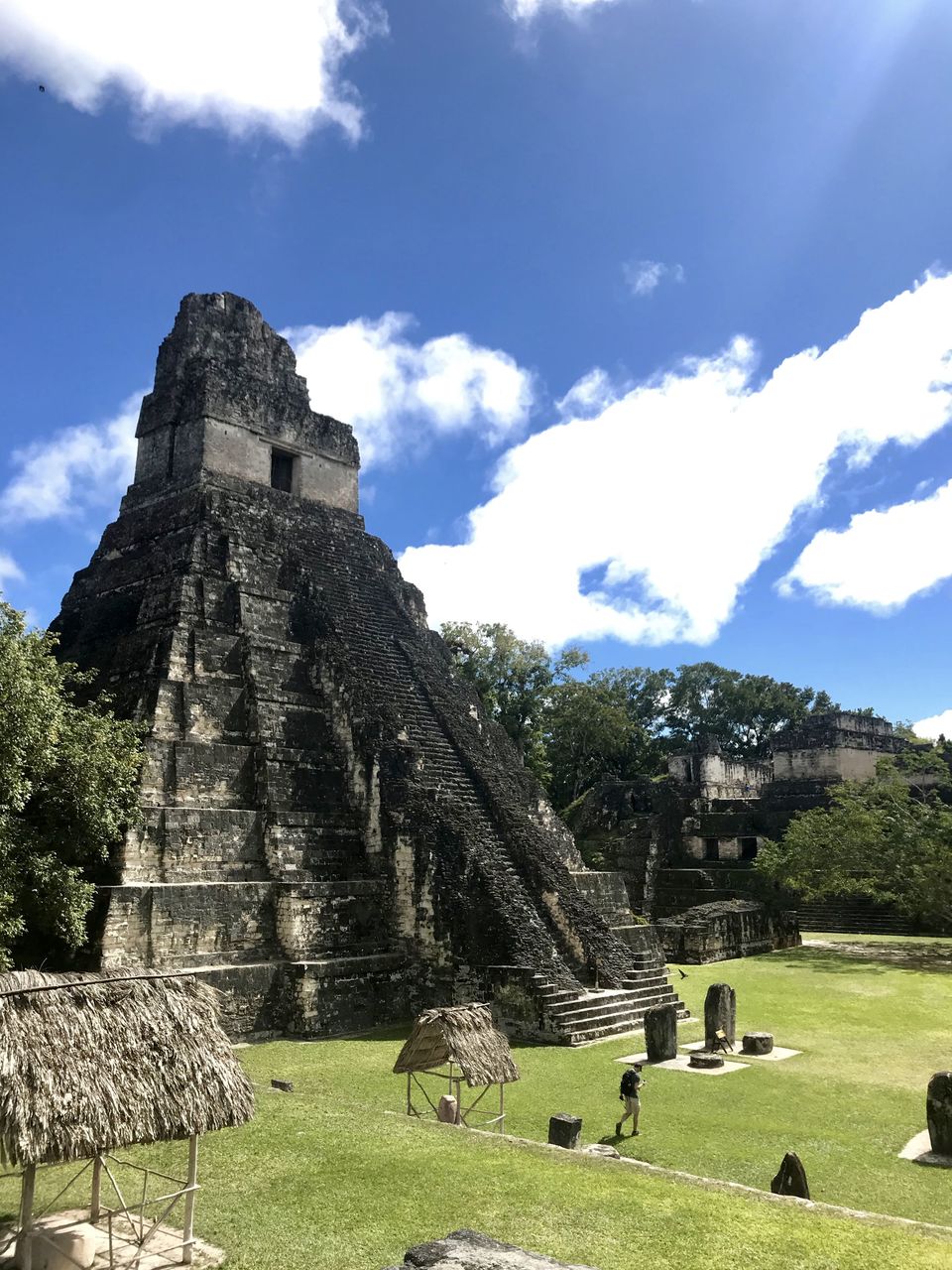 At this point, you can either return to Alice Guesthouse or make your way directly to Flores. There are regular minibuses directly from Tikal that go to the suburb of Flores, Santa Elena.
The walk from Santa Elena is about 15 minutes, passing by many people and market stalls. If you need more cash, it might be a good idea to take some out at an ATM on the way, as exchange rates will be higher in the center of town.
If you're making your way to the main island in the evening, it is likely you will pass food vendors and live music on the bridge. Locals come together to eat and dance, and you definitely don't want to miss out! English may not be common, but the women behind the stall will happily make you a giant plate full of local home cooked food and pastries for as cheaply as $1. The energy and friendly smiles make for an unforgettable introduction to Flores.
Spend the morning walking around Flores. It is a charming town with crooked streets, colourful houses, and stunning lake views.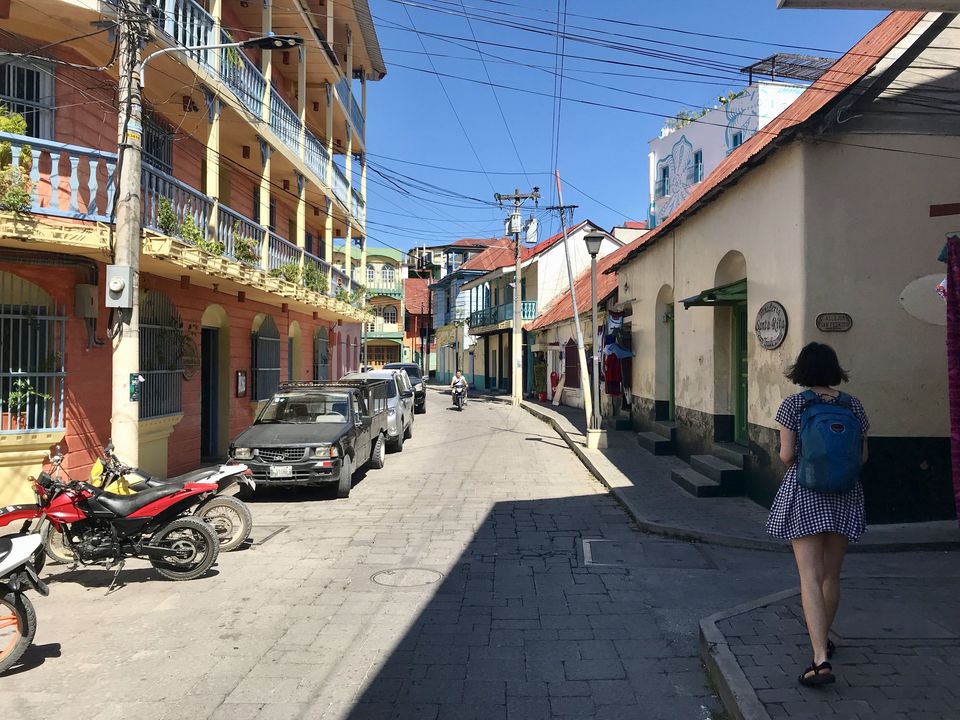 From the north side of the island, you can take a boat with the locals to the other shore for a more authentic feel. There are significantly less tourists here, but there are some great sights, including El Mirador, a viewpoint overlooking the island. From here, you can walk to Playa Chechenal, a must visit beach for a swim! Mostly locals, and very few of them. You will likely have almost the entire beach to yourself and can jump off the wooden dock into the crystal clear water. Look out for a man selling beers out of his cooler if you're in need of refreshment.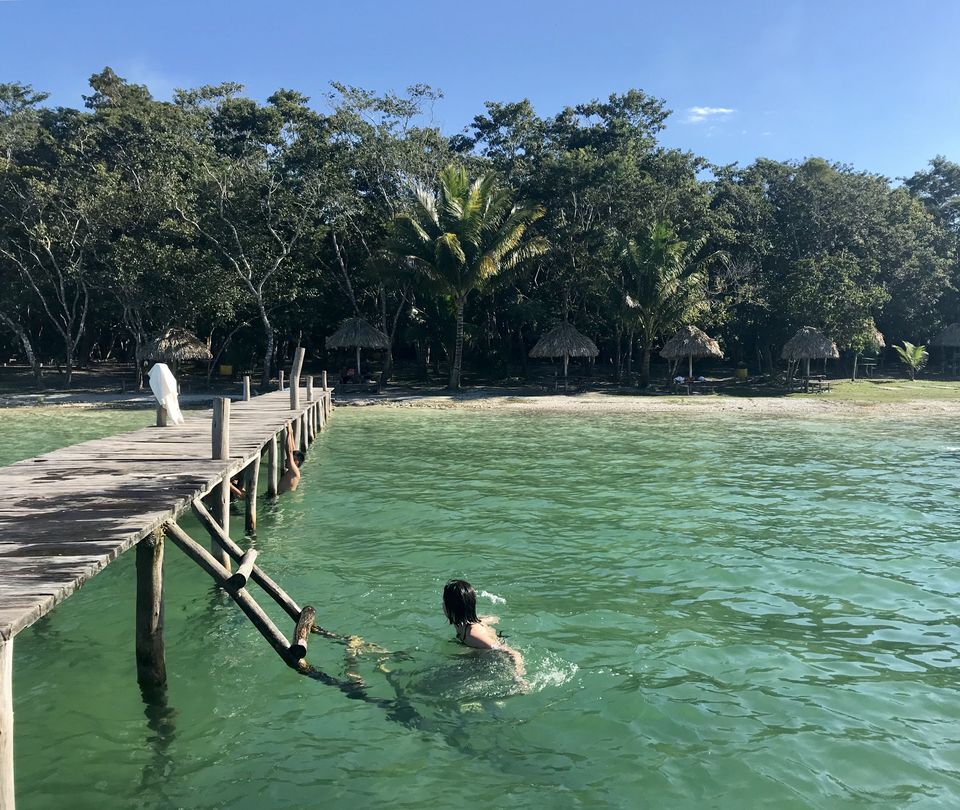 Once you've had a rest (although you will never want to leave this place), make your way back to the main road in town. If you ask the locals where there is a spot to eat on this side of the shore, they may just point you to a woman's house down the road. She'll fry up a whole fresh fish for you, along with a generous portion of local sides.
When you're ready to head back to Flores, you can find fishermen or boat taxis willing to give you a ride back for a small fee. Flores is very lively once the sun goes down and the heat of the day settles. You can enjoy a cocktail at one of the numerous restaurants on the boardwalk overlooking the lake.
For a romantic and delicious vegetarian dinner, head to Maracuyá ($$) on the east side of the island. Be sure to get a table on their rooftop terrace with views of the lake, surrounded by tropical plants and candlelight. It's a true gem of a place.
Flores' charm will captivate you and it will be hard to leave! When you decide to, you can either walk back to the same bus station or avoid the heat by hiring a motor taxi, which the hotel can help you arrange for a reasonable fee.
The bus ride back to the Guatemala - Belize border is a rich experience in itself. The bus will be surrounded by vendors at the station selling fresh fruits and baked goods. It might be a good idea to take advantage of this offer, as the road ahead is long.
The bus will leave you near the border again, which you will cross on foot and hire a taxi on the other side. If you can, try to split a taxi to Benque Viejo to save on the cost, and make your way to San Ignacio. Here, you will transfer to a bus until a town called Georgeville. You may have some time to kill until the next bus, and San Ignacio is definitely worth a walk if you have time. There is a big fruit and vegetable market close to the station, as well as bakeries selling freshly baked treats.
Unfortunately, after the stop at Georgeville there is no more public transport towards the Mountain Pine Ridge Forest Reserve. Cars are usually happy to offer a ride, and Belize is an extremely safe place to ask for one.
There are many places to stay near the Mountain Pine Ridge Forest Reserve, but Checo Hill Farm is definitely a great choice. It isn't easy to get to, but the road is worth it in exchange for the beautiful property in the jungle, the absolutely lovely and helpful hosts, and delicious breakfast. There is a kitchen for cooking, and the rooms are cozy and atmospheric. After a long day of travel, you will likely enjoy just relaxing on the property. You can also take a short walk to the nearest town, Seven Miles. There is a small grocery market and a women's coop that serves food as well.
There are plenty of wonderful adventures to be had at Mountain Pine Ridge Forest Reserve for the day. One great option is to take advantage of the mountain bikes provided at Checho Hill and bike into the reserve. The road is hilly and can be quite strenuous at times, but the views are rewarding. One notable and free stop for a sunny day is the Rio On Pools, where you can relax on the rocks and swim in the river to take a break from the heat. If doing a cave tour or visiting the Caracol ruins are at the top of your list, be sure to plan in advance, as these places require guided tours and planning. After visiting the majestic Tikal, we decided to skip Caracol and spend the day hiking and biking around the reserve.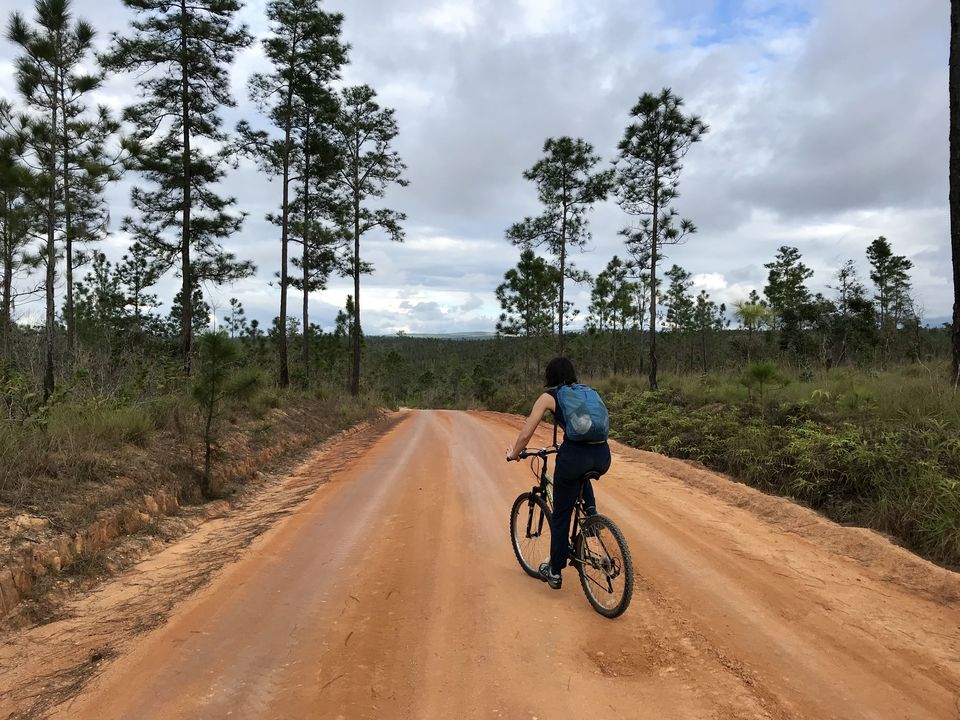 Start the day early and make your way back to Western Highway. If you arrange with the hosts of Checo Hill ahead of time, they might be able to give you a lift. Otherwise, there shouldn't be any problem hitching a ride. On the main road, you can catch a regular bus to Belmopan (perhaps further) and from there you'll want to take the southern road that leads to the coast via the Hummingbird Highway, a beautiful and scenic drive through jungle, fruit orchards, and small towns. We took a bus to Belmopan and hitchhiked the rest.
Your final destination on the coast is a town called Hopkins, but making a stop at Mayflower Bocawina National Park is highly recommended at least for one hike, but longer if time allows. The park is situated about 6kms from the main road with no public transport, so arriving here during the day when there is still traffic is best. The park is full of amazing hikes and waterfalls, with views of the sea. It is likely that you will be one of only a few people on the trails, swimming in the waterfalls alone.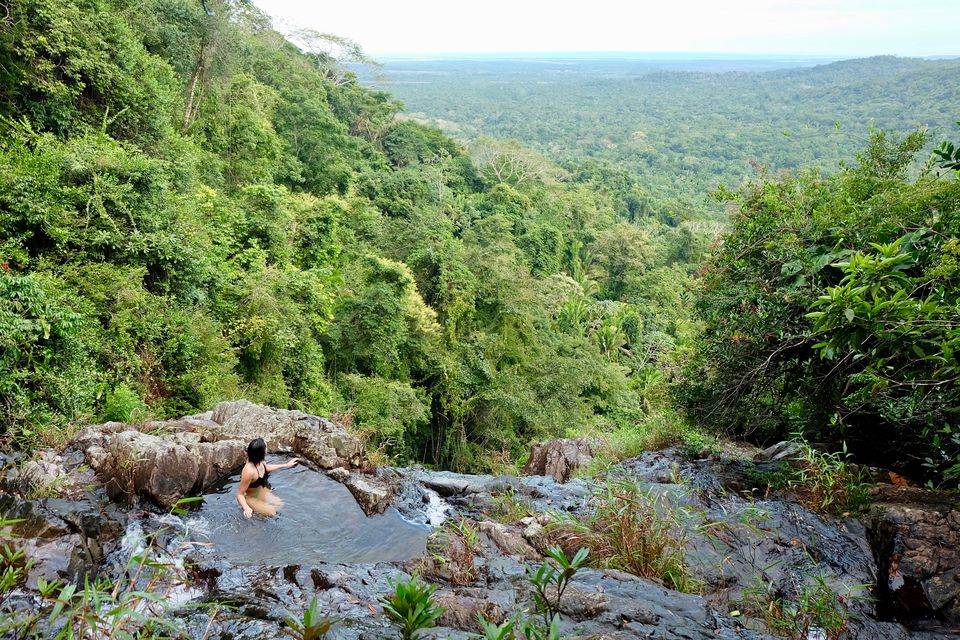 Once you arrive at Hopkins, a bustling beach town, there are plenty of places to find some dinner. One option is a fish stall right on the beach. It is best to wear long sleeves and pants, as this is when you will first be introduced to sand flies - pesky almost invisible flies that bite surprisingly painfully.
On the south side of Hopkins is where the family-run beach camping is located, called Castillo's Beach. Although facilities are modest, it's a wonderful experience. It is quite secluded, and there are trees and hammocks to relax in. Sometimes there are beach parties here on the weekends.
You will want to spend this day just relaxing on the beach and enjoying Hopkins, a pleasant touristy beach town. There are plenty of scattered bars and cafes right in the sand. A particular favourite was the Swinging Armadillo, built with a big terrace and great views of the ocean. You can spend hours here drinking cocktails, eating shrimp quesadillas, and looking out onto the water.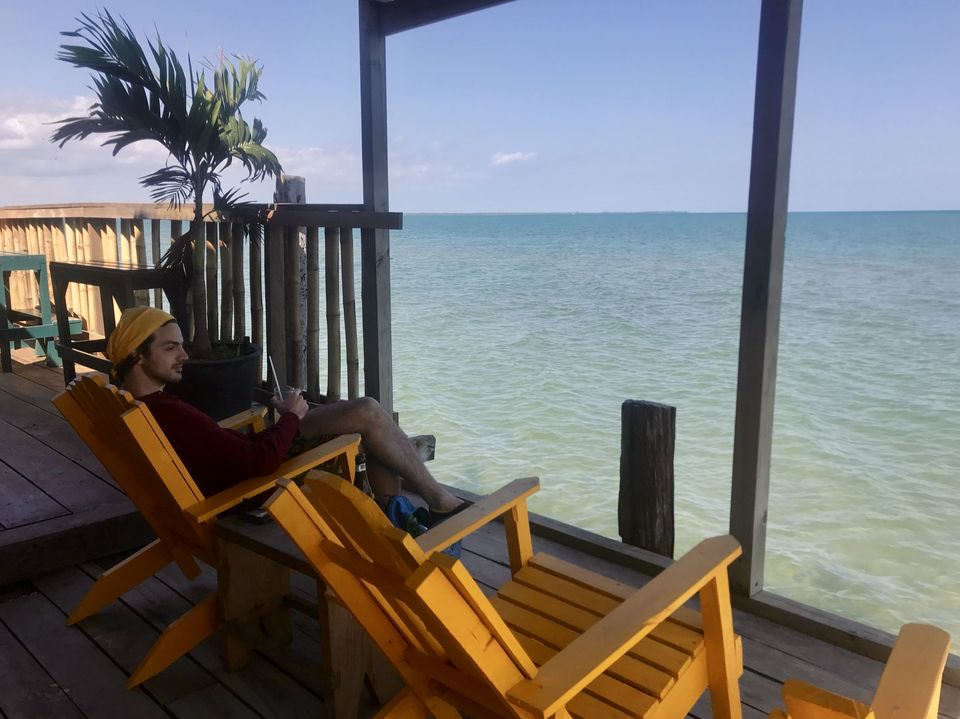 One important task for the day will be to arrange transportation to the islands. It can be quite expensive (about $25 per person, one way), but definitely worth it to experience the cayes of Belize. You can ask around the multitude of snorkeling tour agencies if they have an available boat. We were able to find a boat leaving the next morning, going straight to South Water Caye, and we got a ride without joining the tour.
South Water Caye is one of the smallest cayes in Belize, which adds to its charm and evokes the feeling of paradise. Another plus is that it is located right on the coral reef, which means great snorkeling is accessible straight from the island itself. On the island there are three separate businesses. One resort is off limits to non-guests, but otherwise the island is free to roam about on. For accommodation, you can opt for a room at the marine research center, or else ask around where you can pitch your tent. The research center can also provide decently sized meals, just talk to the manager who can usually be found on the grounds.
At the research centre it is also possible to rent snorkeling gear for the day, which is definitely a must. You can reach the coral reef just by swimming to it from the island and see vast numbers of colourful fish, manta rays, and a sea turtle if you're lucky. Plenty of tour boats with snorkelers come here for the afternoon, and they are likely to know the best spots.
Try to arrange a boat for your next destination - Tobacco Caye. You can ask at the docks, or the owner of the Blue Marlin Resort. There is plenty of traffic here during the day, so this shouldn't be a problem.
When you aren't snorkeling, you can relax on the lounge chairs in the sand or enjoy a drink at the beach bar where people come together in the evenings.
Arrive at Tobacco Caye, which is bustling with travellers compared to South Water. It is bigger, and there are much more accommodation options for various budgets, usually meals can be included. The time you spend here won't be much different than at South Water! Relax on the beach, and rent a kayak and snorkeling gear if you're up for some physical activity. There is a nice beach bar where you can spend the evening drinking cocktails and watching the sunset.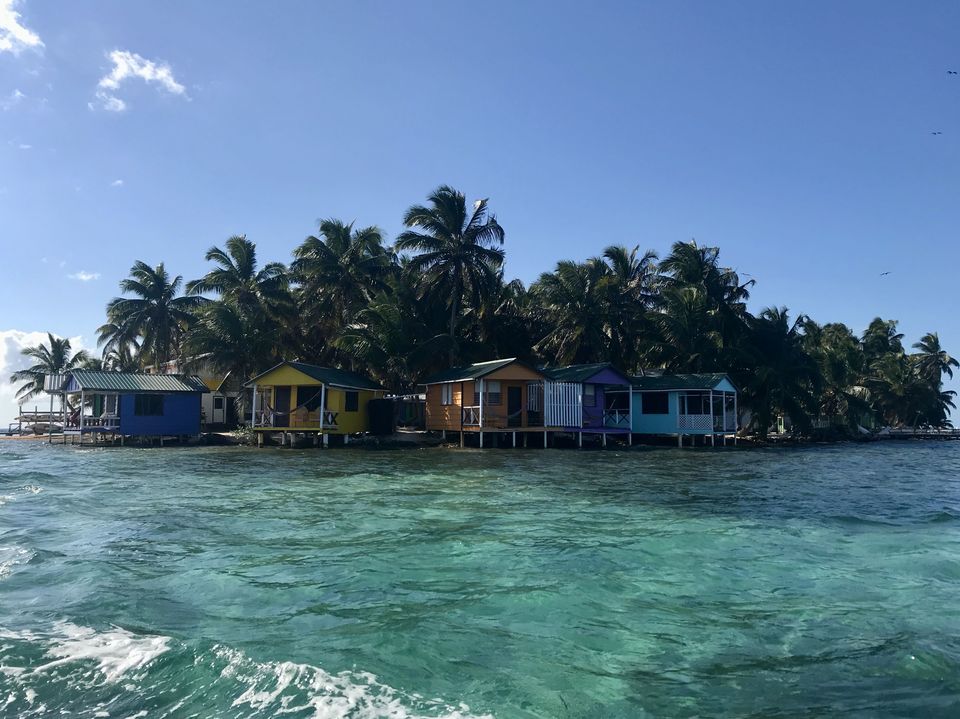 We spent the whole final day getting back to Belize city for our return flight. If you're hitchhiking, make sure to give yourself plenty of time! Buses are also available.