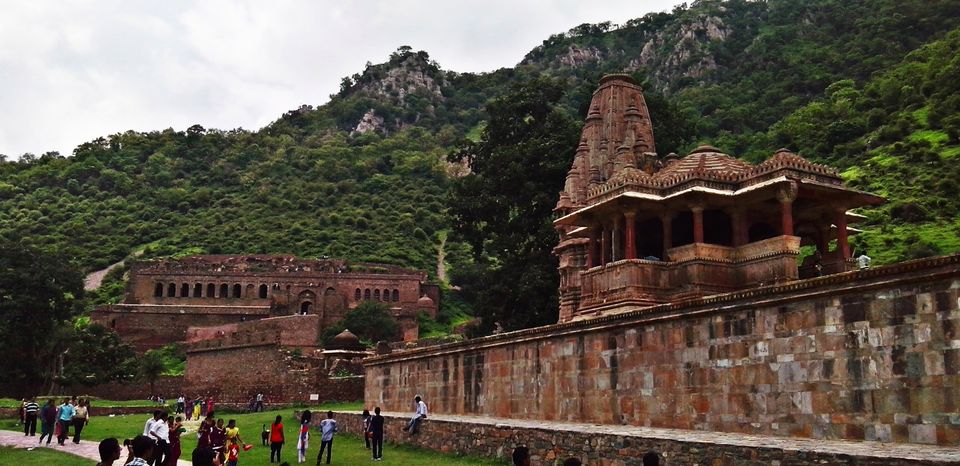 Forts are the significance of royalty, money and power. There are as many as 3 spectacular renowned forts in Jaipur, Rajasthan which are Nahargarh, Jaigarh and Amer Forts. But another spellbound fort exits near Jaipur which can give you a spine-chilling experience in daylight itself. Bhangarh Fort in Alwar district is somewhat 80-90 km in distance from Jaipur city.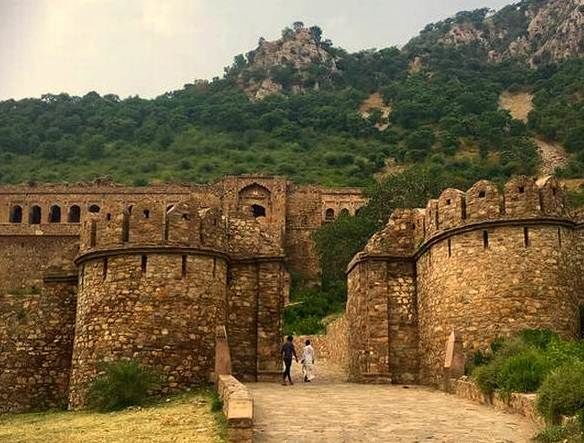 Many surveys and experiments took place till date inside Bhangarh Fort by Indian as well as International Scientists to decode multiple mysteries related to the Fort and it's legendary stories. Few scientists even asserted of getting powerful negative source of energy in their electromagnetic scientific devices, capable of detecting the presence of negative energy around and also claimed the regular increase of this very energy in some specific dates around the calendar, especially in every new moon. Neighboring villages too claim they get constant jingling sound of 'payal' (ankle bracelet) at night in certain dates. They also believe those dates (when they hear sounds) are related to the dates of curse and abandon of the fort.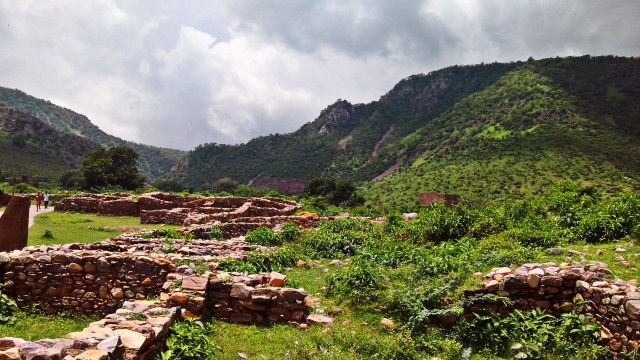 As per legend talks, there are many stories inside the fort but 2 stories are believed by most, especially capable of giving goosebumps, equally horrifying, behind its most haunted title given by Archaeological Survey of India (ASI).
In all of the stories, antagonist remains same- Baba Balu Nath
1st STORY:
Baba Balu Nath, a saint had his meditating place right above a mountain before construction of Bhangarh Fort. When King, Bhagwant Das asked for permission from Balu Nath for constuction of fort, he gracefully agreed and granted permission to build a fort but in one condition, the shadow of the fort should not ever fall on his meditating place. And if it does, then curse of Baba Balu Nath will come into play, which was that, whole of Bhangarh will get destroy. One of the prince started raising high walls of fort without paying any heed to Baba's warning. Apparently, shadow did fall on Baba's meditating place and curse came to it's existence. Within a night or two, villagers and people from the palace disappeared in a mysterious way and at present just the ruins of the Fort exists. Twist is that, at the time of curse, Baba himself was at his place, which was in Bhangarh too. Local legends still believe Baba Balu Nath's crematory is somewhere in Bhangarh.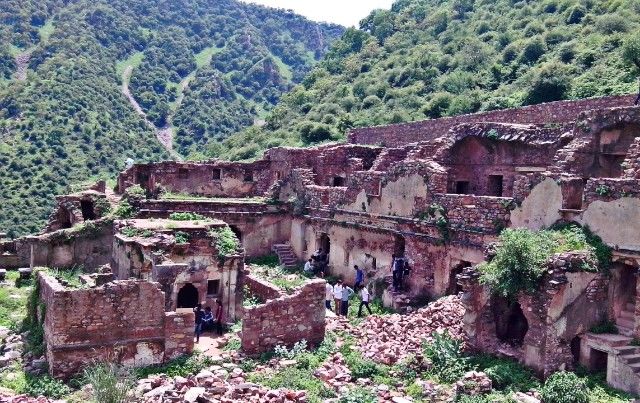 2nd STORY:
This story is way more interesting and believed by most locals because it has romance, thriller, action and kind of mythological fiction.
This story revolves around a young princess , Ratnavati (princess of Bhangarh), most gorgeous and enticing woman in Bhangarh and a black magic sorcerer, Baba Balu Nath (the antagonist). The story goes like Baba Balu Nath saw Ratnavati for the first time in a local market and it was love at first sight for him. Baba knew, she can't be his in any ways and in addition King might punish him, for thinking so. Baba, using his black magic made a love poison (knowing, princess is ford of perfumes) where his spell was that, when princess spray perfume on her, immediately she will fall in love with the sorcerer and will automatically fly from her palace to his place. He asked princess's personal maid to carry the perfume to her as a gift saying it will bring more good luck to her. Fortunately, princess got a better sense of his evil deeds and sprayed the perfume upon a heavy rock. That rock flew to Baba's place and fall on him, due to which he sustained serious injuries and before dying spelled a curse that, within 4 days Bhangarh will get ruined and will cease from its existence.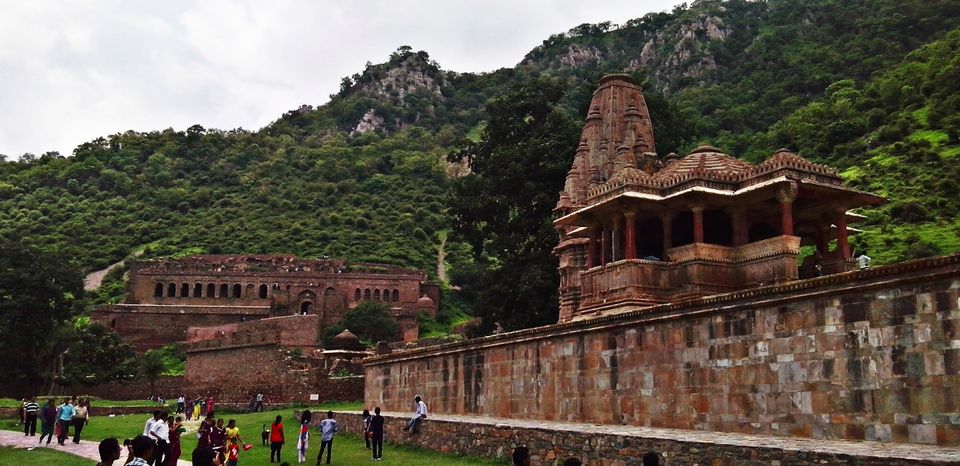 This story has a little extension where it narrates, as that rock fall on Baba despite having a strong roof, so till date whenever one tries to construct a roof in any of the houses inside Bhangarh fort's premises, the roof gets destroyed automatically.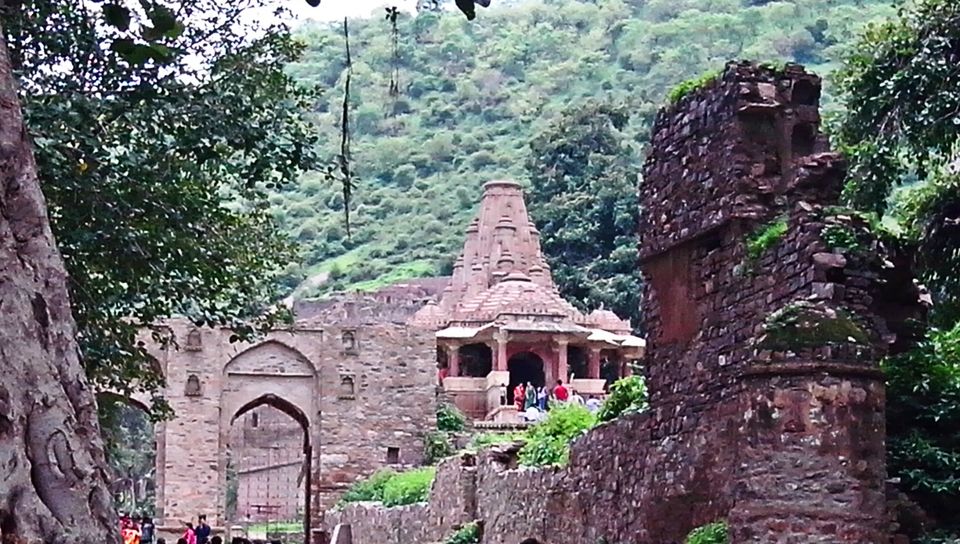 For many reported paranormal activities, ASI and Govt. of Rajasthan decleared a rule of allowing tourists inside Bhangarh Fort after sunrise but before sunset, ideally from 6:00am to 6:00pm. Many news came out that whoever stayed inside after sunset, they've been never seen or returned after that day
These are the two stories of Bhangarh Fort. Now it's up to you, whether happy seating at home and reading more about India's no.1 haunted place on internet or want to visit this haunted place whenever you travel to Jaipur for real fun & adventure.
GOOD LUCK ! HAPPY TRAVELLING !!
~Fallen Tripper