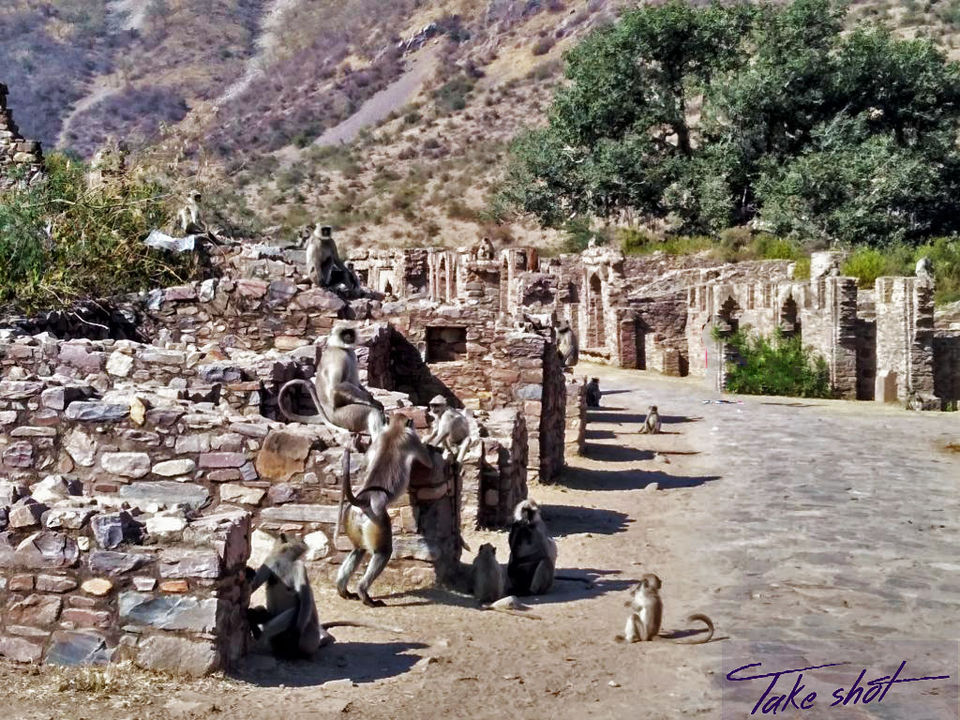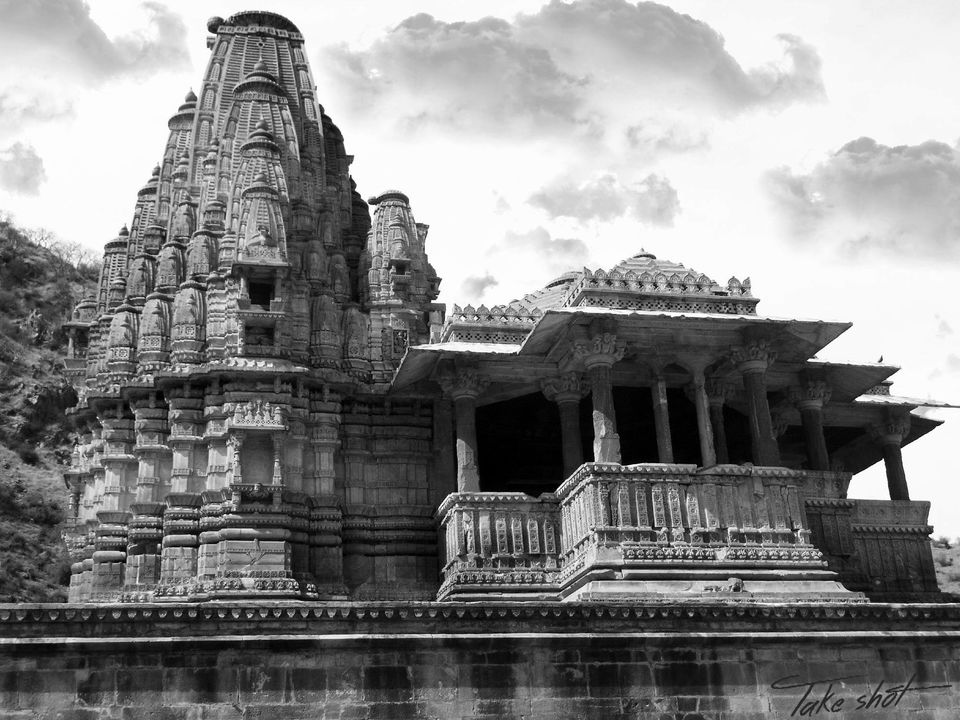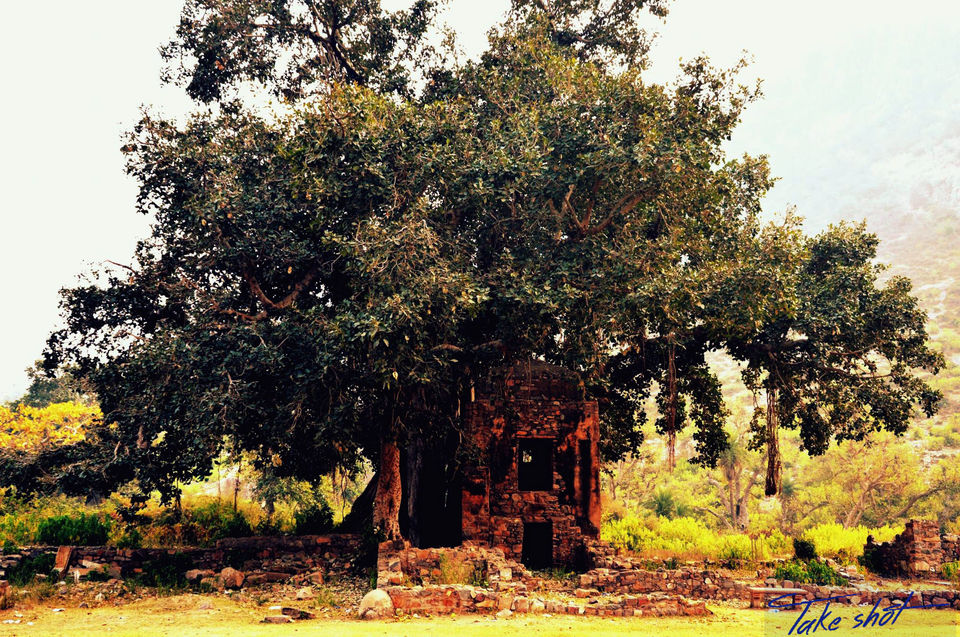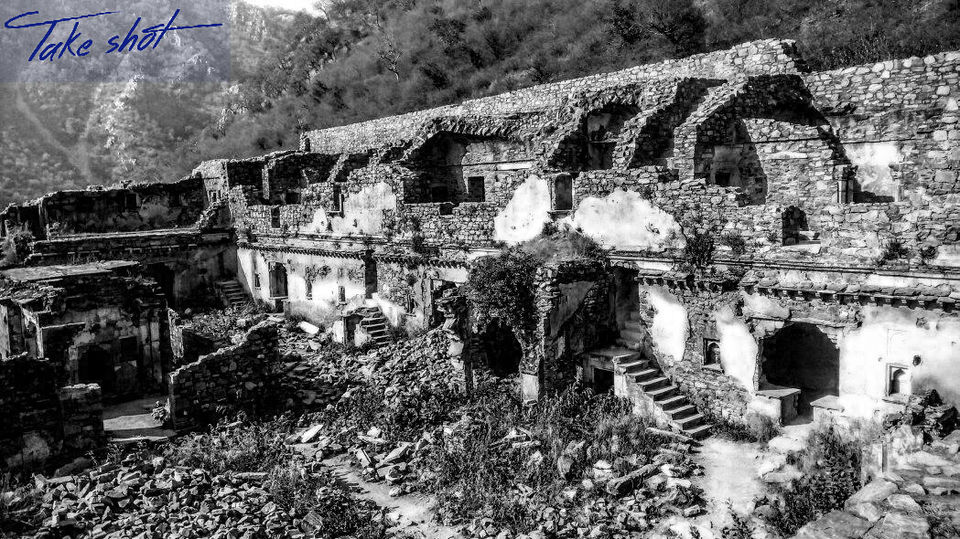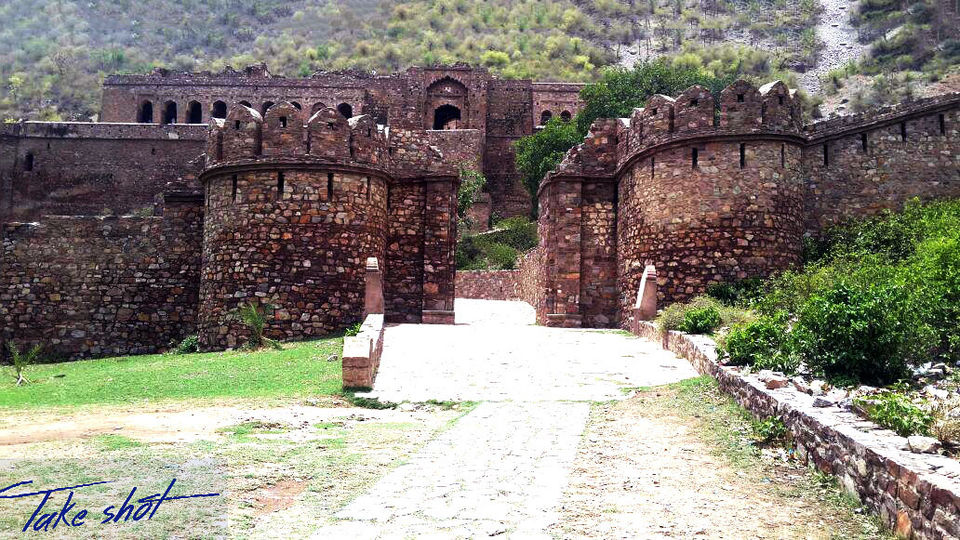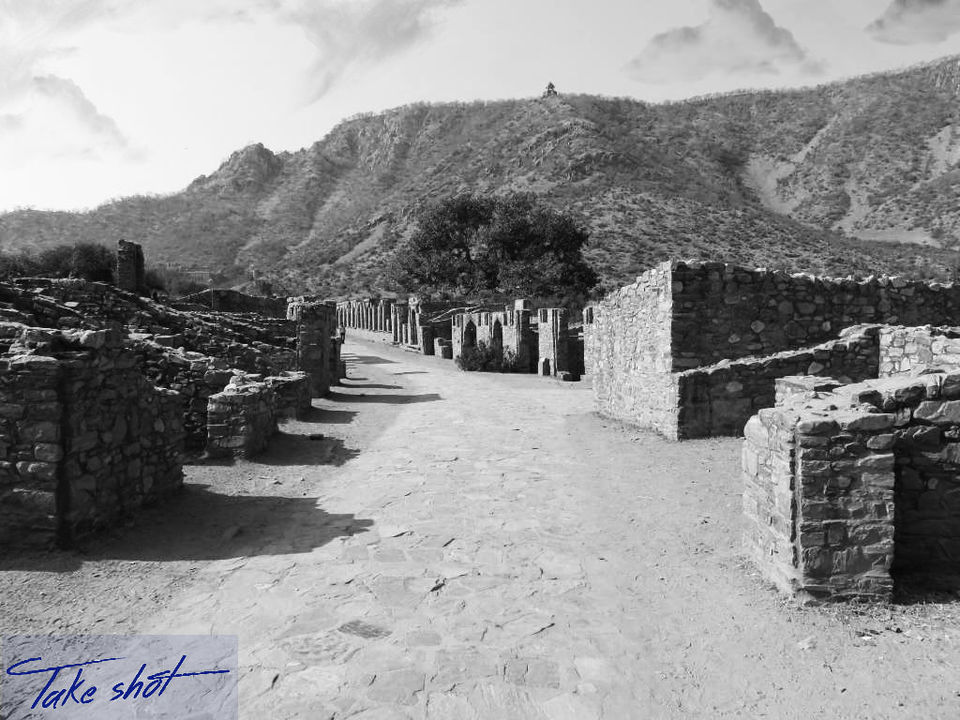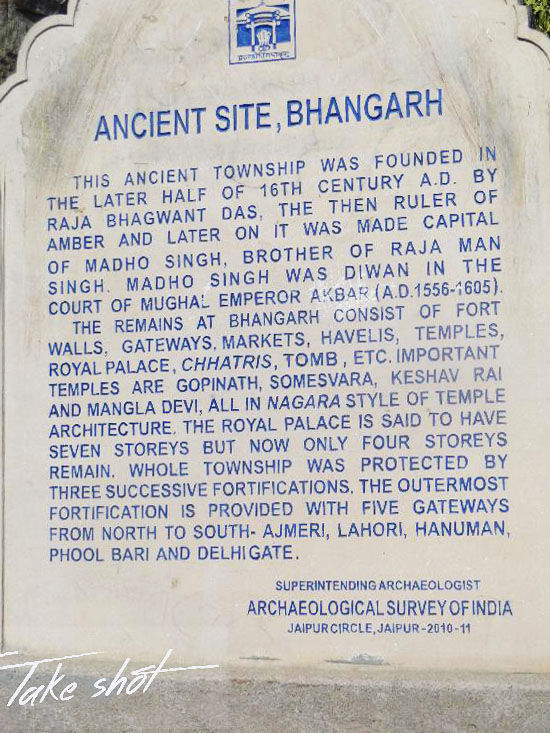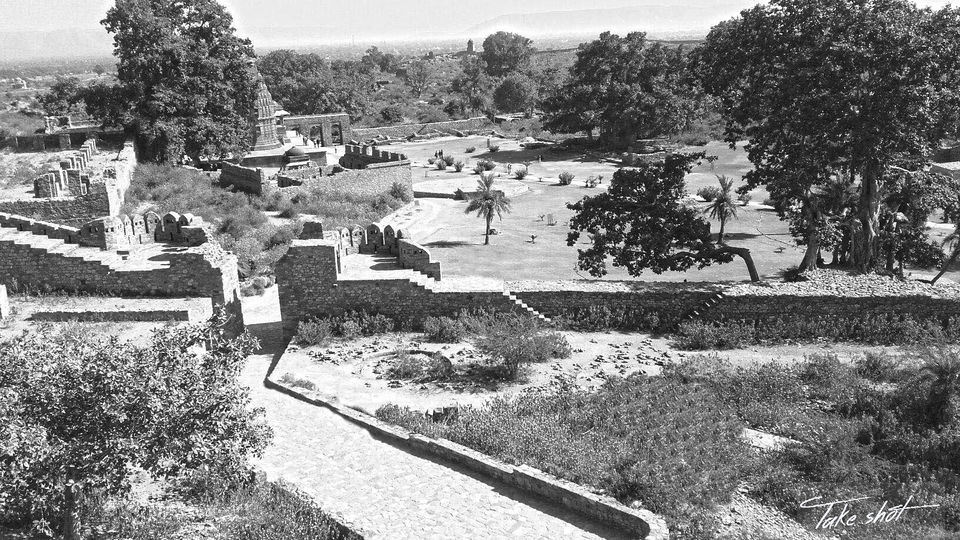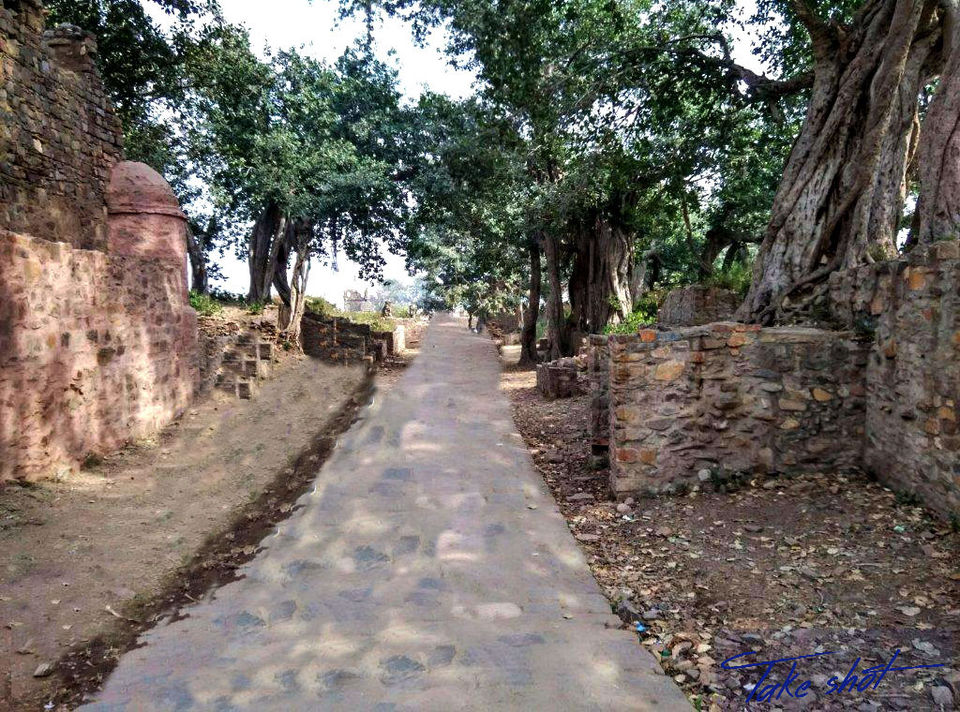 Someone great said, "The world is a book, those who do not travel read only one page"
Hello everyone I am here with my new travel diary. Hope you will enjoy this journey ..
Bhangarh is a place between Jaipur and Alwar in Rajasthan state of India. Bhangarh is known for its ruins, but still worth a visit; the place is beautiful and tranquil. What remains though, is a shadow of a once beautiful kingdom.

The Bhangarh Story
The story (and the history) of the Bhangarh began in the year of 1573 when the fortress was established. Built by Raja Bhagawant Das, the ruler of the city of Amber, Bhangarh Fort has become the residence of Madho Singh, ruler's second son who fought alongside his father and brother in many wars. The decline of Bhangarh Fort started in 1630 after Chhatr Singh, son of Madho Singh got killed in a violent attack. The decline continued until 1783 when the fortress and the city were completely abandoned following that year's famine.
Bhangarh Myths :-
It is said that the city of Bhangarh was cursed by the Guru Balu Nath, causing the towns evacuation. Balu Nath sanctioned the establishment of the town but said: "The moment the shadows of your palaces touch me, the city shall be no more!" Ignorant of such foreboding, one ambitious descendant raised the palace to such a height that its shadowed Balu Nath's forbidden retreat and thus the town was devastated as prophesied. The small samadhi where Balu Nath is said to lie buried is still there.
The other myth is as follows: The charm of princess of Bhangarh Ratnavati was said to be matchless in all of Rajasthan. Being eighteen years old, the princess started getting matrimonial offers from other states. In the same region there lived a tantrik, a magician well versed in the occult, named Singhia who was desperately in love with the princess knowing that he would never be allowed to even see her, let alone meet her. One day, he saw the princess' maid in the market buying scented oil for her. Seeing this, he got an idea by which he could meet the princess. He used his black magic and put a spell on the oil which would hypnotize the princess by her merely touching the oil, and she would surrender herself. The princess foiled this plan though. She had seen the tantrik enchanting the oil, and she therefore threw it away, whereupon the flagon rolled over a stone. As soon as the oil touched the stone, it started rolling towards the wicked tantrik and crushed him. While dying, Singhia cursed the palace with the death of all who dwelt in it, without any rebirth in their destinies. The very next year there was a battle between Bhangarh and Ajabgarh and Ratnavati died.
My solo bike trip to Bhangarh from Jaipur :-
I am here again with my next solo road trip experience and with great memories.
This time I was in Bhangarh.
My journey :-
Started in the early morning approx 4:00 AM . Distance between Jaipur to Bhangarh is approx 80 KM . Road was completely smooth and during travel I crosses some old fort which makes the journey really joyful.
Once I entered to Alwar and started toward Bhangarh , the whole area was silent in the morning like no living beings were staying there...
I reached to Bhangarh @ 5:30 AM approx , ticket counter was closed so I encounter with guards and other peoples who were there.Asked them regarding truth behind Bhangarh Fort... Everyone responded like I think before..Everyone warned me to come back before 6 PM otherwise It will be danger and all.
I was there on 24th December ,due to weekdays only 3-4 tourist including me was there.. Ticket fee :- 25 INR /- ..
Once I entered I saw warning board of Indian government that have to come back before 6:00 PM.. I was feeling thrill to enter into fort..
I roamed here and there inside ...Clicked some random pics in black and white. Explore each and every corner.
I was alone as usual so there was no any chances to take pics of mine..... :) :) :)...
4-5 Hours are enough to explore this fort but stay till 7:00 PM too check out that anything happening or not.. But nothing happened with me.. I started to exit approx 8:00 PM @ that time dark night with lots of insects sounds makes that place a horror feel, at that time only I feel thrill otherwise each and every moment was awesome..
Fort is so old and not maintained by government Due to which it is completely ruins, but in other hand if you like to explore for history then you can go there.
Overall really an awesome time spend there.. I will suggest everyone to go there and checkout this place once. If you want any further information then you can contact me at any time.
Comment below for any further information. Thanks for looking out.
If you like to dig out old stories then Bhangarh is really a great place to spend 1 day.