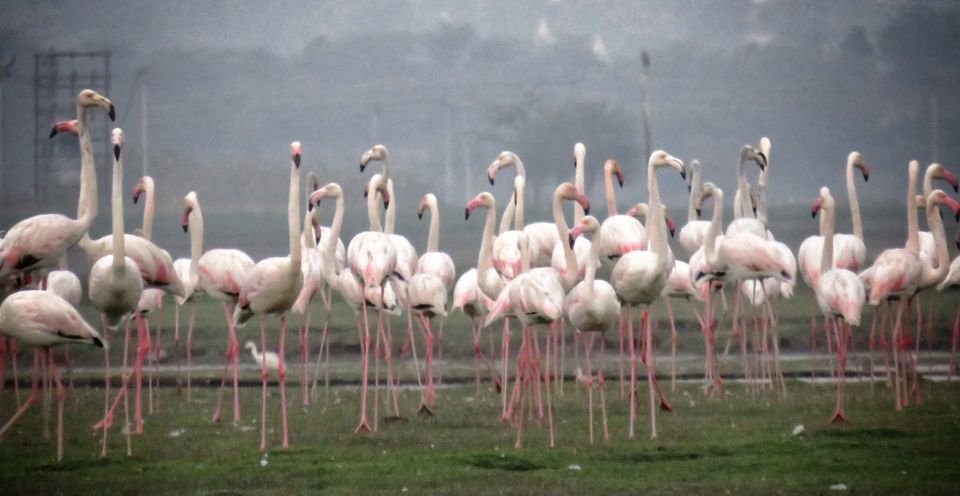 The shivering cold in Pune was at it's peak. It was a plan made by one of dad's school friends who is a travel and photography enthusiast. We left at around 4.30 am in the chilly morning, eyes somehow manageable to remain open. Situated at around 100 km from Pune, on the Pune - Solapur highway, Bhigwan lake is the huge backwater of Ujani dam. It's rightly called Mini - Bharatpur due to the extensive bird population. Bhigwan is the temporary winter habitat for Flamingos and other beautiful migratory birds coming from Siberia and other colder regions.
We reached there at 6.15 am. After freshening up and having some tea, we left for the actual boating spot. At 6.35 am, 4 boats carrying 5-6 people from our group each, started. It was surreal. We could witness the eye captivating sunrise whilst on the way to Flamingo sighting. Another amazing part was, I just upgraded my camera the earlier day. It was all random photography experimentation for me. Random settings, gradual learning and settings adjustment dominated. Of course, the beauty witnessed by eyes was not as such possible to capture in the camera! Click click it all began! The exploration! Whirring sounds of the motor boat, cold splashing waters, the Aurora - like pre - sunrise lights. It was all too good! Soon, we got the first glimpse of the pink passionate flamingos. In huge flocks! Those vibrant shades are hard to get over indeed! Pure centers of attraction! They were getting ready for a group flight. And.. high above they flew! In huge groups, chirping all time.. They really looked like "AgneePankh" against the golden sunrays. Along with the pink cuties, we could also spot other birds like the greedy seagulls, storks, ducks and ducklings in a row, water herons, black beaked storks and many more. Seagulls were the cutest! In the sense, they only followed the boat in which fed them with 'Murmuras'.. Greedy cuties! 2 hours just flew by in sighting and exploration. It didn't even make us realize that it was chilly! Temperature was below 10 degree centigrade already! A cheerful start to 2019..
I hope this blog took you through the journey of flamingo sighting!
Cheers!