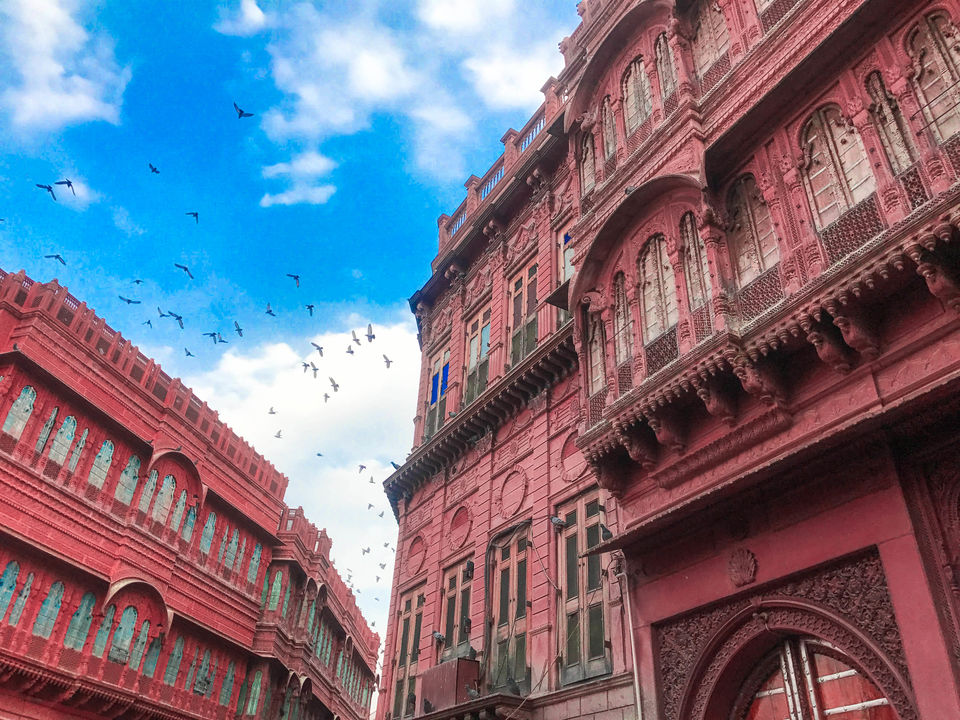 "Twenty years from now you will be more disappointed by the things that you didn't do than by the ones you did do. So throw off the bowlines. Sail away from the safe harbor. Catch the trade winds in your sails. Explore. Dream. Discover."? - Mark Twain
The above quote makes much sense. No? So, let's travel as much as we can. :D
It was month of Jan 2019, when I was travelling around different cities of Rajasthan with my Parents and my sister. After spending 2 nights in the Capital city of Rajasthan- Jaipur, we were heading to Bikaner.
If you have not checked my Jaipur blog, then you can have a look here.
https://www.tripoto.com/trip/two-days-in-pink-city-of-india-jaipur-5c8e49e5b9f6c
Bikaner is located approx. 330 KM northwest of Jaipur. Initially Bikaner was not there in my plan. I wanted to go directly to Jaisalmer - The Golden city from Jaipur. But Jaislamer is 560 KM away from Jaipur and it takes approx 10 hrs to reach. So then I decided to halt in Bikaner for a night.
Not only me, this city gets ignored by most of the travelers. May be because of the assumption that there are not so many places to explore. I am not sure about other travelers, but I can say why I didn't want to cover it in my Rajasthan plan.
When you inquiry about Rajasthan, there are a lot of other cities (Like Jaipur, Udaipur, Jodhpur, Jaisalmer etc) that take the priority in your search result and Bikaner tops the list from bottom. And that was my sole reason for not considering Bikaner.
Now let me ask you a question, what pops up in your mind when someone says Bikaner. I am sure it's either Junagarh Fort or Bikaner famous Bhujia (a spicy snack made from moth dal, spices and edible oil). Right?
It was no different for me as well. But now after visiting Bikaner, I can say there are lot of things to do other than this.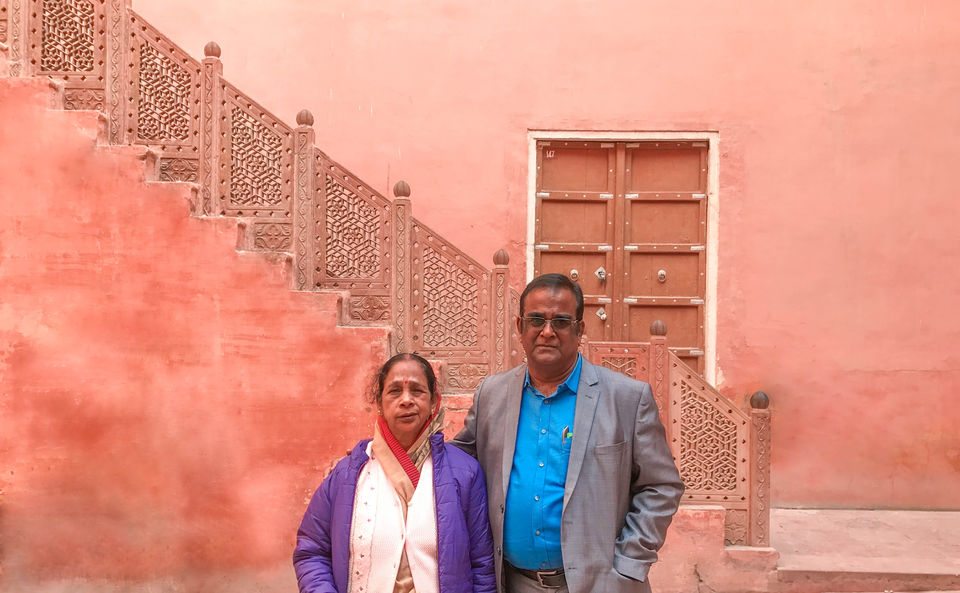 Here I am going to share my experience with all you guys. I bet after going through this, you won't exclude Bikaner from your list now. Let's start the journey now.
It took us approx 7 hrs to reach in Bikaner from Jaipur that included 1 hr lunch break as well. We reached around 7 PM. We had arranged our stay before hand in Hotel Shiva's Regency. This hotel is located in the Heart of Bikaner. It is situated in the first floor. Compared to other hotels, the rooms of this hotels were huge.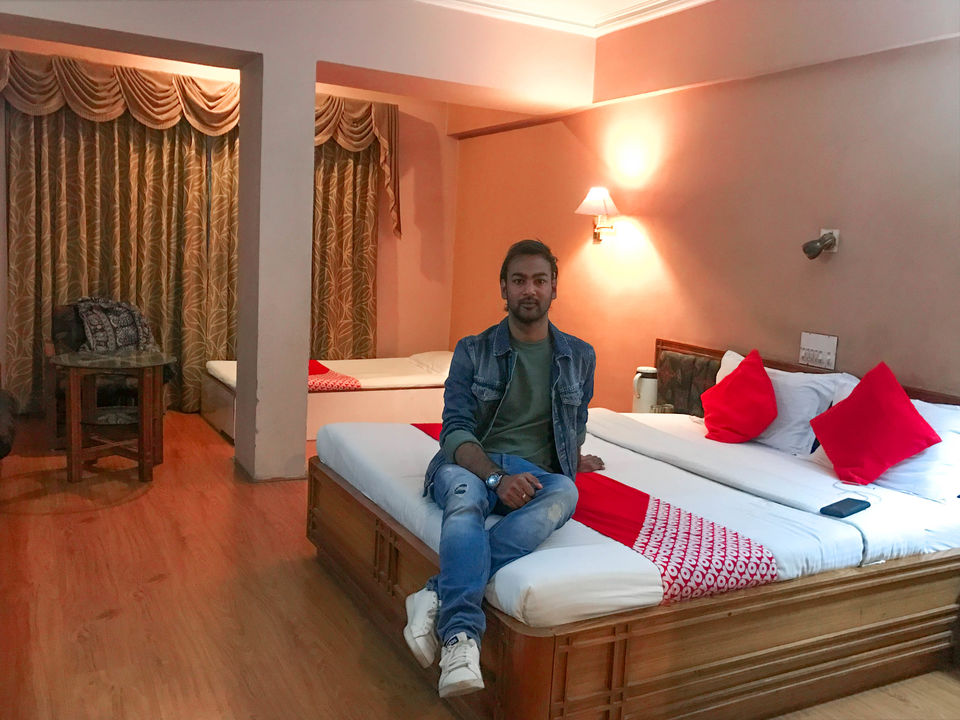 While the rooms were very spacious and clean, everything else was not comfortable. The parking area was worse. You have to go in a narrow dirty lane which will take you to the lift area of the hotel. The lift was also extremely dirty.
The only best thing of this hotel was it was near to the Main Market. And all the forts and palaces are near by.
After having our dinner, we called it a day. The real experience was going to start the next morning.
While coming to Bikaner, I was checking all the things to do in Bikaner. And to my surprise, I got to know that today was Camel festival in Bikaner. Coming to Bikaner and accidentally landed in Bikaner camel festival was like cherry on the cake.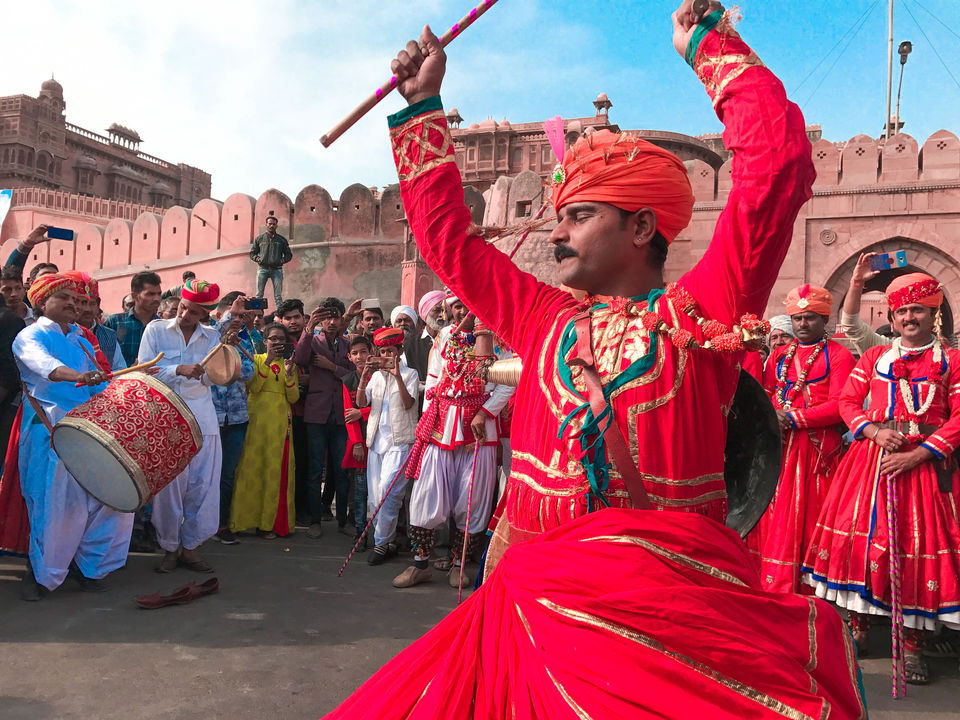 This festival arrives in the month of January every year and is being celebrated for 2 days.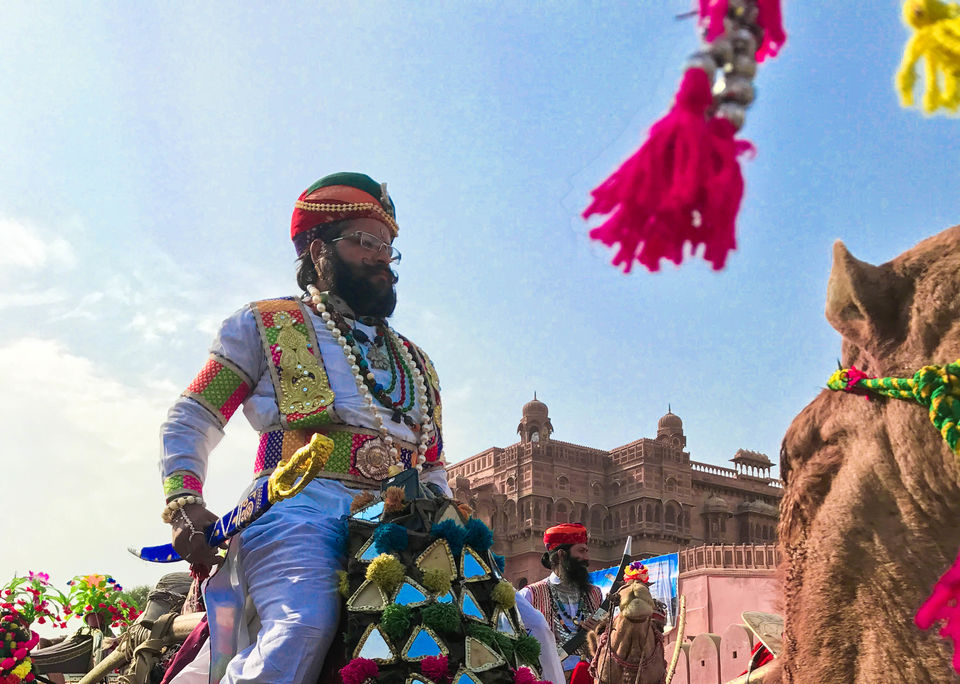 India is the only country, where so many religions are being followed by people and wide range of festivals are being celebrated. Bikaner camel festival is one of those important celebrations in Rajasthan where a lot of people around the globe come to participate in this event.
The festival started with a colorful parade of beautifully decorated camels with Rajasthani folk dances in front of Majestic Junagarh Fort. They continued it for 2 hrs there and then they headed to Karni Singh Stadium where all the competitions were going to happen.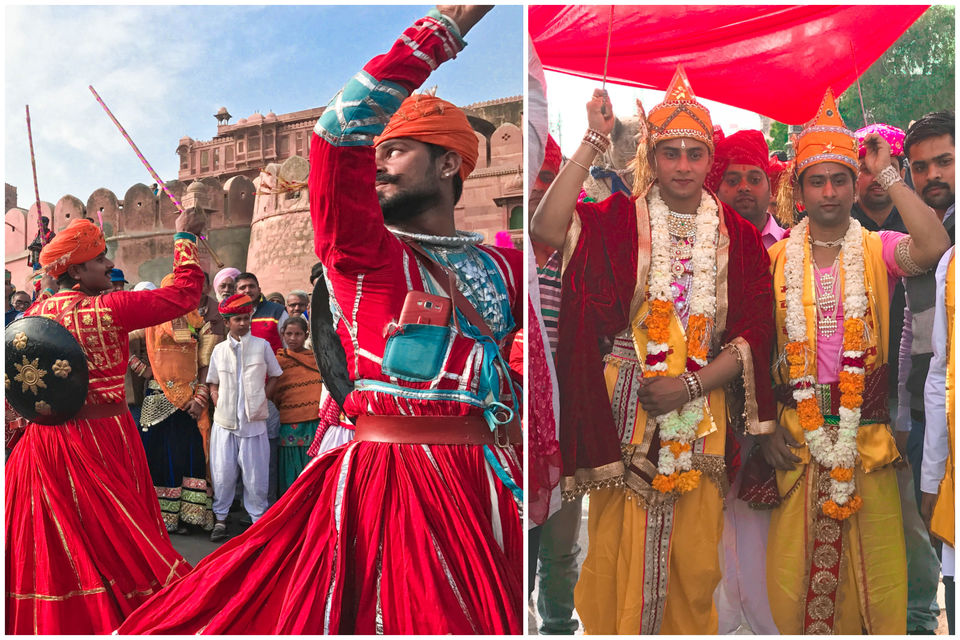 This event mainly includes spectacular camel performances like camel dances, camel races, neck shaking camel rides etc.
You will get to see beautifully decorated camels everywhere with their traditional jewelleries and heavy anklets. Traditional Rajasthani folk dance and music add charm to the festival. These are the times when you get to know the culture, history of a place so closely.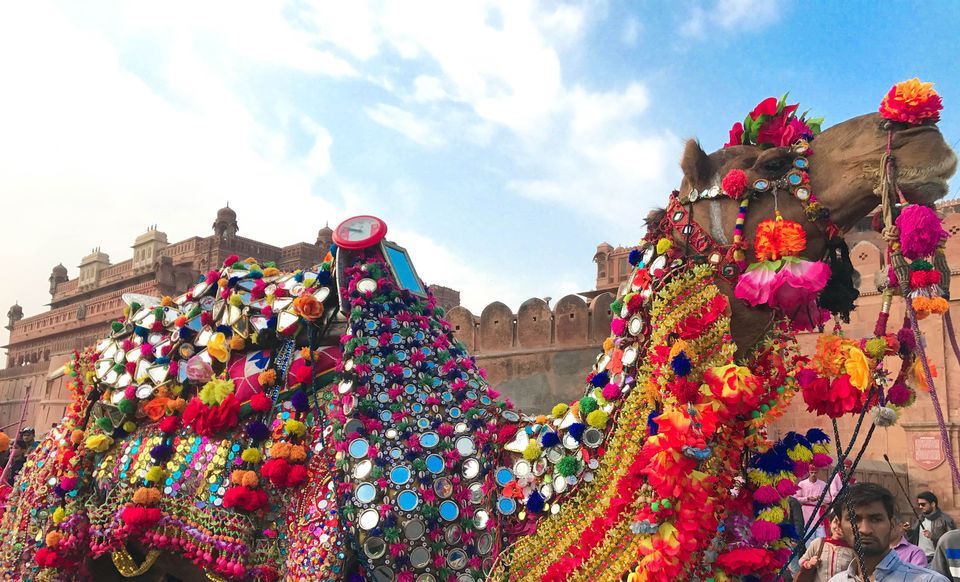 I saw a lot of foreigner tourists were also participating in different events. I think they were enjoying the most. While being Indian I was so excited, I can totally understand their situation.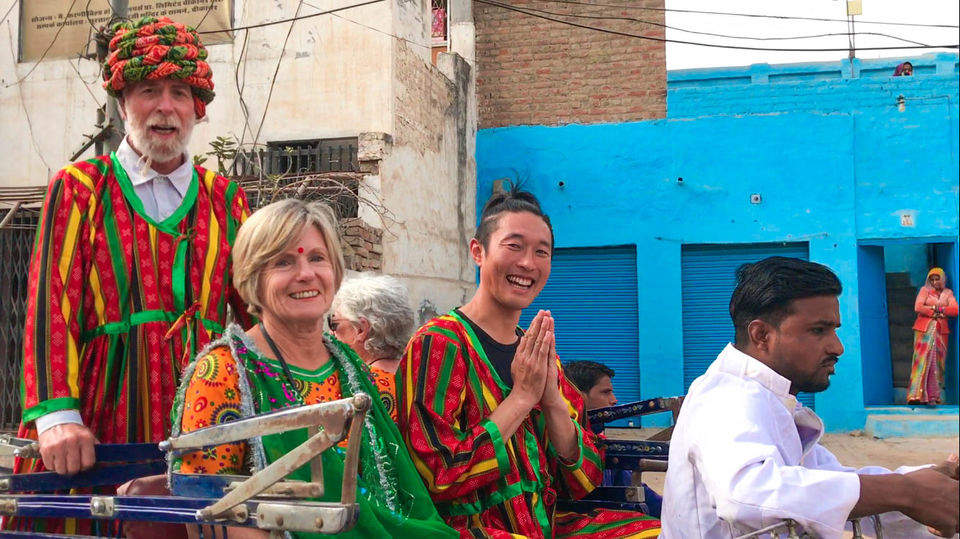 I was very happy after seeing all these. No pictures or stories would do justice to whatever I had experienced. You have to be there to get that feel. And thanks to these festivals who brings joy & little sense of relaxation to our life otherwise it's too difficult to be happy in today's era where everyone seems too busy. No ??
Let's see some more pictures from this festival. Click on the below pics to see it in larger form.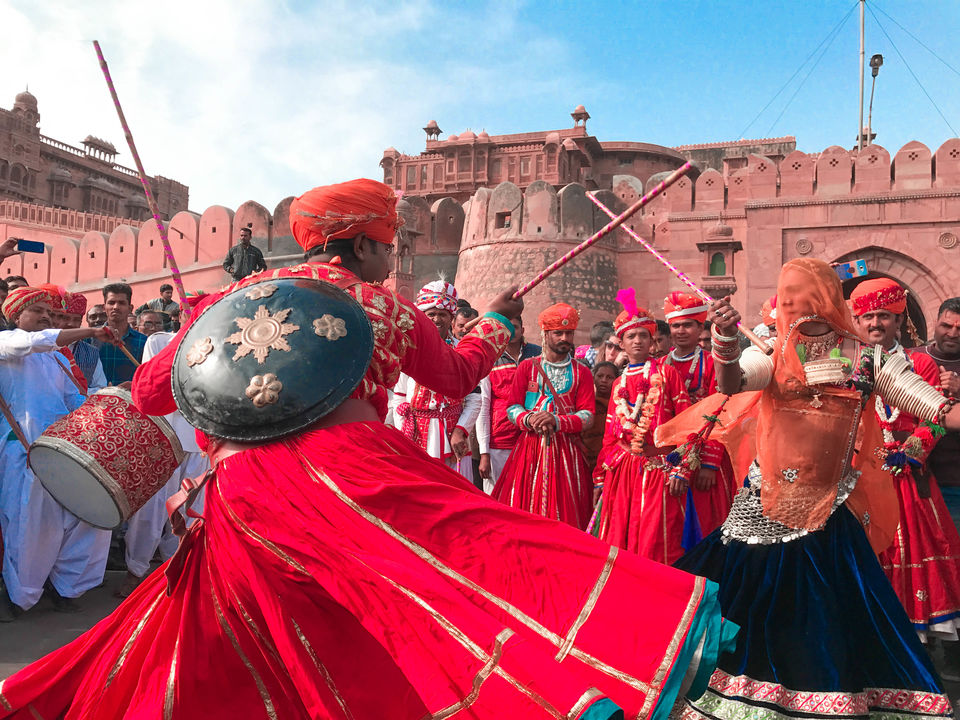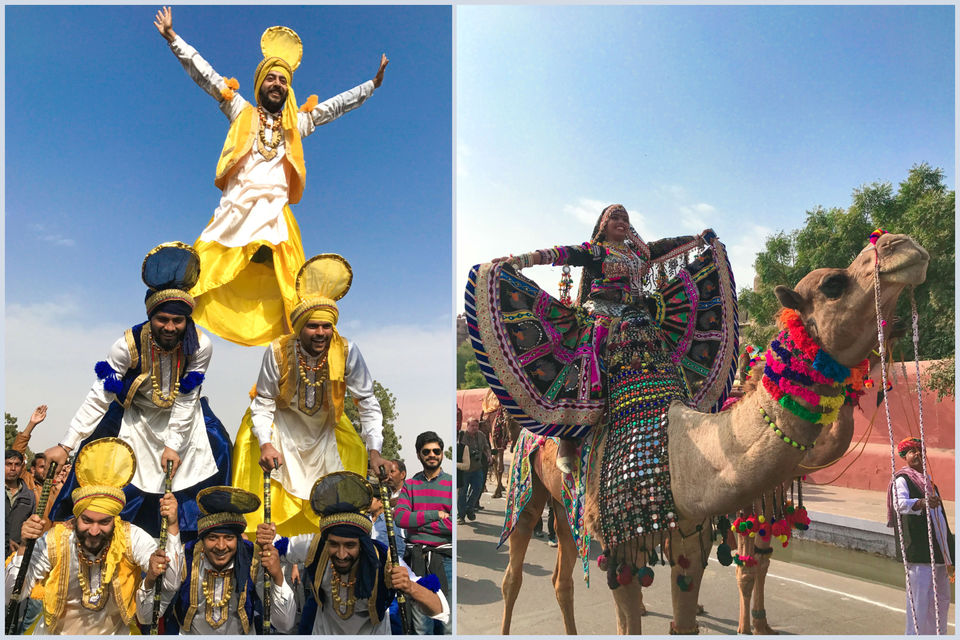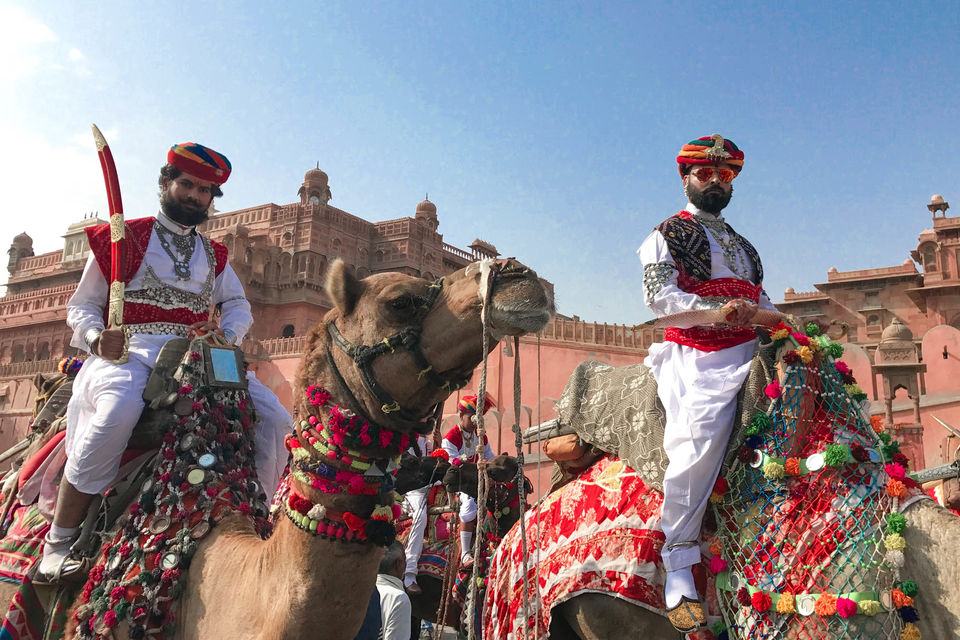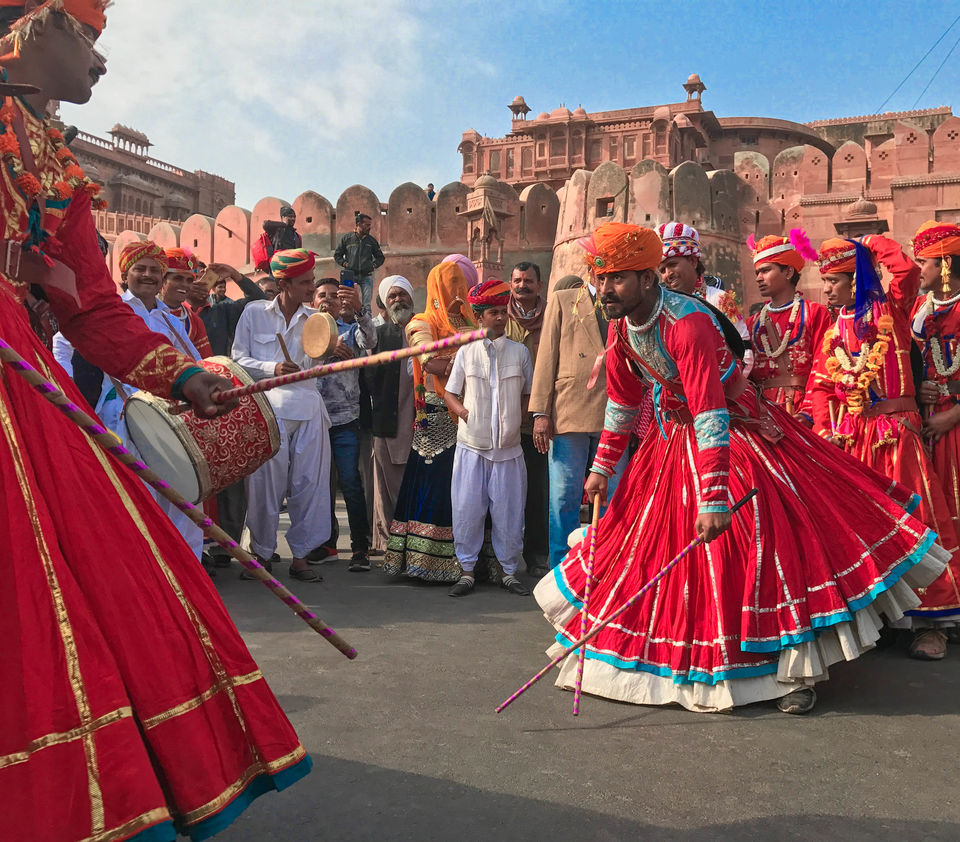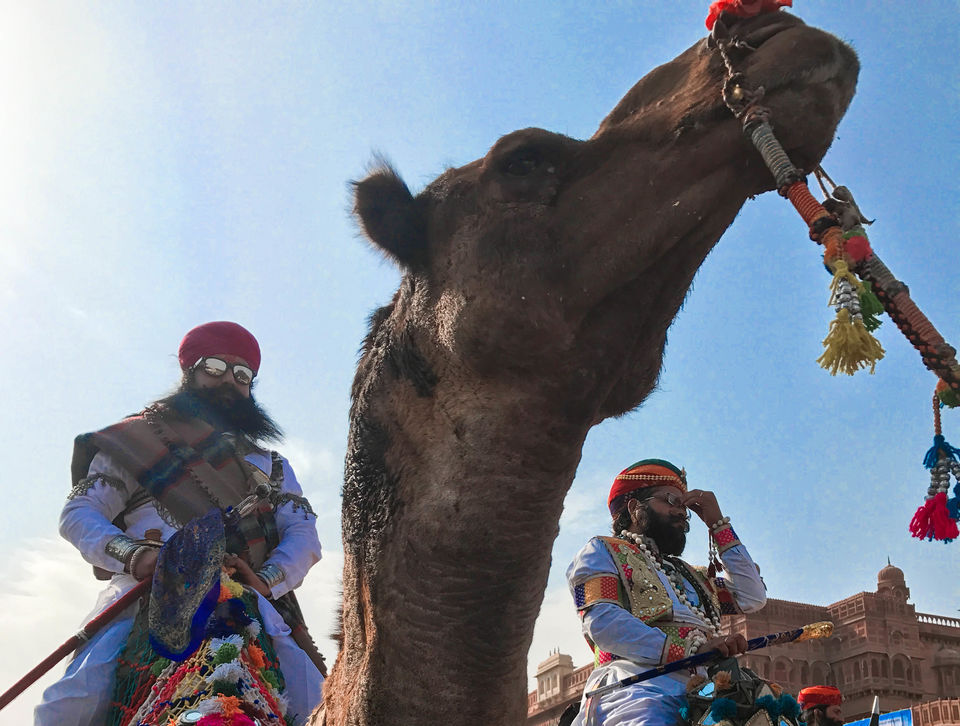 After seeing the Camel festival, we went to 16th-century Junagarh Fort which is the major attraction of Bikaner. You will get the history of this fort everywhere on Internet. So I am skipping the history part and let me tell you what all things you can see inside this fort.
I think this is the only fort in Rajasthan which is not situated on a hill top. It is built of red sandstone. Along with that you will see white marbles that makes a lovely contrast to the surrounding walls.
Once you enter the premises, the first thing that captures your eye is zigzag staircases at the entrance. This is my favorite spot in this fort. This entrance gate is so beautiful it will force you to click a photograph in front of it keeping the gate in the background.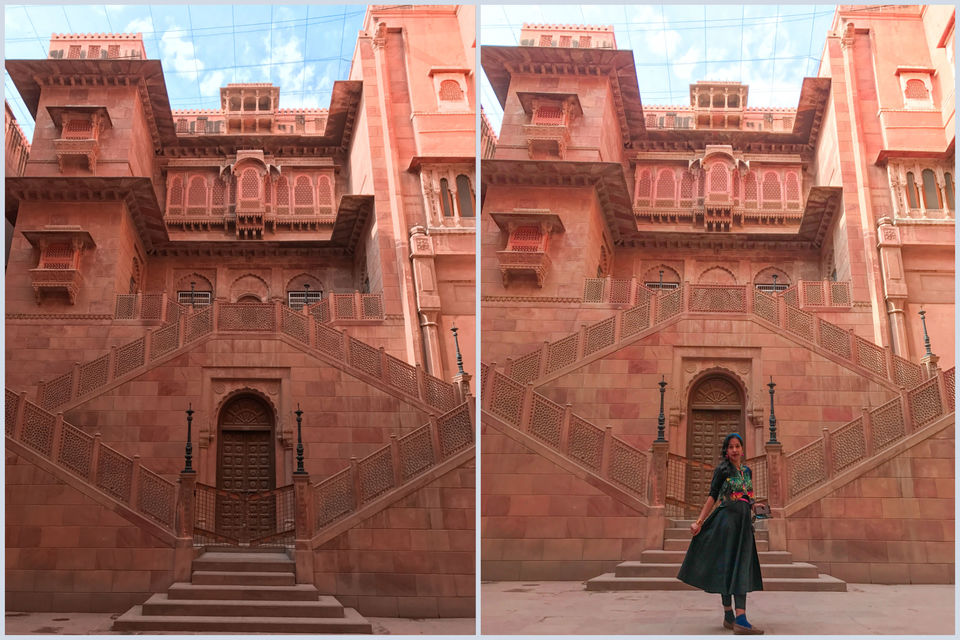 You might have seen this spot in almost every historic serials and Bollywood movies.
This fort provides a guided tour which is included in your entrance ticket. I guess this is the only fort in Rajasthan, where you don't need to pay extra for having a guide. Every 10 mins a guide takes 10-15 members into the Fort. You need to wait in the entrance area if you want to go with the guide until your turn comes otherwise you can go on your own.
A narrow steep takes you to the main courtyard of the Palace. Now let's see different courtyards of this fort. Click on the below pics to see it in larger form.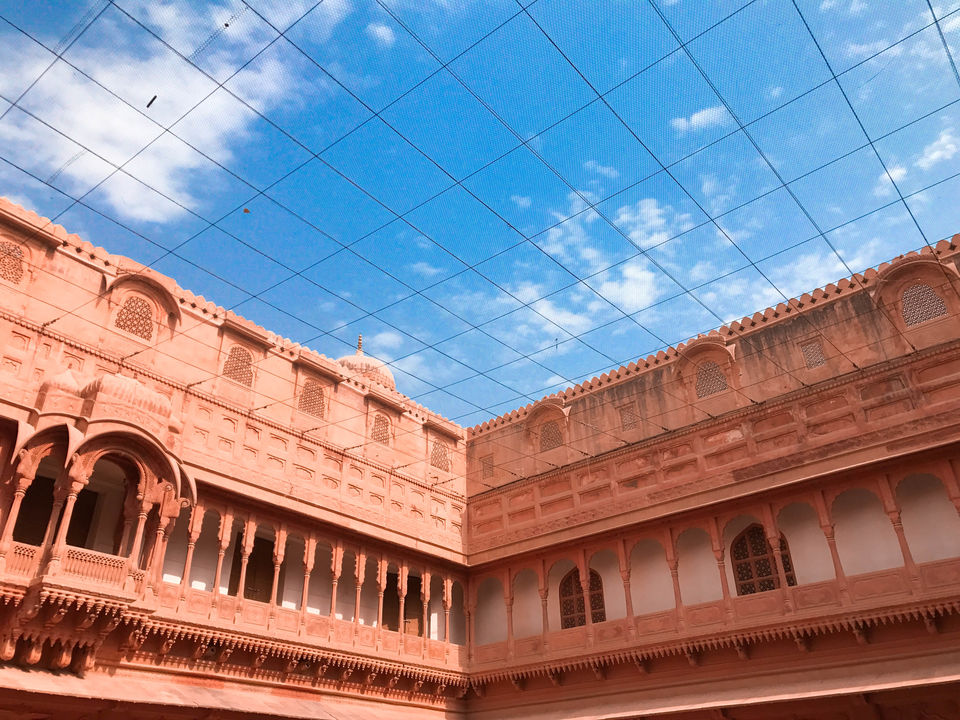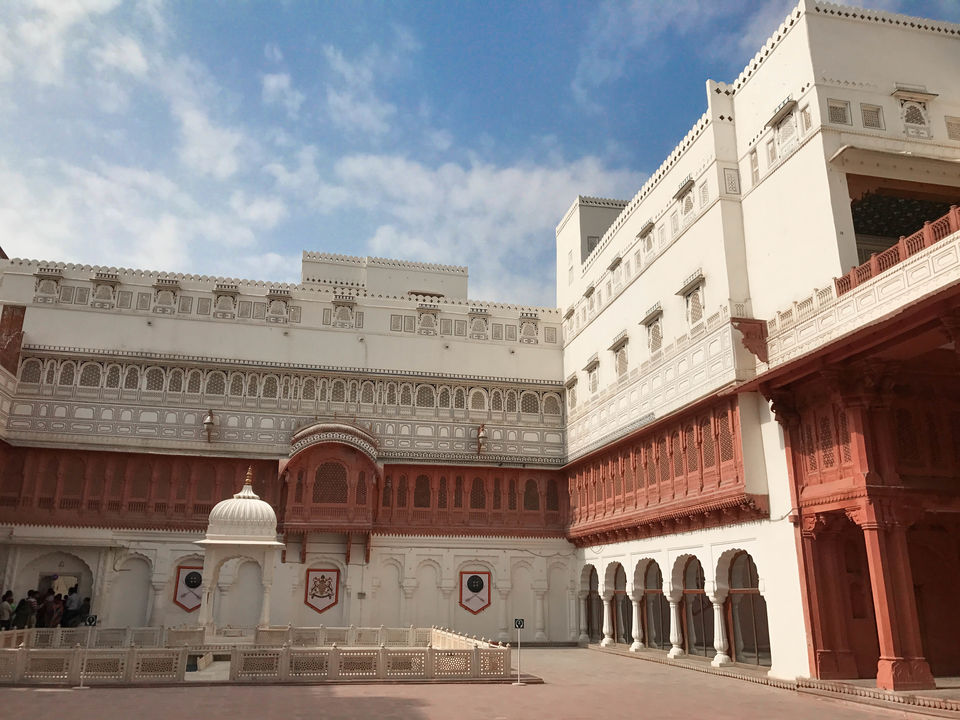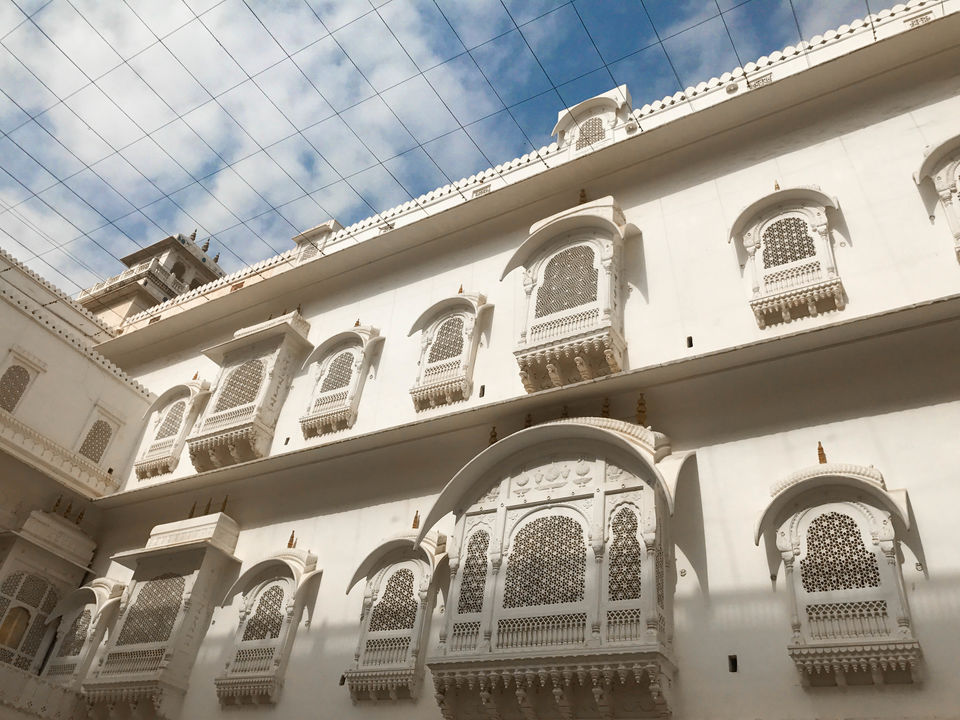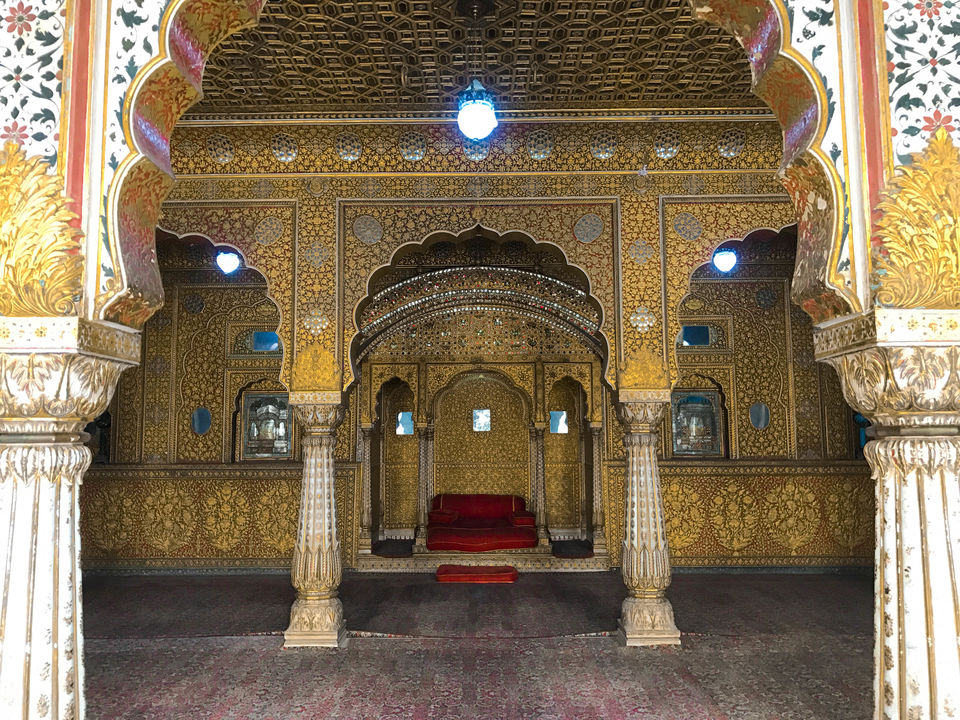 All these Mahals had their own significance during that time. But as I have less interest in history, I am not getting into more details. :(
There were other courtyards as well. But we had to leave as we were getting late and we didn't take our lunch as well.
After having our lunch we headed to Karni Mata Temple.
This Hindu temple is situated in Deshnoke Village which is 35 KM away from Bikaner. It is also known as Rat Temple of Rajasthan. It is famous for approximately 25,000 black rats that live and are worshiped in this temple.
Once you enter the temple premises, you will notice the whole area is filled with dirt, rat & pigeon feces and hell thousands of rats running here and there.
At first, you might get uncomfortable as many rats might run over your feet but after some time you will get acquainted with the environment.
Rats running over feet ?? The first thing that comes to your mind after reading this what if these rats harm you? Right??
But it is unbelievable to know that these rats don't harm anyone who visits this temple. Not a single such incident has been recorded.
It is assumed if the rats walk over your feet, your wish may come true. I think we were those lucky people for sure. :D
Along with black rats, you will find some white rats here as well. Catching a glimpse of white rats is believed to be more auspicious. Now I don't remember whether we got a chance to see them or not as the number is very very less as compared to Black rats.
My sister got little scared as soon as rats started running over her feet. You can see lots of girls screaming loudly "JAI MATA DI" in fear. It was scarier for sure but at the same time it was too funny as well. :D Now also that picture is so clear in my mind.
Let me tell you one shocking thing here that you need to remove your shoes before entering the temple. That means you have to walk over those rat & pigeon feces on bare foot. Isn't it scary?
Well, so if you are too sensitive and don't like dirt and all, then this place is not for you.
It was a very unique experience for me. Prior to this, I didn't know that such temple can exist also where rats are worshiped.
Many curious travelers come to this place to experience a different aura. We spent maximum 15 mins there & then left the area.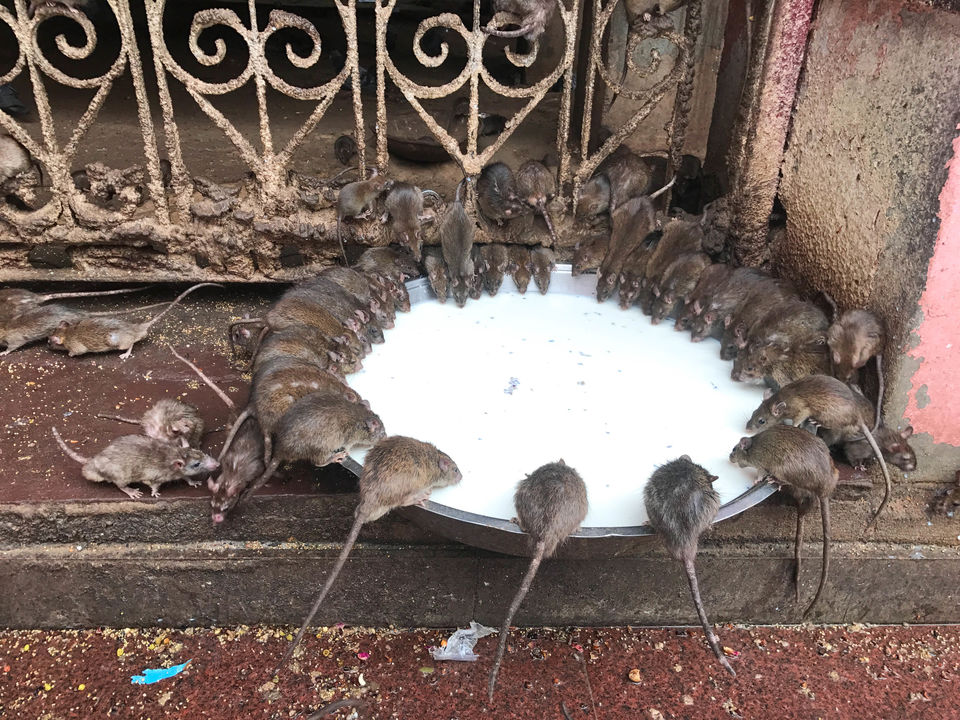 Rampuria Haveli is "The pride of Bikaner". These havelis belonged to one of the richest and the most powerful families of Bikaner - Rampurias, and hence the name.
It is located in Old Bikaner which is 2.5 KM away from Junagarh Fort. These buildings are built of red & pink stones. Beautifully designed pink walls with green & blue windows just complement each other. Perfect location in Bikaner to get yourself clicked.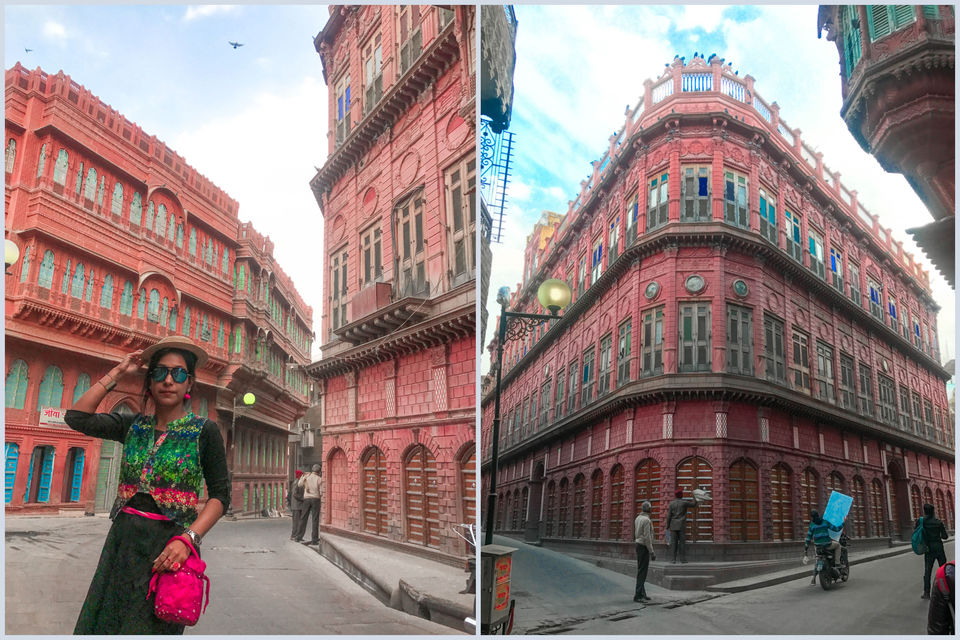 The negative point is you can't go inside as these are privately owned and most of them are locked. The only thing you can do here to appreciate the intricate designs and the architecture of these buildings from outside.
It is situated in a very congested area. To reach there you need to pass through a very narrow lane. As you move further in the lane, the lane gets more narrower. You may think like you are going in the wrong way but don't worry. That's where the place is. :(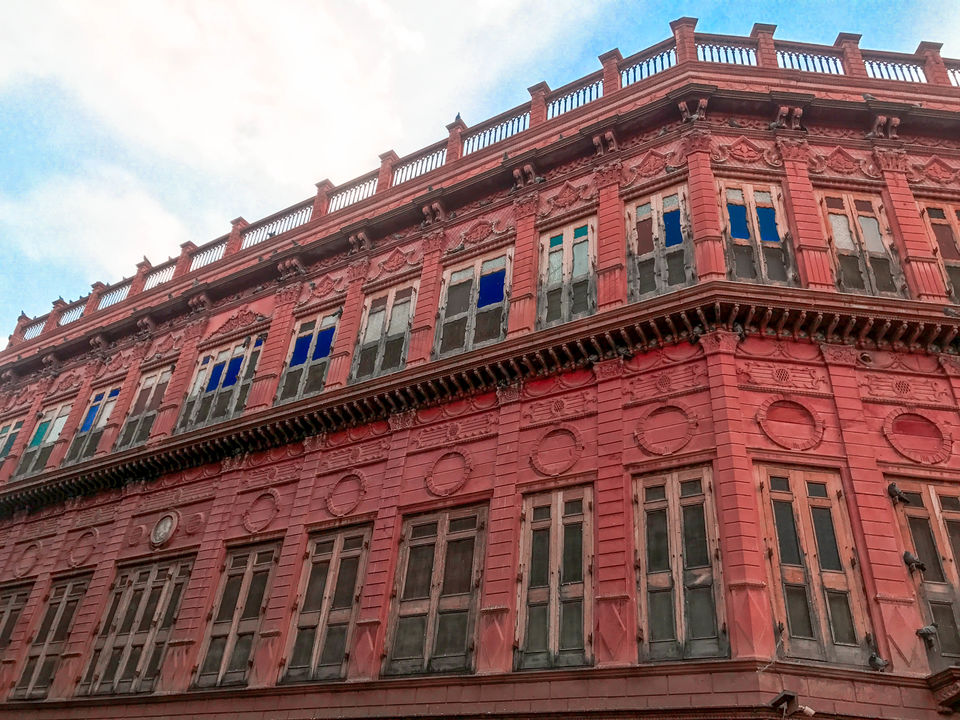 The best way to explore this place is by walking.
When we reached there it was almost 6 PM. It was getting darker. And due to which I didn't get my perfect shot the way I imagined. The best time to explore this place is Morning time when direct sun light hits these buildings. Post morning, these lanes get busier.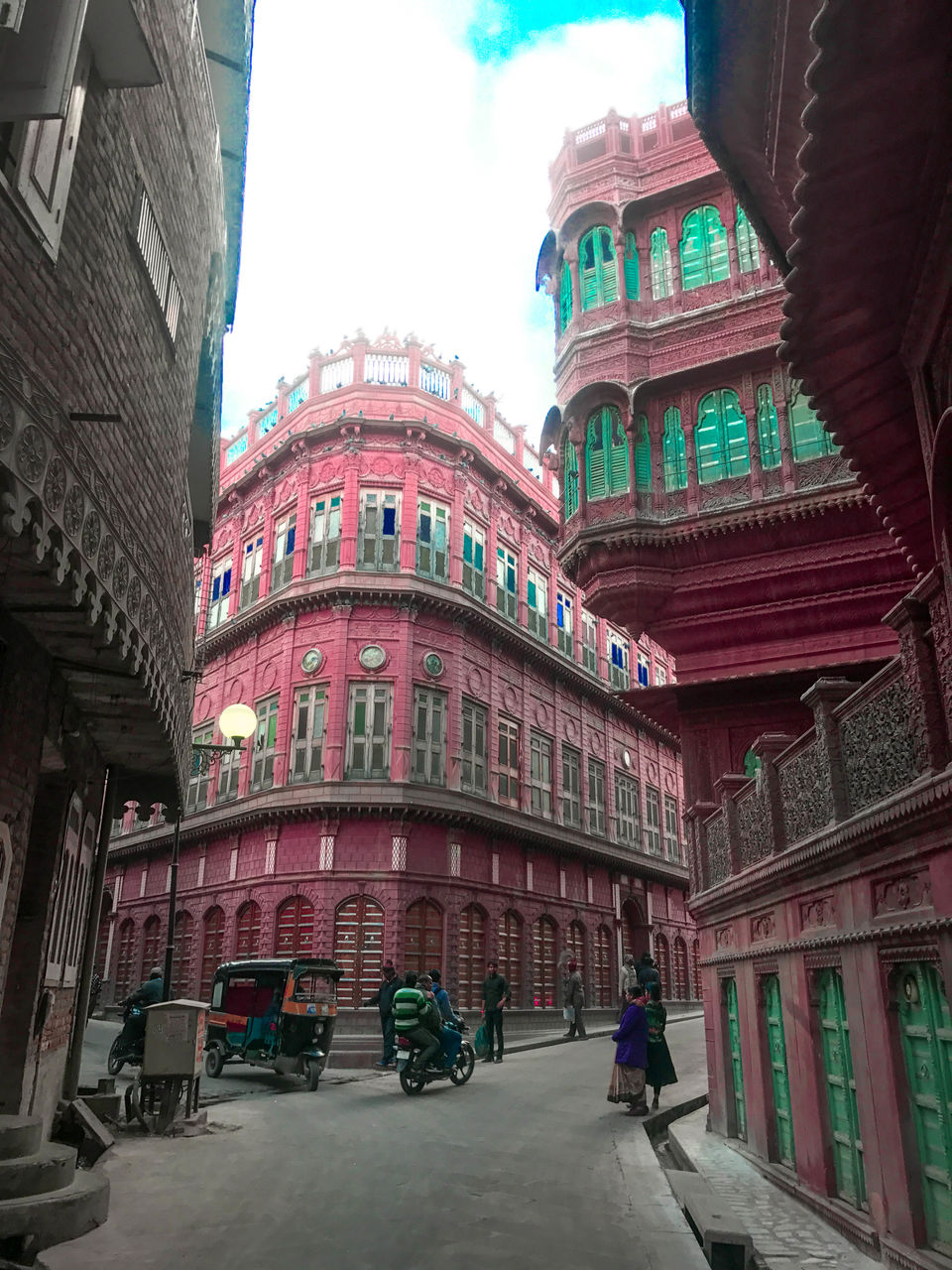 I wish someone could have told me this before so that I would have planned accordingly. And this is the only reason for which I have started writing. I want to share my experience so that other travelers won't repeat the same mistake.
Life is too short. So we shouldn't wait to learn from our own mistakes. We can learn from other's mistakes as well. Right? HAHA .. :D
After seeing it for 15-20 mins, we headed to our hotel.
If you want to visit less crowded place in Bikaner then must go to Dev Kund Sagar. It is very picturesque spot. As we were there for only 1 day, we couldn't make it to this place.
So after visiting Bikaner, I can say to you all "Don't listen to what they say. Go see."
How to Reach Bikaner:
By Air :
Jodhpur Airport is the nearest airport to Bikaner, located around 251 km away from the city. From the airport, you can board a bus or hire a taxi to reach Bikaner.
By Rail :
Bikaner Junction and Lalgarh Railway Station are located at a distance of 6 km from each other. These two stations connect Bikaner to major Indian cities such as Delhi, Punjab, Jodhpur, Hyderabad, Kolkata, Mumbai, Jaipur etc.
By Road :
Regular buses from Delhi, Jodhpur, Agra, Jaipur, Udaipur etc are available for Bikaner.
When to Visit :
Since Bikaner is located right in the Thar Desert area, it is best to be visited during the winter season (Oct - Jan).