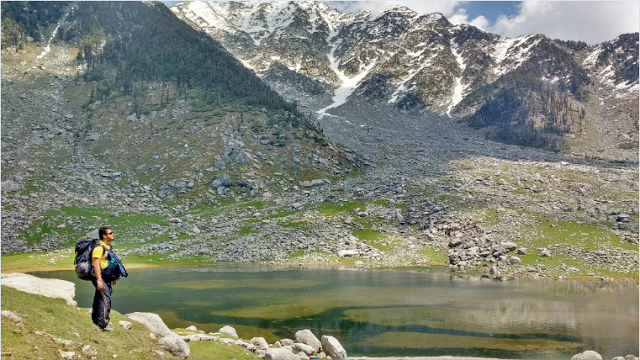 Click Here for my personal website!
Lies in the Dhauladhar Mountain Range of Himachal Pradesh – The infamous Kareri Lake. This lake is at an altitude of 2950 meters above sea level. Unfortunately, it has not yet received the popularity it should have. This high altitude freshwater lake is a marvellous camping destination for many trekkers and solo travelers.
My Journey
A week before my travel, I booked my bus ticket for the coming Friday night journey, from New Delhi to Dharamshala. On the day of my travel, due to heavy traffic, crowded metro station and my bad planning, I did not reach my pickup point 'Majnu Ka Teela' on time. And the bus left. Somehow, I coordinated with the bus conductor over the phone and they agreed to wait for me at Karnal Bypass. I paid Rs 150 to the Auto-driver to drive swiftly so that I don't miss the bus again. In minutes, I was on the bus.
Few Suggestions:
(a) The best way to reach Dharamshala, take the Himachal Pradesh government bus. The fare is cheap and it adheres to its schedule. You can book the tickets online from this link – http://www.hrtchp.com/hrtctickets. Buses range from regular ordinary buses to super comfort Volvos.
(b) If case you don't get a reservation in the Himachal Pradesh Government bus. Don't be disheartened, there are a lot of private buses that go to Dharamshala. Booking for private buses can be done through these websites – http://www.paytm.com, http://www.redbus.com, http://www.makemytrip.com, http://www.ibibo.com.
(c) Most buses leave from either Kashmiri Gate or Majnu Ka Teela or a nearby location to these two spots. You can plan your commute accordingly either by metro, auto-rikshaw or by cab.
(d) It's a 10-hour journey. I would suggest, taking an evening bus from Delhi to Dharamshala.
I reached Dharamshala by 10 AM, had a light breakfast and headed for a bus to Kareri Village. I couldn't find any bus which would go directly to Kareri village, maybe because the road is pretty narrow from Ghera to Kareri Village. However, I did get a jeep which was heading to Kareri village. I enjoyed every bit of the bumpy ride as the beautiful foliage accompanied me all the way up. After an hour and a half, of the tiring ride, I reached Kareri Village. On my way, I met this gentleman who guided me the itinerary I needed to follow from Kareri Village to Kareri Lake. He was gracious enough to offer me lunch at his home. The parathas at lunch were delicious and I saved few for the trek.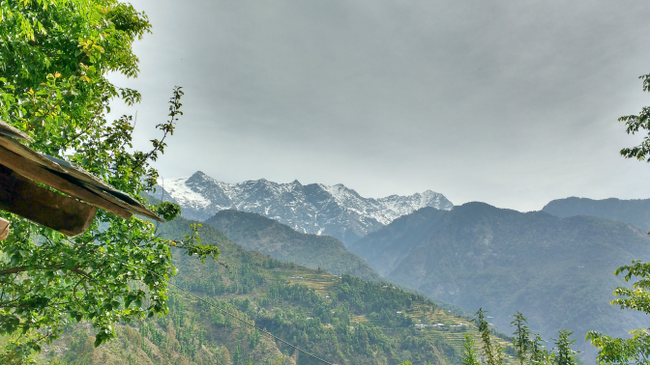 I started walking uphill, after a point I could see the beautiful step farmed paddy fields and the village huts. The initial trek is a bit tiring when one walks straight up towards the inclined, however, in a few hours, the body gets accustomed for the hike. After walking over the gravel road for a while, I came to a halt as I was confused about the path. There was a looking at the bridge ahead and a trail going right of it. There was a small confectionary shop beside the bridge, I sought assistance from the little boy in it. The kid guided me showing no emotion as if it was his daily grind.
I took the trail on the right that was leading towards the massive forest. But, before I could walk much further, I started feeling tired and thirsty and there was no water left in my water bottle. Fortunately, it was the 'Nyund' river flowing alongside the trail that came to my aid. Nyund is a tributary flowing down through the Kareri Lake. After drinking the fresh water from the river, I sat for a moment looking at the broad foliage ahead comprehending my bond with the creation. Realizing, I have a long way to cover. I stood and started walking alongside the river, as she was the only companion I had.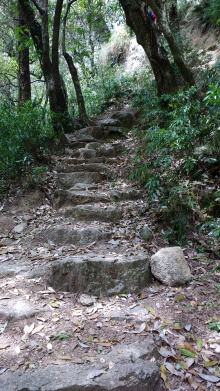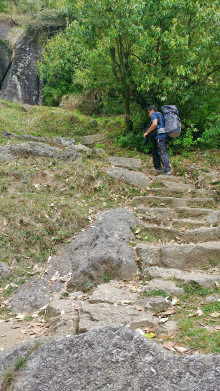 After few hours of walking up the steep stairs covering the narrow path, I realized that I may not reach Kareri Lake at this pace. I was in constant movement for the last 12 hours. The higher I climbed the more fatigue I felt. At one point, I didn't want to walk anymore. My exhaustion was not letting me embrace the beauty around me. I was losing focus. I seriously needed some rest. I open my lunch box and started gobbling the parathas. The parathas tasted more appetizing. Now, the only thing I wanted was rest but it was getting darker and I had 5 kilometers of a hike to cover. Everything looked gloomy.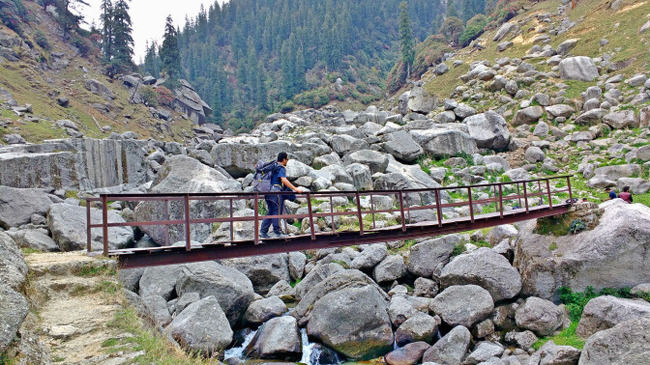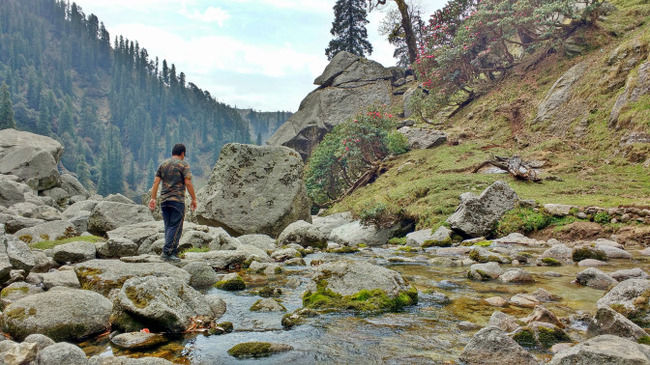 Then something miraculous happened. I heard a few 'baa' and 'meh' from somewhere close. I stood and walked towards the sound. I saw a bridge and on the other side of it, I saw a herd of sheep. I got thrilled. I crossed the bridge and rushed towards the heard. The presence of few shepherds calmed my anxiety. The were arranging wood for the fire. I asked them if I could use their company for the night. They agreed. I started to set up my tent in proximity to these guys. Late at night, by the campfire, I felt calm and serene and went into my tent to enjoy the slumber in the woods.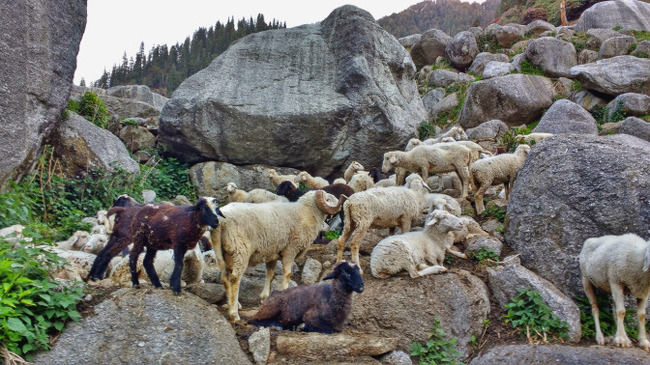 I woke up early, the next morning. Got fresh, and sat on a huge rock beside the river and meditated for a while. I experienced this heavy loss of awareness of my physical existence. It felt like I was sleeping, but on the inside, I felt I was sitting upright. The feeling was wondrous. After having a cup of herbal tea as they called it. I started packing my stuff and got ready for the unfinished strenuous walk.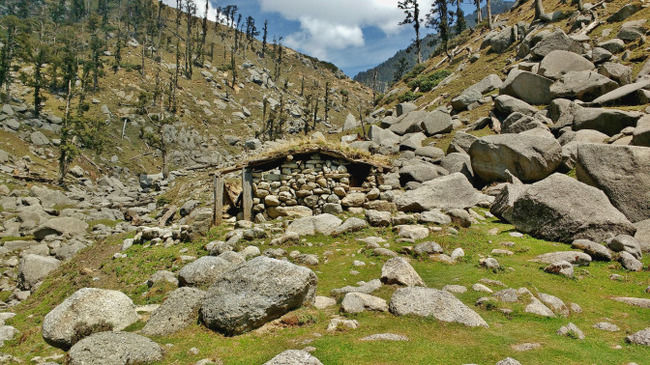 As I was getting close to the beautiful Kareri Lake, I could taste the fresh mountain air and see the snow covered background. Everything seemed majestic – from the stone thatched petit houses to the clearer blue firmament to the vibration of the gentle flow of the Nyund. Energetically, I started to ascend towards the last few steps and there it was the fascinating Kareri Lake.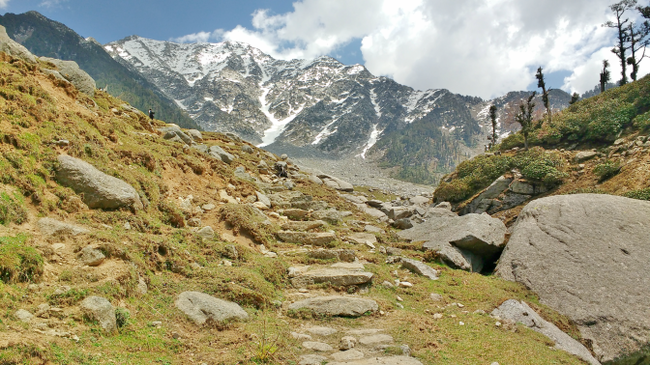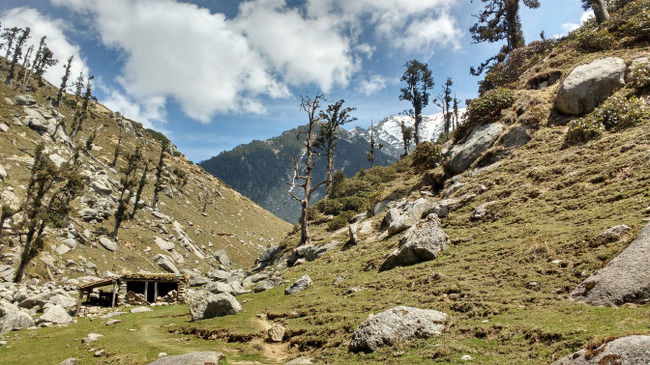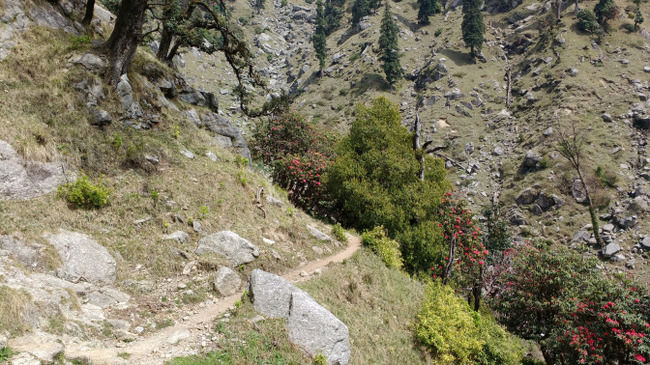 In front of me was the Shiva Temple, with stairs heading to the Kareri Lake. I saw few pilgrims near the temple. Upon asking them the significance of the temple at such high altitude. They told me a story. They said that Lord Shiva used to live in the Kareri village. And one day, while he was taking a bath in the open, few women saw him. He immediately ran towards the Kareri Lake and made it, his new home. I did not ask them any further questions. I acknowledged their beliefs and moved towards the other end of the lake, finding the best spot for my tent.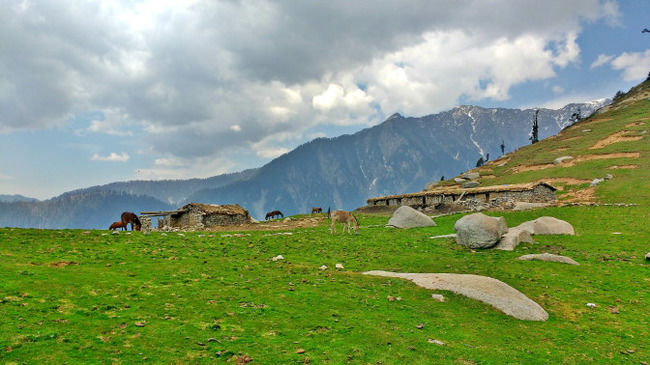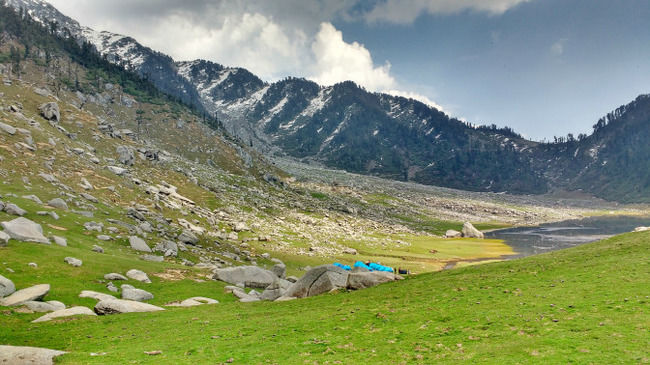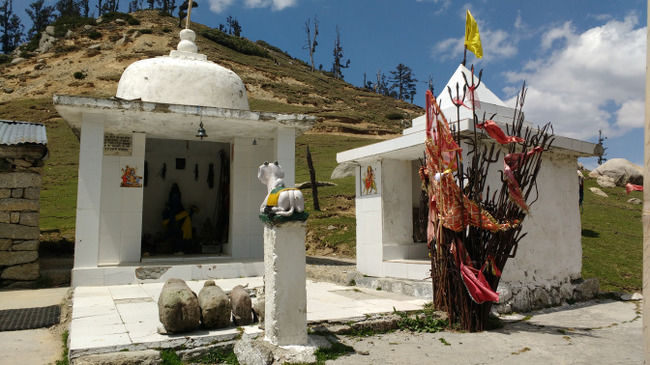 After setting up my tent, I got this urge to reach the foot of the snow-covered mountain ahead of me. I had enough time, so I started walking. It was getting cold and hard for me to grasp my breath. But, I gradually kept moving and didn't stop until I reached the white snowfield.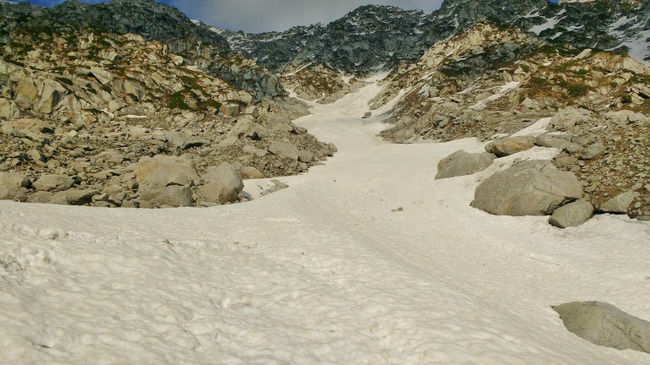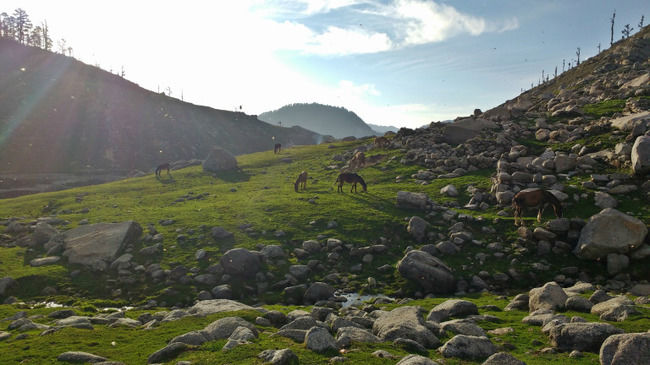 I came down after rejoicing the triumph I felt over this journey. Then, I roamed around for a while. I was famished by all the hike, so I went to the small shop near the Shiva Temple, to get a cup of tea and a plate of Veg. Maggie. And, after watching the beautiful sunset. I got in my tent and slept like a baby.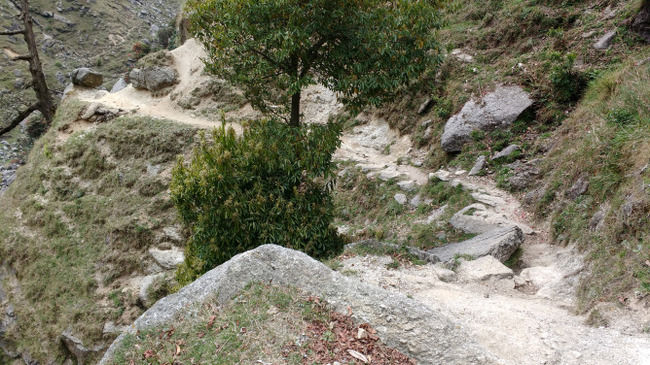 The next morning, I packed my stuff and headed towards the temple shop to have a light breakfast. I had to cover the complete trek from Kareri Lake to Kareri Village. Once, done with the breakfast. I looked back at the mystic lake and the beautiful mountain range one last time and started my journey back. In 3 hours, I was in Kareri Village.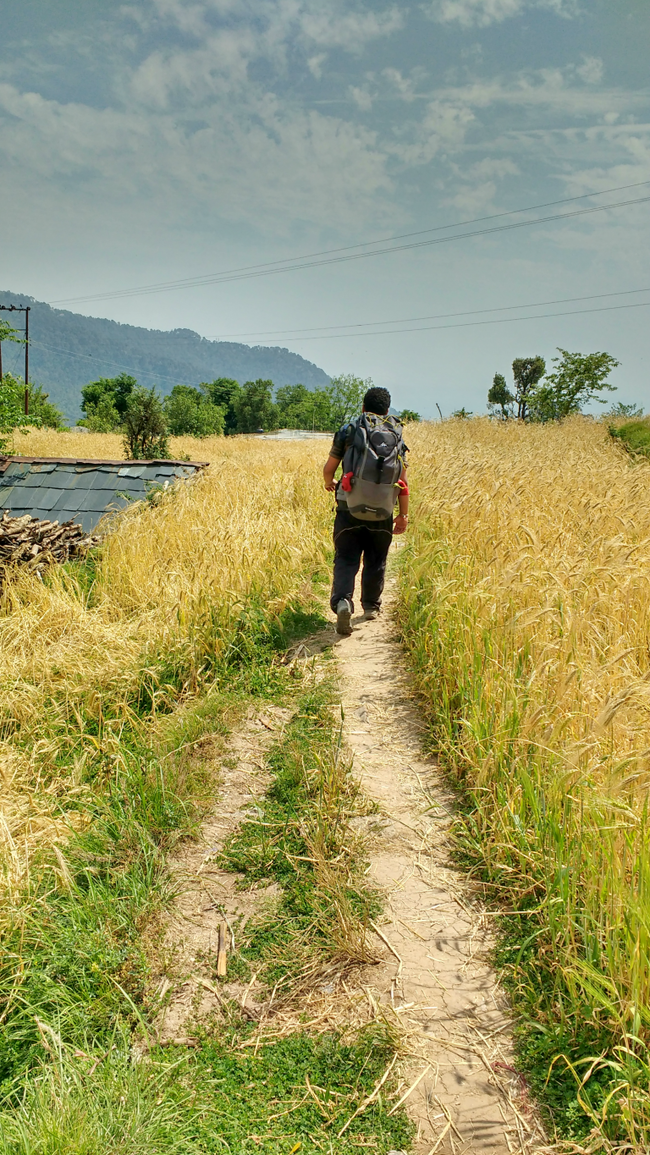 I had to wait for the jeep, which would go to Dharamshala. So, I waited in Kareri Village with a couple of locals. The jeep arrived and I was all set for the bumpy ride. After an hour and a half, I was in Dharamshala. Roamed around the place for a while and then boarded the bus at 6 PM for New Delhi.
Things you may need while you trek to Kareri Lake!
(a) Trekking Shoes – they prevent ankle twist and have better grip
(b) Full sleeve T-shirts
(c) Full sleeve woolen
(d) Thick Jacket (for winter season)
(e) Socks (2 pairs): 1 cotton (for trekking) and 1 woolen (may need while sleeping)
(f) Gloves(1 pair for winter season)
(g) Woollen Cap/Balaclava(1 for winter season)
(h) Raincoat/Poncho
(i) Water Bottle)
(j) Light towel and Toilet paper
(k) LED torch
(l) Plastic covers: While packing, use plastic bags to ensure the clothes and other essentials remain dry in case of rain.
(m) 1 lunchbox and spoon for carrying packed lunch
(n)Band Aid – 2 strips
(o) Disprin (in case of a headache) – 3 tablets
(p) Moov spray
(q) Avil 25 mg(in case of allergies) – 3 tablets
(r) Crocin (in case of fever)- 3 tablets
(s) Vomistop – 2 tablets
Humble Request to all fellow travelers/trekkers – When you visit the Kareri Lake, carry a trash bag. This is a beautiful place and I am sure you would love to visit this again. Let's keep it the way it is.
Thank You for reading this post. If you enjoyed it. Do comment and share!
Blog: www.bornomadic.blogspot.com
Website: www.bornomadic.com
Twitter - @truebornomadic
This post was originally published on Born Nomadic.