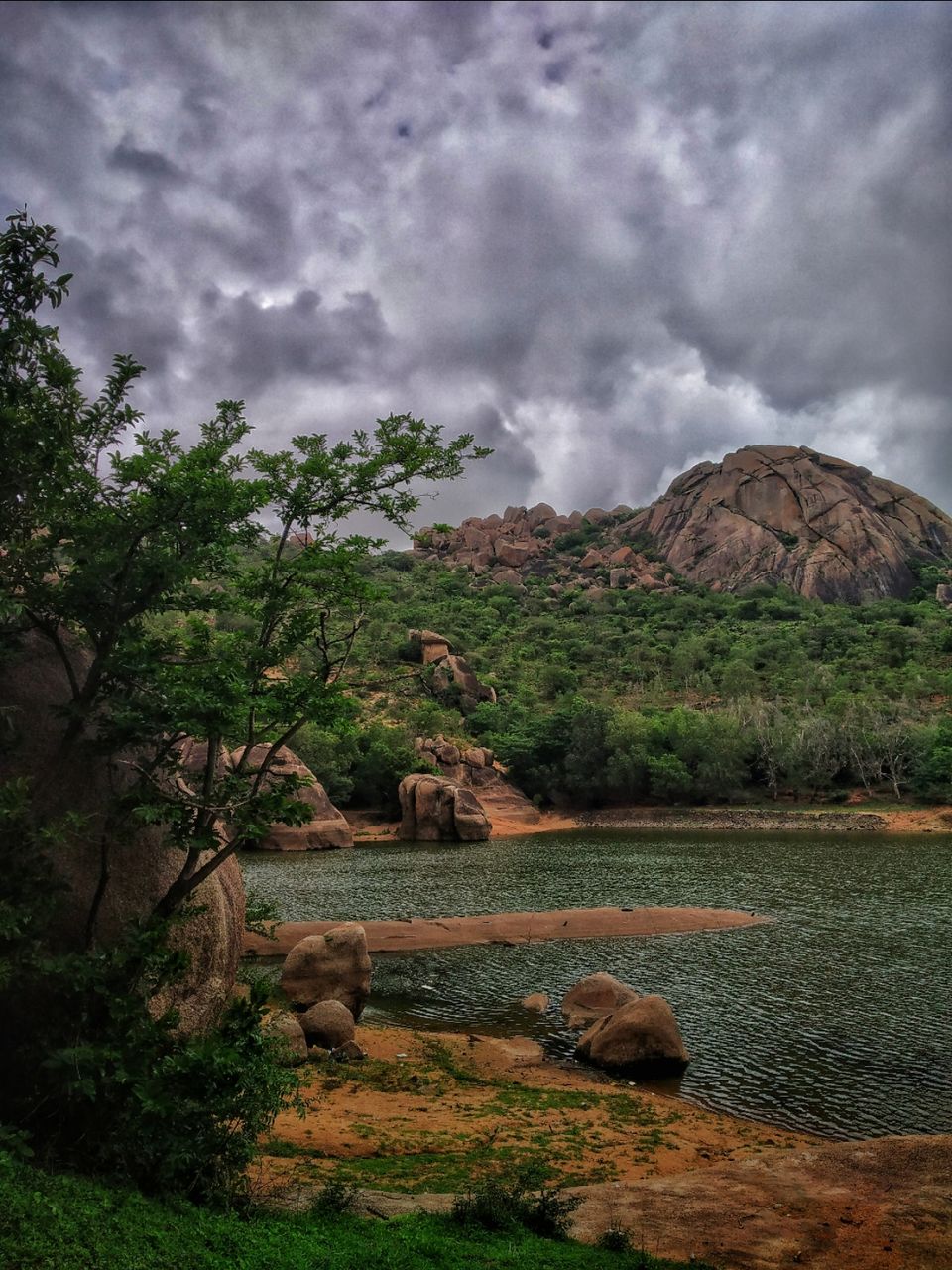 The trip was supposed to be to on a hilltop in Northern Karnataka. But we couldn't reach there due to the heavy rainfall and flood.The place and plan got changed but the love for travel didn't get crushed. We had found another hidden gem in Karnataka that we could access. And when we asked one of the friends who stay nearby,she mentioned that you people must visit this particular ancient site.
If I boast about myself then I must include that I love History,not as a subject but for the cultural heritage which our country possesses. I was very very excited when I got to know that place had this incredible archeological site.
Chandravaalli cave is an archeological site located near Chitradurga (4 kms from the main Chitradurga City). You can book a private cab or can take a long walk to the site. The region mostly had been formed by three residual hills named as Chitradurga, Kirabanakalla and Cholagudda. The region doesn't receive too much of rainfall and for being a student of geography that made me very interested to experience all the examples of physical weathering all around me.
The previous name of Chandravaalli was Chandanavati as it was ruled by King Chandrahasa who was a King from Kuntala dynasty of famous Sixteen Mahajanapadas of India. Chandravaalli has a crescent shaped lake in the area which just elevates the level of enigma when anyone enters. 
The caves had been constructed between two giant Monolithic rocks and one will definitely be astounded by experiencing the skills and details of the place. The excavation work had been carried out by B.L Rice and R. Narasimhachar during British Period and those work had revealed earthern pot,painted bowls of Indian Dynasties like Satvahana,Vijaynagara and Hoysala as well as Denarii of Roman and and Chinese emperor of 2nd Century. The excavation had explained that two distinct period - megalithic as well as Satvahana can be observed here. They have found inscriptions which belonged to Chalukya and Hoysala period with one belonging to the King Mayurasharma( the founder of Kadamba Dynasty), who had supported the prosperity and foundation of the Chandravalli caves. The guide told us that it is believed that from Iron Age this region has been inhabited.
The caves are also being called as Ankali Mutt because it is believed that the saints from Ankalagi and Belgaum came here to meditate. Once you enter the site you will find few pillars and a temple, but when you enter those big and dark stairs carved on rock, you will definitely be transported back to one different era. Without guide you might feel lost inside.  To maintain the secrecy and mystery, this cave has different routes to enter and exit. Those pitch dark stairs will definitely make you say silent thanks to the era of technology.
The caves are buried 80 feet underground but there is a ventilation Corridor too for maintaining the air circulation. The guide will help you walk through the paths taken by those ancient sages while showing you the Shiva Linga, Meditation hall, bed chamber,bathtubs, painting room ,library and finally at the end you will be experiencing the absolute darkness when he will tell you to switch off the mobile torch which was helping us to find the way. That was once in a lifetime experience. That secret chamber is named as Rahasya Sthala.
The general structure was a maze like one that describes the level of originality and superiority of Indian Architecture. This experience will be worth carrying for this lifetime.
Nearest Railway station - Chitradurga
Nearest Airport - Bangalore
Popular stay - Hotel Mayura Durg by Karnataka state tourism development corporation