Stepwell built with the sole purpose of storing water and mainly to cope with seasonal fluctuations of water availability into the dry areas. They also served as cool sanctuaries for caravans, pilgrims, and other travelers during the heat of the day or overnight. Water plays a special part in Hindu mythology, as the boundary between heaven and earth is known as tirtha. As manmade tirtha, the step-wells became not only sources of drinking water, but cool sanctuaries for bathing, prayer, and meditation. The wells are called by many names. In Hindu, they are baori, baoli, baudi, or bawdi. In Gujarati, spoken in Gujarat, they are commonly called vav.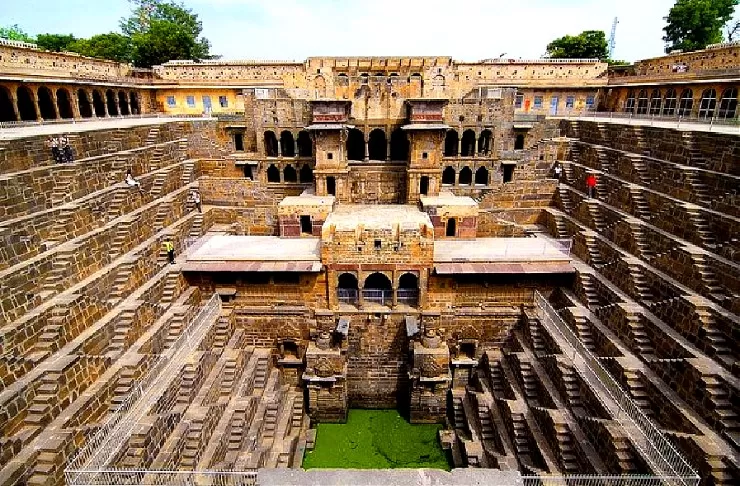 Kings and emperor to set an example of their architectural excellence embodied them with fusional carving depicting culture, art and mythological stories of gods and goddesses. Of the thousand stepwells that proliferated throughout India, most were abandoned over the century due to modernization, climatic change and falling water tables. But there is this one Stepwell in India which even today plumes high to renders its heritage and exquisite architecture – CHAND BAORI.
Chand Baori – getting its historical name after the King who built it. Located in the colorful state Jaipur in Rajasthan locates Abhaneri which shelters a wonder that is mostly on the tourist radar. Abhaneri was originally named 'Abha Nagri' which means 'City of Brightness'. Even today when the city has been transformed into ruins, it still attracts hundreds of tourists from across the globe.
Records hail Chand Baori as one of the oldest and largest stepwells in the world. It was built by the King named Chandra of the Nikhumbha dynasty. The time of the stepwell is 8-9th CE making it 1200-1300 years old. Yes, it is older than the Taj Mahal, Khajuraho Temples, and Chola Temples but younger than Ajanta and Ellora Caves.
It's a 13-storey building which is about 100-feet deep, making it the deepest well in India. The baori has a precise geometrical pattern, hard to find in this age. The three sides of the stepwell measure 19.5 meters giving it a square shape, forms a magical maze and the consequent play of light and shadow on the structure gives it a captivating look. In all, there are 35,000 steps on 13 levels at the step-well and it gets narrow as it goes down.

Adding to that, stories that do not find a mention in any record books, Chand baori has quite some reputation of being a haunted site as well. Folk tales have it that this massive structure with 35000 steps and 13 stories, was built in just one night. Since that is quite an impossible feat for even a superhuman, locals believe the structure to be built by ghosts or jinns. The astonishing construction of the stepwell ponders you as you can't ascend from the steps from where you started your point of descend. The reason being, it has steep triangular steps which ensure that you get down or up sideways but not straight, STRANGE?

Moving ahead about 100 meters to the west stands a solitary temple with a dome roof and Nagar style shikhara. Dedicated to Harshat Mata, the temple was built around 800 AD who is also referred to as Harsiddhi Mata in many texts. Harshat Mata is considered to be the goddess of happiness which even today imparts joy to the whole village. It was a ritual to wash hands and feet at the well before visiting the temple and maybe because of this reason it is believed that the Chand Baori stepwell has a religious connection with the temple.
Built to fight the torrid weather of Rajasthan, made people dig a well so deep to get a dependable source of water. Today the water is not so clean for drinking purpose and the well has railings, so one can't go beyond the line. The temperature at the bottom is five-six degrees cooler and must have provided solace during the hot summer days and nights to the locals.
There are no entry fees charged and you will need 30-60 minutes to see this place but it can even go up to 2 hours if you plan to explore every possible sculpture. Moreover, guides are available at the site, but you will not need one if you have read this post.
And, for the movie buffs, you can see the beautiful Chand Baori in many sequences of popular movies like Bhool Bhulaiyaa, The Dark Knight Rises and Best Exotic Marigold Hotel. If you plan to visit more areas around the stepwell, on your way, you can visit Bhangarh Fort which happens to be the most haunted place in India.
So, when in Rajasthan, do visit this beautiful piece of ancient Indian ruin that will surely leave you articulated.